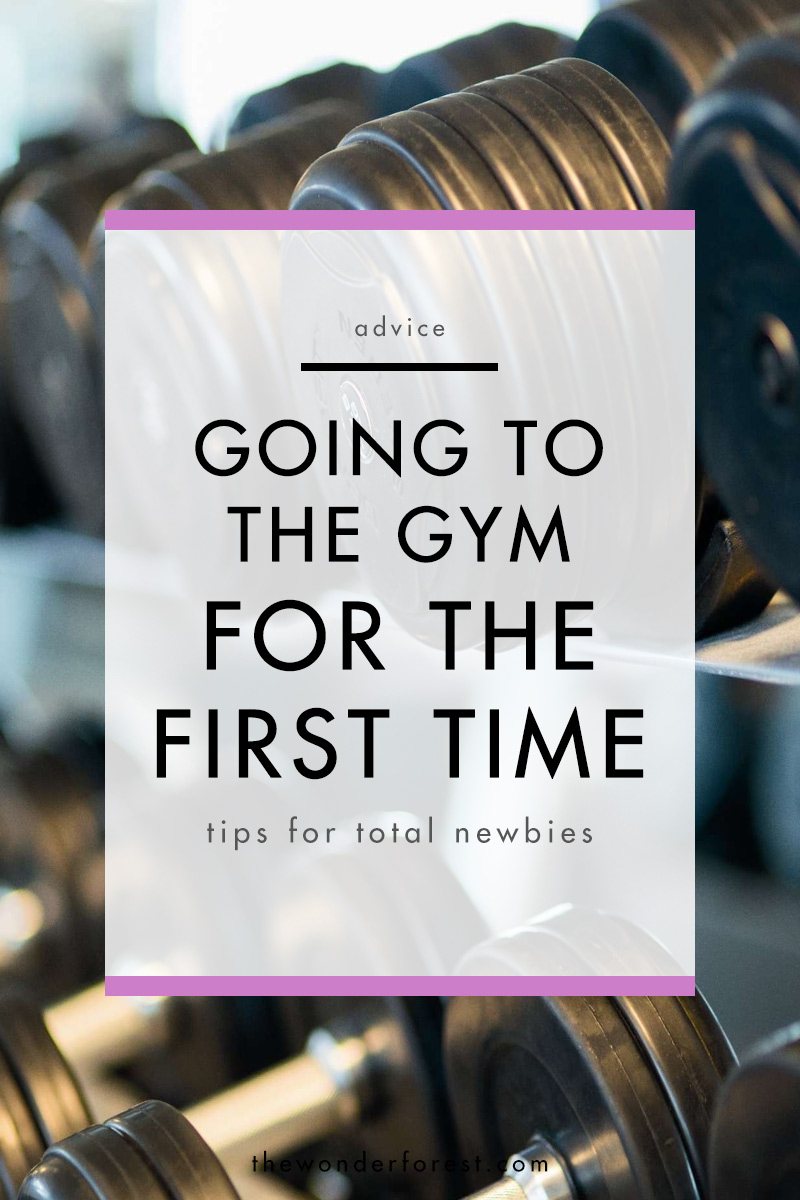 Going to the gym for the first time can be a little intimidating for newbies.  There are so many machines, so much equipment, and people who are more experienced that can put your endurance to shame!  Believe me, I know the feeling and felt the same intimidation a year ago when I was just starting out at the gym. Luckily, there are things I've learned that I can pass on to you so that you can just get your butt to the facility and go for it with confidence.
Try it out
If you're still on the fence about signing up for a gym membership, make a point to stop into your local fitness center to get some more details. Browsing online for a gym won't give you the same experience as checking it out in person, and most of the time the staff will be happy to give you a quick tour of the facilities and go over their packages.  The tour is essential, in my opinion.  They'll go over the basics with you so you have a better idea of how to check in and where to change.  You want to actually enjoy the gym's atmosphere because it will keep you coming back.
Ask if they have any guest passes that you can take with you when you leave so that you can "try before you buy".  Many gyms will let you test out the facilities before committing to a membership.  They also offer day passes if a membership isn't your thing.

Prepare yourself
Gyms often have dress codes, which means you'll need some athletic shoes.  You can also pick up some active wear to help get yourself into the spirit.  Sometimes when you spend a little money on some great gym outfits, your motivation to work out increases because you want to put them to good use! 
Besides clothing, you'll want to put a little bag together including some essentials: a water bottle and a lock if you choose to use a locker. 
Learn basic exercises & make a plan
The biggest tip I can give to beginners is to learn basic exercises before hitting the gym.  YouTube is such a great resource for thousands of exercises and demonstrations on how to perform them correctly. 
Before you start randomly picking at straws, I recommend signing up for a site like BodyBuilding.com and downloading their app to your phone (not sponsored). They have so many awesome fitness programs that you can choose from to get started.  You can select a plan for beginners (I personally started with the LiveFit challenge and am now doing Modern Physique) and every day you are able to track a number of different exercises.  They even have videos showing you how to properly complete each exercise.  Bring your phone with you to the gym to track your progress in the app. Trust me, it helps SO MUCH. 
Once you've got a list of exercises you'll be doing for the first time, you can hop on YouTube and search for them to see how they're done.  You can even search for things like "How to use a shoulder press machine" so that you know exactly how to use a piece of equipment (how to adjust it, etc.) before hitting the gym.  I found that doing my research beforehand gave me a lot more confidence than blindly walking up to a machine and not knowing how to use it properly.
Get help
If you'd rather get some hands on experience, ask a gym-going friend to accompany you for the first time.  Before I even did my first workout at the gym, I had someone come with me and introduce me to all of the machines. I tried them all out so I got the hang of them and wouldn't feel intimidated when going by myself. 
You can also ask your gym if a trainer is available to help get you acquainted with the machines.  For new members, they might have a special introductory walk-through with a trainer, so ask about that!  It's really important to do exercises properly with great form, so if you can even sign up for a few sessions with a trainer that would be best.

Everyone is NOT looking at you
A lot of people that are interested in hitting the gym are self-conscious because they think that everyone will be watching/judging them.  I can honestly tell you that this is 100% not true. Everybody who is at the gym is there for the same purpose… to focus on their workout and go home.  They really could care less if you look silly or can't do as many reps as they can.  Just remember that all of them were once in your shoes.  Everybody starts somewhere and the fact that you've taken the first step in getting to the gym deserves praise. If you still feel self-conscious after that pep talk, you can always wear a hat.  A lot of women feel more comfortable under a visor.
Don't be afraid to talk to others or ask for help if you don't understand how to use a machine. Most of the time, another member will be totally happy to help. 
Follow the rules
Aside from the general posted gym rules, there are some common unspoken gym rules that you should be aware of.  These include:
Wiping down/sanitizing your equipment after use
Not hogging a single machine for extended periods of time
Putting away the equipment you use and re-racking plates/dumbbells
Putting your phone's ringer on silent
Making sure you smell okay and taking it easy on the perfume (basically be considerate. Also, a lot of people have allergies to perfumes and don't like to be squatting in a cloud of J'adore Dior)
You can do it
The hardest part is getting over the "first time" hurdle.  After that, your confidence will increase as you become more comfortable with the machines and your exercises.  I hope that this post gave you the push you need to get to the gym!  If you have any more tips for gym newbies, leave them in the comments below!
Last Updated on