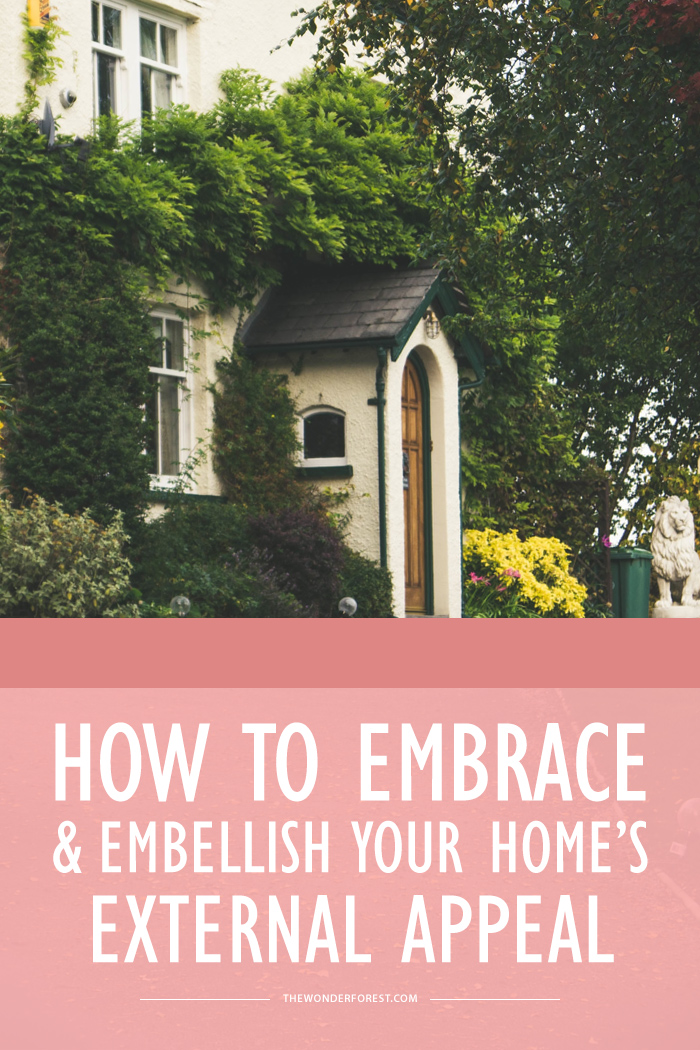 Your home is one of your biggest investments, and as such, it's a big priority when it comes to care and upkeep. This is especially true when it comes to the exterior. Your home's exterior should reflect the value you would like it to have or believe it has. Why?
Because regardless of whether or not you are planning on selling your home, the exterior matters for the house value, it matters to your relationships with your neighbors, and it matters because it makes an impression on you when you come home each day.
It's time to embrace the external appeal of your home. And while you're embracing it, spend some time embellishing it and making it better. Here are some ideas of how to get started:
Upgrade Lighting
Lighting plays a big factor in the appeal of your home. Lighting can be used to highlight the features of the house, drawing the eye to certain vantage points. It gives height and adds richness to the exterior, all while creating an element of openness that is sure to say, "welcome," to your visitors before you even open your door.
Consider installing accent lighting above windows, in the entry way, and at the garage area, as well as around the path up to the front door. For lights that act as highlighters, focus on function and using them as accents, rather than pieces created for style.
Accessorize with Intention
Have you ever gone by a home with a lawn littered with statues? Maybe with placement that seems less than natural? Take care when accessorizing your home's exterior and lawn. Whether you're into wind chimes or country art or floral arrangements, incorporate pieces that exhibit your style in a way that "fits" your home and won't be off-putting to your visitors. If you've got furniture out there, make sure it's functional, as well as appealing.
Install New Garage Doors
Garage space is valuable. Often with storage space and room for your vehicle, it's definitely not an area to ignore. And the entry to this space is just as important. Make sure that your garage doors are fully functioning and safe. If you haven't already done so, install a system that has automatic stops that force the doors from closing when there is an object in the way.
Garage doors, just like entry way doors, come in all sorts of shapes, sizes, and colors, so don't be afraid to go with a unique design that will suit the rest of your house. This could mean incorporating windows or simply upgrading the hardware. Need inspiration? Check out these garage makeovers from Better Homes and Gardens.
Revamp the Front Door
The front entrance of your home is one of the most used and most seen by friends, neighbors, and your family. This focal point should really be offering a look into the style of its owners, showcasing a home that has incredible value lurking beyond the front door.
Consider putting in an entrance door that has a bit of a "wow" factor. Whether you are in a craftsman-style or ranch home, look around and select an entry door that makes sense for your home's style, as well as your own.
Invest in Landscaping
No one will deny that landscaping is a lot of work. It is. And for that reason, many homeowners forgo the art, leaving patches of weeds to get overgrown or flowerbeds to lose their luster. A home can be absolutely beautiful, but when the area surrounding it looks rough, it loses value.
Landscaping doesn't have to mean high maintenance. For those out there whose lives don't allow for digging in the garden, get a low maintenance landscaping plan together with shrubs and trees that are known for not needing a lot of care. If you'd like to add flowers to the mix, use perennials, which will keep coming up year after year. Any annuals you like can be saved for pots near the front door.
Revamp the Shutters
If your shutters have seen better days, it may be time to give them a makeover. A coat or two of exterior paint can breathe life into faded shutters, giving your whole home a facelift. If you have some that are broken or need replaced, spend some time taking them down and getting them repaired.
Should you be ready for a whole new look, consider changing out all of them, as there are many different types to choose from out there. Just remember to stay consistent with the overall look and feel of your home, paying attention to the year your home was made.
Your home's exterior is just as important as the interior. Hopefully, you are feeling inspired and ready to embrace a few enhancements to your home's current external appearance. Simple fixes here and there will do wonders for value and overall feel of the house.
Last Updated on