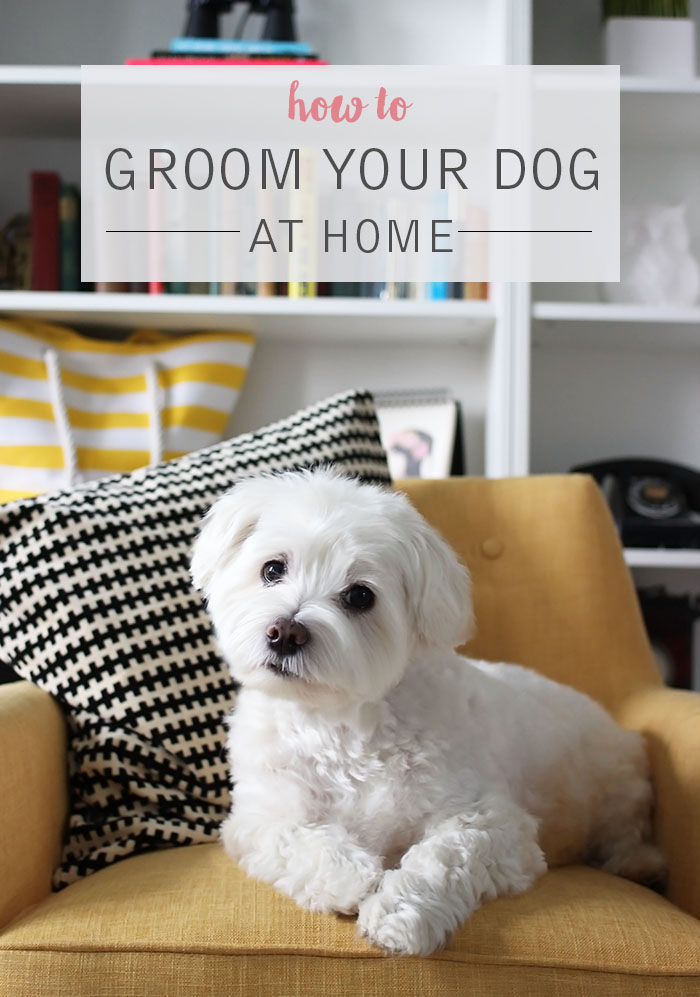 When Bear was a puppy, I used to take him to get groomed every month. Sometimes I liked how he looked afterwards, and sometimes he didn't look like my dog at all.
I finally found a groomer who I loved, only to have her move to a new location farther away, and then to another location even farther away.
I think she moved three times before I decided that going out of my way to groom my dog, dropping him off for 2-3 hours (which he hated), and paying $50-$80 every month was getting a little ridiculous.
I decided then to try it myself and after doing some research and getting the right tools, I definitely saw that it was something I could manage. Since then, I have been grooming him at home and he loves it!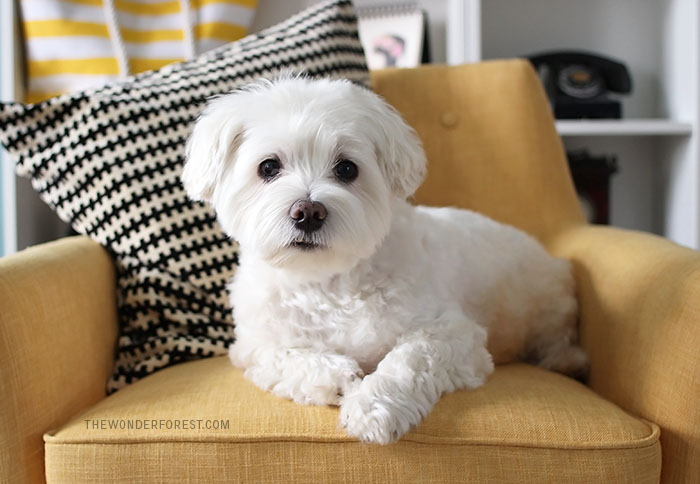 While my results don't totally resemble something fresh out of the dog salon, it works for us and he still looks pretty darn cute. Plus, think about all of the money I've saved over the past 14 years.
Please know that grooming a dog is a skill that takes time to learn. You can seriously injure your pup if you do things the wrong way (even brushing them the wrong way can hurt them).
If you don't feel comfortable grooming your own dog, or they won't stay still for you, please don't attempt to groom your dog at home.
I am lucky because Bear is a good good boy and stays very still for me the whole time. He fully trusts me and we have a bond that is strong.
How to groom your dog at home
I filmed the whole process for you so that you could see how I do it and try it yourself if you like. I will list the tools I use below. Click here to watch or press play below:
This post contains affiliate links for product recommendations. Any purchases made through these links help support the blog with a small commission. As an Amazon Associate I earn from qualifying purchases.
TOOLS:
Andis AGC Professional Dog Clipper Kit
Andis 4FC 9.5mm blade
Wide tooth comb
Grooming Thinning Shears
Step One: Give Him a Bath
Your dog needs to be nice and clean before cutting his hair. The clippers can become worn out and get caught on his fur if you don't start with a fresh, clean base.
Step Two: Blowdry
You can also air dry, but I like to blowdry so the process goes quicker. I usually brush him as I blowdry to try to flatten out some of his curls. You'll also want to make sure the blowdryer is on cool/warm setting and not hot!
Step Three: Clippers
Brush him then using dog clippers (not human ones) shave his body. I use a blade that allows his fur to remain just under an inch long because I don't like him to be totally naked.
Step Four: Scissors
I use scissors on his head and to finish the rest of his body. I use thinning shears to avoid any blunt edges from the scissors, plus they make him look a little fluffier. Cut the fur around his paw pads carefully as well.
All of these steps are shown in the video above. Remember to subscribe! I hope you enjoyed!
Last Updated on