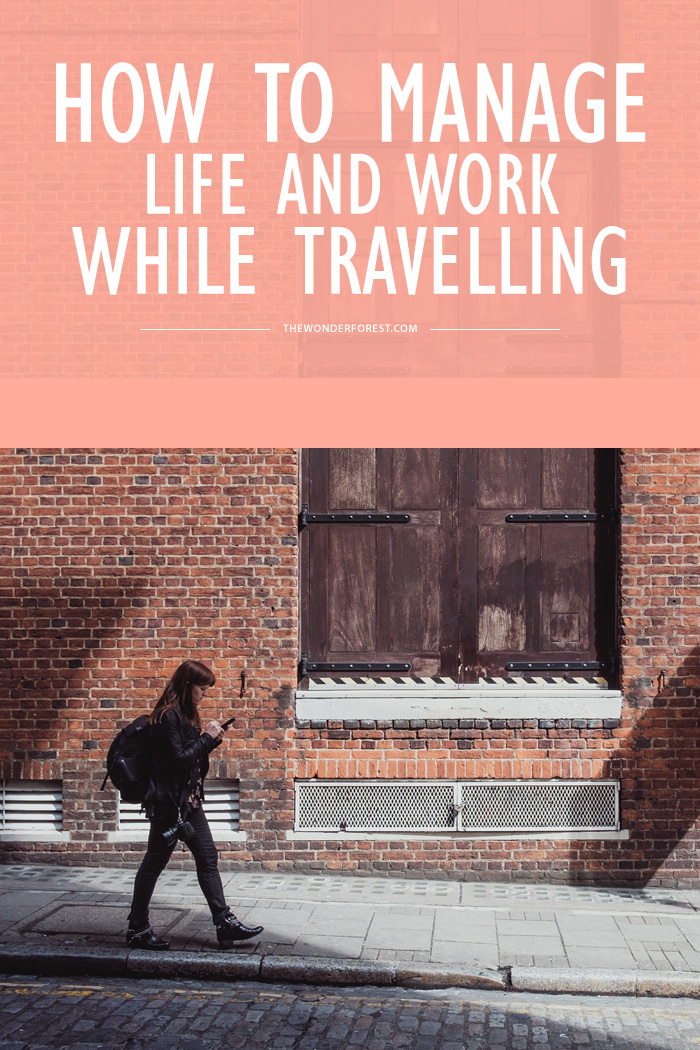 If you have the luxury to work and travel at the same time, it's important to make sure it's balanced. Managing life and work while at home is hard enough, so how do you do it while traveling abroad? Luckily, today's technology makes it easier than ever to stay connected to your job and loved ones while you are exploring the world. With just a smartphone and a Wi-Fi connection, you can have an instant office wherever you go. The next time you travel abroad, try these tips to enjoy a healthy work/life balance.
Establish a Routine
Scheduling out your day and establishing a routine while traveling is a great way to manage your time and ensure a happy work/life balance. Following a daily routine, like checking emails at designated times during the day, can help you stay on top of tasks. Setting-up office hours is a great way to let your coworkers back home know when they can get in touch with you and vice versa. Following a schedule can also help you make time for catching up with friends and family, or simply give you time to enjoy the amazing experiences traveling abroad has to offer.
Apps Can Help You Stay Connected
While it's nice to get away, it's also nice to be able to stay in touch with the people you love and care about. Downloading good communication apps, like Whatsapp, Viber, and Skype, are all great ways to stay connected with family, friends, and coworkers while also saving money (just be sure you have a Wi-Fi connection when using these types of apps to avoid data charges). If you're open to paying a small fee, you can also use Skype to call landlines and mobile phones, and setup online meetings, something which could come in handy when trying to take care of business, literally!
Take Advantage Of Free Wi-Fi
You can help save precious data by using Wi-Fi as much as possible, and it's easy to find it for free if you know where to look. Many places offer it for free, like coffee shops, libraries, hotels, and even a few fast food chains. Enjoy that cup of coffee while you take advantage of some free Wi-Fi.
Setup Your Smartphone for International Use
Guess what? Your smartphone no longer needs to be turned off throughout the duration of your travel, for fear of roaming charges. It can actually be your best friend while traveling, as long as you use it wisely. While you can turn off cellular data and use Wi-Fi exclusively, there are other worthwhile options. Purchasing your carrier's international plan can help you avoid crazy roaming fees and data prices. You may even want to consider switching cell phone carriers to make sure you get the best rates possible. Carriers like T-Mobile for example, now have plans offering free roaming, international data, and free calling and texting from dozens of countries, including Mexico and Canada.
Consider Using Your Phone as a Wi-Fi Hotspot
If you aren't having any luck finding Wi-Fi around you, and you need to get work done, consider using your own phone as a Wi-Fi hotspot. You'll need to make sure your phone plan allows "tethering," which is what carriers call using a smartphone to connect other devices to the internet. Also, it's important to note that using your phone as a hotspot will use your phone's data so make sure you've got a good tethering plan in place. Because roaming can be expensive on your phone, an alternative would be to rent a hotspot, such as the Xcom Global Mi-Fi. You can simply pay for an unlimited data plan for the length of the trip, and get online anywhere (even the beach)!
Make Time for Yourself
This one is important. Traveling abroad is incredibly enriching, but it can also be stressful when you add work into the mix. Taking the time to give yourself some TLC can help reduce stress. De-stress at a nearby gym, or use your hotel's gym if it has one. Better yet, get outside and explore your surroundings with a jog or bike ride! Many cities offer bike-share programs where you can borrow a bike for a small fee from one self-service station and drop it off at another. Bike-share programs are rolling out all over the world and can be found in such places as Paris with Vélib', London with Santander Cycles, and throughout the United States, including Citi Bike in New York City.
And that's that! Managing your work and life while traveling is easy when you establish a good routine, use your resources, and make time to enjoy your surroundings. Now that you have these tips, you'll be able to balance work and life on your next trip. Bon voyage and good luck!
Last Updated on