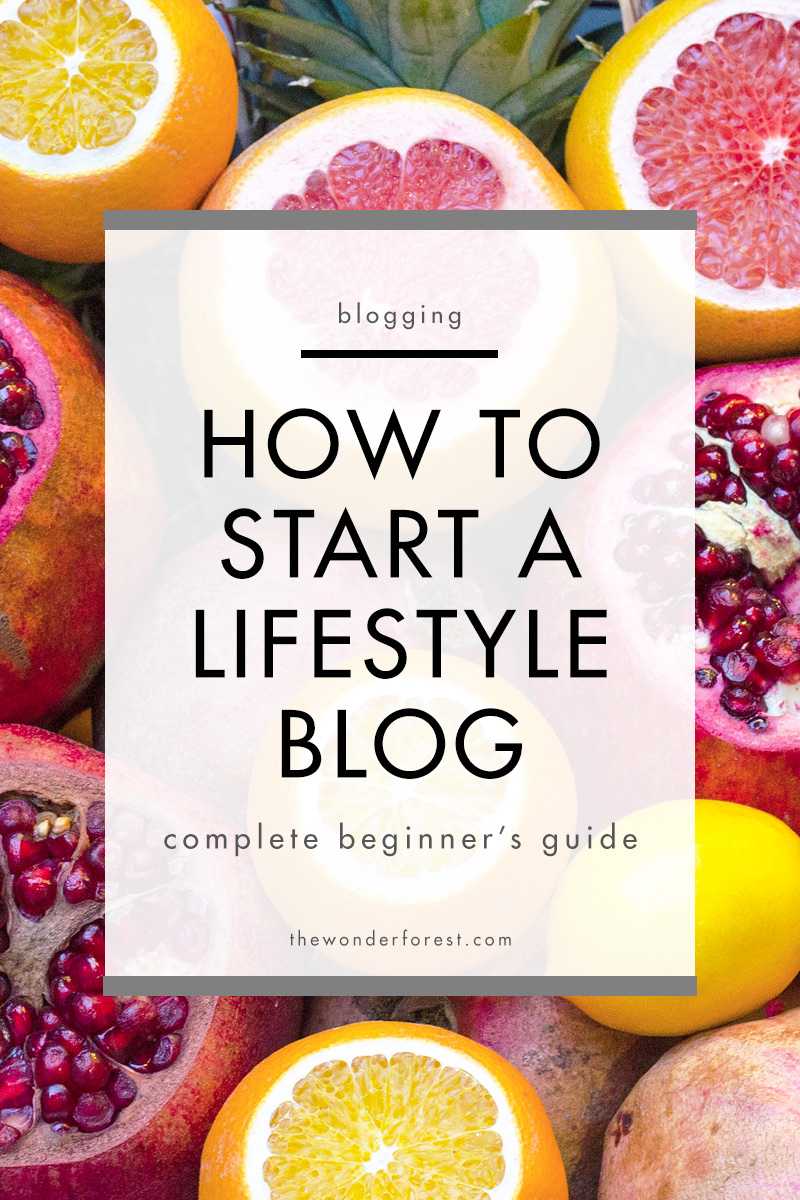 If you've considered learning how to start a lifestyle blog but don't know exactly how to go about it, this is the guide for you! Stop considering and just do it. Starting a blog can be a great new hobby or even used as a way to expand your business presence online. It's not expensive and quite easy for anybody (even those without much computer knowledge!) to set up.
This beginner's guide will walk you through the basic setup of a blog quickly and easily so you can jump right into creating posts. Let's get started…
How to start a lifestyle blog
Before you begin
Decide on your overall theme
Starting a "lifestyle" blog doesn't mean that you have to share every detail of your life. In most cases, lifestyle bloggers will choose a particular theme or topic to concentrate the majority of their posts on. This helps visitors distinguish the overall content of your blog and will help you stay focused as you create content. Come up with some ideas that interest you the most. Some examples could be beauty, fashion, art, tech, family life, or cooking. It's not absolutely necessary to come up with a blog theme, but it will definitely help to attract like-minded people!
Create your blog name
Once you've come up with your blog theme, it's time to think of a name. This is the part that a lot of people struggle with the most. Luckily, I wrote an article a while back which shares my own formula for coming up with names for my projects, blogs, and businesses. You can view that here or watch the video here. Your blog name should be easy for others to remember and spell, and have some sort of connection either to you or the topics you write about.
Choose a blogging platform
There are a variety of blogging platforms to choose from, and the decision is totally up to you. Blogger is free to use and allows you to set up a custom domain name while managing your content on the Google servers through the Blogger dashboard.
WordPress is one of the world's most recognized blogging platforms and offers a ton of features and plugins that Blogger doesn't. It comes in two versions: the free online .com version, or the self-hosted .org version. This can be confusing to newbies, but all you really need to know is that the free version is pretty limited in its capabilities and does not allow advertising or custom themes. If either of those things are important to you, now or down the line, then you should consider the self-hosted version. With the free online version, you will access your blog through wordpress.com and all files are stored on their servers. If you're going to go the WordPress route, I highly recommend doing it the right way with the full self-hosted version, since you'd probably want to upgrade to it anyways in the future. The entire blog will be kept on your own server and accessed through your own domain's dashboard, not the WordPress site. I will show you how to easily and cheaply set this up below.
Next steps
Register a domain name
If you're serious about starting up a blog, getting your own domain name to match the name of your blog is the way to go. This means that instead of your website address being something like myawesomeblog.blogspot.com, it could simply be myawesomeblog.com.
If you chose to go with Blogger, you can read my step-by-step tutorial for registering and setting up a custom domain name on your Blogger account right here.
If you chose to go with WordPress, you will set up your domain name when you set up the rest of your blog, as shown below.
Set up hosting and install WordPress * (WordPress only)
The self-hosted version of WordPress means what you will need your own hosting account. A hosting account is your own reserved space on the web that houses your website and all of its files. Think of it like your computer's hard drive where you store all of your files and photos, except it's an online space entirely dedicated to your website.
Since you'll be "renting" space on the internet from a hosting company, there are fees involved with this. Lucky for you though, I have a special hosting rate from Bluehost that I am able to offer to you. It only costs $2.95/month, unlimited bandwidth, custom email accounts, a super easy 1 click WordPress install, and so much more.
Let's get to it…
To get started with WordPress, sign up for your hosting account and get the special rate by clicking here.
Rate is charged up front annually so you can save huge! (this post contains an affiliate link so I am able to offer you these special Wonder Forest exclusive rates).
1. Complete the signup forms to create your account. Once you have your login details, sign in to your BlueHost control panel and choose the "Install WordPress" option.
2. On the next page, choose Install.
3. Select the domain name you'd like to install WordPress to. You can install it into a directory if you like, such as yourdomain.com/blog, otherwise just leave the "directory" box blank:
4. Select Show Advanced Options and enter the name of your blog. You can also choose your own username and password instead of the default generated ones:
5. Select Install Now and your installation will be underway. When complete, choose View Credentials.
The View Credentials page will show you your WordPress dashboard URL, username, and password. Whenever you want to create a new post and sign into the WordPress dashboard you will need to access it through this address.
Accessing WordPress
Now all you have to do is login to your WordPress dashboard for the first time! Your login page would normally be www.yourdomainname.com/wp-admin, using the username and password provided to you via email. You can change this in the WordPress settings later.
Make it your own
Design your blog
Now that your blog is set up, it's ready to be made over! The default themes that come with your blog can either be tailored to your own taste, or you can install a totally fresh and unique design. If you are looking for an easy premade template experience, check out my design shop, Envye, where I sell premade Blogger and WordPress themes!
Create your first post
The hard part is over. You can now relax and let your fingers do the talking. Creating your first post is exciting! There are really are no rules for this, so jump right in.
The editing pages in Blogger and WordPress are pretty easy to grasp and if you like, you can play around with the buttons and settings to familiarize yourself with everything. You can schedule your posts, safe as a draft, or publish posts pretty much the same way on both platforms.
Try adding photos to your posts and playing around with the formatting options. The best way to learn these editors is to simply mess around with them and figure out what everything does. They are set up similar to programs like Microsoft Word, so it shouldn't be hard to get the hang of quickly.
If you need some help or want to learn some tricks, try visiting my other blog, I Can Build A Blog, where I post Blogger and WordPress tutorials and lots more!
Welcome to the club!
Scheduling and making time
Now that you're a lifestyle blogger, you need to make sure you have the time to post and update your site. The easiest way to do this is to get yourself a planner and schedule certain topics on certain days. It's totally up to you to decide how much you post. It could be a few times a week, every day, or a few times a month. Find what fits within your schedule and work with it!
Coming up with topic ideas
Notebooks are essential for me! I jot down ideas whenever they strike me. Try to come up with a list of 10-20 blog topic ideas on your own that relate to the theme of your new blog. You can also grab a copy of my book, 365 Blog Topic Ideas (For The Lifestyle Blogger Who Has Nothing To Write About) to get your juices flowing!
Taking photographs or using stock photos
Blog posts just aren't the same without a graphic element. Taking photos is something you'll probably want to get into the habit of doing. If you don't have a fancy camera, make sure to make the most of what you do have. Use bright natural light when possible and play around with different styles of compositions. If taking photos isn't your thing, check out this article I recently posted for 30 Free Stock Photo Resources for Bloggers.
Join the community
The blogging community is huge and varies so much. Different genres, different genders, and different goals. Sign up on social media if you haven't already and get yourself out there! Chat with other bloggers, join groups or twitter chats, and just have fun promoting yourself (without being spammy). This whole blogging thing is more of a lifestyle in itself than a task, so enjoy it and decide how you want your journey to go.
I truly hope that this lengthy guide was a great help to you and gave you the kick start you needed to start your blog. If you have any questions, feel free to ask below, and also be sure to check the Blog Tips section in my sidebar for even more. I also publish videos over at The Blog Beautician YouTube channel where I share tips and tutorials for bloggers as well.
Increasing traffic and getting noticed
I'm excited to be able to help you grow your traffic and get seen online. My new course, Get Noticed, focuses on building your audience and getting on the radar of larger blogs, brands, and more. Stop struggling with getting exposure, and start working for it! For all of the details click here.
Who knew starting a lifestyle blog could be so easy?! Happy blogging!
See also:
How to choose a blog name
How to get your blog noticed
Tips for a successful blog
Last Updated on