It's no secret that our social media feeds are becoming more and more video-based; and Instagram, one of the most popular social networks around, is no different.
Ever since Stories have been introduced to the platform, their popularity skyrocketed quickly: now, Stories are viewed by over 500 million users – every day. What's more, videos are becoming so popular on Instagram, that the social network recently introduced a new platform, just for long-form videos: IGTV.
If you're looking how to leverage video on Instagram, look no further: in this blog post, I'm going to show you how to upgrade your Instagram video marketing game.
Plan And Research Your Instagram Video Content
There are numerous types of videos that you can create to help promote your brand and products on Instagram:
Product videos: videos highlighting and promoting your products and what makes them amazing
Tutorial videos: videos that highlight how to use your products, how to leverage certain features and how to use your products for different reasons
Branded videos: videos that showcase your brand and help spread brand awareness
How to videos: videos that provide value to your target audience and engages them by showing them how to do something (for example, how to cook a recipe, how to create something and so on)
Behind the scenes videos: show glimpses of behind the scenes of your business and events
Blog promotion: short videos promoting your blog posts
Live streaming videos: great for live Q&As with your audience, interviews with interesting and relevant influencers and thought leaders, live product tutorials
Whether you're creating a regular video to post on your profile or an Instagram Story, most of these formats will work beautifully (except for live streaming, of course). Take the time to plan and research your videos ahead of time:
What are your

social media marketing

goals? What do you want to achieve with Instagram's help? Based on these goals, consider which types of videos will help you achieve these goals (for example, if you wanted more engagement, you'd need to create more how-to videos, behind the scenes videos and live streams, or if you're using Instagram to boost your sales, then create more product and tutorial videos)
What topics interest your audience? Use content research tools like

Buzzsumo

or

Answer the Public

to research target keywords and see what content performs best or what questions are most asked online – this will give you an idea of the topics that would work best as subjects for your Instagram videos (particularly non-branding/product videos)
As for planning your calendar – and scheduling your Instagram video content – there are a few useful tools that allow you to do this easily and quickly – and save you a lot of time in the long run.
One option is Agorapulse, which is perfect for those who use several social networks beyond Instagram (it also works with Twitter, Facebook, LinkedIn and YouTube). The social media management tool was in the first round of tools that offered Instagram direct publishing and scheduling and now, it also allows you to publish and schedule videos and Stories to your Instagram profiles. And no, you don't need to go on the Instagram app before they're actually published.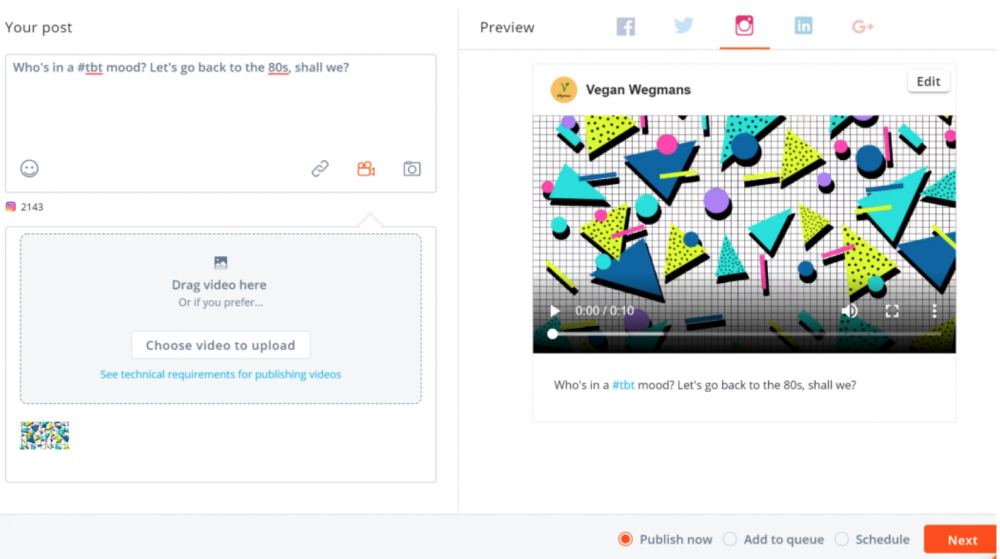 As you can see above, you have multiple options for publishing your Instagram content; publish it directly right then and there, schedule it for a specific date and time and last but not least, add it to a queue to be published automatically.
This is a very useful feature for those with active Instagram accounts (especially if you're managing multiple accounts) as you won't have to schedule each video yourself; rather, set up a queue, set time slots for your queue (i.e. all the times when you want to publish a new video or Story, for any day of the week) and then simply add the video content to your queue to let the tool do all the work for you.
Plus, you also get a bunch of other useful features for Instagram management, such as a social inbox where you can see your messages, a hashtags listening tool and the ability to connect your ad account, among others.
Another useful tool is Later, this one focused exclusively on Instagram, so it's a great option if you're only using Instagram for marketing purposes.
There are several things that you can do with Later; to start with, you can upload all of your video content directly to their library for easy access (great news for the serious planners!).
Then, you can use the visual content marketing calendar to start actually planning your updates, including videos and Instagram Stories with drag-and-drop functionality: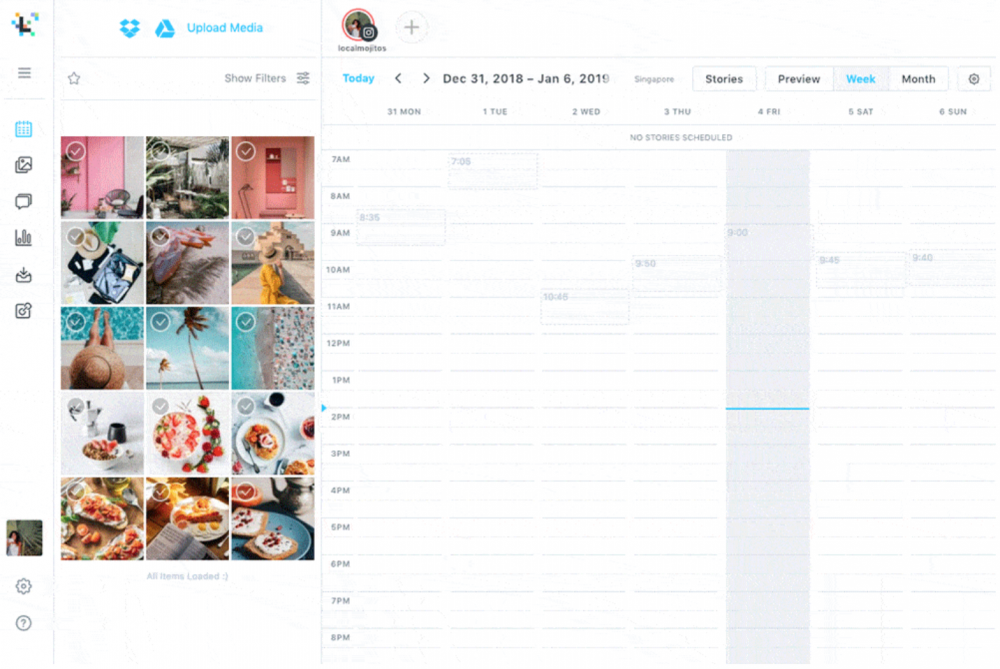 Just like with the previous tool, you can use Later to publish and schedule your updates directly if you have an Instagram business profile, instead of getting a notification and publishing the content by yourself via the smartphone app.
Apart from posting and scheduling your Instagram content, Later also offers a UGC (user generated content) tool for reposting other users' content more easily, as well as Instagram analytics.
Creating Your Instagram Video Content: Useful Tips And Tools
As for how to create beautiful and engaging Instagram video content, there are a plethora of truly great – and easy-to-use – tools to help.
However, if you want to make sure the videos you shoot on your phone look (and sound) great, you should invest in a few gadgets:
A tripod for stabilizing your videos

A microphone for making sure the audio on your video is crystal clear

Lightning to make sure the videos you shoot look great (especially important for indoors videos) – also useful for taking better pictures which you can use in your videos and Stories
That said, there are plenty of tools that will help you put together an amazing looking video with little effort (and little talent or editing knowledge needed).
For example, Quik by GoPro pretty much does all the hard work for you – you just need to select the images and videos you want to include in your video/Story and choose the theme you want (they have some really great and varied options).
From there, it's a simple question of adding text overlay, trimming your scenes (each video and photo you add counts as a scene) and adding music – and voila, your video is ready to share on Instagram!
Oh and you don't need to worry about the Quik logo; you can remove that by selecting the last scene (the Quik by GoPro scene) and disabling it to remove it from your video.
It's also worth getting the Hyperlapse app from Instagram which allows you to create beautiful time lapse videos, as well as Instagram's Boomerang app which essentially does the opposite: short, GIF-like looping videos (remember to save any Boomerangs you love; I've lost too many hilarious Boomerangs because I forgot to click save before taking another one!).
Another highly useful tool is Canva, which is great for creating images to use in your Stories and videos; this image editor allows you to create visual in all kinds of formats, including Instagram Stories: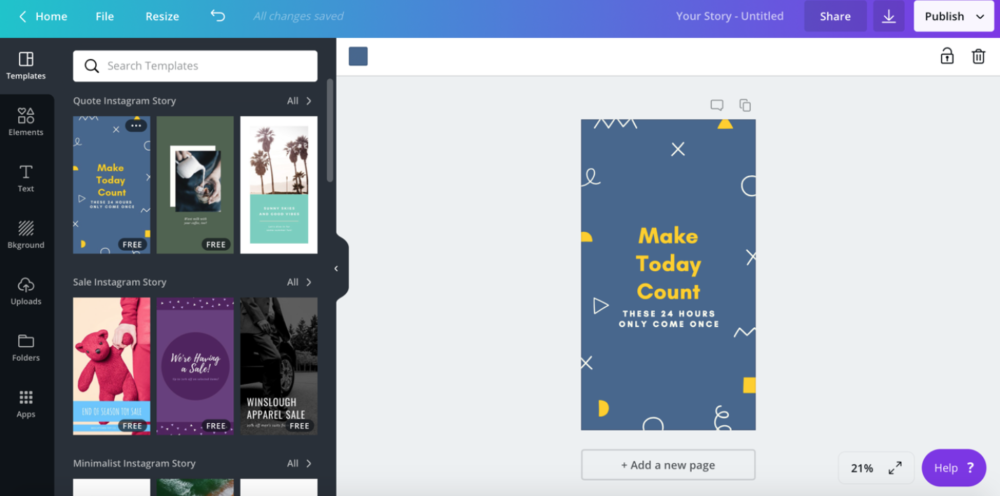 Plus, as you can see in the above screenshot, you have a multitude of Story templates to use as a starting point for your design. Once you've created your images simply add them to your Story directly in Instagram or create your Story using a video editor like the previously-mentioned Quik by adding the images you created.
Video is currently exploding across platforms and Instagram is certainly at the forefront. If you want to make the most of video marketing on Instagram, make sure to plan and research your content ahead of time, leverage tools and smartphone apps to help you create better and more engaging videos and Stories and save time by using management tools to publish and schedule your content more easily.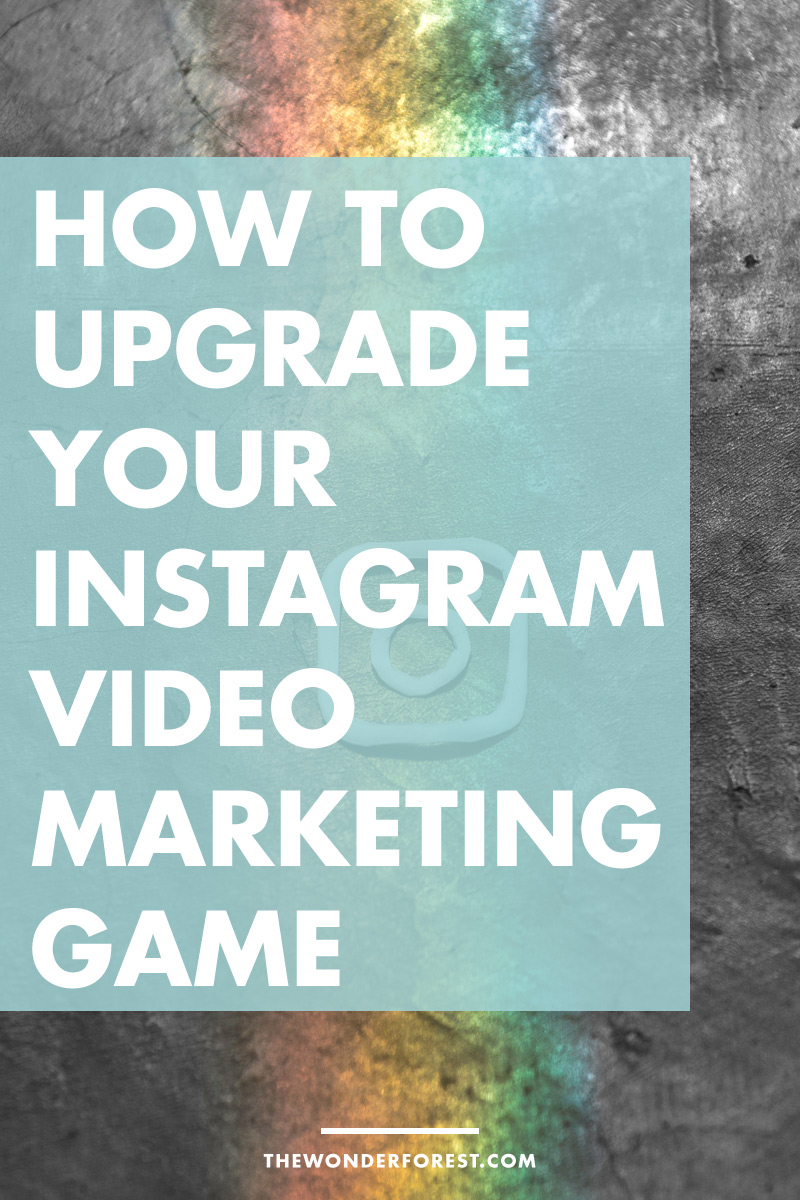 Last Updated on