Hello friends! My name is Valérie and I blog over at Moonlit Stories. Today I would like to share some tips when you really want to visit the Greek gem that is Santorini. Destinations like Santorini aren't the obvious choice when you're still a student. I've just started my last year in college so by June 2016 I'll have my bachelor's degree in social work. College and university already cost a lot of money so for many students Santorini is/stays a dream. My sister and I went to the most beautiful Greek island for seven days! Here's how we traveled without spending a fortune.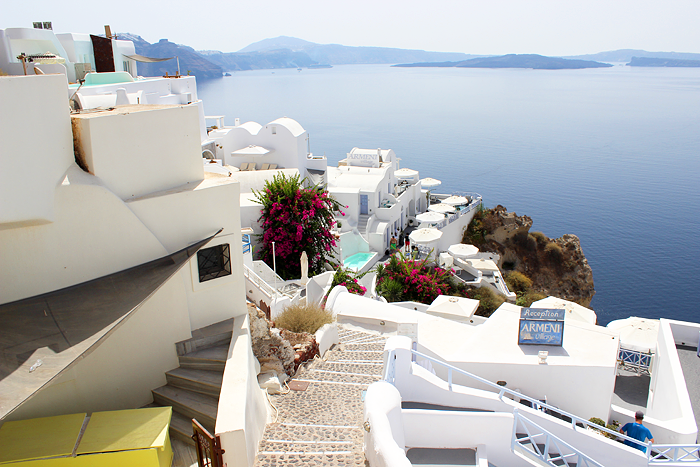 Your Plane Ticket
This will probably be the most expensive part, unless you're lucky. Try using Sky Scanner. Most flights to Santorini have a few stops, but my sister and I are terrified of flying so it was crucial that our flight only had one or no stops in between. That's probably the main reason why our tickets where a little bit more expensive. We paid about €350 each, back and forth. Of course it also depends where you live: we are from Belgium so Santorini is 'only' 3 204 km away. It takes a lot more time when you're for example from the US.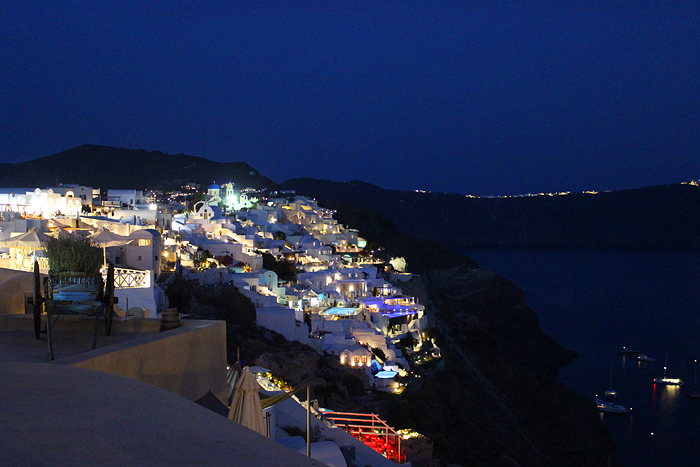 Your Hotel Or Residence
This was our best bargain! We paid €120 each for seven nights and we were only 6 km away from the center of Oía. We've used Booking.com. When searching for a hotel or residence, always make sure it has a 8,5+ and excellent ranking. There are so many unique locations to stay! We chose Soulis Apartments: it's close to a black beach and close to Oía; the apartments are clean and cosy and there's a lovely pool. The staff is very friendly. They really make you feel welcome and at home. We booked a studio and had a lot of space. The only downside was the small bathroom but we got used to it after a few days. Soulis Apartments also offered free daily transport to Oía 3 times a day with a private mini bus. We loved this service! Keep in mind that we wanted to stay close to Oía to see the beautiful sunset often. You can also stay somewhere a little bit fancier for probably the same price (e.g. Perissa) but you're further away from Oía which is in our opinion the best and most beautiful place to wander around on the island!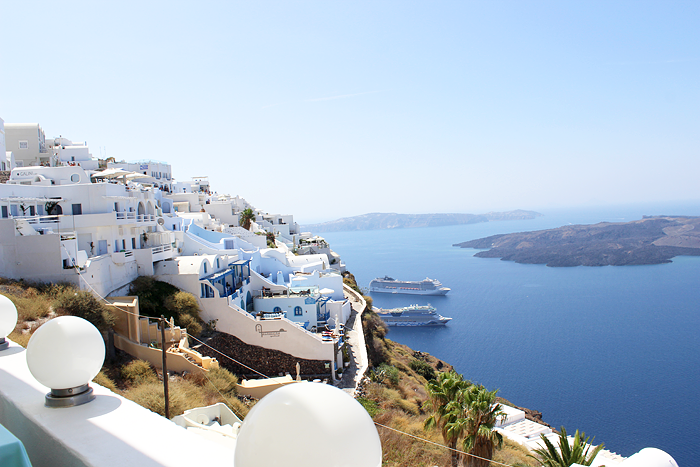 Food
Try the local supermarkets and take the food with you. We often bought a large loaf of bread, tzatziki and feta cheese and had our little Greek feast at lunch time. It definitely saves money because it's not as expensive as going on a restaurant. If you want to eat something cheap but very delicious, try Greek pita! It's basically a roll of pita bread with roast chicken, tzatziki, lettuce, tomato, onion and some French fries. I'm not a fan of pita here in Belgium, but the Greek version was sooo much more delicious! Get yourself one for only €2,5 — such a win!
For dinner we usually ate at a restaurant. It costs more but you won't pay a fortune when you're looking for the right place! Stay away from the center of Fira. Try looking for a restaurant in Firostefani, which is close to Fira and has the gorgeous Caldera view as well. I remember paying only €15 for calamares with rice, a Greek salad and a large bottle of water for the two of us. A lot of people wonder whether it's expensive to go out for dinner in Oía. This was probably my biggest fear: not being able to eat in Oía because of the expensive restaurants! But let me tell you: there are always affordable places to eat in Oía. Actually there are plenty of them! Look for the Trip Advisor logo and try out local dishes like moussaka or a Greek salad, those are cheap and delicious.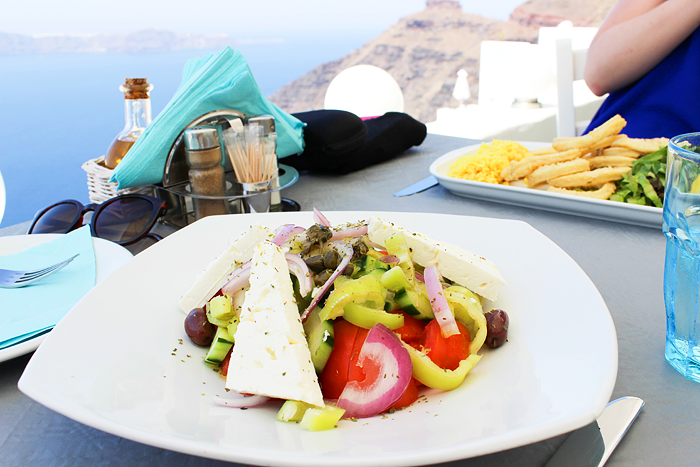 Transport On The Island
Whatever you do: don't rent bicycles unless you're an athlete. You're probably thinking 'of course I'm not going to rent a bicycle!' because I'm almost a 100% sure that we were the only ones silly enough to think that riding bikes in Santorini would be a great idea. It's not. There are so many hills and keep in mind that it's 30°C in summer. With all the ATV's and cars on the island, biking isn't even safe. If you have driver's license you could always rent an ATV (quad) for only €15 a day. If you don't want to rent anything, I suggest you use the KTEL local busses. They are only about €2 for a single ride and will take you to Santorini's best spots!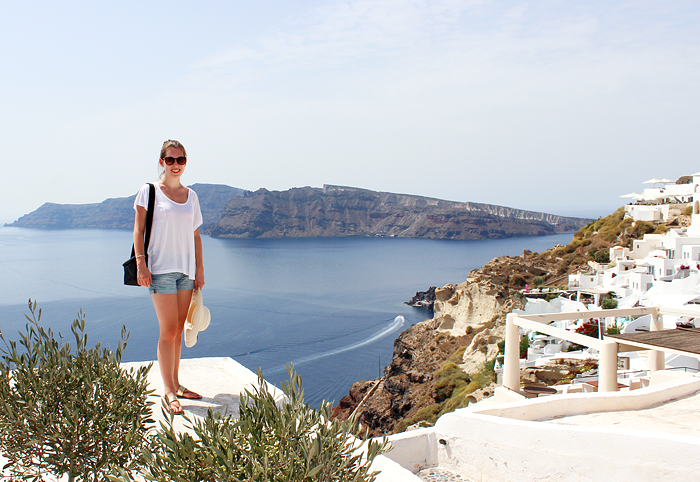 Those were my tips! If you want an infinity pool and a Caldera view 24/7, this post is of course not for you. Don't book your trip during high season either; you'll pay a whole lot more! This post is for people who are on a budget and who don't want extra luxuries like an all-in or a spa at the hotel. Final tip and like I said before: try looking for Trip Advisor logos on the doors of restaurants (or hotels). Trip Advisor guarantees the best value for your money!
Hope you enjoyed this post! We had an amazing time in Santorini.
Last Updated on