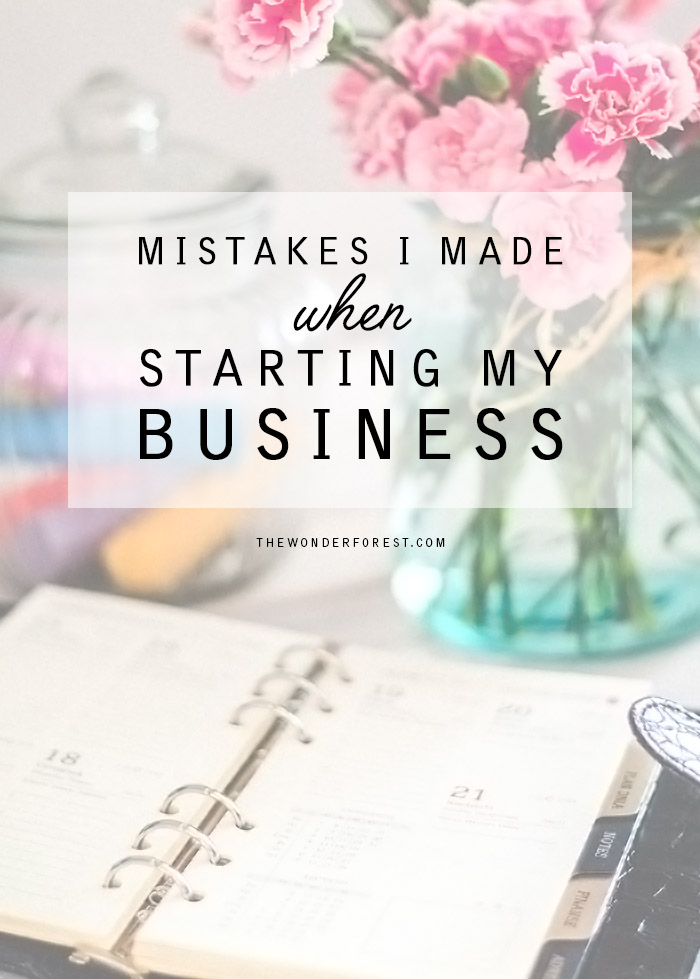 Before I started doing design work and this stuff blogging full time, I actually had a couple of failed businesses. I consider them "failed" only because I didn't see them through. I gave up when I just wasn't feeling them anymore. The first business I created was when I was sixteen, and after that I continued to follow the entrepreneurial path through various other business ventures.

Because of those experiences, I learned a LOT from my mistakes and was able to create a more successful business later on, which has lead me here. I wanted to share some of those mistakes from my early days here, because even though the type of business has changed over the years, the knowledge about building a business is something I'll forever have.
When I began, I thought that my future was in creating retail products and selling them. I had my own t-shirt company and then later opened up a designer online retail store that carried brand name apparel for women. As you can see, I no longer do either. Here is why:
I didn't do enough market research
My idea seemed like a good one to me, but I didn't spend the time to test products beforehand to see if people would actually want to buy them. Having your friends occasionally tell you "oh yeah, I'd totally buy that" is not good enough to solidify the idea of creating an entire business based around a product. There is a great article here about how you should collect market research properly.
I thought people would automatically find me
Once I had my product in hand I thought it would be as easy as posting it up on my website and doing a little social media posting and SEO to get noticed. The problem with this was that there were already thousands of the same type of business, with better reputations, dominating the search engines. There were already stores that people frequently shopped for similar products, so trying to get MY name out there proved to be really tough.
I skimped on advertising
All businesses want to try to save money where they can, but advertising shouldn't be one of them. I didn't realize this and decided to try to spread my pennies out as far as I could. This meant only having a couple of ads out there in cyber space, when in actuality, there should have been hundreds. I should have spent more time on promotion and actually getting people to identify with my store.
I didn't realize how expensive things could get
Creating my own t-shirts was a pretty expensive venture, especially when most screen printing places have minimum order quantities and set up fees and colour change fees… not to mention the actual t-shirts. I spent so much money on creating the designs and products without much of a plan besides listing them online afterwards. My designer shop also proved to be quite an expensive ordeal, costing me about $20k in product that I ended up selling most of for below wholesale value. When it comes to ordering product from distributors, they also have minimum order quantities and minimum product quantities, and this can start to get really pricey when you need various sizes of a single piece, especially if the quantities you order are small.  I was spending money entirely on the product without much wiggle room for advertising and promotion afterwards.
I didn't understand market saturation
There were already so many similar stores and products, why would mine stand out? I thought that because these were things that I thought were awesome, others would think they were awesome too. People like ME would shop in my store. That was a totally ridiculous way of thinking. Why would someone want to shop at my store when they could go to another that sells pretty much the same stuff? Here is a great article about succeeding in an over-saturated market.
I worked at another job while trying to make my own business grow
I worked other jobs so I could fund my business ideas. I probably worked more at other jobs than I did at my actual business, and I realize now that a business can never work that way. When you are able to, you need to be able to dedicate 100% of your workable time and energy into your venture to see it really take off. Trying to balance both worlds just kept me in a static place.
I didn't take the time to build a strong identity for myself
I wanted to be recognizable, but I didn't do a very good job of that. I could have worked much harder at creating a strong brand identity, but I didn't. I thought that having a logo and a well designed site was all I needed to attract people. I was wrong. Mind you, Facebook and Pinterest weren't really around back then (along with other social sites) so it was a bit tougher to try to network online. Here is a great article about creating a strong brand identity.
All in all, these were things that could have been avoided, but helped me learn some of the ins and outs of the business world. Maybe these things can help you on your own quest for self employment. If you have a business, I'd love to know a mistake you made that you learned from!
Last Updated on