Are you a craft lover who's wanting to try something new? Love embroidery but want a challenge?
Punch needling might be the craft for you! From wall hangings to cushions, there are so many punch needle kits out there to get you started! Here are our top 15 punch needle kits!
If you're just getting started and want to learn more about punch needle, check out our beginner's guide to punch needle!
This post contains affiliate links for product recommendations. Any purchases made through these links help support the blog with a small commission. As an Amazon Associate I earn from qualifying purchases.
Bauble Beginner Punch Needle Kit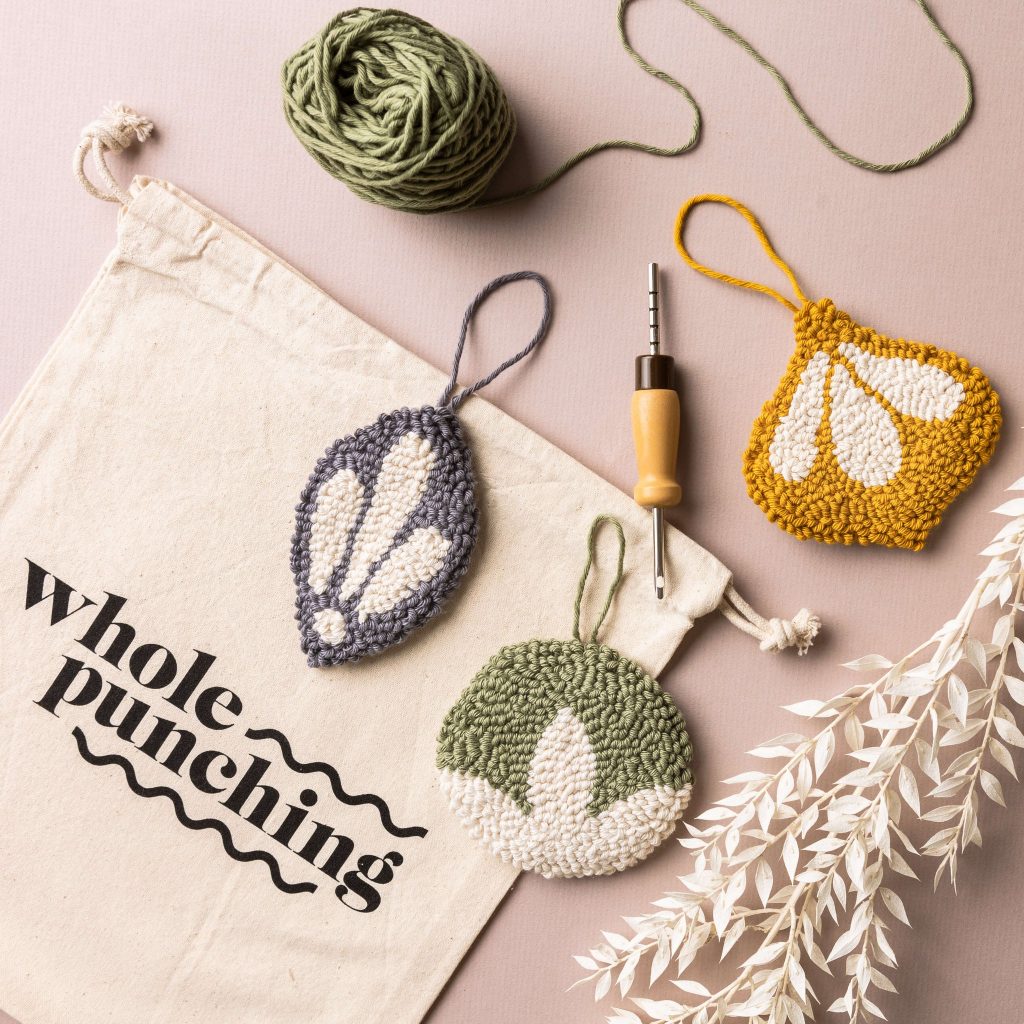 Buy here
This bauble or ornament punch needle kit is perfect for beginners, make 3 small baubles. Christmas may be a few months away but it's never too early to start your Christmas crafts!
Scallop 70's Punch Needle Pillow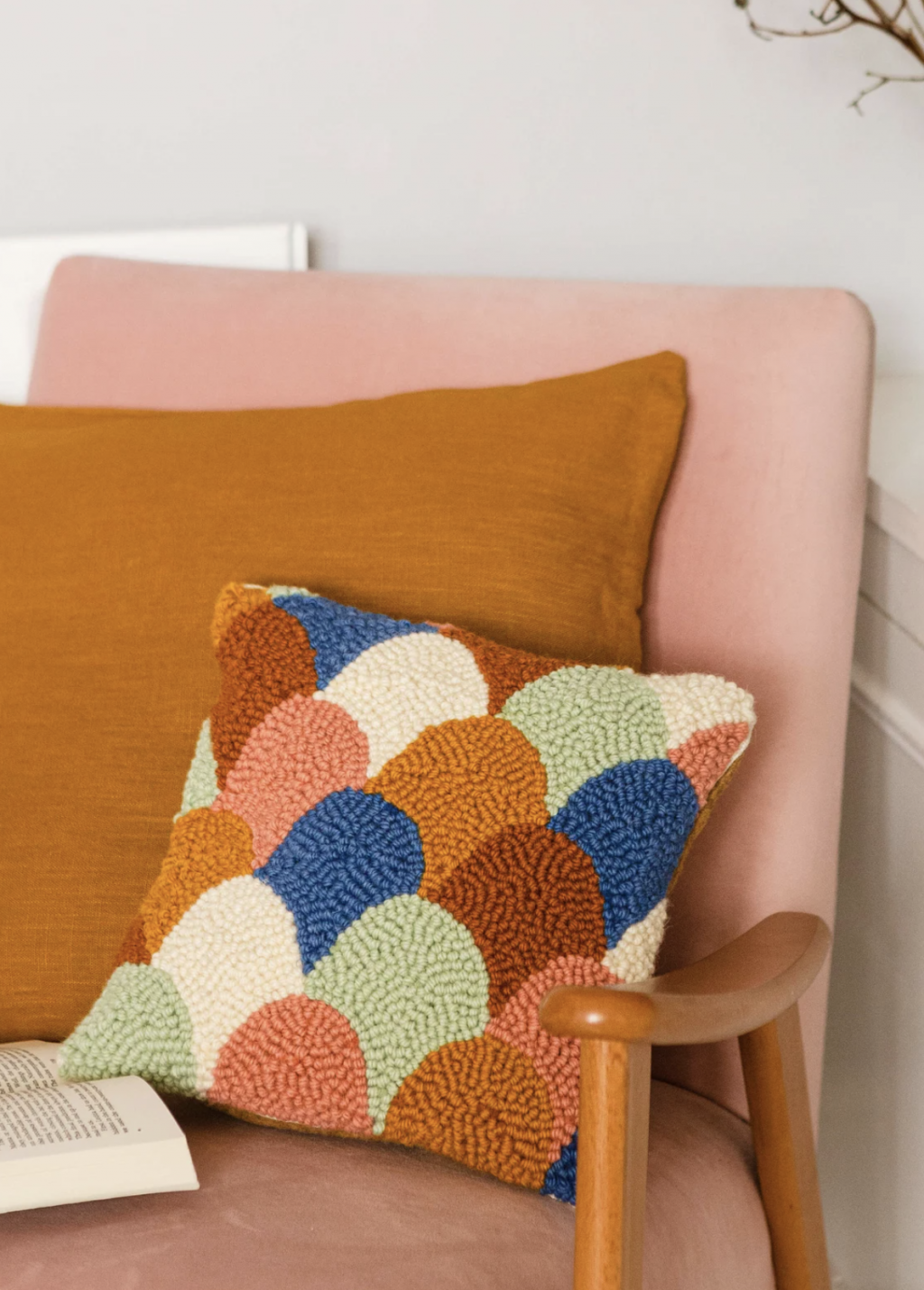 Feeling adventurous? This gorgeous 70's style scallop pillow punch needle kit is a show stopper. This complete kit, sold on Etsy, comes with a 16" wooden canvas stretcher bar frame, 100% wool rug yarn, printed instructions and a printed design template – if this is your first time punch needling you can purchase a punch needle too!
Sunshine Punch Needle Kit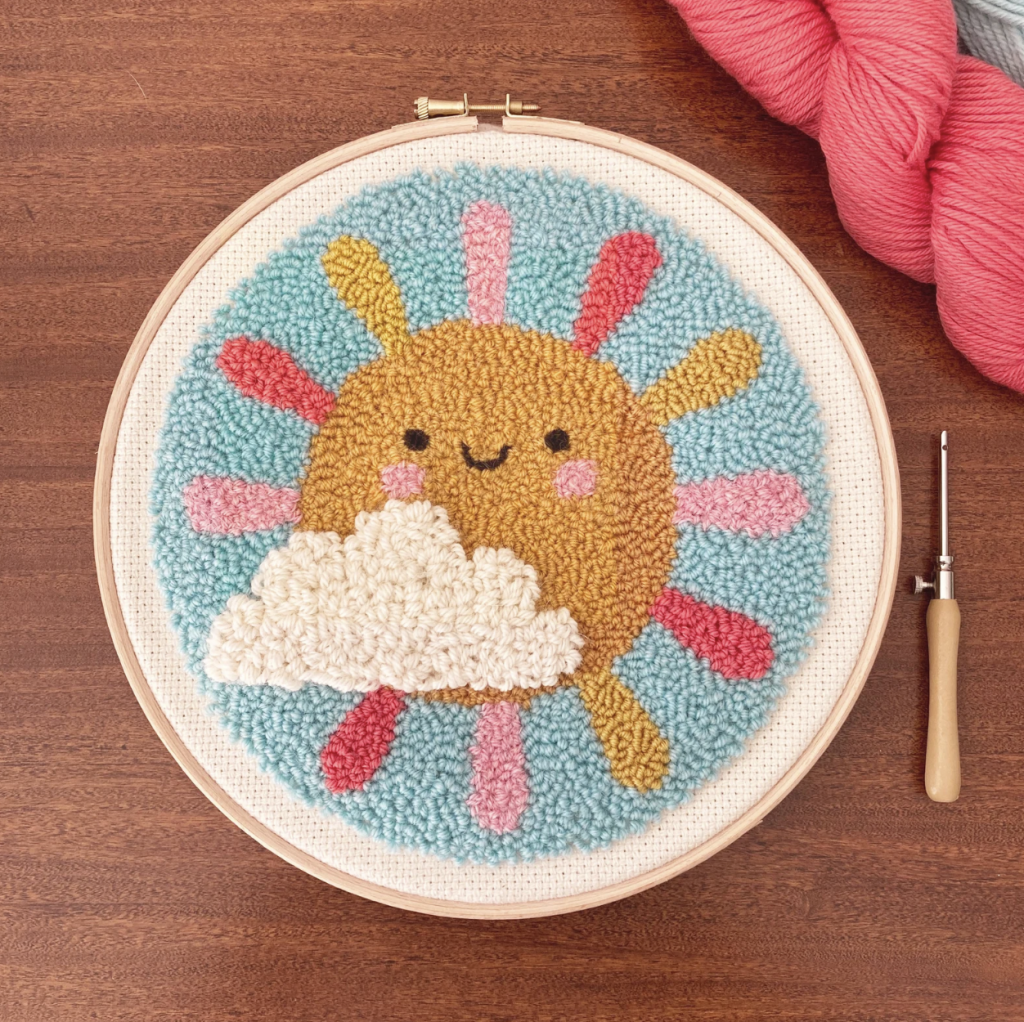 Buy here
This sunshine punch needle design is adorable, and with 3 needles to choose from you can really add texture and depth in to your punch needling! The kit also comes with 7 different colours of yarn, a reusable embroidery hoop, a punch needle threader and monks cloth fabric with the pattern already printed.
3 Set Floral Punch Needle Kit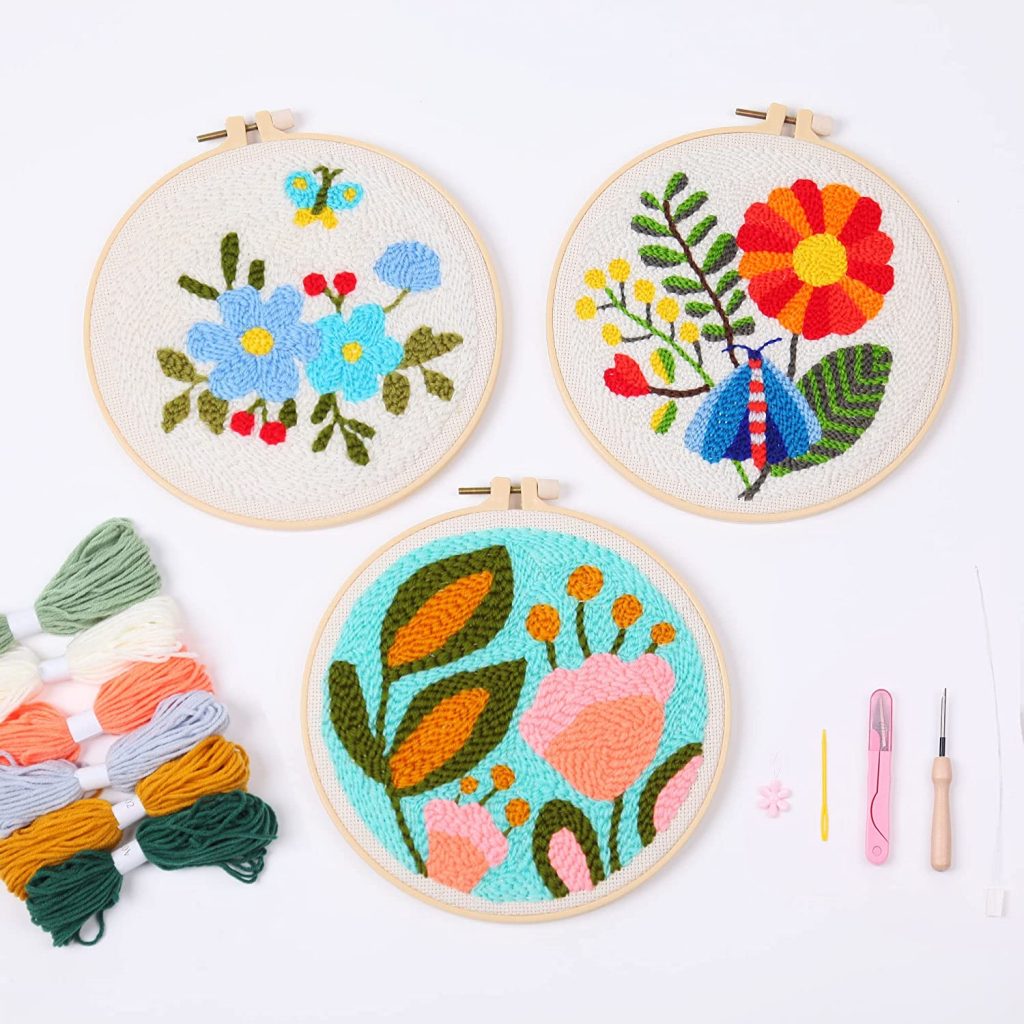 Buy here
Want to craft whilst you're on the go? These mini floral punch needle kits are perfect to pop in your bag so you can sew on the go! This set comes with the designs printed in colour on the fabric so its super easy to follow.
Initial Punch Needle Kit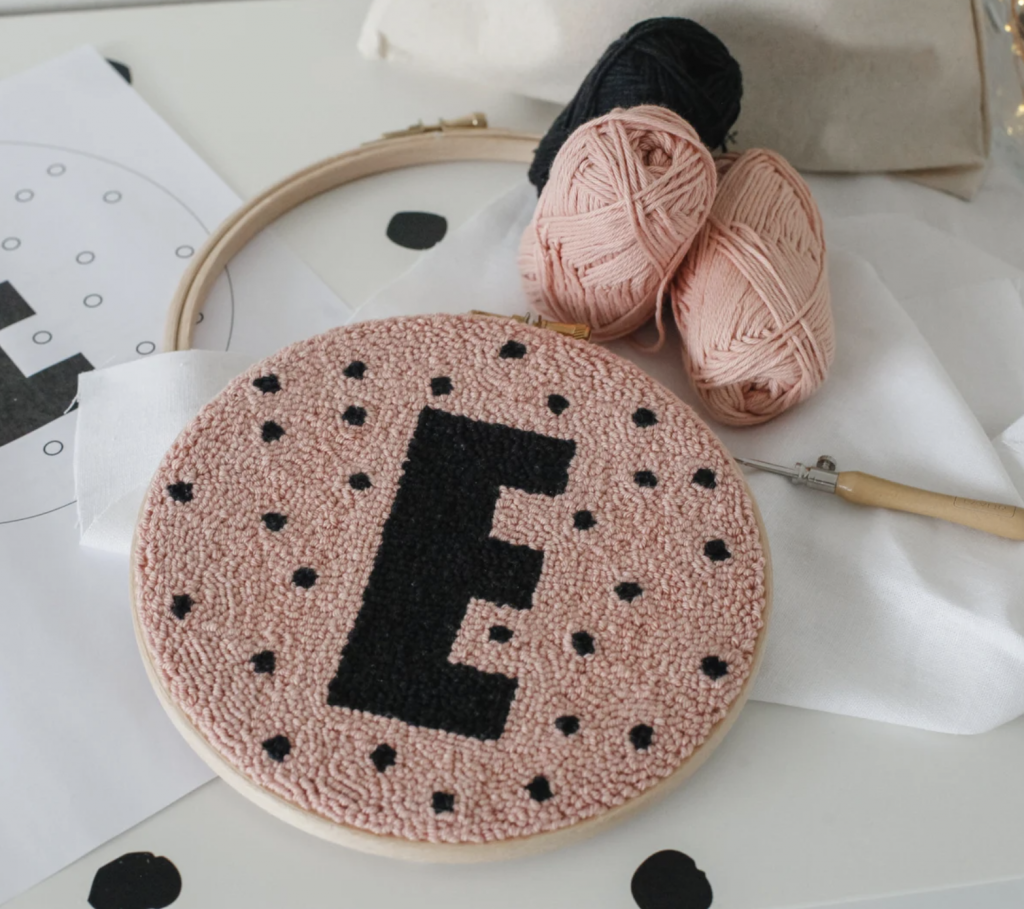 Buy here
This initial punch needle kit is perfect to make for a gift. Choose your letter at the checkout and you can make this adorable wall hanging, and with 40 colours of yarn to choose from you can really match your style.
Floral Pillow Punch Needle Kit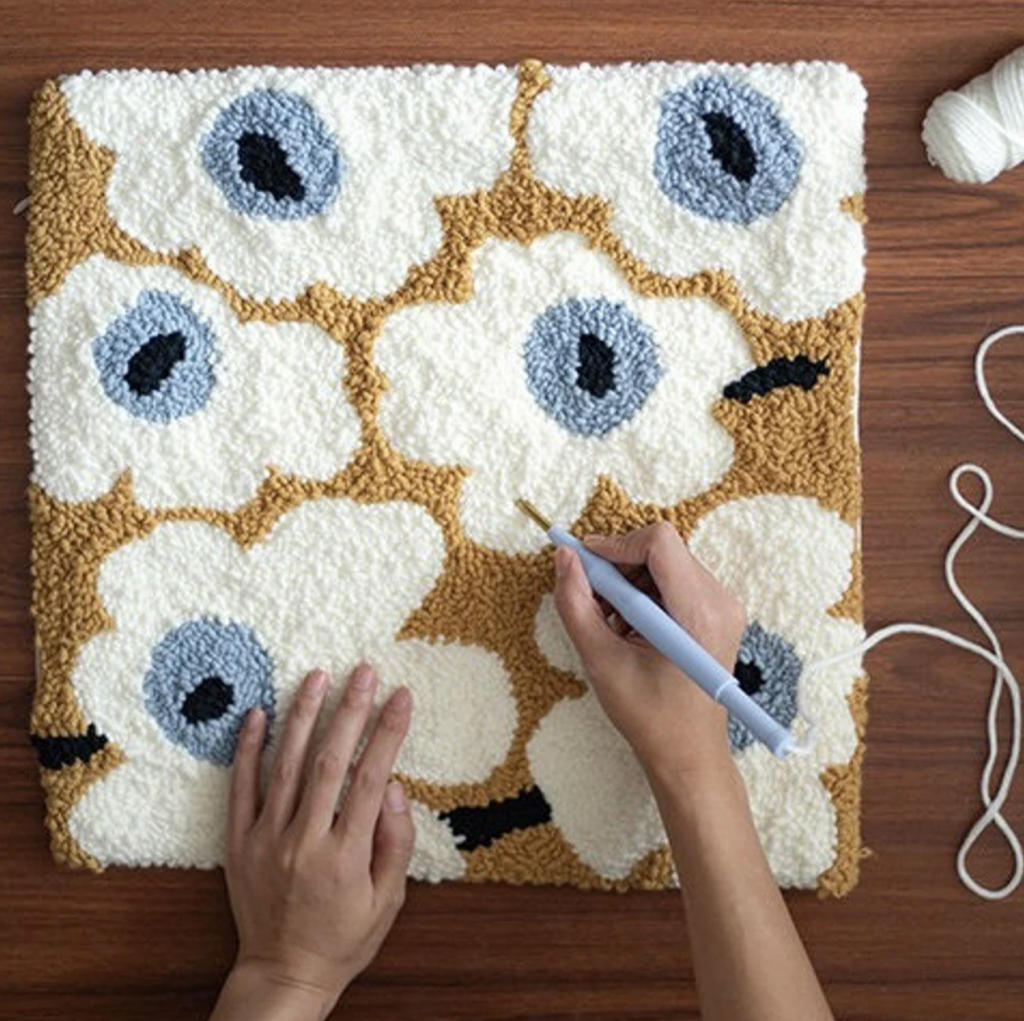 Buy here
Are you up for more of a challenge? This funky retro floral design will stand out on your couch. There are 3 other designs to choose from at checkout too, with the option of either a plastic or wooden punch needle to complete your punch needle kit!
Floral Framed Punch Needle Kit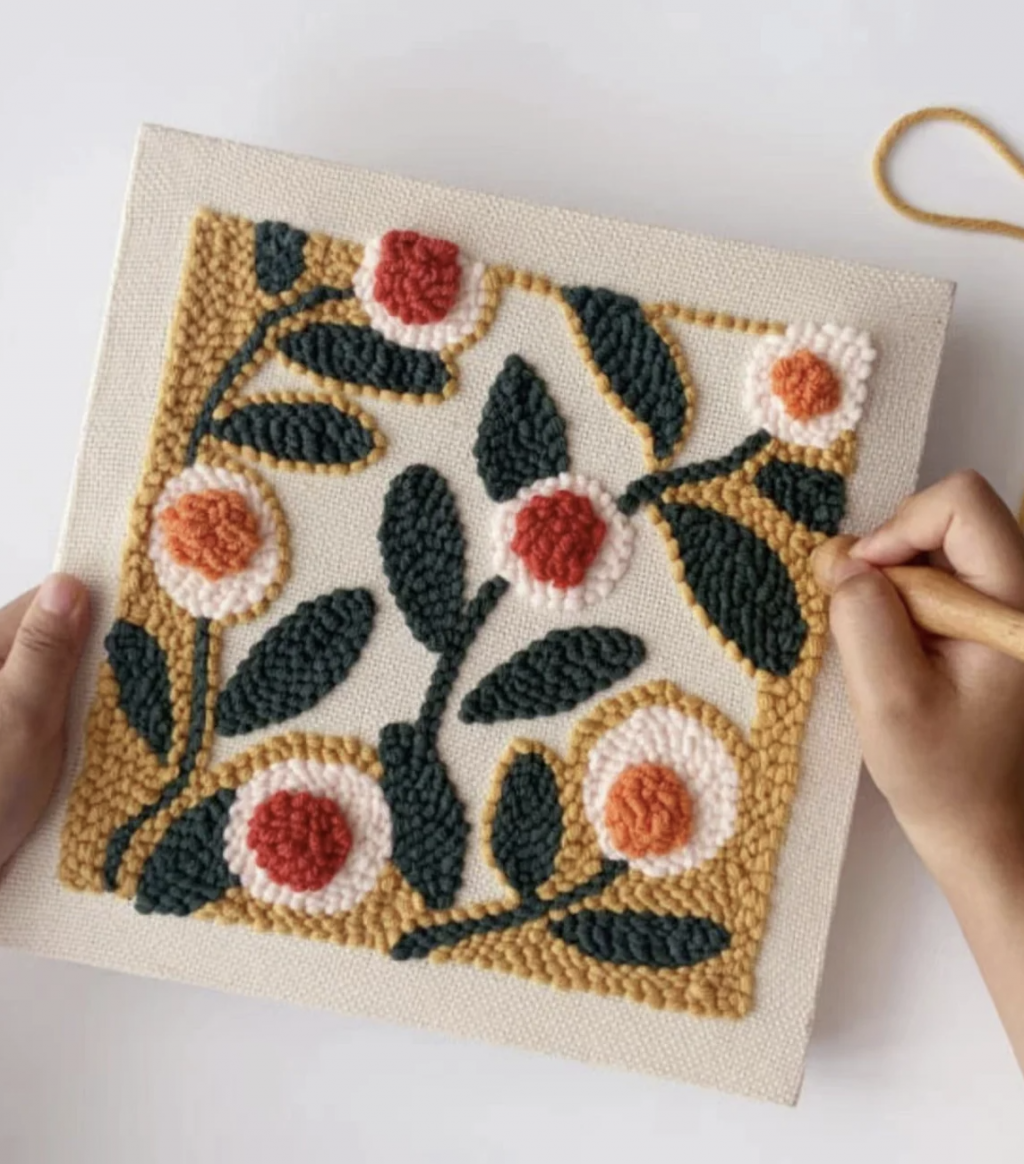 Buy here
If you're looking for some new artwork to hang on your wall, this punch needle set guides you in creating a beautiful embroidered piece you can frame! Great for beginners and punch needling pros alike — this kit is for everyone.
Textured Punch Needle Kit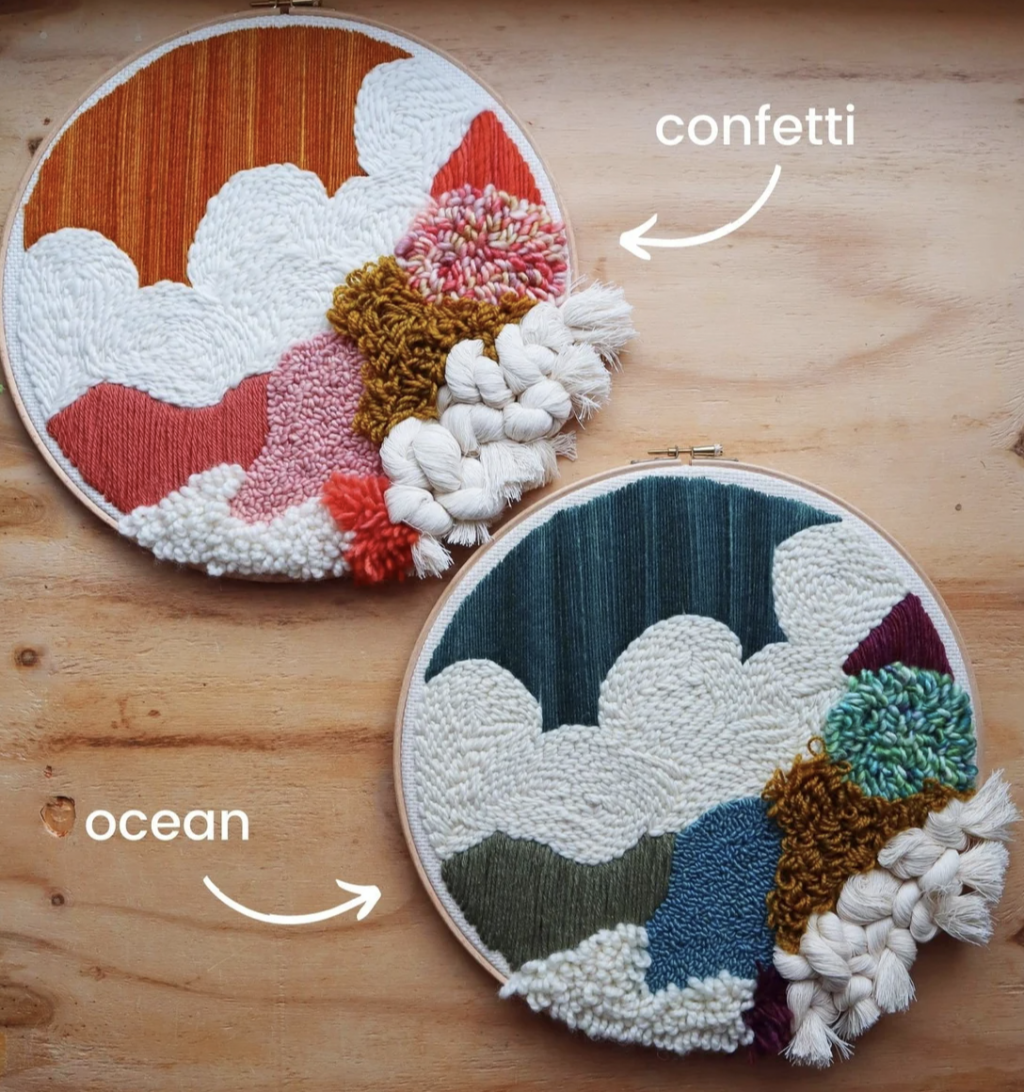 Buy here
If you've tackled a few punch needle designs already, this textured kit is the perfect next step. This kit combines punch needling with weaving to create a stunning 3D wall hanging. There's also 2 colour themes to choose from to suit your preferred style!
Fruit Coaster Punch Needle Kit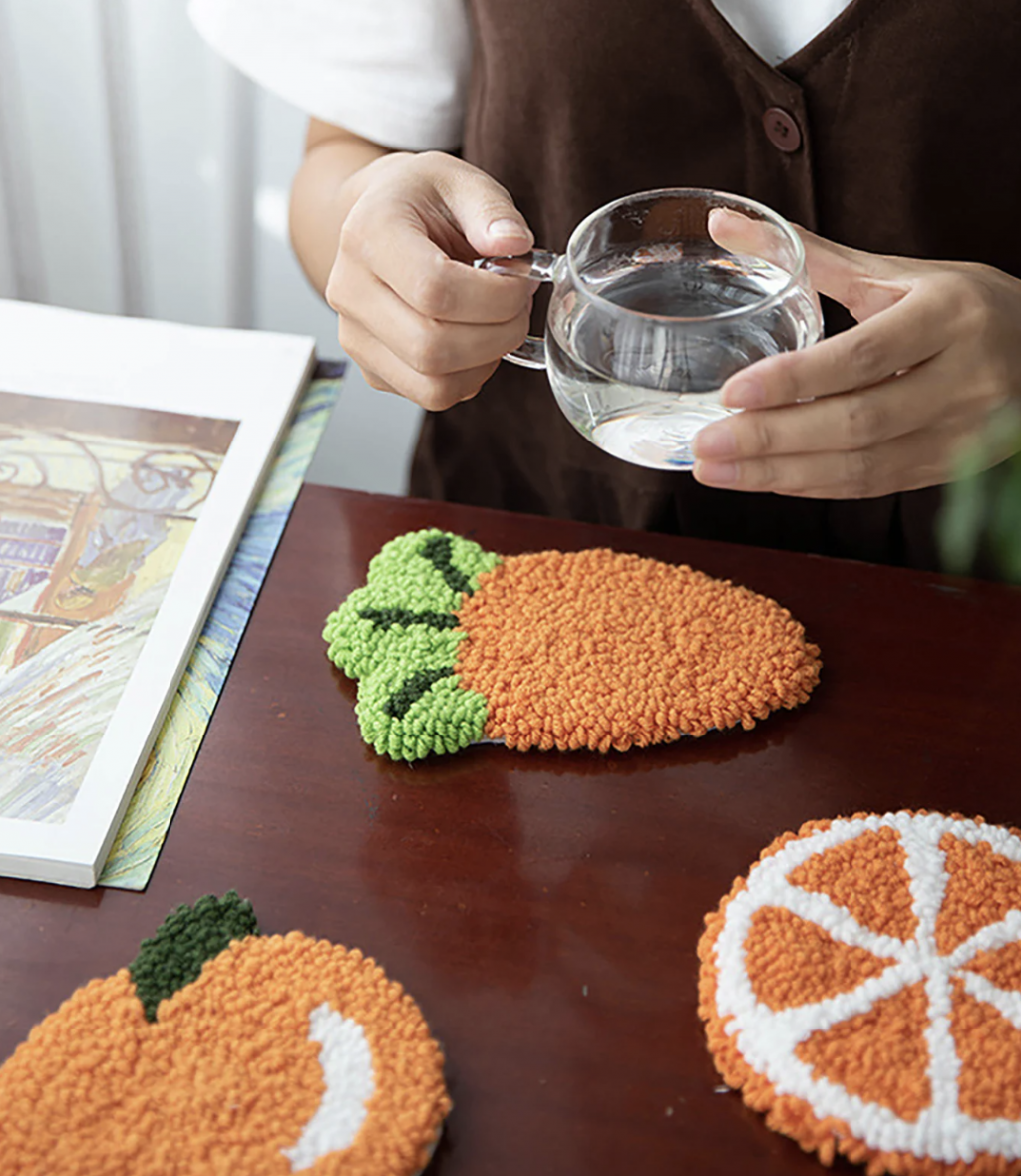 Buy here
Cushions and wall hangings aren't your thing? How about these cute fruit coasters. With 12 designs to choose from you can really get creative with your new punch needling skills.
Decorative Heart Punch Needle Kit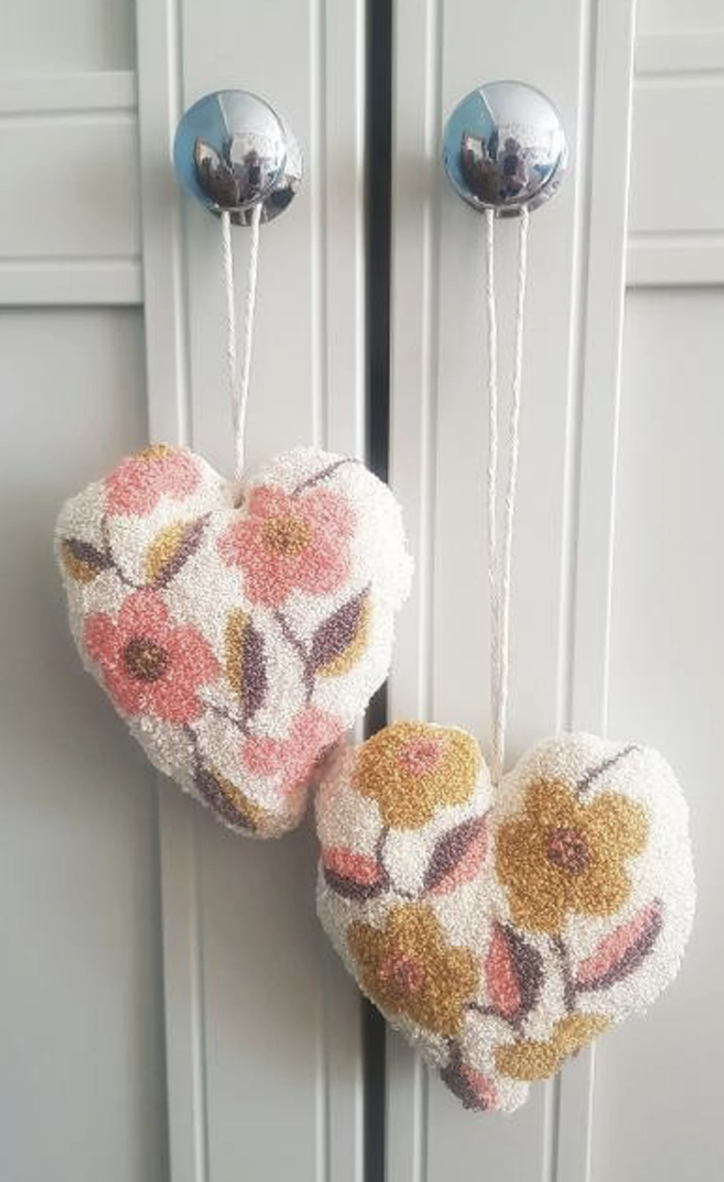 Buy here
These cute hanging hearts are a unique way to put your punch needling skills to use. There are 5 beautiful varieties to choose from in this elegant design. If you enjoy cottage core style this could be the kit for you.
Bird Pattern Punch Needle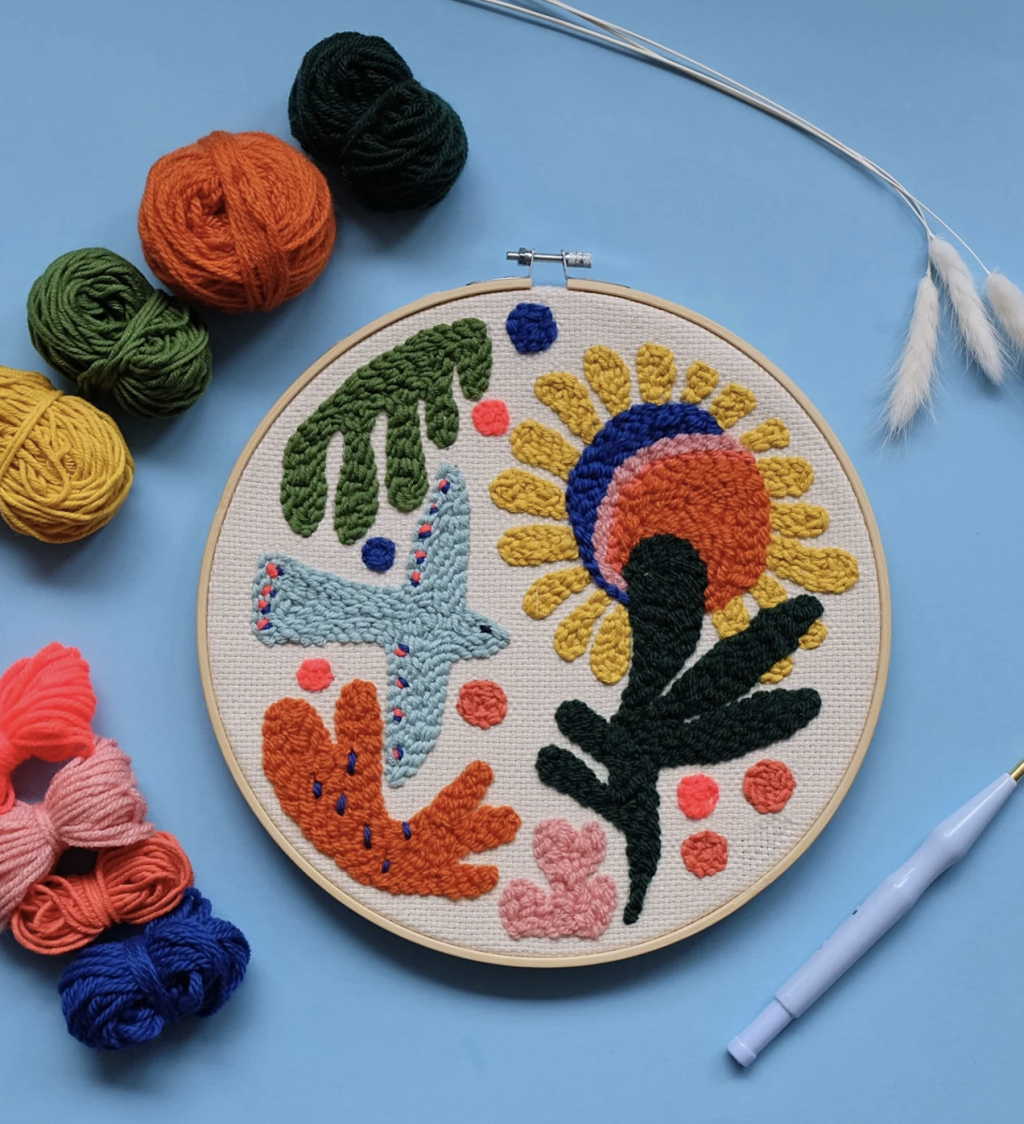 Buy here
If you're into bold patterns and bright colours, you'll love this funky punch needle embroidery hoop design. There are step-by-step instructions included to help guide you through creating this beautiful design.
Sleepy Moon Punch Needle Kit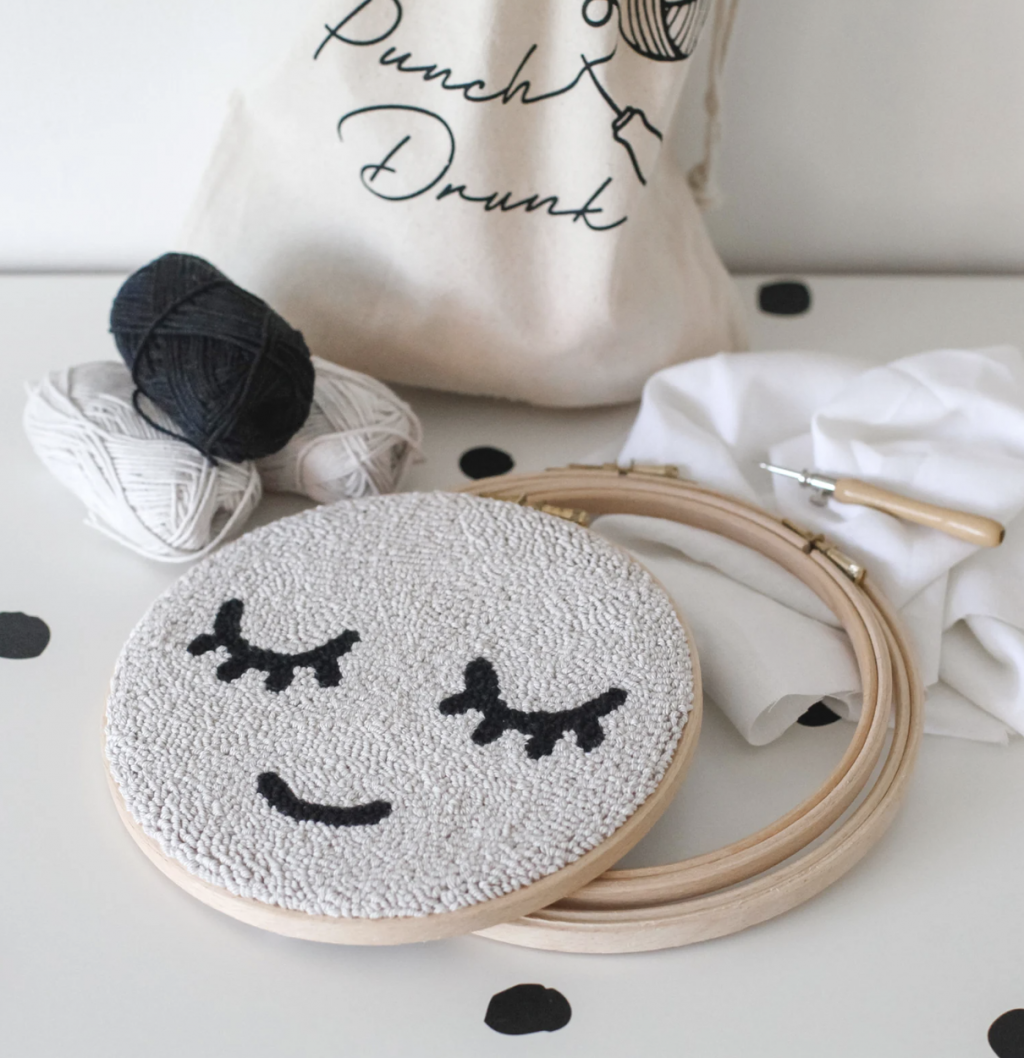 Buy here
This cute sleepy face punch needle design would go perfectly in a children's room. This complete kit includes everything you need to create this beautiful piece, it even includes a drawstring bag to keep all the items in! And with 40 colours of yarn to choose from for the background colour you can really make it your own.
Celestial Punch Needle Design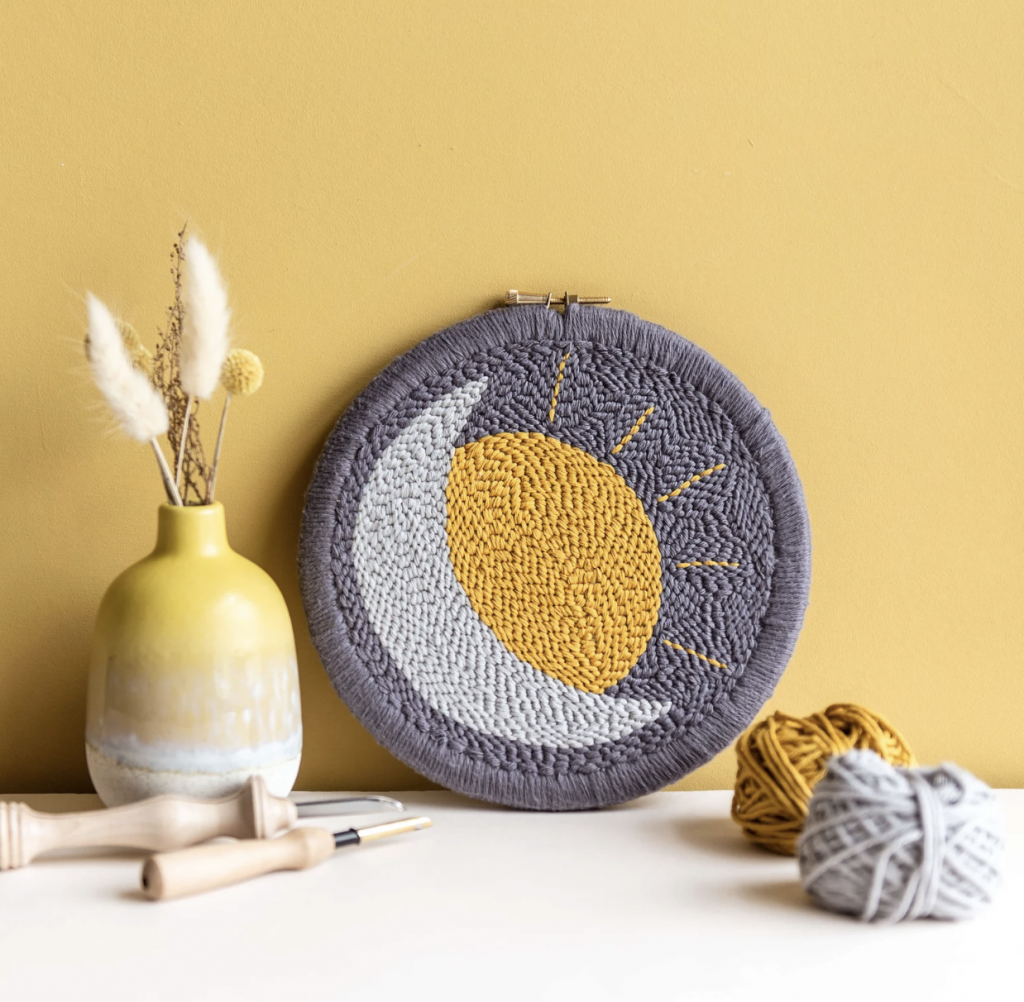 Buy here
This gorgeous celestial, sun and moon design is so simple with its striking palette and basic shapes. Complete with everything you need to get started, this kit is perfect for some fall crafting!
Chic Woman Punch Needle Kit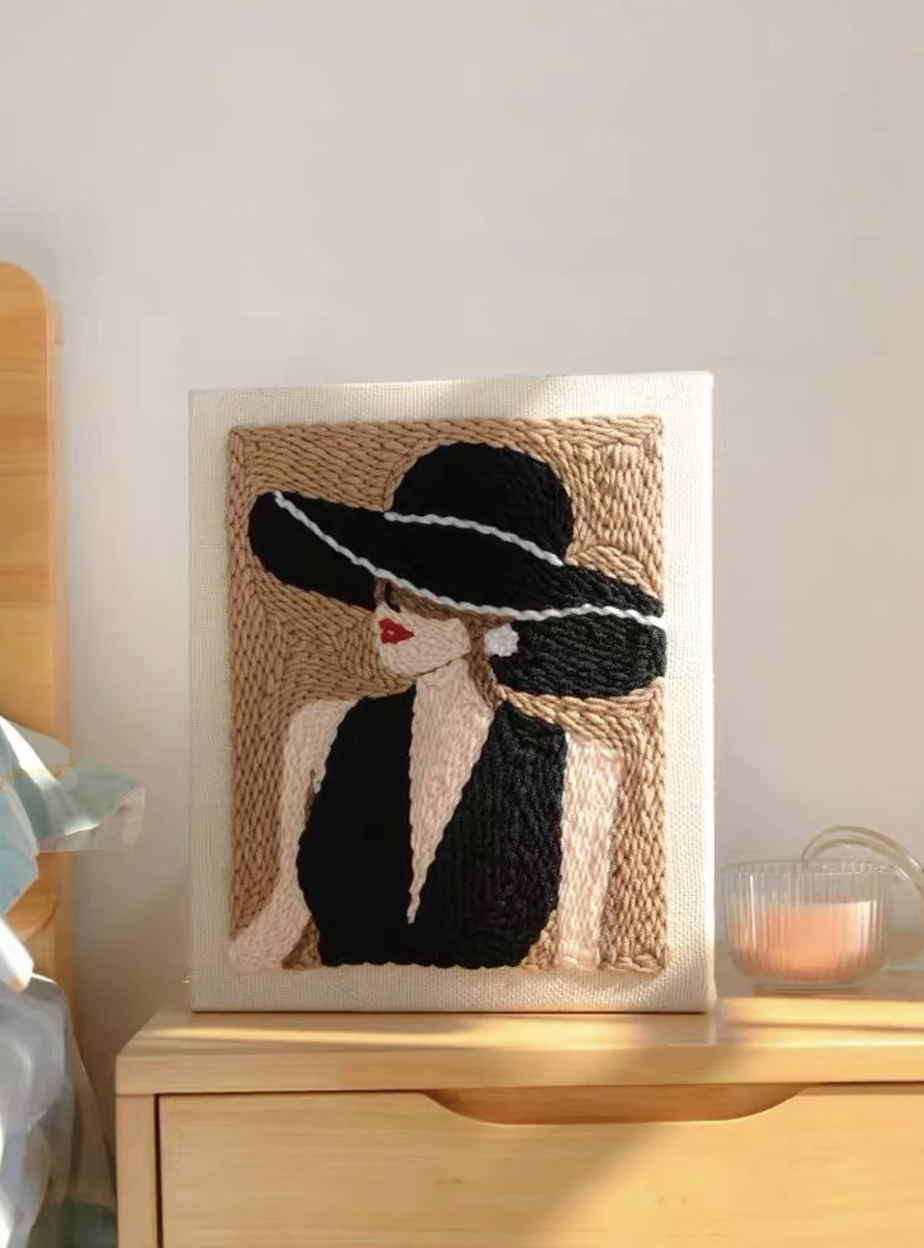 Buy here
Why not try this elegant portrait design which can be framed and hung on your wall? This kit comes with a discreet line drawing printed on the fabric so you won't be able to see the drawing when you've finished!
Complete Beginner Abstract Punch Needle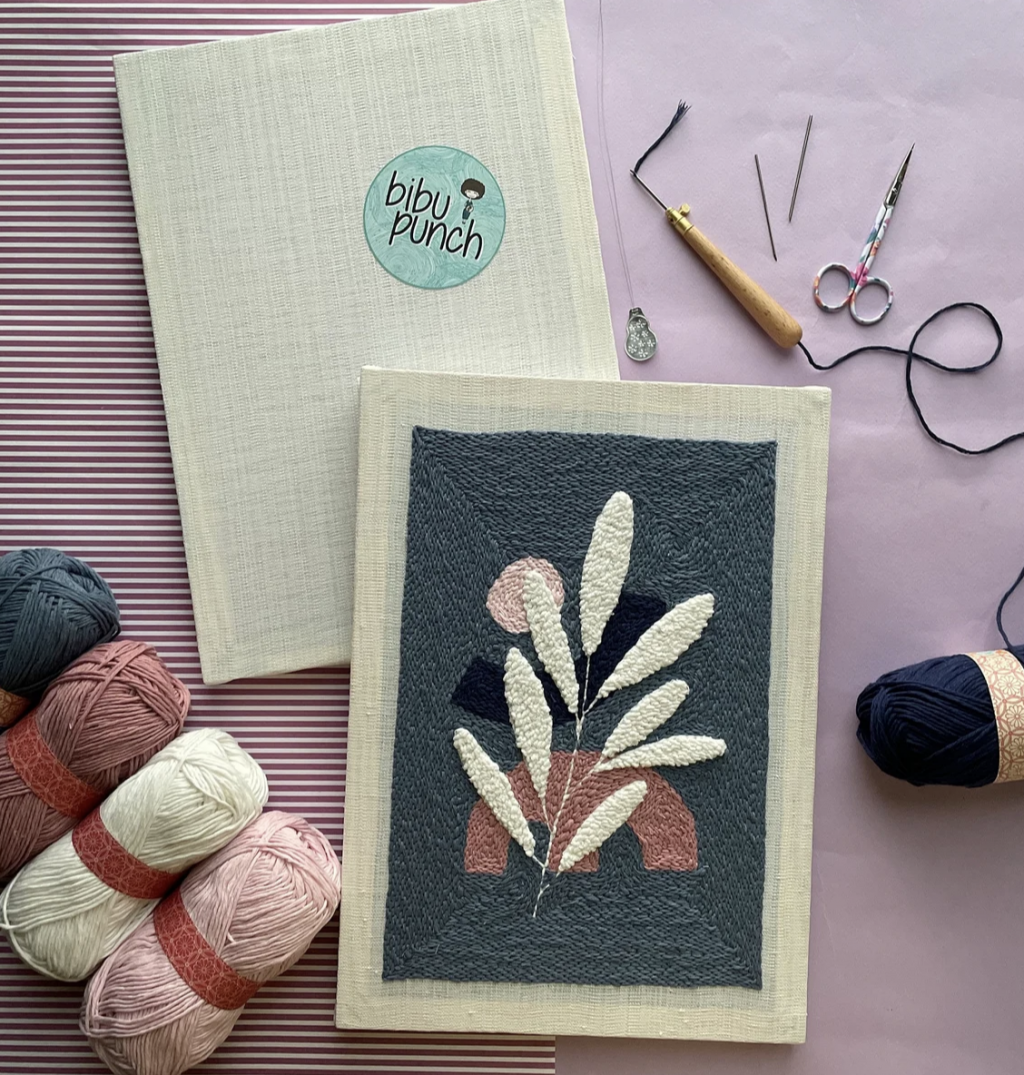 Buy here
If you want to create something that can be framed, but the previous portrait design isn't your style, maybe this cute abstract leaf design will be more up your street? This kit is slightly more advanced as it comes with plain fabric, so you can really test your skills!
PIN THIS:
Last Updated on