Procreate for iPad is an incredible, affordable software that can be used to create digital artwork. Even if you illustrate on a regular basis, it can be hard to constantly come up with ideas on what to draw.
If you've found yourself in a creative rut, we've got you covered with these ideas and tutorials! Don't forget to grab some of our favourite Procreate brushes to enhance your artwork as well.
How to draw Flowers on Procreate
One of the easiest and fun things to draw on procreate is flowers. There's such a range of different types, colours and styles you can try. Why not try this basic flower tutorial where Shayda shows you how to create simple design.
Procreate drawing idea: Plants
Once you've become an expert in drawing flowers, try your hand at plant illustrations! Genevieve teaches you how to draw this gorgeous Fiddle Leaf Fig Tree in a watercolour style.
Drawing Fruit on Procreate
Fruit is another simple but fun option, from monochrome citrus designs to bright bold fruit cocktails…the options are endless! Karen's easy to follow tutorial will help you create a gorgeous orange watercolour design.
Cake Procreate drawing idea
The options are endless with food drawings, from fruit to vegetables to sweet treats. This cake tutorial by Genevieve teaches you how to draw an amazing cake – with animations too!
Coffee drawing idea for Procreate
Moving on from food to drinks, who doesn't love coffee? Follow Sarah's step-by-step guide to create this adorable coffee cup drawing, it even has some added flowers in too!
Draw some Cocktails
If coffee isn't your thing, try drawing some cocktails instead! With their bright colours and fancy glasses, cocktails can make for a beautiful drawing. This tutorial by Calvin shows you how to create a fun Mojito design using watercolour techniques on procreate!
Try drawing Faces on Procreate
If you're more interested in drawing people, you should start by understanding how to draw faces using proper proportions and angles. In this how-to video, Bobbo explains in detail how you can draw a perfectly proportioned face.
Drawing People
Once you've mastered how to draw a face, it's time to learn how to draw body proportions. This fun and detailed tutorial teaches you the rules of body proportions so you can master the art of drawing people!
Sketching Skies
If you're wanting to create a landscape drawing, the sky is a perfect place to start. From blue skies to stunning sunsets, there's a range of styles you can experiment with. Siakula guides you through this beautiful sunset drawing where you can learn how to use gradients to blend colours perfectly.
A Desert Skyline Procreate tutorial
Sunsets are one way to draw a beautiful skyline, once you've got the hang of it, try changing the setting to make your skyline illustrations more interesting. For example, this desert drawing uses deep sunset tones and silhouettes to create a super fun design!
Stylized Landscape Procreate tutorial
Sticking with the skyline theme, check out this awesome stylized landscape. This tutorial teaches you how to make the most out of your procreate brushes to add shadows and depth in to your drawing!
Fox Procreate drawing tutorial
Everyone loves animals, and drawing them is super fun too! You can either create a realistic life-like drawing or go for something more cute and animated like this adorable watercolour fox illustration.
Mushroom/Toadstools
If you're in to more of a whimsical, fairy-tale style, this tutorial teaches you how to create cute toadstool and mushroom drawings that you can add to many other illustrations!
Lettering on Procreate
Did you know you can learn how to hand-letter writing to create beautiful calligraphy pieces? This 'Let's Do This' print is super fun to make and teaches you multiple different skills in one tutorial!
Rainbow with Text
Once you've mastered the art of hand-lettering and illustrating, why not try combining them together? Like this beautiful retro text and rainbow design that Abigail teaches you how to draw!
PIN THIS: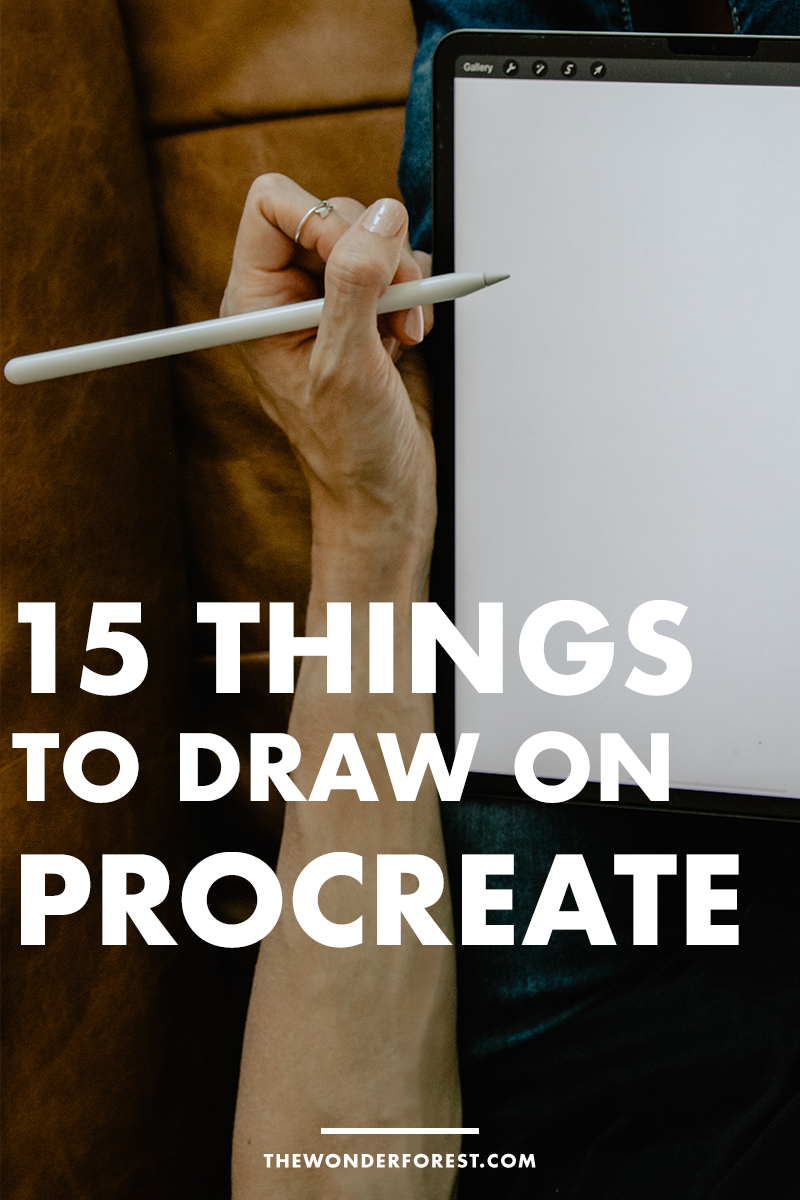 Last Updated on