Making your own DIY Christmas decorations is a great way to get into the festive mood! Not only can you create some holiday decor on a budget, but you can add your own personal touches to each piece.
This year, we've noticed a huge trend in minimal holiday decorations. A simple, neutral colour palette (like these neutral Christmas decoration ideas!) has become so popular over the years — and we can see why!
This year, try crafting these quick and simple wood and macrame boho inspired Christmas ornaments. You only need two materials to get started; wooden beads and macramé rope.
This post contains affiliate links for product recommendations. Any purchases made through these links help support the blog with a small commission. As an Amazon Associate I earn from qualifying purchases.
Wooden Bead Wreath Ornament Tutorial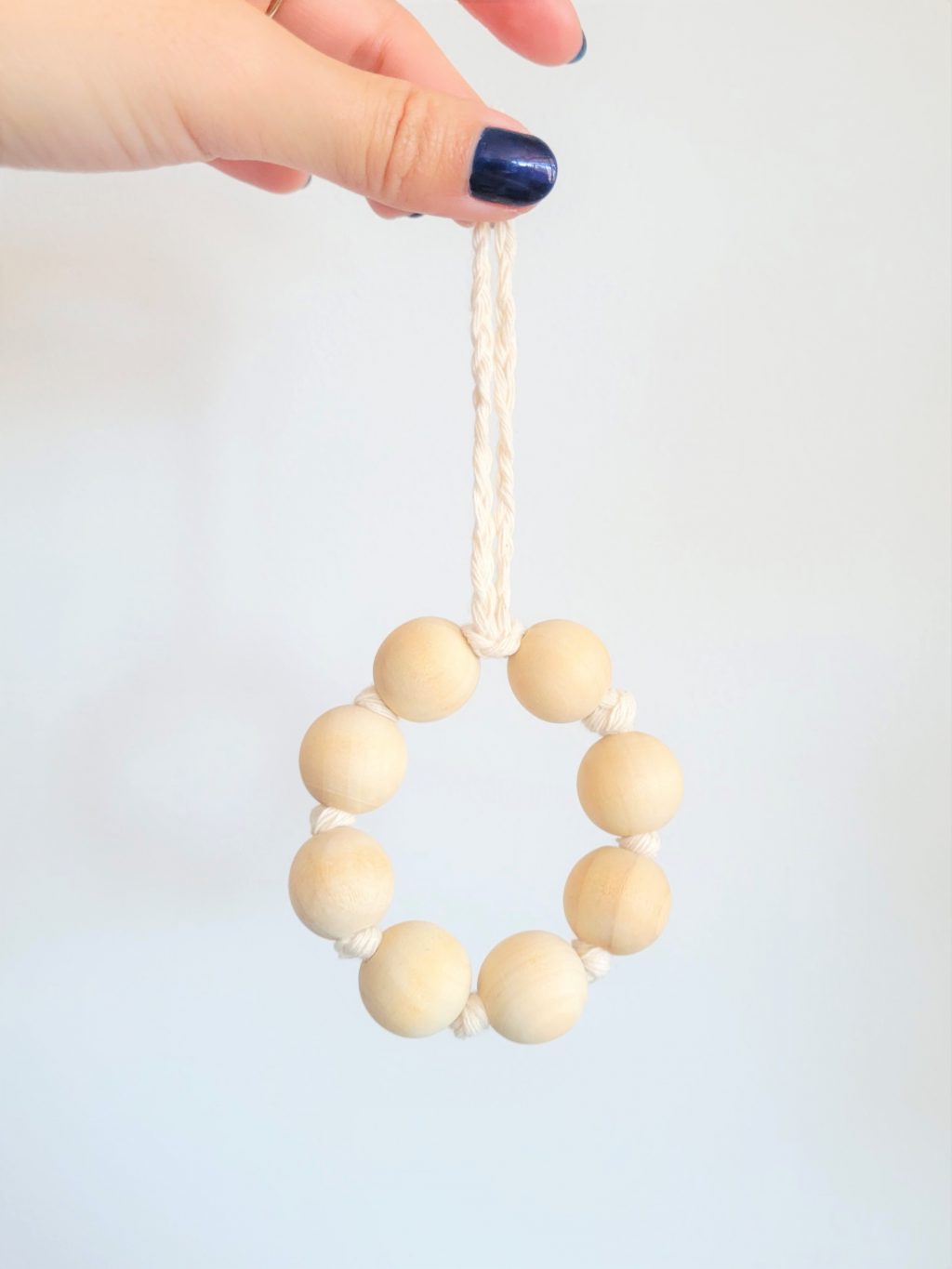 Let's start with the round wreath style ornament. I got my wooden beads at Michael's and they have different sizes you can choose from, depending on the look you're going for. I got the ¼ inch beads and laid them out in a circle to see how large I wanted my ornament to be. I ended up using eight beads. After deciding on the size, I laid the beads in a line and measured my cotton rope to be double that length.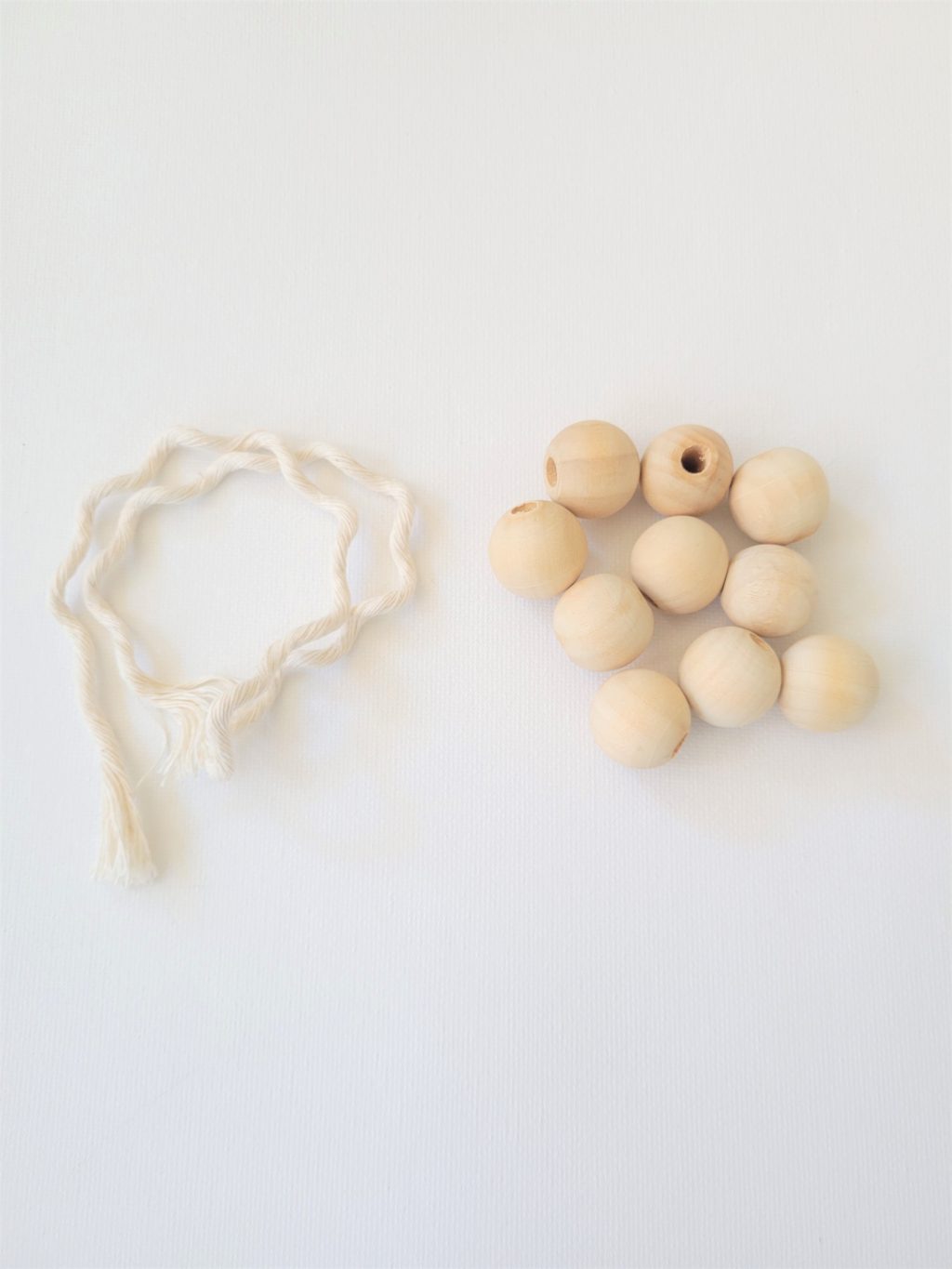 For the circle ornament, begin by taping the end of your rope so it doesn't fray as you try to string it. Tie a small knot two inches from the end and string your first bead. Push the bead to the first knot and tie another knot close to the bead. Pull tight and continue with another bead, knot, bead, and so on.
When you have all the beads on, untie the first knot you made and bring the two ends together. Tie a double knot joining the two ends. Be sure to pull tight, otherwise the circular shape will not hold if there is too much slack.
Now there will be two ends remaining that we need to tuck into the neighbouring beads to hide. Make sure both ends have tape on them to help this process. Pull the existing string in the next bead tight so you can have space to insert the tail. Push the tail end though and use a skewer to help if you need. It should end up on the other side of the bead. You can cut this tail to finish off. Repeat with the other tail on its neighbouring bead.
We are almost finished! You can attach a regular string though the loop like other ornaments or continue with the macramé rope like I did here. I used some left-over rope to braid it into a long string, then attached this to the ornament. Your super simple boho ornament is complete!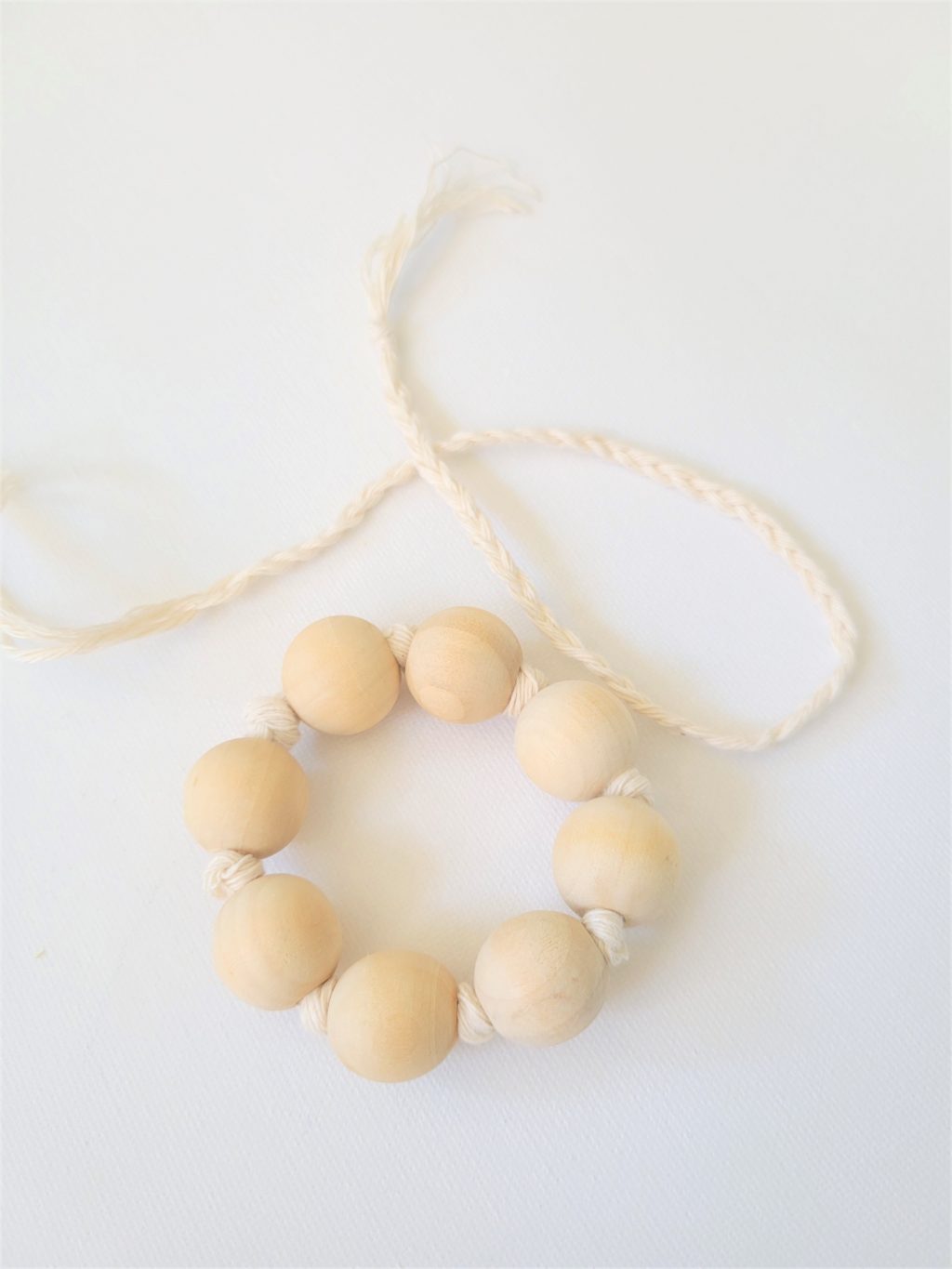 Diamond Beaded Boho Ornament Tutorial
Another option is a vertical or diamond shaped version.  For this one, start with a knot about 1.3 inch from the end.  This tail will hang at the bottom of the ornament.  String one bead then split the rope into three portions and tie a double knot at each string.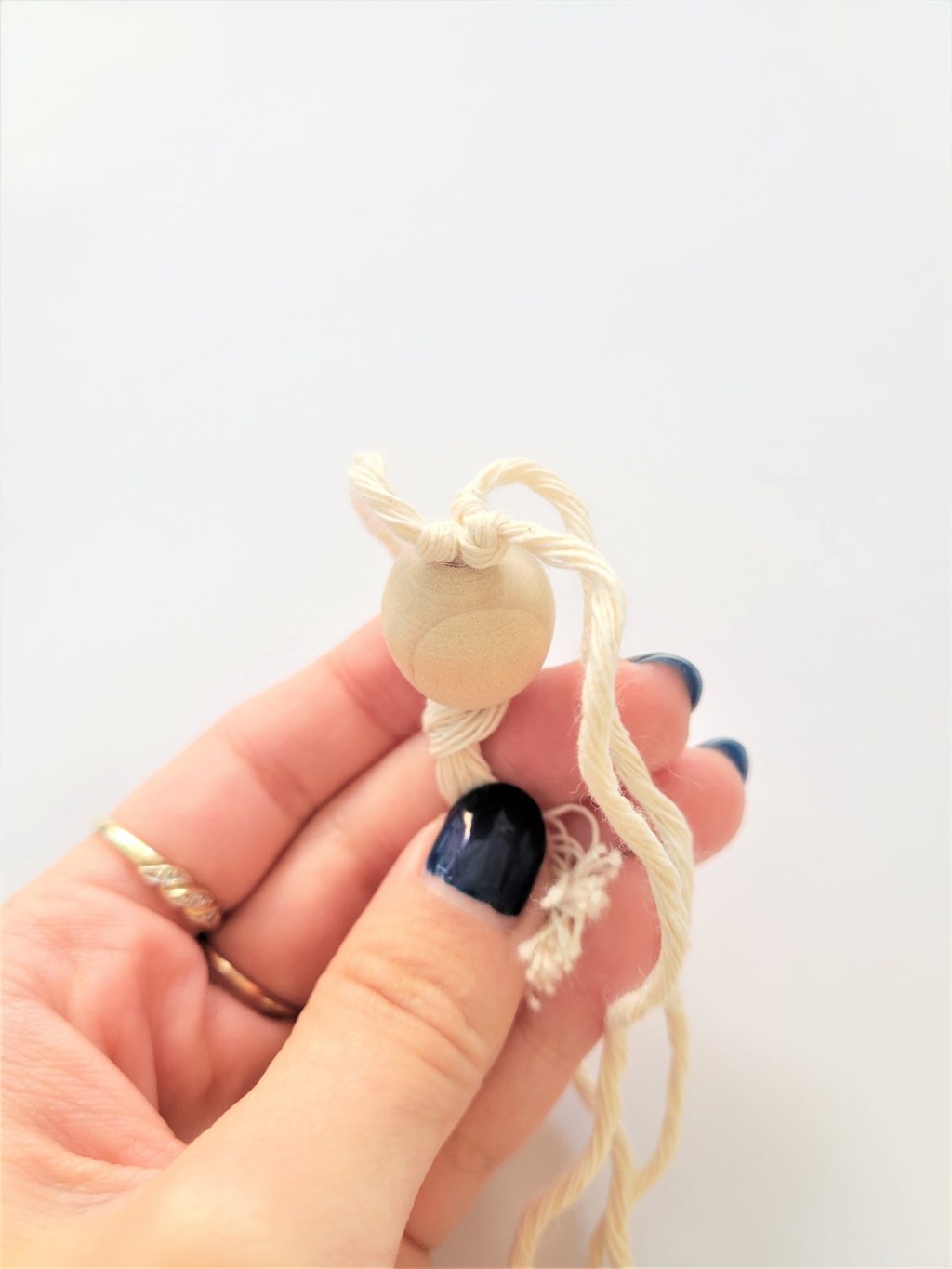 String three beads along each rope and tie a double knot for each bead. Now, combine the three pieces of rope together and string them through one bead. Tie a knot at the last bead, then leave about three inches of rope and tie another knot. This will be the portion used to hang the ornament.  Cut the tail and you are finished!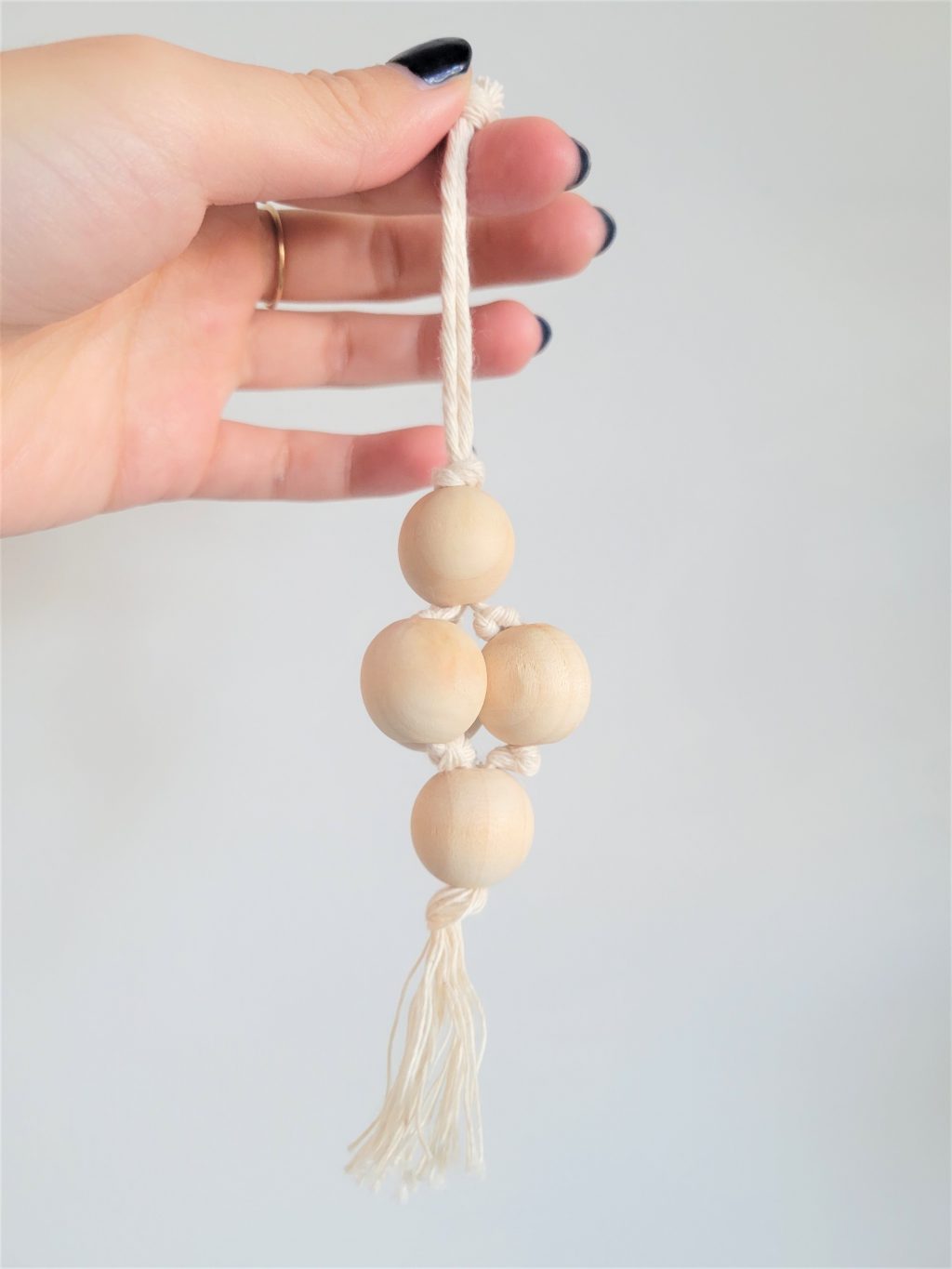 Using the same technique, you can create a variety of different shapes and different sizes of ornaments. These look awesome attached to the outside of a wrapped gift, too!
PIN THIS:
Last Updated on