Holiday decorations are a fun way to get into the festive spirit – and even more so if you can keep your costs down and make your holidays more sustainable.
Fortunately, decorating for the holidays doesn't need to break the bank no matter what your budget may be.
There are so many do-it-yourself options that just take a little creativity and a few supplies.
You can also create decorations using things you already have around your house, like photographs, wrapping paper & boxes, greenery, and jars.
If you are looking for some ideas for Christmas decorations, here are some of our favourite budget friendly Christmas decor ideas to get you into the holiday spirit!
Simple DIY Rustic Snowflake Decorations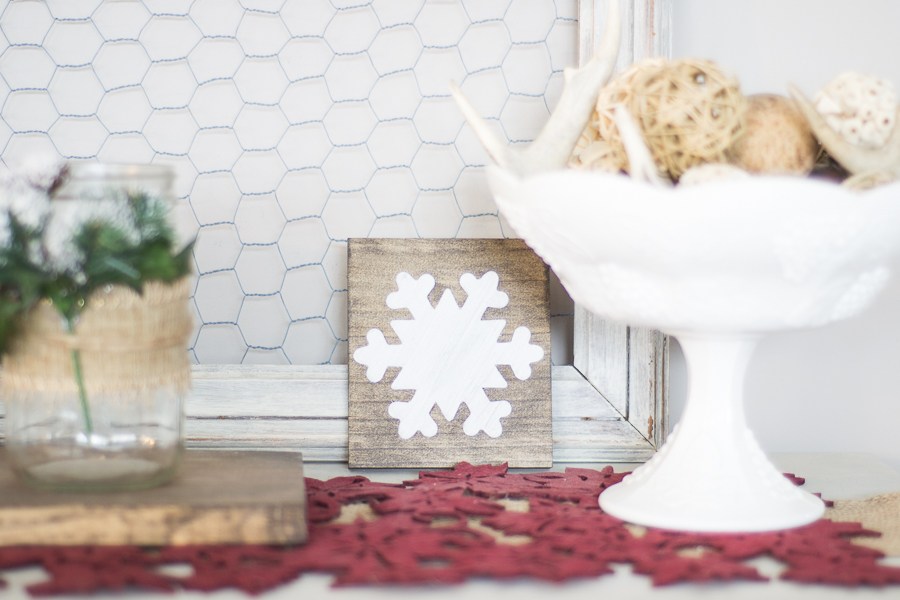 If you are dreaming of a white Christmas this season, simple snowflake DIY decorations would be great to place around your home.
Here are two DIY snowflake decorations that use painted wooden snowflakes, from your local craft store, that can be placed anywhere in your home. What makes this decoration great is the fact that they can be used throughout all of the winter season.
DIY Snowy Christmas Mason Jars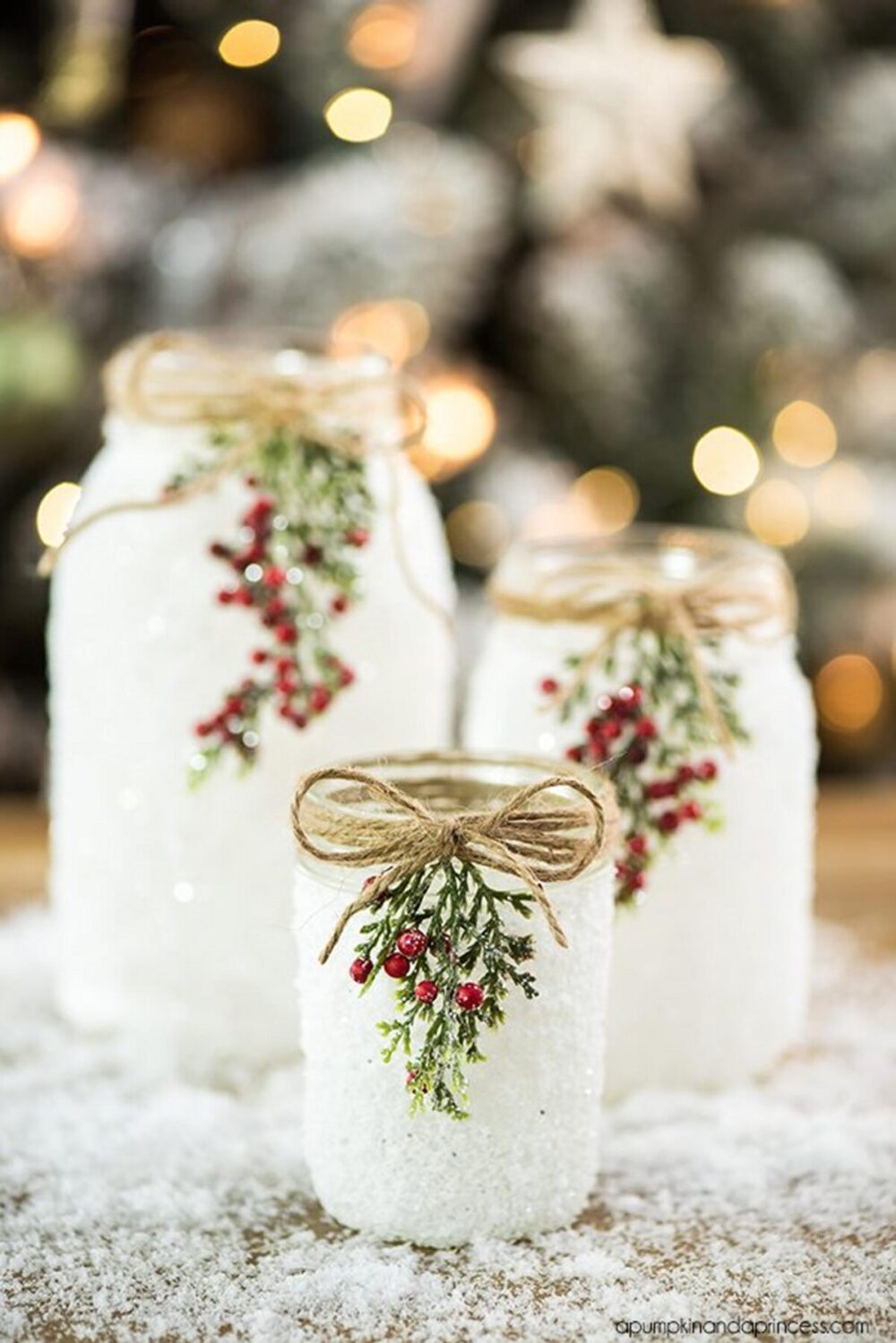 Continuing on with a snow theme, decorations covered in artificial snow will make your home feel more festive. This DIY Christmas Mason Jar Luminary would be a great addition to any Christmas decoration!
Glittery Christmas Decoration Makeover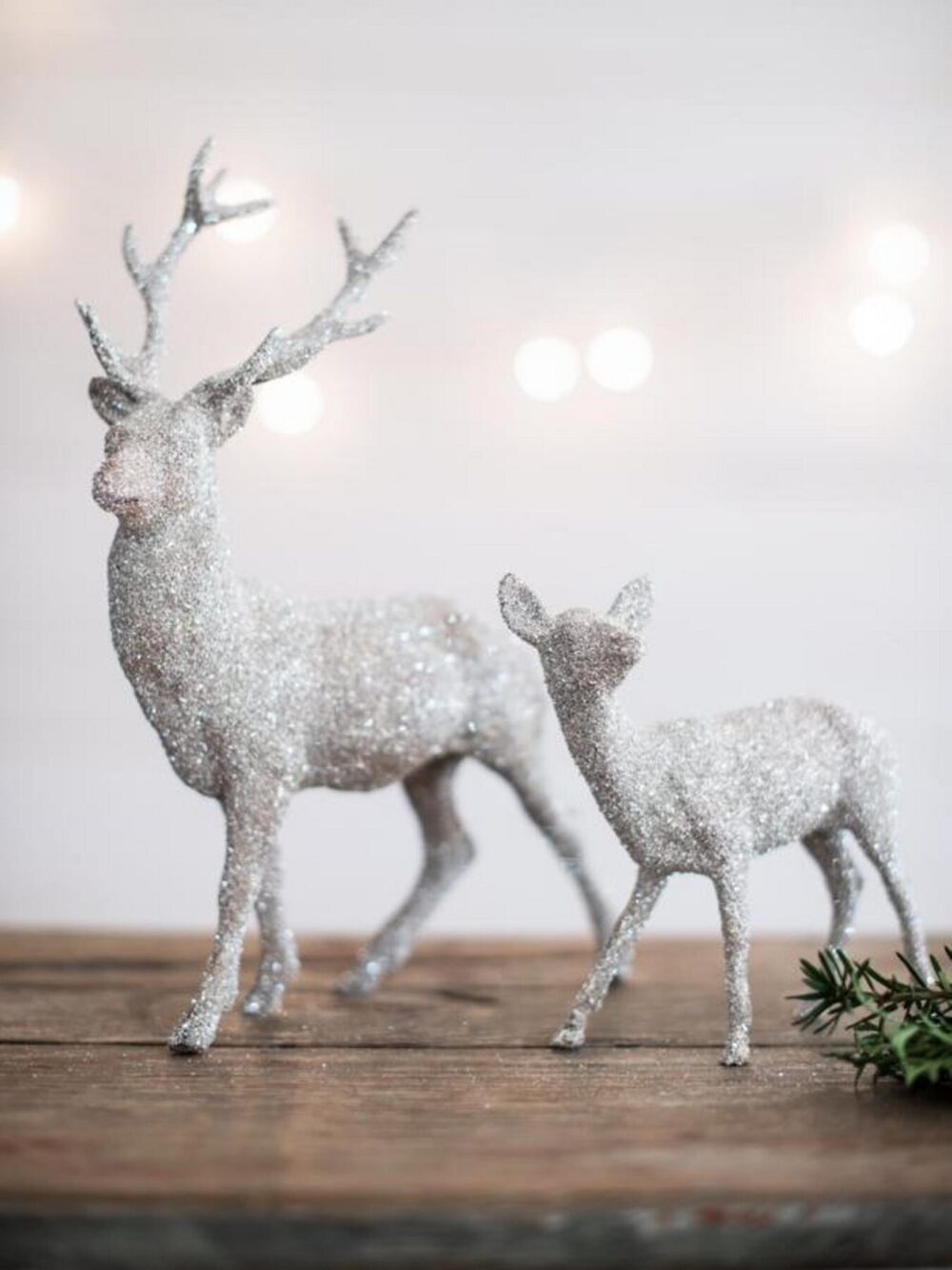 Looking to add some sparkle to your decorations? One solution is to give some of your old decorations a glittery makeover with inexpensive glass glitter!
This would be fun to do with little figurines or maybe some old ornaments that you have used in a while. This DIY shows you the steps on how to make your decorations sparkle.
DIY Christmas Wreath
Christmas wreaths are probably one of the most expensive decorations to add to your home. Depending on where you look, some may even be more expensive than a Christmas tree.
The best solution is to create your own wreath. You can make wreaths using things you find in nature like pinecones or greenery. Or you can make some from low price ornaments. The options are endless!
Ornament Chandelier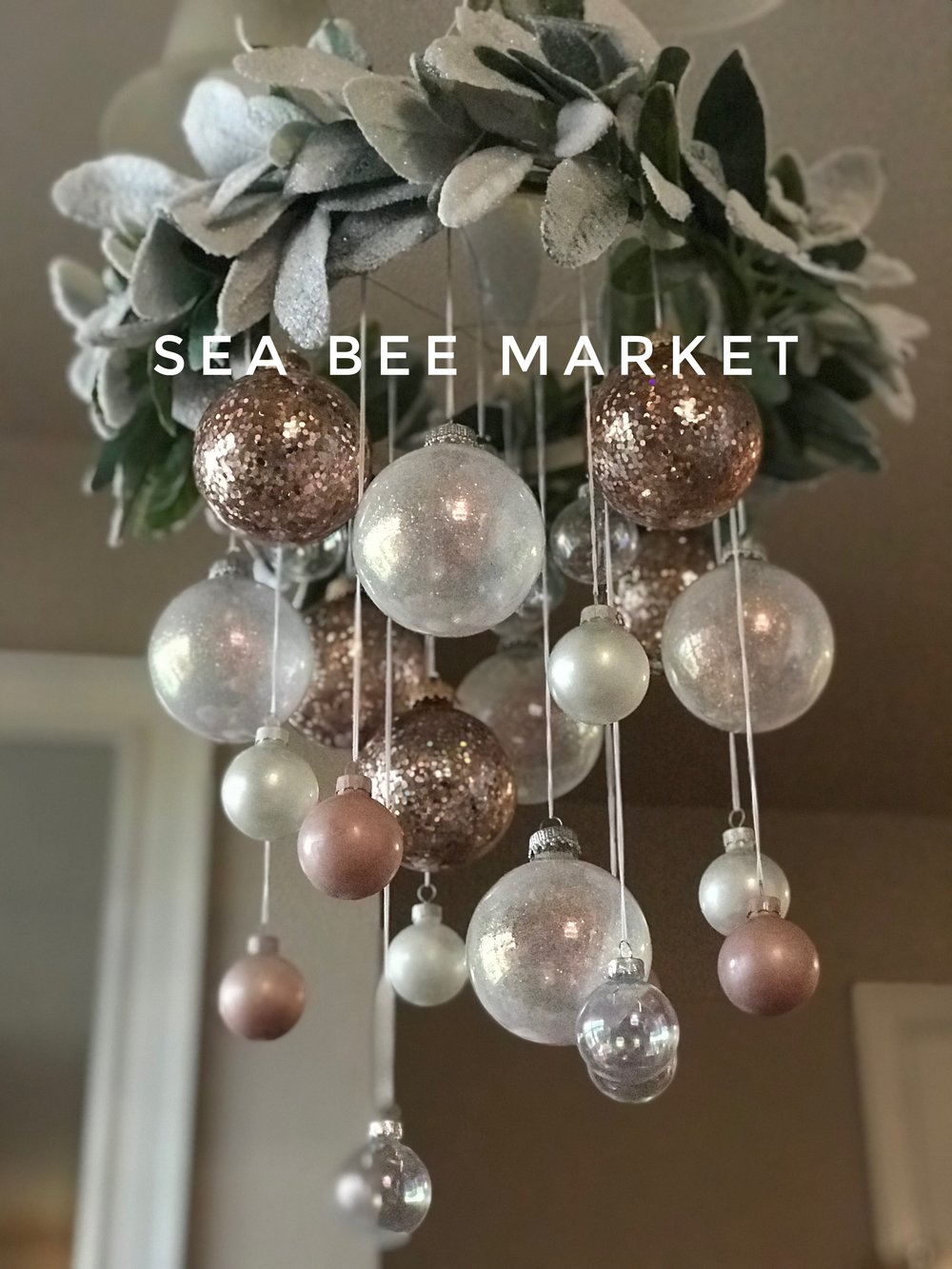 Have extra ornaments that can't fit on the tree this year? You can hang them and arrange them in a beautiful chandelier style. This can add an elegant feel to a room without having to spend money on a real chandelier.
Ornament Bowls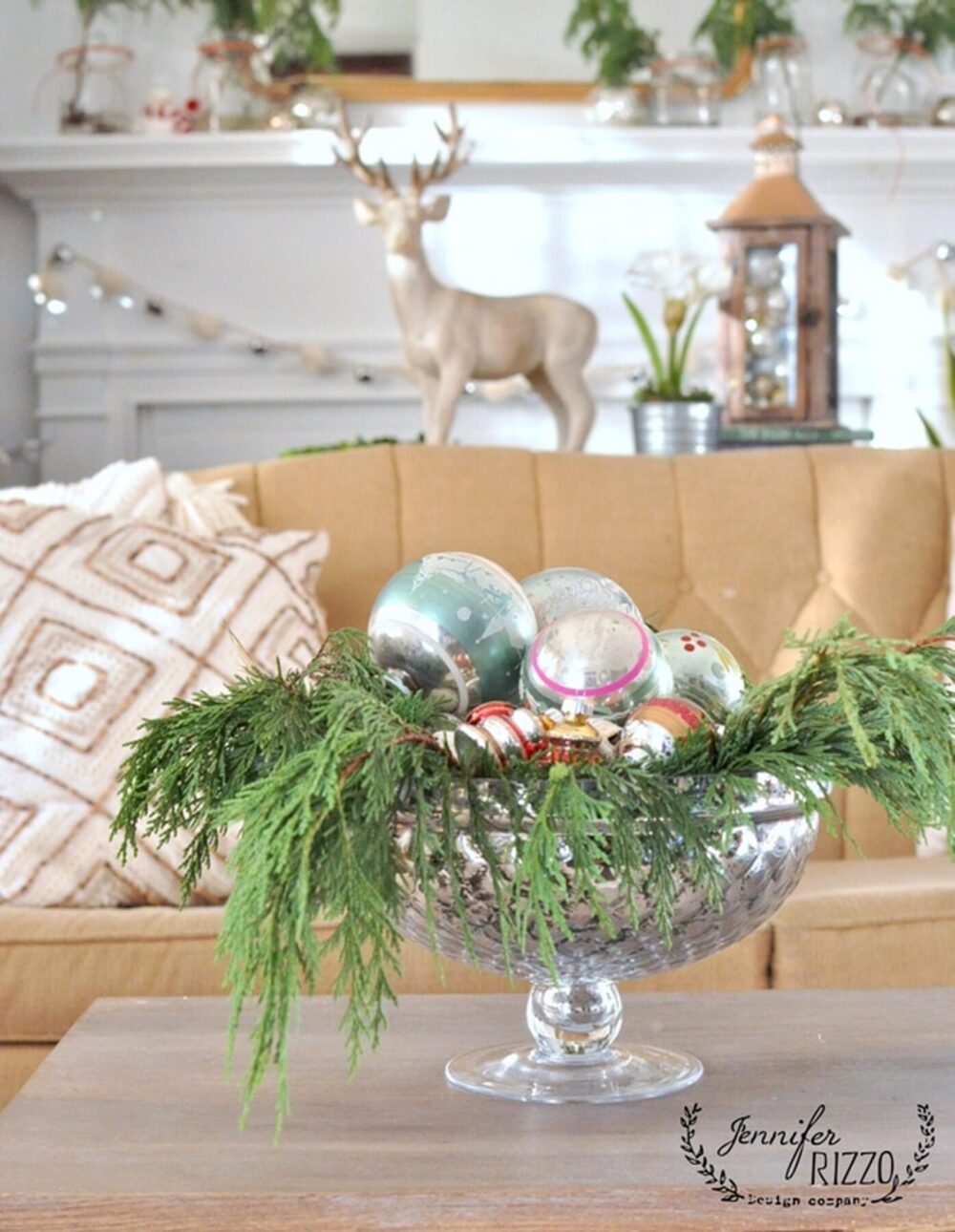 Not the crafty type? You can always display your extra ornaments in large glass jars or bowls that you may already have. This is quick and easy to put together and also makes a beautiful table centrepiece.
Chalkboard Signs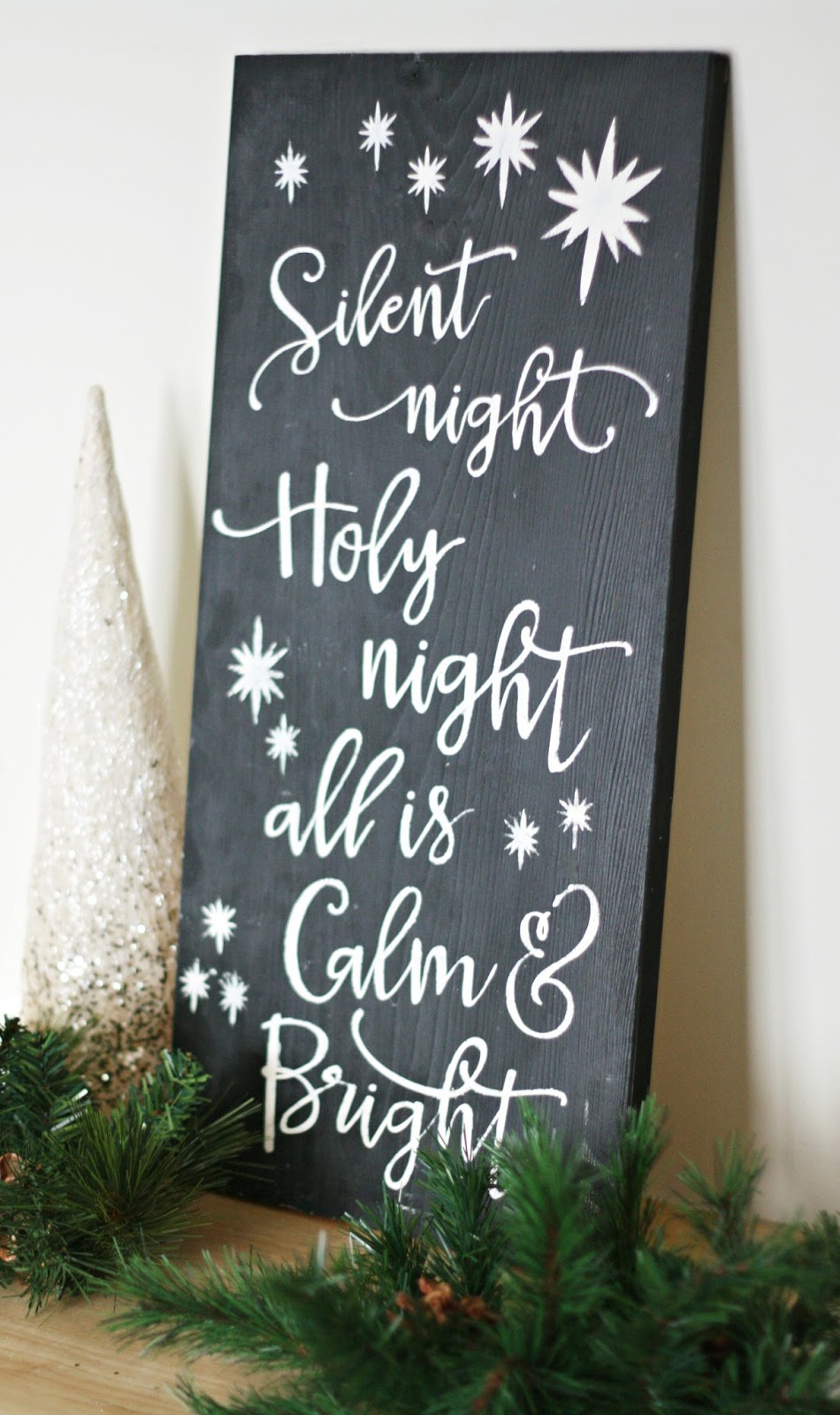 To add something different to your festive decorations, you can create a chalkboard sign with fun Christmas quotes. Don't have a chalkboard sign? This DIY teaches you how to create one from wood and chalk paint.
Printable Signs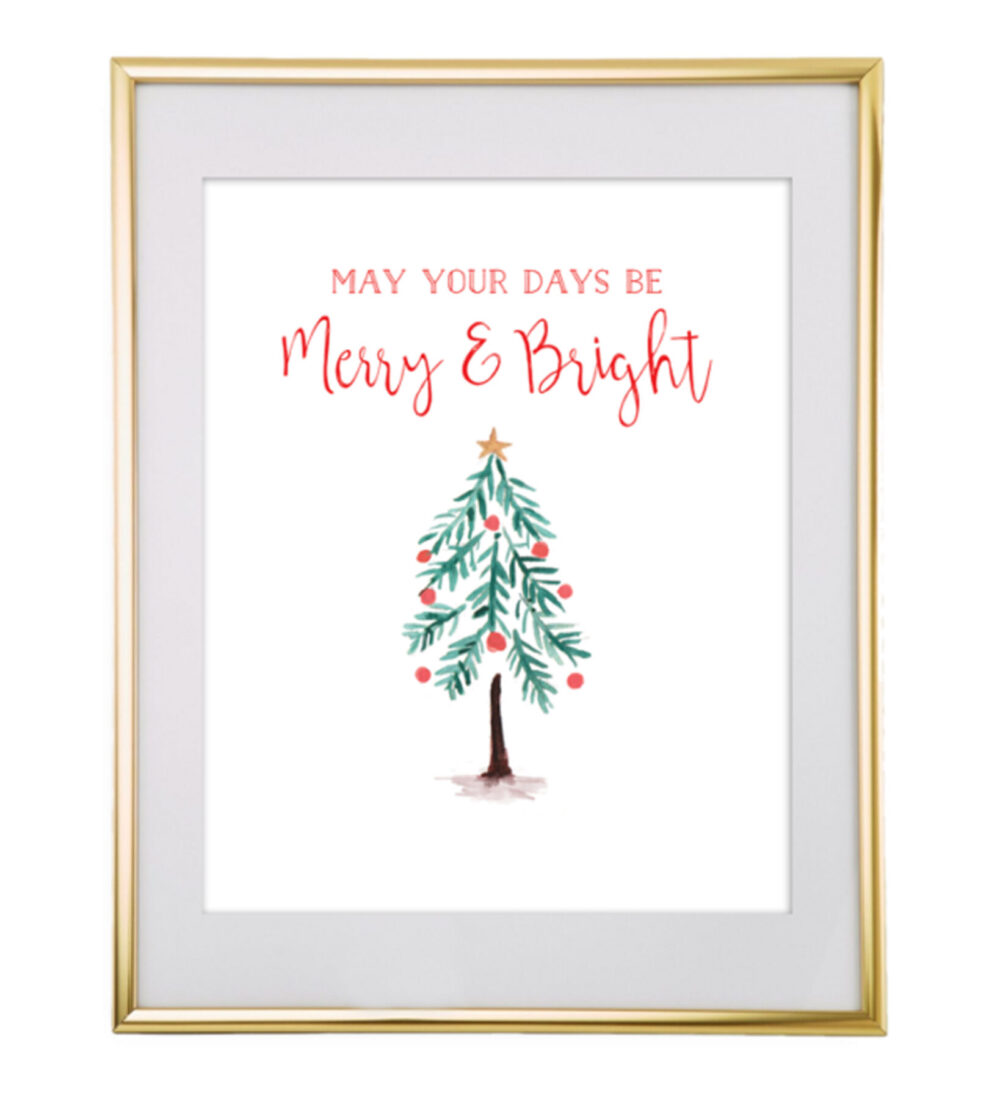 If you don't know how to do lettering for a chalkboard sign, you can always print out quotes or art and add them to a frame.
You can create your own on Photoshop or even using a word processing program. If lettering design is not your forte, you can search for free printables on Pinterest.
Presents as Decorations
Christmas is a time for giving. After all, what's Christmas without the presents? This is probably one of the simplest decorations to add to any Christmas setting.
It's as simple as wrapping leftover boxes you may have received as a package order. I have done this project to decorate our work Christmas tree and everyone loved it!
Vintage Style Paintings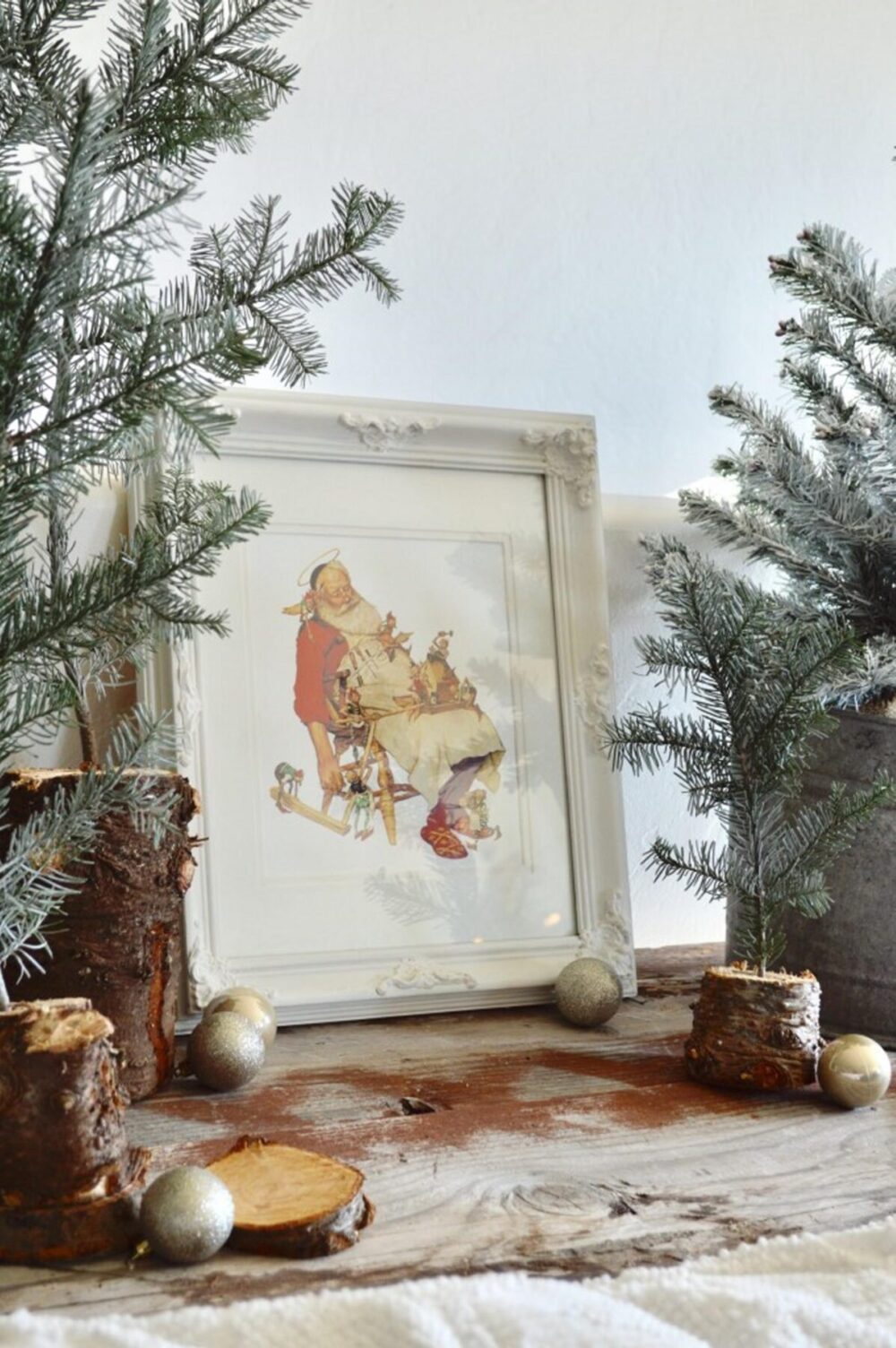 If you are looking for unique Christmas decorations, you can check out some thrift stores. You can find vintage paintings and put them in frames to display. Not only are they one of a kind, they can have very low prices!
Photo Christmas Tree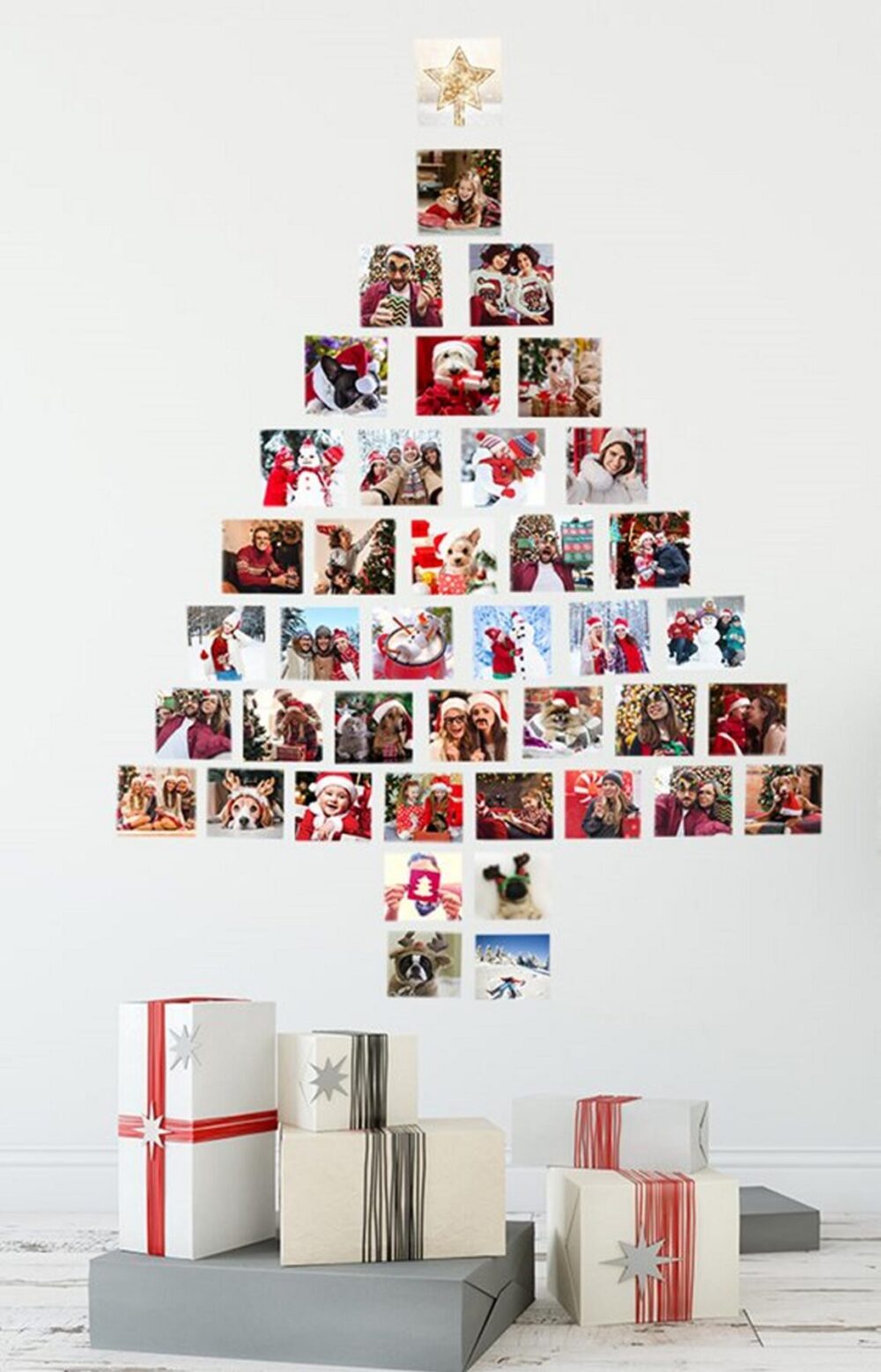 Another unique Christmas decoration idea is to make a Christmas tree out of personal photographs. It is simple to put together and you can print the photos from home. This is such a festive way to share memories with guests who may visit during the holidays.
Natural Christmas Greenery
Adding some natural pieces to your Christmas decorations can make your home feel more cozy and welcome. Not only are they a simple detail, but they can be completely free!
You can find them outside at a park or even your own yard. If you want some visual inspiration on how to accentuate your decorations with your pieces, check them out here.
Hot Chocolate Bar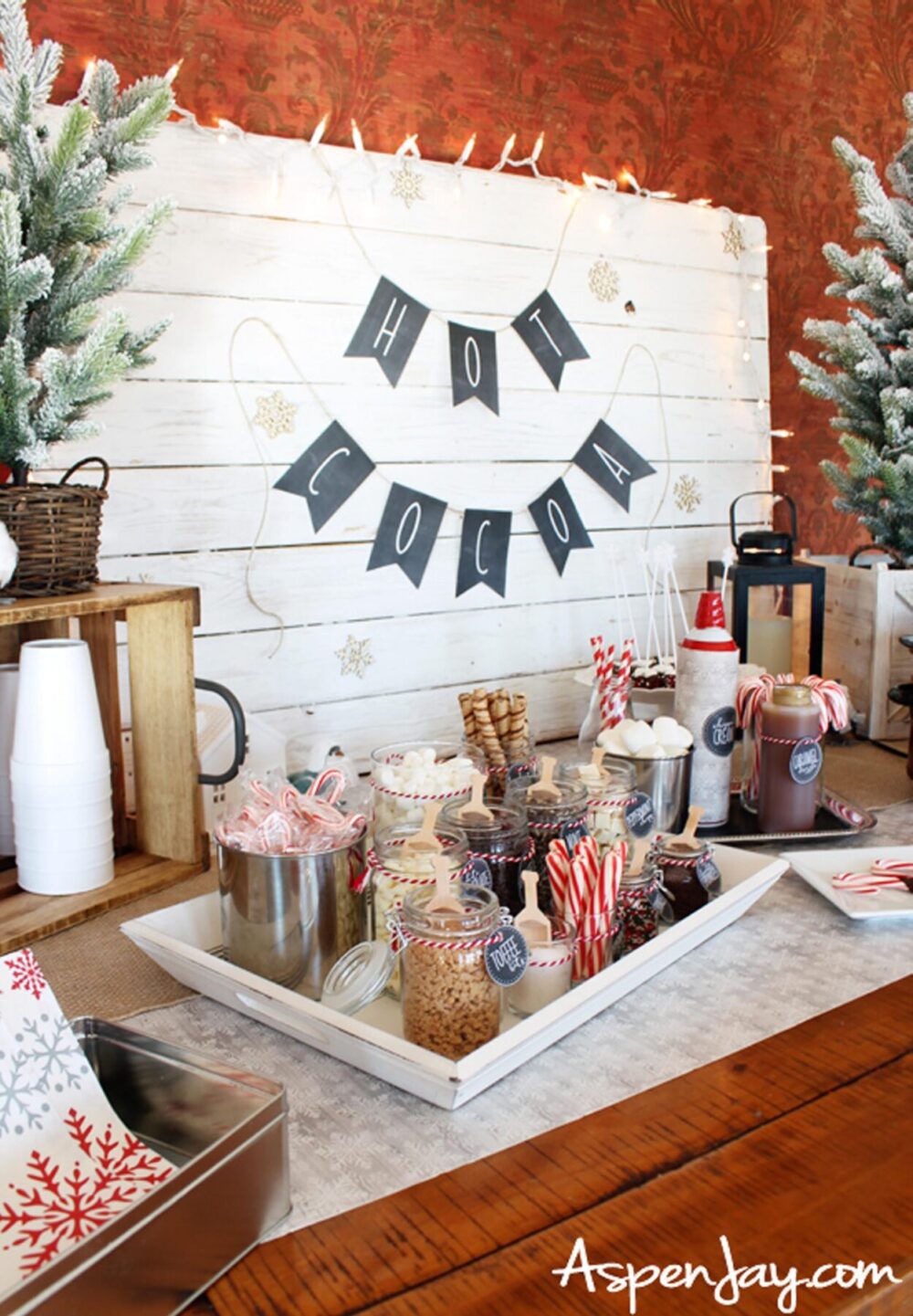 For the northern hemisphere, the Christmas season is cold. It makes you want to snuggle up in something warm and drink hot chocolate.
If you are still trying to fill up some empty space with something festive, fill it up with a fun hot chocolate bar. It's simple and you can decorate the containers with festive labels and ribbons!
Ladder with Christmas Decor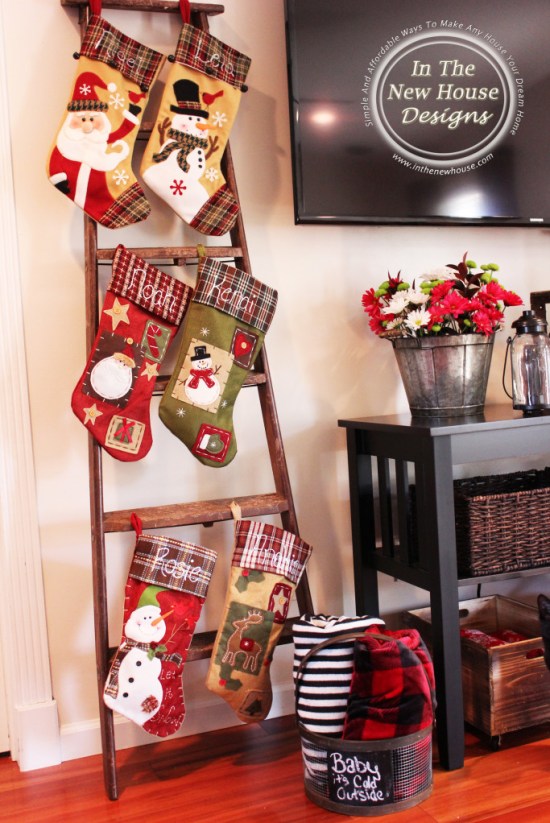 Have an old ladder you don't know what to do with? You can use it to display your Christmas decorations! It is great to display the extra little Christmas trinkets that you don't know where to place in your home.
You can also decorate it with your stockings. Let your creativity go wild!
Window Sill Decorations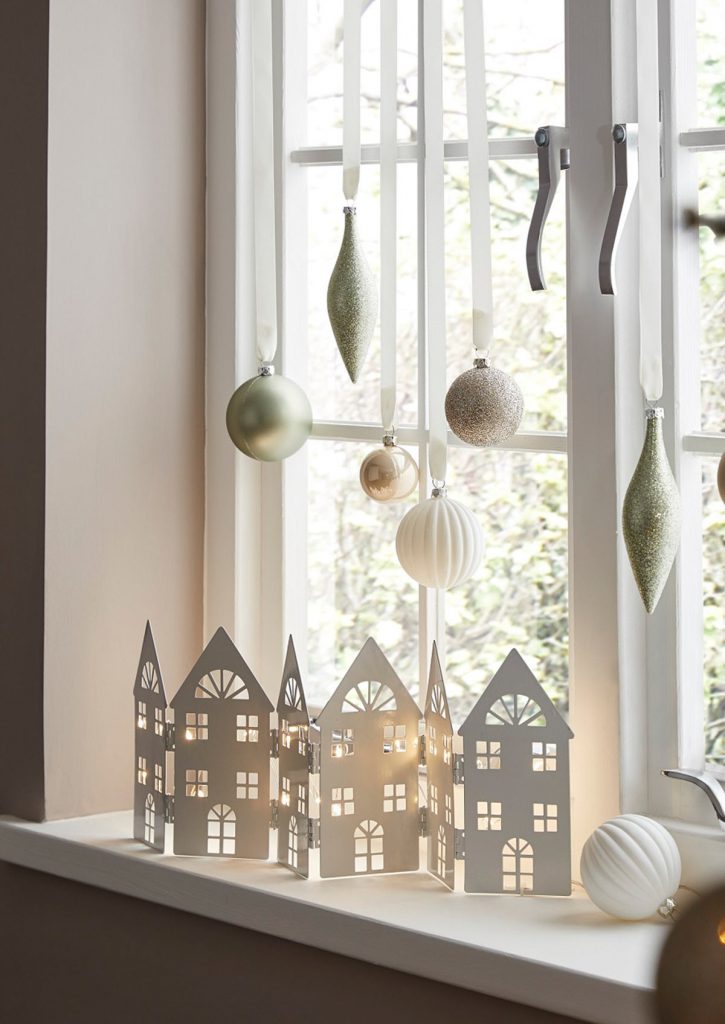 Still have some extra Christmas decorations and ornaments you want to display? If you have large enough window sills, you can use them as an area for decor. You can also use ribbon to hang your extra ornaments in the window. It's an extra touch to make your Christmas decorations even more festive!
Even though 2020 has been tough, decorating for Christmas shouldn't have to be, especially for your wallet. Hopefully these Christmas decor ideas encourage and inspire you to be festive this holiday season!
PIN IT FOR LATER!
Last Updated on