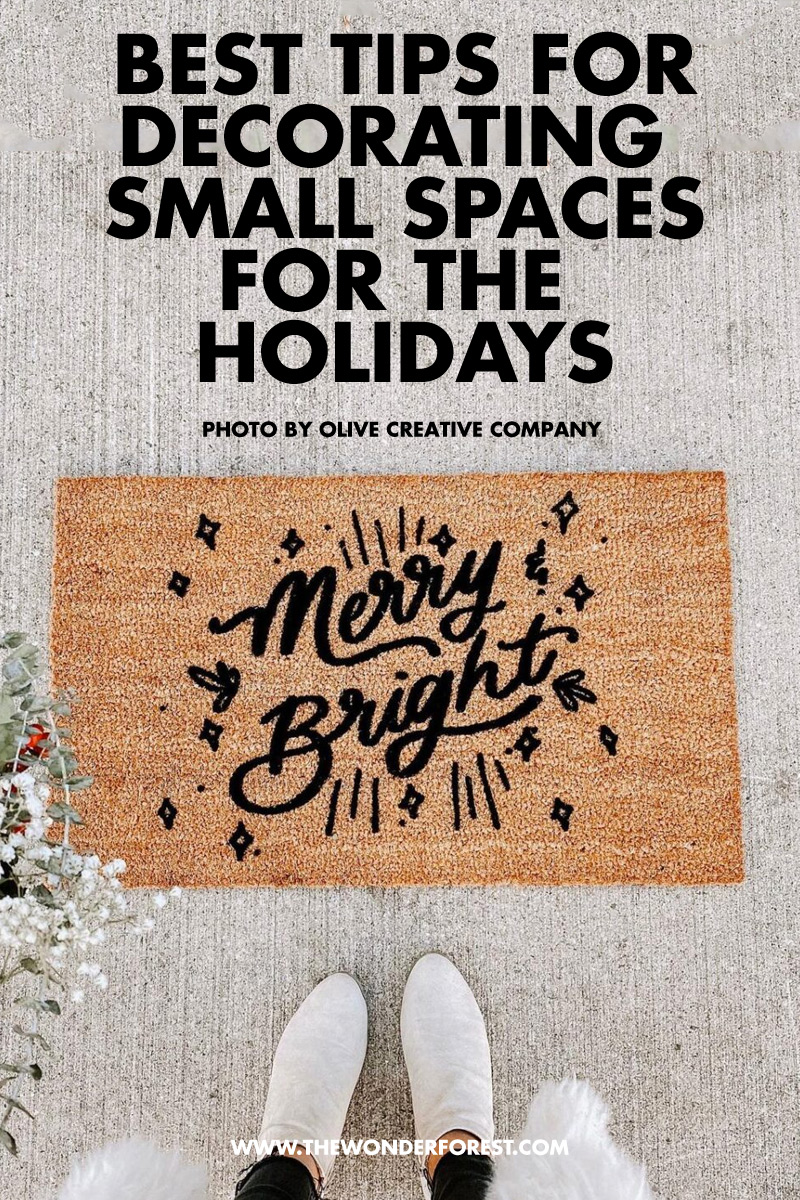 It's around that time of the year where I often start to day dream about two-storey tall Christmas trees (yes, multiple trees), sweeping staircases adorned in garland and stockings hung over large brick fireplaces with care.
The reality is…I currently live in a cute and cozy two bedroom apartment, so my decoration options are limited for now and I certainly don't have staircases or fireplaces.
But that doesn't mean I can't get my space feeling perfectly festive for the season! I focus on smaller details and things that don't take up a ton of space in my limited storage and it always feels like just the right amount of decor.
Here are some easy tips and tricks when dressing up any small space for the holidays.
Pick a Theme for your Small Space
Perhaps theme is the wrong term since home decor should always be about achieving a vibe rather than plastering your home with Santa Clause.
My preferred vibe around the holidays is cozy and warm. I love twinkling lights, ambient lighting, deep reds and greens, and classic Christmas motifs like snow globes and fir trees.
Since your decor will be limited, try to determine what you want your theme to be prior to going out.
Otherwise, a room can easily look a little mismatched and hard to tie together with such limited space. Here are just a few theme ideas to get you started…
Classic Christmas
Key elements: Red, white and green. Plaid. Vintage pieces. Santa. Nutcrackers.
Nordic
Key elements: Scandinavian patterns. Simplicity. Greenery. Wood.
Sparkling White
Key elements: All things white. Fairy lights. Fur. Candles. Glass.
Sweet Candy
Key elements: Gingerbread. Pink. Blue. Lollipops. Stripes.
Swap Out Your Art
Look around your small space. Chances are, you already have some artwork up or framed prints in order to decorate the white walls your apartment inevitably came with, that you can't change.
One of the easiest ways to decorate for any holiday without losing even an inch of space is to simply swap your art out for something a little more festive.
I like to order from Society6 or make my own watercolour art to put into my frames. Swapping out art instantly makes your space seem festive without going over the top!
Festive Details
Photos and product by Simons
When you're working with limited space, it's all about the smaller details. First, swap out necessities with holiday-themed equivalents.
In the bathroom or kitchen, swap out your hand soap or diffuser oils with a festive scent (I love peppermint). Change out any decorative towels like tea towels or hand towels with something a little more seasonal.
In your living room, it's easy to change out pillow cases and blankets to match the season – both of which instantly transform a space.
It's also important to take a look at everyday items like phone cases (is anyone else obsessed with seasonal phone cases or just me?) and mugs.
Try making or buying some holiday cookies and putting them out in a clear jar. The more you can surround yourself with little reminders of the season, the more festive you'll feel!
Tiny Trees
Ahh, the Christmas tree dilemma. Most apartments simply don't have the space for a full sized tree – but that's okay! There are plenty of options for smaller spaces.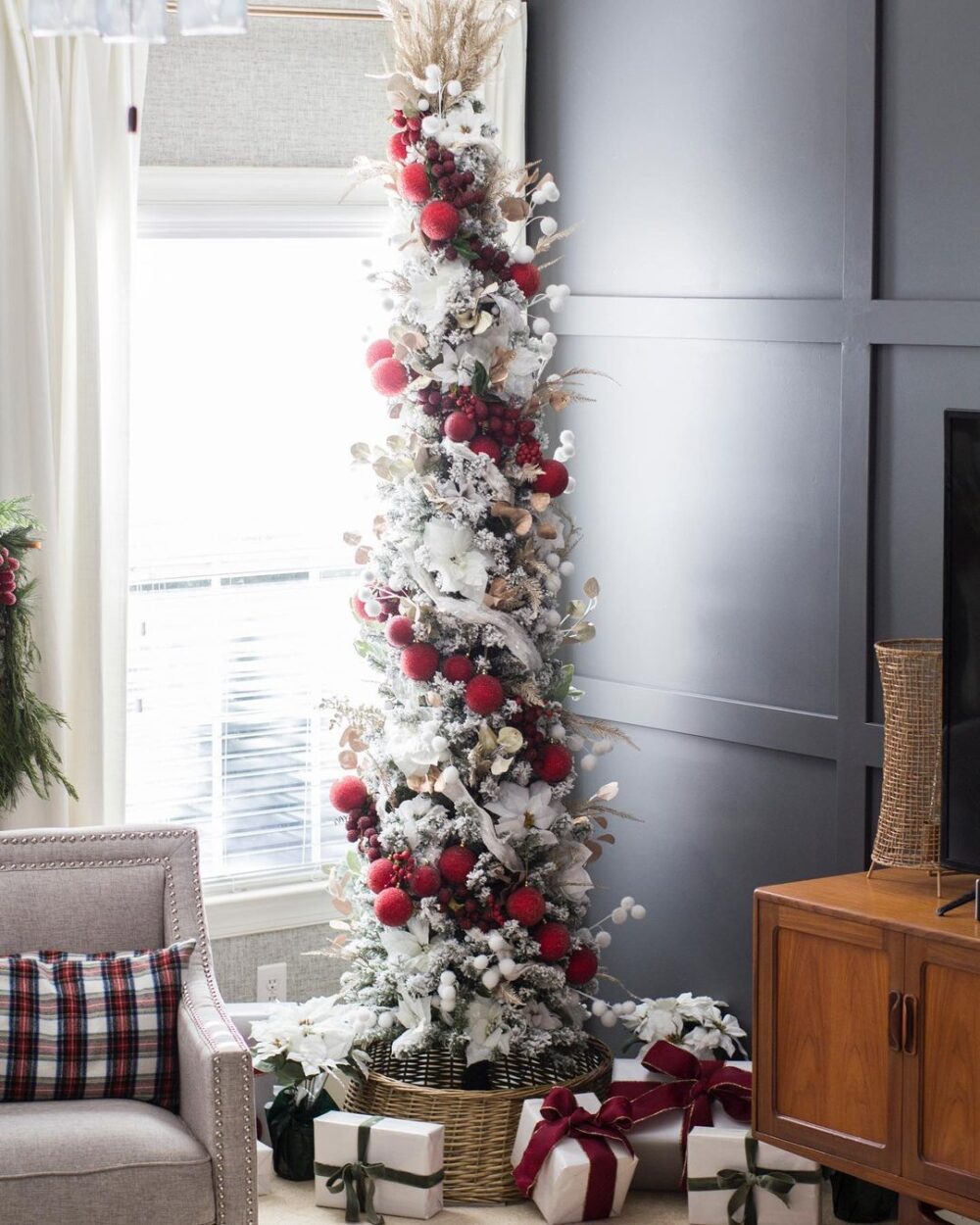 I'm in love with the tall, skinny artificial tree that I picked up from Michael's a few years ago. All I have to do is move over my console table and it fits into my space perfectly.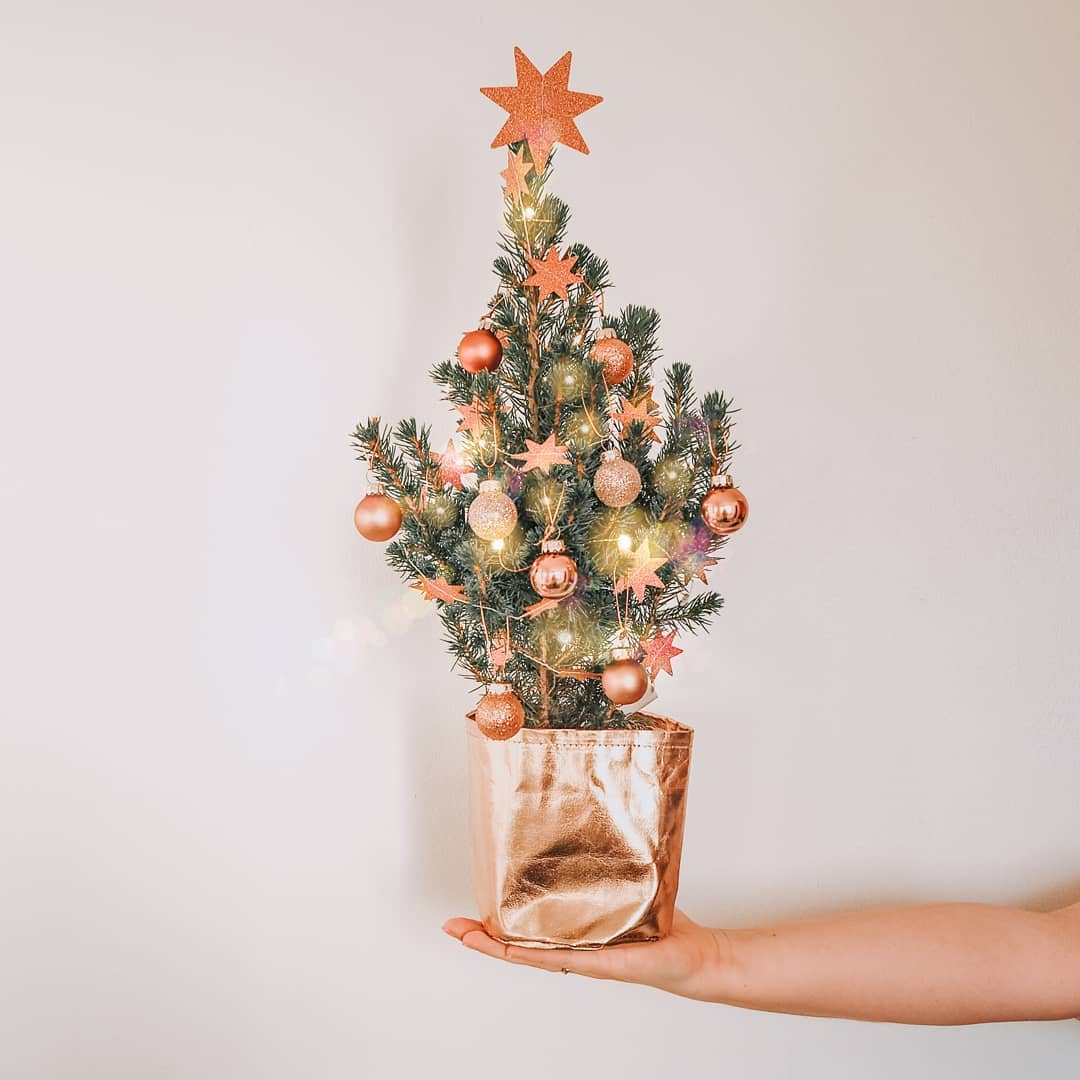 There's also the option to go for a small table top tree (with the cutest mini ornaments) or go for a retro feel with a vintage ceramic tree that plugs in.
Warm Welcome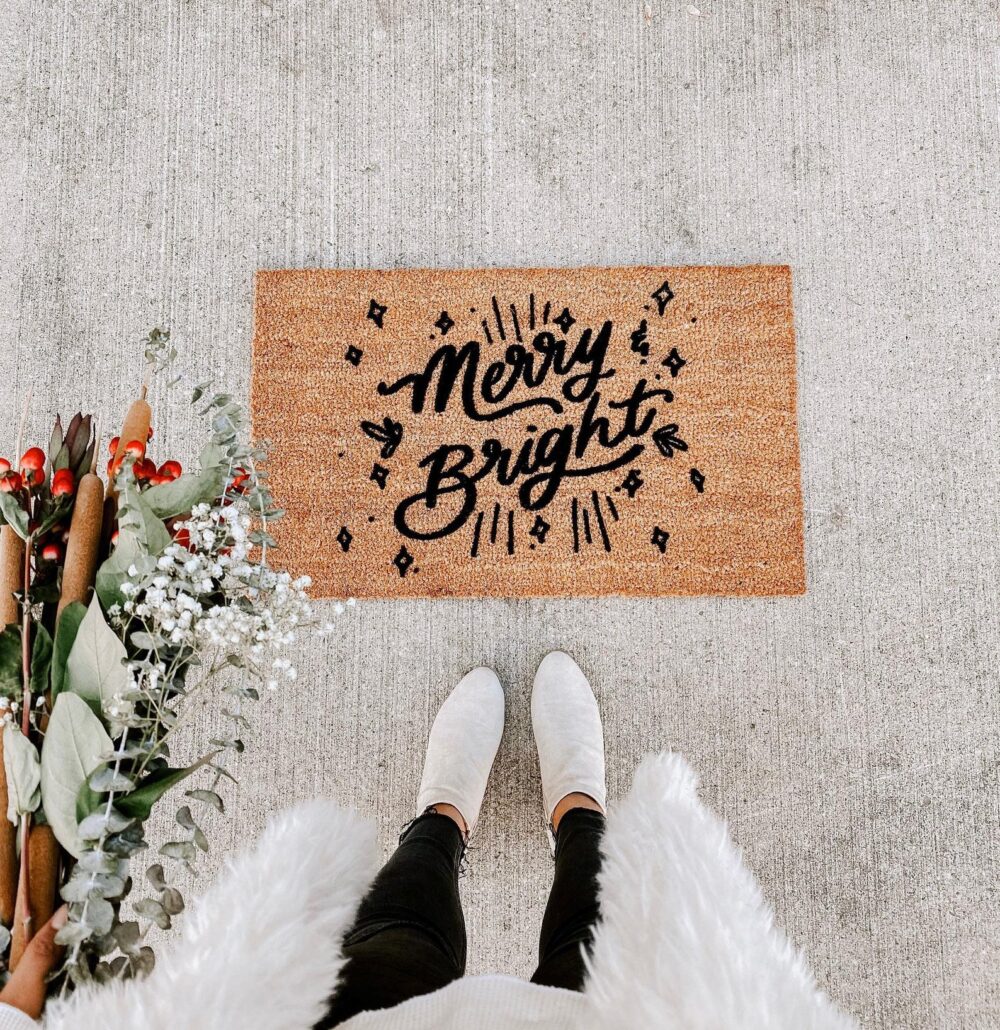 Another under-utilized space in apartment living is your own front door and mat. While some apartments have rules on what you can put in this space, it's definitely an area to consider when decorating for Christmas – especially if you actually have a door that faces outside to the street.
Simply pick up a wreath that matches your theme and grab a fun and festive doormat to match.
TV Trick
Here's an easy trick that I use when I have company over for any holiday. While again, you likely don't have a fireplace in your small space, you can easily put on the fireplace channel (on Netflix) on your television screen which would normally just be turned off.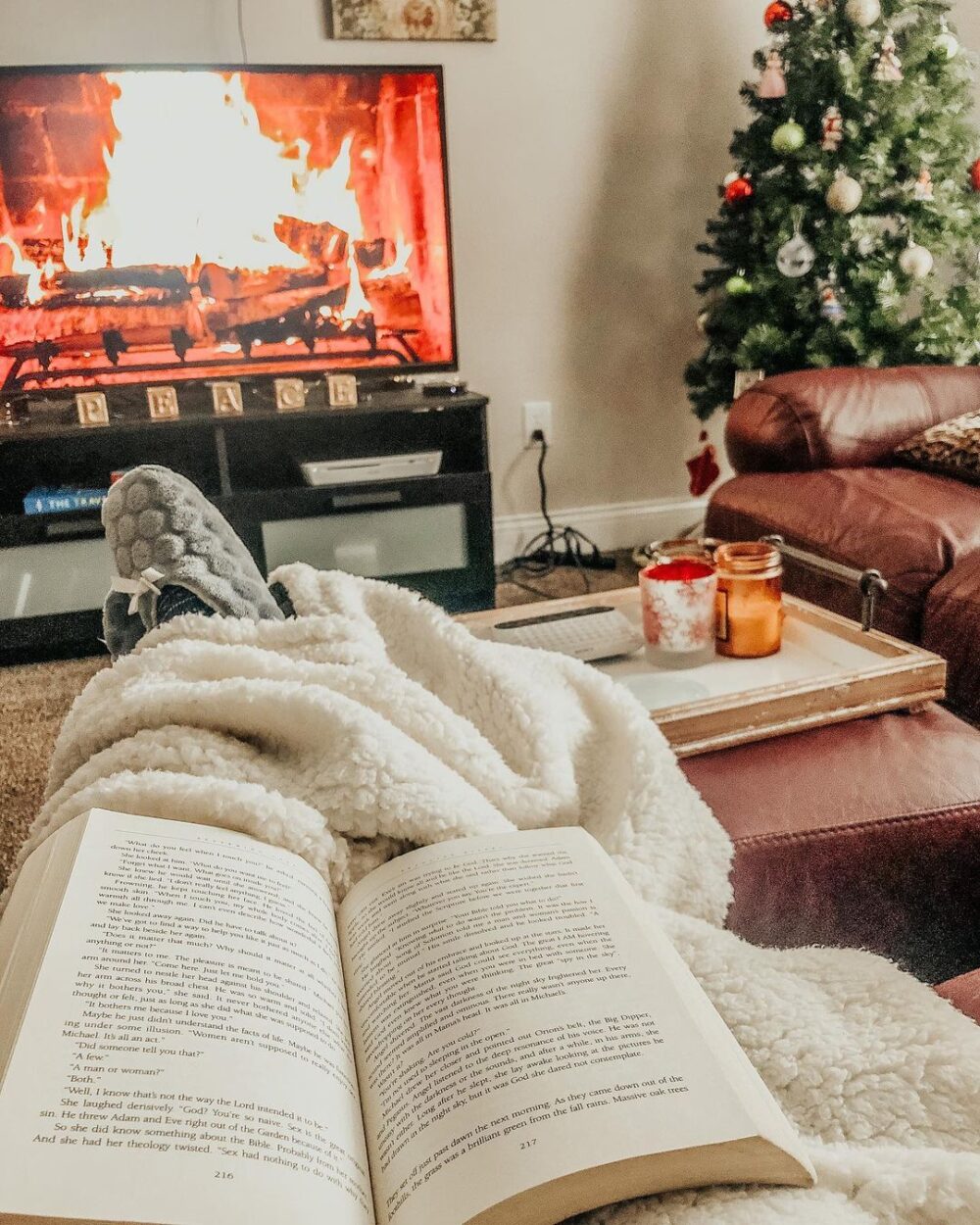 Or, select one of your favourite classic Christmas movies and simply have it on in the background on mute. This adds just a little bit of extra ambience to your space when entertaining, and people tend to get a kick out of it.
PIN IT FOR LATER!
Last Updated on