Farmhouse homes and Christmas go together like a warm peppermint mocha and a Hallmark Christmas movie. If you're a lover of neutral decor and you're craftily inclined, these simple and rustic holiday DIY projects will be the perfect addition to your Christmas ornament collection. These twenty neutral holiday decor ideas for your home will make your Christmas merry and bright.
Tassel Christmas Tree Garland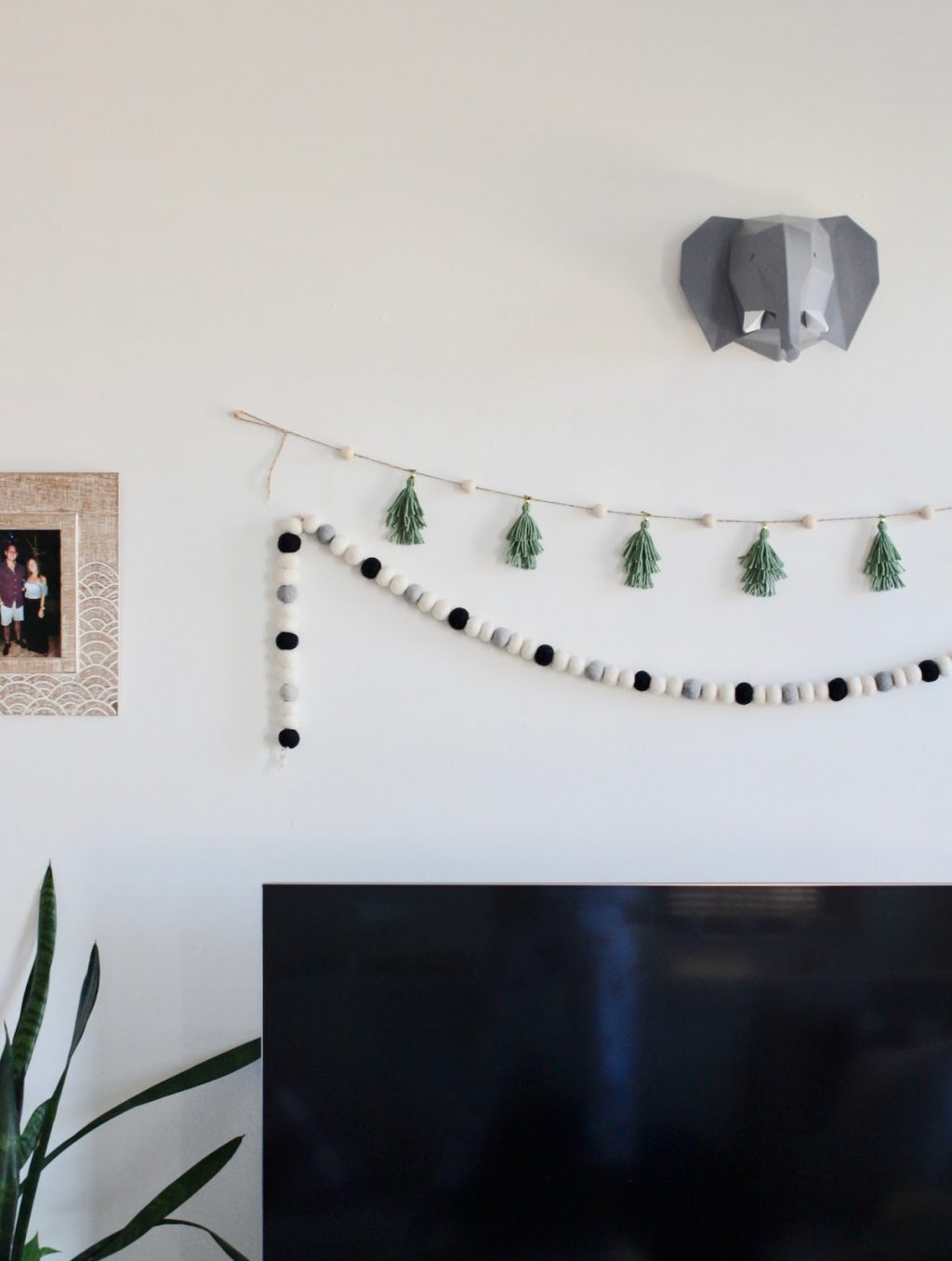 For this project, all you need are wood beads, a $2 yarn, and jute twine. The Christmas tree tassel garland would be a fun and festive project to do with kids for your mantel, wall decor, or tree. So cute!
Farmhouse Tree Ornaments
You only need modelling clay and black and gold Sharpies to make these ornaments. The minimalist black and gold design gives these ornaments a wow factor, but would be forgiving even for those of us lacking in artistic skill.
Winter Pom Pom Wreath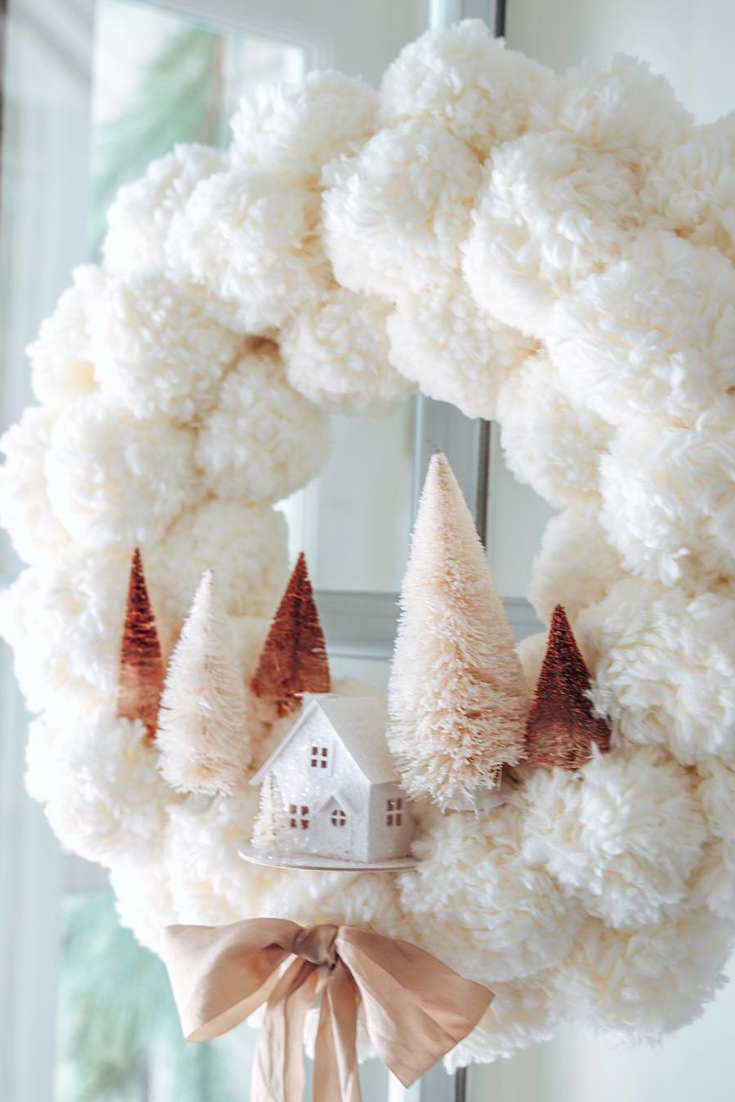 Of all the DIY Anthropologie-inspired pom pom wreaths in the internet world, this is possibly our favourite. We love the hint of reddish-brown –but the same design with all-white bottle brush trees would be adorable as well.
Yarn and Ribbon Wrapped Trees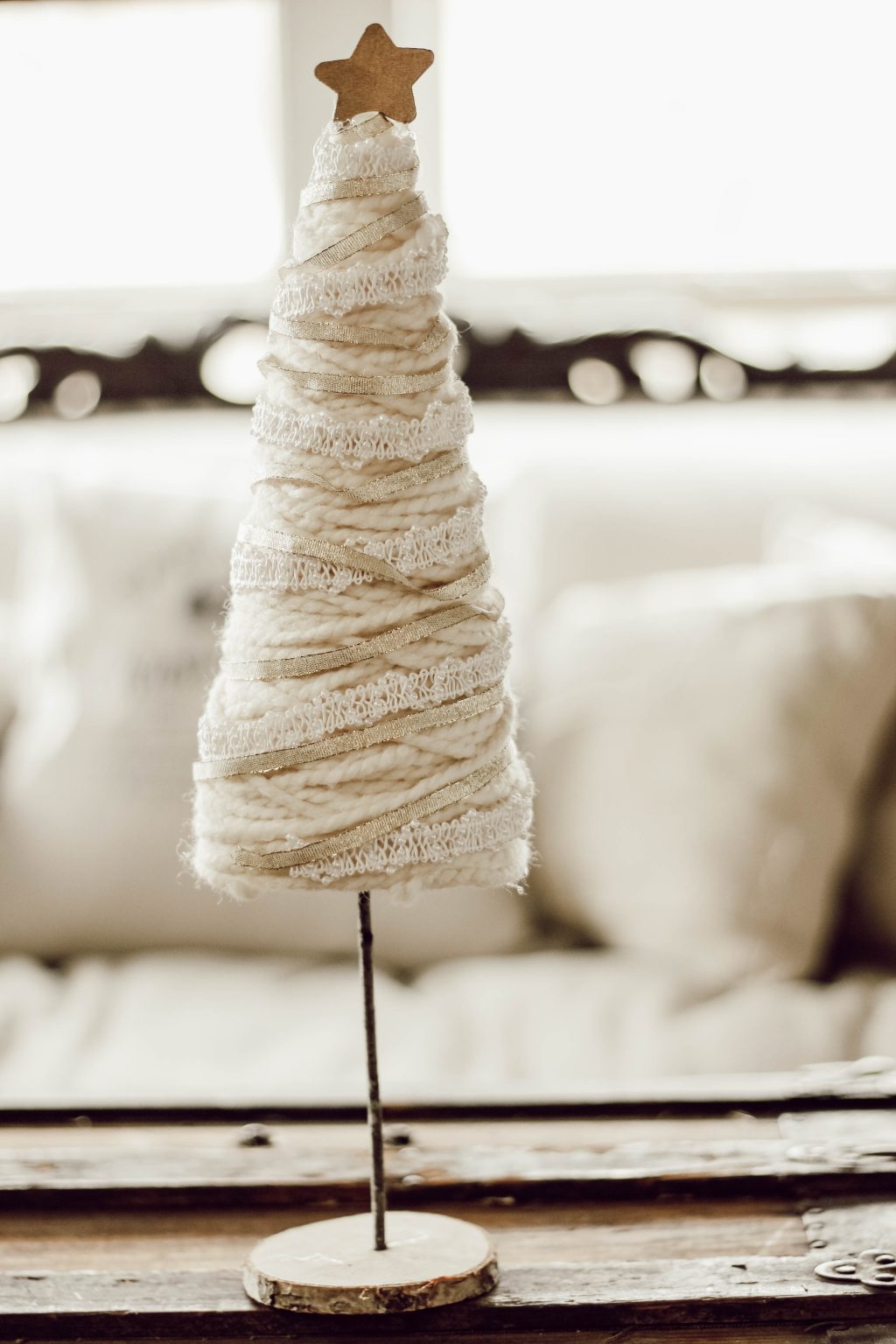 These creative wrapped trees kick it up a notch by adding some cute ribbons and trims layered over the yarn. Homey and cozy, create a variety of sizes to display on a table or on your mantel. The wooden stars add an extra special touch.
Giant Pom Pom Garland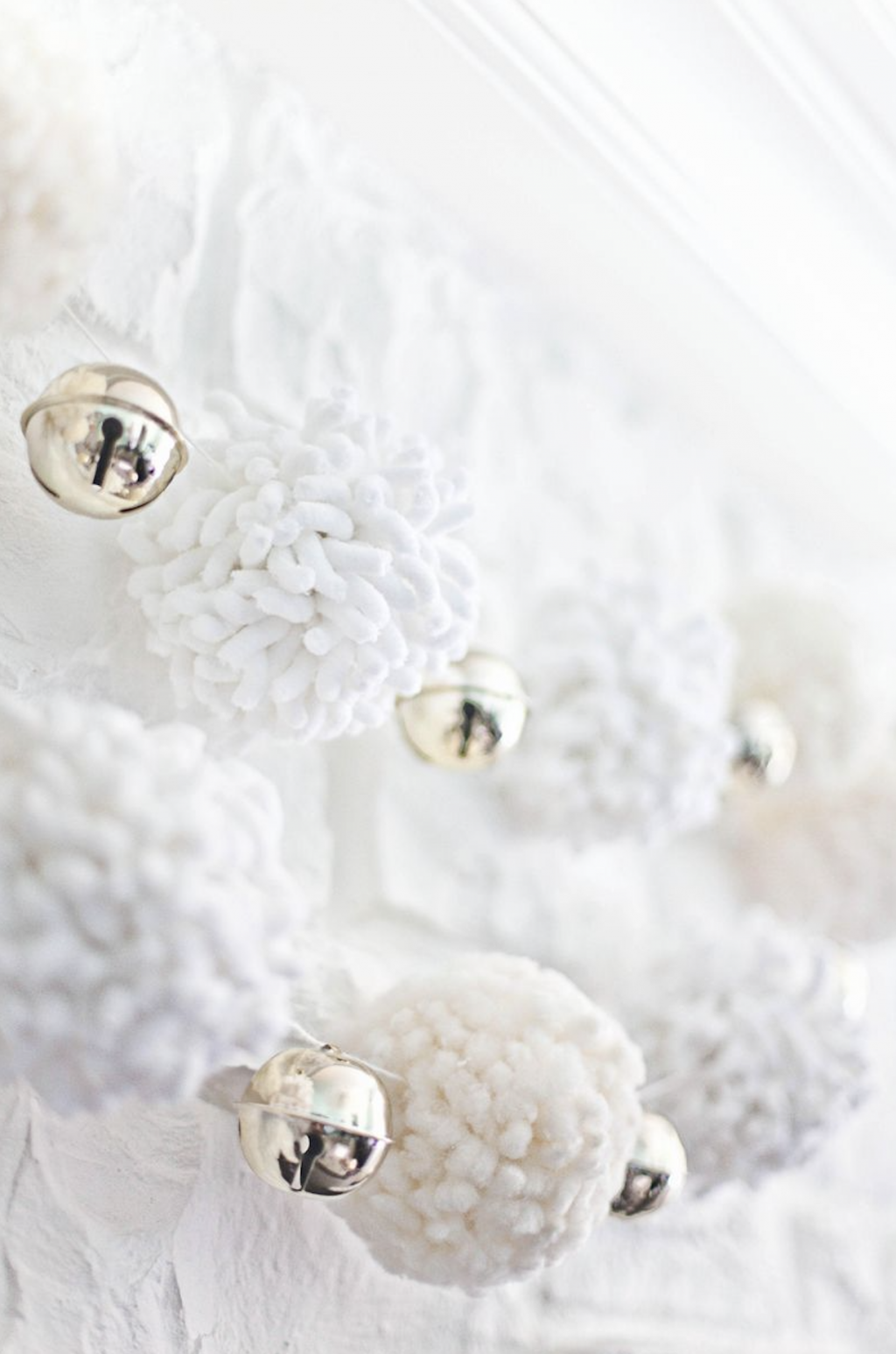 When we think of farmhouse Christmas, we think of chunky knits. What could be more cozy at Christmas than this giant pom pom garland? The chunkier the yarn, the better. Use just the pom poms, or add jingle bells like this version.
Cinnamon Stick Ornaments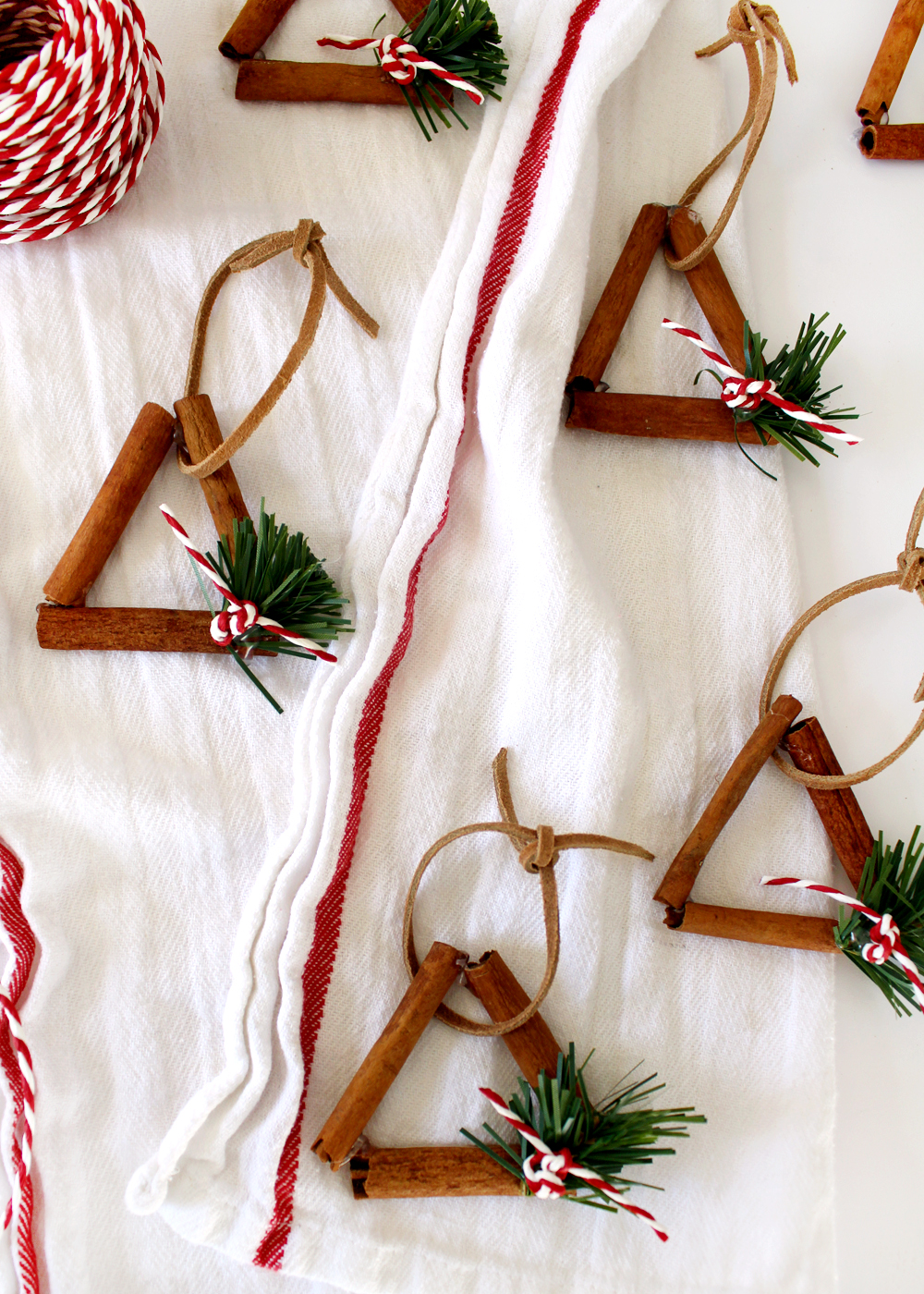 This rustic ornament would be the perfect touch to a simple tree decor scheme. Buy cinnamon sticks in bulk at a craft store and recycle an old artificial garland for the sprig of evergreen. While perfect for your farmhouse-styled tree, these would also make a sweet alternative to a bow when wrapping gifts.
Christmas Wreath Wood Slice Ornaments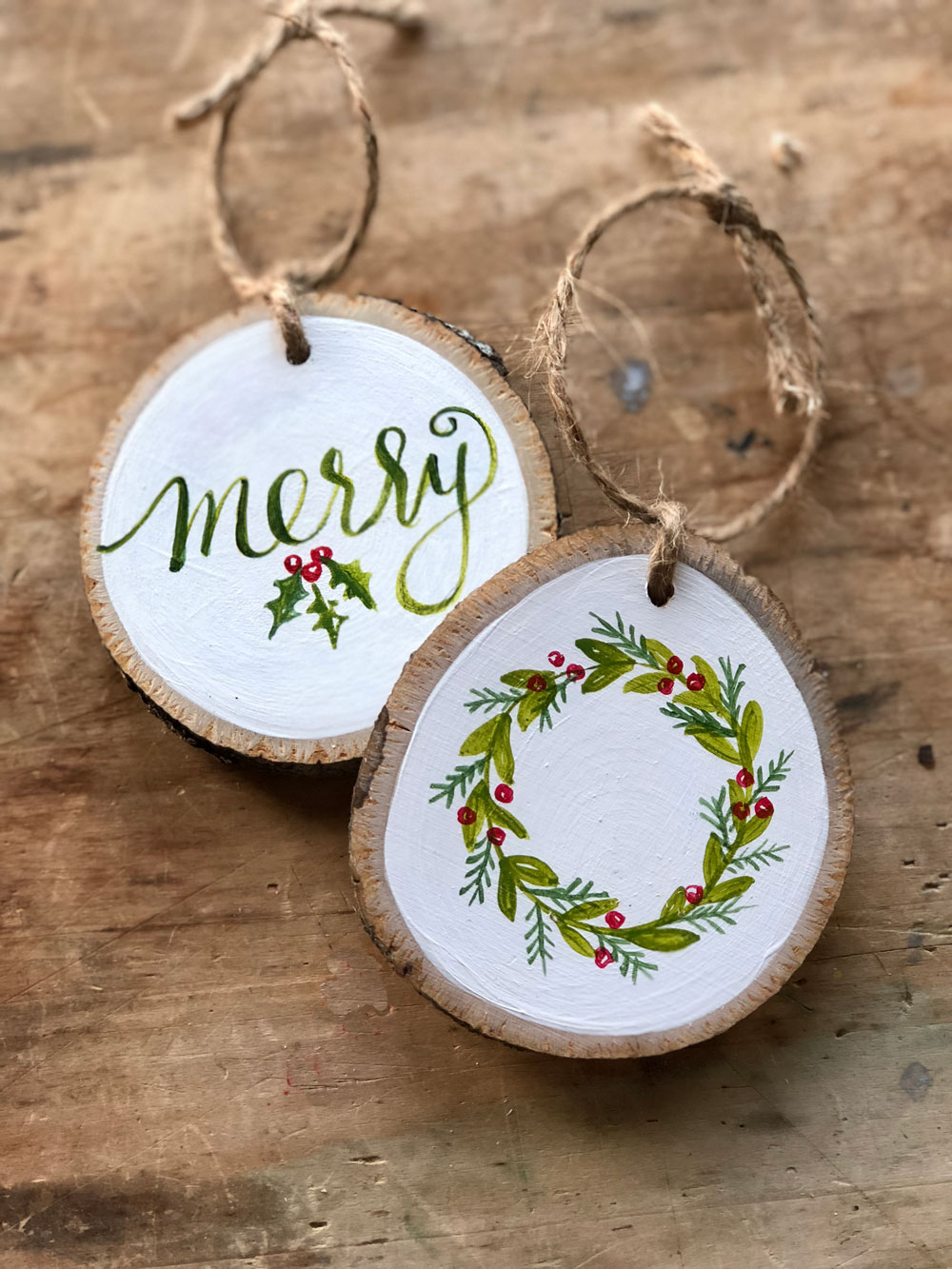 If you've ever tried to draw a floral wreath, you know it isn't easy. But this tutorial shows you how to easily paint a Christmas wreath on a wood slice from a craft store. These pretty rustic ornaments are perfect for your natural and neutral holiday decor.
Gold Glitter Ornaments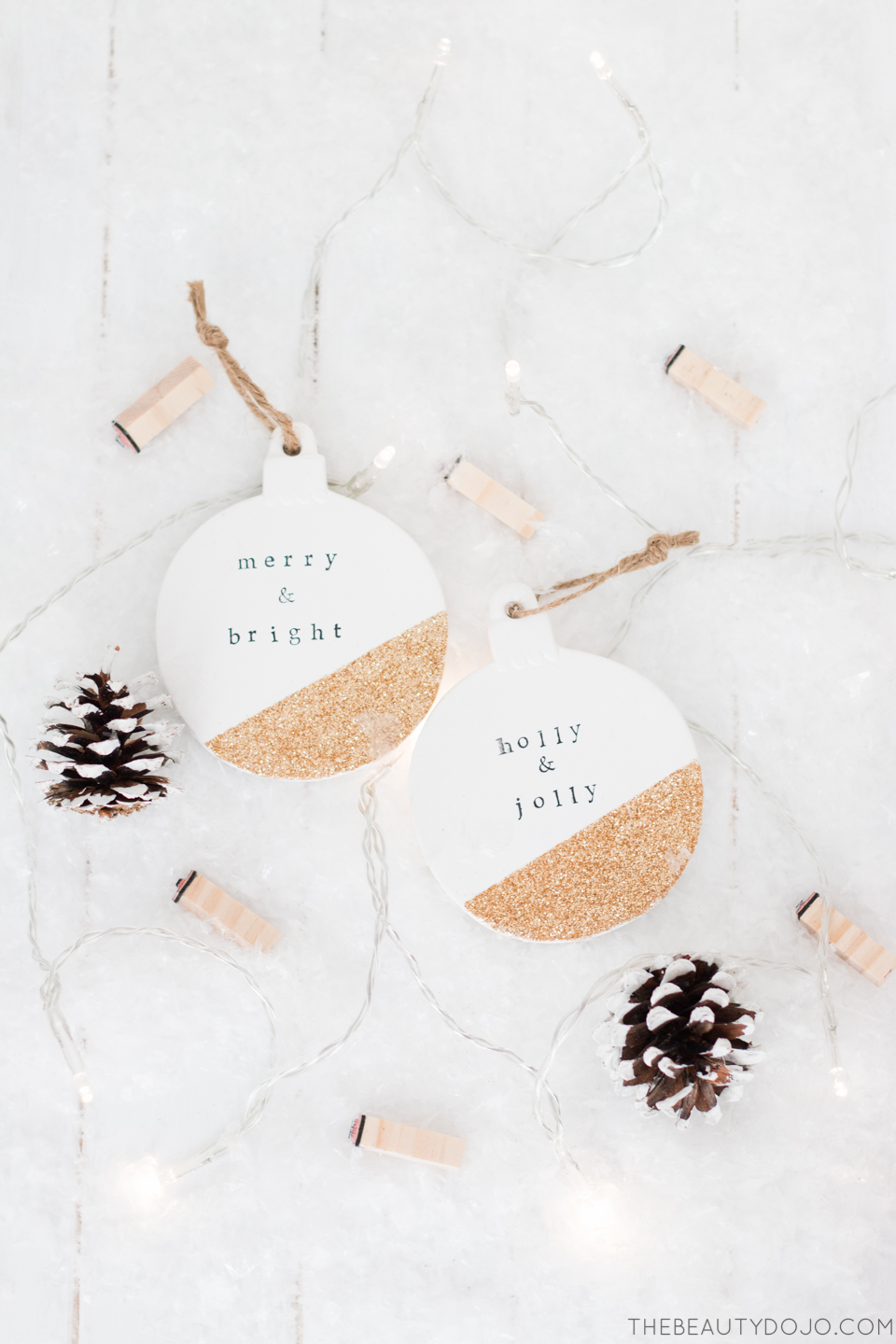 These glitter ornaments will add a touch of sparkle to your neutral tree. Created with blank ornaments for crafting, mod podge and gold glitter, they are then stamped with Christmassy phrases. It'd be fun to create one using your favourite Christmas movie quote!
Macrame Tree & Snowflake Christmas Ornaments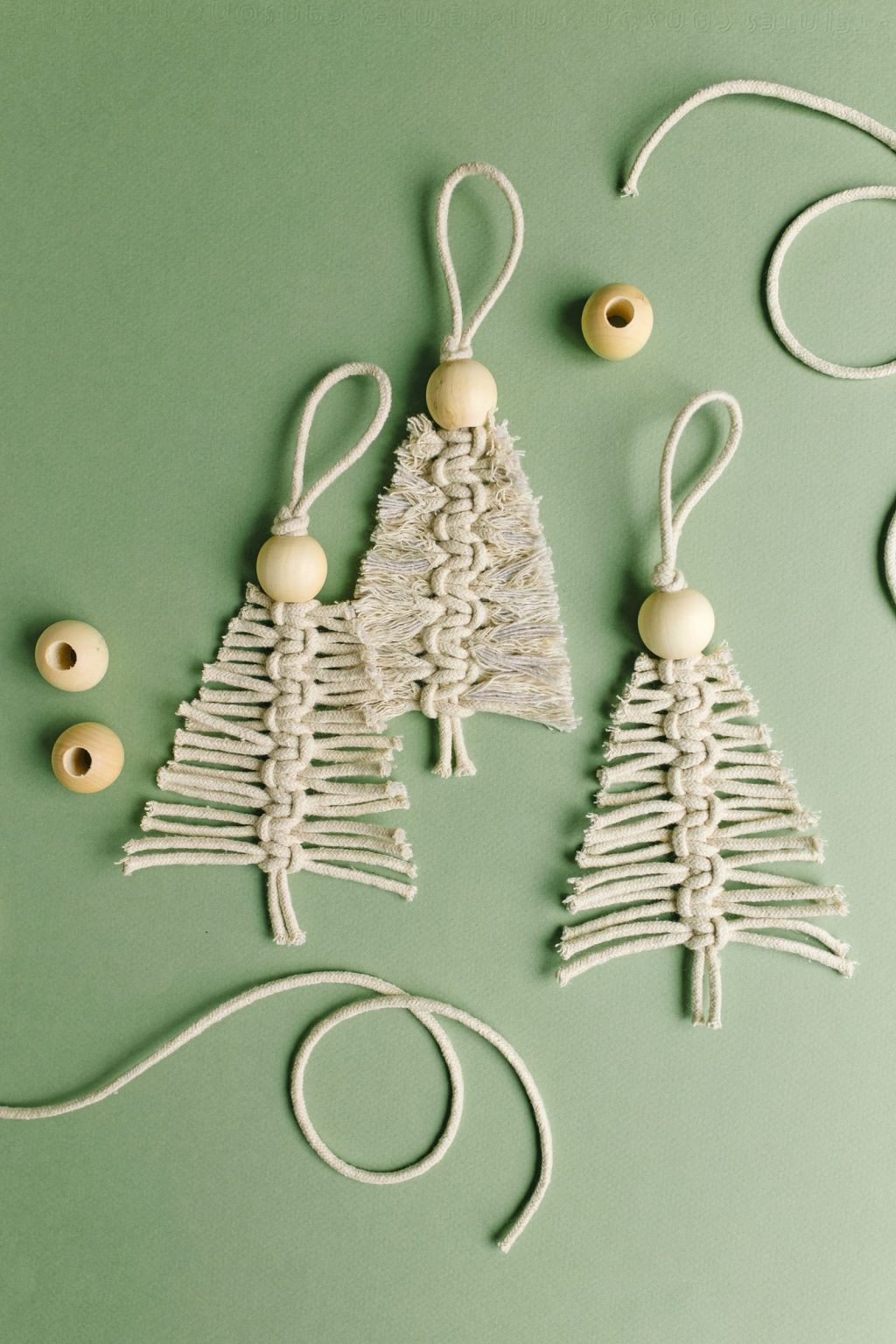 Looking for the perfect neutral DIY ornament? Look no further than these simple macrame trees and snowflakes. A little boho, a little farmhouse, a little minimalist, these creations would be perfect for stringing onto a garland or hanging on the tree.
Orange Garland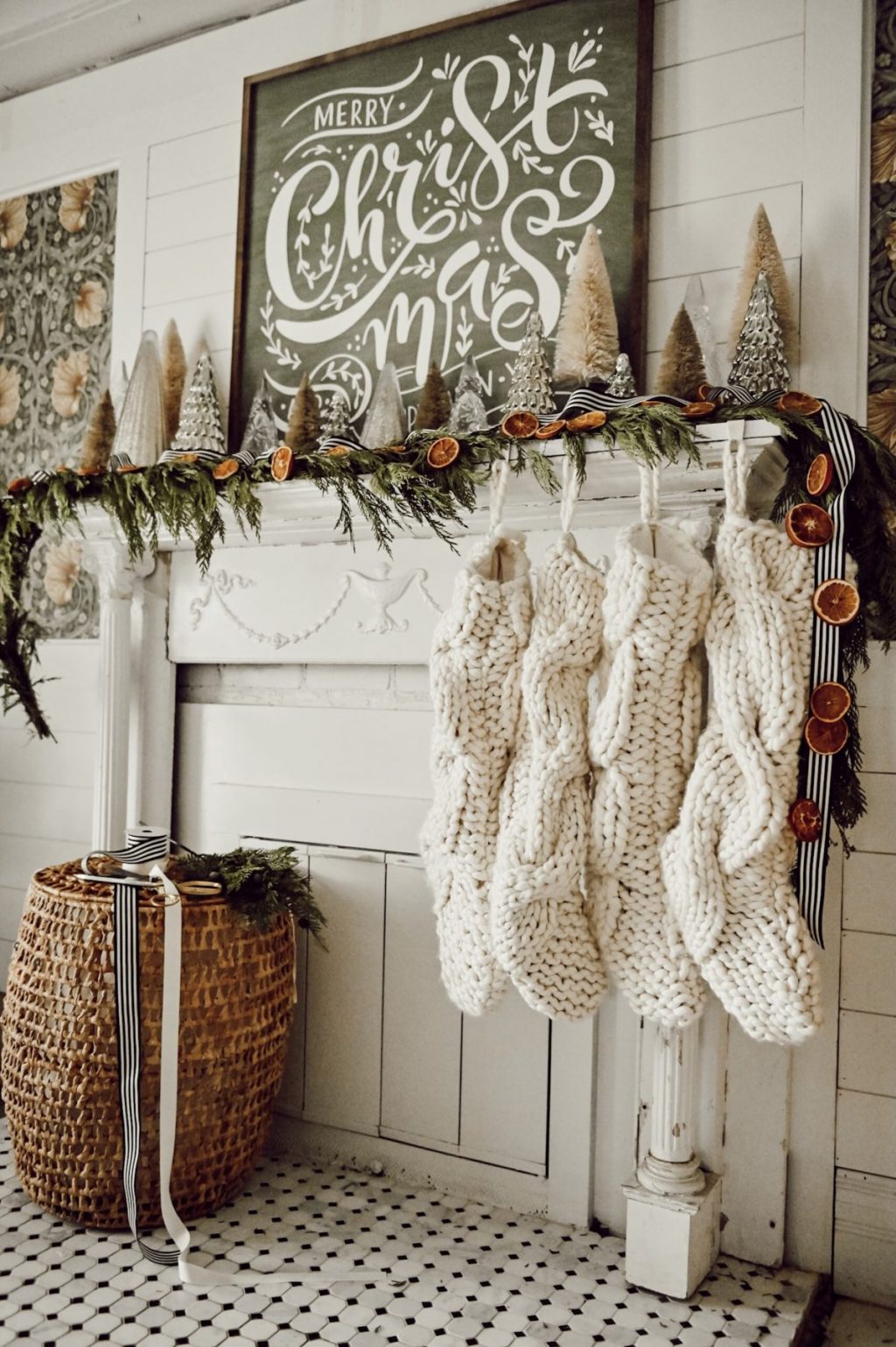 A dried orange slice garland is perhaps the quintessential tool in your DIY farmhouse Christmas arsenal. How much more cozy can you get than a fireplace staged with fresh greenery, dried orange slices, chunky knit stockings, and bottle brush trees?
Framed Glass Holiday Floating Signs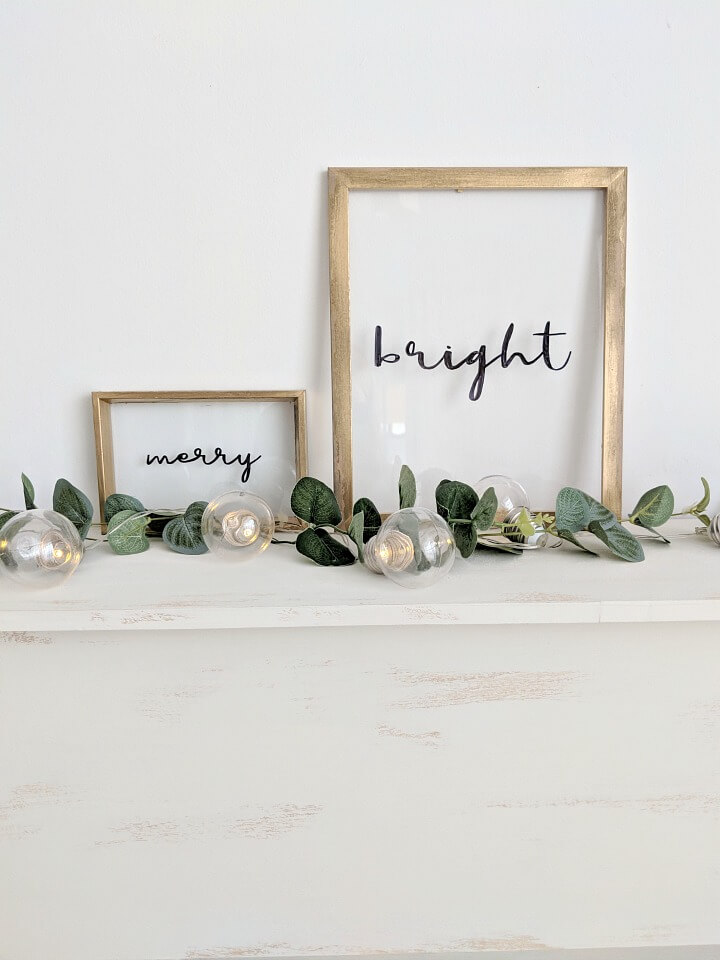 Floating signs are the ultimate in modern farmhouse-chic. With just a few supplies you can easily make your own "merry" and "bright" signs in fun script lettering. We love how these are displayed with a pretty garland and some lights for an extra merry glow.
Graphic Salt Dough Ornaments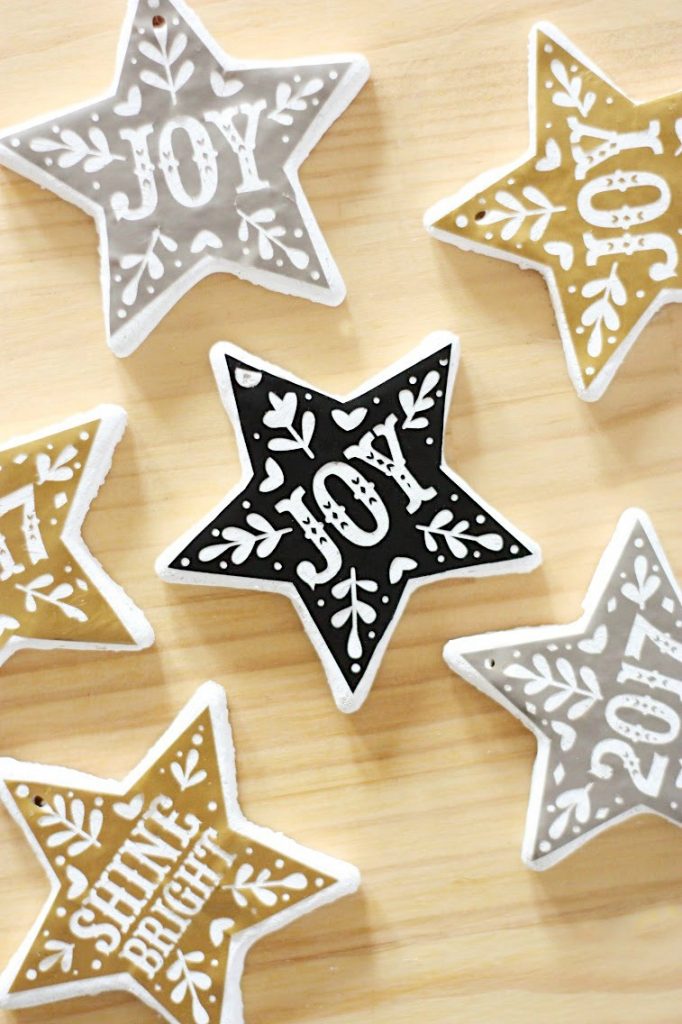 These are not your average salt dough ornaments. Another fun project to make with kids, you can customize the design template to commemorate the year or individualize them with names. The black, silver, and gold colour scheme will carry right on into New Year's.
DIY Yarn Tassel Tree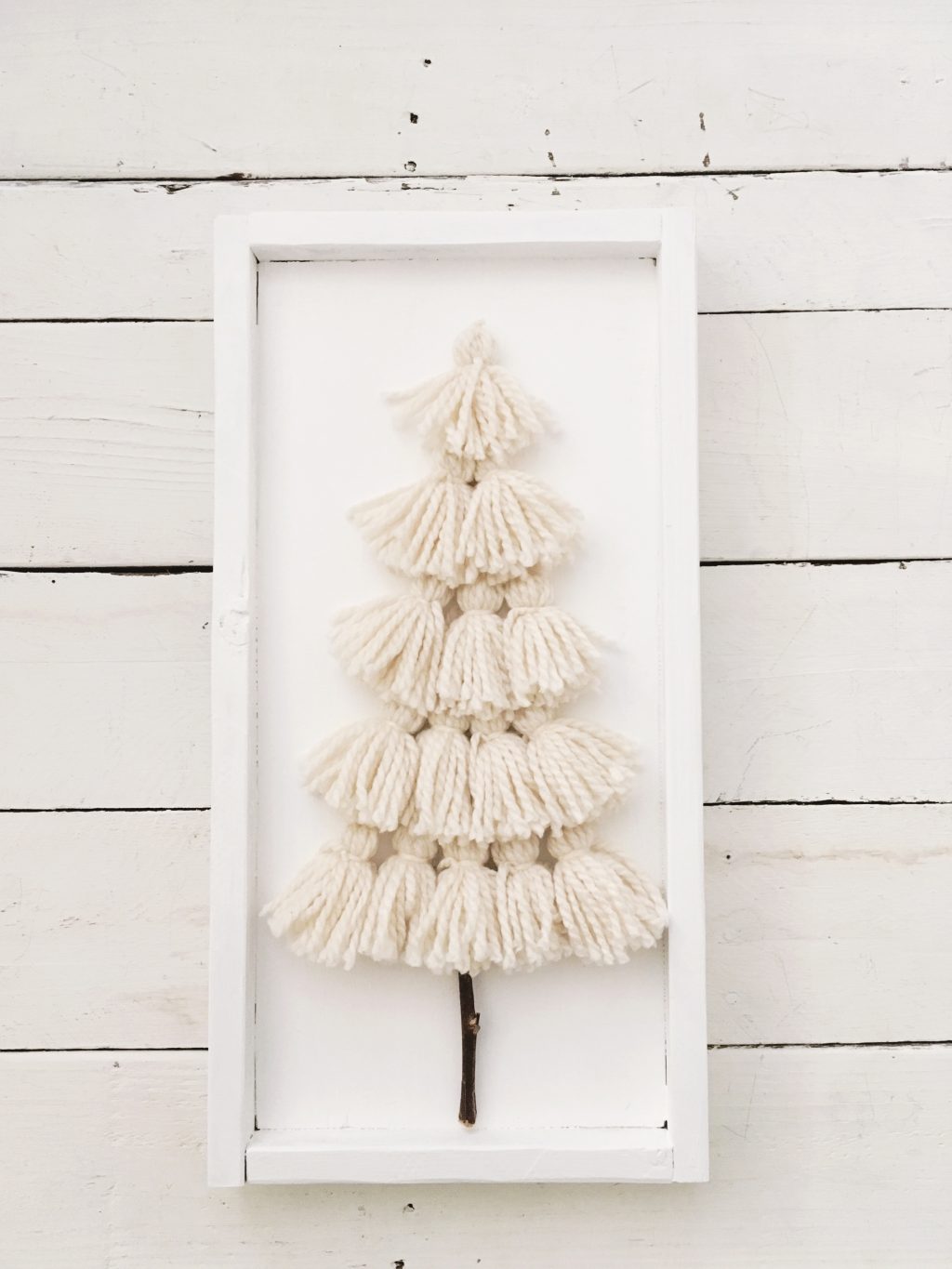 This simple DIY is high-end looking and would make a great gift. Fun to make and easy, it will bring a fun, handmade element to your Christmas decor. Try with different colors and thicknesses of yarn.
Asymmetrical Garland DIY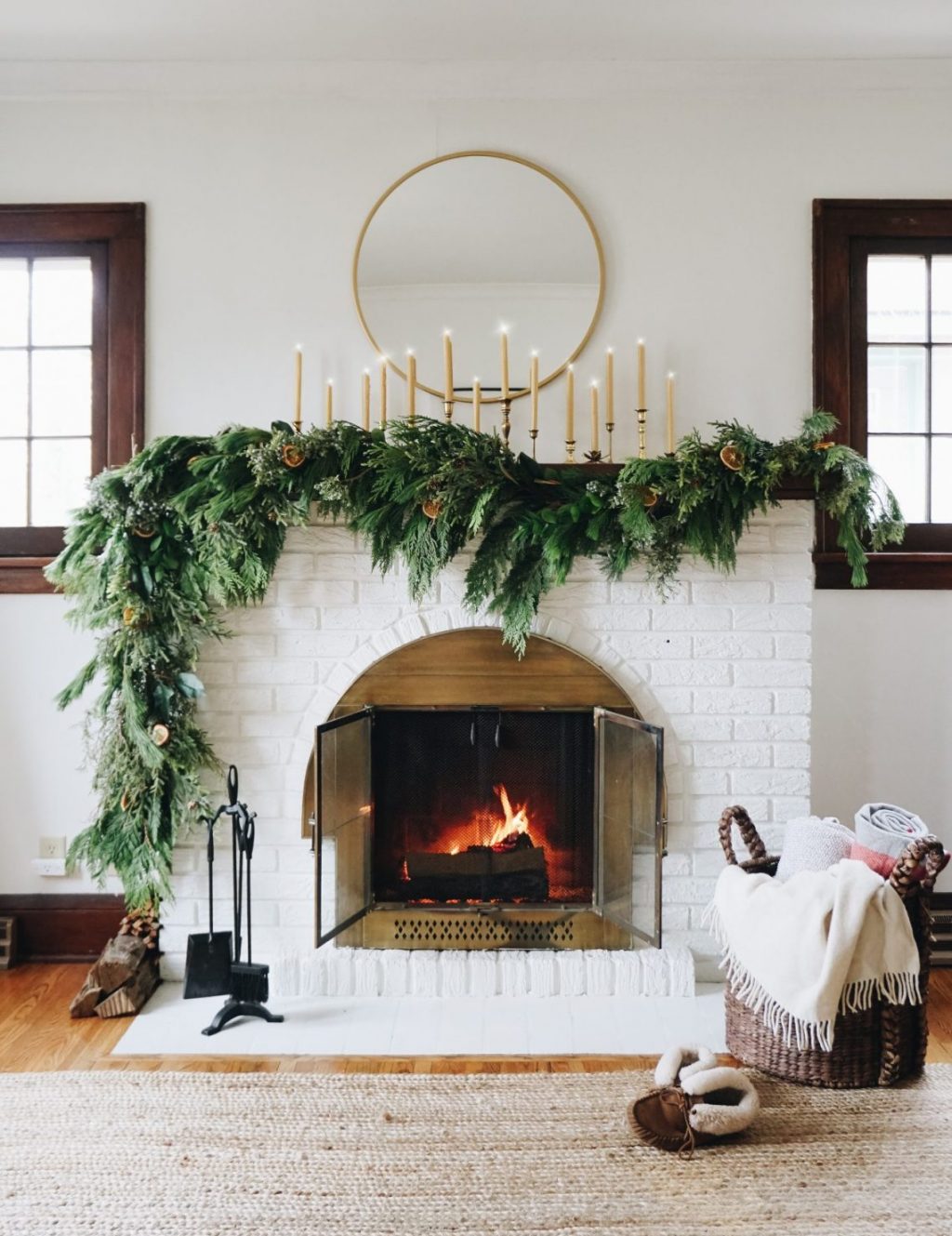 Add the look of fresh greenery to your neutral holiday decor with this fancy garland DIY. This beautiful garland combines fresh cedar and pine with faux magnolia and evergreen stems, creating a full, asymmetrical garland that will feel like a Christmas movie every day.
Black and Gold Brushstroke Ornaments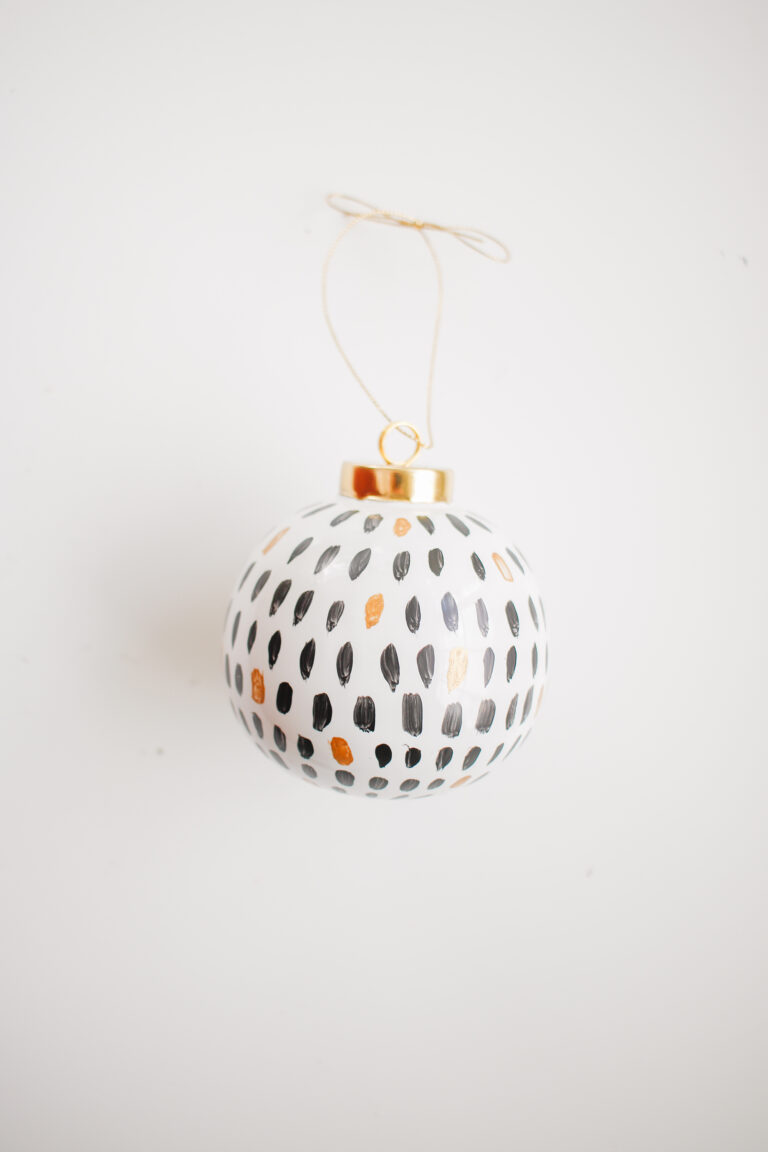 This ornament is made by simply adding brushstrokes in black and gold acrylic paint to a plain white ornament. Such an easy craft, you could also change the colours to go with your existing decor.
Evergreen Stars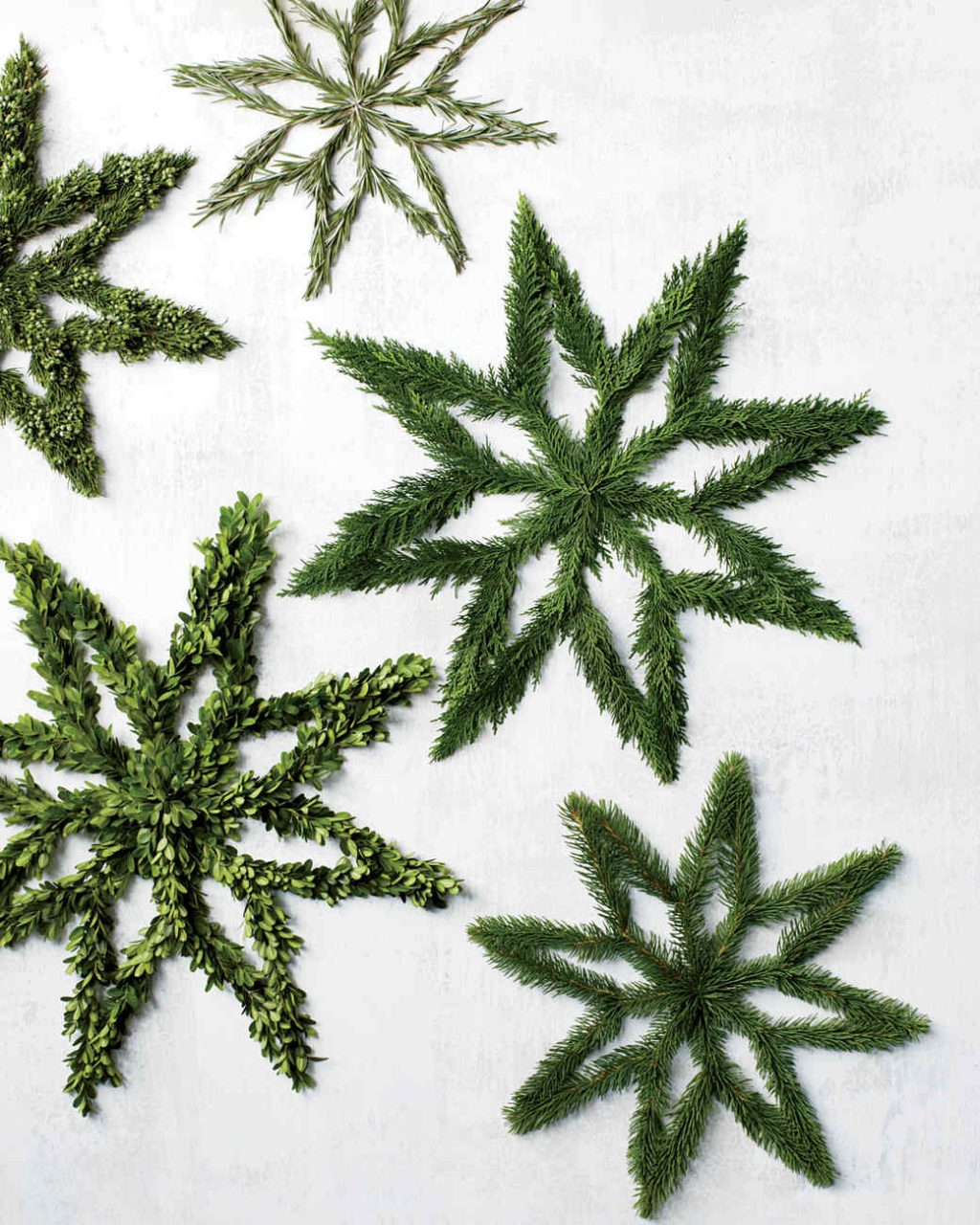 These easy evergreen stars from Martha Stewart are made with cut greens such as rosemary, cedar, juniper, or boxwood. You could make one, or several different sizes to display together for beautiful seasonal wall decor.
DIY Christmas Hoop Wreath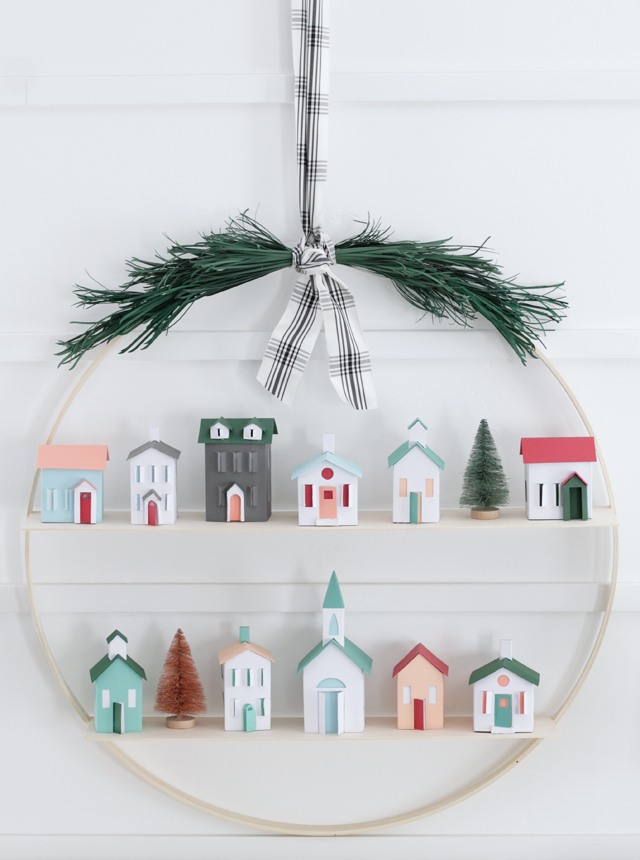 Make a unique Christmas hoop wreath featuring a whimsical paper Christmas village made with a Cricut. The perfect display for your mantel or an interior door, the bright blues, reds, and greens create a childlike Christmas feeling but can easily be replaced with browns, white and black.
Wood Bead Garland with Tassels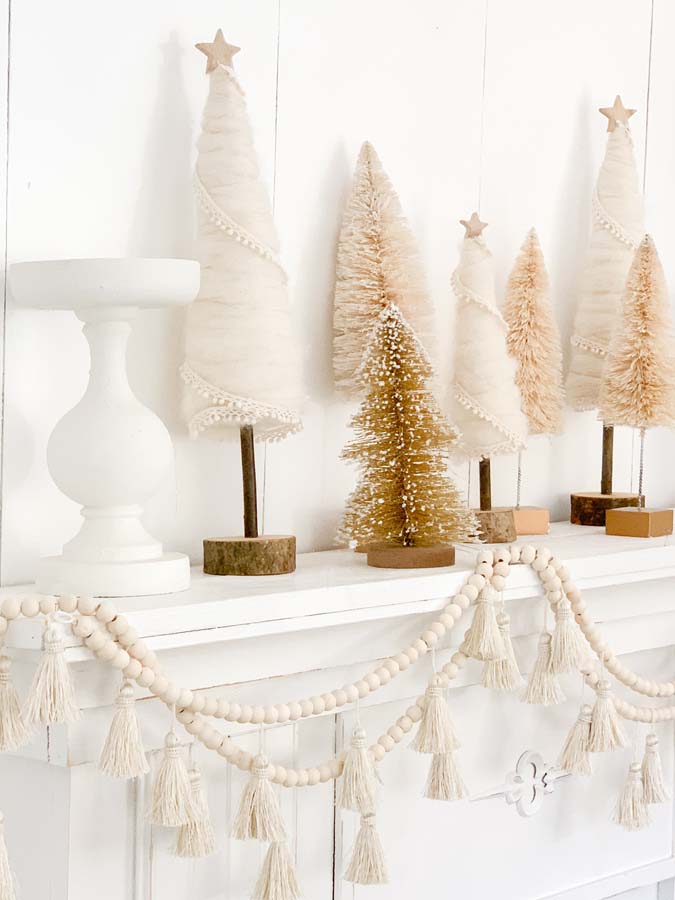 This semi-homemade garland combines cute store-bought tassels and a wood bead string. It looks beautiful when layered over a mantel, and will fit well into your decor even year-round.
Felt Christmas Tree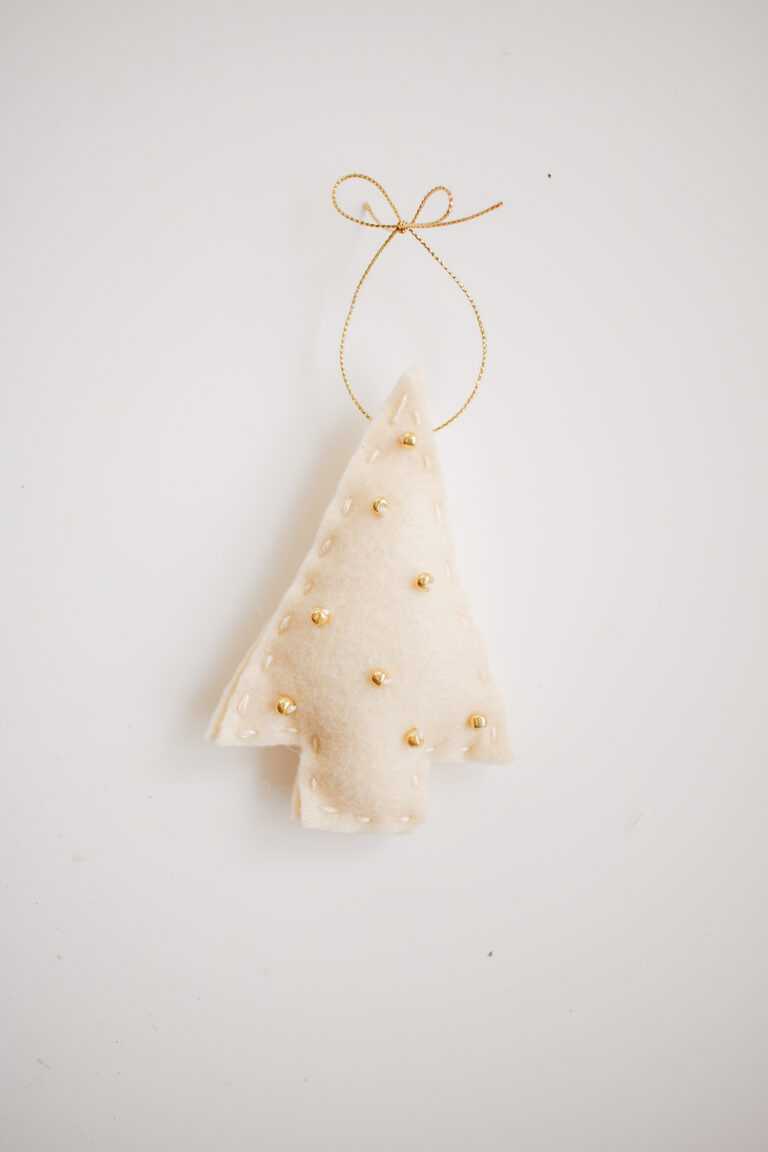 This felt Christmas tree with gold beads is so adorable. Perfect for a white or gold themed tree, or perhaps a kids' tree, we love the simplicity and touch of glimmer.
Felt Mitten Ornaments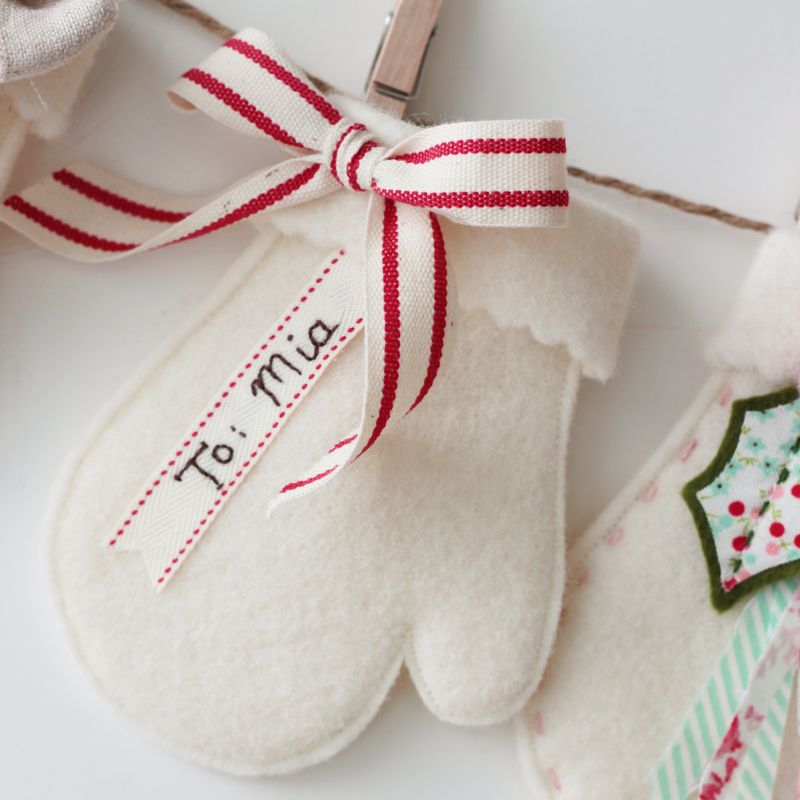 These cute felt mittens can be decorated with pompoms, sparkly sequins, holly, tinsel, or a simple red ribbon as shown here. If you are experienced at sewing, it only takes a minute to make each mitten, but don't be afraid to give this pattern a try even if you are a beginner.
PIN THIS:
Last Updated on