There's nothing more welcoming this Christmas season than greeting visitors to your home with a little holiday cheer. Some home owners like to go all out with their front porch decor, while others like to keep it simple and sweet.
I've gathered some of my absolute favourite holiday front porch decorating ideas this year that happen to be super trendy.
This post contains affiliate links for product recommendations. Any purchases made through these links help support the blog with a small commission. As an Amazon Associate I earn from qualifying purchases.
Lush Garland Christmas Door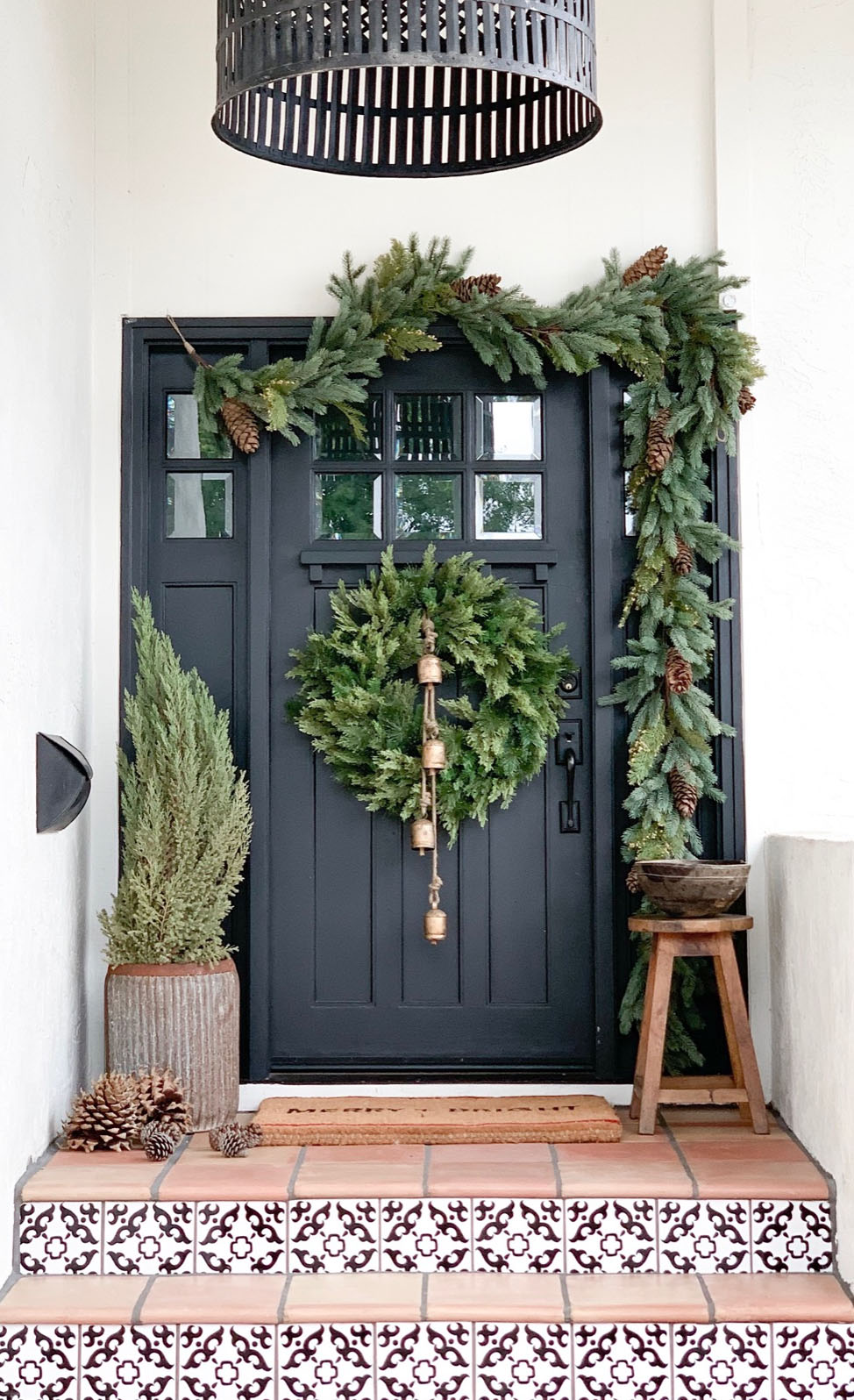 Just because you have a small space doesn't mean you can't decorate your front door like a boss! The asymmetrical lush garland is perfectly balanced here with a simple cedar tree on the opposite side. A super large wreath is decked out in bells and fills this small area with a whole lot of cheer.
Quirky Winter Details
I love the idea of adding items to your porch that represent the joy of the winter season — like these ice skates hanging on the door! Not your typical holiday wreath, but welcoming all the same.
Cozy Christmas Bench
For larger porches, a bench is a must! They are so easy to change up each season. Fill it with cozy pillows in buffalo plaids and holiday themed designs. Add some blankets, logs, and cute barrels to hold some trees!
Black and White Holiday Porch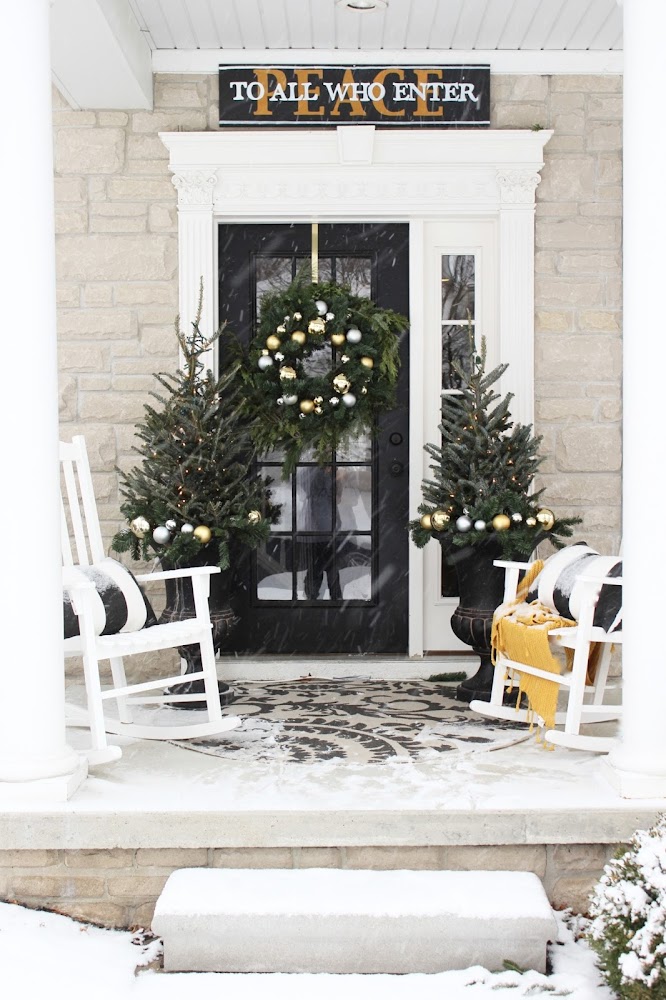 Coordinating your decor with a single colour palette makes a huge statement. It's not always necessary to stick with reds and greens, but more muted colours including black and white — and this year we are seeing a lot of this simple style!
A Collection of Greenery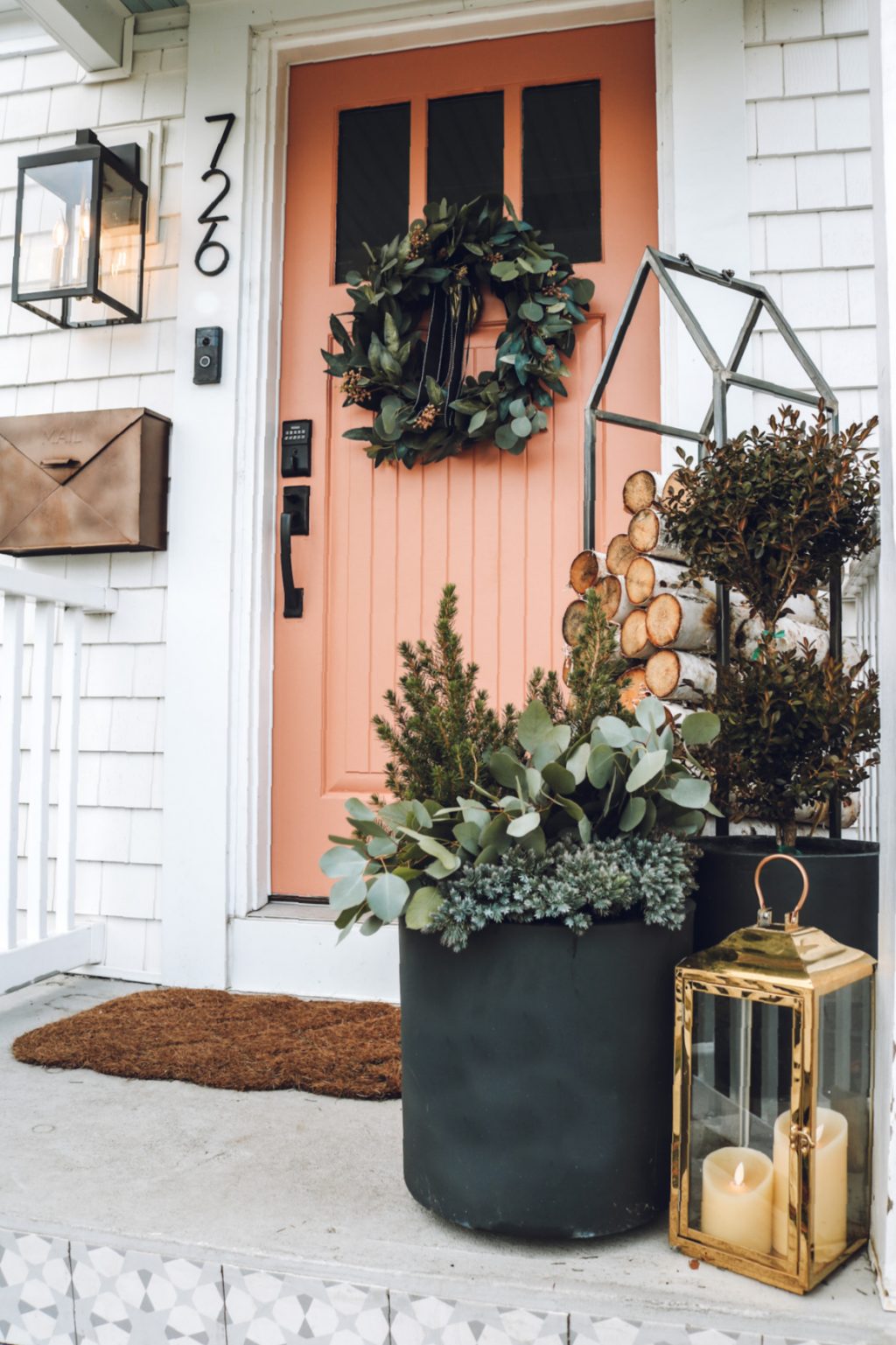 A setup like this is so easy to change depending on the season! A few key holiday inspired decor items perfectly placed on one side of the entryway. I love the idea of adding other greens like eucalyptus instead of your standard pine and cedar clippings. Try a eucalyptus wreath!
Modern Simple Holiday Entryway
This setup is ultra modern but works so well for the stark black detail of the home. Greenery and small lights are all you need to make a welcoming space.
Over-the-top Ornaments!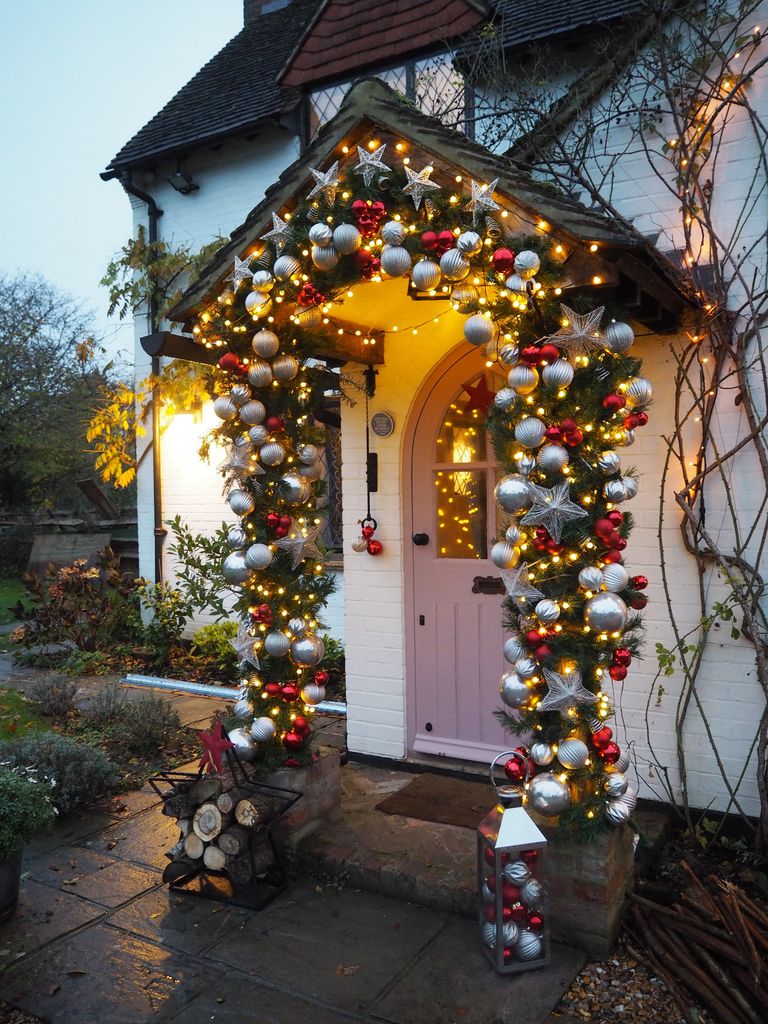 How charming is this adorable home all decked out in giant Christmas ornaments? If your have an archway leading to your front door, you can easily recreate this look. Tip: use Command hooks on areas that are flat to attach garland!
Wintery White Holiday Porch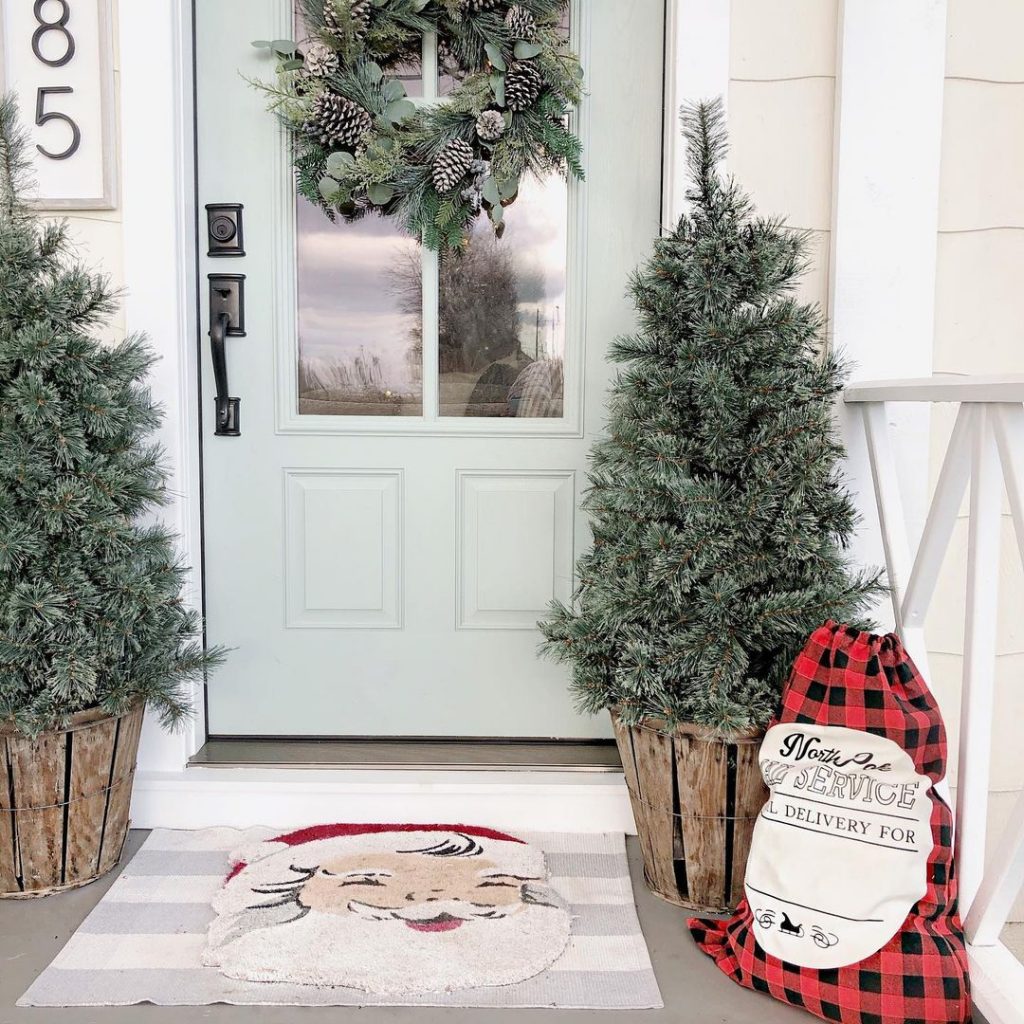 Remember how I said that this year is all about keeping colour palettes simple? Here's another example of a perfectly white home with pops of greenery and little dashes of red. I love this simple farmhouse style look!
Symmetry is Key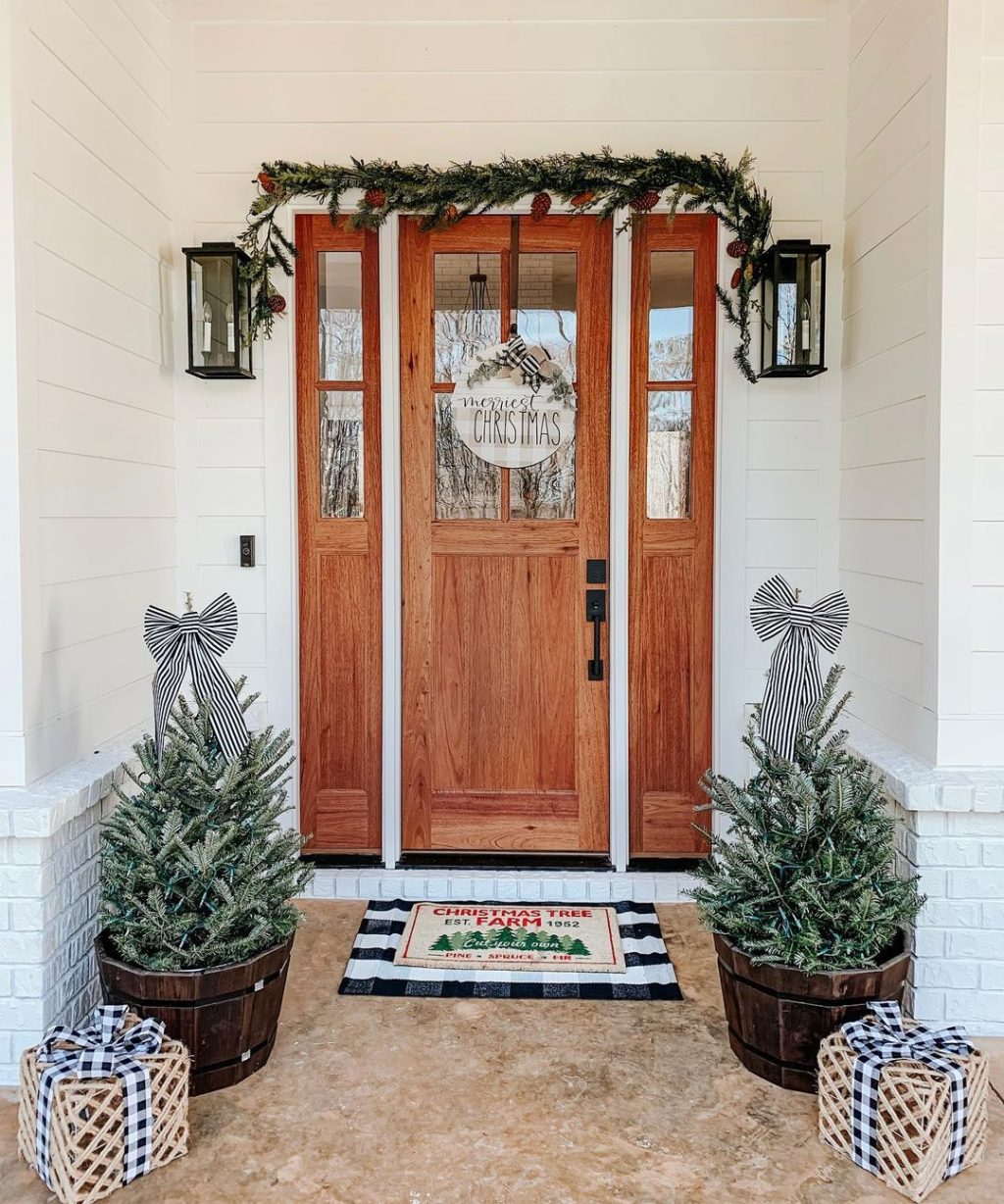 For homes that have symmetrical entrances and doors, why not keep everything perfectly placed? This porch looks so welcoming and the decor is simple enough to replicate on both sides.
Wood Textures
This is probably one of my favourite looks this year. Notice how they placed the decor in layers, with the trees in the back being taller than the items in the front. The wood textures complete the look with a little rustic charm. If you can find an old antique winter themed item, now is the time to stick it outside!
Easy Does It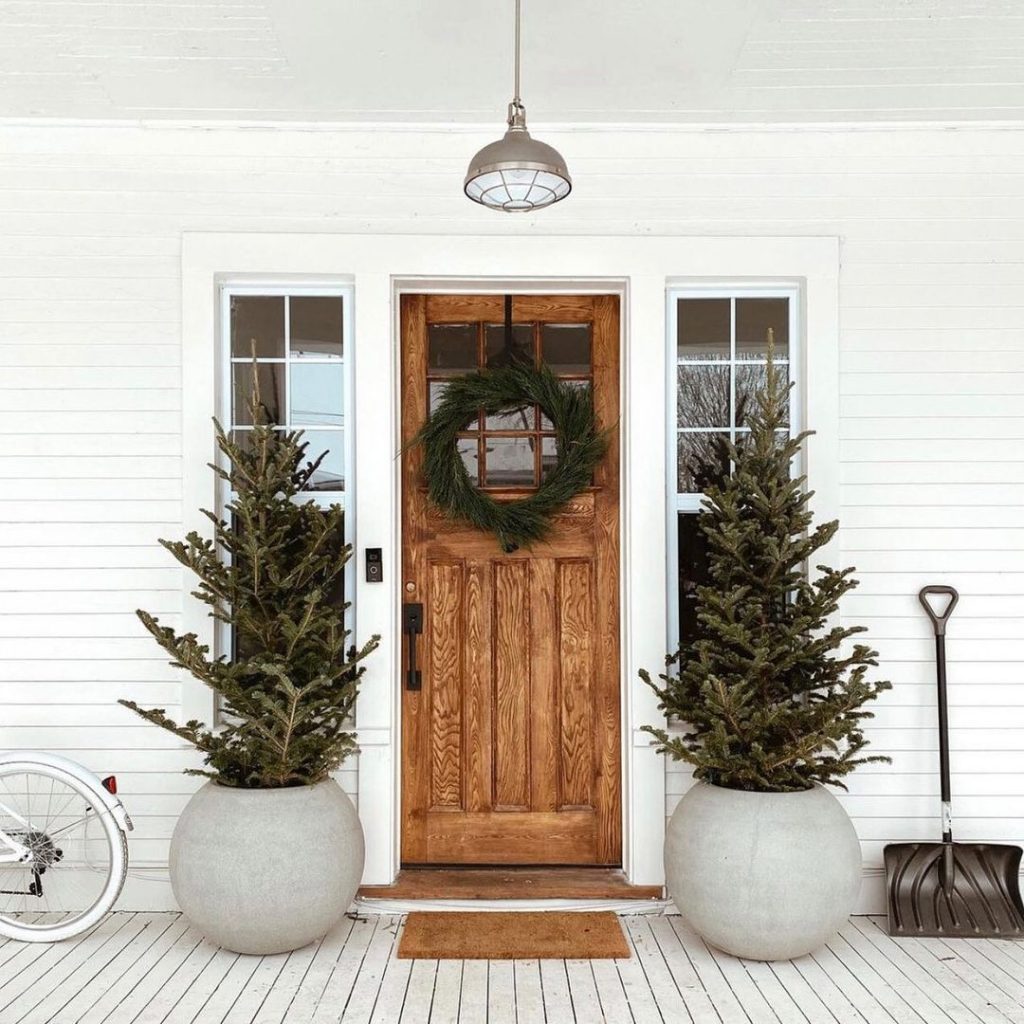 These statement pots are absolutely perfect for these trees! Without a lot of Christmas themed decor, this porch still hits all of the marks for a welcoming holiday entry.
Cute in Pink and Gold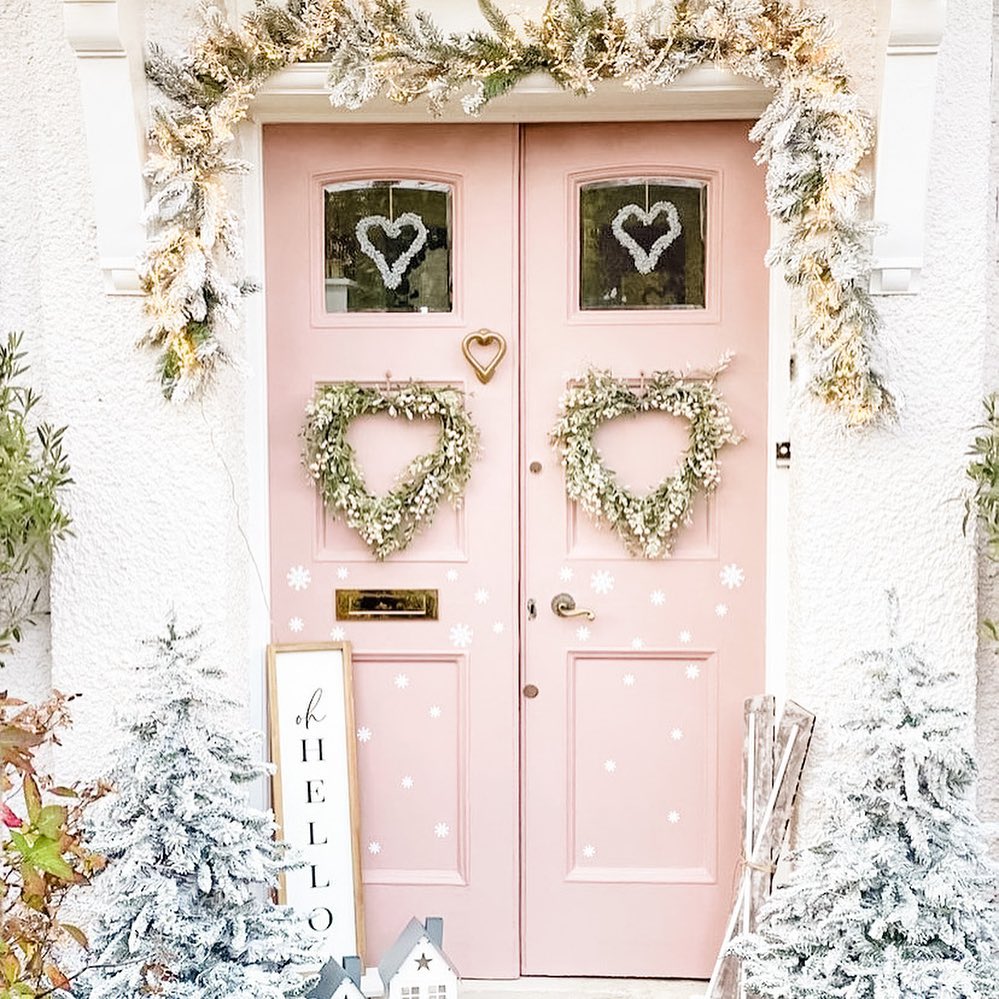 What is it about a pink door that makes everything just seem so inviting? The play on the cutesy vibe with the heart shaped wreaths makes this holiday porch so magical. Little white snowflakes cover the doors and pops of gold shine through in the smallest details.
Beauty and the Bells
Another minimal design with a lot of charm. I'm loving the addition of bells (like these ones!) on wreaths this year — hanging perfectly in all their delight. Some wooden beaded garland takes the place of greenery and is matched in the pots for a really cohesive look.
Cheery and Colourful
These pink front doors are a statement all on their own, but throw in tons of oversized ornaments and you've got yourself your very own scene from the Nutcracker!
Cuddle Up Cozy Porch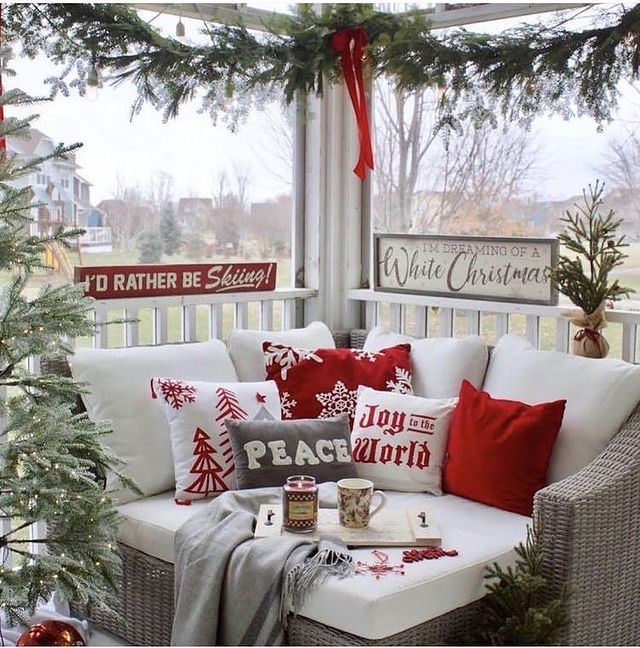 Finally, what is more cozy and relaxing than a warm place to sit and watch the snow fall? This little setup brings the indoors outside — all you need is a cup of hot chocolate.
See also:
How to Decorate Your Home For Winter (and not just Christmas!)
Tips for Decorating Your Front Door For The Holidays
Pin This:
Last Updated on