It's that time of year again — the time to deck your fingertips with winter cheer! The snowy season calls for some cool toned polishes and a little extra detail to make your nails sparkle, shine, and stand out when they're not covered by mittens.
These are some of the most gorgeous winter nail designs I could find and they would look absolutely stunning on anyone!
Champagne Snowflake Nail Design
Lots of dusted sparkles with an ombre effect make these nails look like Christmas ornaments! I love how each nail is treated with a different design, yet the cool nude tones go together so wonderfully.
Glitter and Snow Nail Art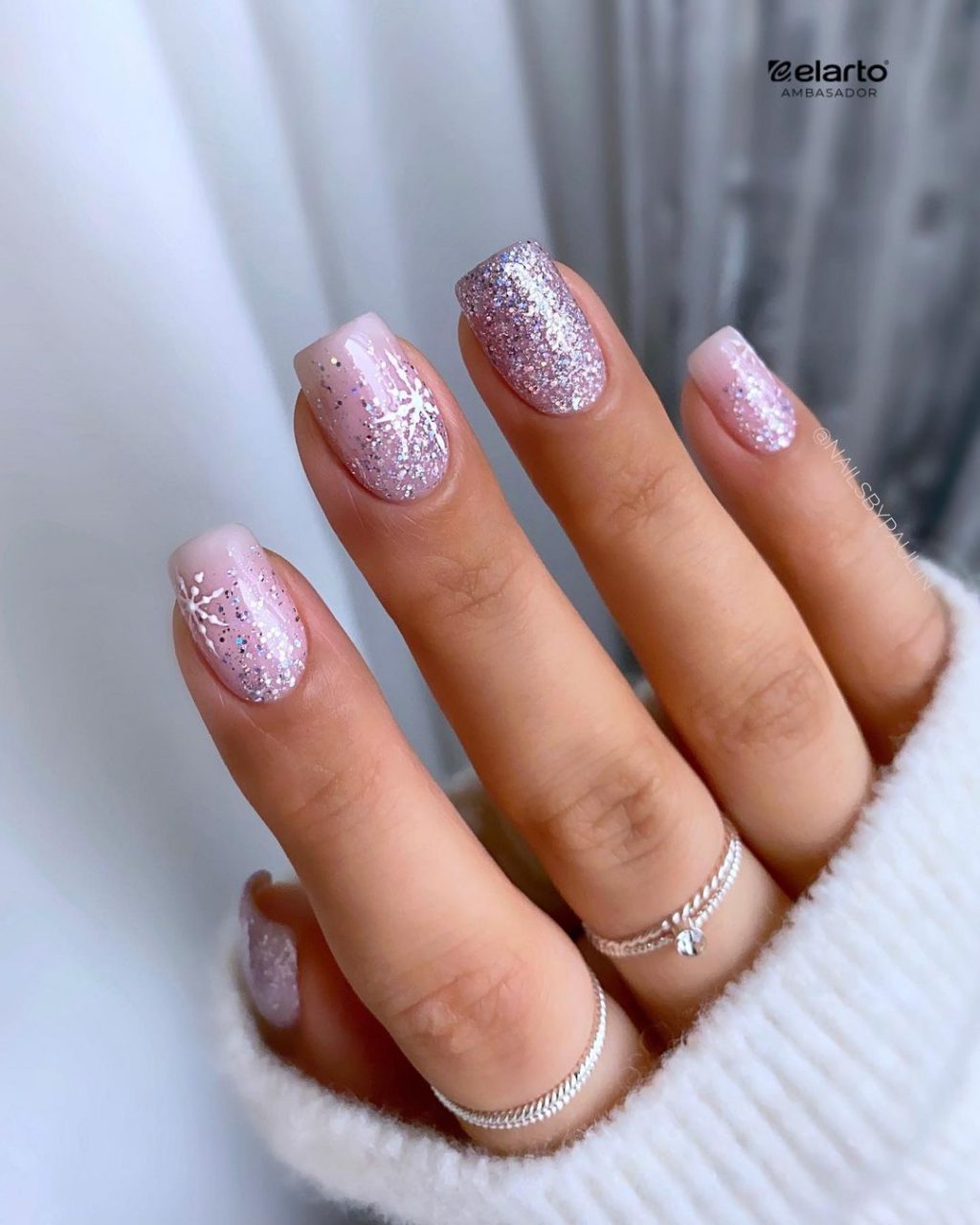 It's all about SPARKLE! This design reminds me so much of winter that I just want to wrap up in layers and dive into the snow. Silver glitter with white snowflakes is almost a classic in terms of holiday nail designs at this time of year.
Festive Red and Plaid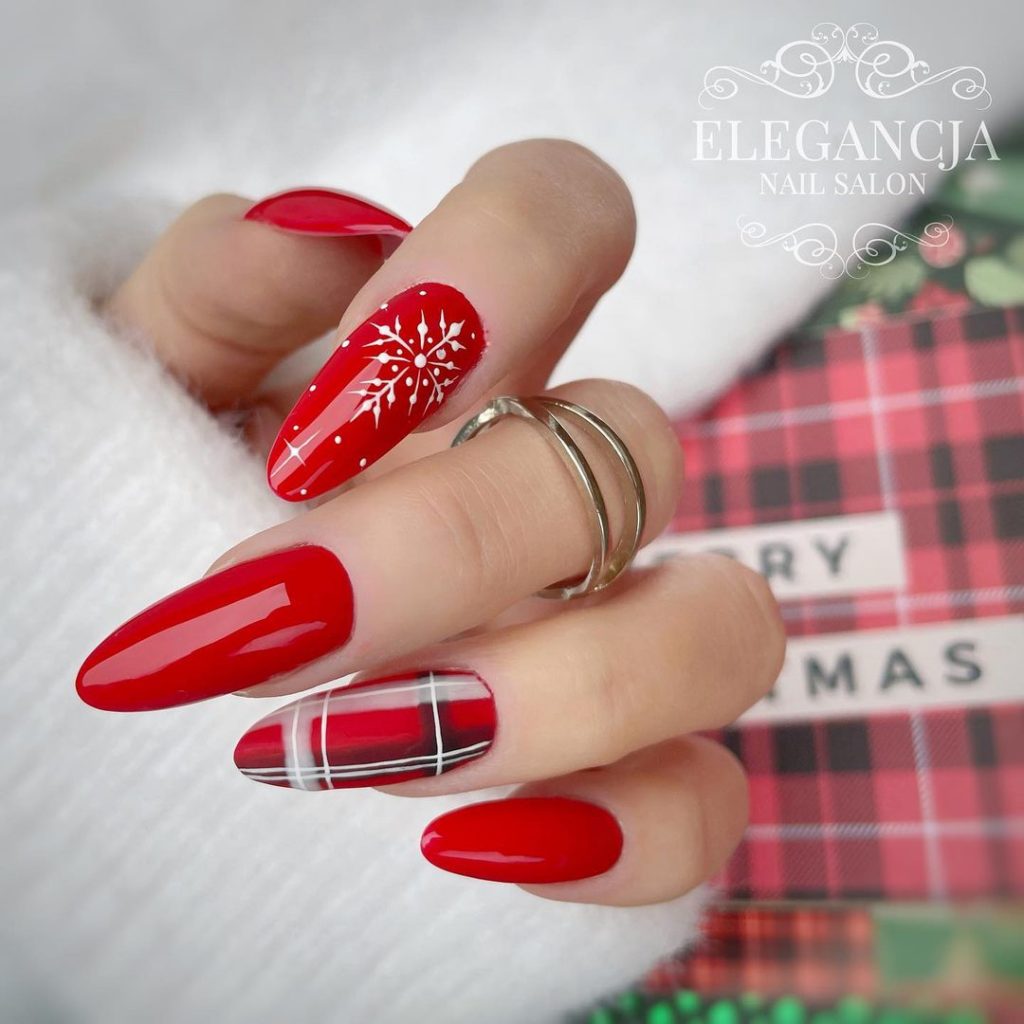 You can't go through the season without a pop of red! This cool red works so nicely for winter, too. Break up the solid polish with a lovely plaid design and some snowflakes for that cozy holiday feeling.
Pink Sweater Nails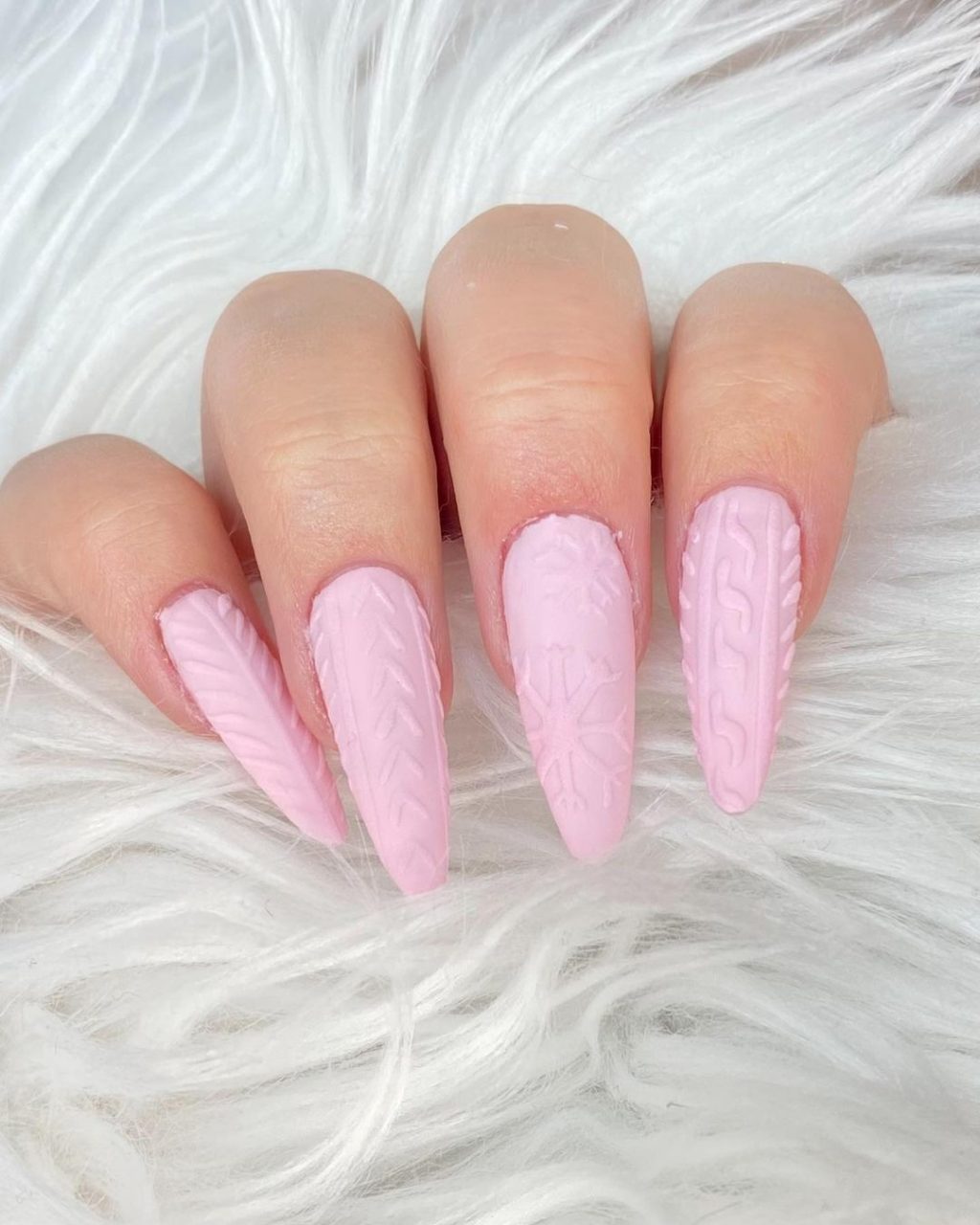 Soft pinks are so pretty with paired with some texture — and what a better time to add some sweater knit texture to your nails like this! The 3D effect gives this design so much character.
Soft Purple Winter Nails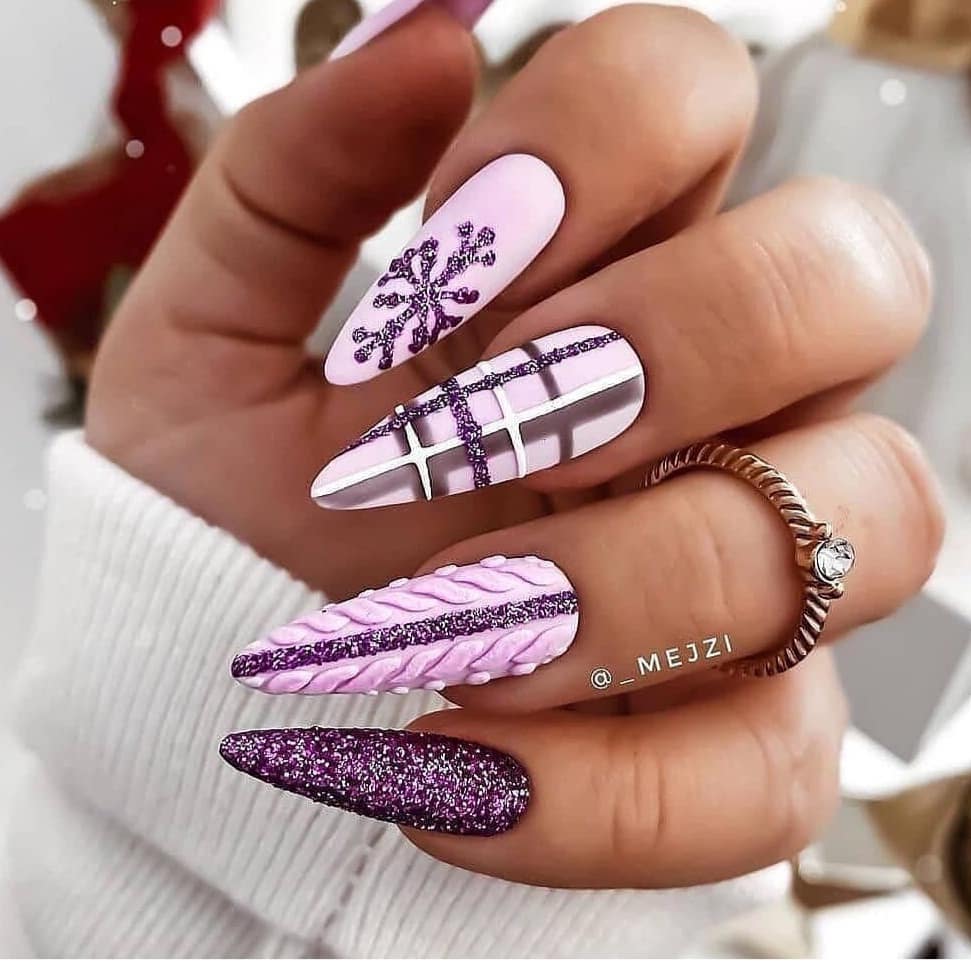 I've noticed a lot of purple nail polish shades recently popping up in the winter. I think it works so well and allows for a little bit of a different take on classic winter colours. How pretty are these nails though? Snowflakes, glitter, sweater texture, and plaid all wrapped up in a pretty package.
Little Reindeer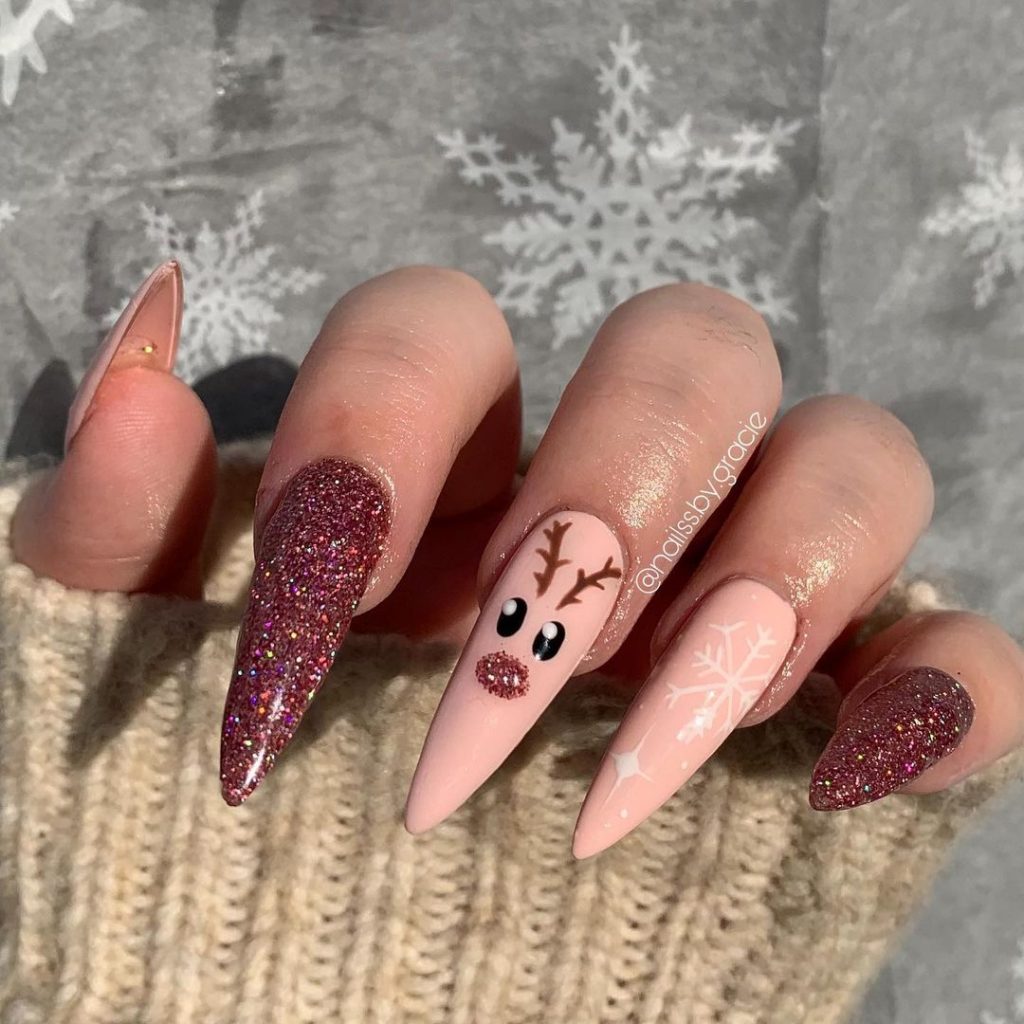 These winter nails give a nod to Christmas with the adorable little minimal reindeer face. These colours aren't typically something I would consider in the winter, but they look SO pretty together!
Black, White and Gold Leaf Nails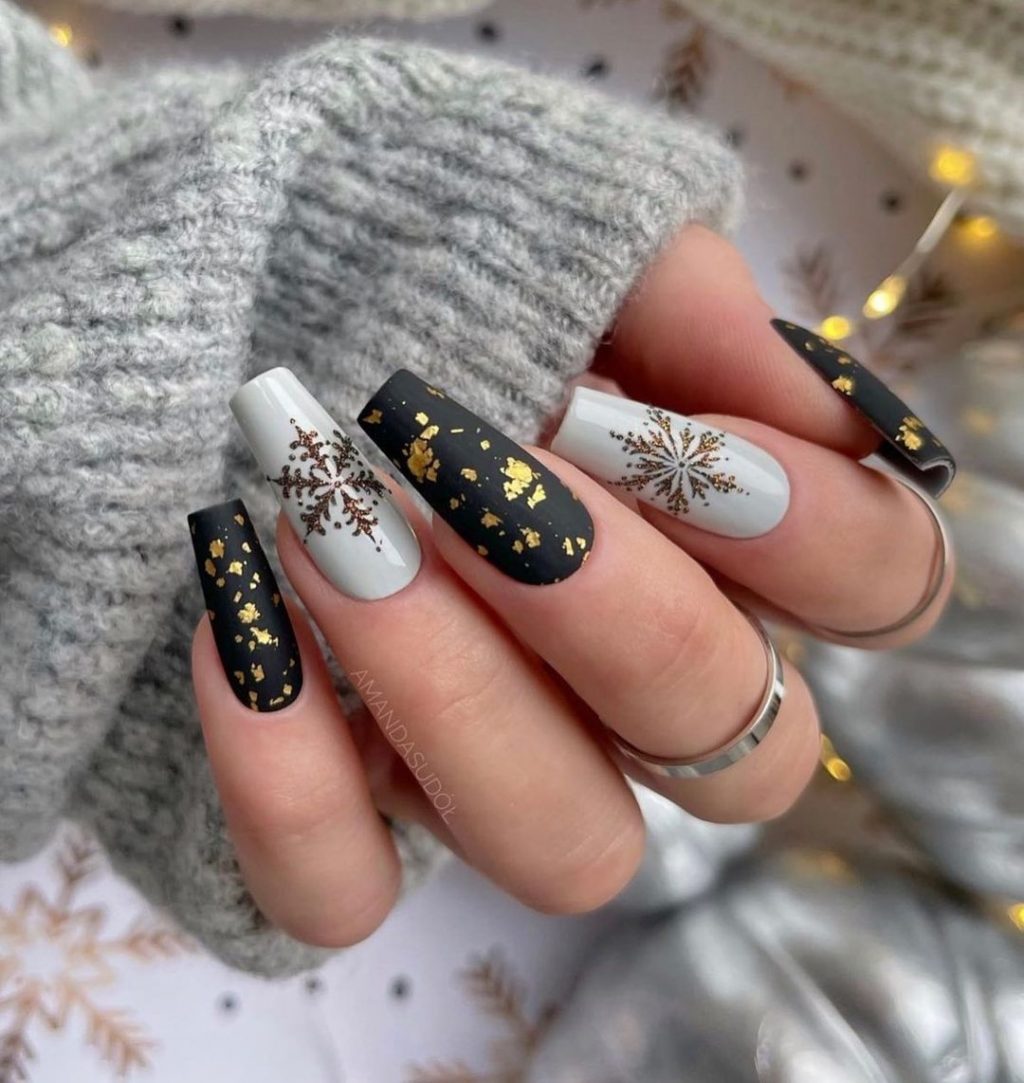 Possibly one of my most favourite designs is this one. Black and white polish with added gold leaf and snowflake details! This look can go with so many different outfits is just so pretty to look at.
Teal Green Snowflake Nails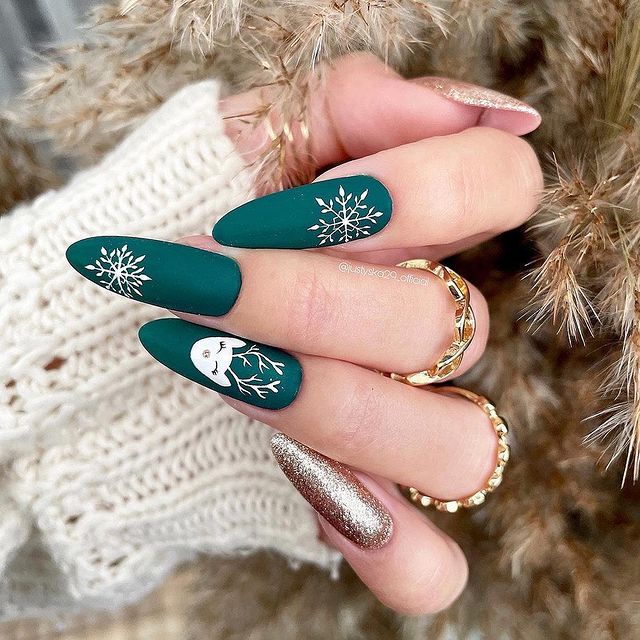 I am all about this shade of green. The cooler green-blue tone makes it super wintery and the matte finish is perfection. Add some bright white snowflakes and a little reindeer!
Cute Bear Winter Nails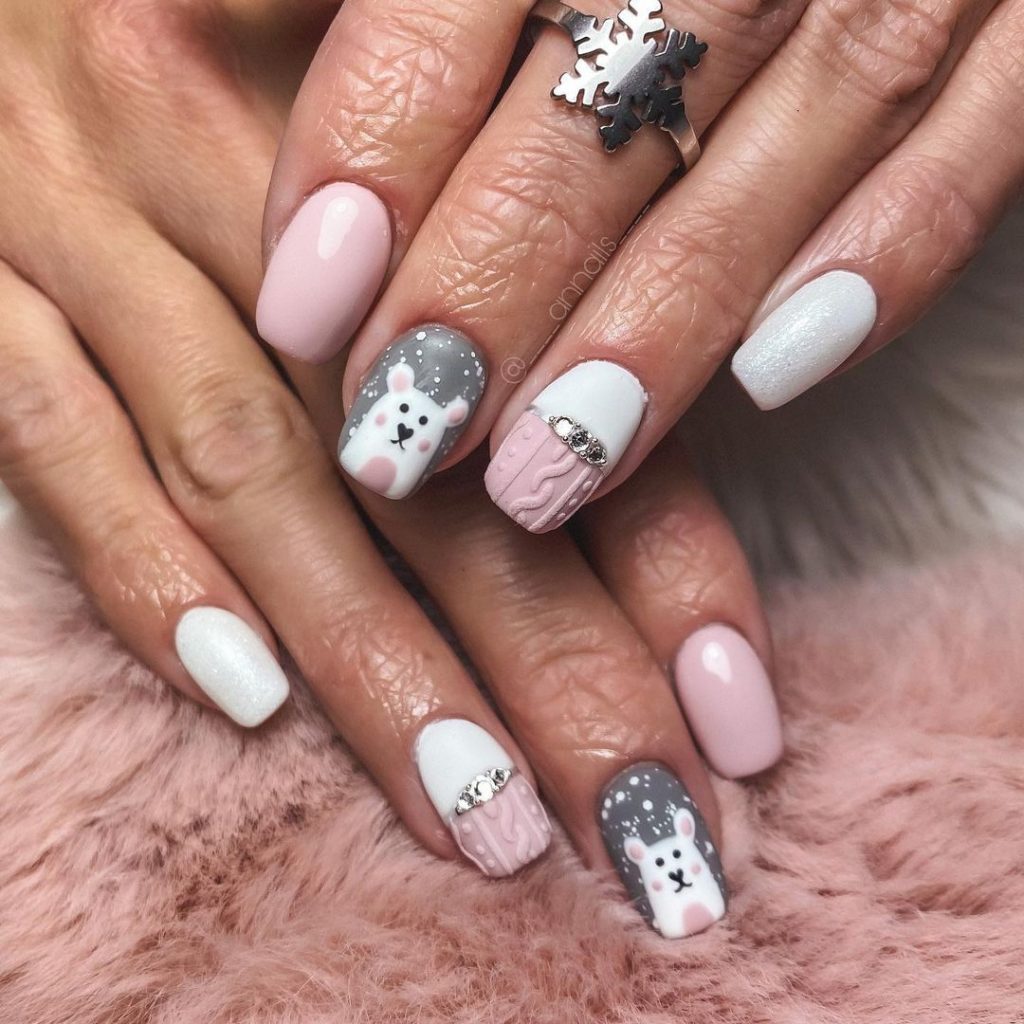 This adorable little bear steals the show, but the coordinating colours pull this look together. The little sweater texture matches perfectly and this cool pink works with many different colour combinations.
Black Starry Night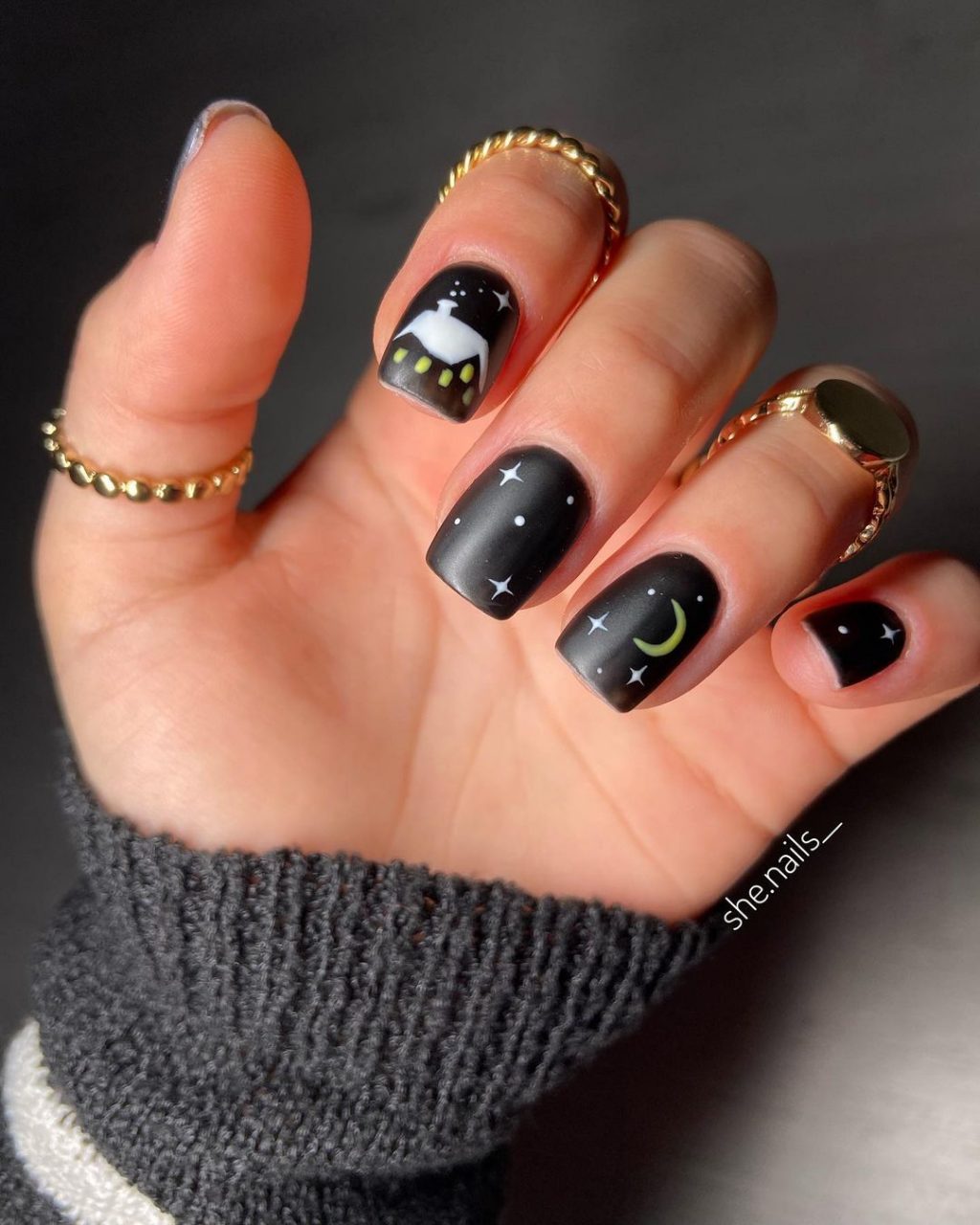 Subtle little starlight details on these nails are so festive without being TOO festive… if you know what I mean. A matte black with little star details, a moon, and a house give me all of the holiday vibes without saying a thing.
Frozen Cold Winter Nails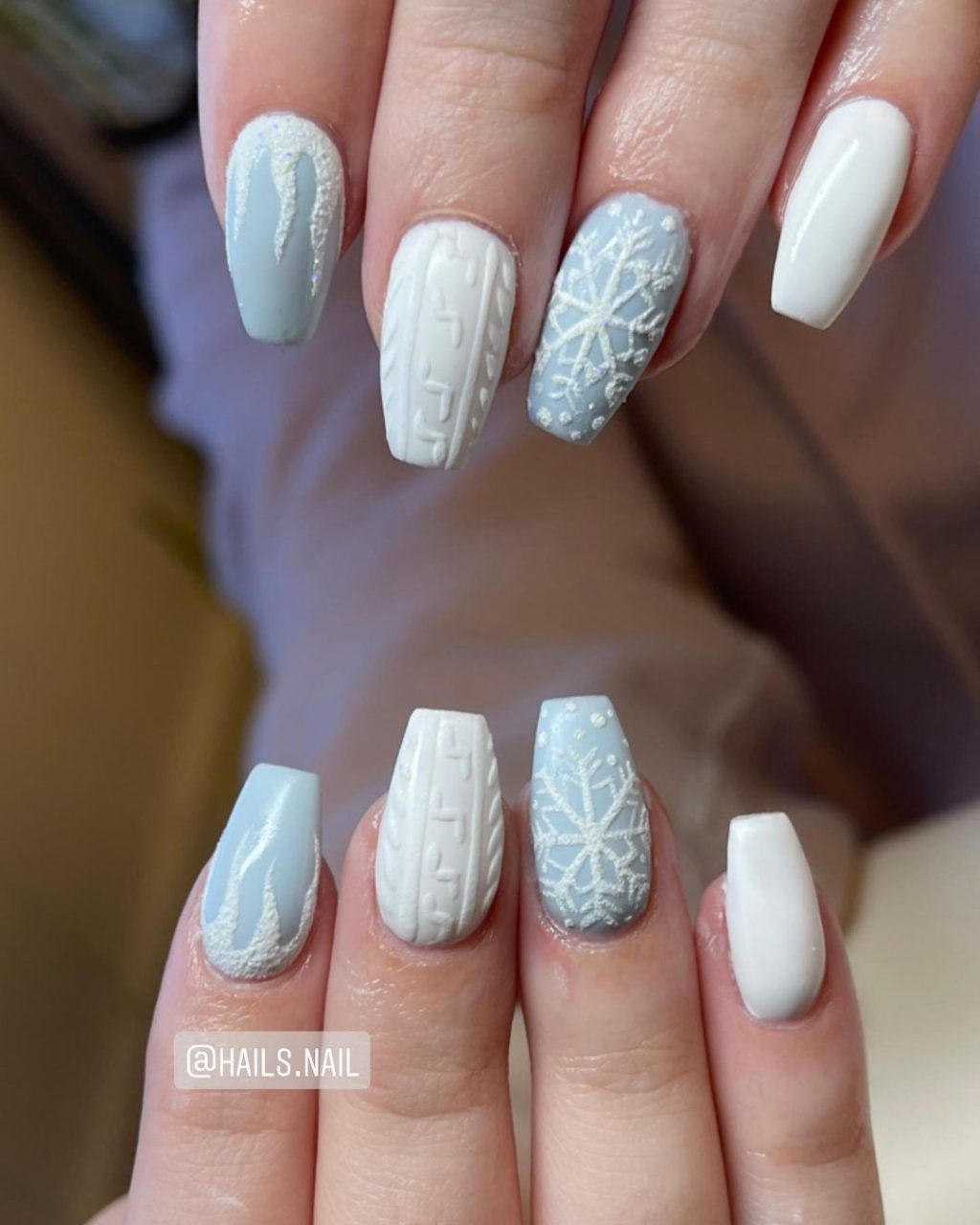 This blue is the exact blue I would choose to represent the cold weather, so it works wonderfully with this snowy, frozen themed design. The flocked look of the snow gives some realistic details as well!
Pretty Purple & Snowflakes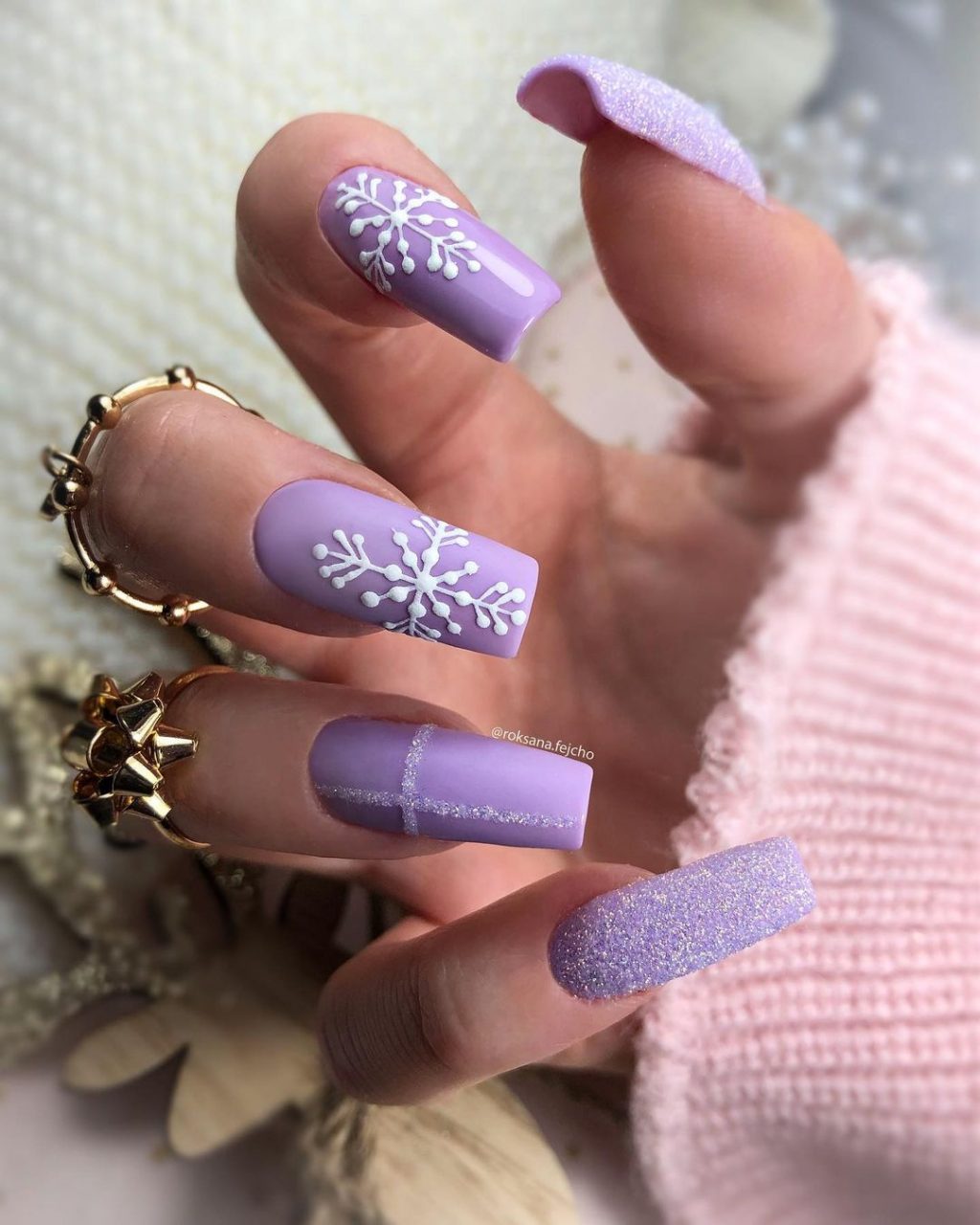 Remember how I said that purple was becoming a winter staple? Well here is another perfect example! I absolutely love this shade and the fact that purple has made an appearance this season. The trick is to choose those cooler toned purples for a frosty vibe.
Bright Whites and Blue
A little pop of a really strong, vibrant blue shade looks so pretty too! These colours remind me of vintage glass Christmas ornaments, especially with the white glitter on top!
Hot Pink Snowman Nails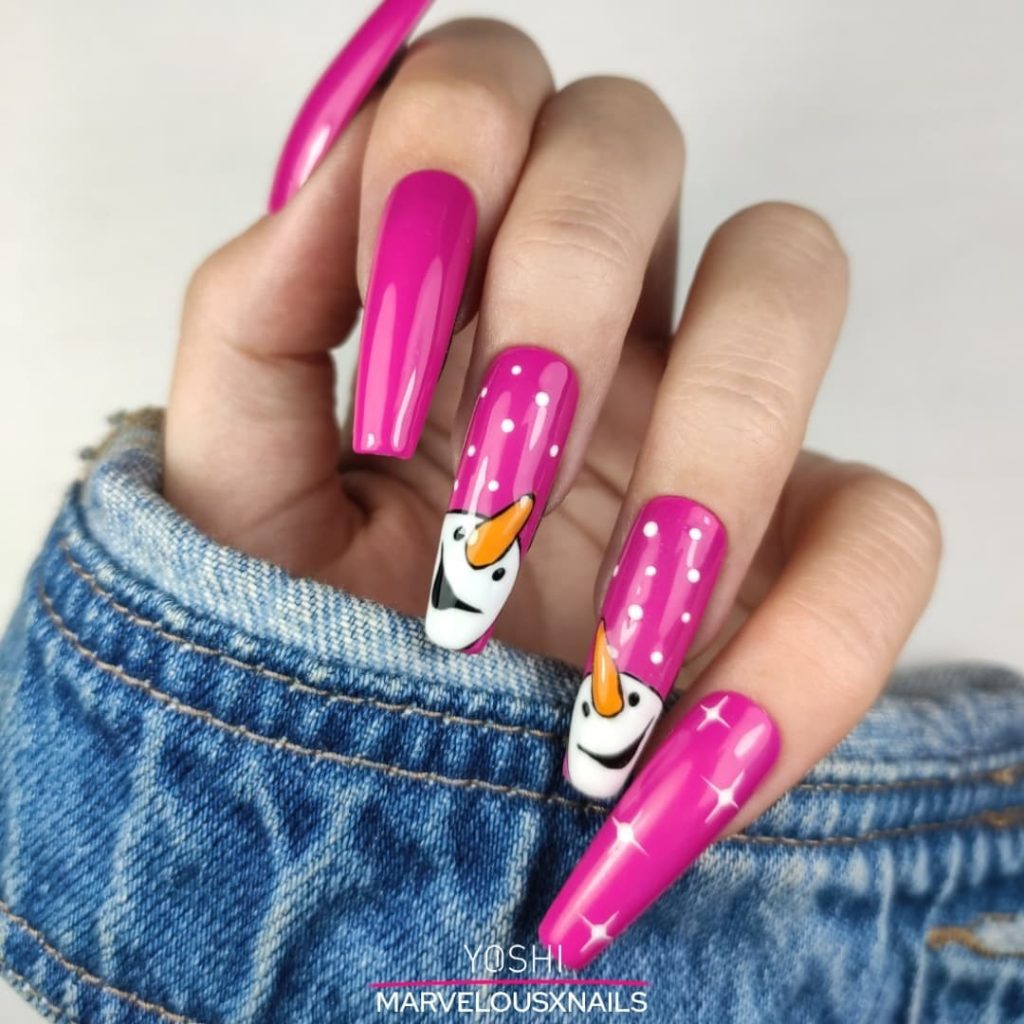 Proof that you can turn any colour into a winter themed design! This hot pink is super eye catching, but the addition of the adorable snowmen and dots of snow stand out so well that you just can't help but stare!
Nude Flocked Nails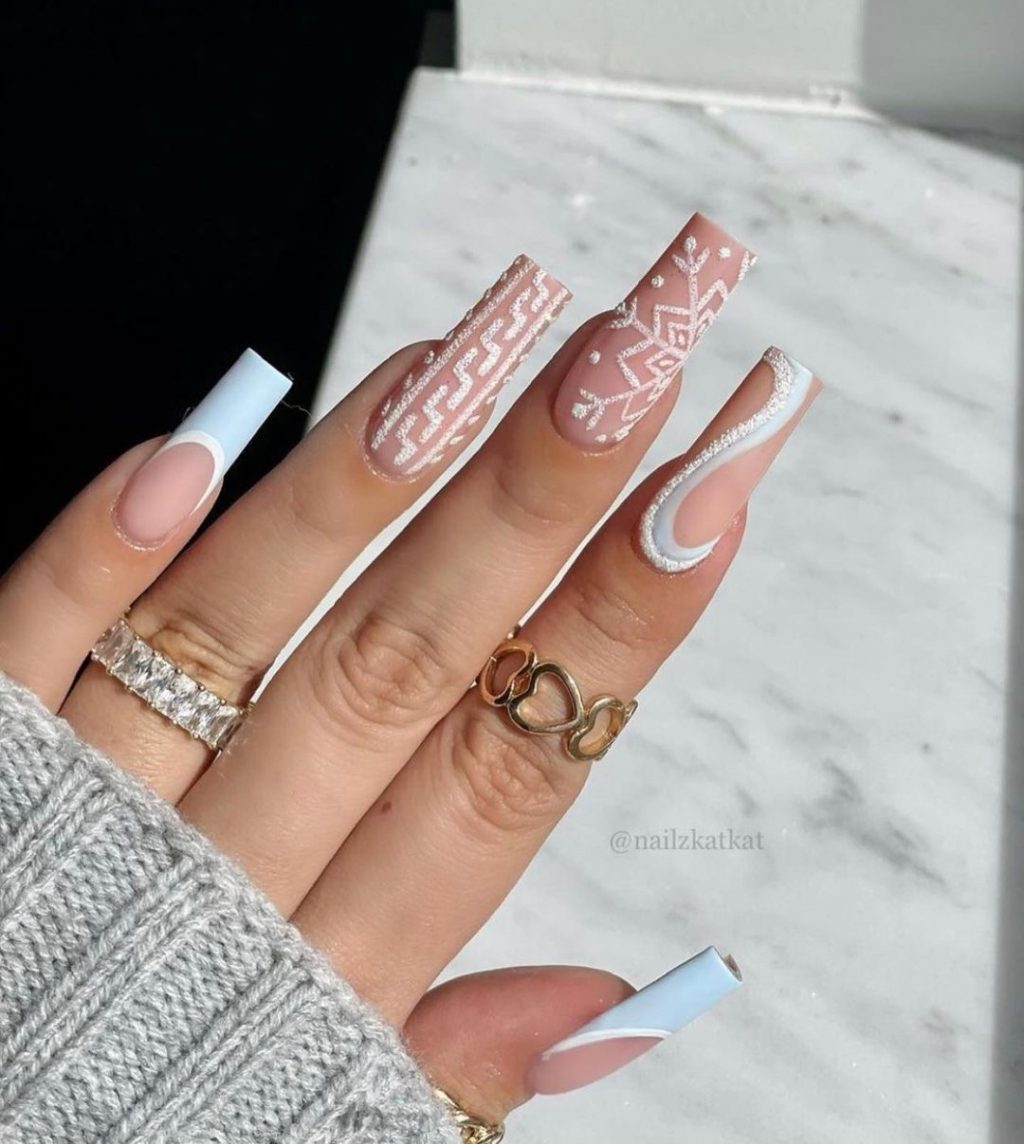 This flocked effect that we are seeing so much of is absolutely perfect for the holiday season. It literally makes everything look like snow! These nude nails are so pretty with a white dimensional design.
Classic Red With Snowflakes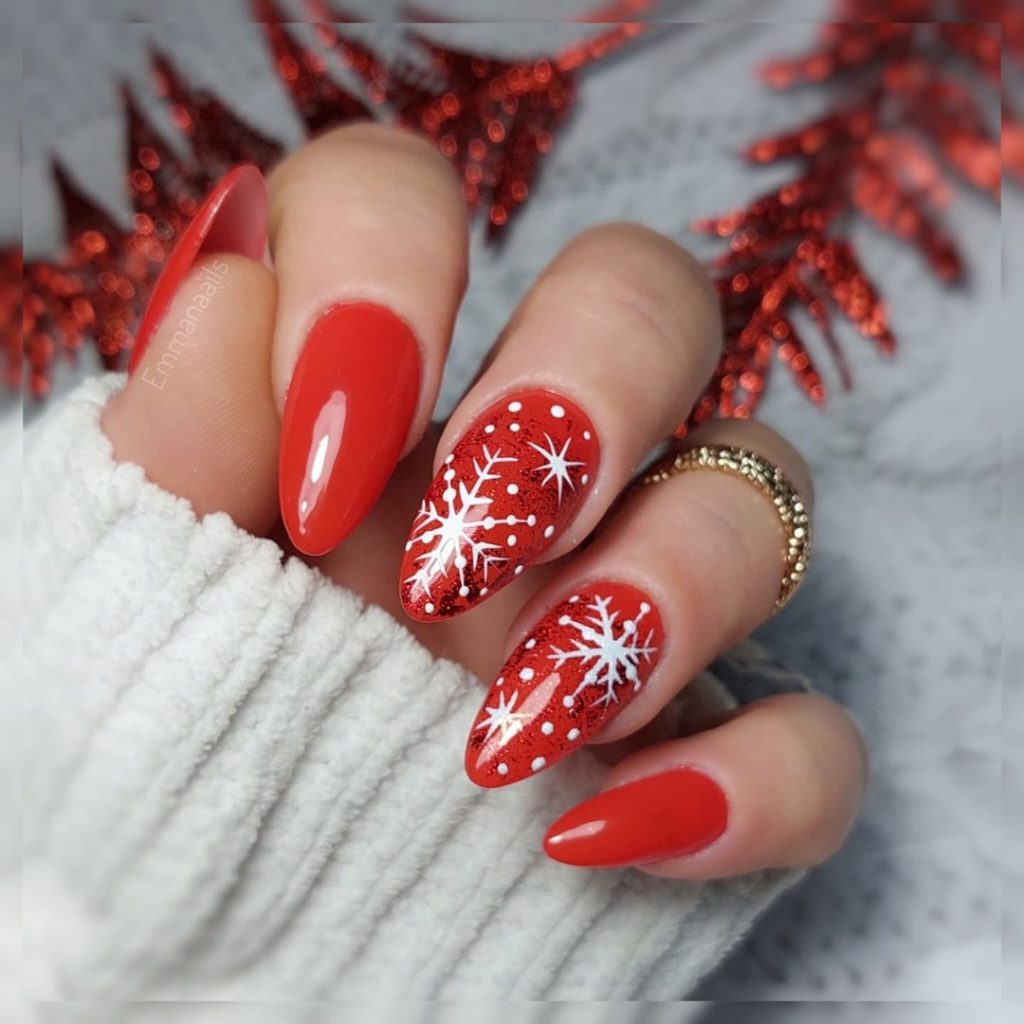 Red glitter on red nails looks fabulous! Add some bright white snowflakes to a couple of your fingers and you have such a beautiful and class winter look.
Holly Leaf Nail Tips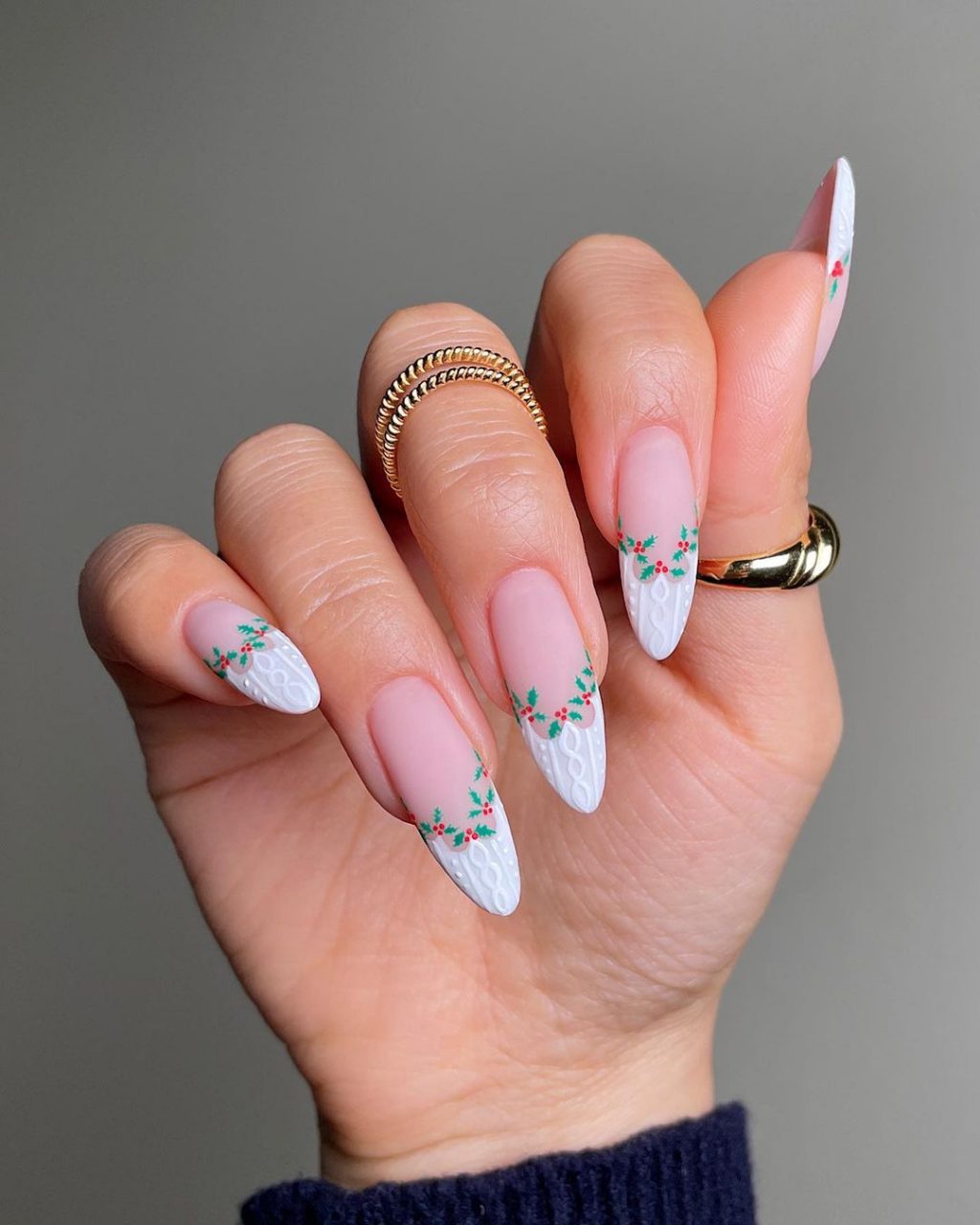 These sweater nail tips are taken up a notch with these cute little holly berries and leaves! The teeny tiny foliage really takes these nails from "winter" to FESTIVE. How adorable!
Glam Gold Ornament Nails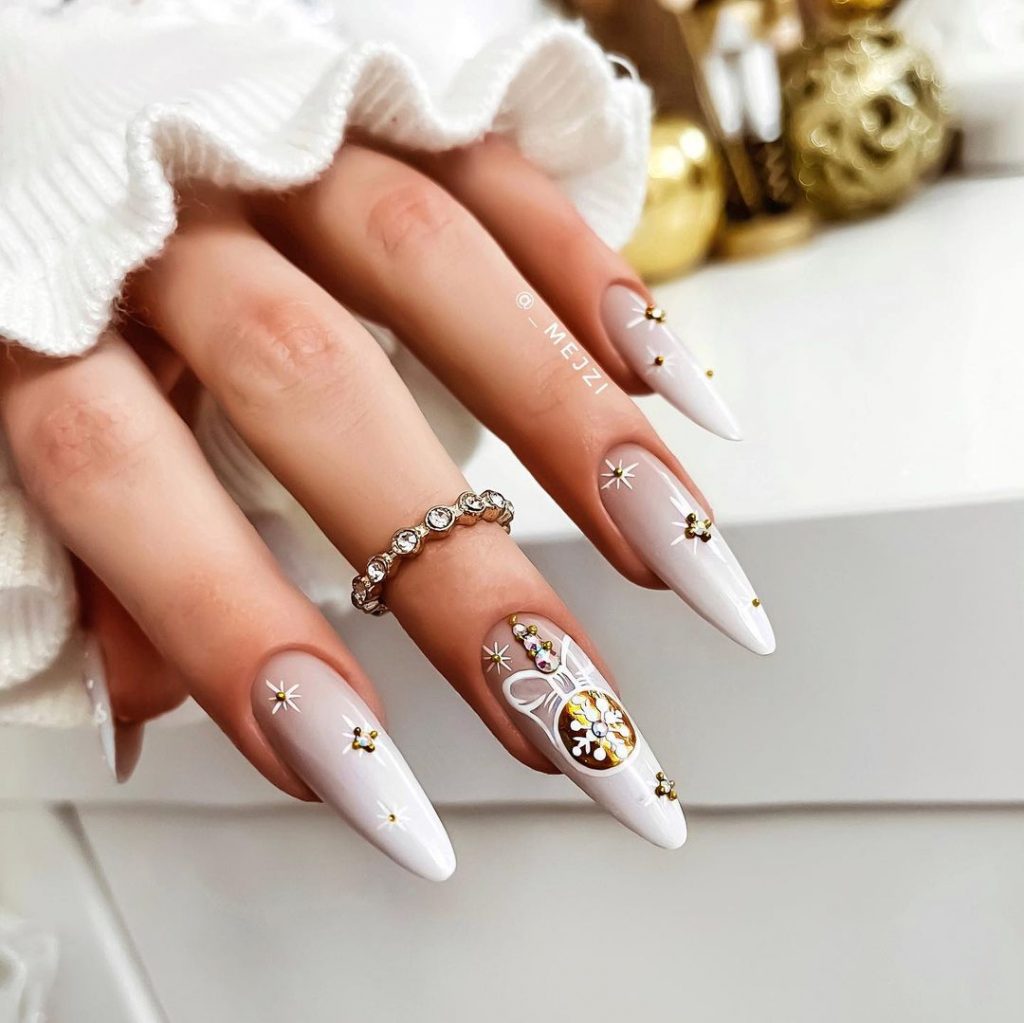 If this look isn't glam, I don't know what is. The ombre effect is perfection. The white line work is to die for. And the gold beads and ornaments pull this look into a full on holiday themed design.
Black and Mauve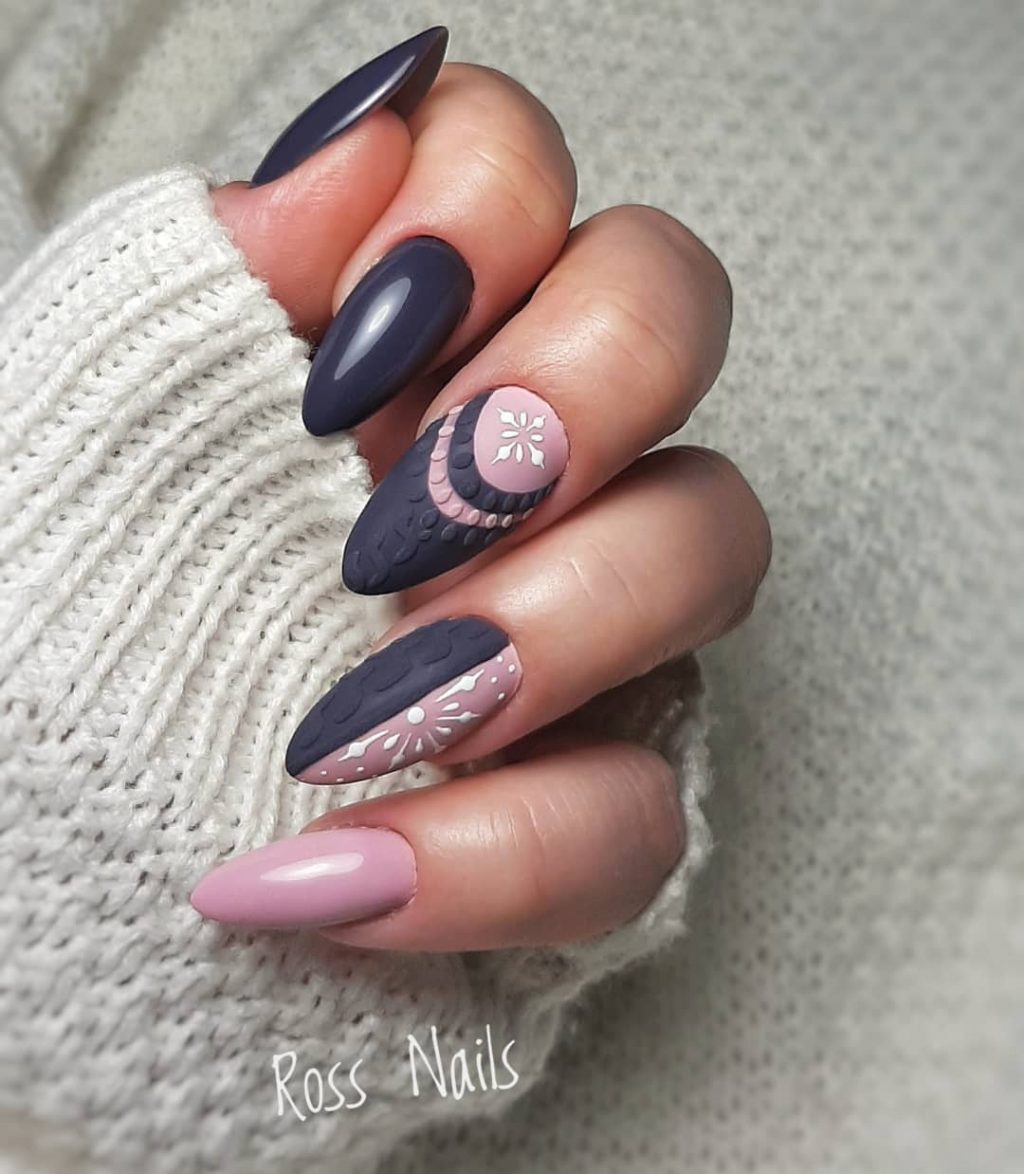 These colours might not scream "winter", but the application sure does! This trend of dimensional design is super hot this year and works so well for that knit sweater look.
Winter Forest Scene Nails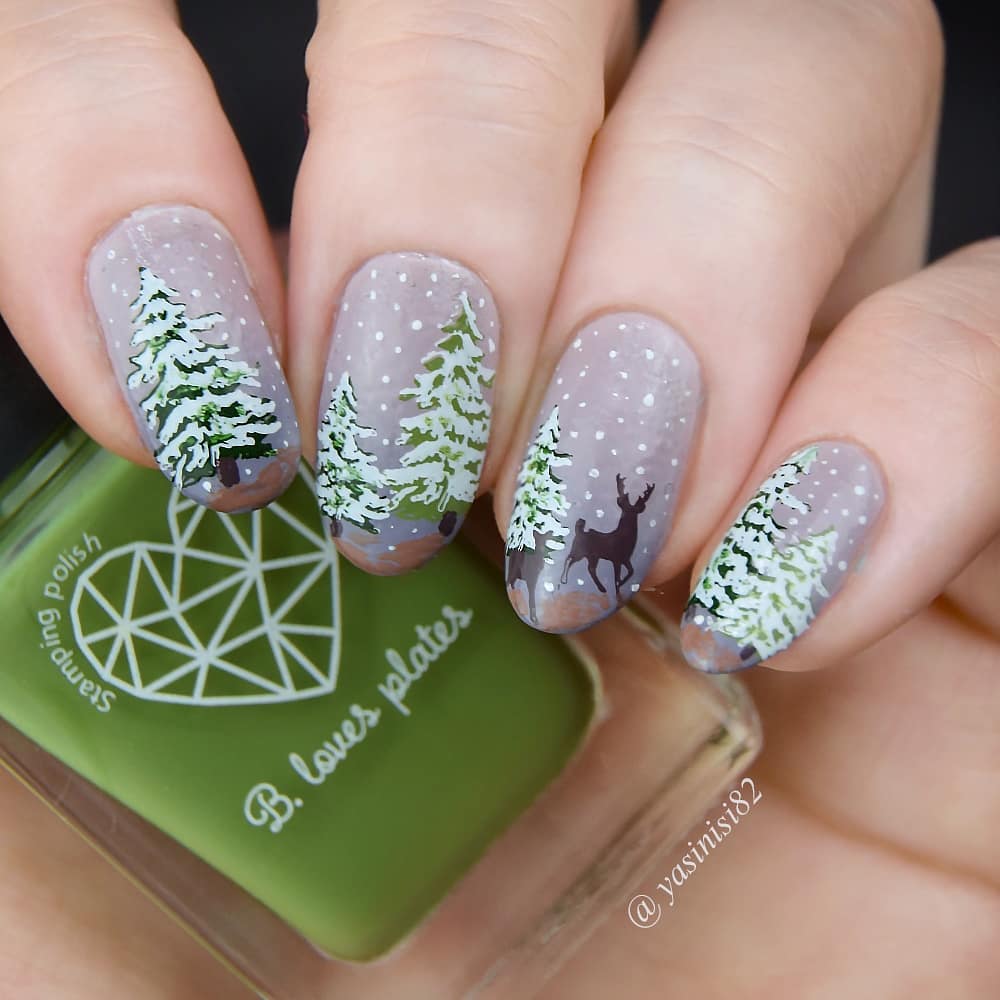 Finally, this winter forest scene — complete with evergreen trees, deer, and snowflakes — has me wishing the season would never end. And that's saying a lot for a Canadian girl who looks forward to summer all year long!
See also:
11 Delightful Holiday Nail Designs
15 Gorgeous Nail Art Ideas for the Holidays