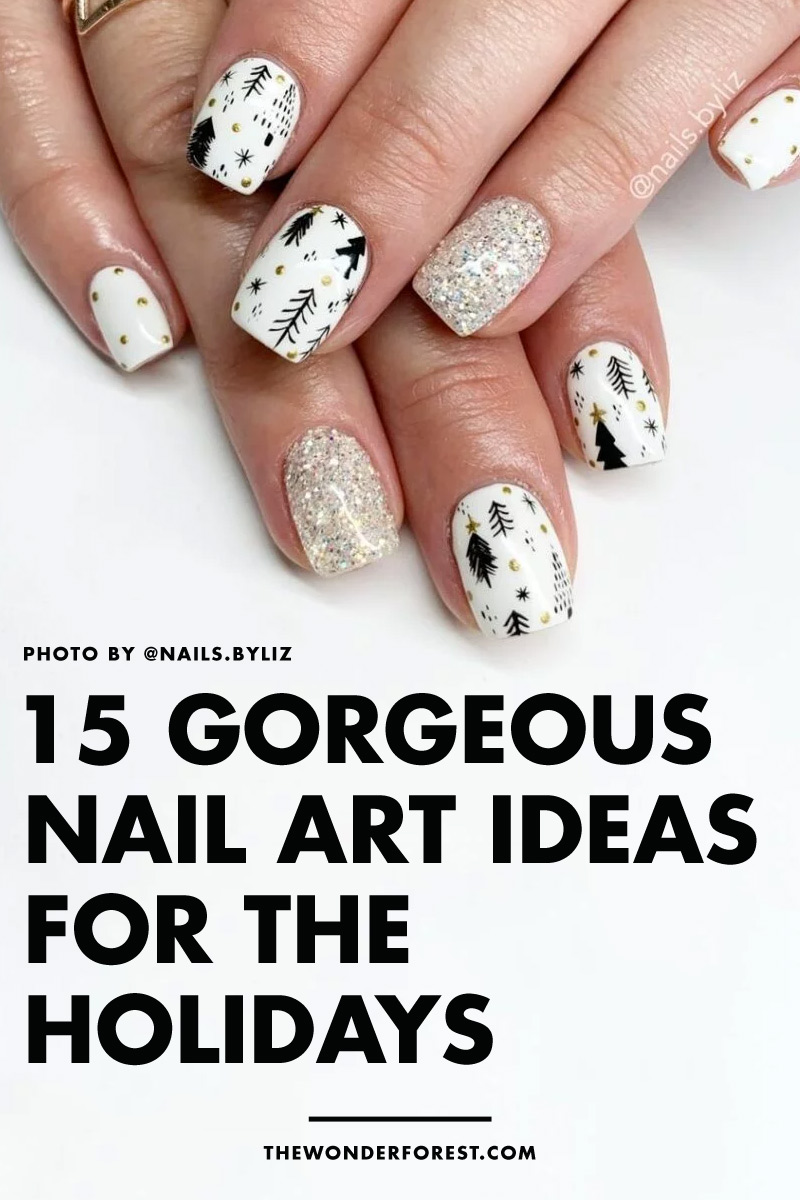 Whether you're a pyjama person or a full-on holiday glam person, there's one thing you can do every holiday to get into the festive feeling – and that's paint your nails!
A lot of us are spending more time at home, especially now that the colder weather has arrived. It's the perfect time to experiment with new nail art ideas and at-home DIY projects (like our all natural lip scrub!).
Get into the spirit this weekend and try something new with these 15 gorgeous nail art ideas for the holidays, many of which come with easy tutorials to follow along with.
This post contains Amazon affiliate links for product recommendations. Any purchases made through these links help support the blog with a small commission. As an Amazon Associate I earn from qualifying purchases.
This post contains Amazon affiliate links for product recommendations. Any purchases made through these links help support the blog with a small commission.
Photo Credit: www.cosmopolitan.com
This subtle festive look will match any outfit and add a bit of glitz! In fact, sparkles on the tip is an easy way to add some glam to your regular nail colours.  Choose from any nail colour – but I love this champagne tone that has just the right amount of shine and sparkle.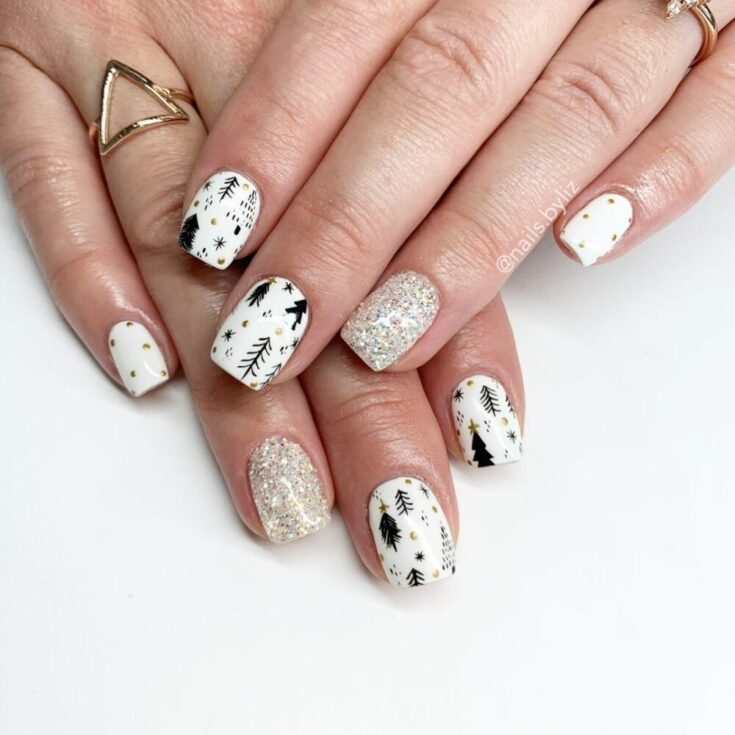 Photo Credit: https://www.instagram.com/nails.byliz
This detailed wintry look is just so cute!  Try your hand at line work designs with a fine brush or even a fine tip sharpie.  Top it off with a shiny top coat to seal it and give it a gloss.  To keep it simple, you could even just choose one of these designs for all your nails.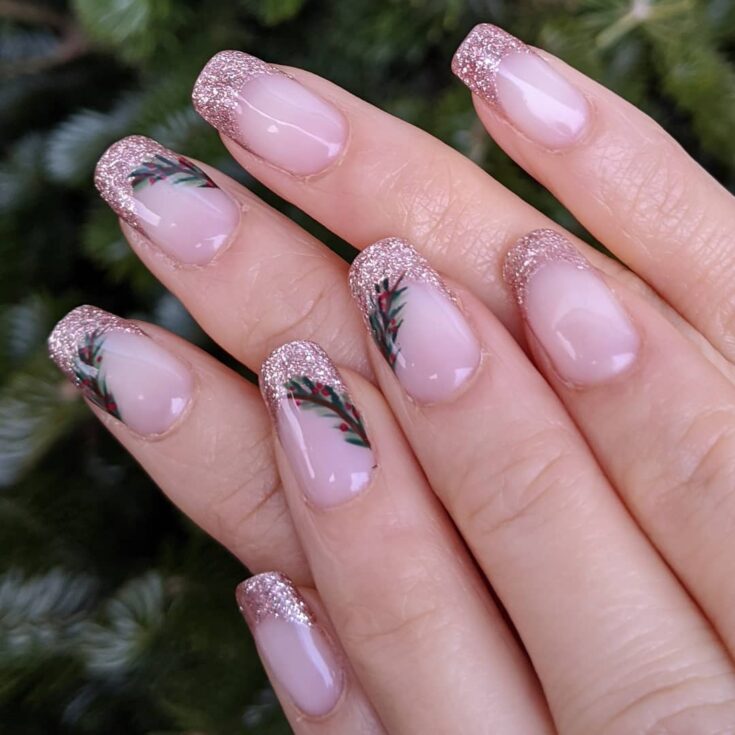 Photo Credit: www.instagram.com/nailsbycassie
Here's another sparkly tip nail but this time with some winter foliage added in.  Leaves are easy to make with a thin brush and some shades of green.  Then, add some red for the cute little berry details!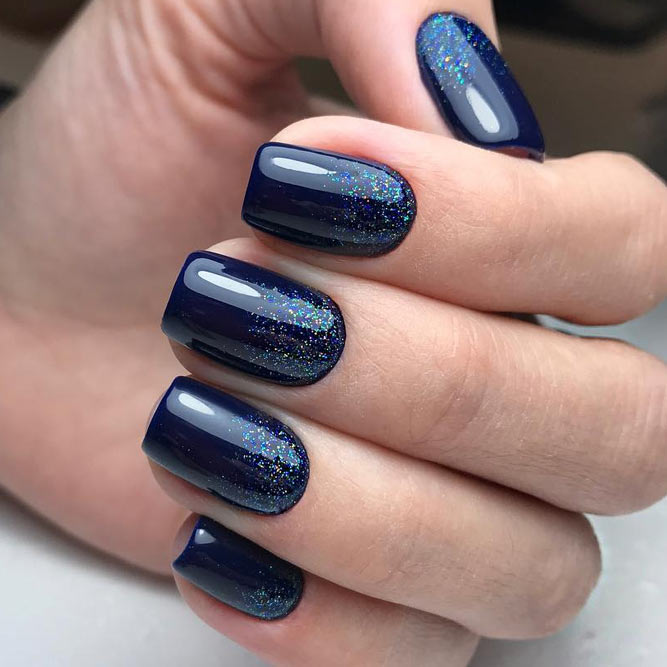 Photo Credit: www.instagram.com/nails_korobova
This sparkly blue nail art is essentially the reverse of a glitter tip with the sparkles concentrating at the base and spreading outwards.  This look can be achieved by using a sponge to dab on the glitter. 
Concentrate a few layers at the base and then feather it out.  Seal it all up with a top coat and you're good to go! A beautiful midnight blue matches the season perfectly, but feel free to choose any combination of colours.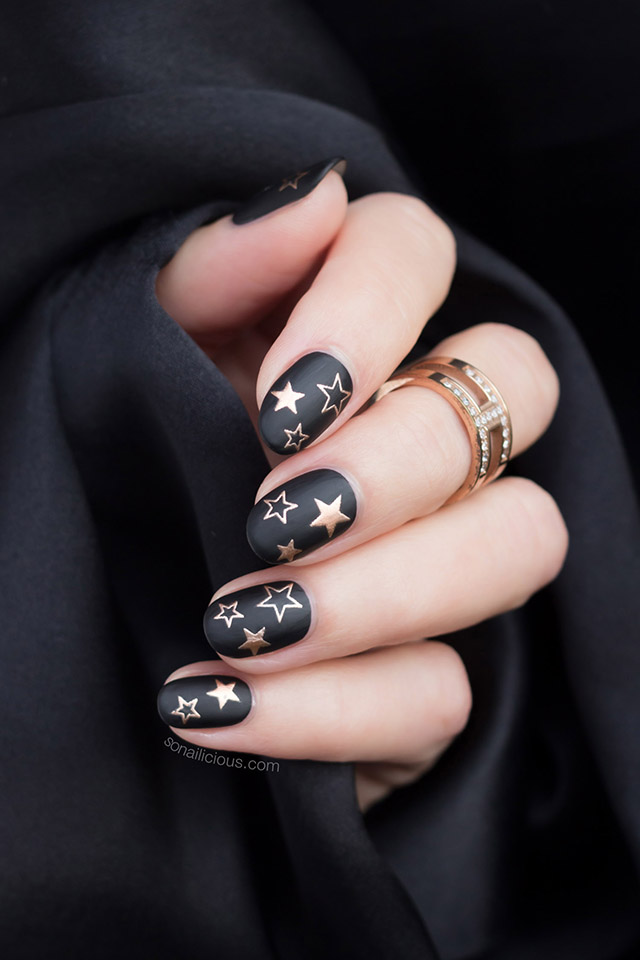 Photo Credit: sonailicious.com
You don't always need to have all things red and glitter for Christmas!  Try these nails with any matte colour for a base and complete the look with cute star-shaped nail stickers! 
They are super easy to put on and look perfect. This would look so good on a dark blue base or deep burgundy.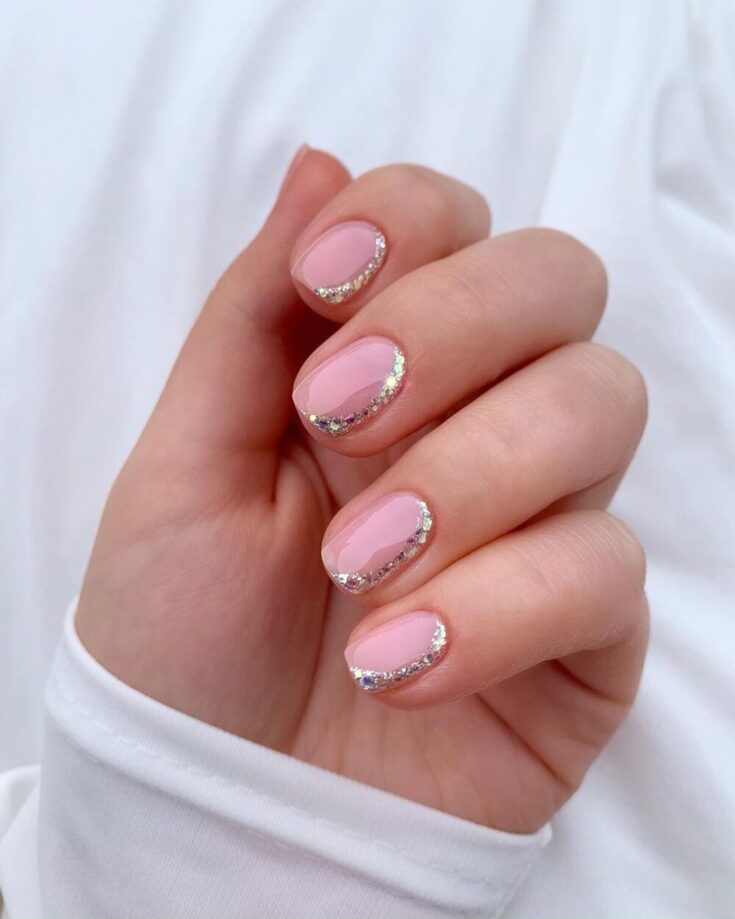 Photo Credit: www.instagram.com/CHARSGELNAILS_
Try this delicate look with a strip of glitter on the edge to catch the light!  Perfect for those who prefer nudes and pink shades, even around the excess and glam of the holidays.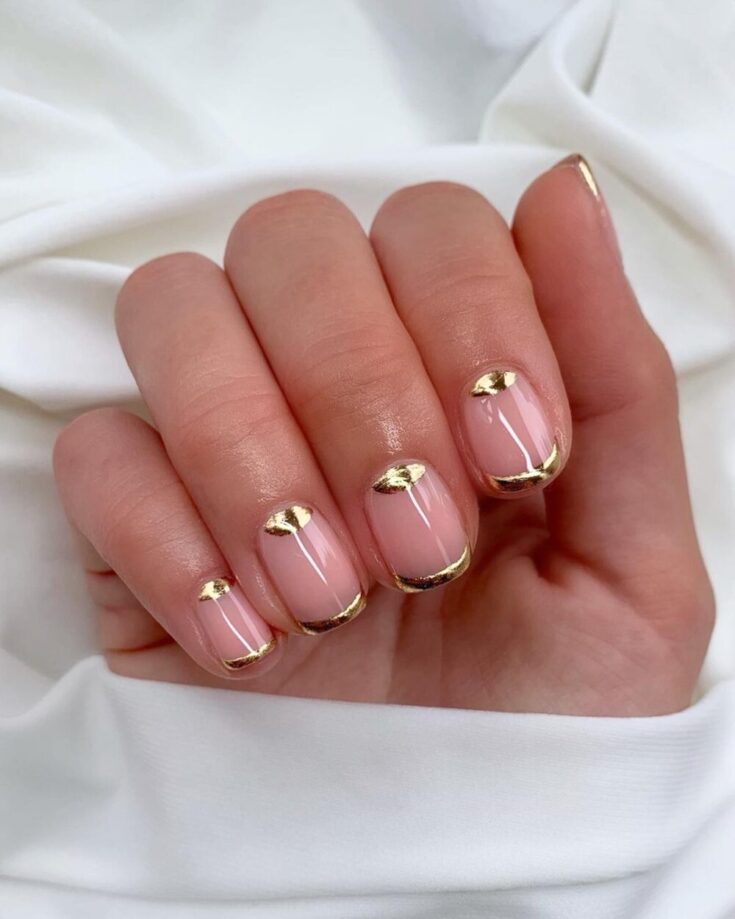 Photo Credit: www.instagram.com/charsgelnails
I couldn't help but include another sweet look by @charsgelnails, this pretty nail art is so simple but the metallic is eye catching and adds the perfect amount of shine!  You can try a look with both the tip and cuticle or just one of these accents.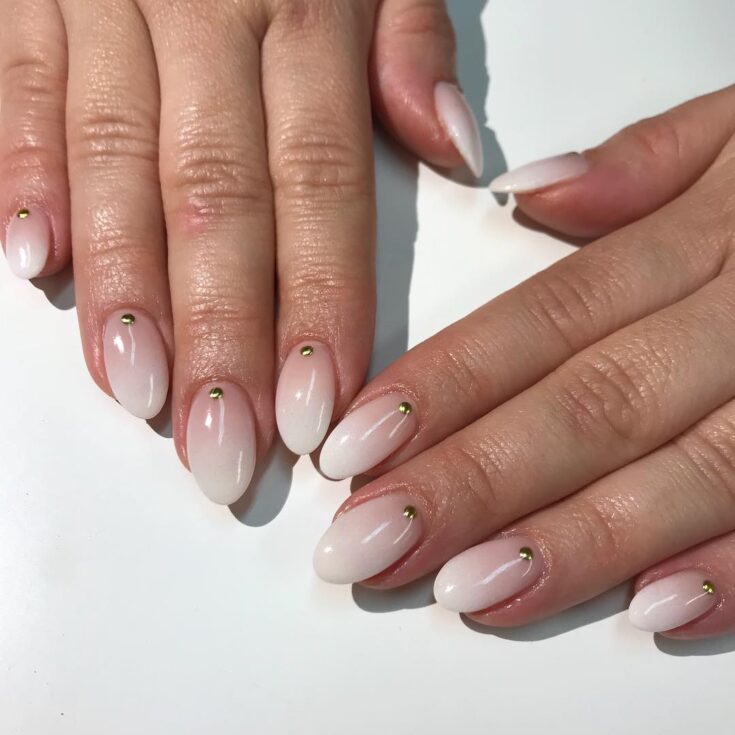 Photo Credit: https://www.instagram.com/sweetandsavvynails/
This ombre manicure would just be great at any time of the year but the added gold dot dresses it up and gives it a holiday feel.  Apply a nude base and use a sponge to create the ombre effect for the white tip.  Use any metallic paint for the dot or even better try a jewel!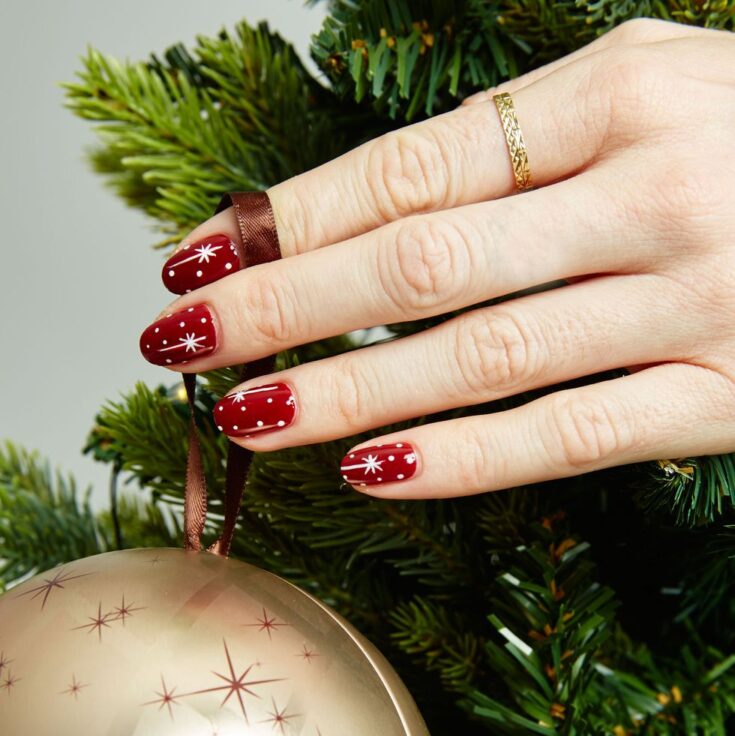 Photo Credit: www.cosmopolitan.com
Follow the twinkling nails tutorial to make the cutest holiday nails!  Paint the star with a fine brush and the little white dots add to the look.  Of course, red works perfectly for this dazzling look…but I think it would also be great with a navy blue or a dark green.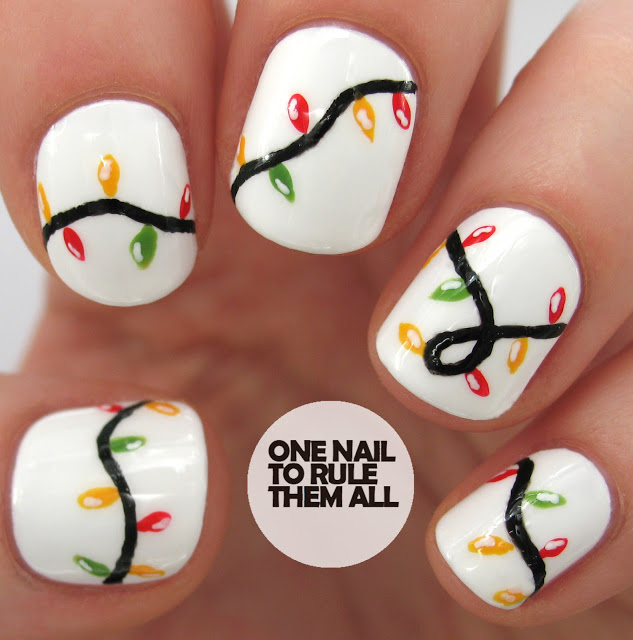 Photo Credit: www.onenailtorulethemall.co.uk
Capture the fun vibe of string lights and add some colour to your holiday look! Although this tutorial does require a bit of patience, it's easier than you think if you follow these step-by-step instructions.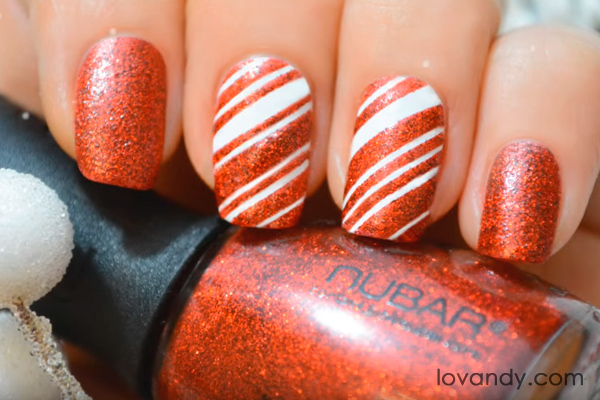 Photo Credit: lovandy.com
These nails look good enough to eat!  Candy cane nails are easy to achieve in different ways.  You can use tape to block out the negative space (like the tutorial shows) and paint on the white or you can try using a stamping tool to get the same effect!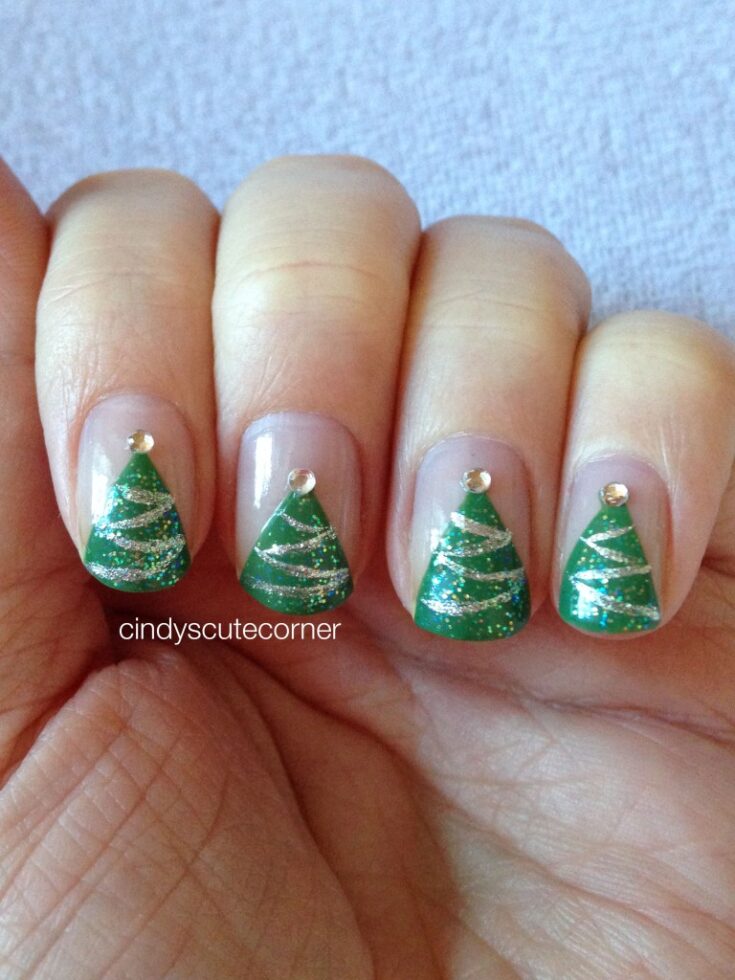 Photo Credit: www.cindyscutecorner.com
Try an accent on the ring finger with a simple Christmas tree!  This tutorial uses tape to block out the triangle and small strips to create details.  Finish with some accent dots on the tree and you're good to go!
Photo Credit: www.fancysidenails.com
Don't be intimidated yet – these winter wonderland nails are actually easier than they look at first glance! The look requires a sparkly base coat and some nail stamps – which take the work out of individually painting those trees! The specific nail stamp used is from "BM-407" but you can shop more nail stamps here.
Photo Credit: so-nailicious.blogspot.com
This reindeer nail design is so adorable! If you have any kids in your life, they will truly be delighted with these nails – in fact, this would make a fun and festive evening if you were to give your kiddo a matching look.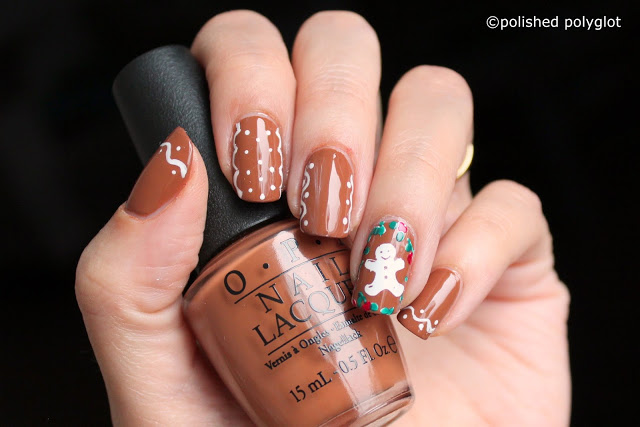 Photo Credit: www.polishedpolyglot.com
PIN IT FOR LATER!
Festive Nail Art
Can't get enough of these gorgeous holiday nail art ideas? Check out these other designs and tutorials below:
Last Updated on
Sharing is caring!