'Tis the season for holiday parties, sparkly dresses and oh-so-much festive cheer. It might be time to wipe off those warm Autumn nail art ideas and change into something more sparkly.
Holiday nail designs don't have to be all about the red and green Christmas trend. Instead, try some golds, neutrals, and cool wintry tones that better compliment your everyday outfits.
Take your Christmas look to the next level with these delightful holiday nail designs and if you're looking for that extra something special, try these Christmas Day nail art ideas as well.
You can try any of these designs yourself or bring a photo along to your manicurist.
1- Golden Plaid Holiday Nails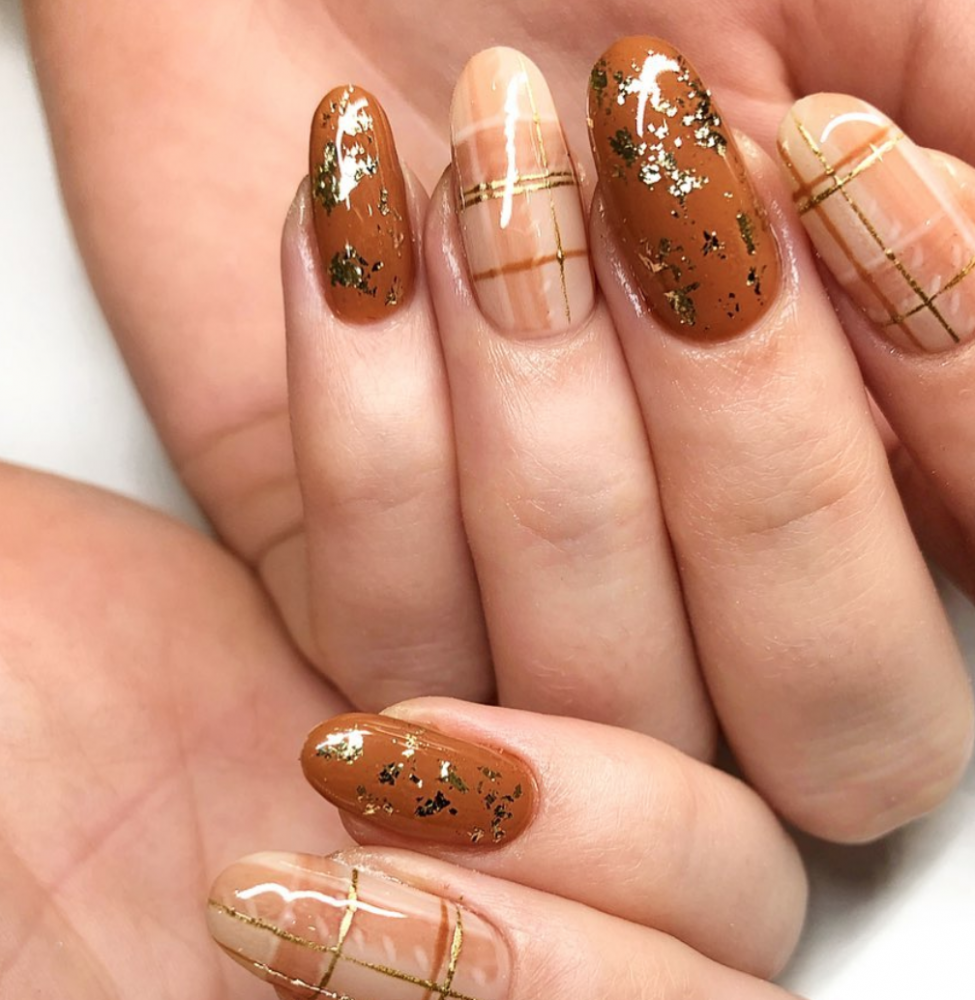 Not completely over the pumpkin spice season? Make a subtle transition with some metallic polish.
Take the plaids of fall, add a golden twinge and voila – you have this stunning and classy holiday nail look!
2. Nordic Winter Nail Art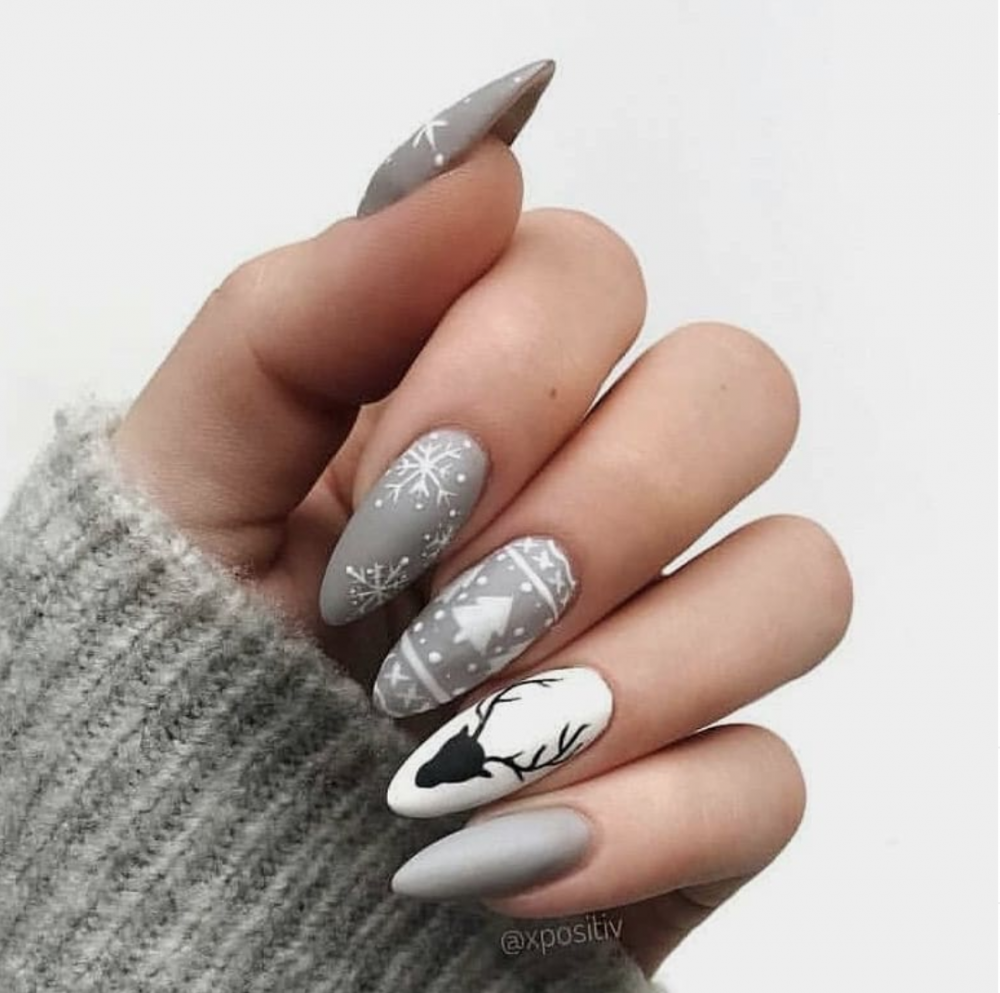 Imagine yourself at a ski chalet in the Alps with these adorable nails? One can dream!
Some totally matte polish tops this look with cool grey tones and a couple pops of varying nordic designs.
3. Candy Cane Lane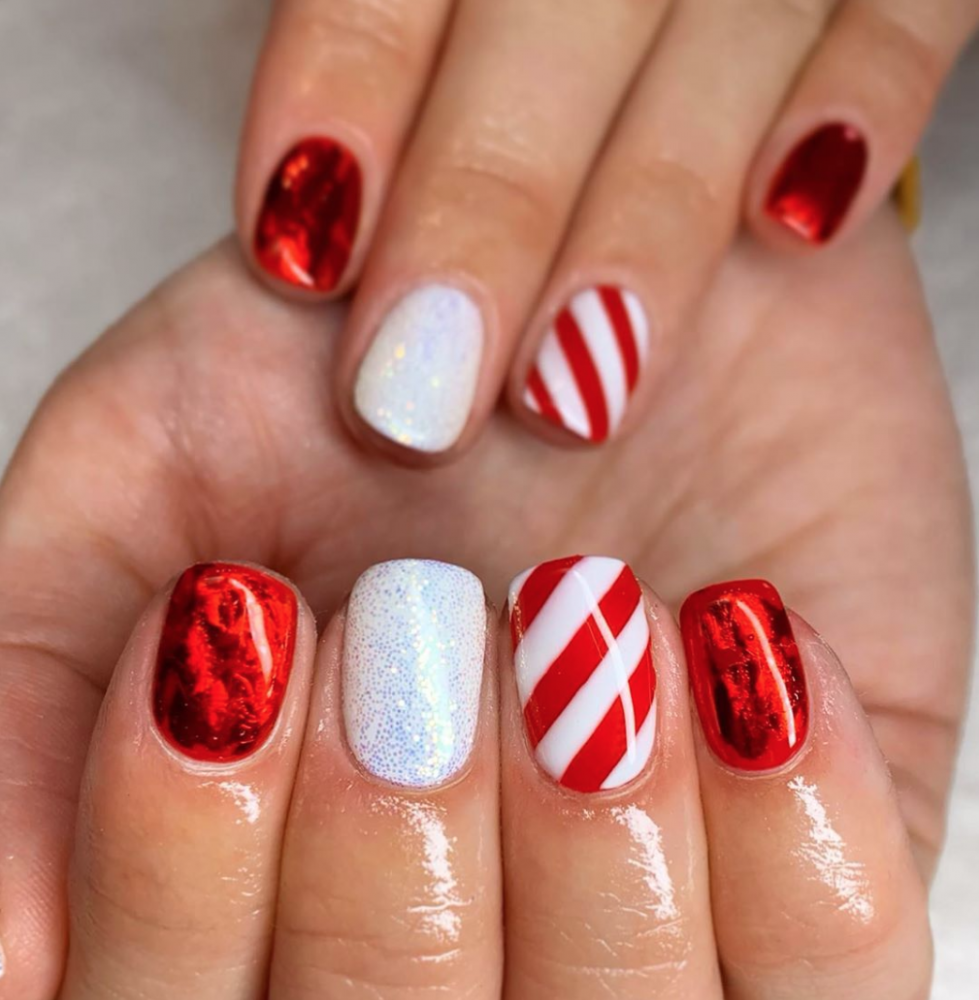 Skip down Candy Cane Lane and try these delightful nails this Christmas – you might even be mistaken for one of Santa's elves.
Stripes are super easy to accomplish with some thin nail tape and a little layering. Be sure to finish these ones with a super glossy topcoat to really exaggerate that candy coating!
4. Champagne Dreams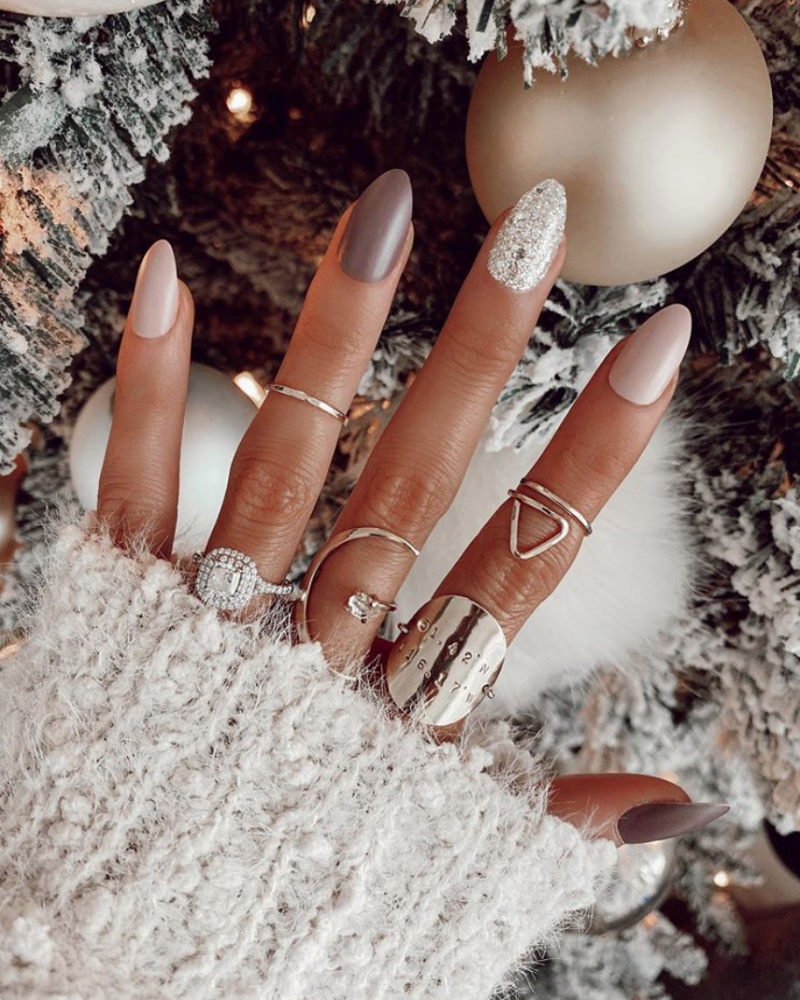 If you want a nail design that you can also wear on New Year's Eve, this is it. The best nail scheme for cheers-ing with something bubbly!
Highlight one nail with something extra sparkly and keep the others matte and neutral.
5. Oh Christmas Tree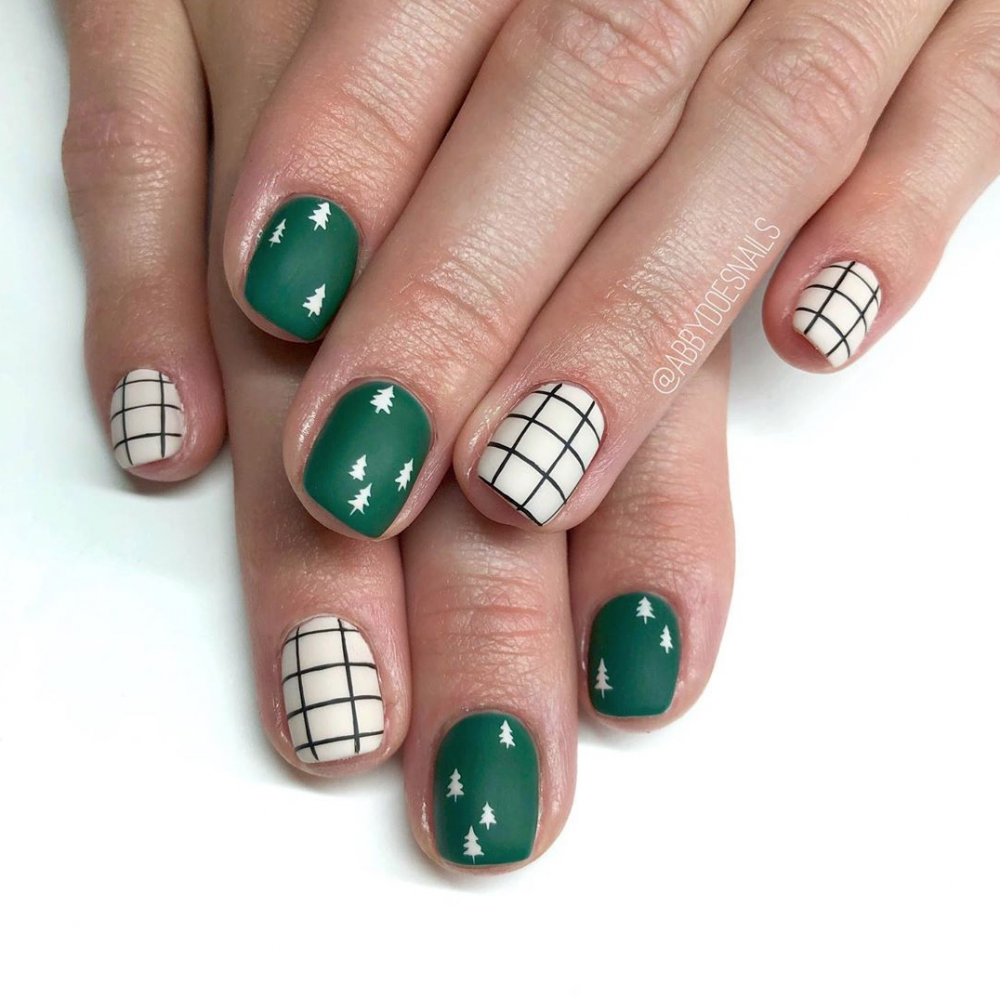 Christmas doesn't have to be over the top – go for something with simple flair with this graphical Christmas tree design. Matte polish impresses us again with this cute nail art.
Tiny white trees can be created with a small nail art brush or a toothpick, while stripes can be taped off like a stencil.
6. Gingerbreads & Stripes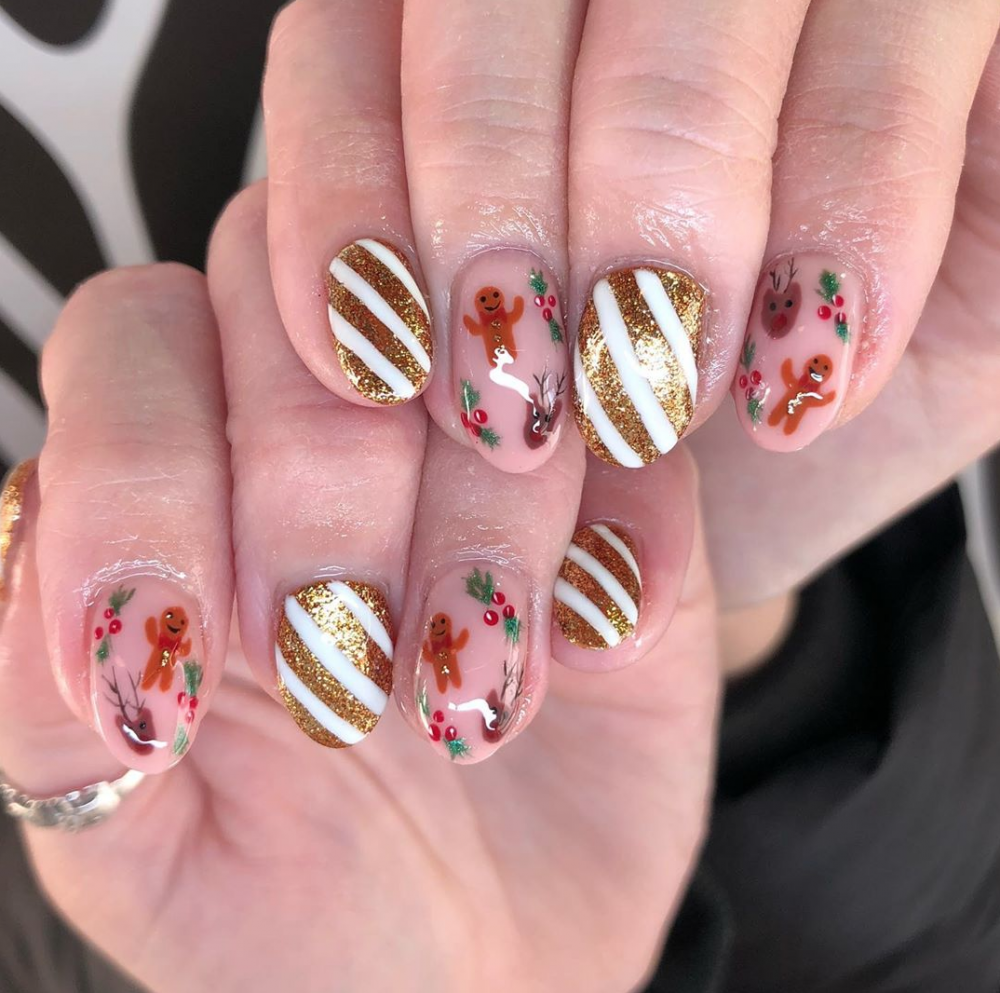 This nail design is straight out of a children's book, with the cutest gingerbread men, deer, and golden candy cane stripes.
The alternating designs make these nails look so whimsical and yummy!
7. Holiday Foliage Nail Art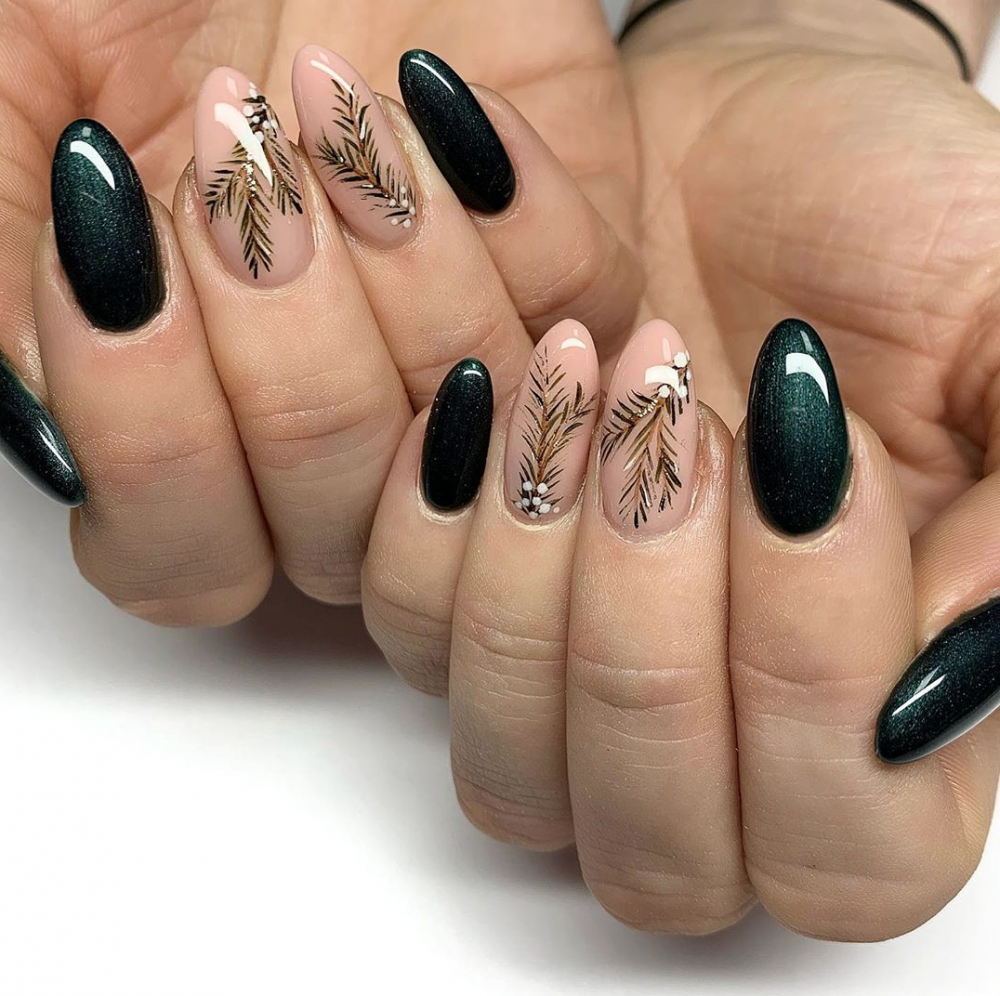 If red and green aren't your thing, go for something a bit more classy with this holiday foliage design.
Black might not be your go-to "holiday" colour, but it pairs so well with gold! These tiny spruce leaves can be created using a small brush and alternating gold and black nail polish.
Don't forget the white berries which can be easily done with toothpicks or a dotting tool!
8. Glitter Confetti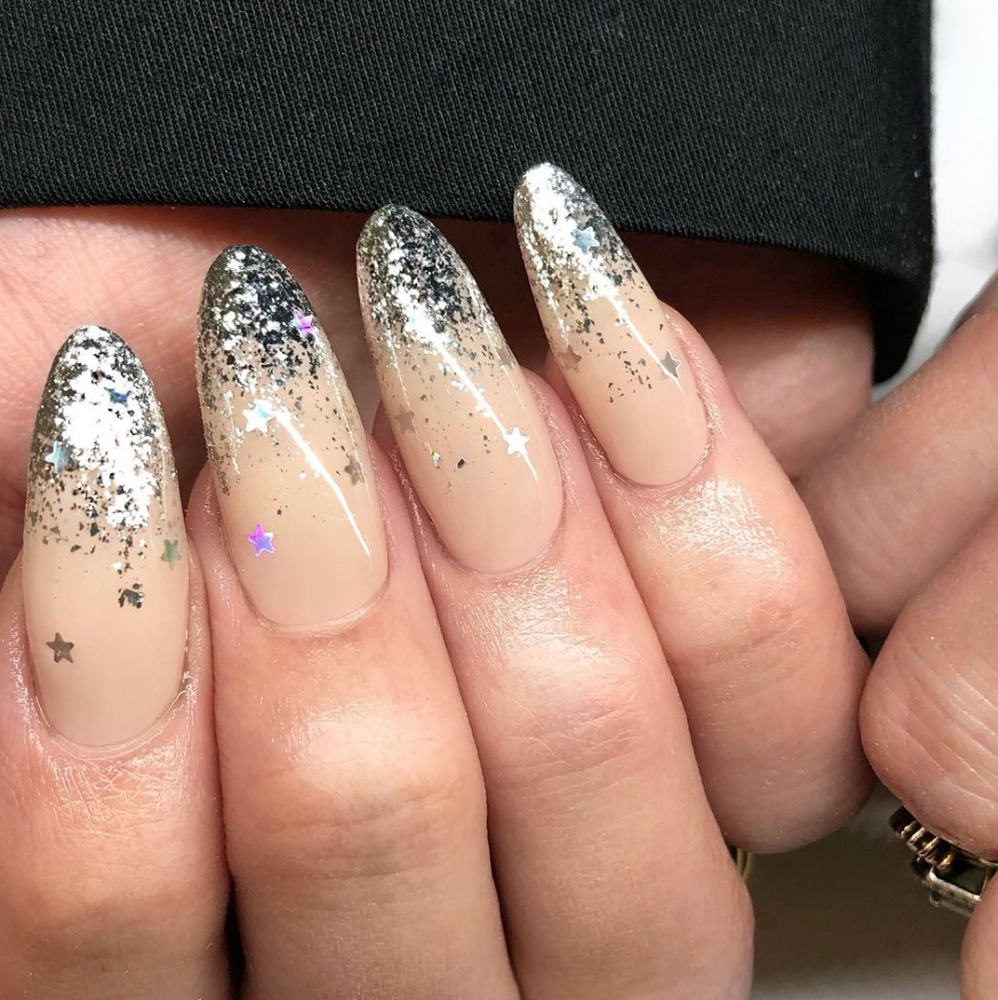 When it comes to Christmas, the more sparkle, the better. Glitz it up with this beautiful glitter nail design!
This one makes us think "HAPPY NEW YEAR" with the glittery explosion of confetti. Add in a few small foil stars and you'll be ready to celebrate!
9. Holly and Pinstripes
Our holly and pinstripes holiday nail art tutorial will walk you through the steps of creating this sparkly, striped design with a twist!
10. Candy Cane Stripes and Lights
Why not try mixing up Christmas themes with these candy cane stripes and lights nails. The full tutorial is available in our own nail archives for your recreating pleasure.
11. Berries and Spruce
With a thin brush and a toothpick, you can create these gorgeous spruce and berries nails by following our tutorial.
12. Candy Cane Nail Tips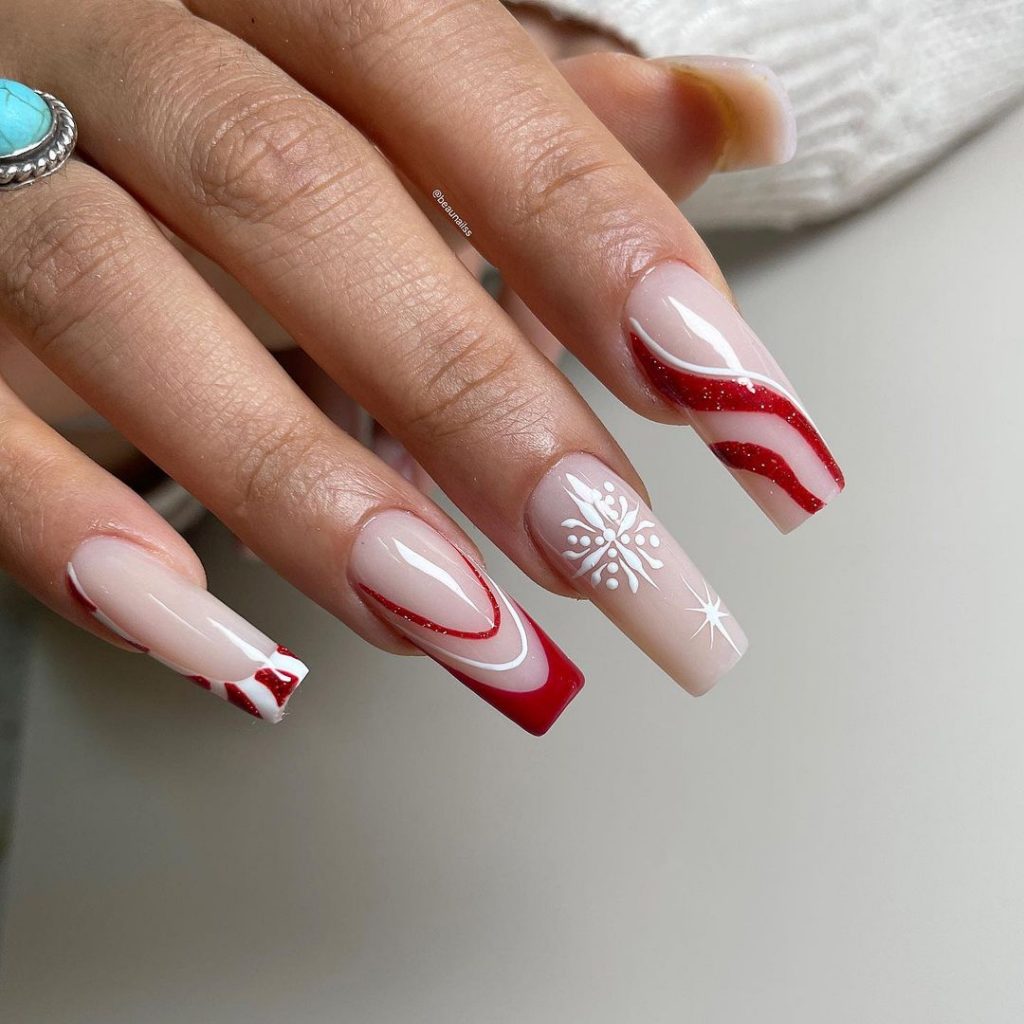 A modern twist on candy cane nail art! These red and white striped and swirly nail tips are perfection for Christmas!
13. Festive Foliage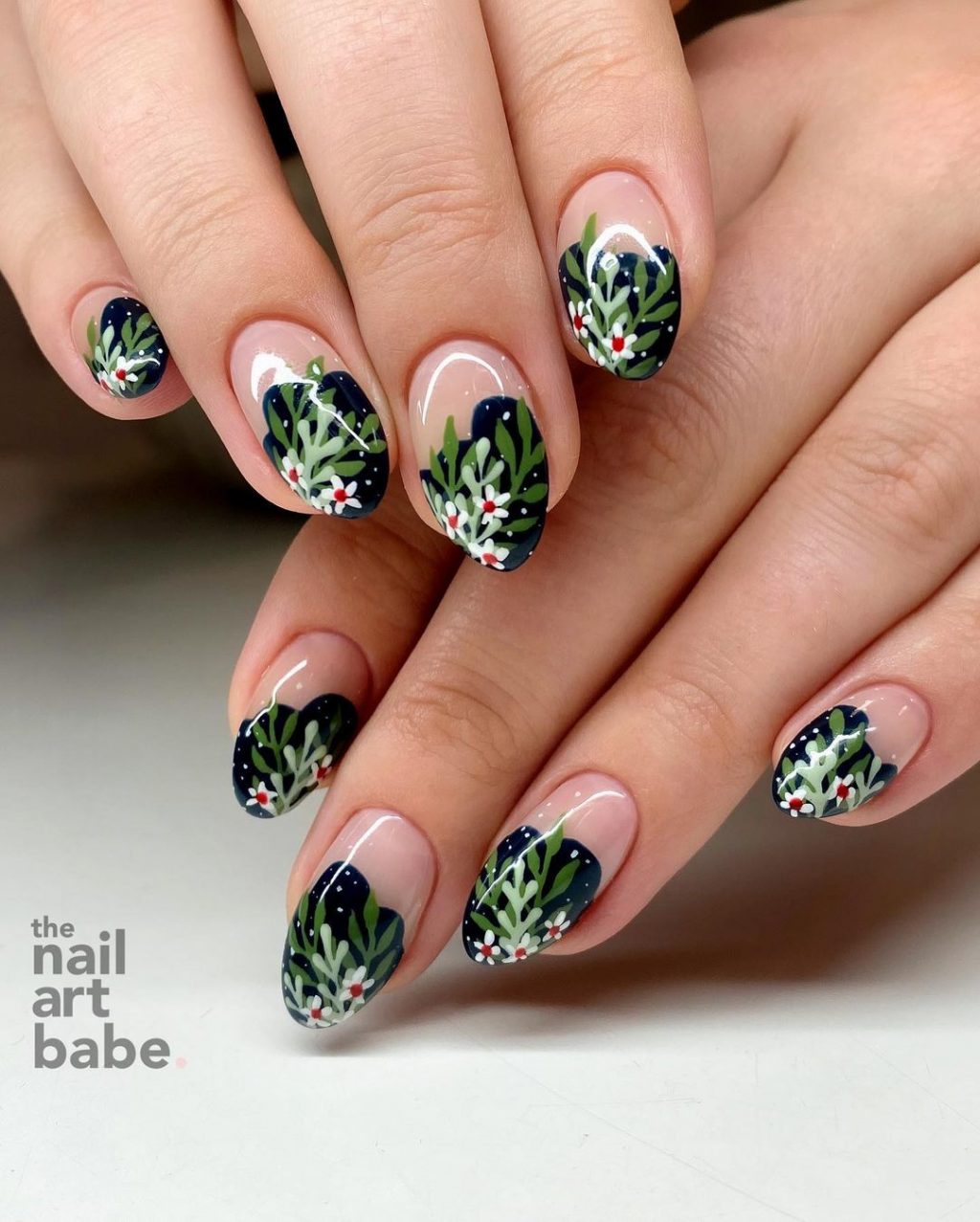 This illustrative twist on holiday foliage looks like something out of a story book! Try a night sky with overlapping green leaves in varying shades to replicate this look.
14. Gold Sparkle and Snowflakes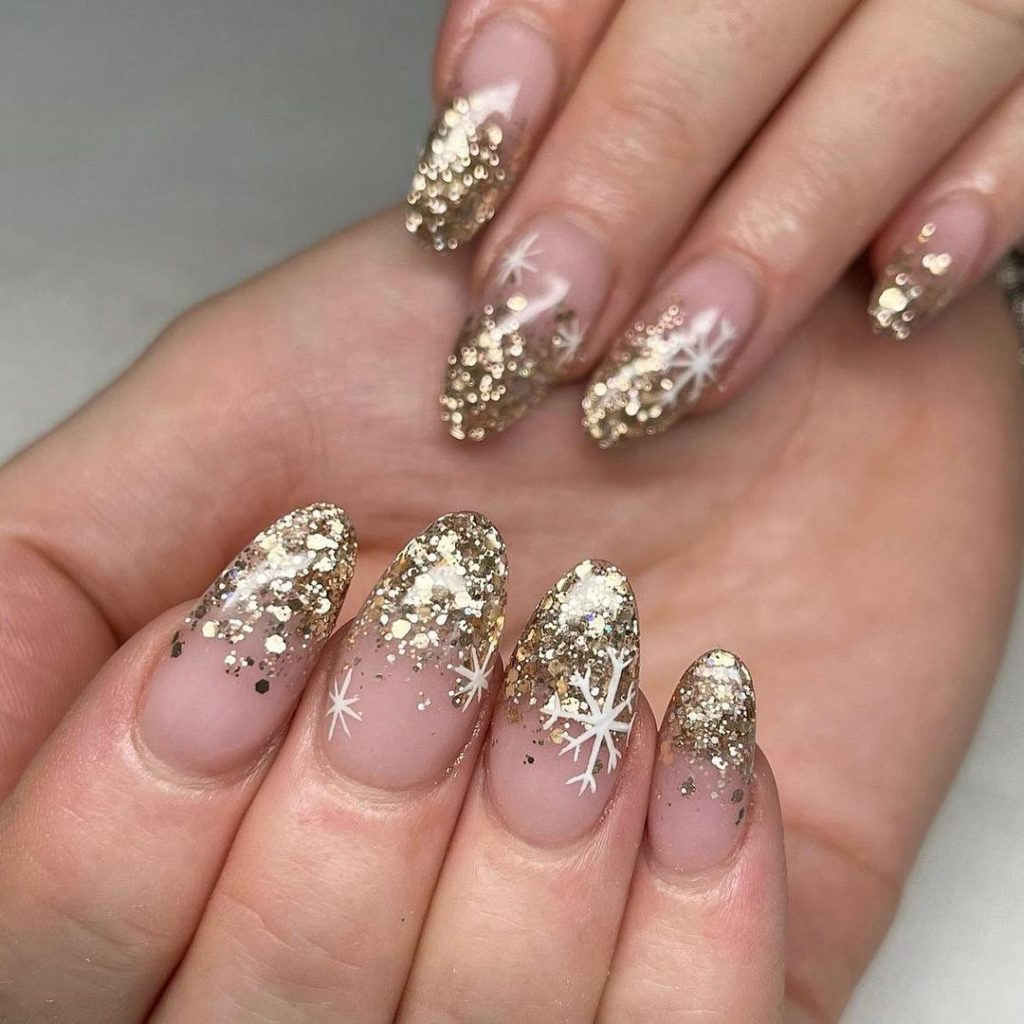 Traditional gold glitter dipped tips are taken up a notch and given a holiday makeover with some hand painted white snowflakes!
15. Nordic Green Nails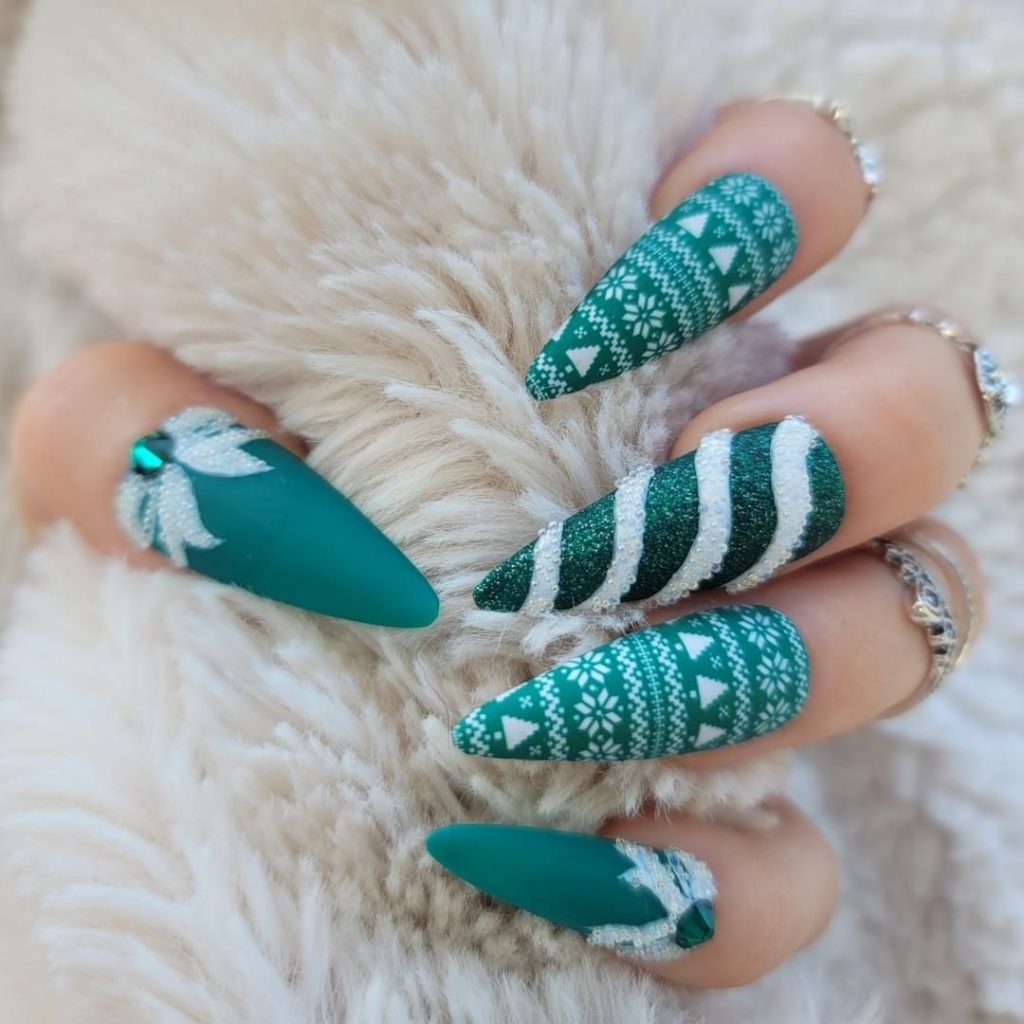 Some nordic themed decals on this matte teal green look stunning! Sparkles and beads take this to a whole other wintery level.
Now that you have all of the inspiration you need, which festive nail designs will you try this year?
Looking for more ideas? We have even more winter nail designs right here:
PIN IT!
Last Updated on