If you live in an apartment or a small rented space, it can be easy to feel left out of the home decor game. All of the beautiful outdoor before-and-afters on Pinterest and Instagram may have you feeling some outdoor space FOMO if you don't have a backyard or patio of your own to style. But it doesn't have to be that way. There are so many ways to customize a balcony, porch, or small patio.
Hygge Hideaway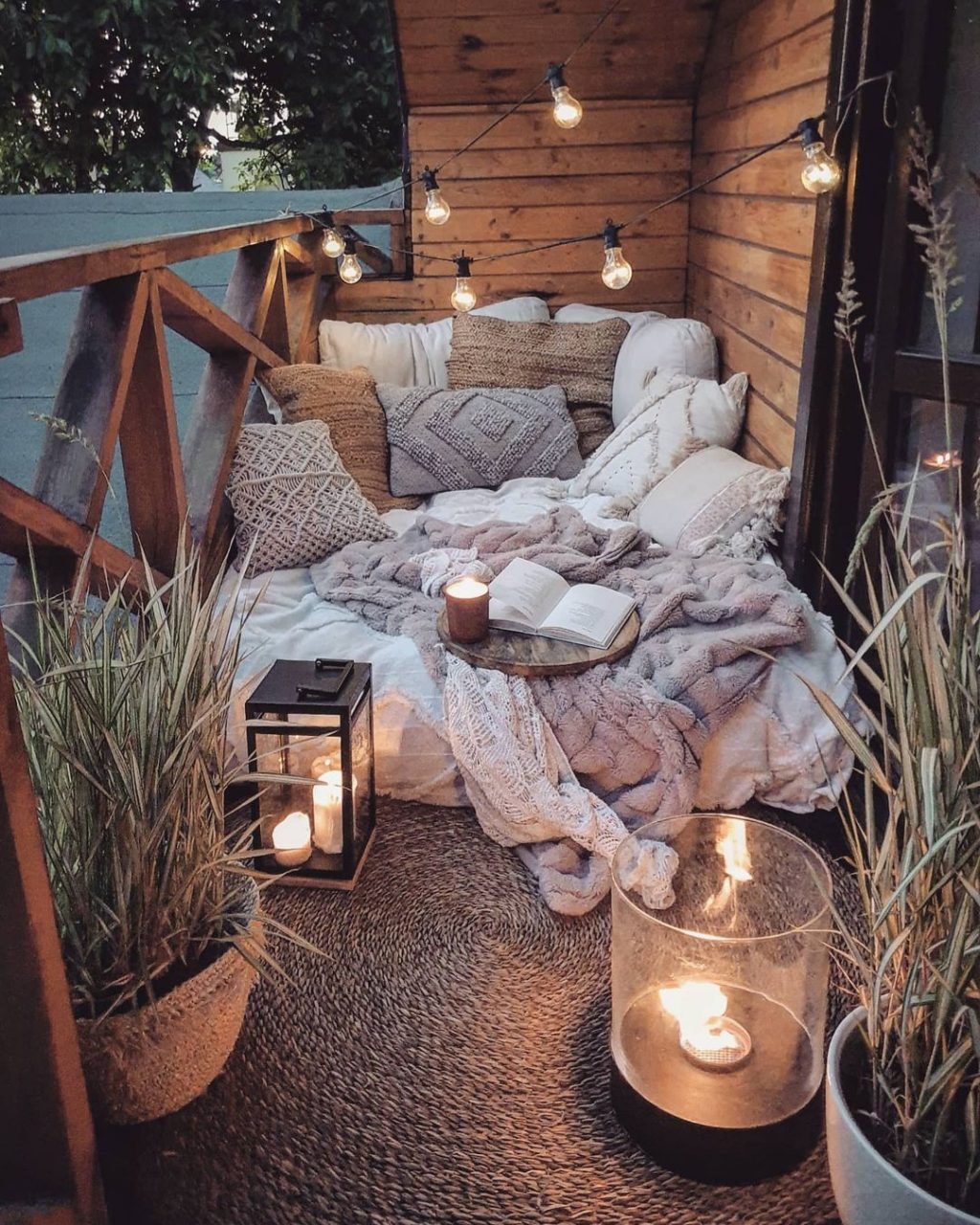 This hygge balcony provides the serenity of being away at a log cabin or vacation hideaway. Creating a little nook like this one is easy–all you need is a floor mattress with lots of textured pillows, a chunky knit blanket, a textured rug, and your choice of houseplants.
Dreamy Wonderland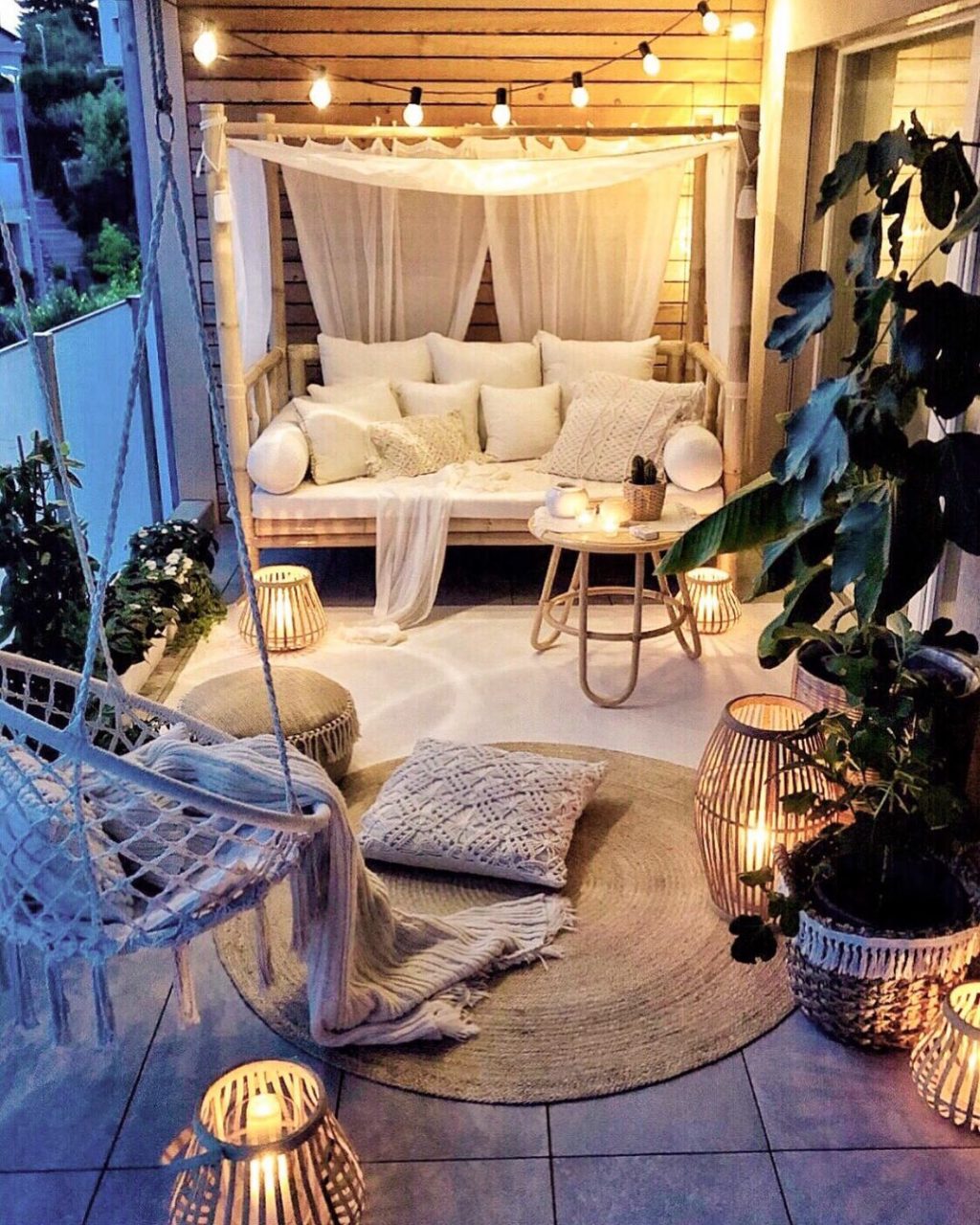 The outdoor couch draped with sheer fabric is the showstopper here. But don't overlook the hanging macramé chair, rattan end table, or the glowing lanterns. The dreamy lighting is what makes this outdoor space the perfect spot for a night of stargazing.
Boho-Chic Dwelling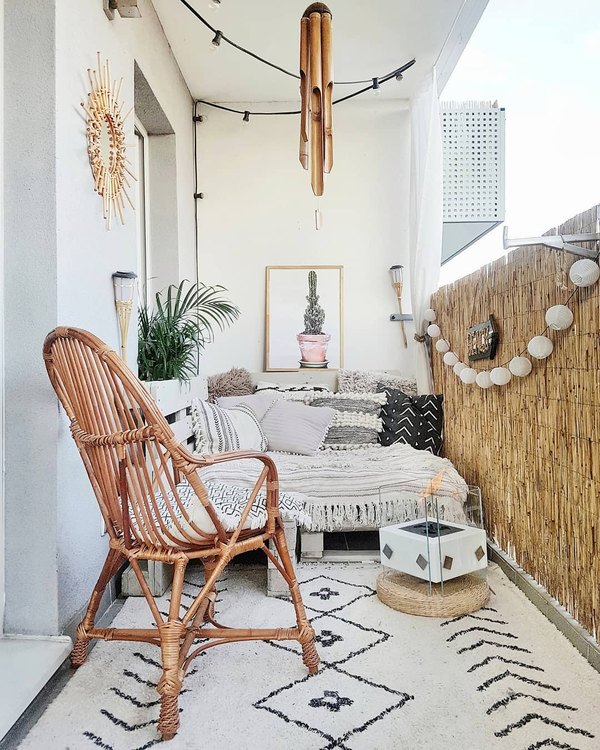 This boho chic balcony is worth gushing over. From the bamboo fence and the starburst mirror to the pallet daybed, each piece is brilliantly layered to create a combination of textures pleasing to the eye. But what we're really loving is the hint of pink in the cactus painting—and if you've been looking for an excuse to splurge on a boho shag rug, this is it.
Jungalow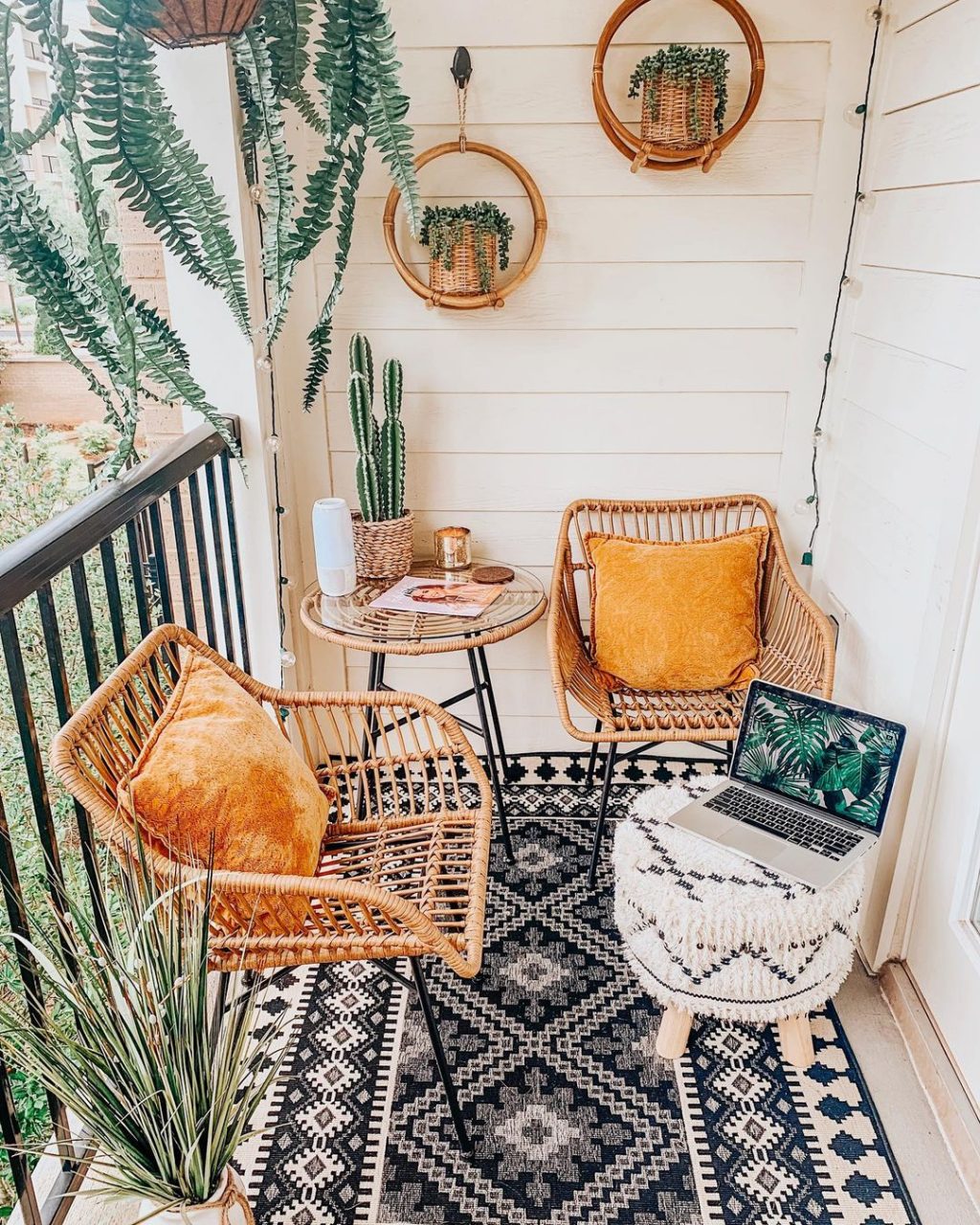 This enviable Jungalow-inspired balcony space is made even more impressive when you see the before-and-after. Achieved simply by adding a patterned rug, rattan furniture, and an abundance of plant life, it's an easy style for a renter to duplicate on a small balcony or porch.
Eclectic & Whimsical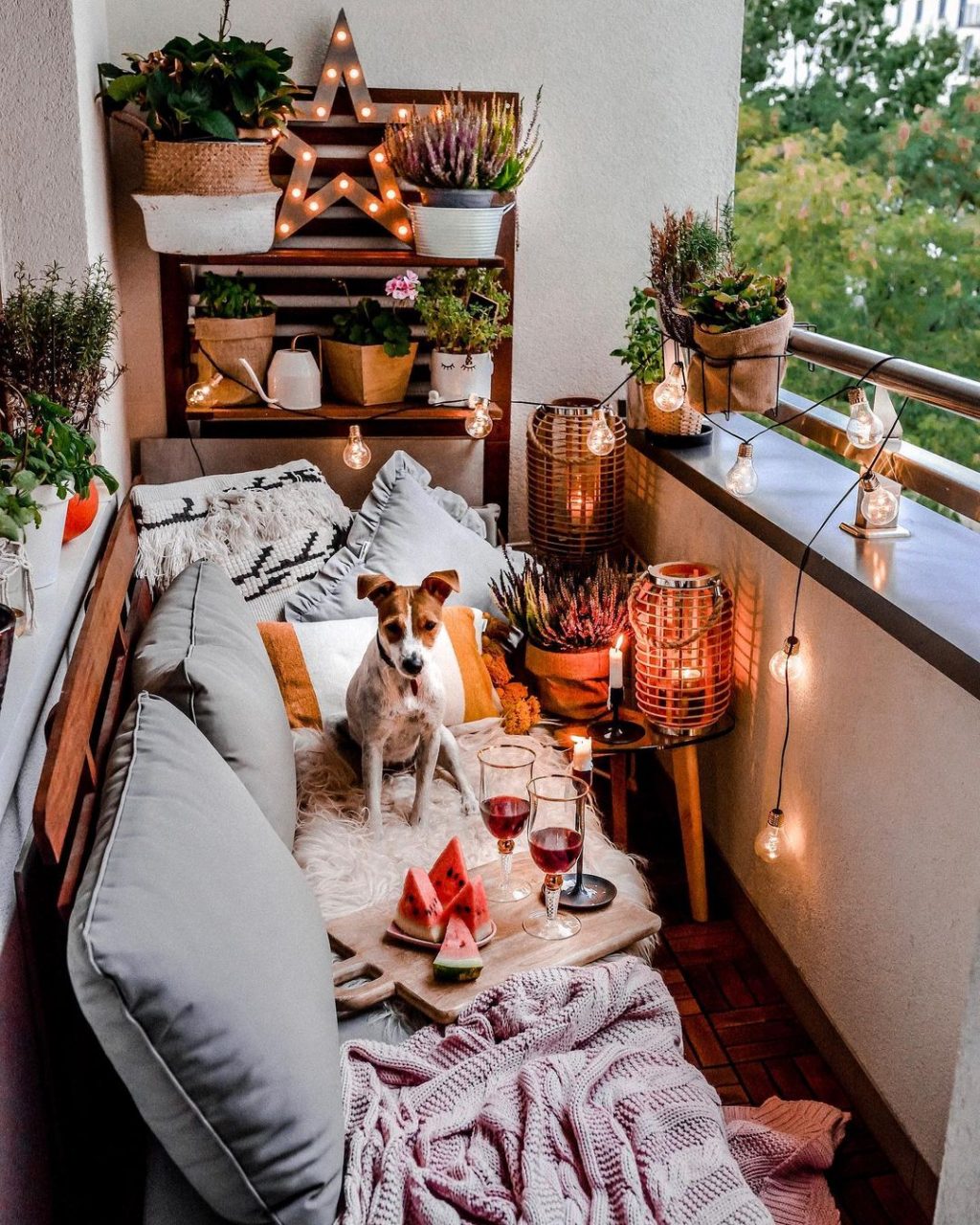 If living in an apartment has you missing your garden, be inspired to fill your balcony with potted plants, like this eclectic balcony. The mix of patterns and colours used here works perfectly, and that light-up star brings it home.
Twinkly Lights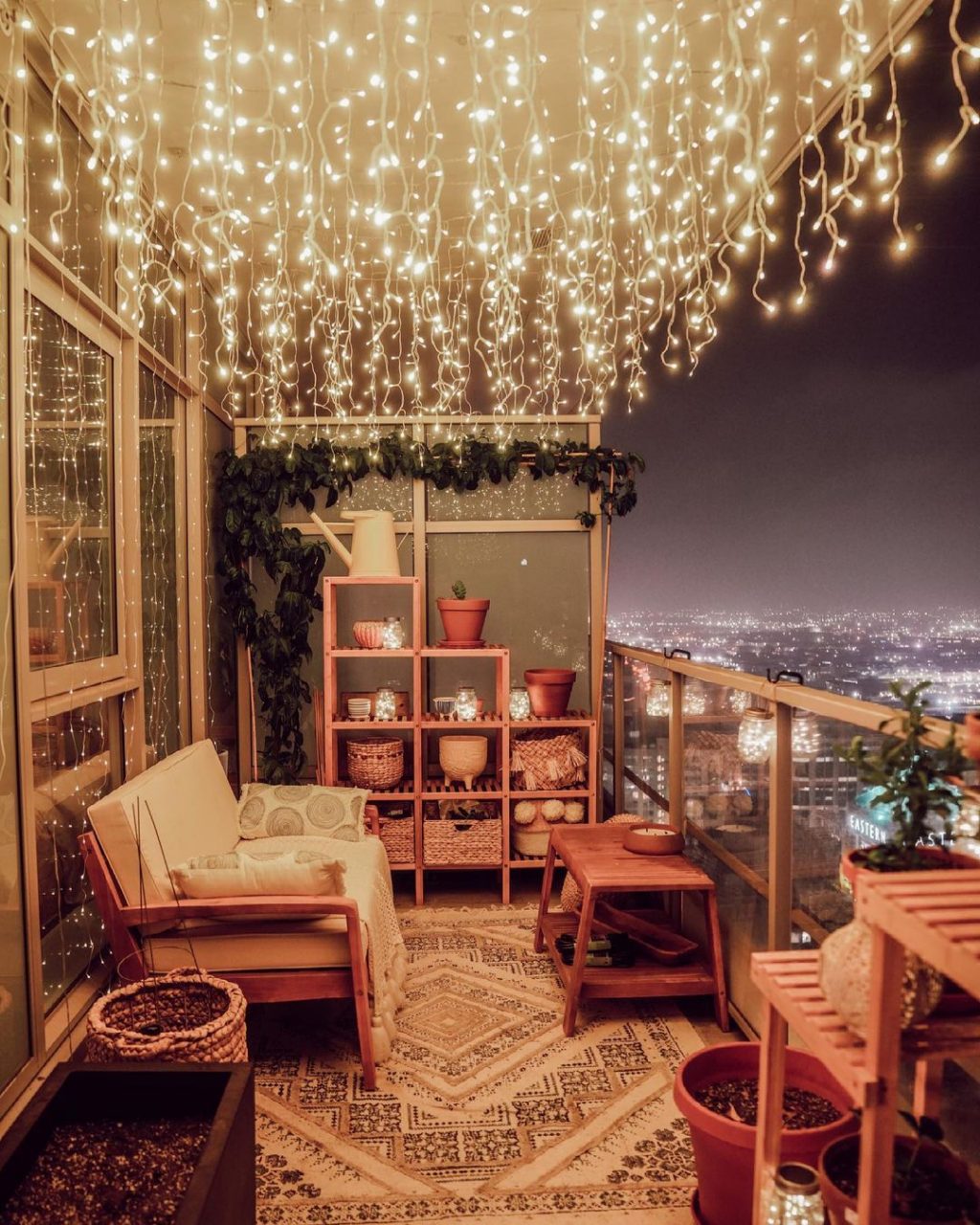 We can't get over this jaw-dropping twinkly light display. Apparently Instagram can't either–it got over 15,000 likes. If you're imagining curling up after dinner on this balcony, you could try DIYing a similar light display with icicle or curtain Christmas lights.
Girly Pink Balcony
Simple and classic wins the day with this girly balcony. Interlocking deck tiles are used to update the flooring, pale pink pillows liven up a simple white bench, and wall space is utilized to display flowers. Lit candles provide a gorgeous finishing touch for this elegant space.
Contrasting Textures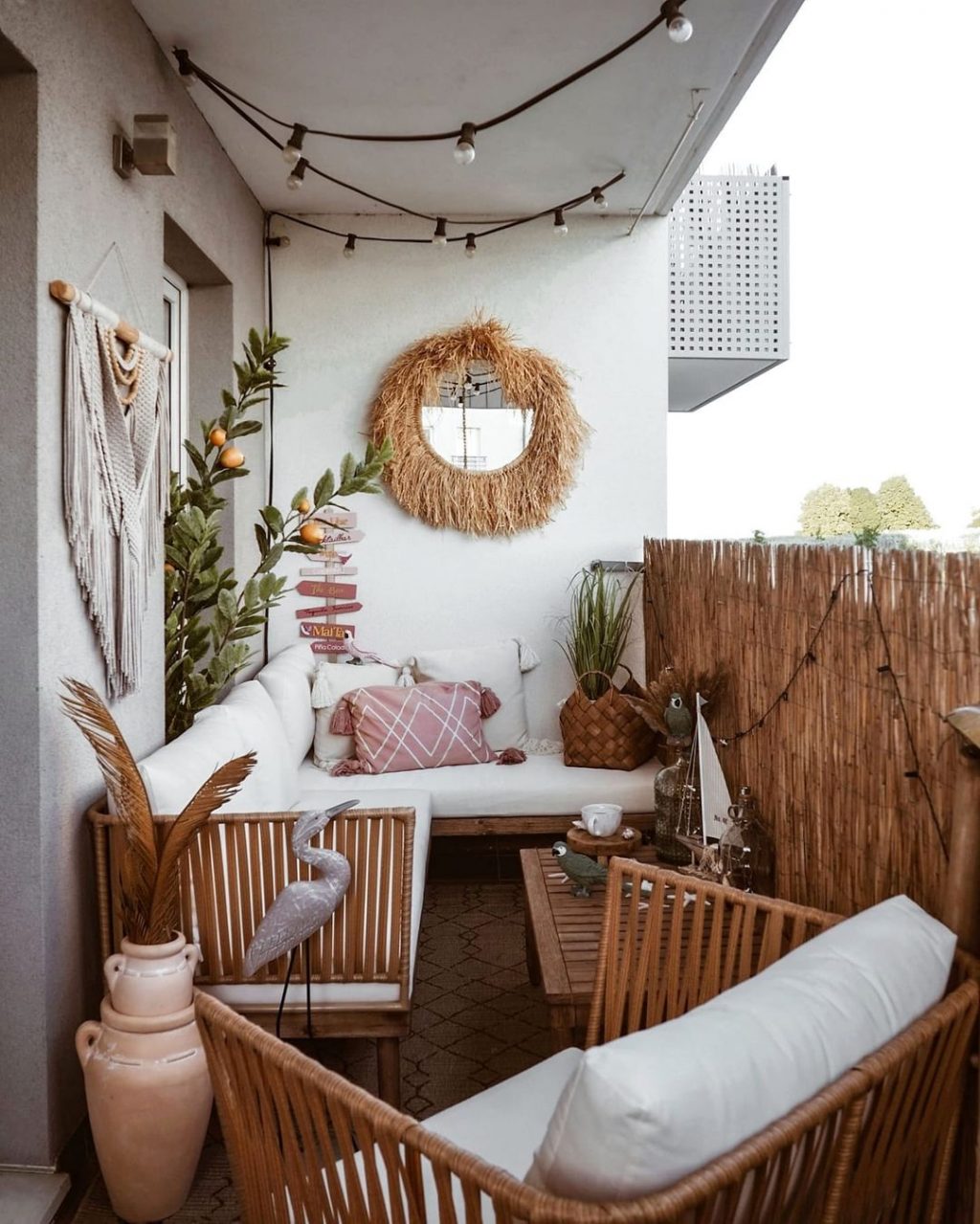 We never would have thought to display a macramé wall hanging outdoors, but now we can't rest until we try it. The crisp white cushions contrasted with rattan couch frames give this space a clean, finished look.
Sunny Getaway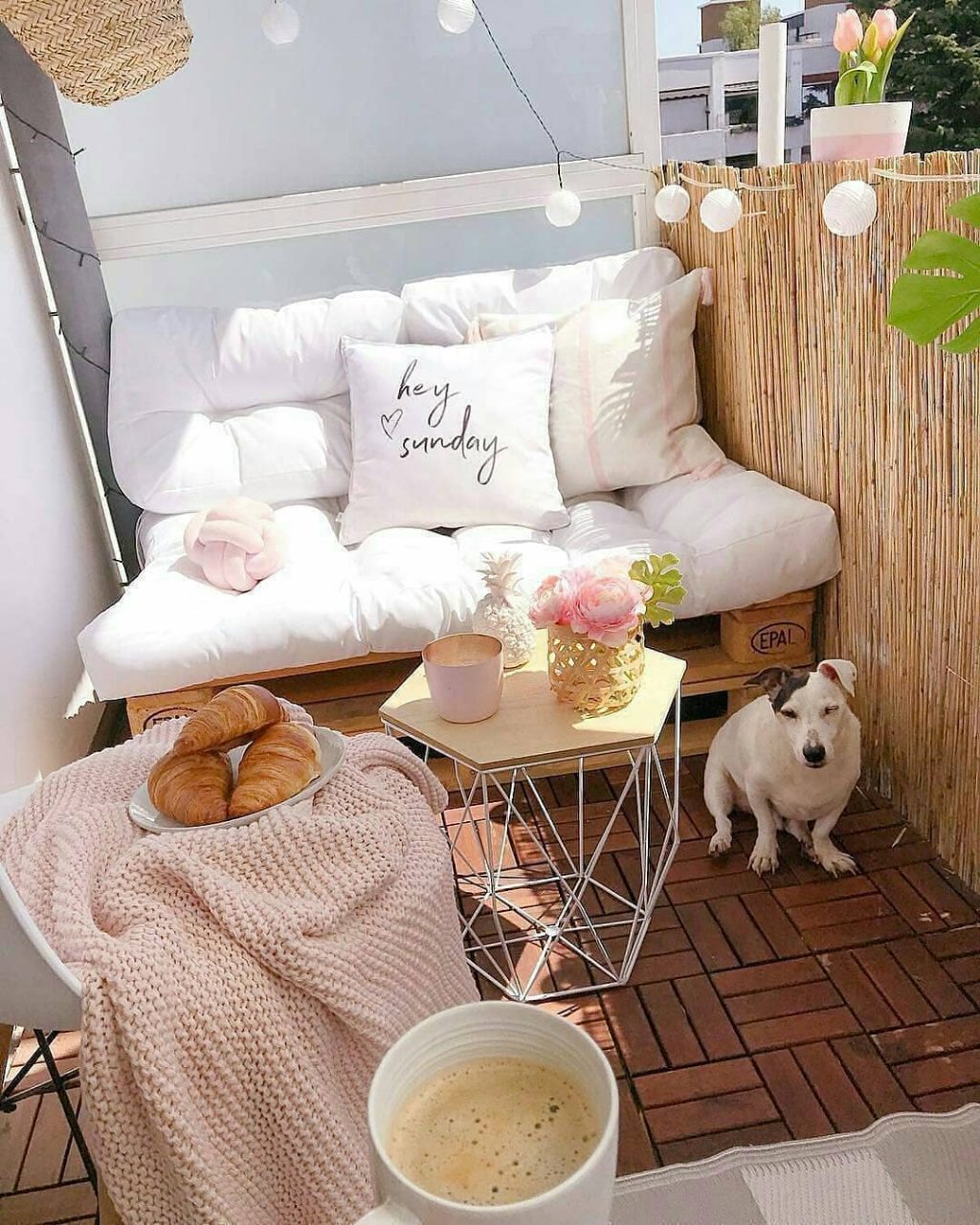 It almost feels like a vacation just looking at this sunny, bright getaway. Don't be afraid to blend several different styles as shown here—boho and modern geometrics vibe with a touch of pink for a laid back, poolside feel.
Secret Garden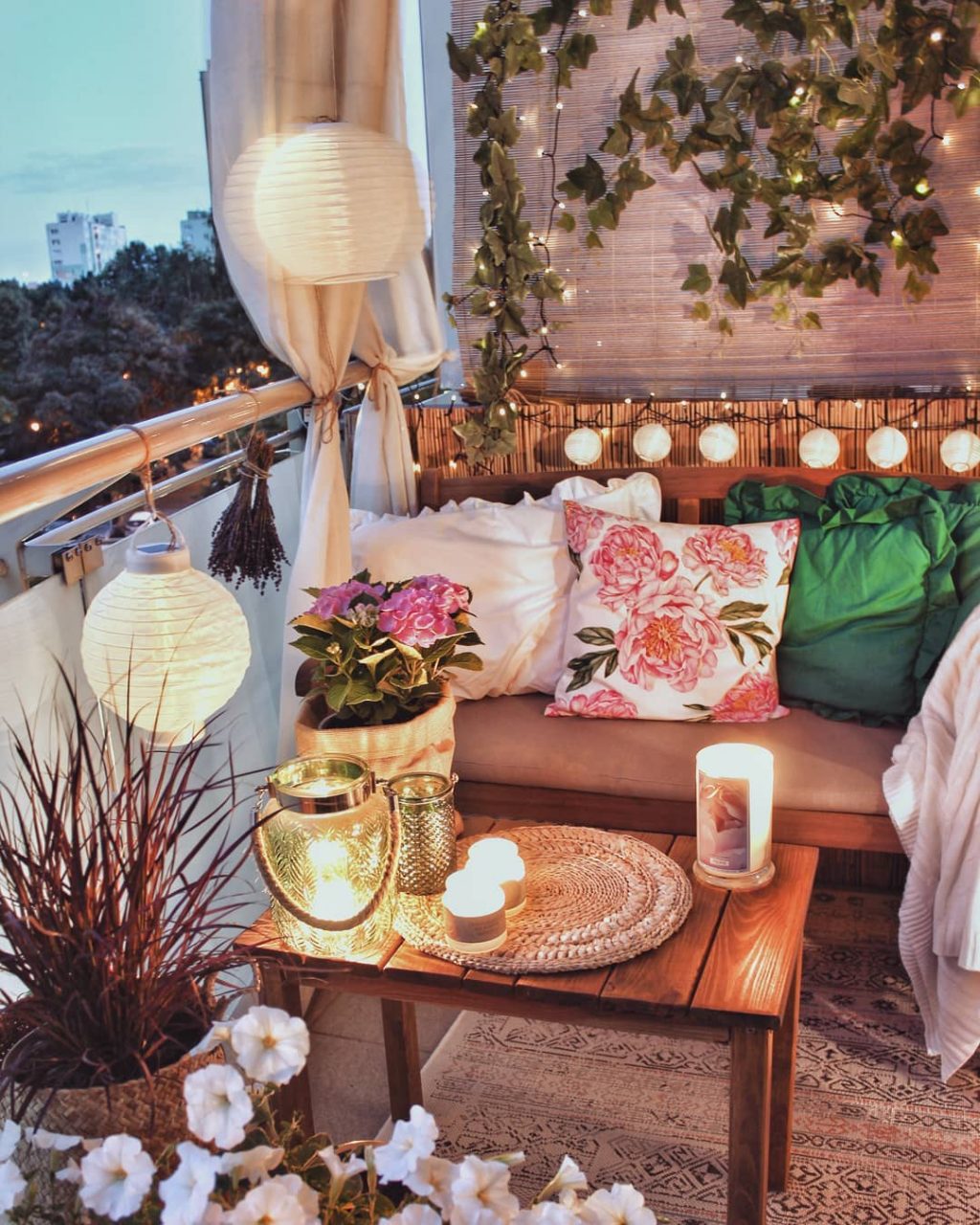 If flowers are your thing, this design will surely inspire you to create your own little hidden flower garden on your balcony. A climbing vine creates the illusion of being in a garden, and paper lanterns give the whole space a magical feel that reminds us of childhood.
Cozy & Glowing Nook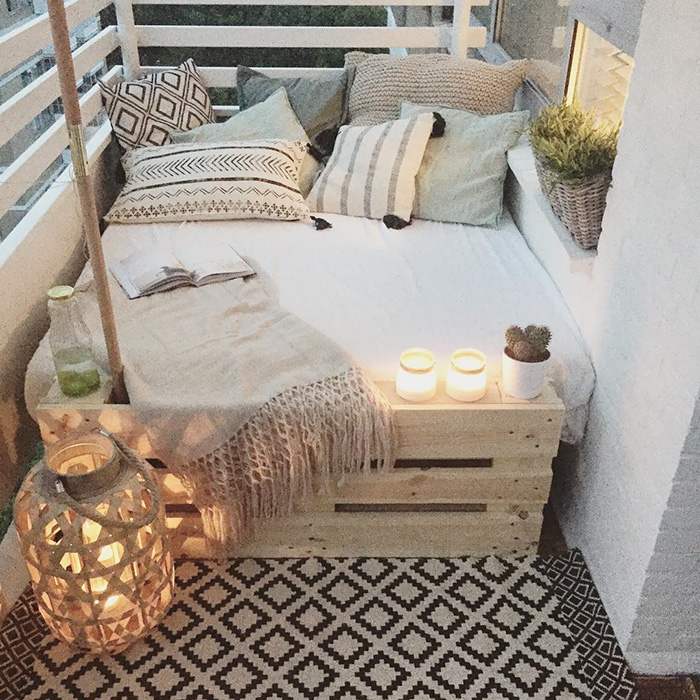 It's a safe bet you won't be able to resist winding down with a good book here every evening. If you're ready for life to take a slower pace (or maybe just seem like it does every once in a while) it's time to recreate this setting on your balcony (or patio!) We love how the varying shades of gray play against the white brick.
Boho Outdoor Bed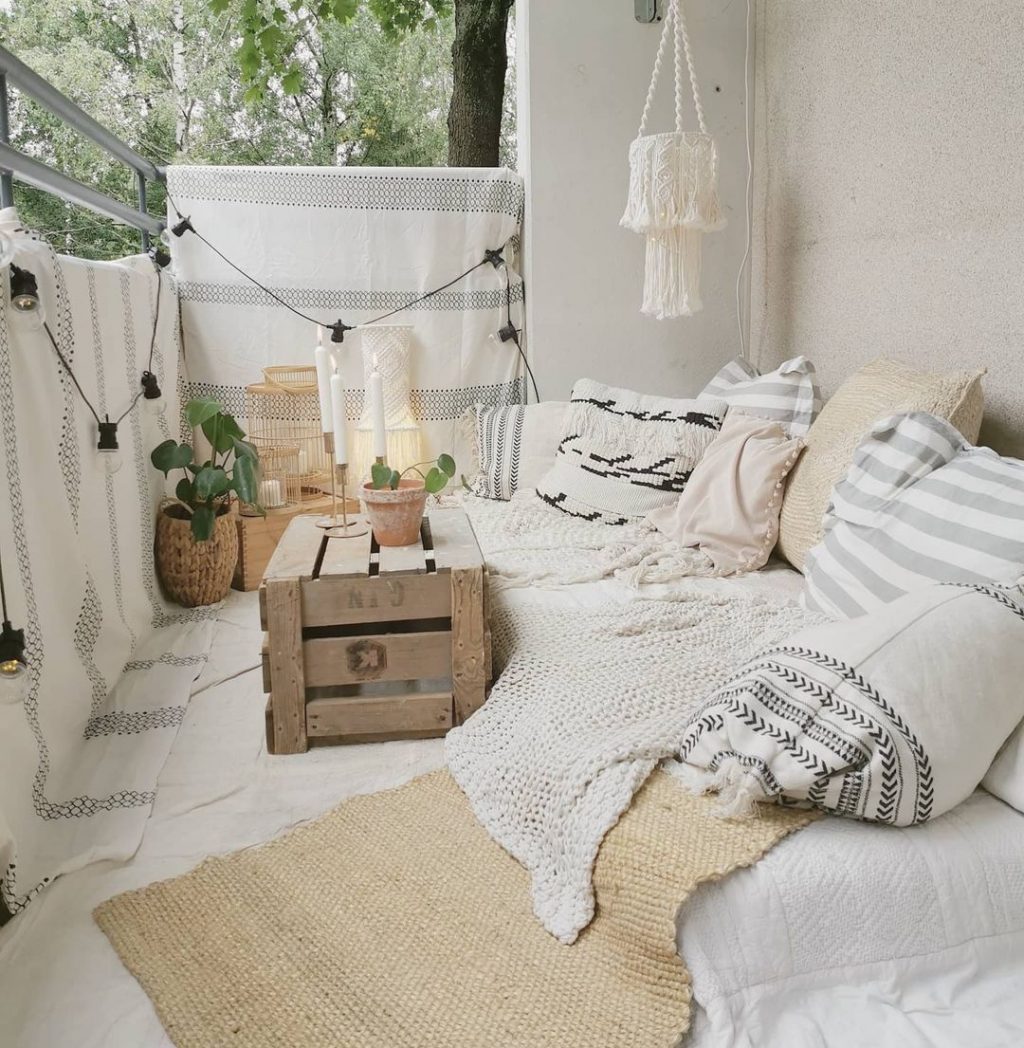 This outdoor bed, with hints of boho and hygge, looks so easy to create, we're wishing we had thought of it yesterday. So simple and relaxed, with a wooden crate used as a table, it seems like the spot for many impromptu balcony picnics.
Hanging Chair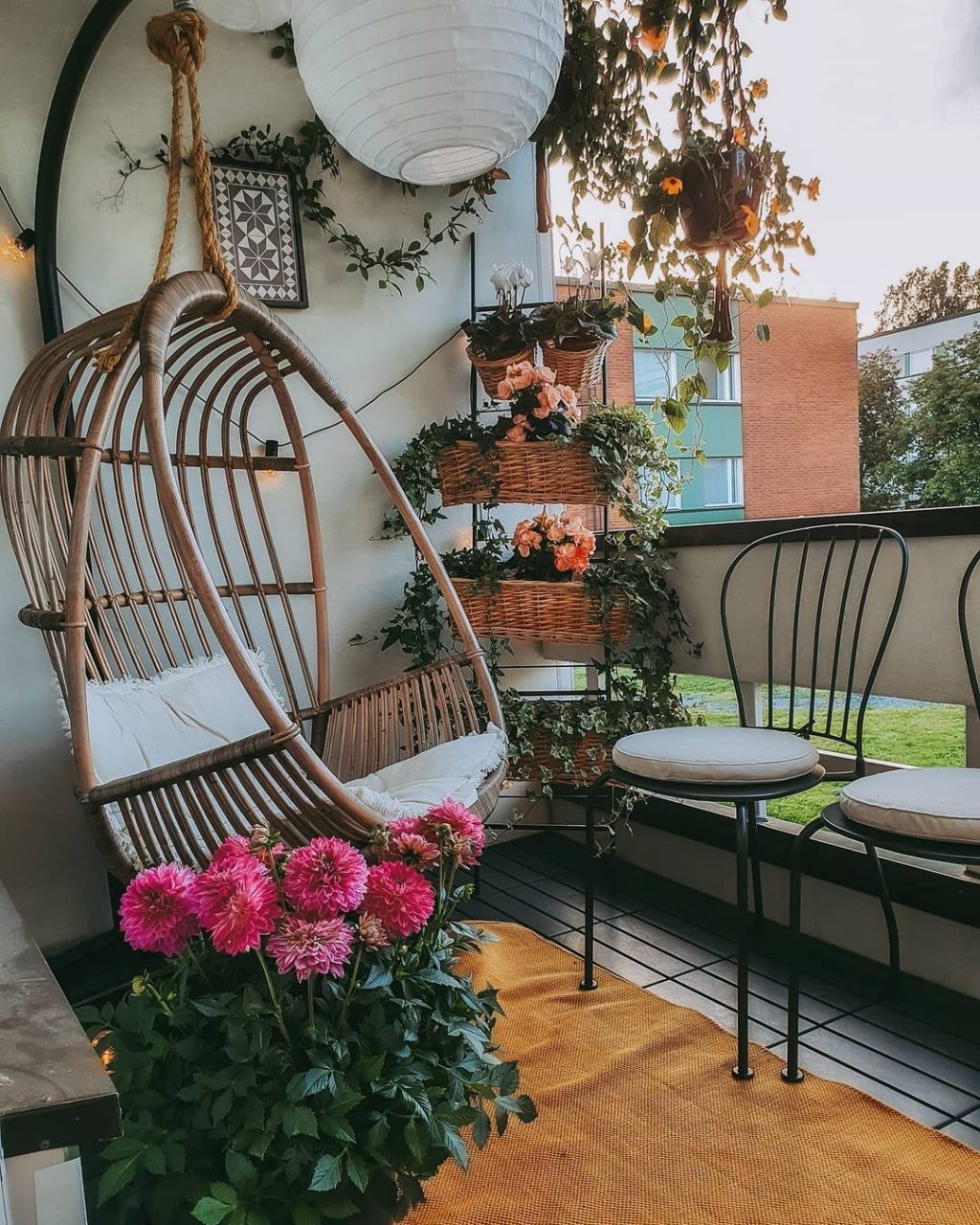 A hanging chair is a great option to give some style to a lonely outdoor space. A version like this one can be used in an apartment balcony, as it doesn't need to be drilled into the ceiling above. The beautiful flower baskets and paper lanterns are the icing on the cake.
Big & Bold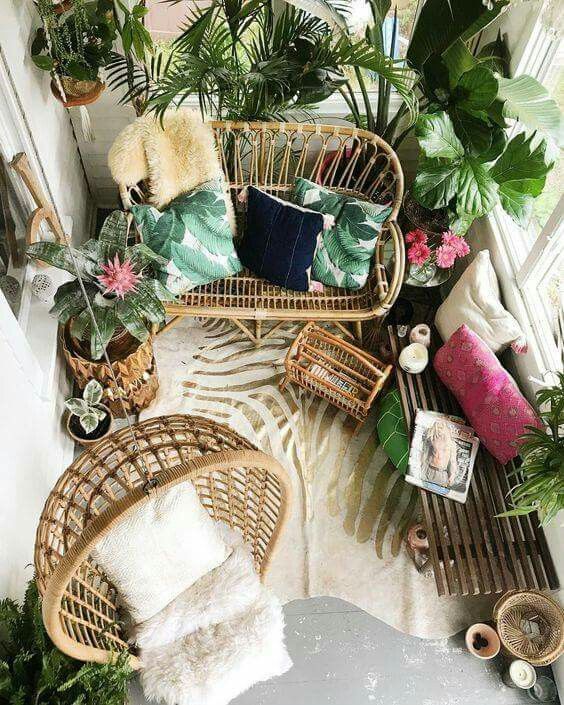 Another Jungalow-inspired design, the bold patterns and brightly beautiful plants of this small porch keep the good vibes and creativity flowing whenever you take some time to relax in your outdoor space.
Chic Rental Makeover
This chic rental balcony makeover was accomplished for under $300, with hints of French influence. A makeover like this is a reminder that anything is possible, even if you're limited in budget and in what projects you can attempt as a renter.
PIN THIS:
Last Updated on