With summer approaching (for those of you in the northern hemisphere!), now is a great time to spruce up your outdoor space because, let's face it, we're all spending a lot of time indoors lately!
Here are 20 beautiful, dreamy outdoor spaces. Whether you are decorating a balcony or a garden, these are sure to inspire. 
1- Porch With a Swing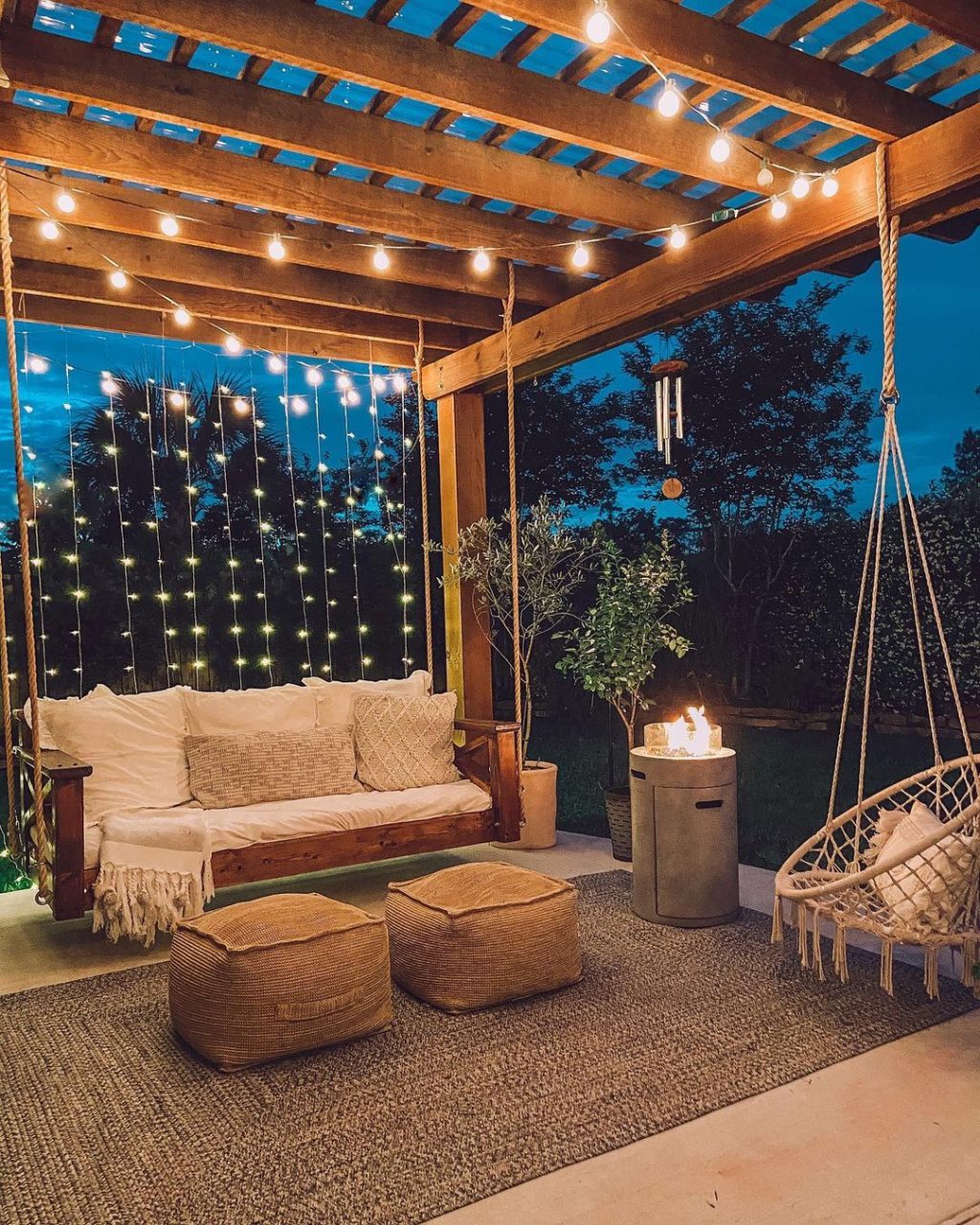 We love this cozy outdoor space that uses a pergola to hang furniture on. The lights warm up the area, and the pillows and blankets on the swing would be great to snuggle into at any time of the year.
2- Bright and Airy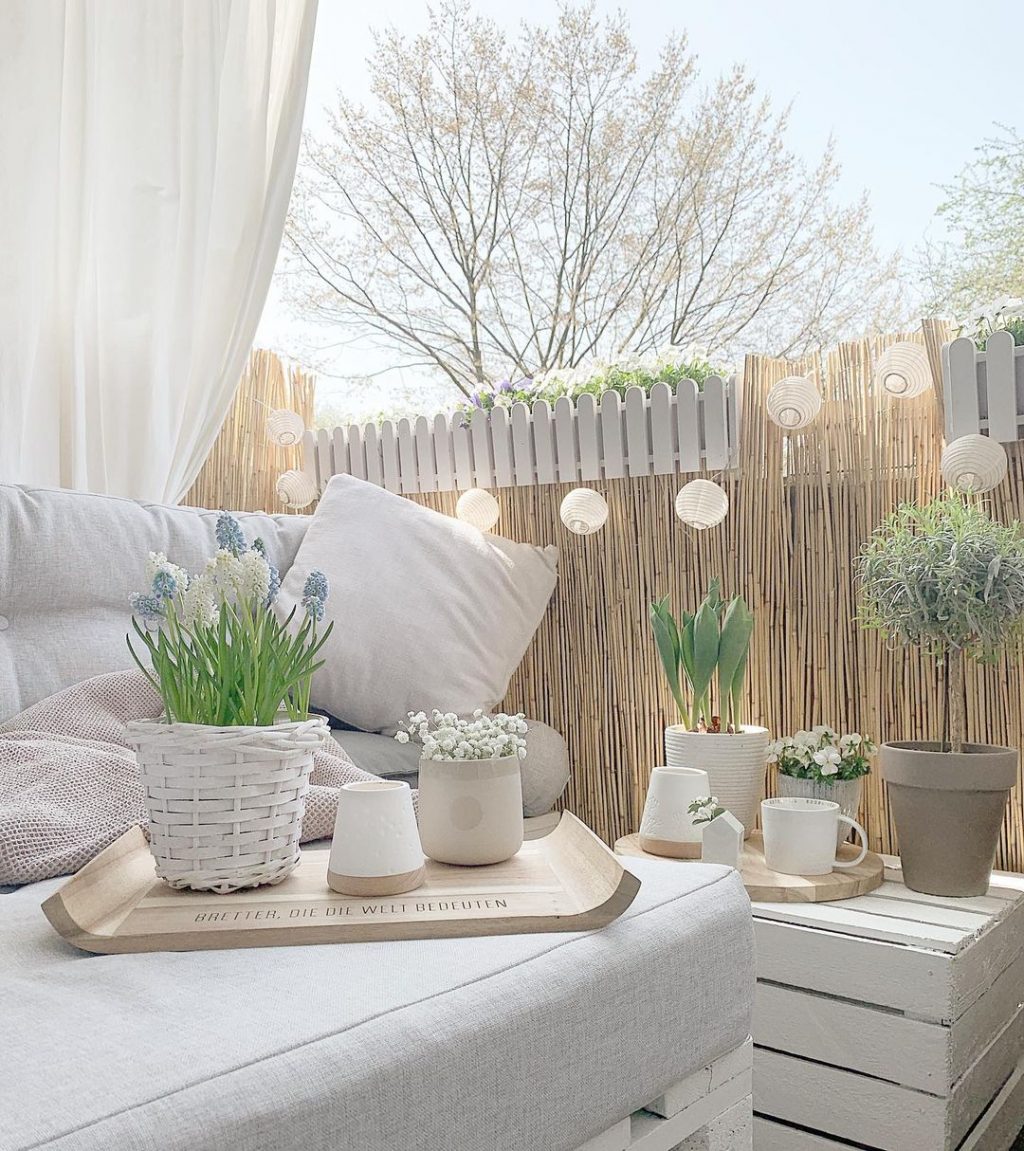 Wouldn't this lovely balcony design also be perfect for a courtyard or back garden? The bright colours help make the space look large, but you could absolutely recreate this look on a small balcony too.
3- Dreamy Outdoor Corner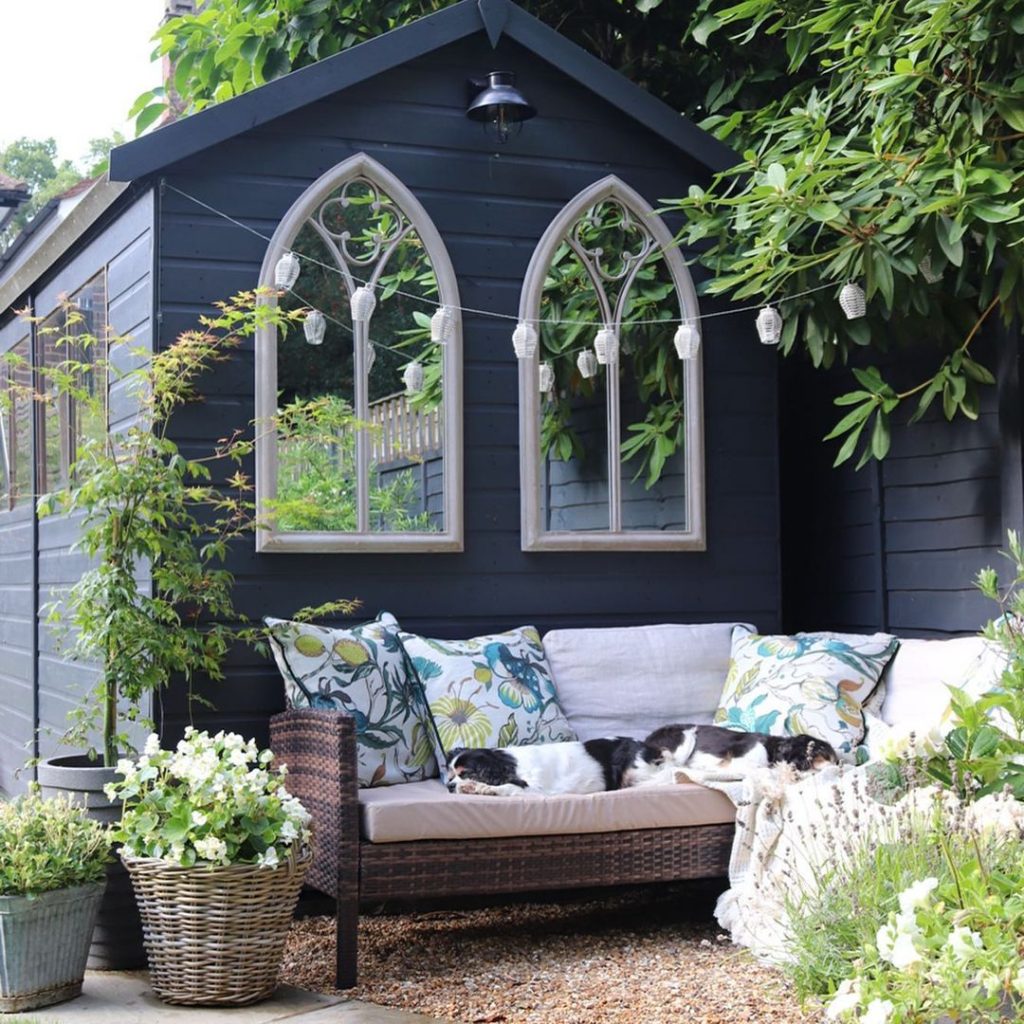 Can you imagine curling up here with a book and a cup of tea? The mirrors and dark paint give the furniture a wonderful pop.
4 – Starry Night Sky on Your Balcony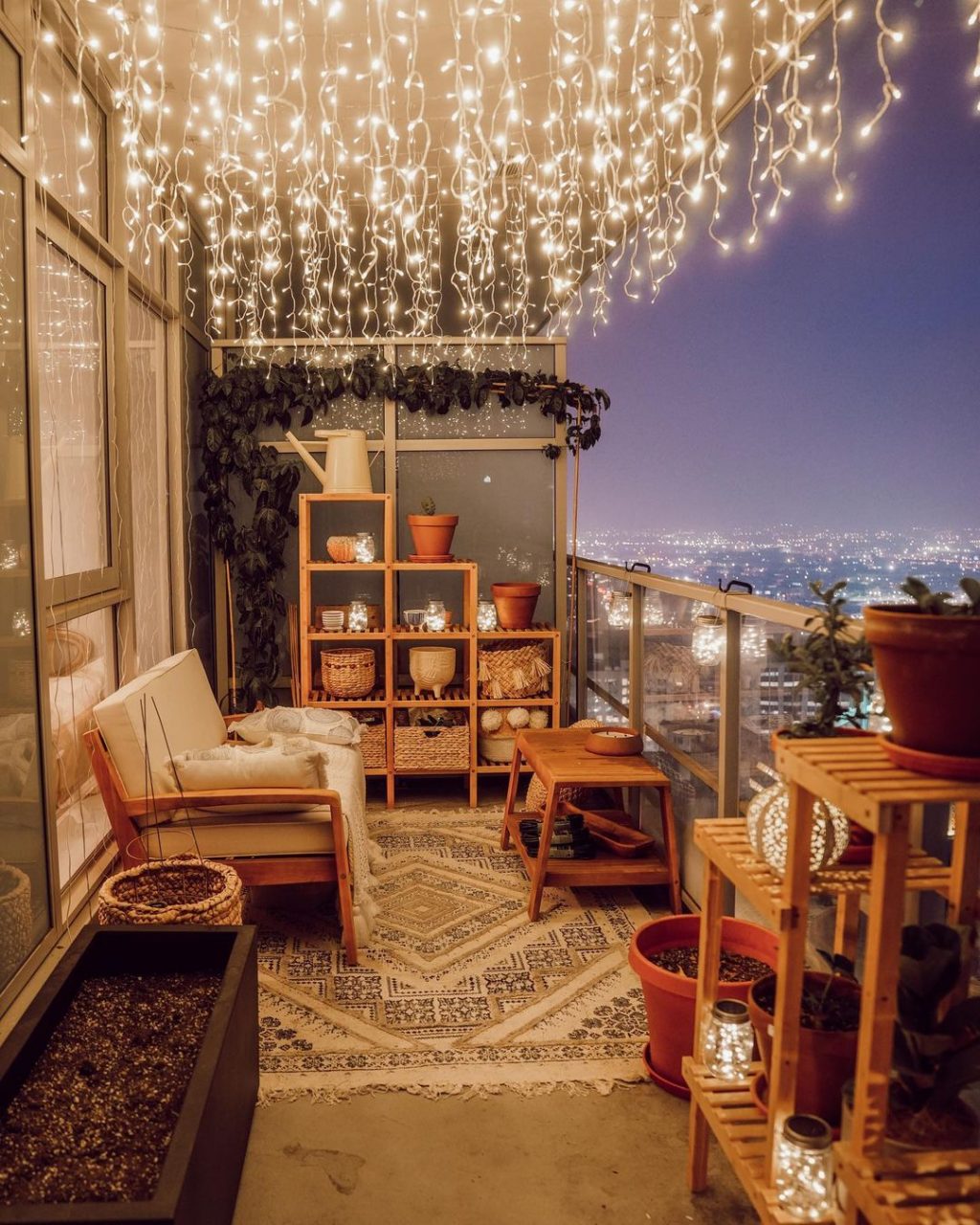 You may have seen this image doing the rounds on the internet, and we certainly think it is deserving of the attention! This balcony is a perfect example of how you can make a small space dreamy just by going over the top with lighting.
5 – Your Own Slice of Paradise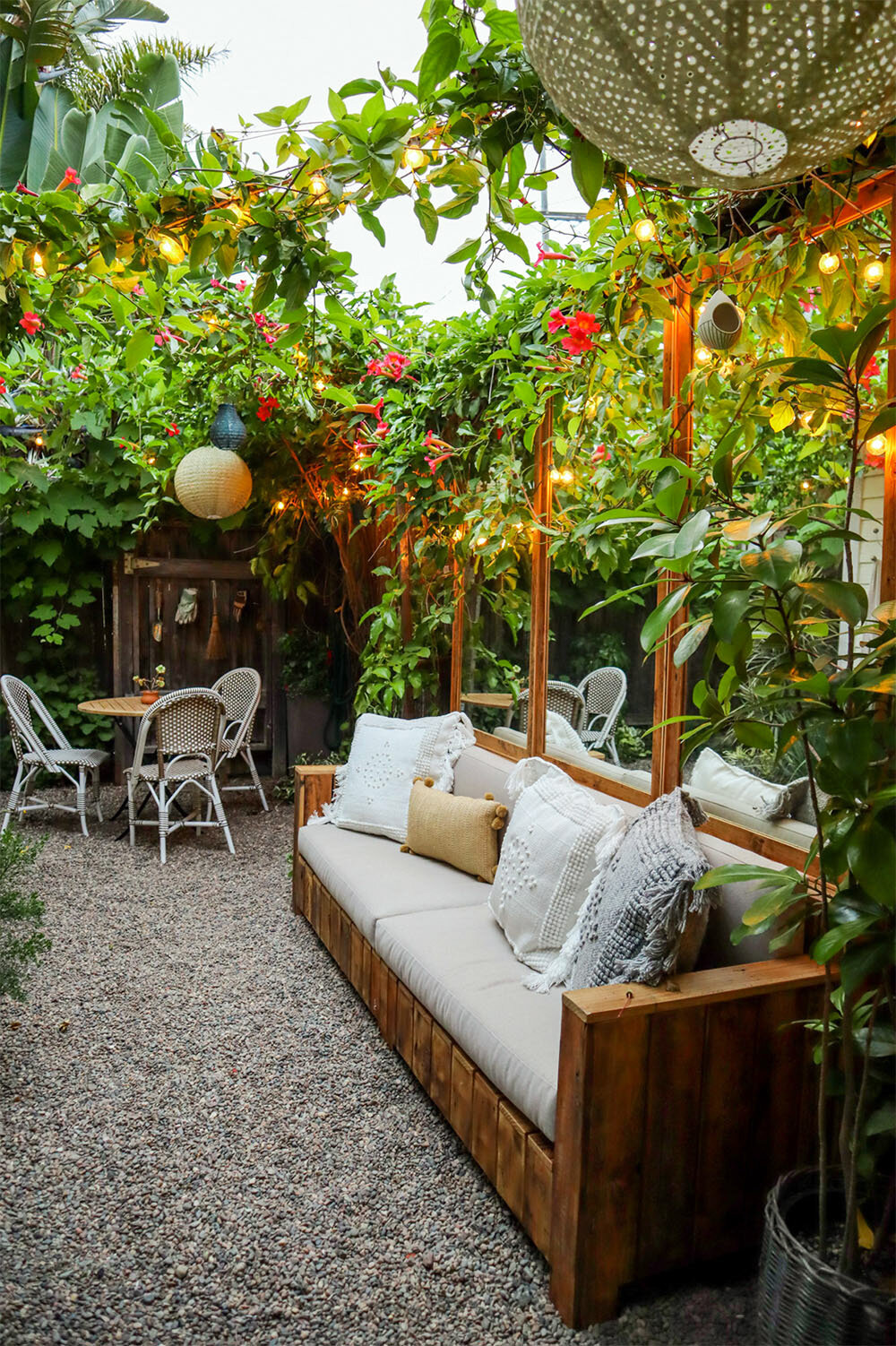 What a lovely outdoor area! The use of a mirror behind the couch makes the space feel bigger than it is while also adding a whimsical touch, and the white cushions contrast nicely with the greenery.
6 – Stencilled Patio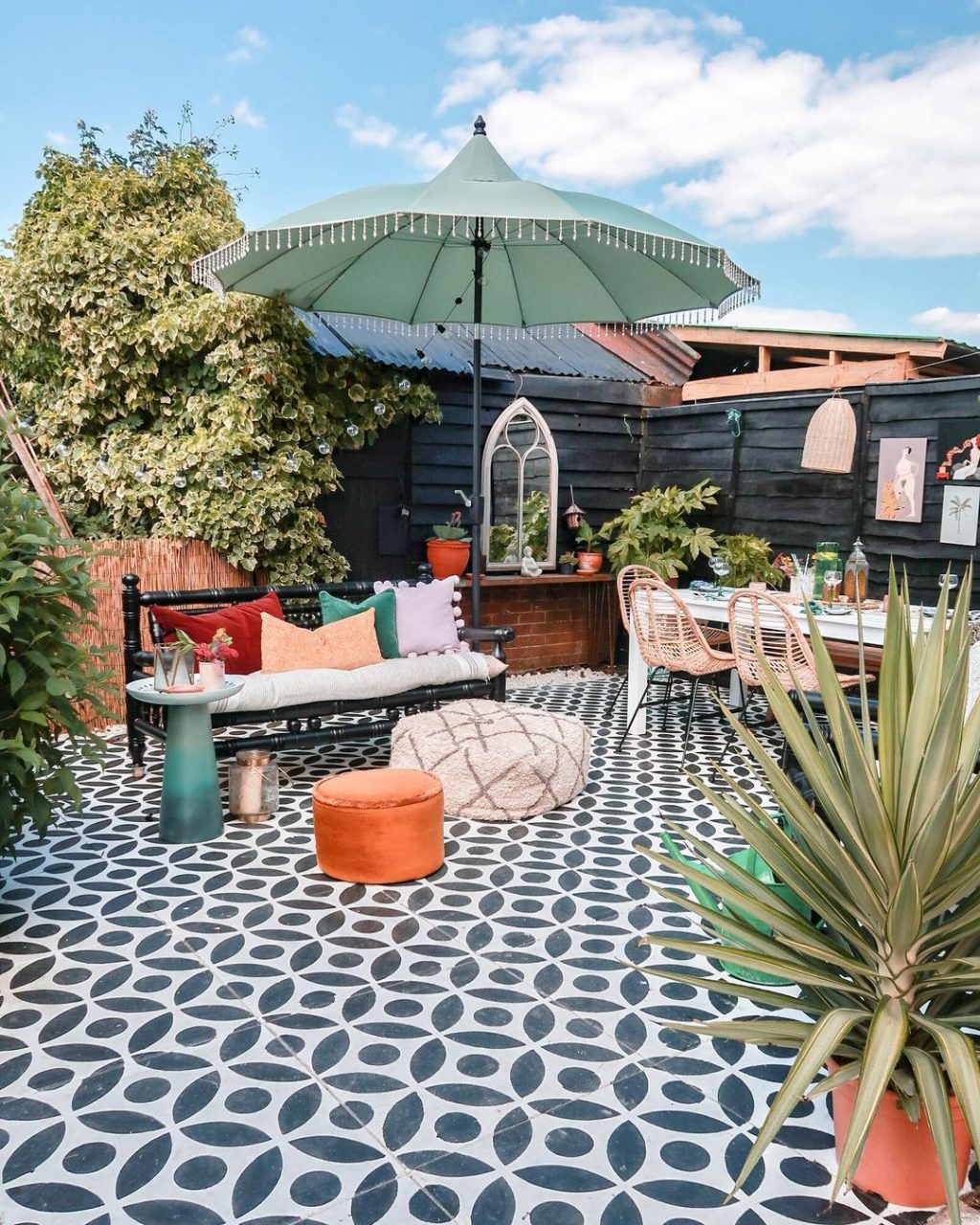 We love the splashes of colour in amongst the black and white decor in this outdoor space. The area was a DIY transformation with the patio hand stencilled, making it all the more impressive!
7 – Dazzling Outdoor Living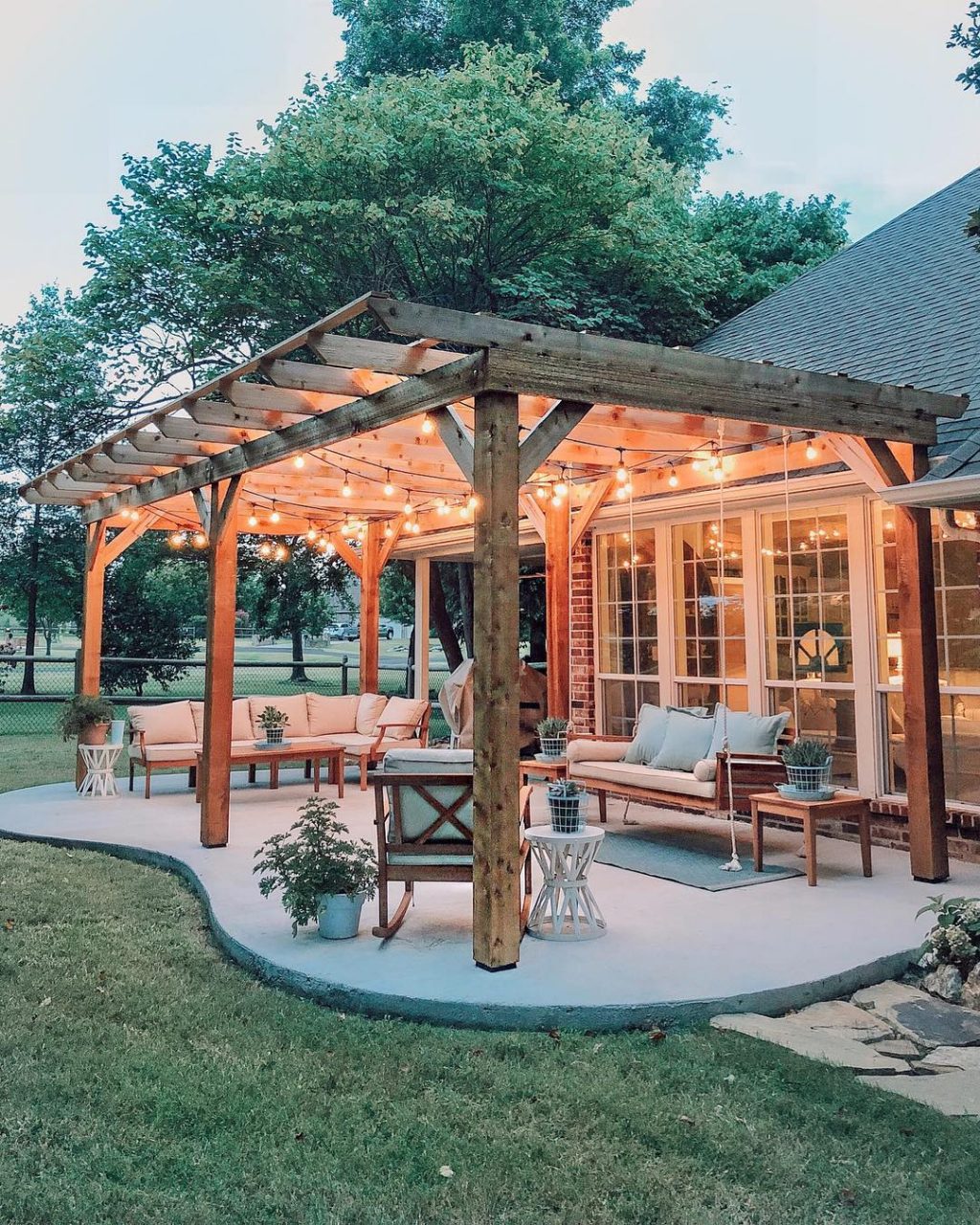 This outdoor space is perfect for making memories with friends and family. Add a fire pit in the colder months to keep it cozy, and in summer, relax and enjoy those warm days and nights!
8 – Light and Airy Meets Green and Earthy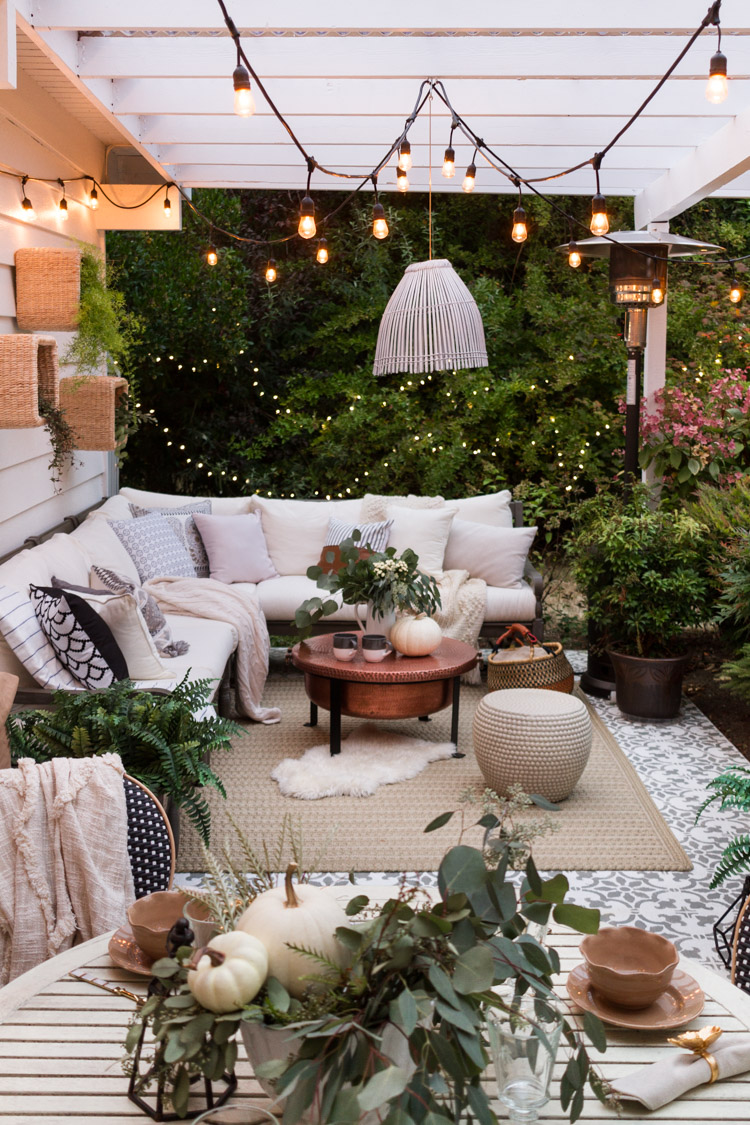 Here's a little fall outdoor space inspiration for you! The neutral-coloured decor lets nature (and the copper coffee table!) shine in this outdoor setting. It seems like the perfect place to curl up and admire the sunrise.
9 – Ideal Outdoor Dining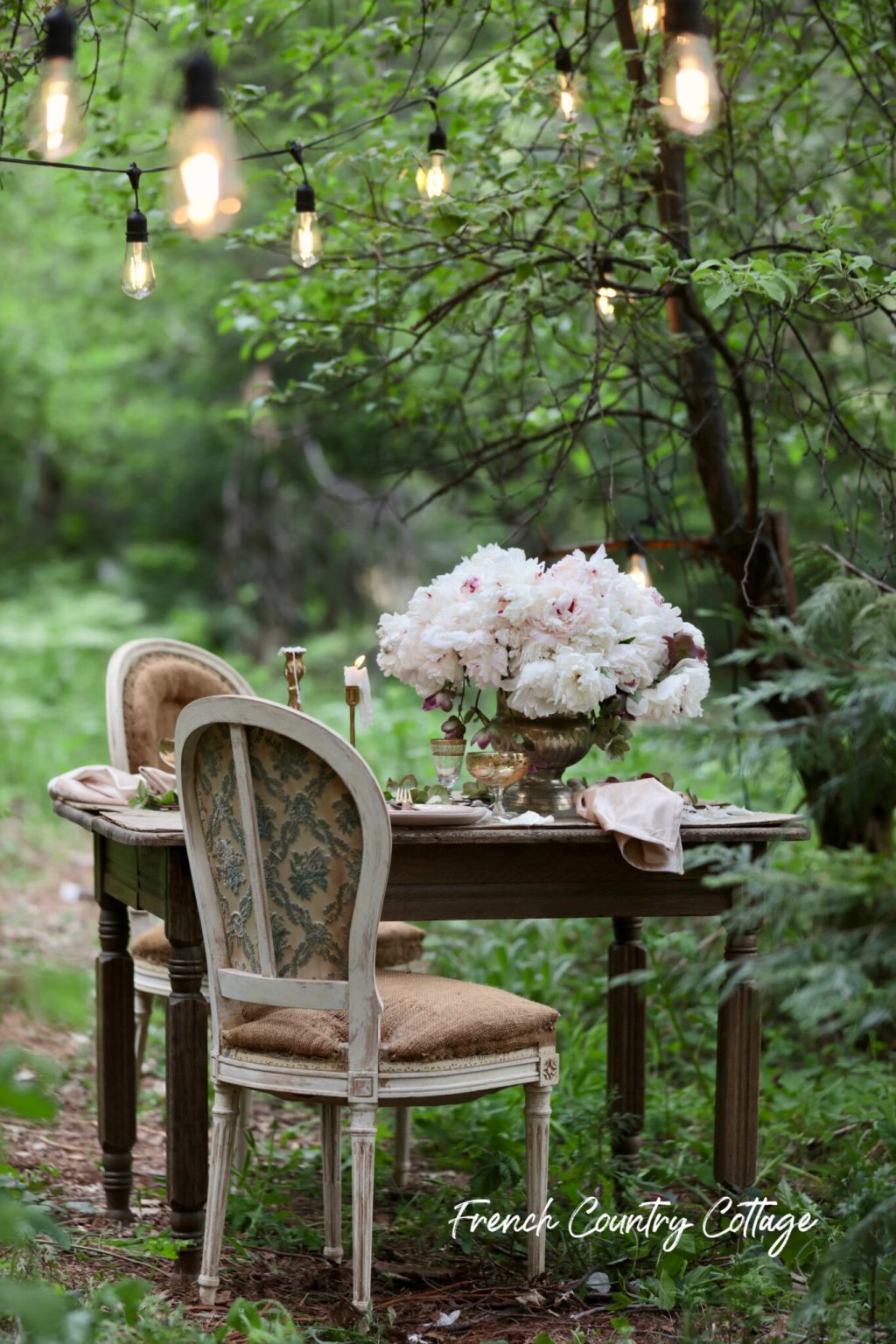 You don't have to overthink your decorating to create a cozy, romantic space. A table, some flowers, a candle or two and string lights work wonders to create a dreamy atmosphere for enjoying dinner in.
10 – Arbors and Elegance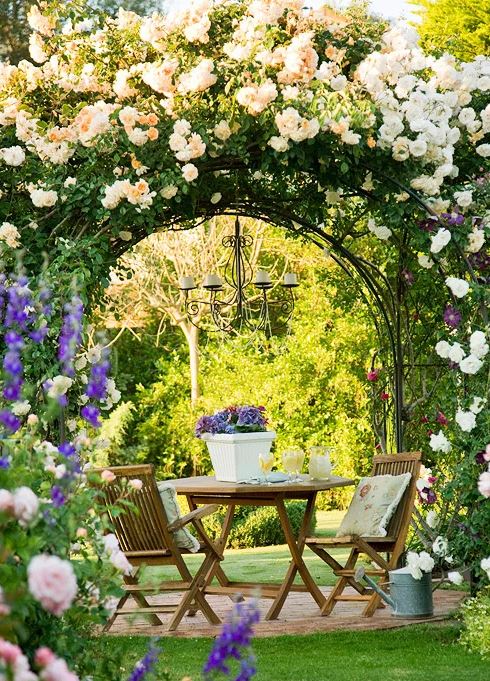 If you have some extra space in your garden, consider an arbor paired with climbing plants! It brings instant elegance and romance to your space and has the added benefit of creating a bit of separation in your space.
11 – A Lush, Green Sanctuary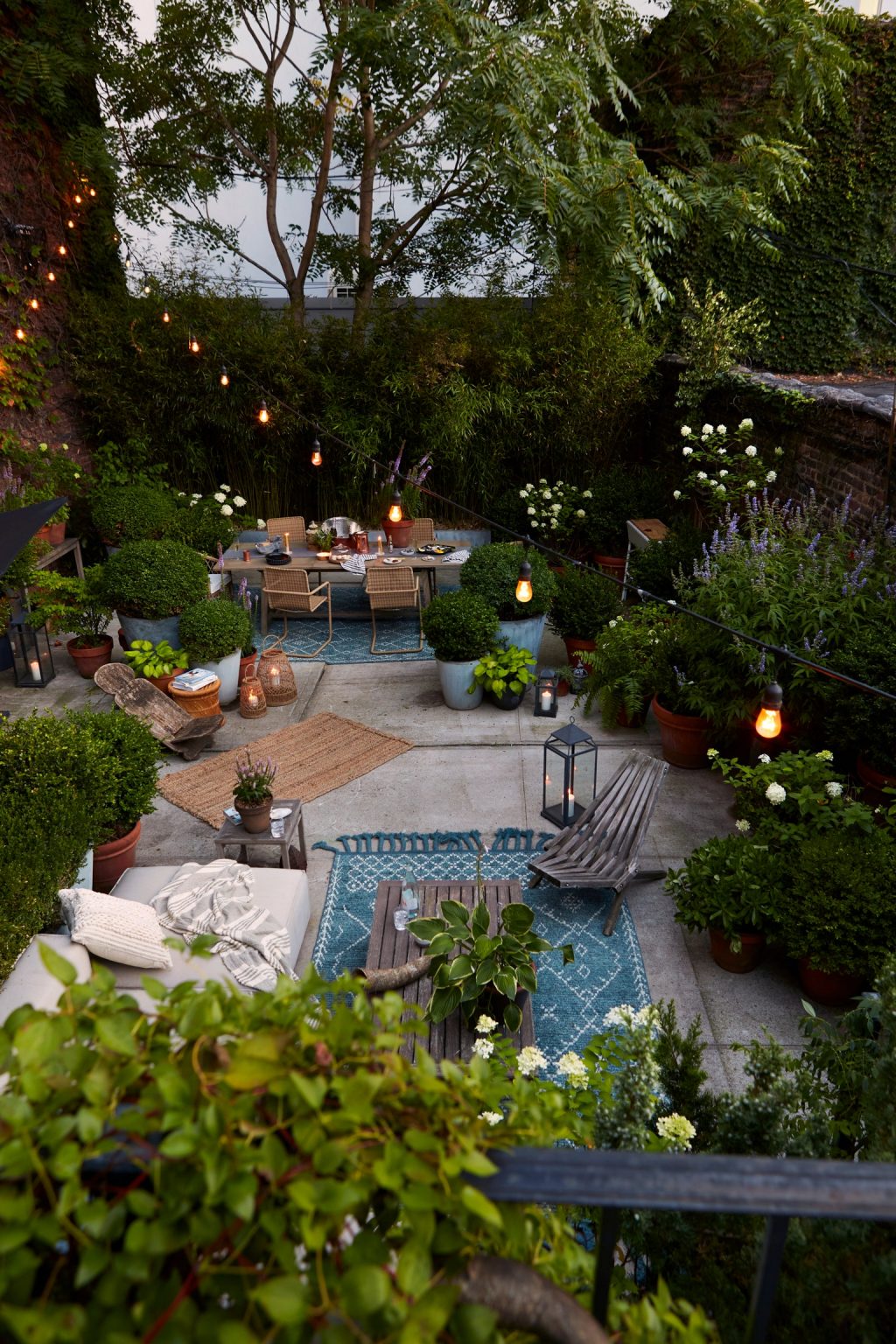 This space is an excellent example of how to create separate areas, divided by greenery and defined by colourful rugs. The plants, lights, and soft textures all provide a cozy contrast to the concrete ground and walls that would normally feel stark and cold.
12 – All About the Journey
Imagine journeying down this beautiful stone pathway to an open dining area next to an outdoor fireplace. Heaven! The curve of the path makes the whole space feel warm and welcoming.
13 – Black and White Made Cozy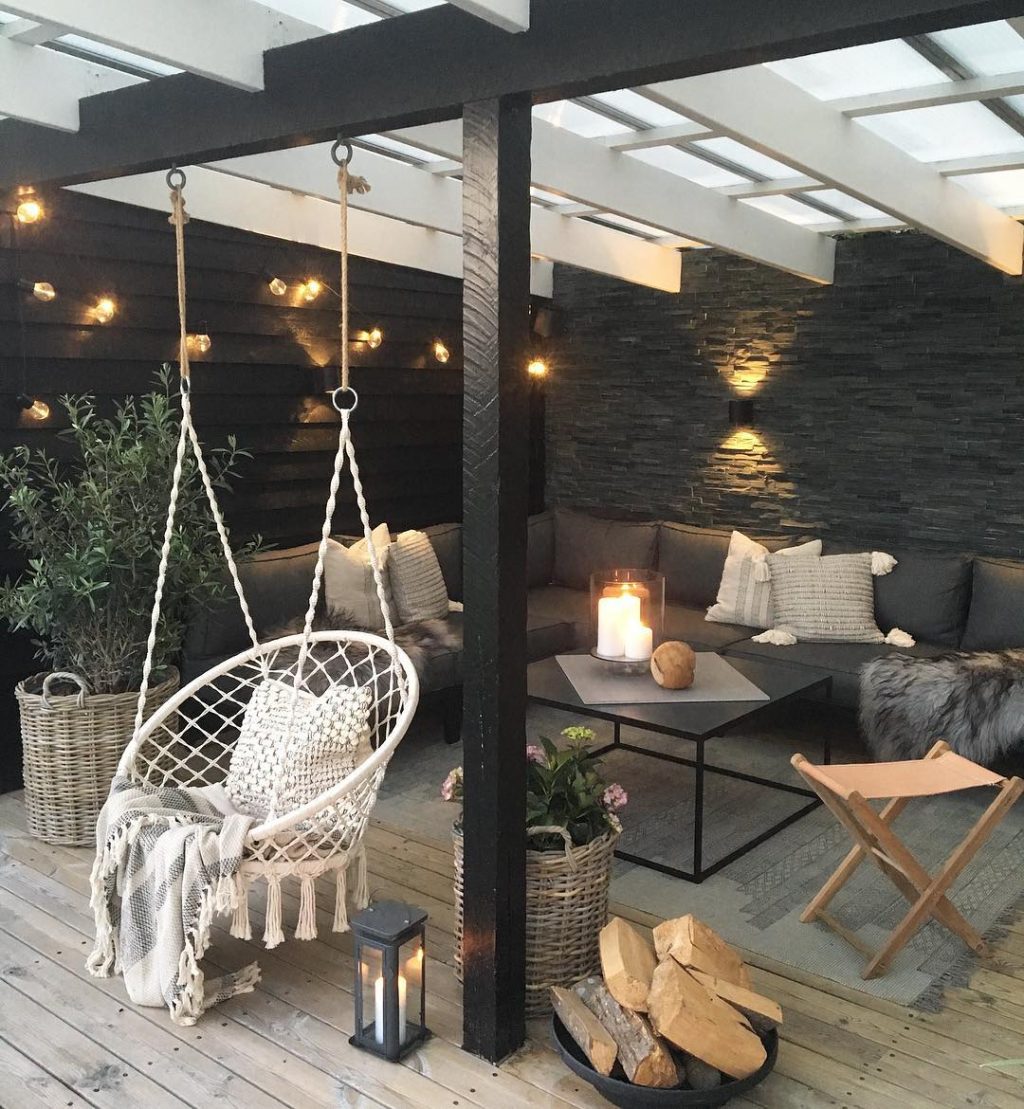 The warm wood floor, the swinging seat and the texture of the back wall, work together to create a cohesive, dreamy, cozy spot that would be perfect for entertaining or curling up alone with a good book!
14 – Socialize Around the Firepit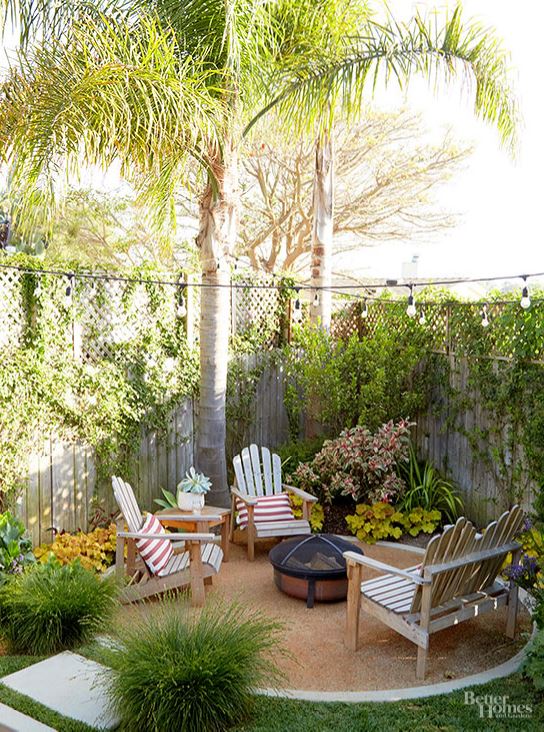 Gather round the firepit in this cute and circular space. The small space has a nautical feel like striped pillows, and of course hanging lights are a must!
15 – A Splash of Colour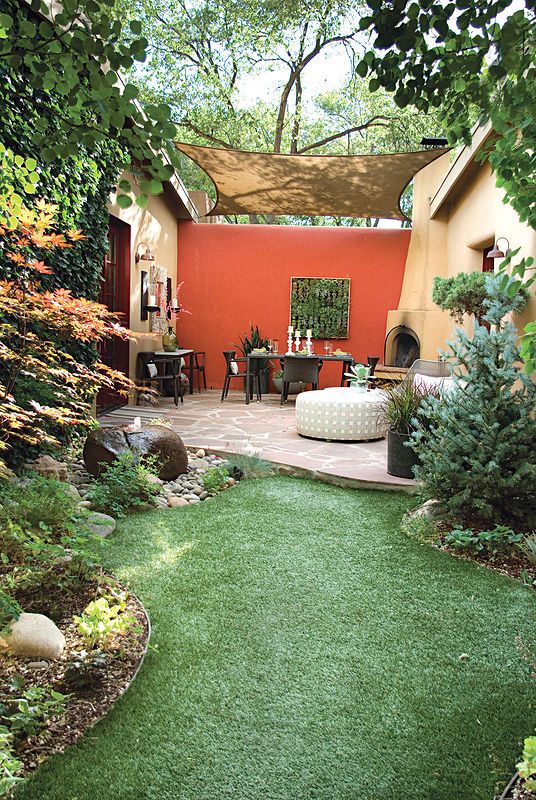 Having dark furniture works well in this outdoor setting, as the natural surrounds are full of vibrant colours. The space also features a canvas shade, which is ideal if you don't like being in the sun for too long.
16 – Bring the Inside Out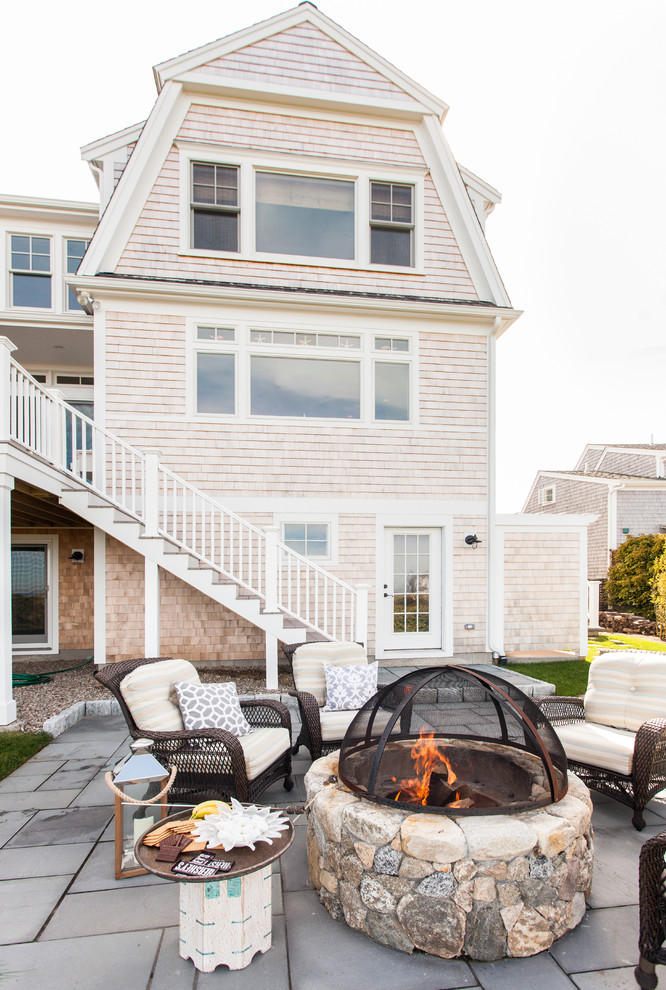 You don't need to get too fancy to have an amazing outdoor space. Sometimes, all it takes is some concrete blocks, a sturdy stone fireplace and enough chairs for your friends and family.
17 – A Playhouse for Children (And Adults!)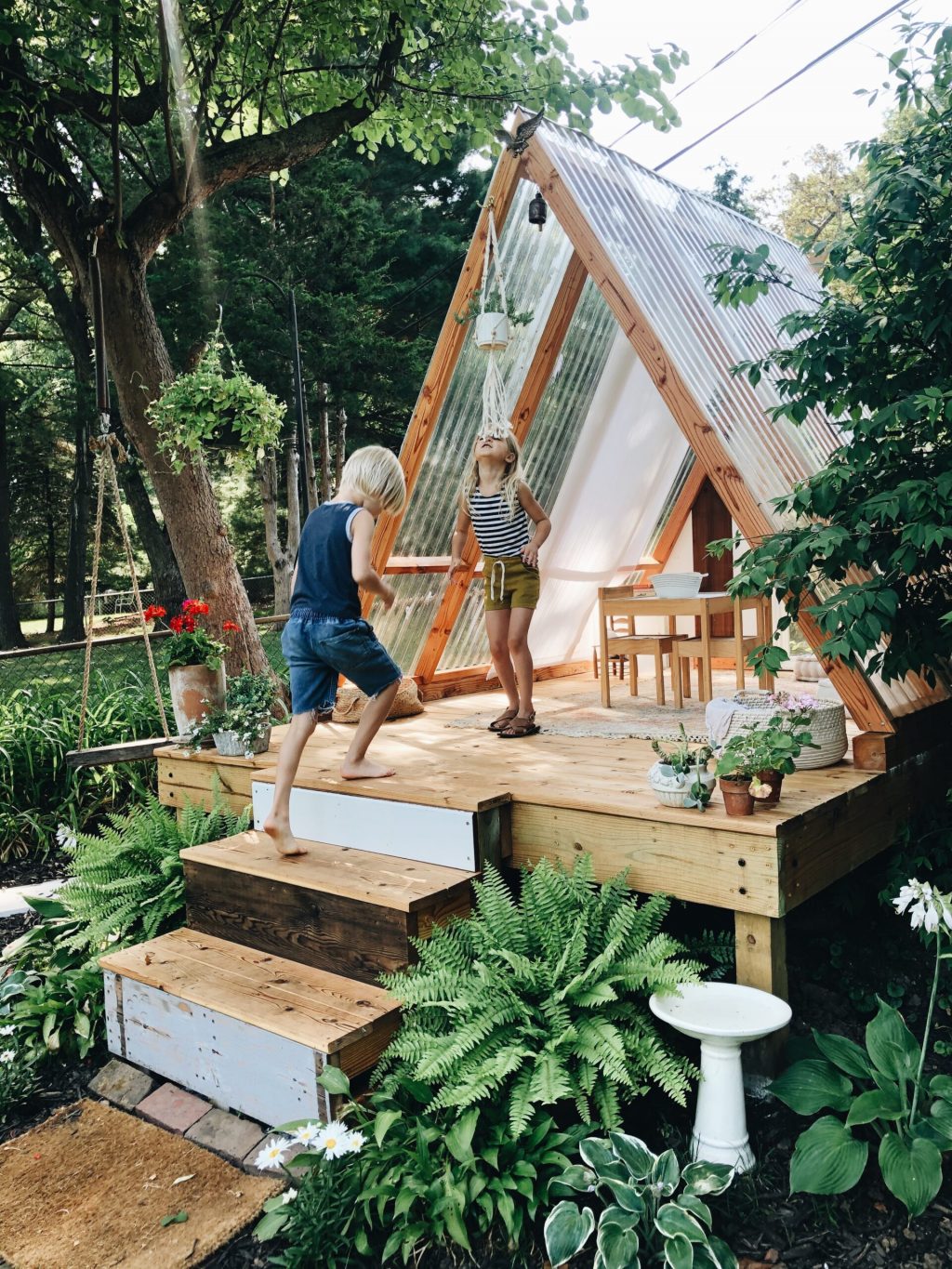 Whilst this playhouse was intended for children, let's be honest, you could recreate an adult version! We love the a-frame shape and the transparent roof, which creates an airy and light space.
18 – Flexibility is Key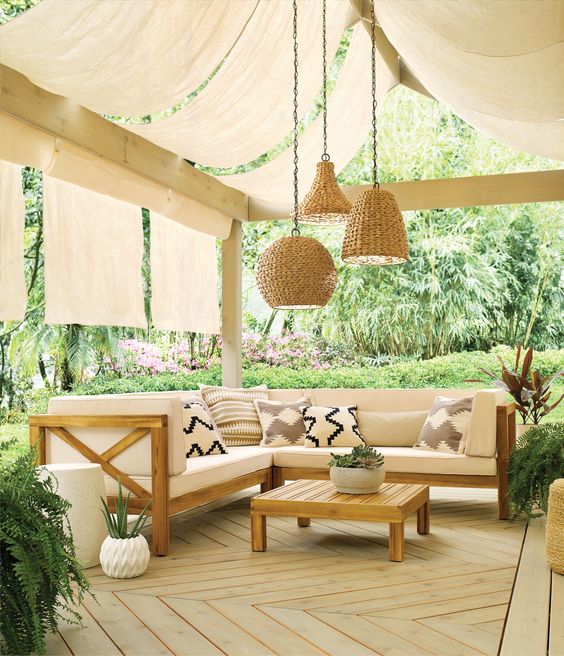 This beautiful outdoor space uses consistent materials and furnishings, meaning that you could change the cushions regularly – essentially, you could revamp the look as often as you please! And aren't the pendant lights just gorgeous?!
19 – Add a Colourful Rug…or Two…or Three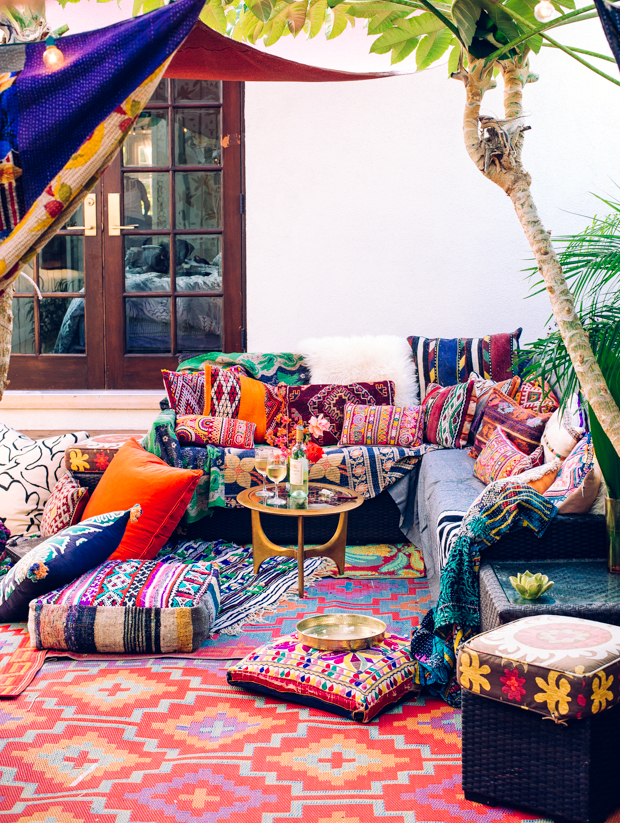 Whilst many of the previous images highlighted how beautiful neutral colour spaces are, here is an example of how vibrant colours can bring the area to life! It goes to show that you shouldn't be afraid of mixing patterns.
20 – The Best of Both Worlds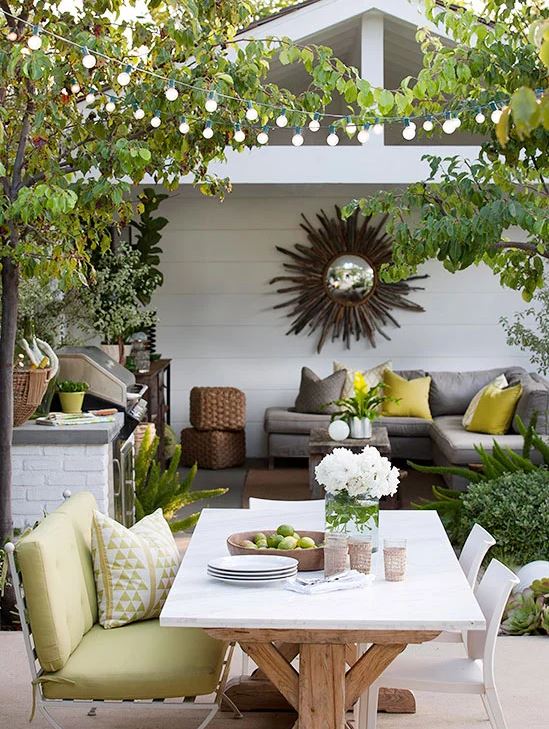 To round out the list, here is an example that uses neutral colors with pops of bright tones – who said you couldn't have the best of both worlds?! Once again, this outdoor setting uses a mirror which we sense is a big trend for outdoor spaces right now.
PIN THIS:
Last Updated on