It can be a daunting task to capture autumn beauty in photos. Everything about the Fall season – the vibrant colours, crisp air, spiced comfort foods, the cozy nights by a fire – contributes to an indescribable beauty that requires all five senses to communicate. Trying to capture that without a professional photographer on hand is like trying to bottle up time.
However, these 25 fall photoshoots beautifully accomplish the task of conveying the sight, sound, taste, smell, and feel of the season!
Whether you like to take photos for Instagram, to commemorate a special occasion, or just as a fun activity to do with friends, we have great ideas for you.
Keep scrolling for photos that will inspire you to pick up a camera, be creative, and practice growing your photography skills – you'll make some memories in the process!
Find a Rustic Bridge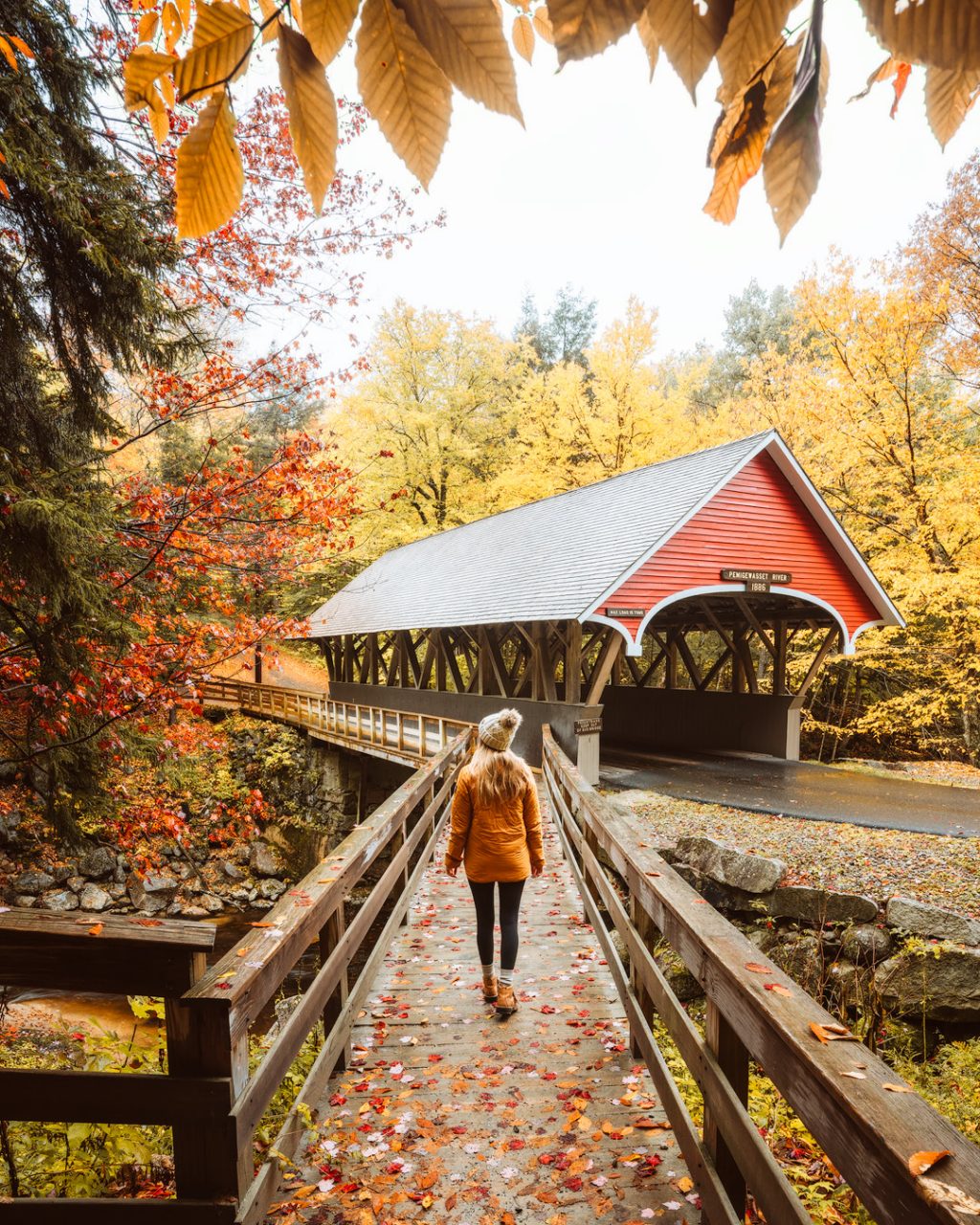 Play tourist in your own area, exploring a state or regional park for unique photo spots. Bridges, fences, and more landmarks common to parks are a great background for fall photos. Using a wide-angle lens will allow you to fill your frame with ALL there is to see.
Go on a Fall Picnic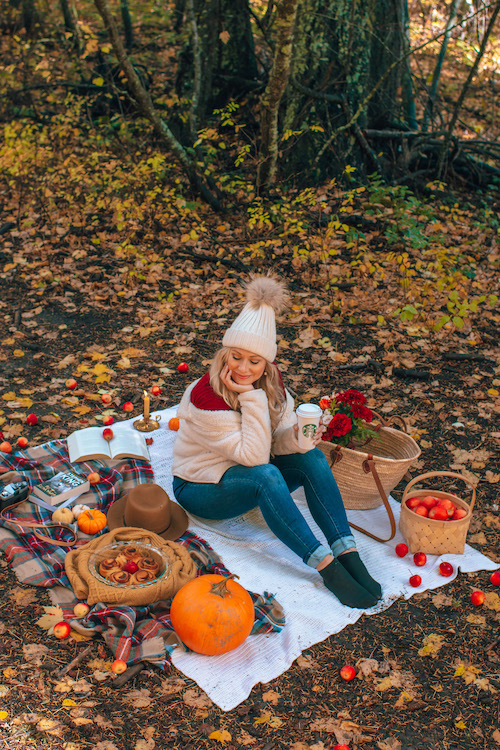 Every prop in this picnic photoshoot evokes all the fall feels! You can tailor-make this idea for yourself, incorporating as many different fall-themed pieces as you would like. This would be a fun shoot to do with your BFF among the fall foliage!
Spend a Day at the Pumpkin Farm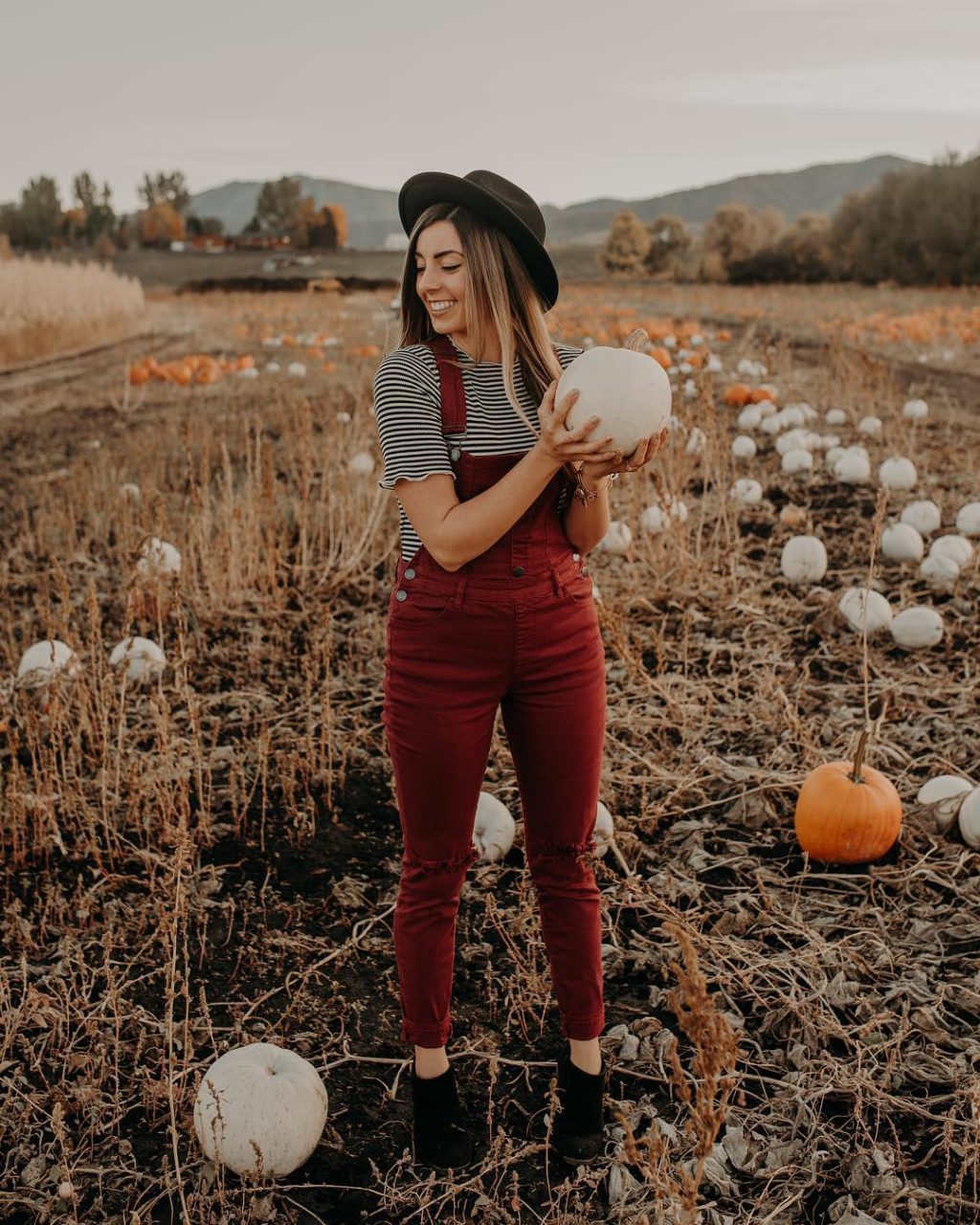 Put on a cute outfit in a rusty color palette, and take a walk through the pumpkin patches for an easy and memorable fall photoshoot! Bring your family along for some candid photos as well.
Embrace Your Inner Cottagecore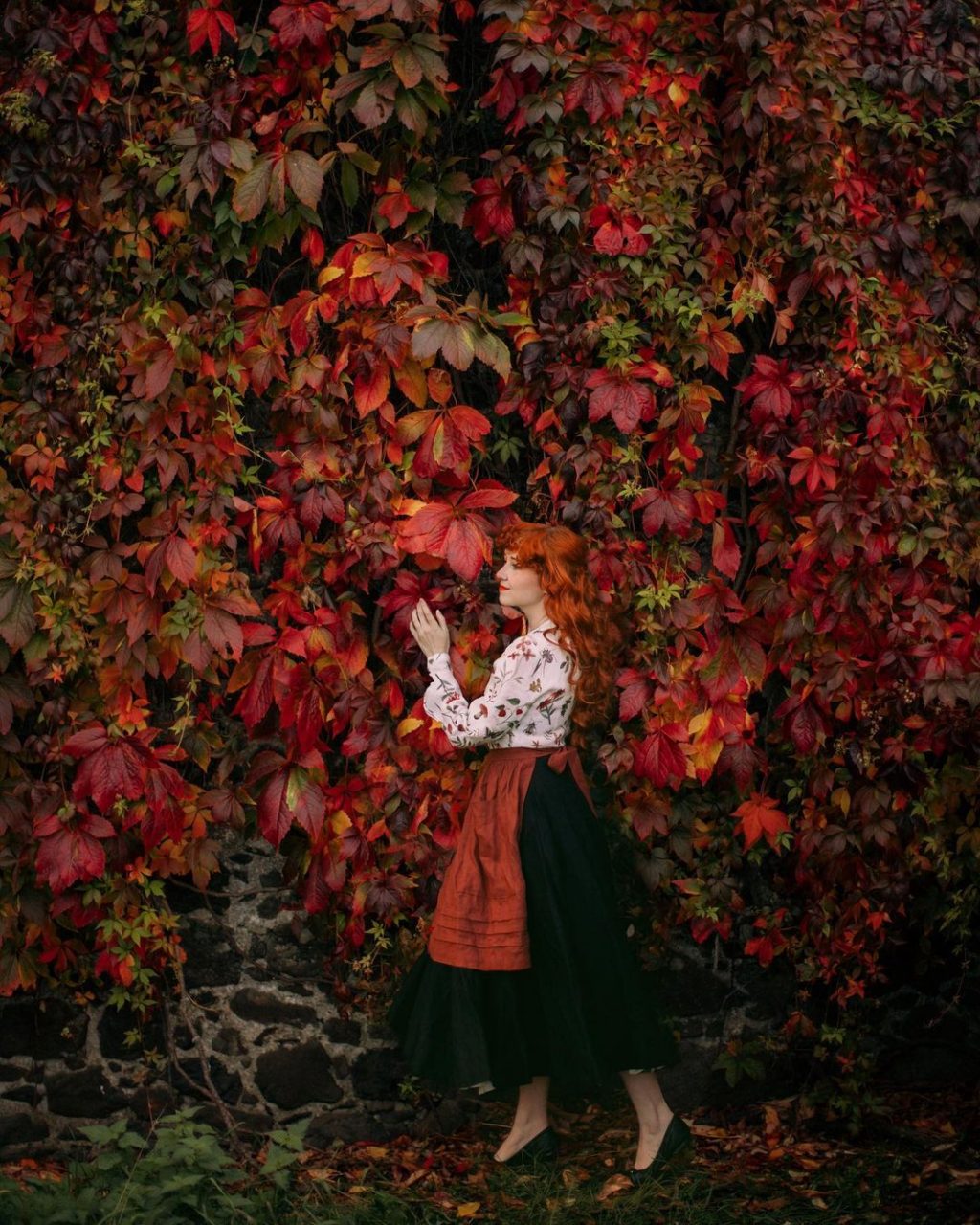 Photo by: @aclotheshorse
Embrace your inner Anne of Green Gables and create a Fall photo shoot inspired by cottagecore. You can go as heavy or as light on the aesthetic as you like, but one thing's for sure – fall and pretty old fashioned dresses go together like pumpkins and spice.
Decorate A Pretty Fall Porch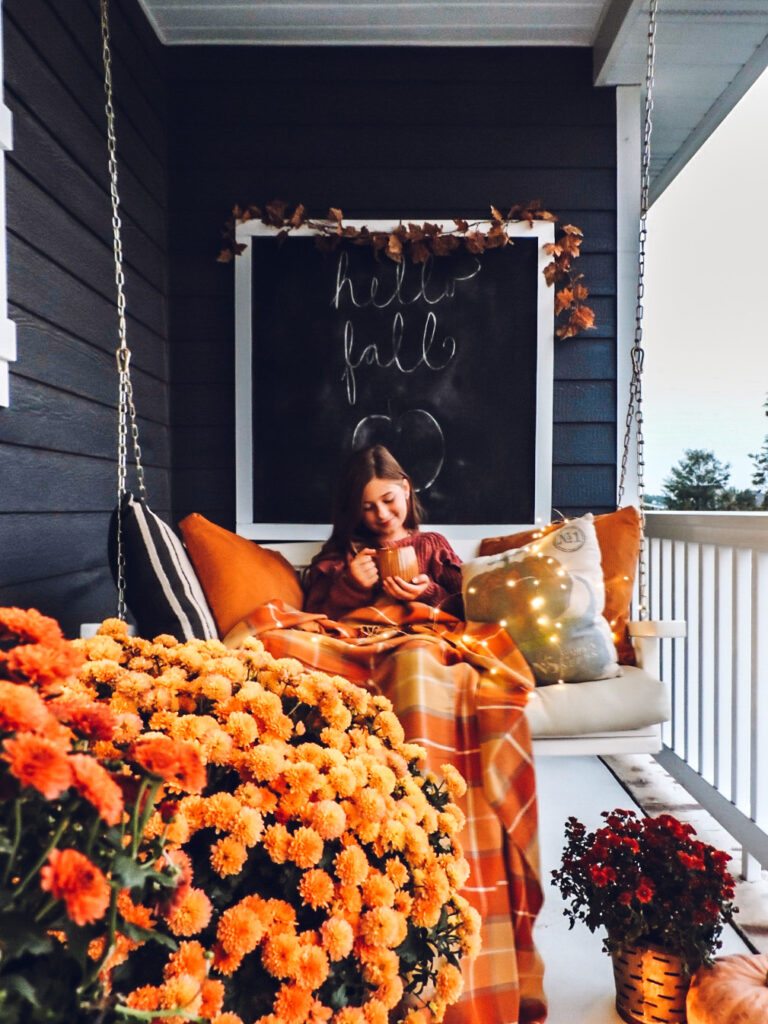 Decorate your own front porch with pumpkins, mums, and a fall wreath, and take some great photos of you or your people enjoying the fall vibes. Grab a cup of apple cider or a pumpkin spice latte and get cozy. This is a great way to be able to enjoy your decorated porch all season long!
Keep it Simple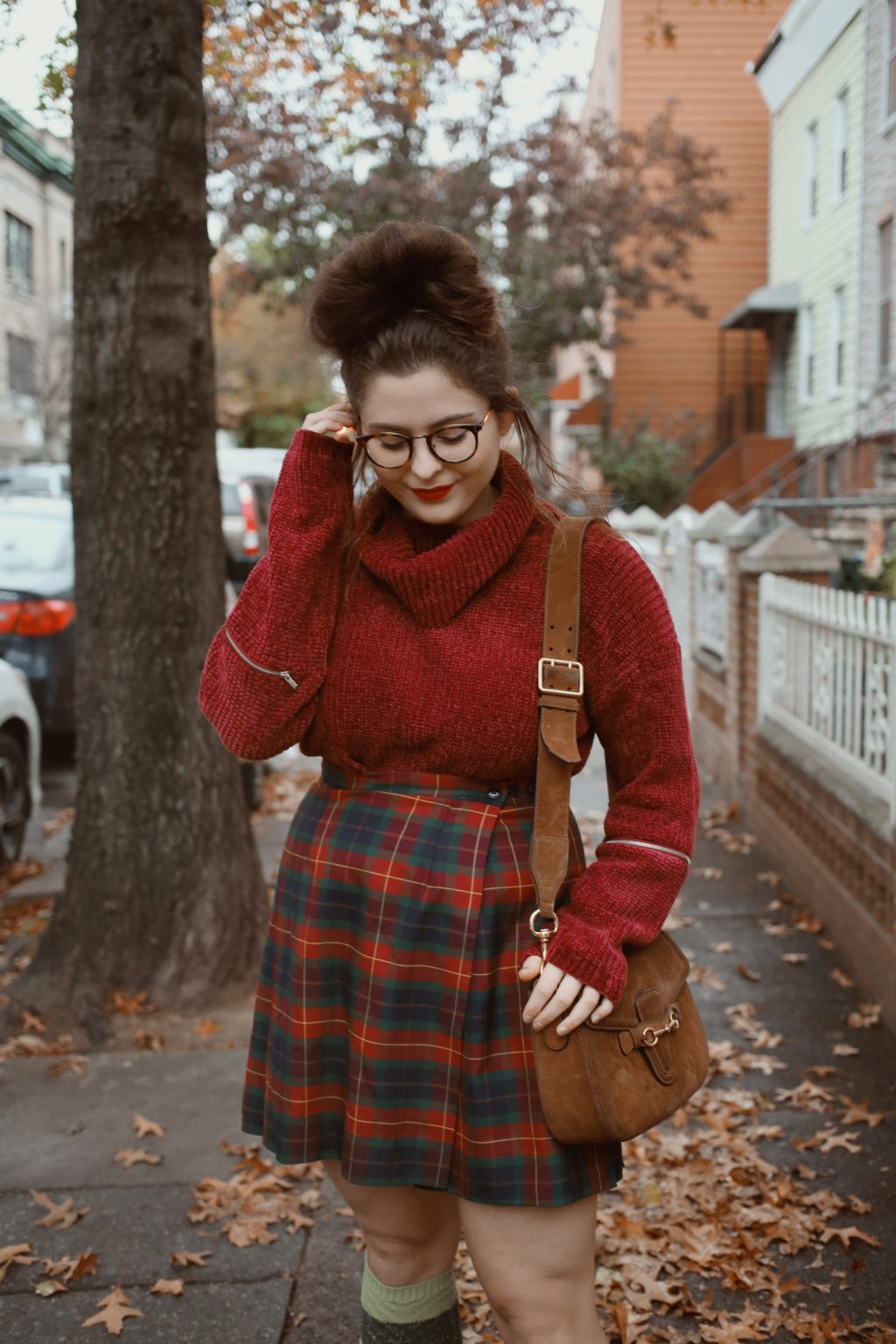 Sometimes the best way to create a vibe is to shop your own closet for an outfit and create an autumn photo session that utilizes the natural lighting and warm, harvest-toned shades of the season. This simple city sidewalk works well as a backdrop, showing you don't have to go far or go to a lot of effort to capture your fall memories.
Visit a Farm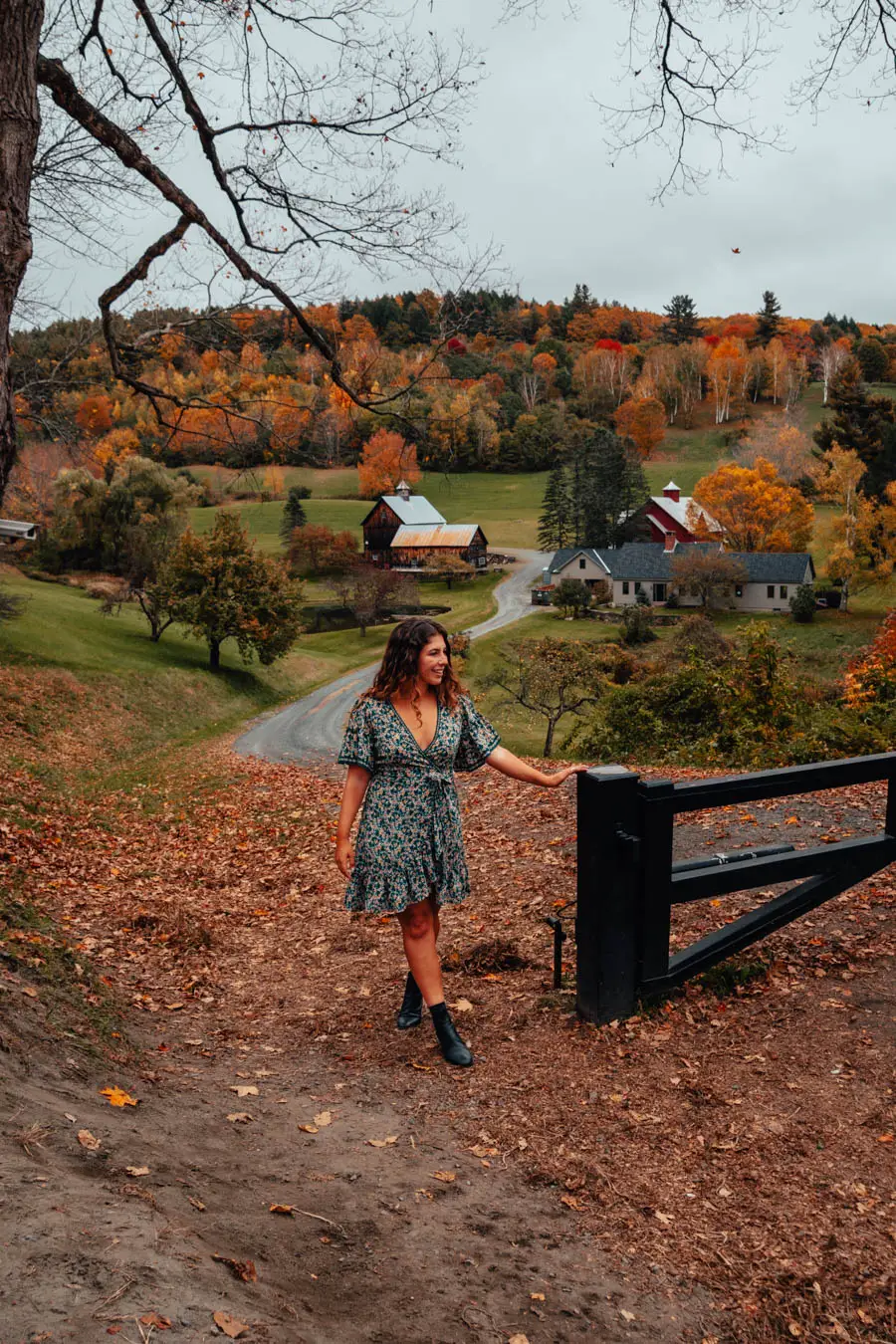 Research local farms that are open to visitors (or visit a friend's farm) to find a treasure trove of unique photo ops, whether with animals, unique outbuildings, or a simple background with a rustic fence. The fallen leaves and a lot of trees make for such a photographic and beautiful background.
Small Town Charm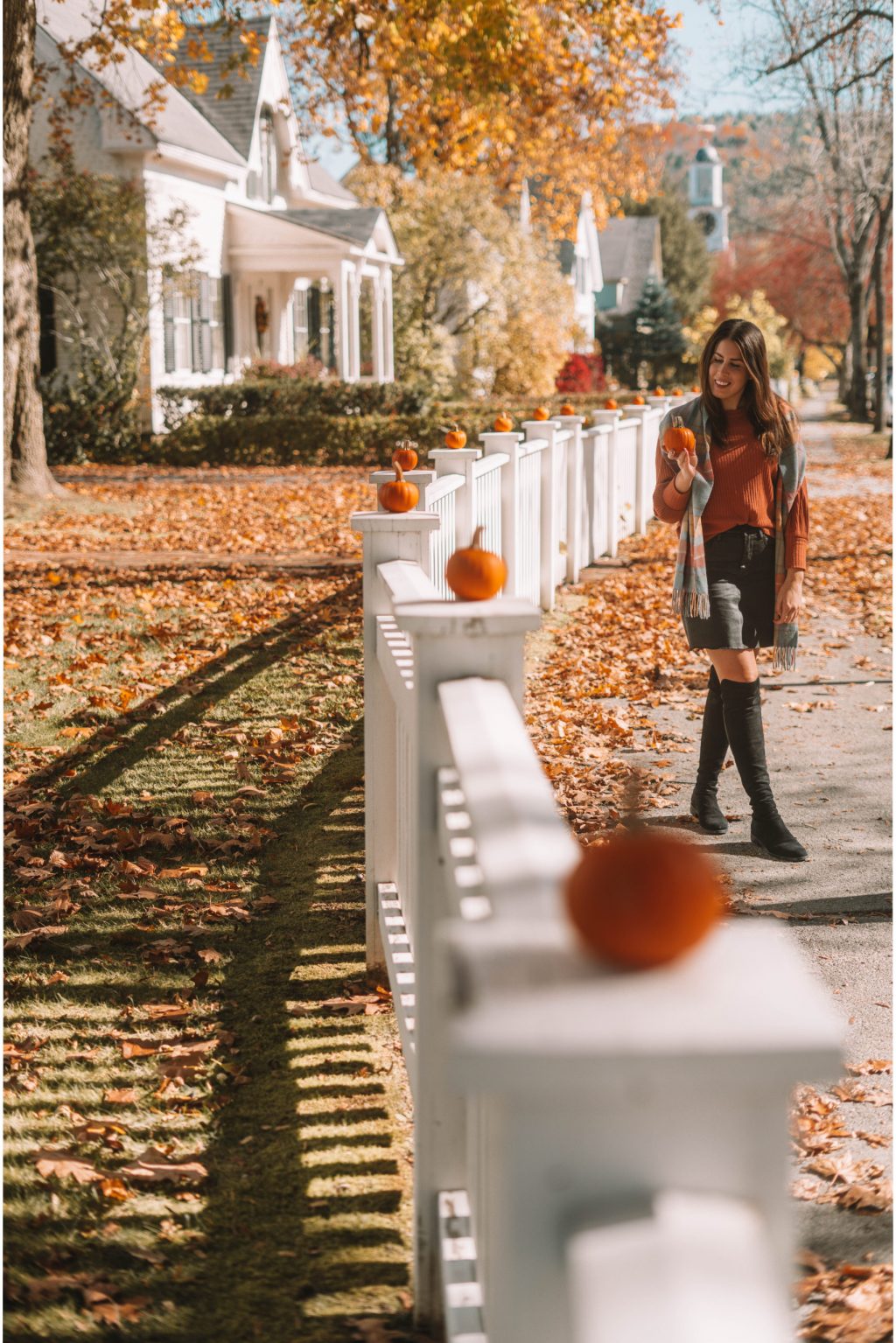 A great street can make for the perfect backdrop. You don't need to own a historic home to take a sweet photo like this! We all know of a street full of houses we'd like to own or a great place to walk. Make believe you own the place and take some photos while taking a walk down the street!
Visit an Apple Orchard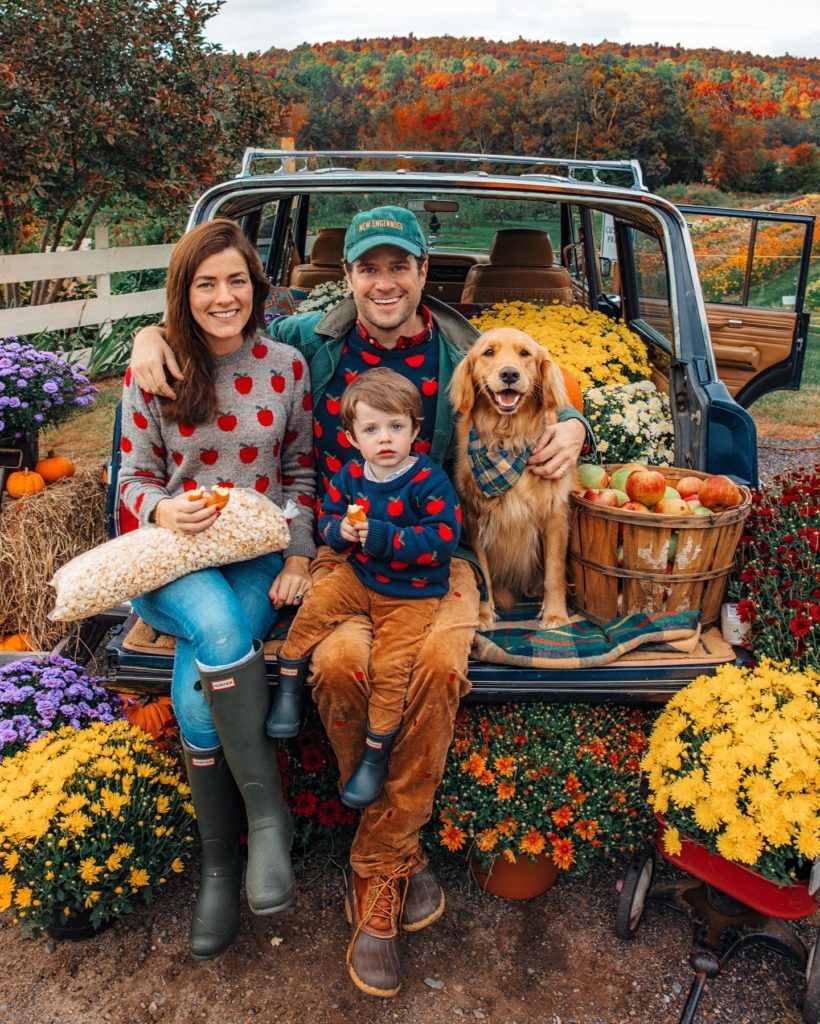 Get the entire family involved and go apple picking! Recreate this adorable picture with your family or friends. Luckily it's easy to find pick-your-own apple orchards or cider mills with an abundance of great photo spots like this! A fair Isle knit sweater and kettle corn are not optional.
A Weekend at the Cabin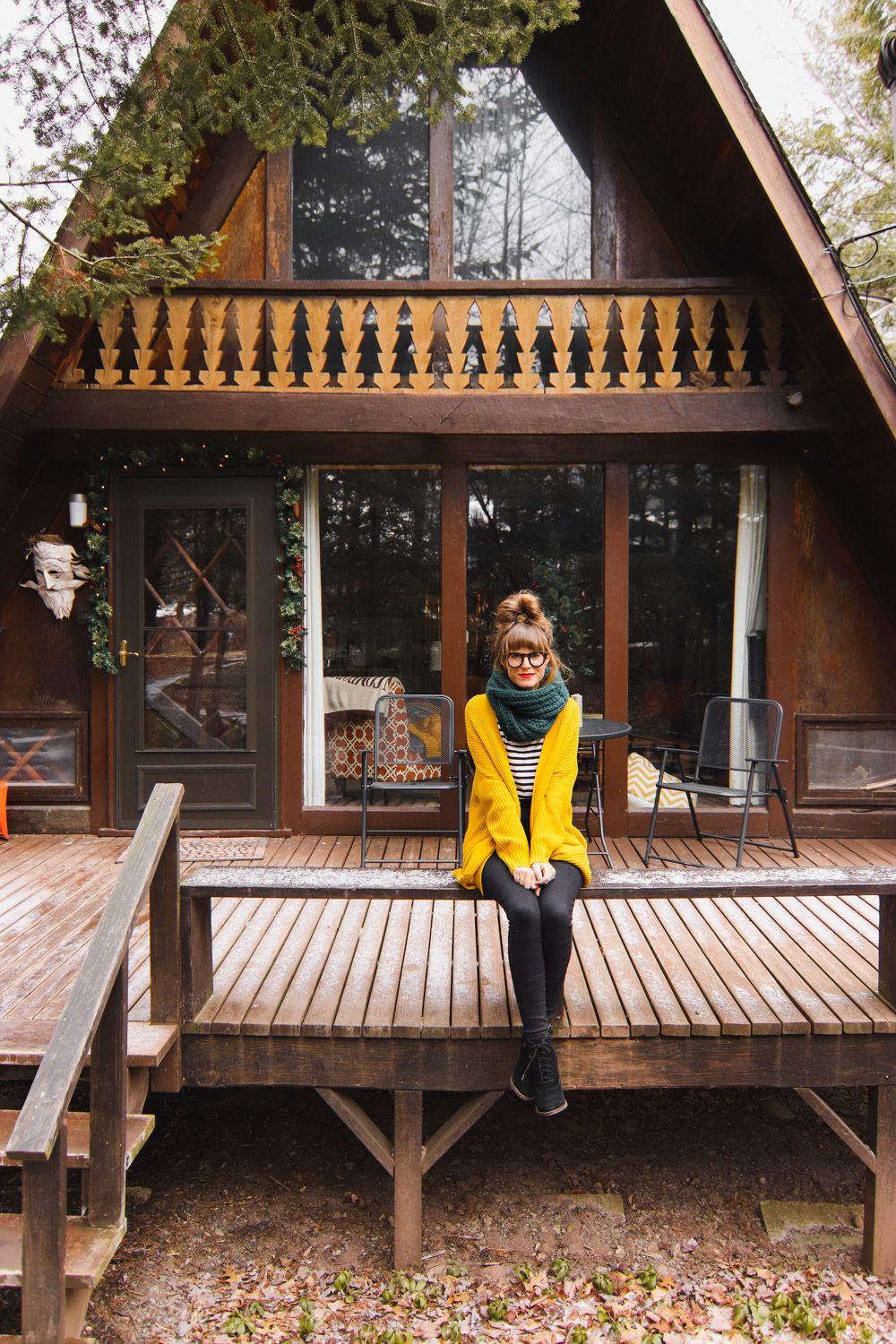 Borrow a friend's cabin or rent an Airbnb and capture some photos at a great location! There's something about a cabin that is the quintessence of fall–think chilly nights spent by the fire, cozy flannel blankets, and chilly mornings drinking coffee on the porch.
Play in the Fall Leaves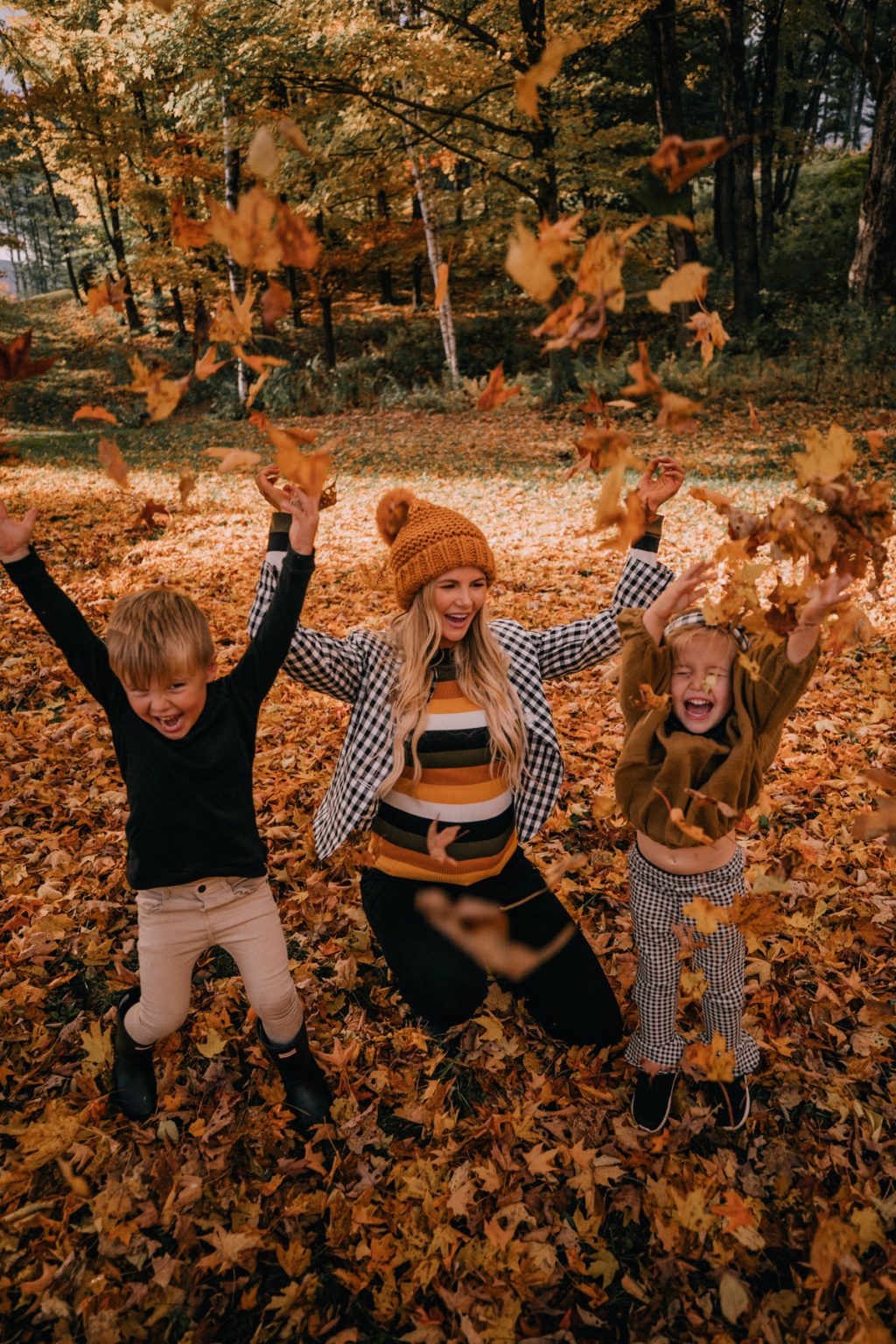 Having fun is always a good idea! You don't need a fancy setup to capture the ultimate family fall photo–it can be taken in your backyard! You could also try a version of this shot with friends or create a family photoshoot. It doesn't have to be perfect–just be sure to snap lots of pictures–it can be hard to capture the falling leaves at just the right moment!
Create Your Own Pumpkin Patch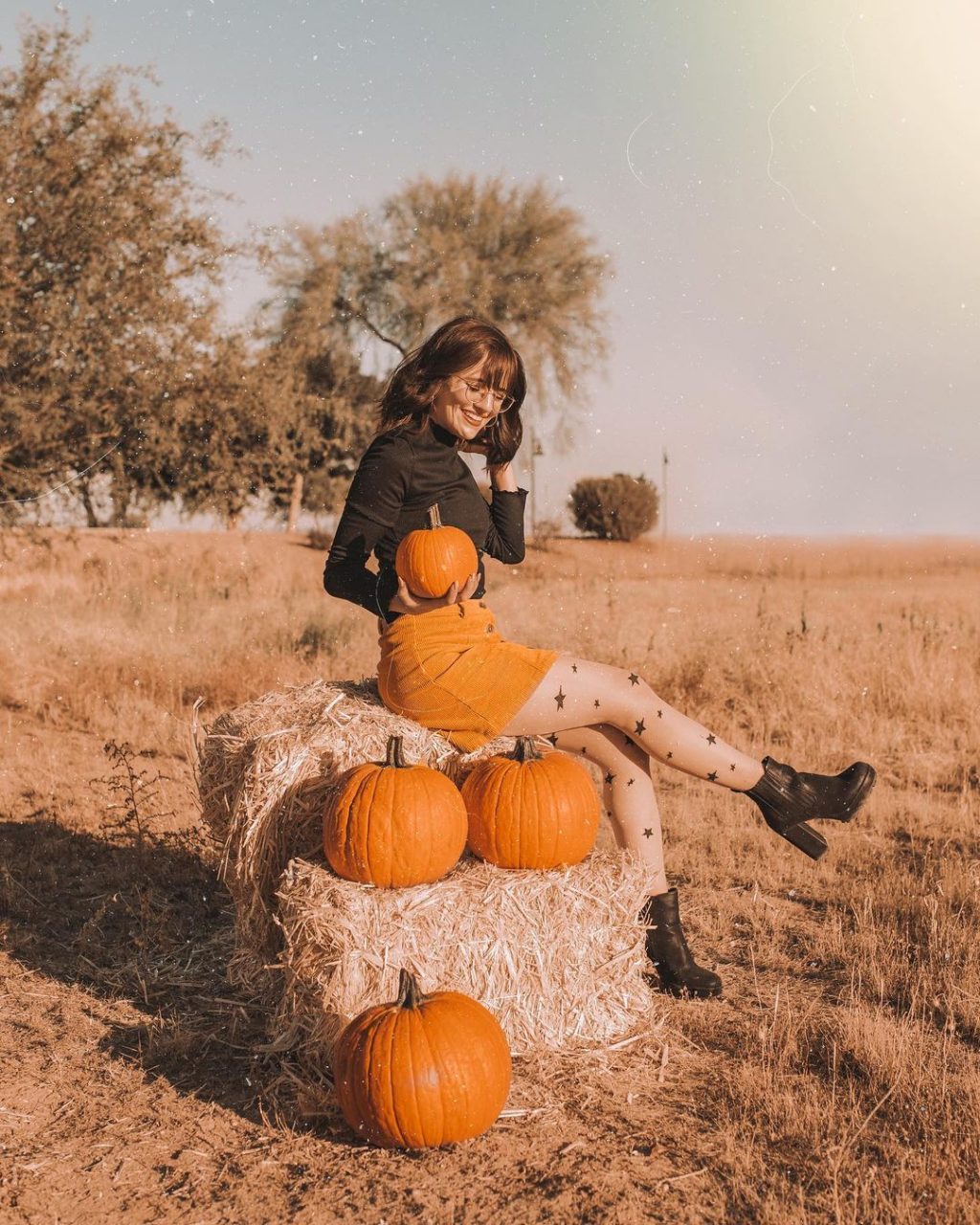 If you don't have a local pumpkin patch, create your own in a field with a few pumpkins from the grocery store and some hay bales from your local farm supply store–you could also get creative with additional props. It's also a great idea to plan your outfit for the seasonal shoot!
Enjoy The Scenery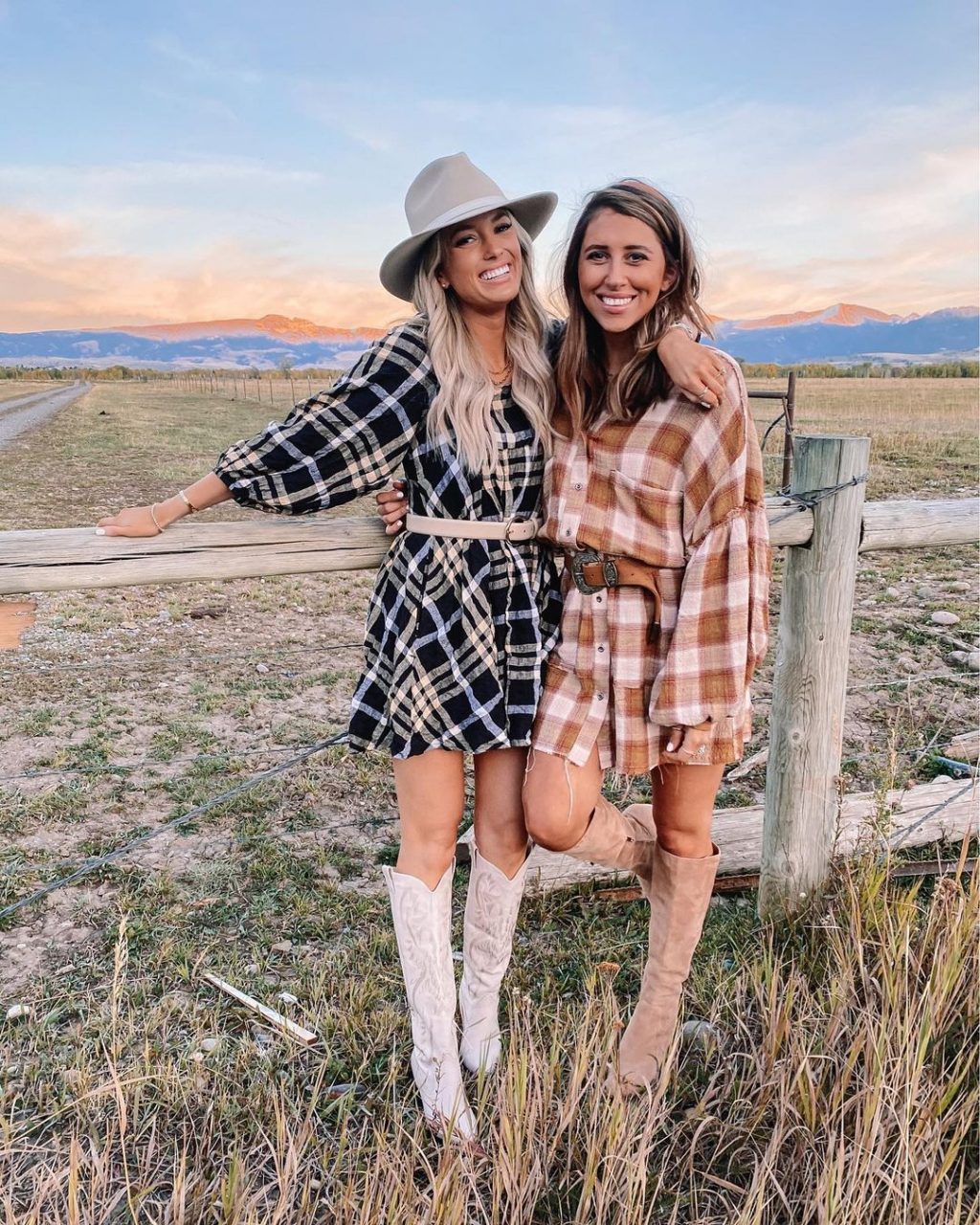 This photo idea proves you don't even need to wait for peak fall colors to take a pretty fall photo. All you need is a background as simple as a rustic fence and a cute plaid outfit and cowboy boots… of course the jaw-dropping mountains are what really makes this photo! The best time to shoot Fall photos? During golden hour of course! The warm tones of the sun setting are perfect for this time of year.
Take a Walk In The Woods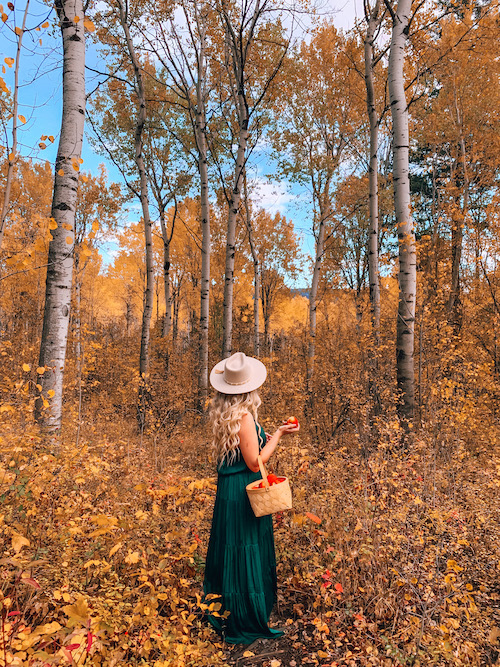 If you want to try something different than the typical fall outfit for your photoshoot, try this unique option in the woods. We love how the color of the teal dress pops amidst the changing leaves. If you can find some birch trees, all the better!
Get Lost In a Corn Maze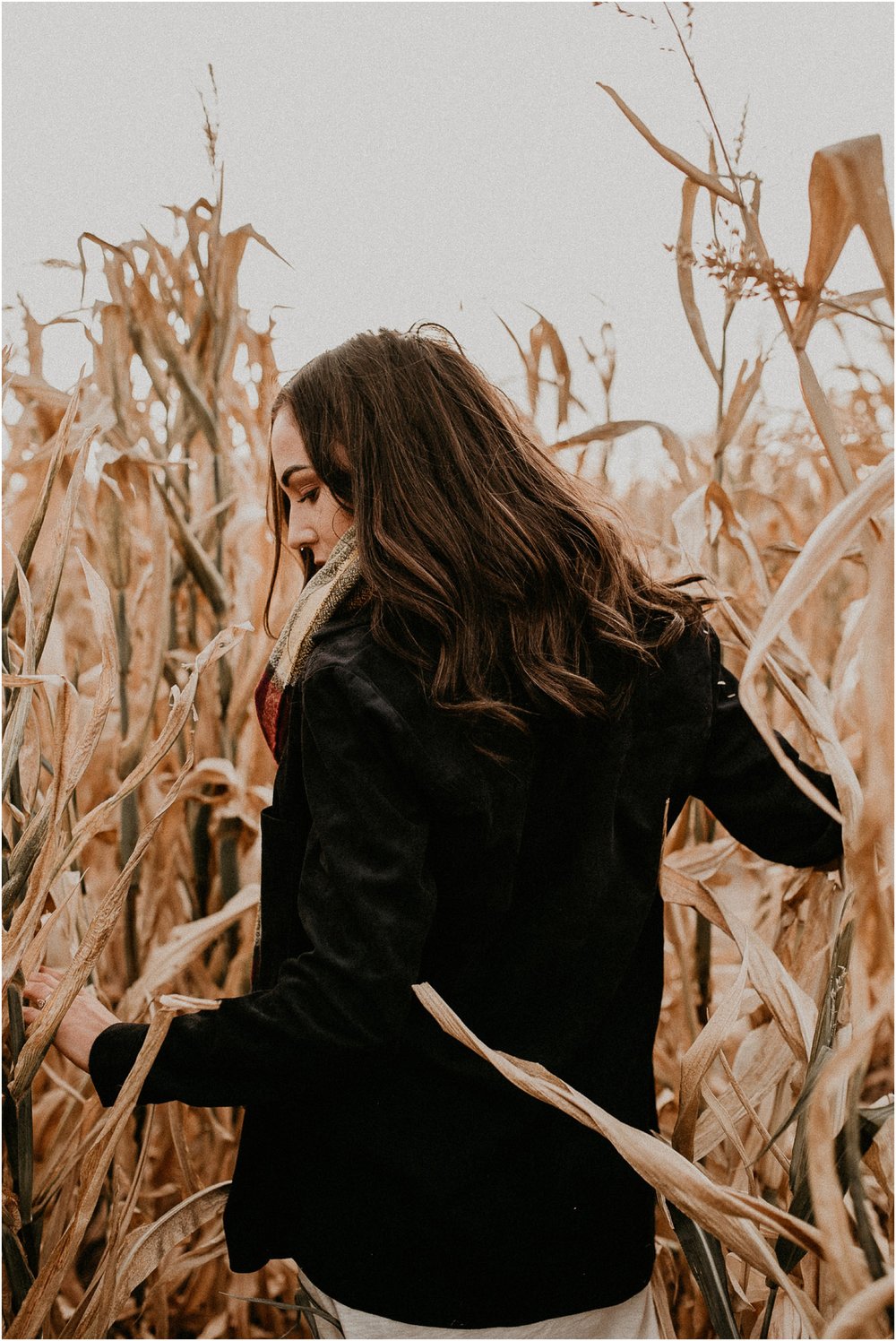 A corn maze is the ultimate fall bucket list experience, and you will enjoy it with or without a camera. So recruit some friends to tag along in the corn field and snap some pictures together–you'll be glad you did!
Borrow a Vintage Truck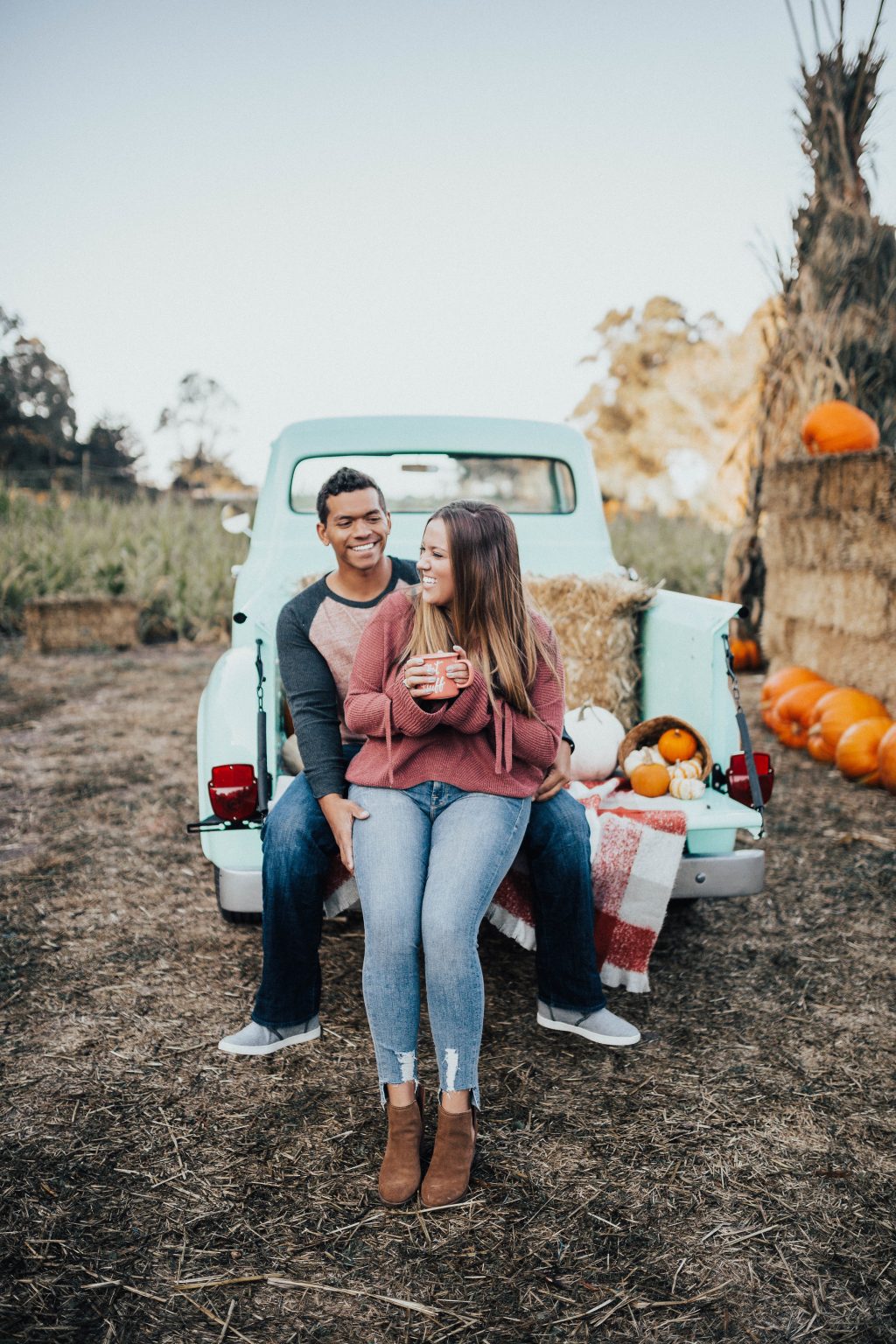 This is the quintessential fall photo! Borrow a vintage truck and add your own photo props (think plaid blankets, pumpkins, and cute mugs.) You can also visit a pumpkin farm that has a ready made photo spot like this. We love the turquoise and rust color scheme of this photo!
Take a Walk Through The Sunflowers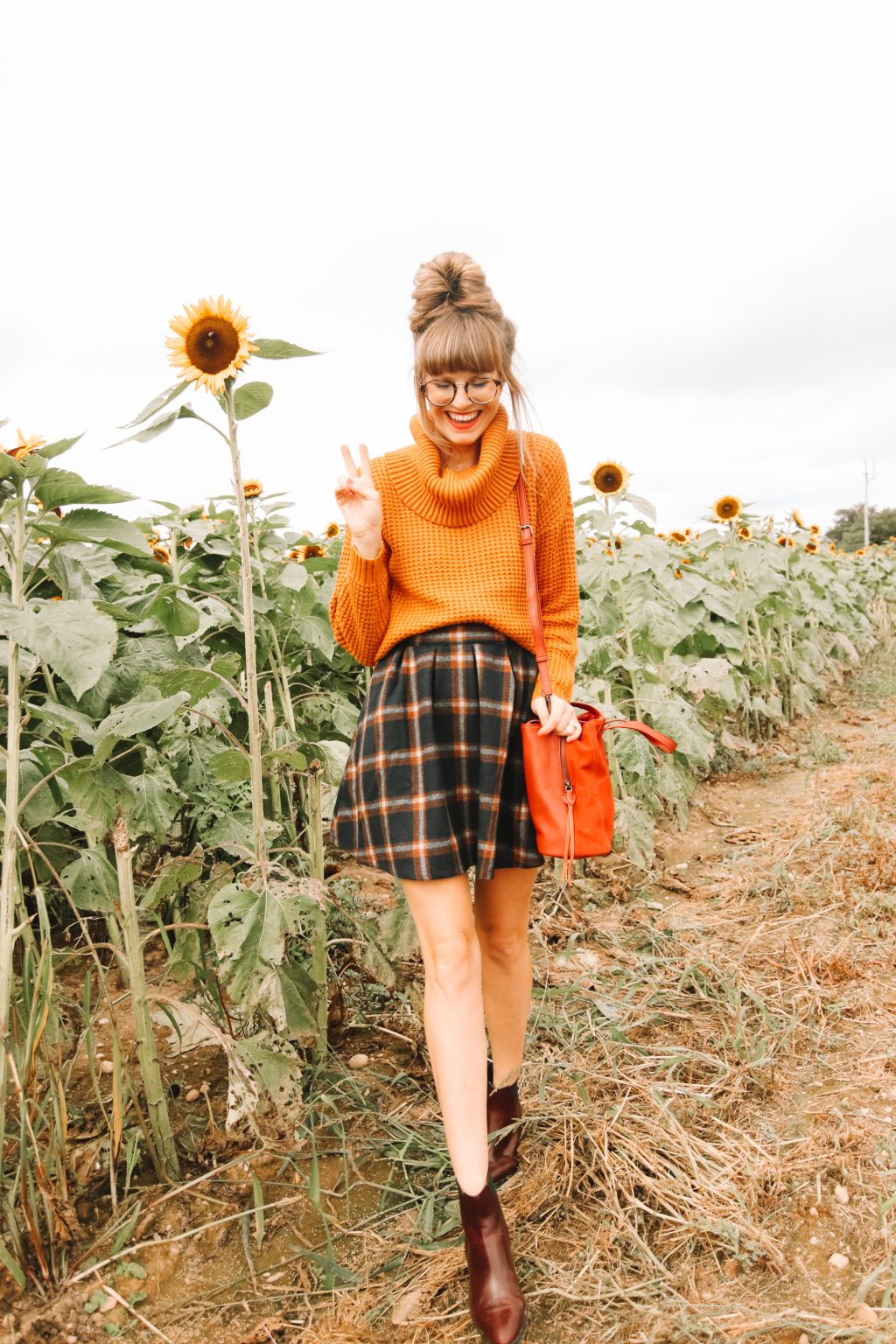 Sunflower season goes through September, so they've become synonymous with fall decorating. If you can find a patch of sunflowers, get yourself a cute fall outfit, and have a friend take some photos of you taking a walk through the sunflowers. Simple and sweet!
With a View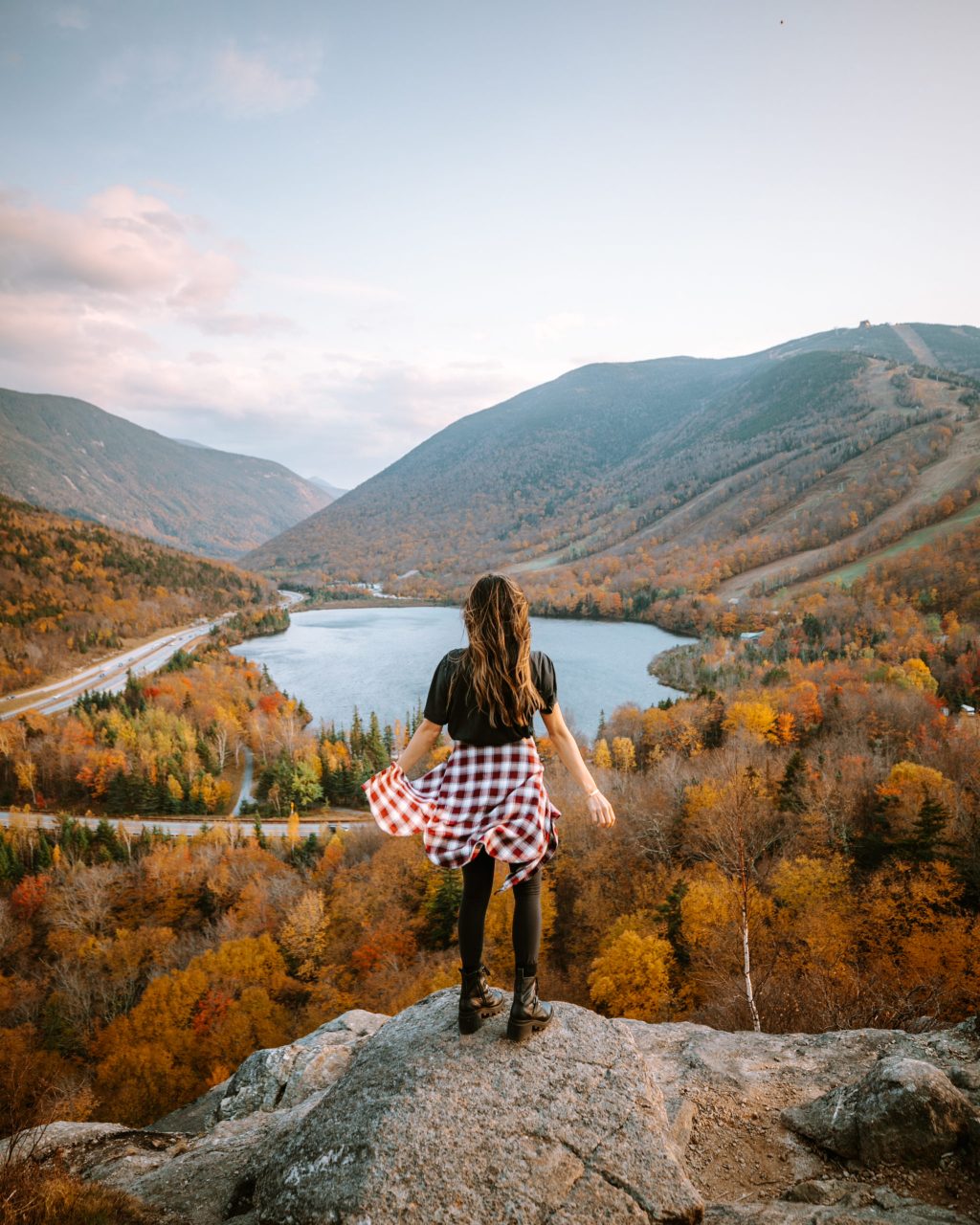 Find a spot with an impressive view over a lake with the changing leaves, and have a friend take a picture of you overlooking the scenery. We love how there is a touch of plaid incorporated here, but it feels relaxed and carefree!
After The Leaves Have Fallen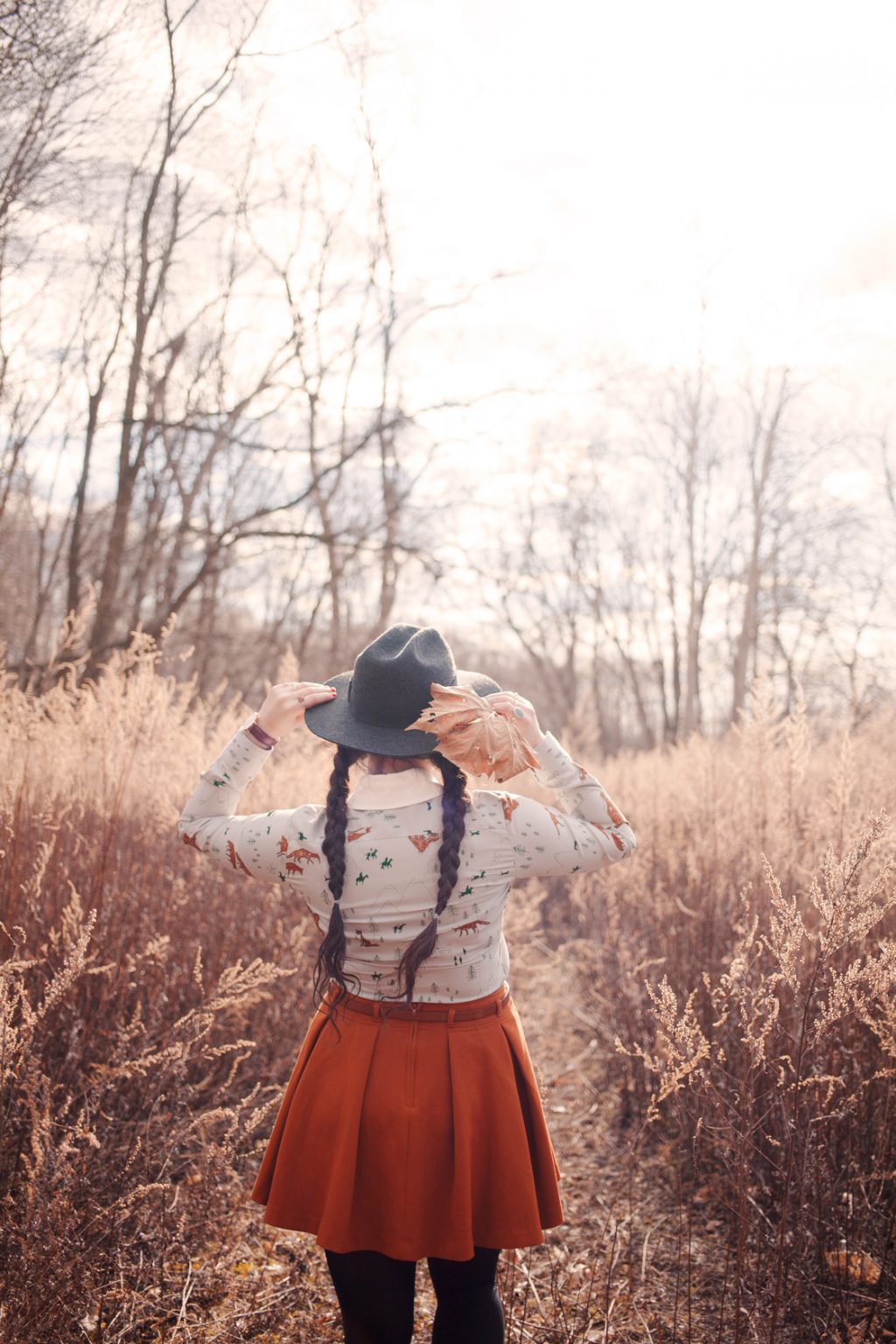 If time flies and you've missed the changing leaves before taking your photos, all is not lost! This shoot proves all you need are some warm fall-toned clothes and a field or park to snap some striking photos.
S'mores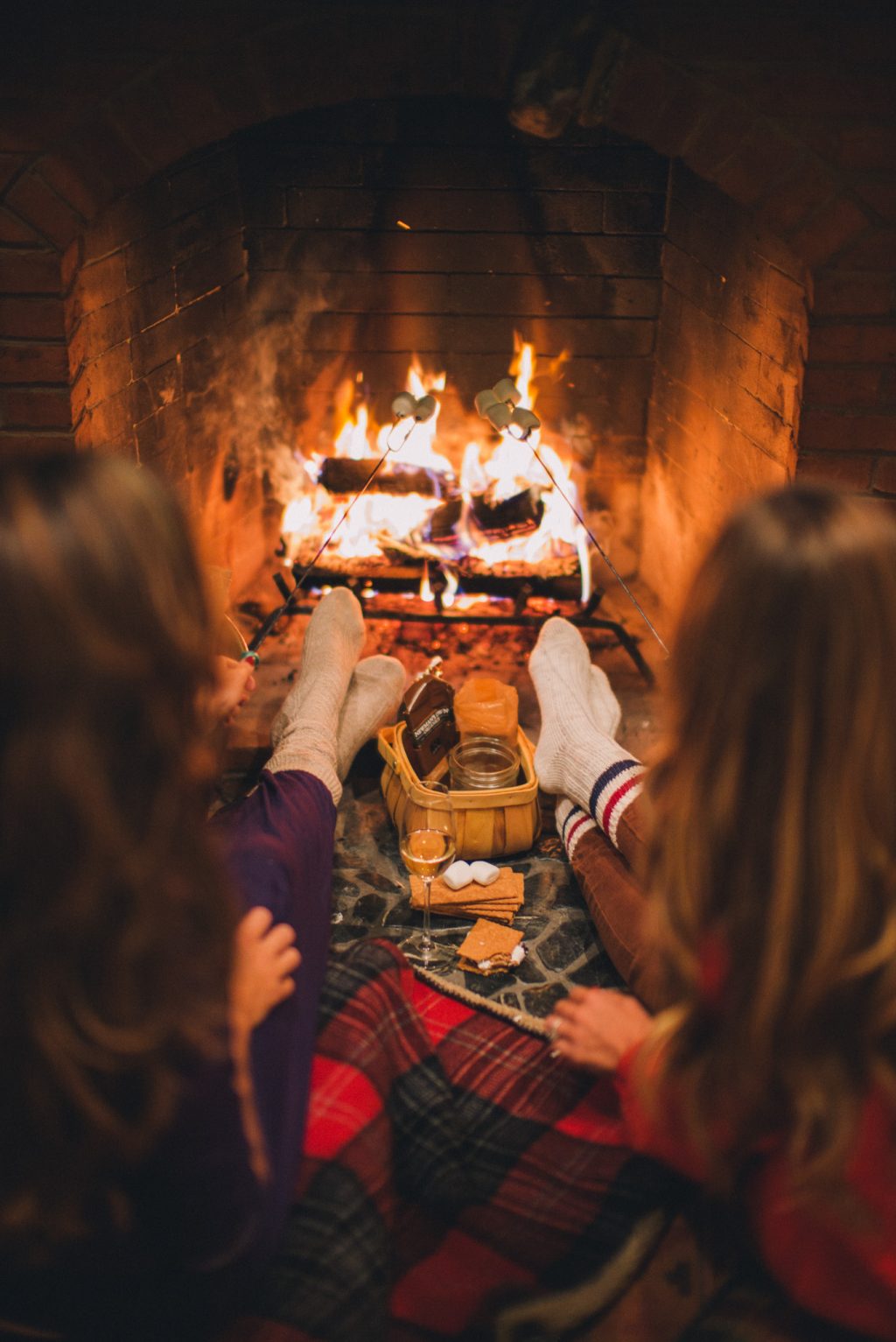 Not all autumn photos have to be outdoors. This cozy scene in front of a fire evokes strong nostalgia and is perfect for rainy days. Anyone who sees your photos will want to book a stay in a cabin and make some s'mores!
Twinning Outfits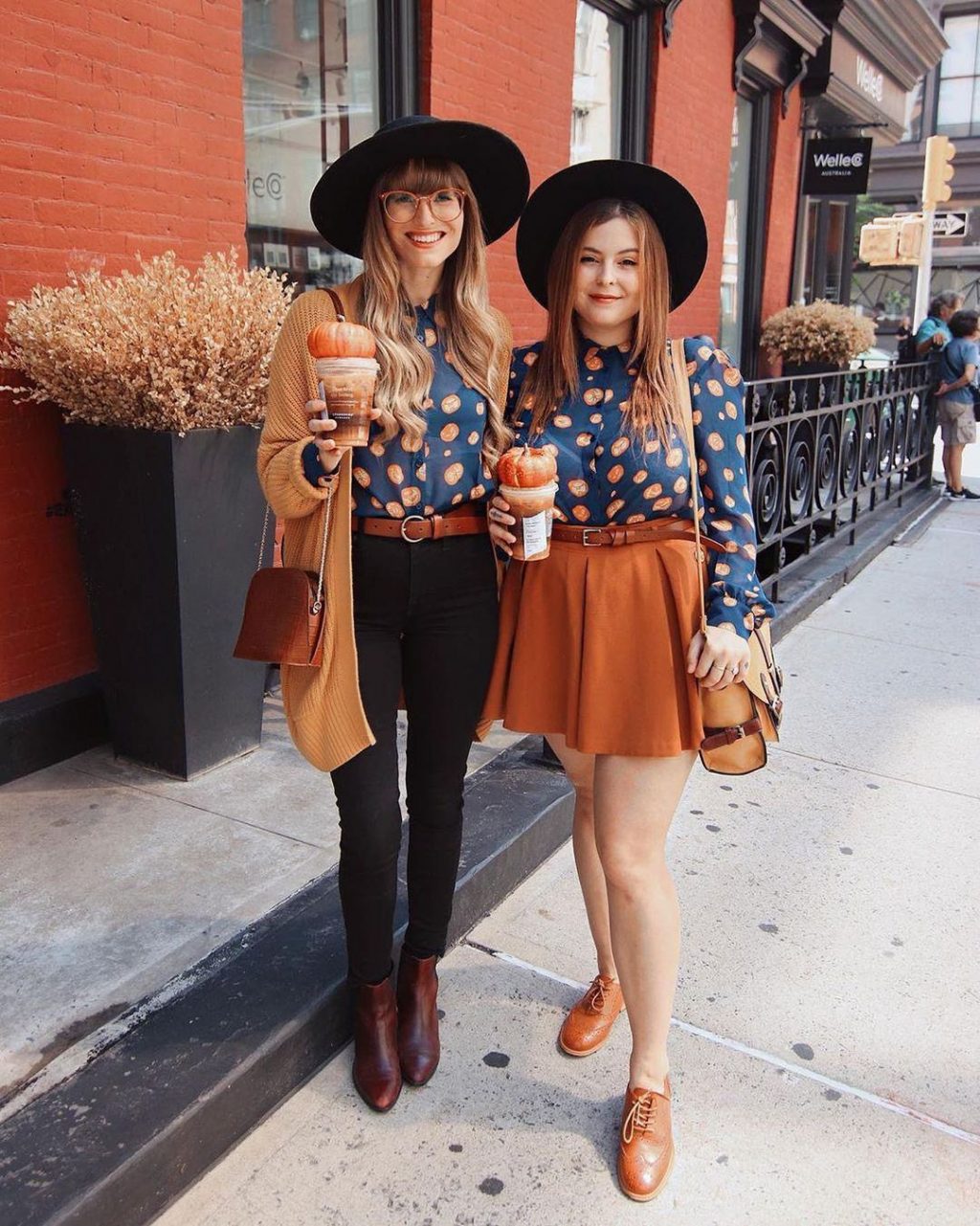 All you need is a friend who loves fall as much as you and who will wear a matching kitschy fall outfit to take a fun picture like this one! We love the mini pumpkins.
Historic Homes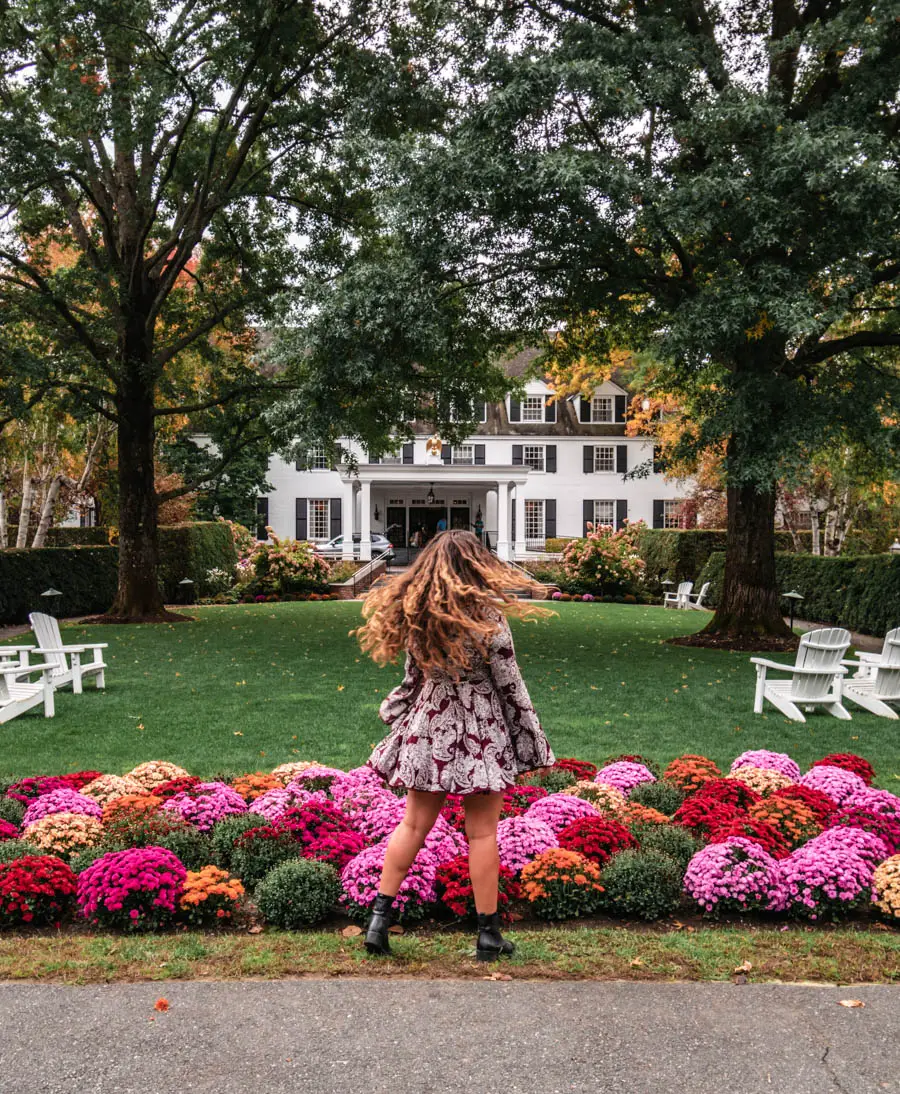 Historic homes and buildings are classic fall photo spots, especially this season! It isn't difficult to find buildings with a good amount of antique character, and your pictures will be as unique as the building! Search the National Register of Historic Places for structures near you with history.
Visit the Farmer's Market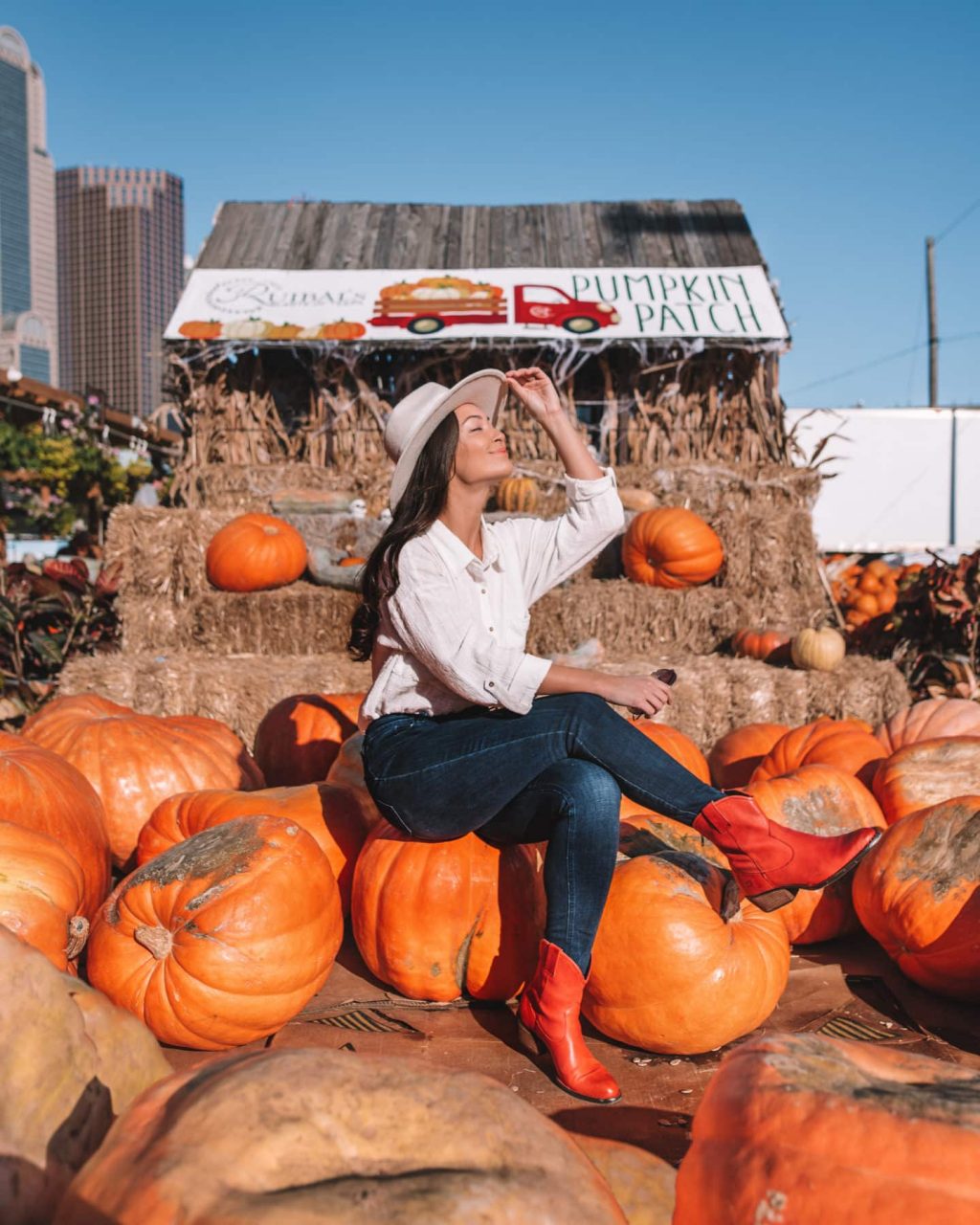 A local farmer's market is right on par with a pumpkin farm for fall pictures! They often boast impressive displays of varying sizes and colors of pumpkins and gourds, providing a fall aesthetic for your photoshoot without a ton of effort. Luckily, you can find a farmer's market even if you live in the city.
Fall Road Trip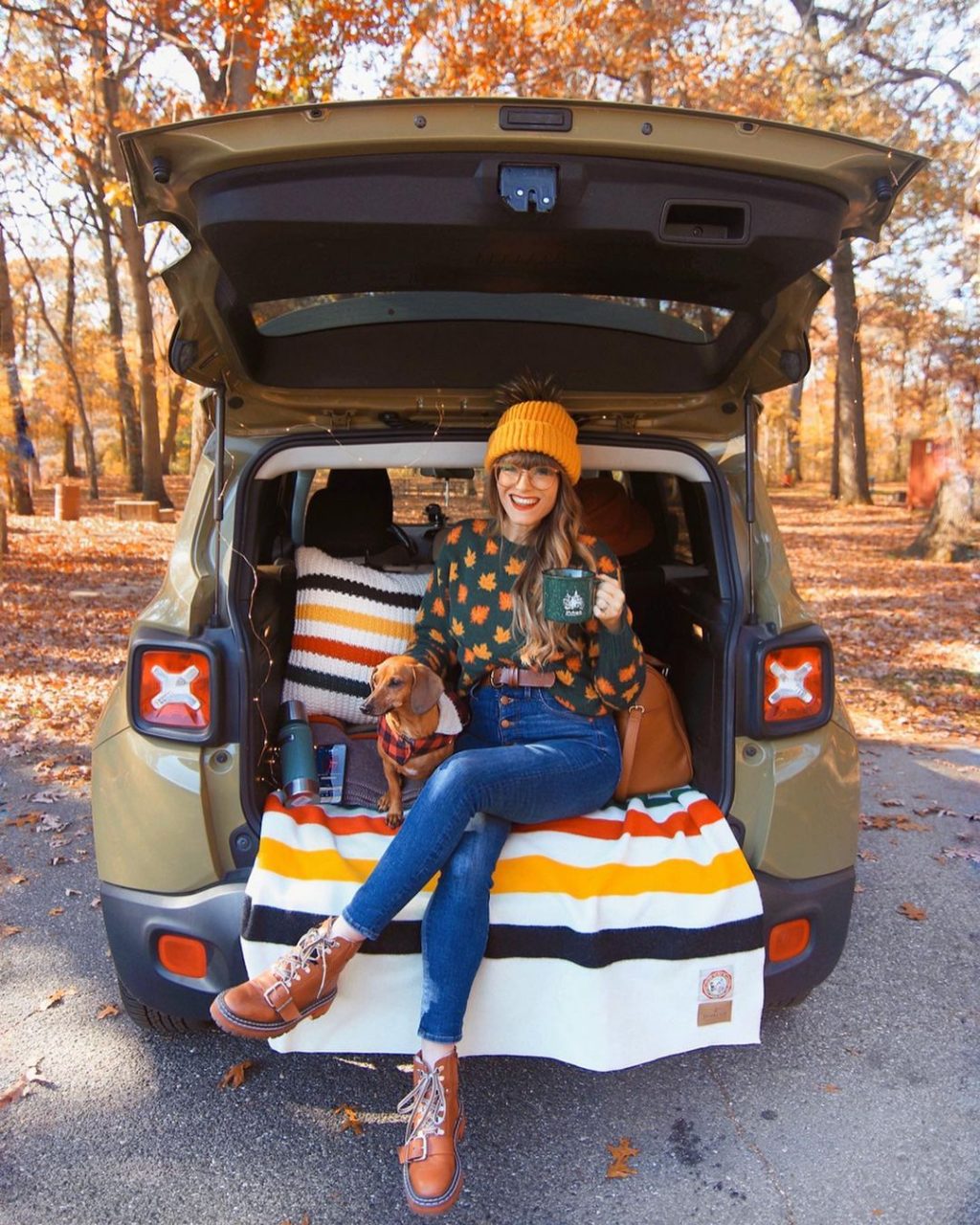 This feels like an easy version of the tried and true vintage truck photo! Just decorate the back of your SUV with a striped blanket, a thermos, and whatever other props tickle your fancy! Add a cozy fall outfit + beanie and you have a fun road trip photo.
A Walk on Main Street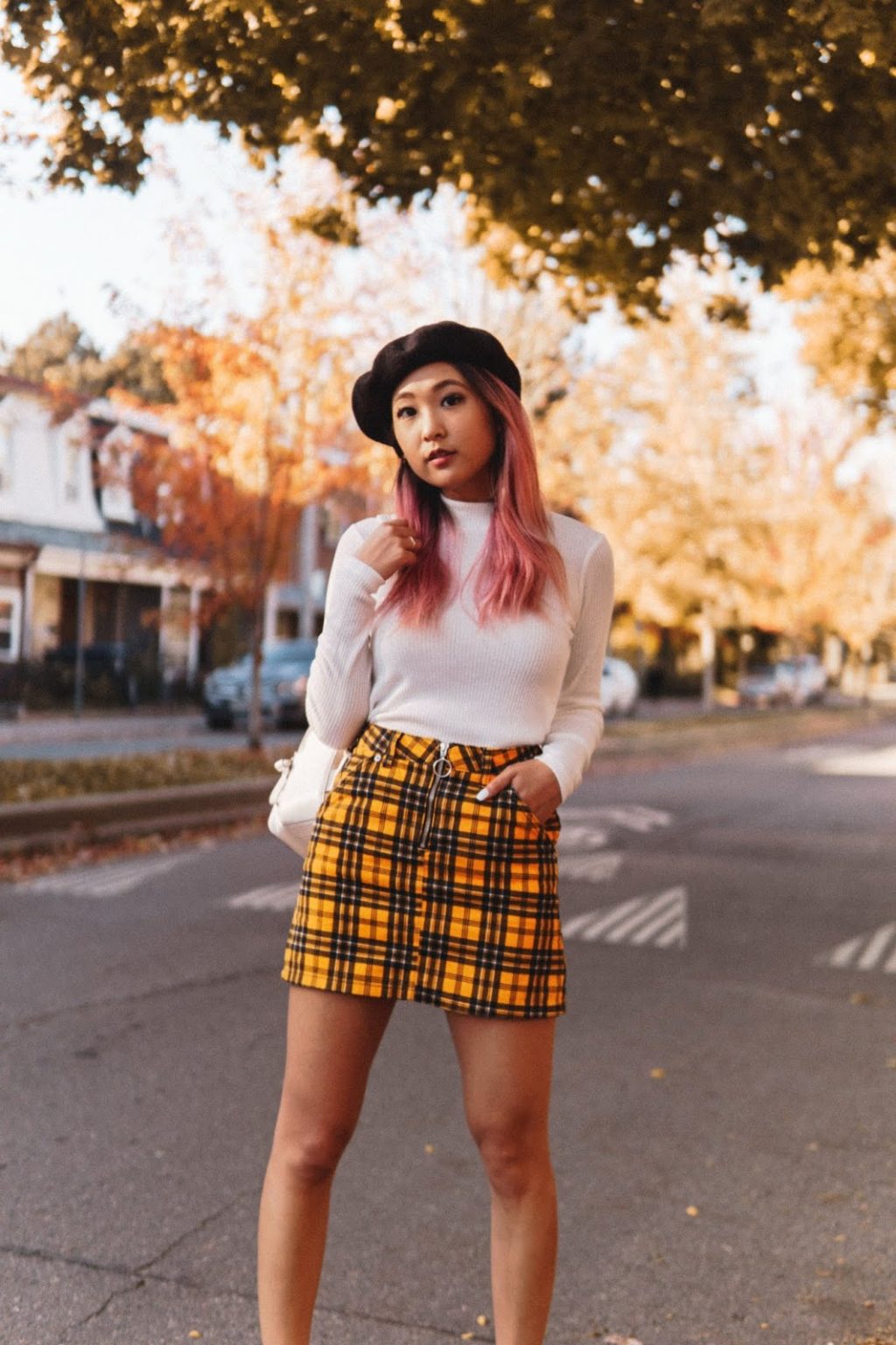 We love how the background of this photo is just a cute small town street. If you have a charming small town near you, snap a few photos wearing a fall-themed outfit with a view of Main Street in the background. Try capturing your 'fit at different angles so you have a variety to choose from when you're finished!
I hope you've discovered some fresh ways to incorporate colorful leaves and the feeling of Autumn into your next photoshoot!
PIN THIS: