Looking for the perfect granny square to crochet? Whether you're new to crocheting or an expert, these square designs can be transformed into a beautiful blanket, granny square sweater, tote, or home decor item of your choice!
What's the deal with granny squares anyway?
Crochet granny squares are a fun and and colourful way to create square motifs or designs that can then be worked into larger items. They are excellent scrap busters and the design options are seemingly endless.
A classic and basic granny square is made with worsted weight yarn and worked with a crochet hook to create double crochet clusters. The crochet squares grow in size as additional clusters are added to each row. ​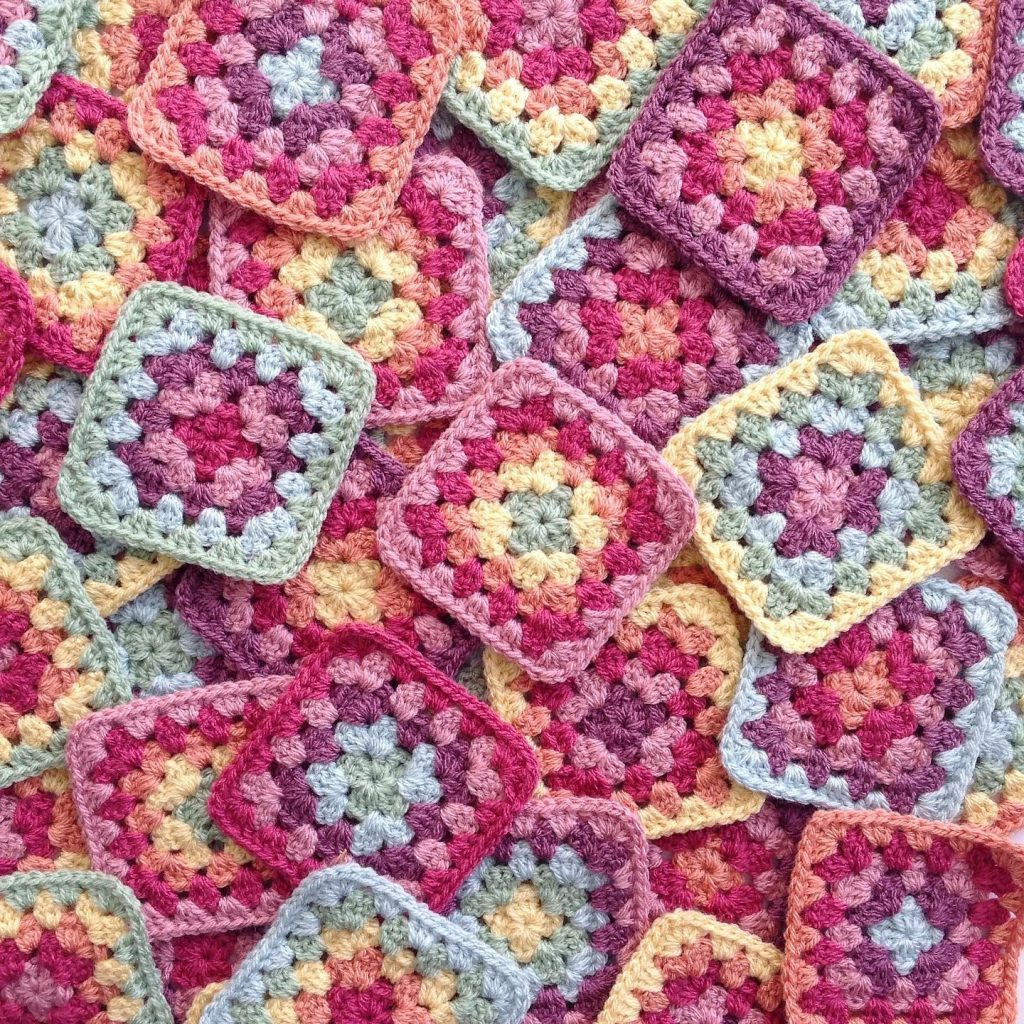 Let's take a look at some awesome and free granny square crochet patterns:
Sunburst Granny Square Pillow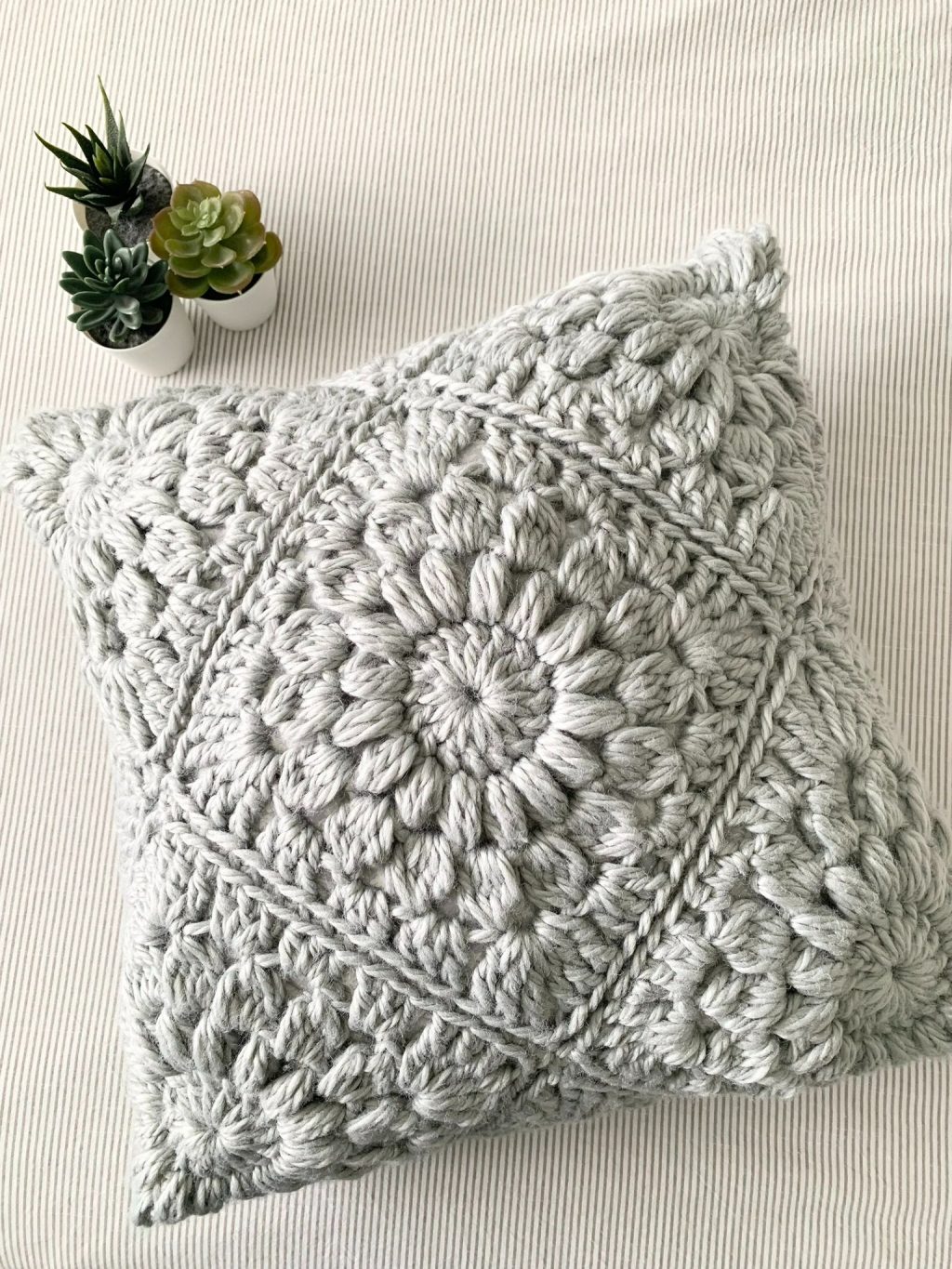 Using super chunky yarn, this granny square pillow cover works up quickly and uses a handful of squares slipstitched together to create a comfy, squishy piece of decor for your home. The free pattern is available at nautikrallcrochet.com.
Granny Squares Tote Bag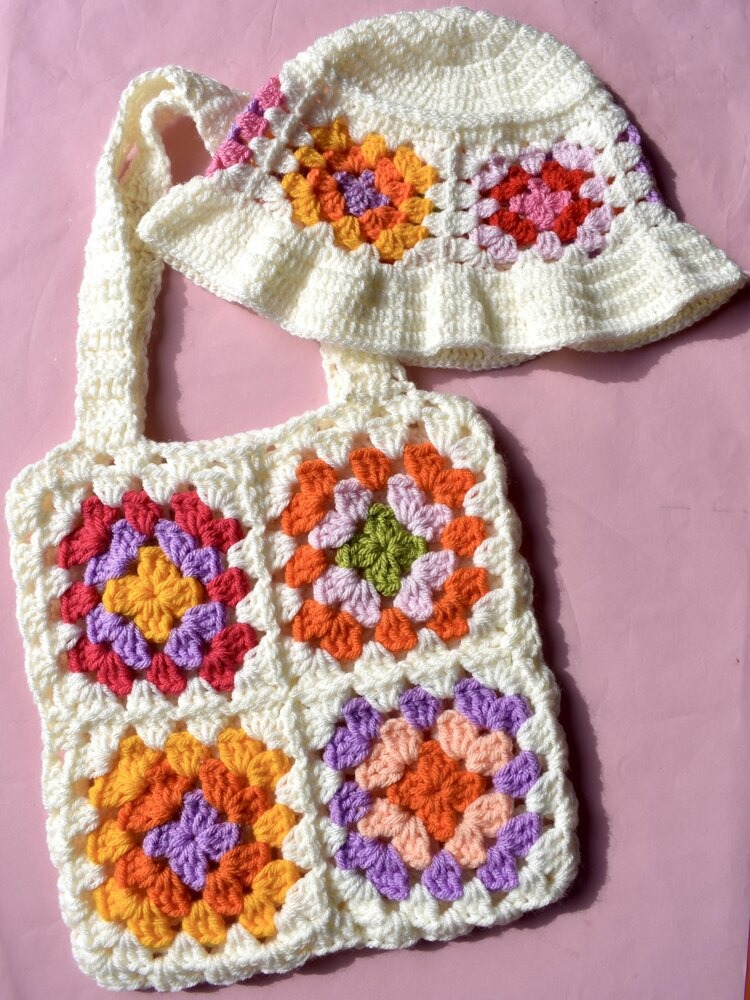 A tote bag is the perfect beginner-friendly crochet project — especially if you're just getting started with granny squares! They don't require as many squares as a blanket does, making them a quick and easy project! This pattern is available for free from lovecrafts.
Bloom Granny Square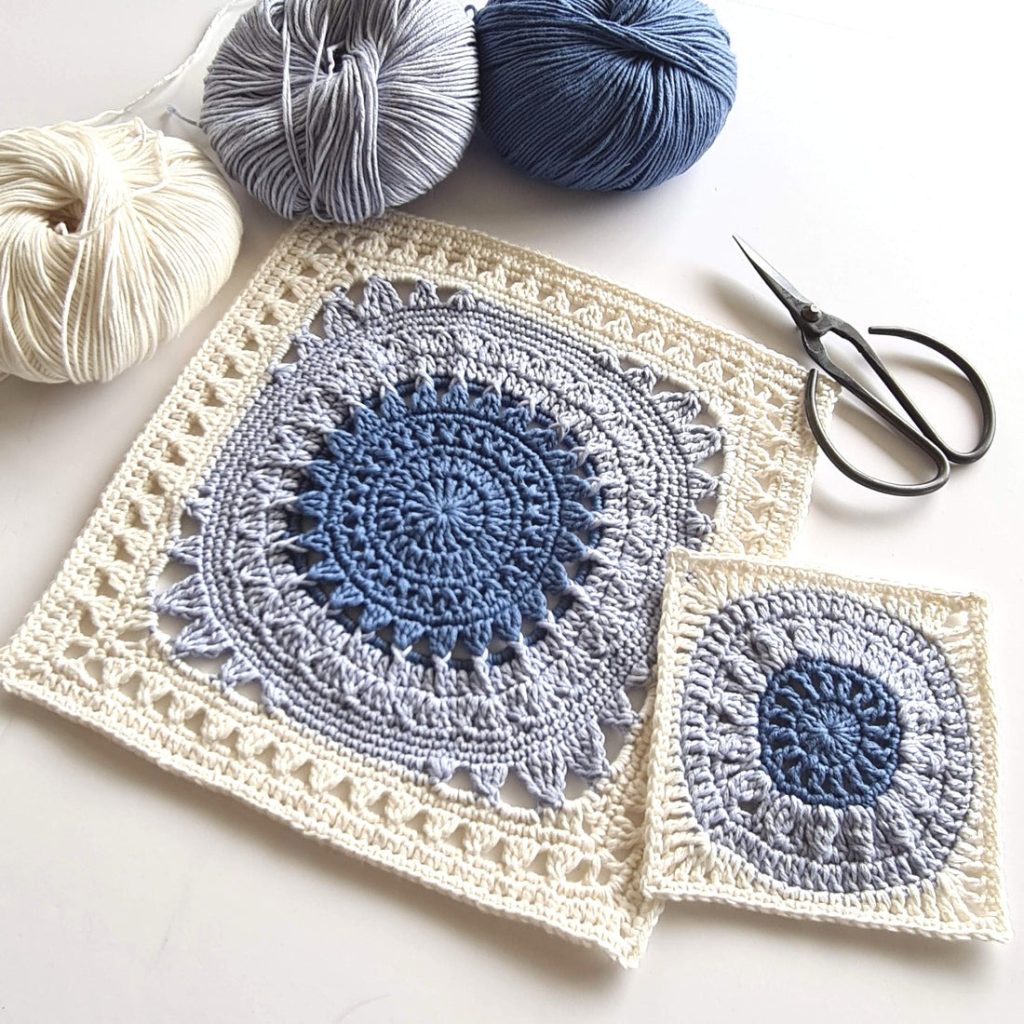 This free granny square pattern will show you how to create this intricate looking medallion motif that can then be made into a scarf or any other item of your choice! You can grab the free PDF over at shelleyhusbandcrochet.com.
Hygge Burst Hexagon Granny Blanket
Granny squares don't have to be square! Hexagon squares are a unique way to add some interest to the classic granny pattern. Using fun colours and a solid border colour, you can create this blanket with a number of hexagon "squares" or try for something smaller if you like! The pattern is available for free at nautikrallcrochet.com.
Flower Squares
Granny square flowers are such fun to create and work for any time of the year depending on the colours that you choose. This primavera flower square can be found here for free, and there is also a tutorial which will show you how to join the squares together and add the border for a blanket.
Sunflower Granny Square Pattern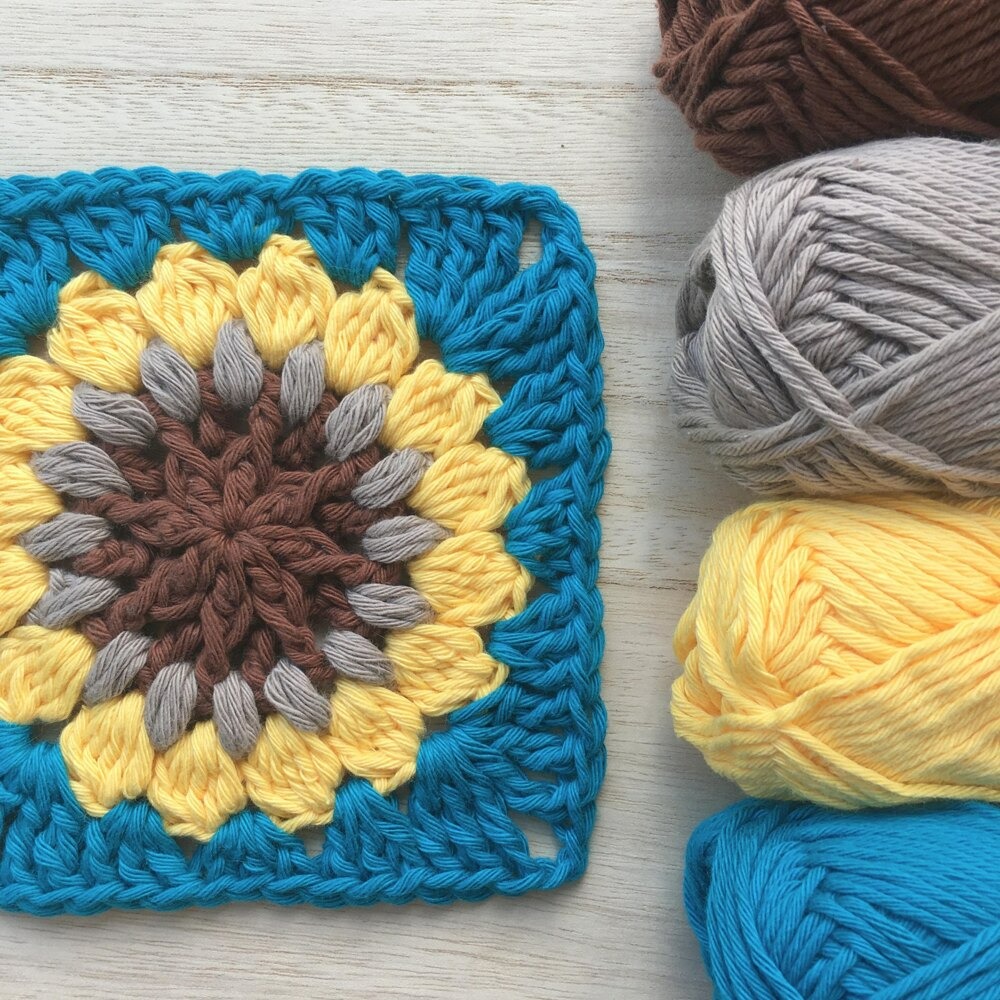 Another floral pattern, but in sunflower form! This square creates a large flower that can be used for blankets, tote bags, pillow covers, or coasters to name a few! Grab the free pattern over at lovecrafts.
Circle in a Square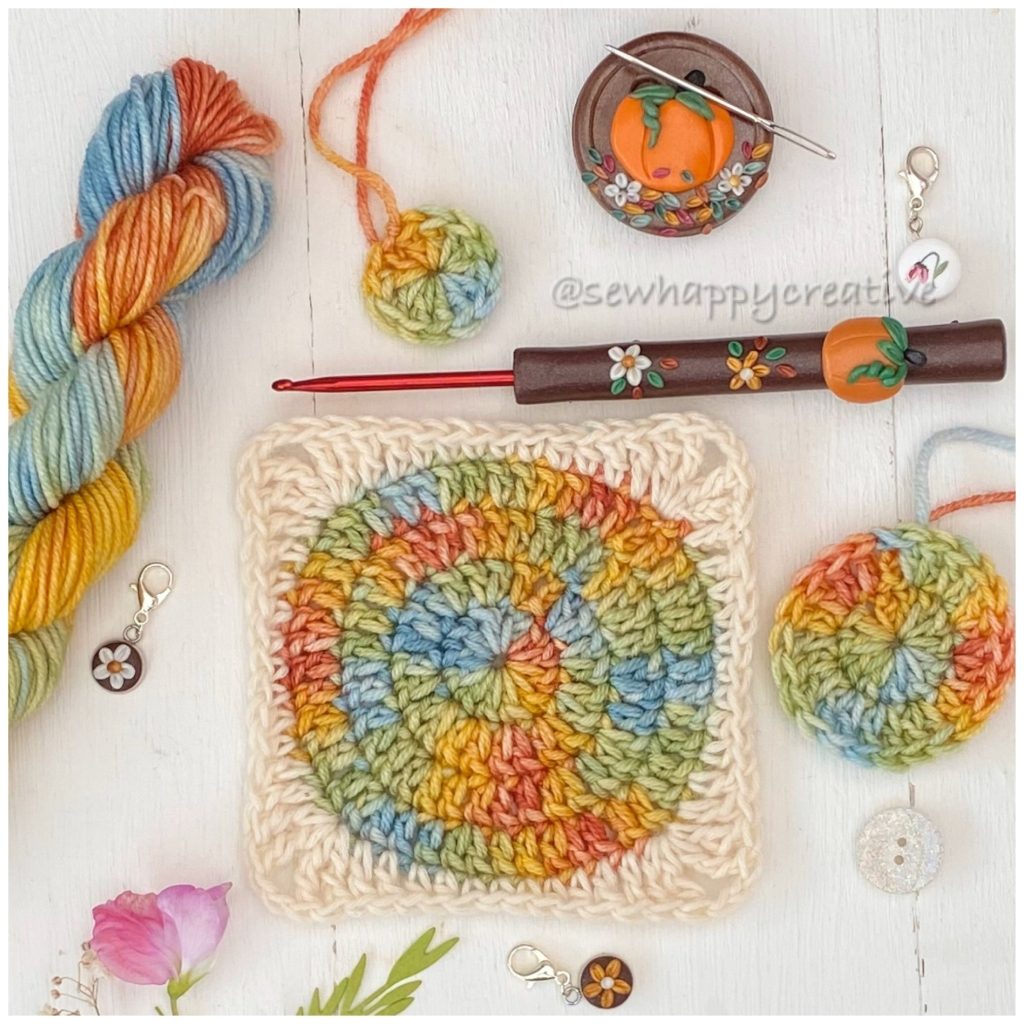 Learn how to frame a granny circle with a square border to be able to join them all together to make a final creation. This free pattern shows you how to complete this unique square motif.
Floral Granny Square
This floral granny crochet pattern is so versatile and comes with a video tutorial so you can crochet along. Depending on the colors you choose, this motif can transform easily! The free pattern is available at kamecrochet.com.
Rose Granny Square Tutorial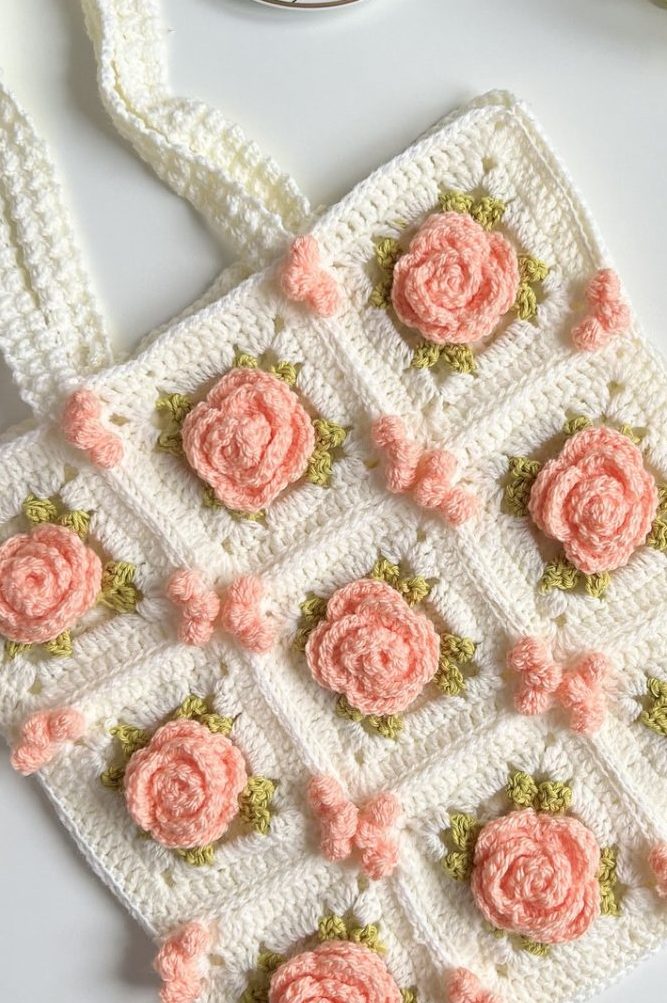 If you prefer a video tutorial, this free flower tutorial will explain how to crochet 3D style roses and turn your squares into a lovely tote bag! The tutorial can be watched here.
Strawberry Squares
This square was designed by @the_burrow_uk and combines so many fun elements, like strawberries and florals. A variety of different stitches make up this motif and the pattern is available for free at hobbycraft.co.uk.
Classic Granny Square Tutorial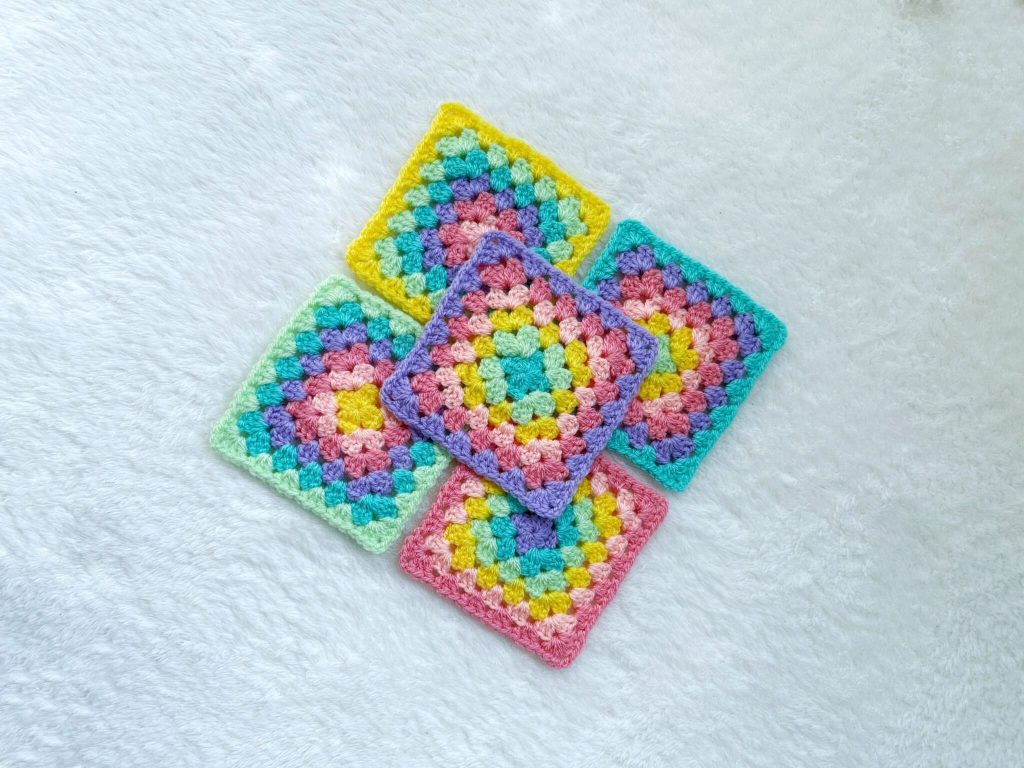 A simple, classic granny square is sometimes all you need! This basic pattern will help explain how to create traditional granny squares — which is SUPER helpful to know how to do before you venture onto more intermediate or advanced skill level projects. Grab the pattern over at trulycrochet.com.
Spirit Squares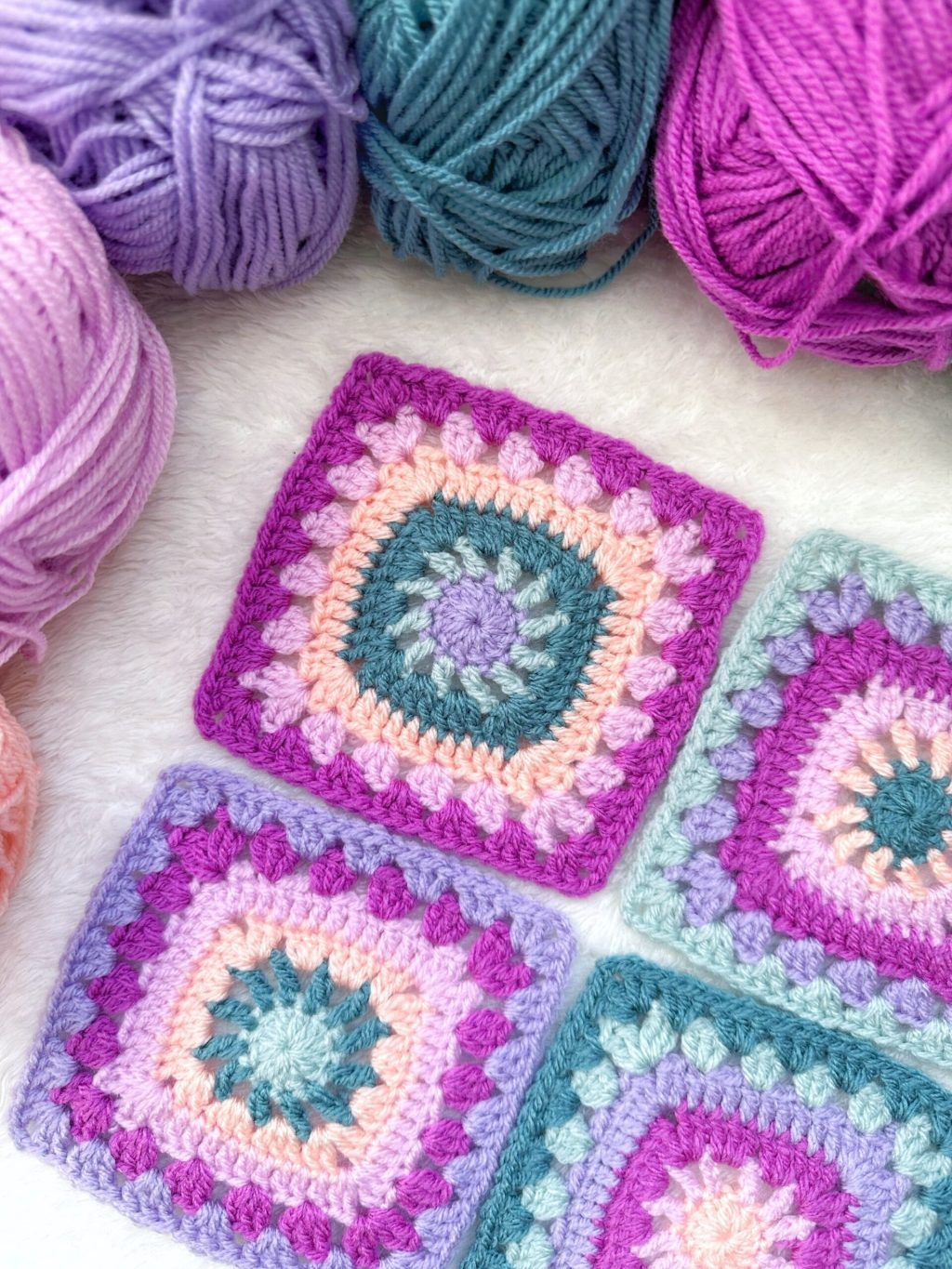 These colorful square designs use double crochet stitches to create a unique center motif. Mixing the positions of the colors allow you to create a cohesive blanket or finished project with a bit of interest! Grab the free pattern at trulycrochet.com.
Crochet Bobble Small Granny
This square uses a unique bobble stitch to create a small square project that can then be transformed into a little coin purse! You could also attach a number of these squares together to create a cushion cover! See the free pattern and video tutorial over at crochetforyoublog.com.
Spring Crochet Shawl Squares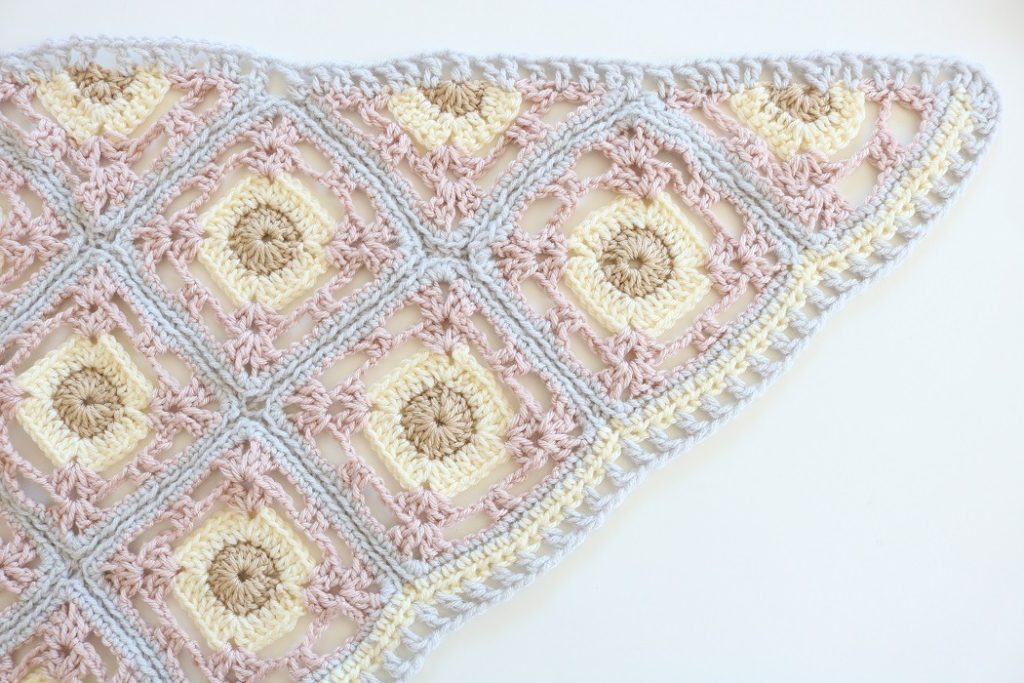 This pattern has a more open effect which is perfect for a cover-up or shawl. The stitches include double crochet, half double crochet, and slip stitches and the free pattern will walk you through creating this beautiful texture and a finished shawl… although I also think this design would work so well for table runners!
Solstice Square Crochet Pattern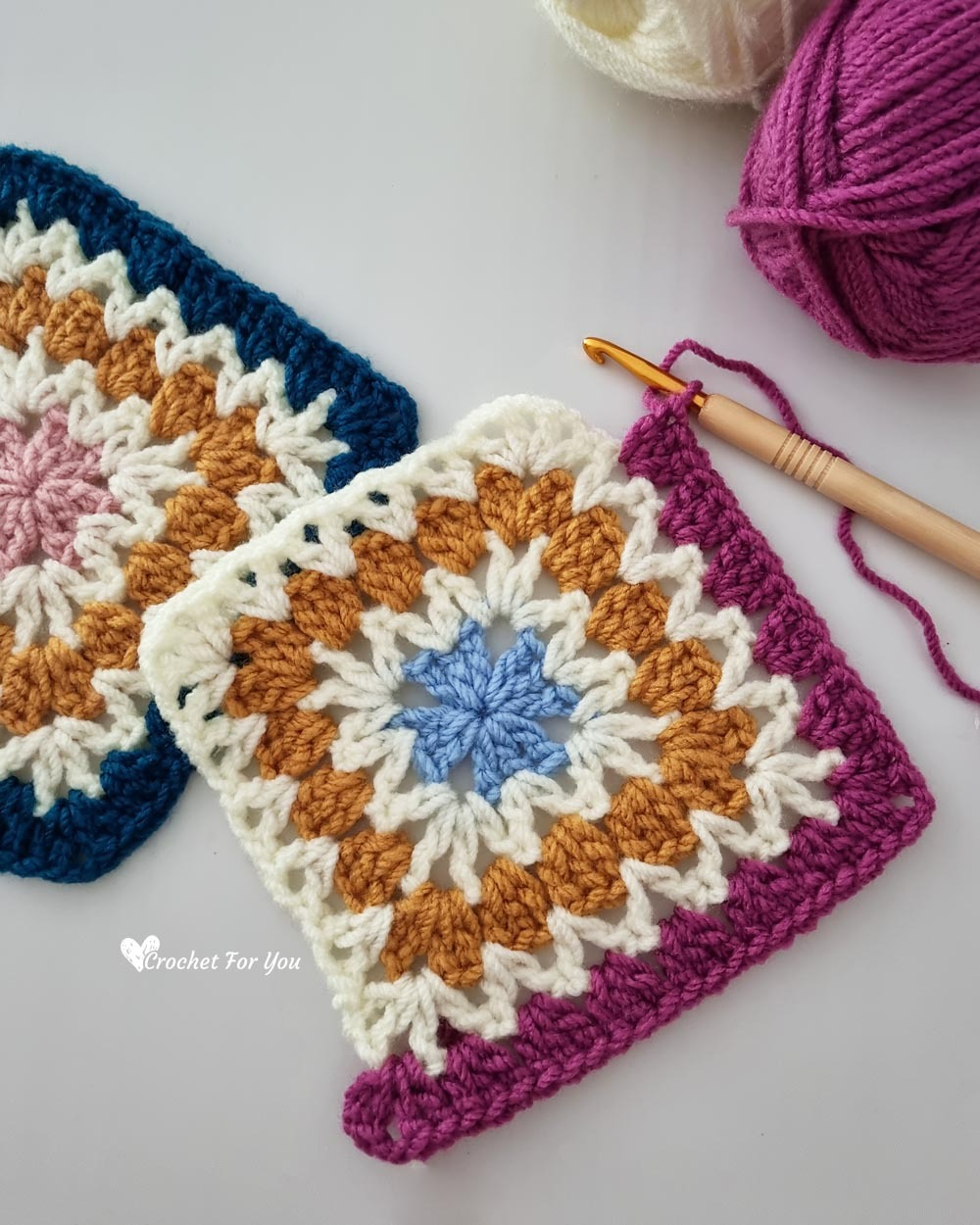 This is a great pattern to use up your scrap yarn and you can adjust the overall size of the finished square by simply increasing or decreasing the size of your crochet hook. Find the free pattern here and add it to your list of crochet projects!
African Flower Granny Squares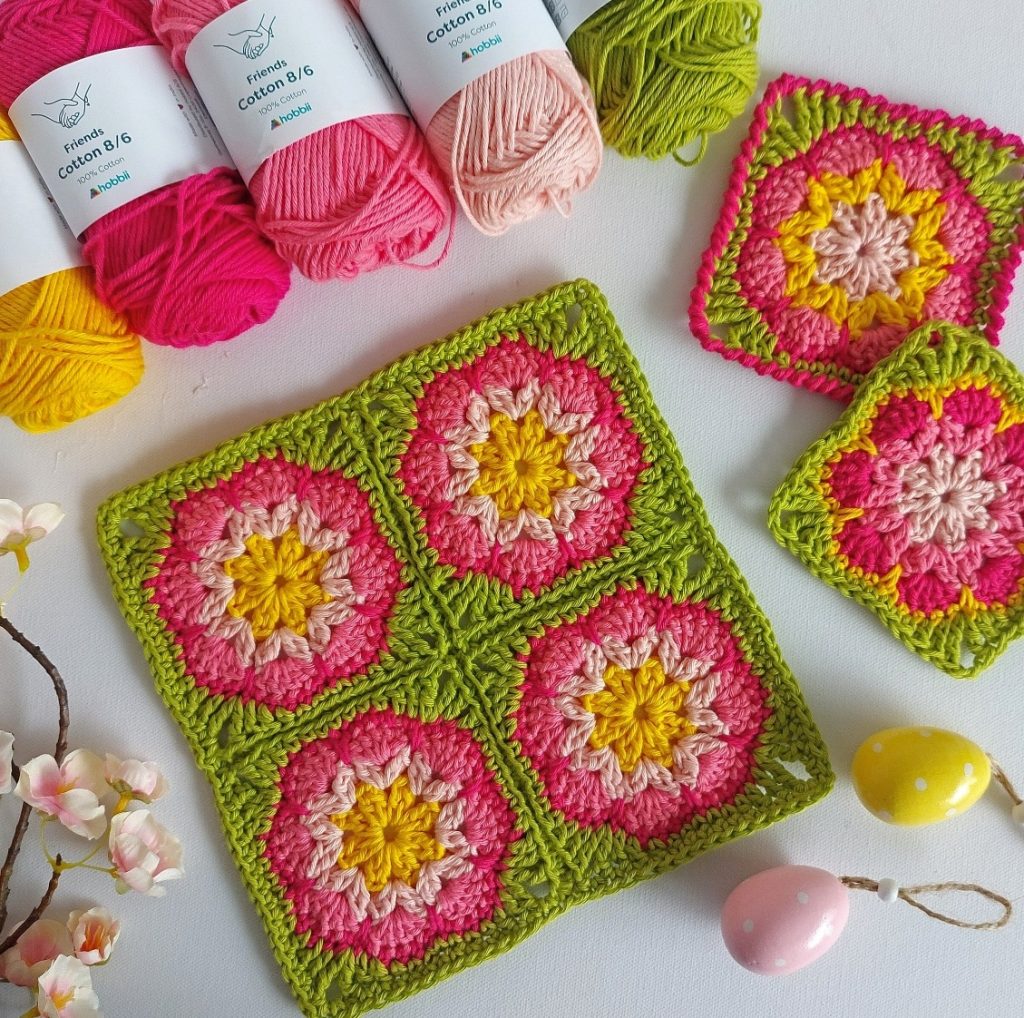 This is a unique crochet granny square pattern that really pops! The creator uses dk weight cotton yarn to create her squares, but assures that you can really use any type of yarn to complete your squares. Follow along here.
Puffy Square Free Pattern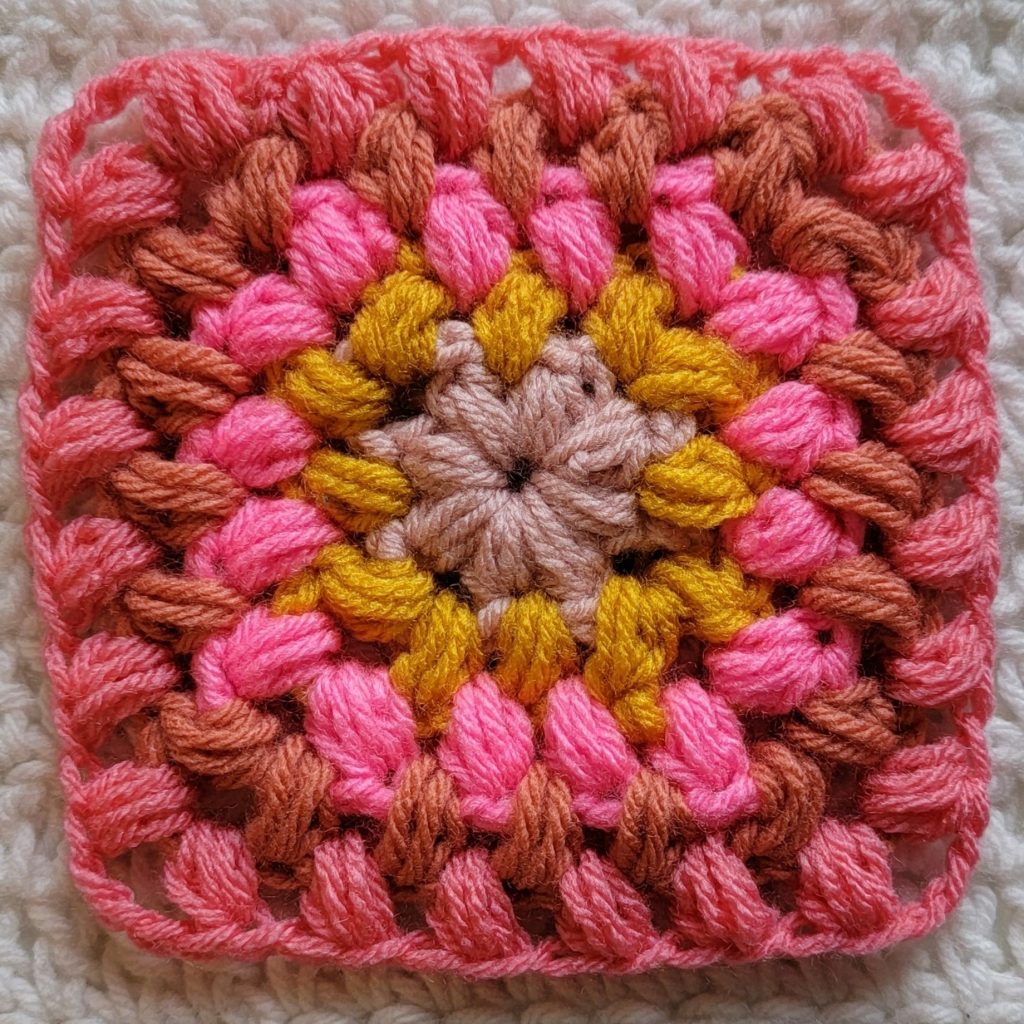 A puff stitch granny square is so cozy and squishy! The best thing is that this design uses easy stitches including the single crochet stitch, puff stitch, and slip stitch. There are tutorials for each type of stitch within this tutorial as well. Find the free crochet pattern over at crochetml.com.
Mushroom Granny Square
This super unique and unusual granny pattern includes these mushrooms for a little bit of whimsy! It looks complicated, but isn't too hard to complete! The pattern uses the treble crochet stitch for the mushroom tops and they can be done in any color! Head on over to VetkaKnit for the pattern.
3D Flower Pattern
Flowers just look so great when they are layered like this! This 3d style flower crochet pattern has a great photo walk-through showing you exactly how to create it. Find the pattern at vcrochetpatterns.com.
Aztec Style Crochet Squares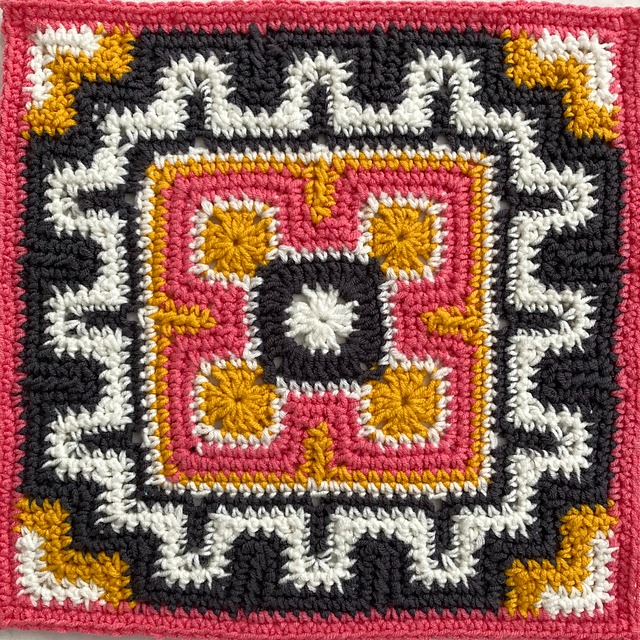 This is a great idea for a unique square that has a lot of complexity! Using bright colors really makes it pop, and changing the colors in certain rows gives this design a totally different look! Find the free PDF over at ravelry.com.
Moonshine Granny Square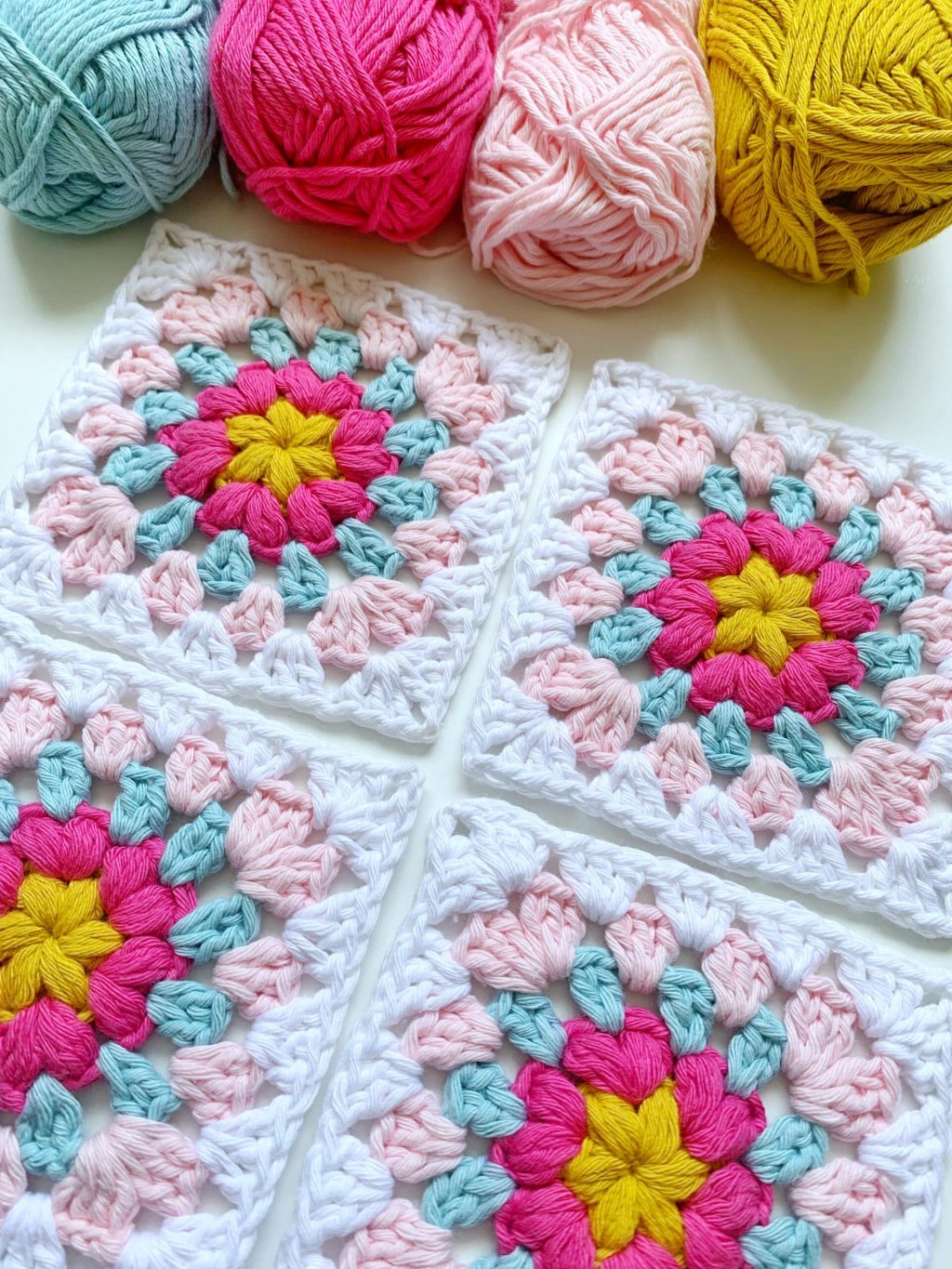 This pattern has a puffy look to the stitches and is totally beginner friendly! You'll complete the design with bobble stitches and basic crochet stitches. View the tutorial at trulycrochet.com.
Mesh Style Squares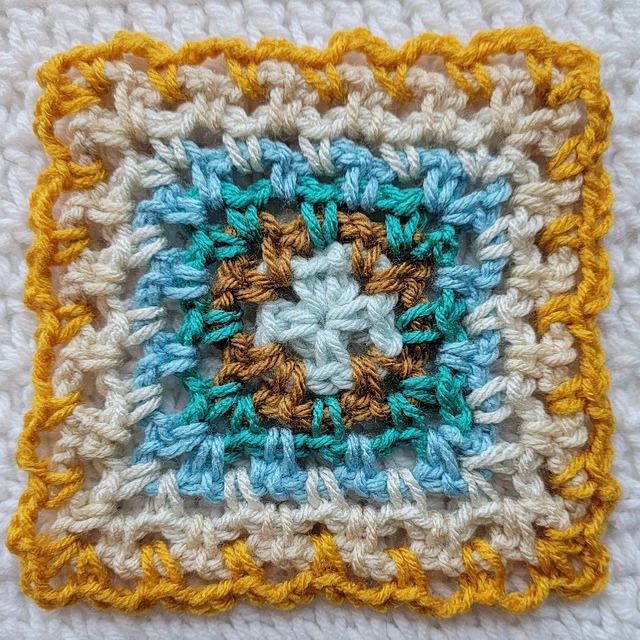 Another totally beginner friendly crochet project is this mesh-like square! You'll only need to know how to do a slip stitch (sl st), a single crochet (sc) and a chain (ch). It's such an easy granny pattern to try. Check out the pattern on ravelry.com.
Oriental Granny Square Pattern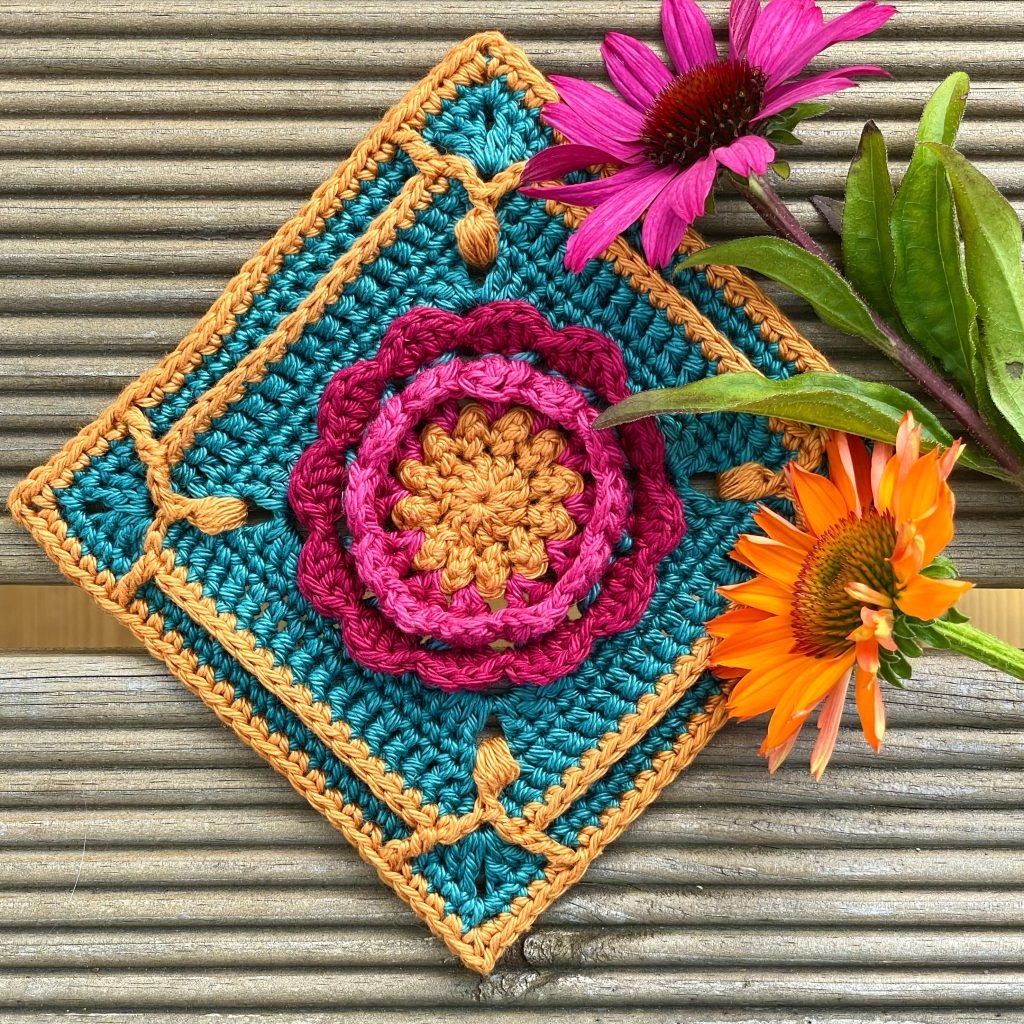 This truly gorgeous granny motif combines bright colors with unique textured center and petals that stand up. The corner designs look so pretty when you attach multiple squares together. Learn how to create this square over at mijocrochet.se.
Crochet Pear Square
For a fruity twist to your project, try this adorable pear square! It's basically a crochet applique with a square stitched around it, so you can make anything with it! You can choose to make the surrounding square as large as you like. I could definitely see this being used for a granny square baby blanket. See how to make this over at raffamusadesigns.com.
Zig Zag Square Motif
Zig here, zag there! This is a crochet design that I haven't seen before! With mirrored zigzag triangles in coordinating colors, this fun project makes an eye-catching tile that can be used alone or joined together in various ways to make a huge assortment of patterned textiles. See all of the options at ravelry.com.
Granny Heart Square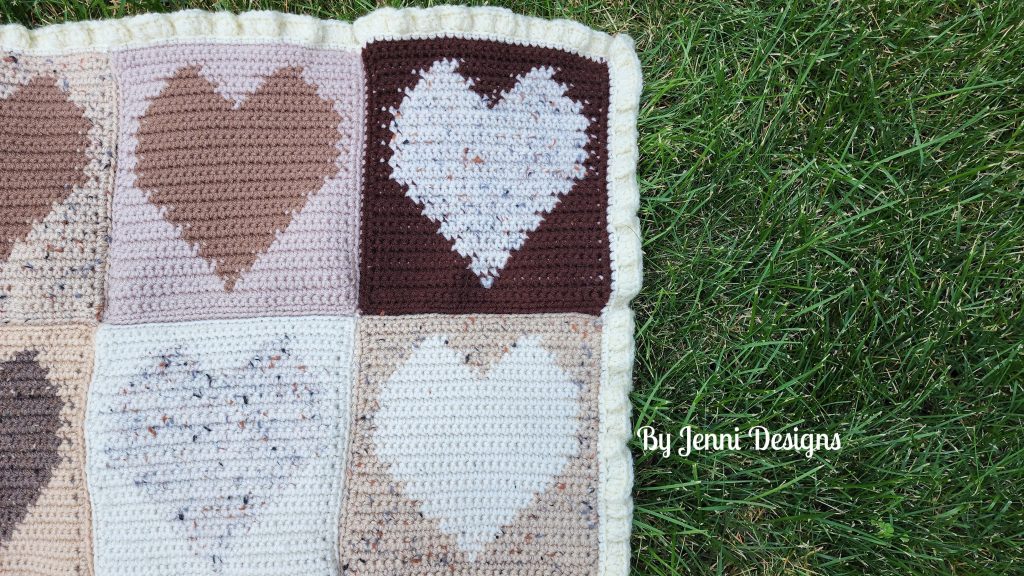 A few color changes and some basic stitches will have you stitching up hearts in no time. These adorable squares can be used for a square blanket for a baby as seen over at byjennidesigns.com along with the free pattern
So there you have it! Granny squares offer endless possibilities to showcase your creativity and are a great way to use up your leftover yarn. Whether you're a beginner crocheter or an advanced one, there is always a square crochet pattern just for you! Happy crocheting!
Take your squares to the next level and turn them into a blanket! Here are 20 FREE granny square blanket patterns that you'll also want to check out.