Is it blanket season? Does it even matter!? Crocheting your own blanket is both relaxing and rewarding and can be done at any time!
What is a granny square anyway?
Granny squares are a classic way of constructing a crochet blanket or textile item piece by piece. Each square (or triangle, octagon, or other shape!) is created using clusters of stitches to create a unique design. The motif is then constructed into a finished item — such as a blanket — by joining the edges of the squares to each other.
Granny square blanket patterns are a great way to use up your scraps of yarn or to turn different combinations of colours into something beautiful that can be enjoyed for years to come.
Let's look at a few gorgeous and free Granny square blanket patterns to inspire your next (or first!) project.
Battenberg Blanket Pattern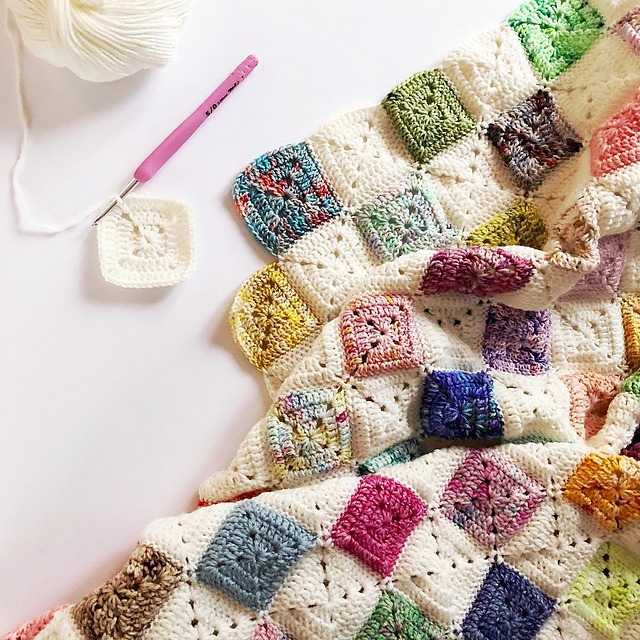 This beautiful blanket can be created using various colours of your choice from your yarn stash and one main base colour. This would be the perfect pattern for beginner crocheters as the stitches are easy and the result is so satisfying! This pattern is available for free on Ravelry!
Farmhouse Style Granny Square Blanket Pattern
If you have a desire to use a single colour for your next crochet blanket project, this farmhouse style granny pattern is perfect! This lovely pattern can be downloaded on Ravelry for free.
Sweet Baby Blanket Crochet Pattern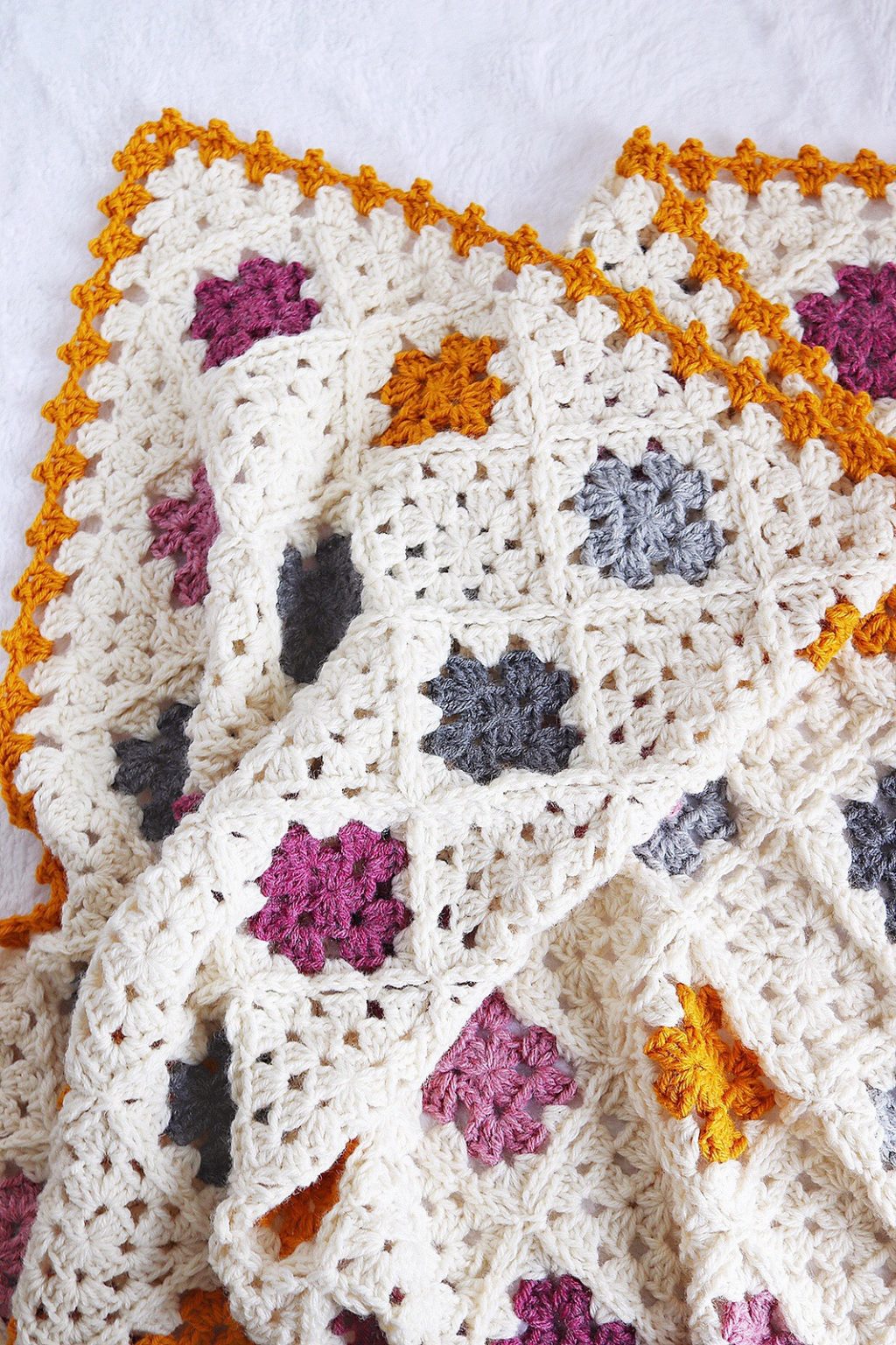 This pattern has a unique modern design and is totally beginner friendly! You can create your own custom colour palette with this one and mix and match coordinating yarns. Find the pattern over on Ravelry for free!
Modern Colourful Granny Squares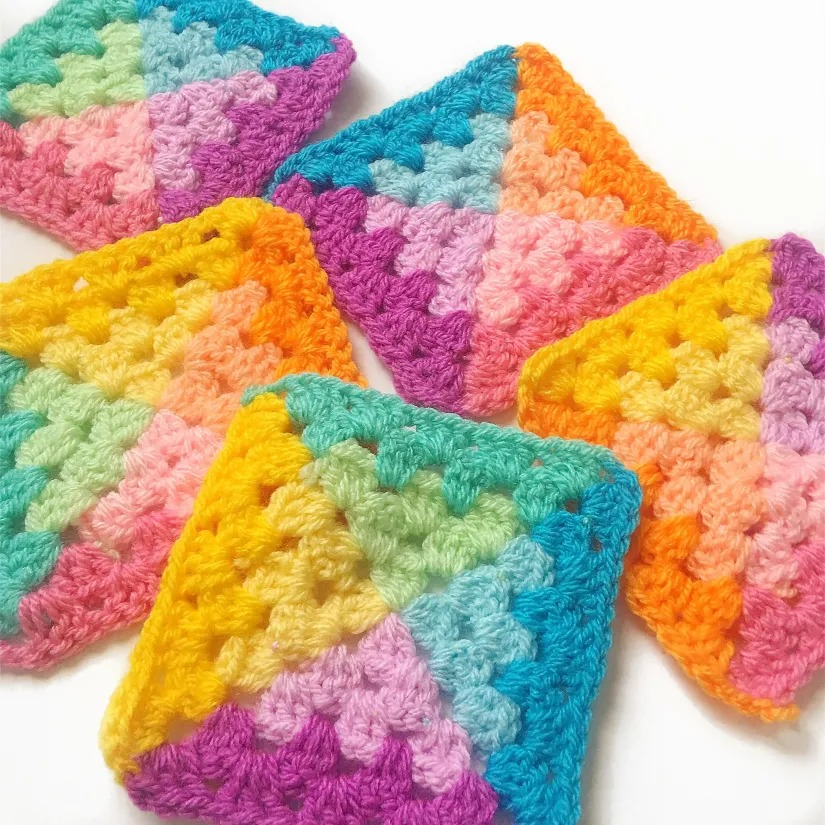 A super colourful geometric design makes this granny square pattern so trendy and right up our alley! This one is definitely going on our list of must makes! This gorgeous, colourful granny square pattern can be found here.
Kitschy Patchwork Granny Square Blanket Pattern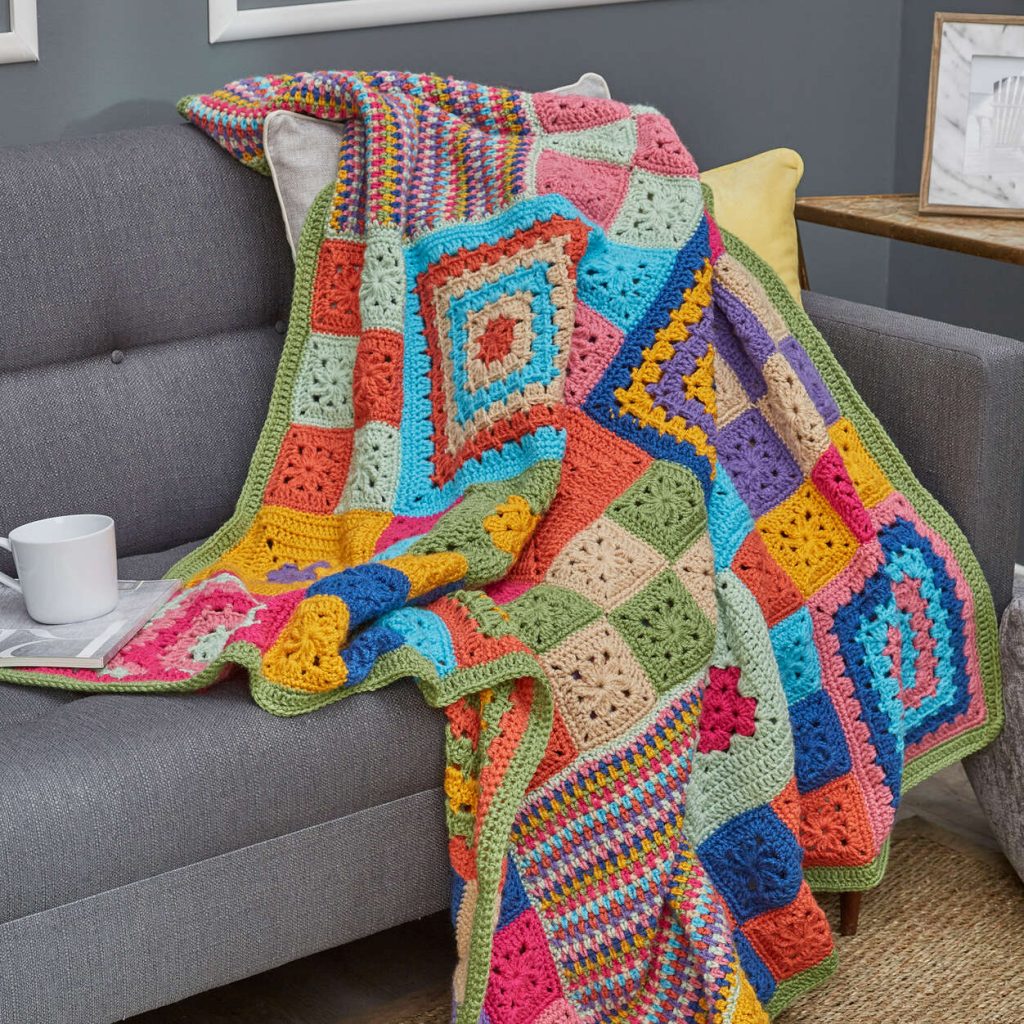 Reminiscent of old patchwork quilts, this crochet throw contains a variety of different granny square motifs that create such a fun result. Interested in creating your own work of art? You can see the full pattern over here!
Watermelon Granny Square Pattern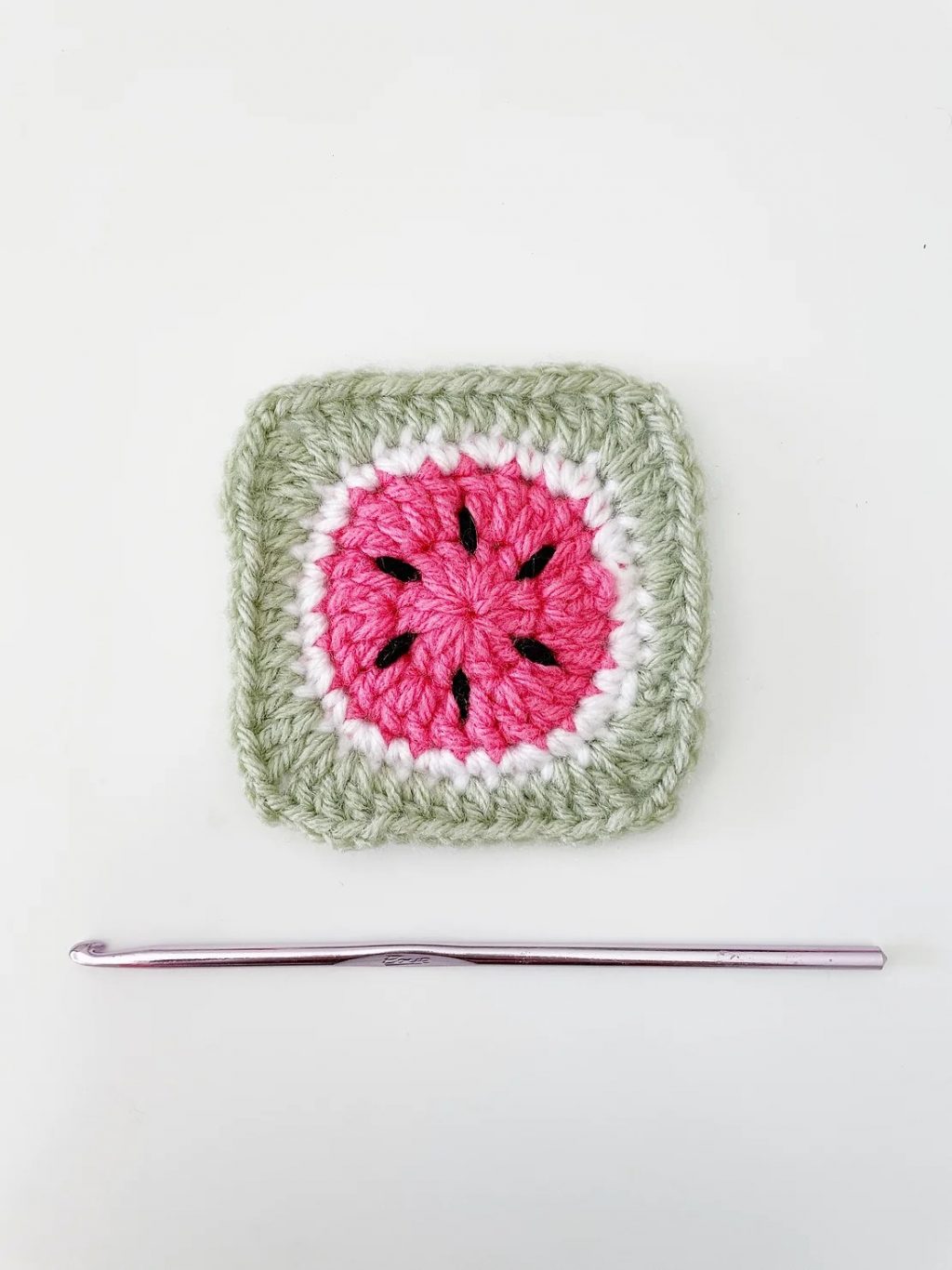 Sometimes a single granny square design is all that you need to create an entire blanket! This adorable watermelon style pattern would make an awesomely adorable throw or baby blanket! It would also be a great summer crochet project. This pattern can be found here for free!
Teardrop Colourful Crochet Throw Pattern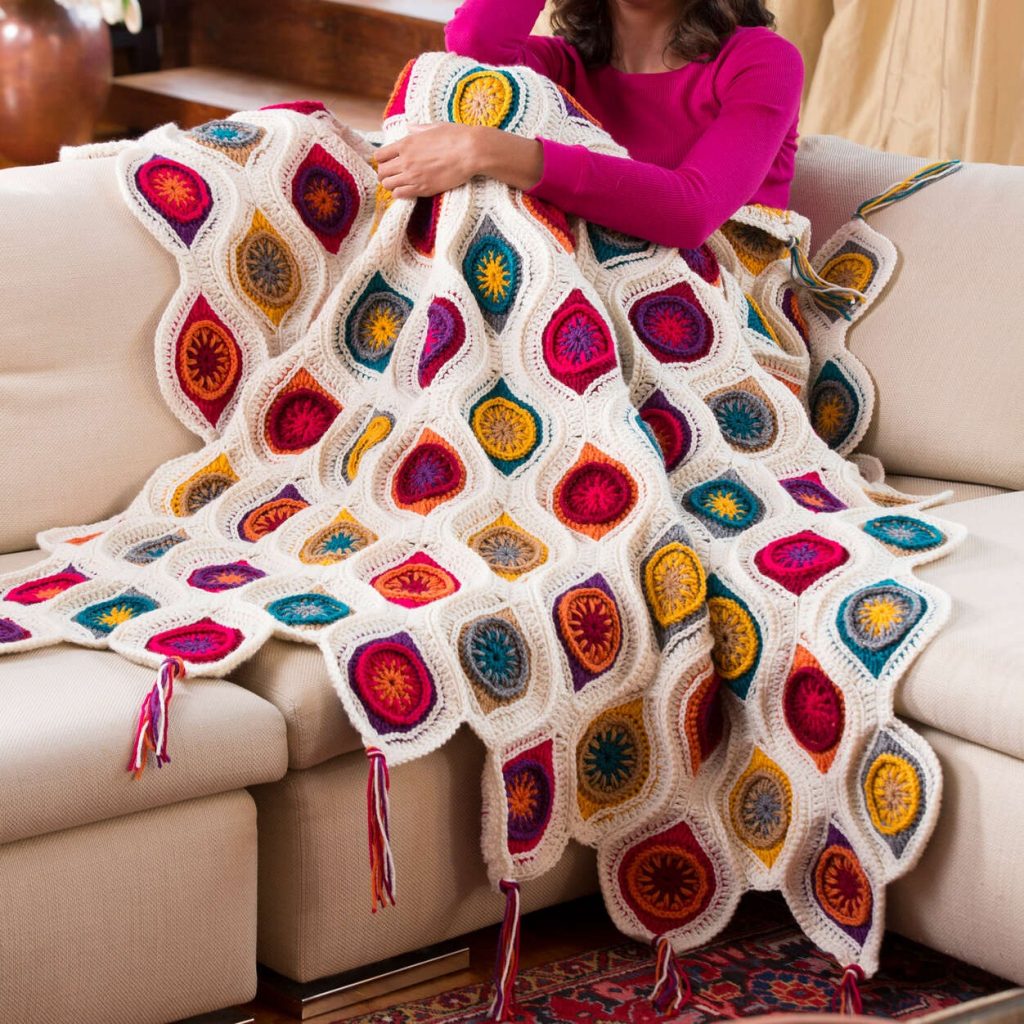 Not every granny square needs to be a square! This one takes on a diamond shape with circular clusters in the center. What a great way to try different colour combinations while sticking with the same style throughout! You can grab this pattern for free over on the Yarnspirations site.
Strawberry Granny Squares
Another adorable design that would make a super sweet blanket for anyone (pair it with a crochet gift for a baby perhaps?). This strawberry granny square (created in both red and pink options!) can be found over on the Raffamusa Designs website for free.
Prismatic Circle Granny Square Pattern
We love a good scrap buster, and this one hits all of the marks! Although every square is unique, they all coordinate with this circular design. Grab this granny square pattern for free over on Ravelry.
Puff Flower Granny Square Blanket
Bust out your yarn remnants for this project! These flowers have a puffy appearance and can be made in any colour combo you like! You can find the tutorial over on The Purple Poncho.
Colorful Granny Square Blanket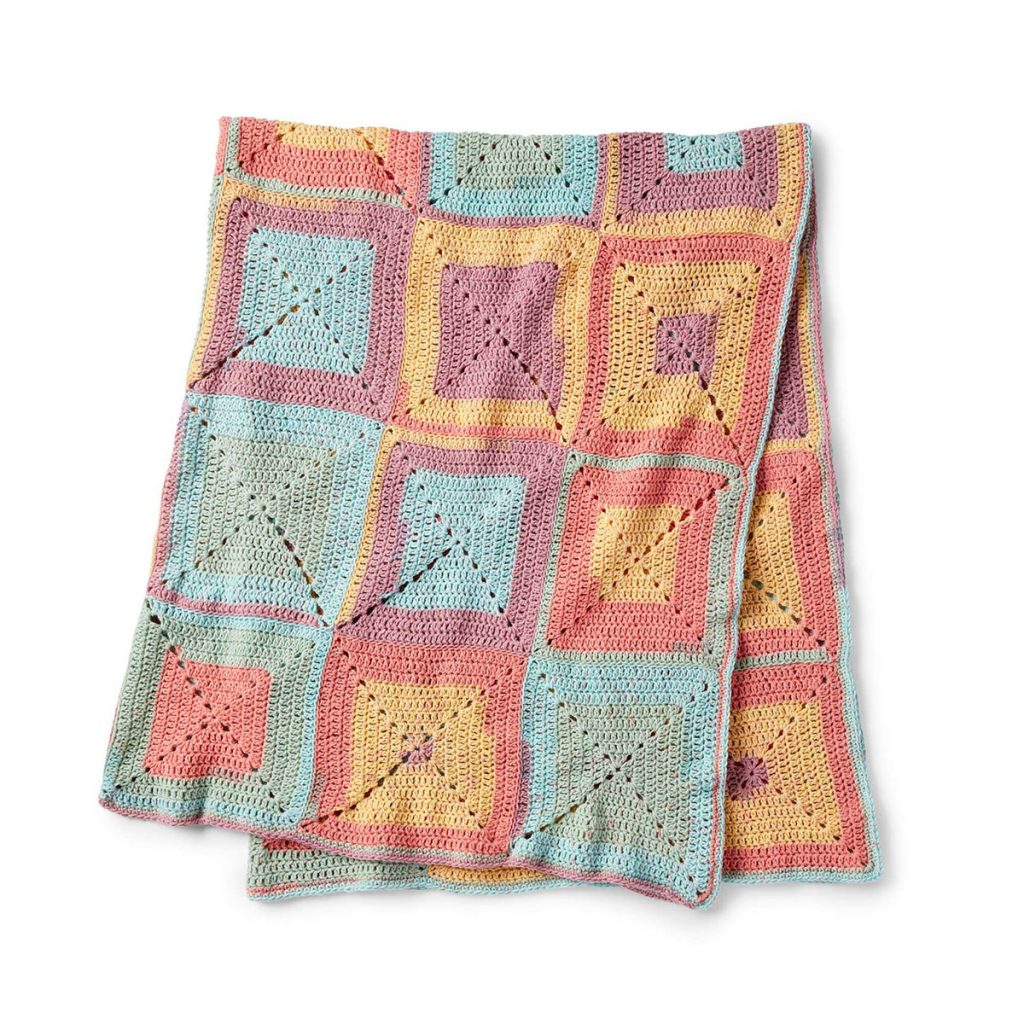 Another beginner friendly pattern that comes together easily and looks great thanks to multiple colour changes. All you really need for this blanket are some coordinating colours of your choice and some basic crochet knowledge! Download this pattern over on the Yarnspirations site.
Heart Granny Square Pattern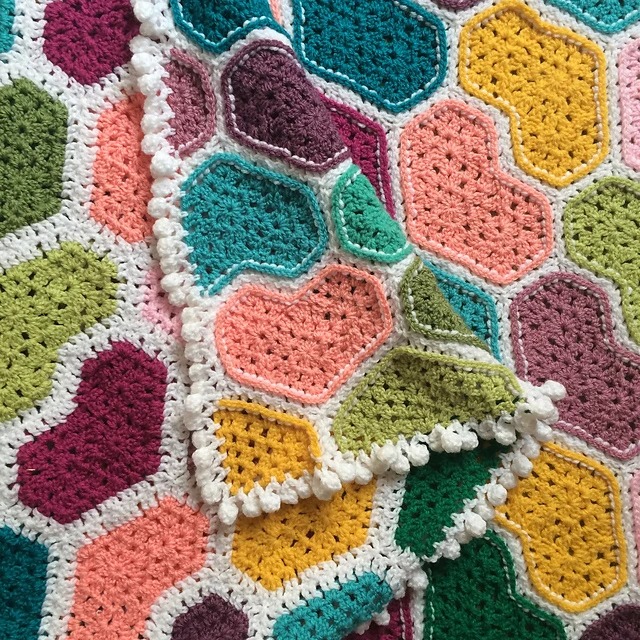 How cute would this be for a Valentine's Day gift or a baby blanket? These hearts almost look like they are stitched on. That bobble edging has us swooning too! You can find this pattern here and there is an option for a free version.
Granny's Little Girl Crochet Blanket Pattern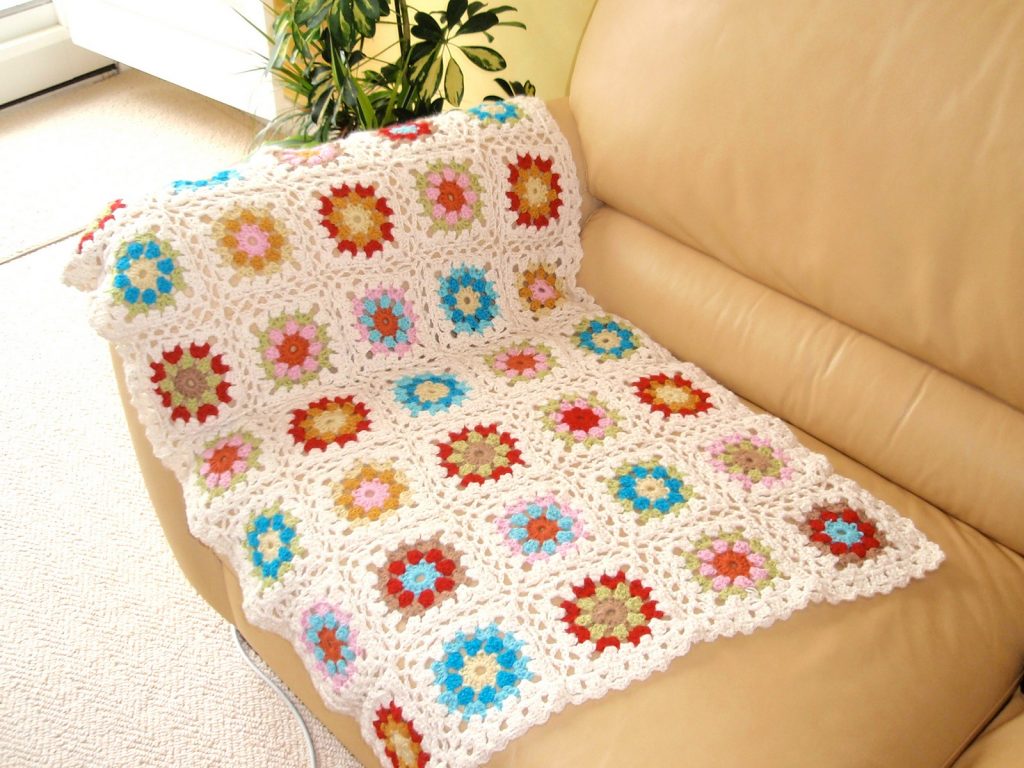 A classic Granny Square pattern with a modern colour twist! This style of motif definitely reminds us of our grandmothers' projects, yet updated for this generation. Download this pattern for free on their website.
Dockside Granny Square Crochet Blanket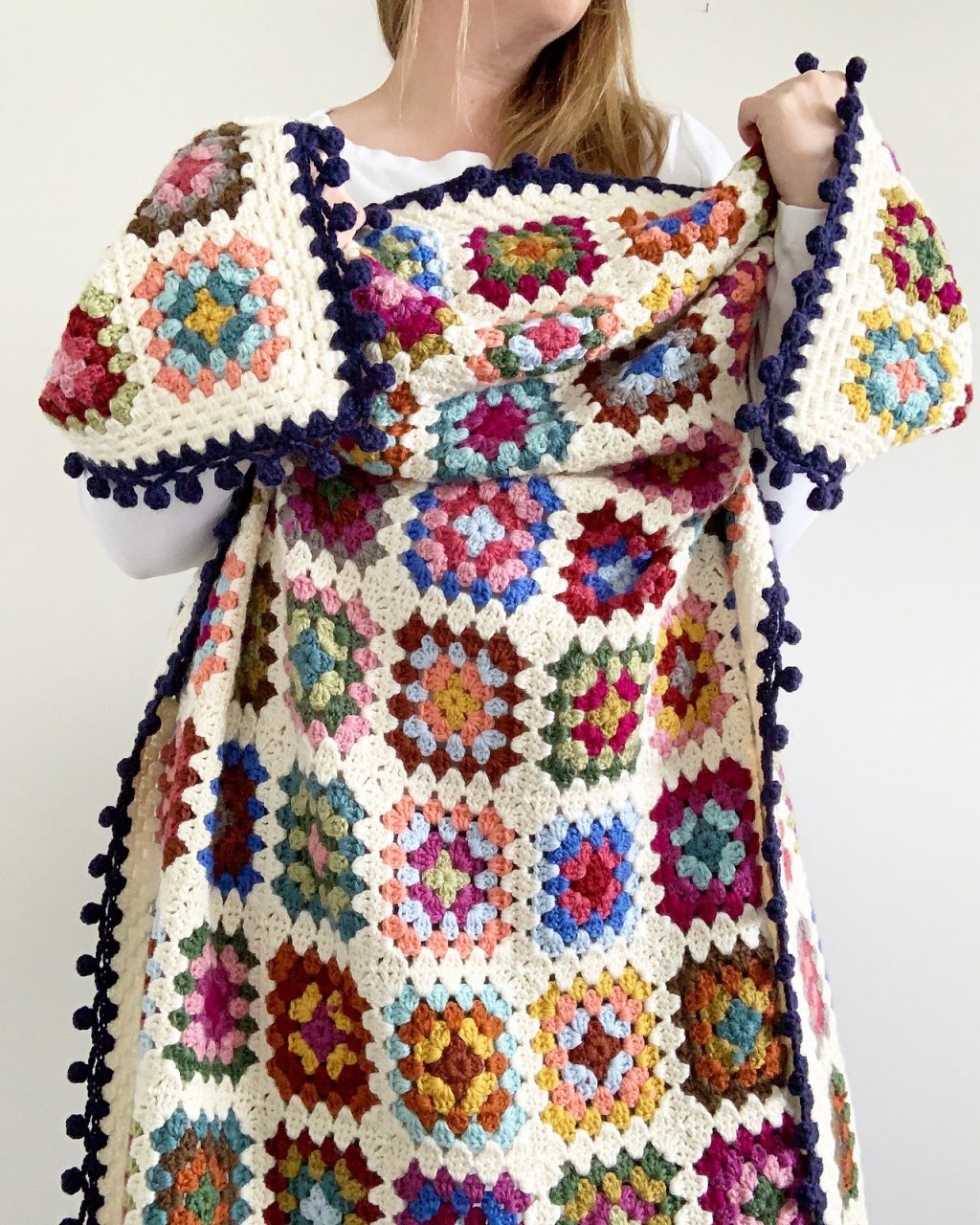 Another classis style square with lovely colours in a mix of muted and bright shades. Peep that bobble edging too! It makes any blanket come alive. You can find this pattern on Ravelry for a small fee or visit the link there to the blog post for the free version!
Puffy Circle Granny Square Blanket Pattern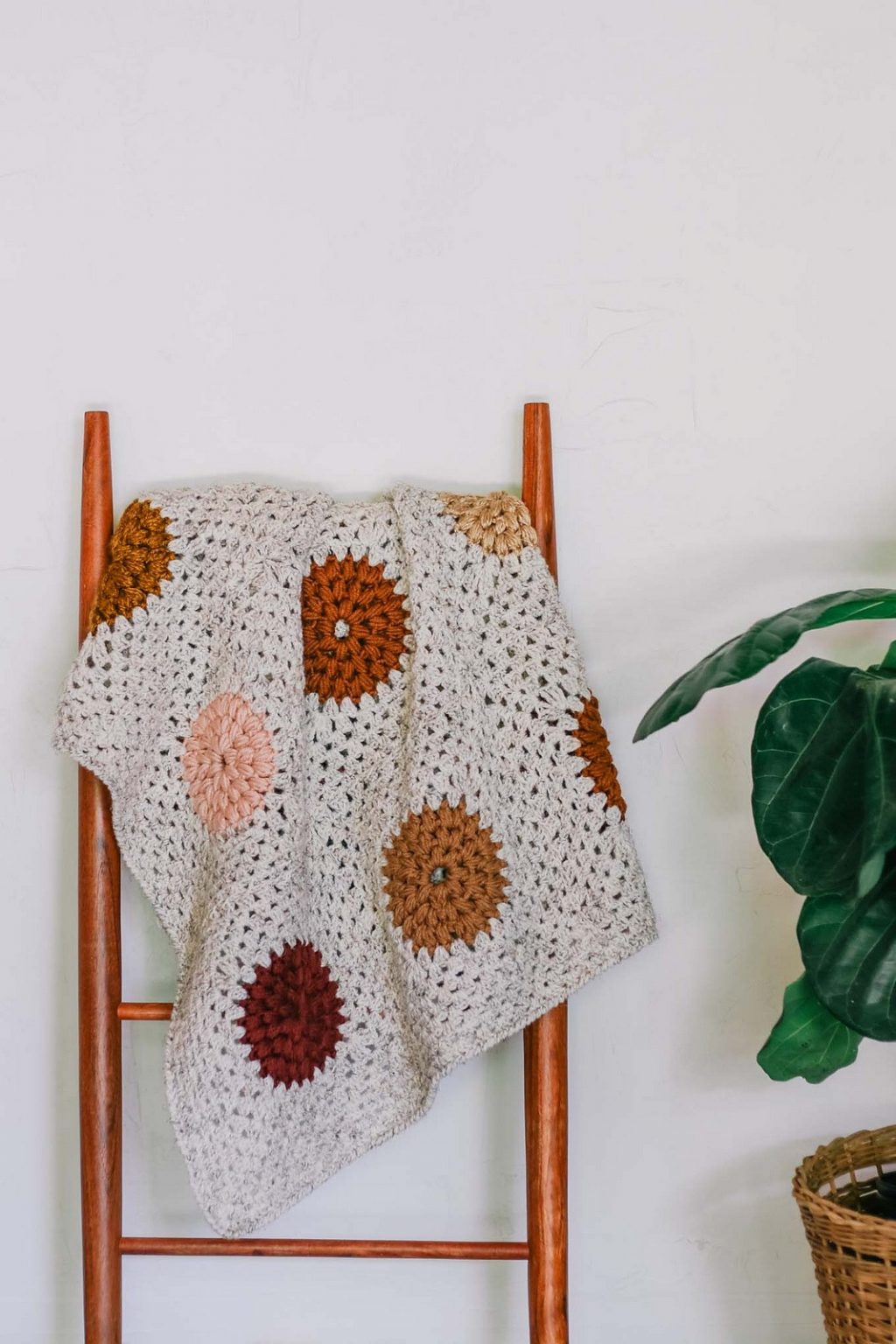 Tired of squares? Try this granny circle design that has a minimalist feel to it. There's something about a solid background with pops of colours that just gives us organic modern vibes. Grab the pattern over at Make Do and Crew!
Island Stroll Crochet Blanket Pattern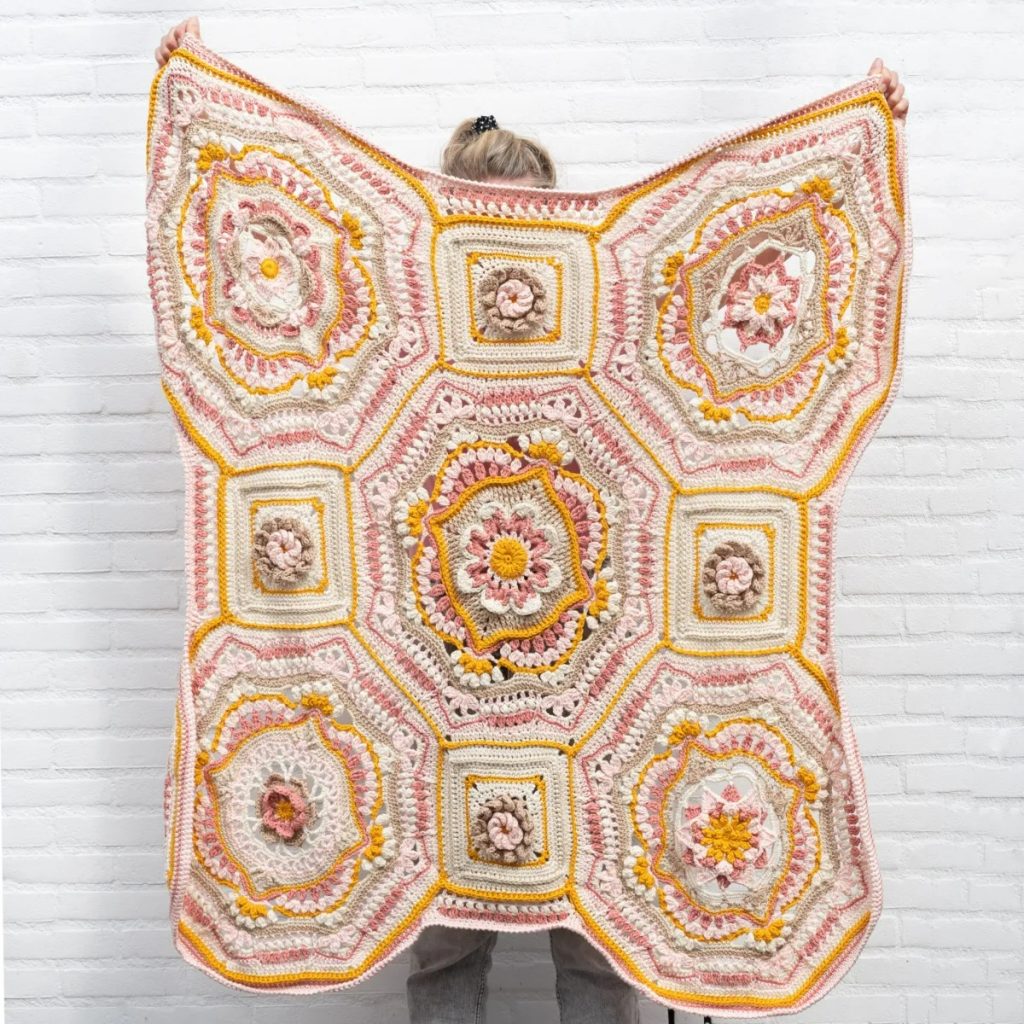 Does this one look a bit daunting!? Perhaps, but a good challenge is always fun! This blanket is giving us serious Anthro vibes and can be made by you! Find everything you need to know about this pattern over on the Sisters in Stitch website.
Ombre Rainbow Flower Blanket Pattern
Ombre yarns and designs always make for such lovely pieces. This puff stitch flower blanket is fairly easy to recreate and looks so striking! Find this pattern for free over on Ravelry.
Big and Small Granny Square Pattern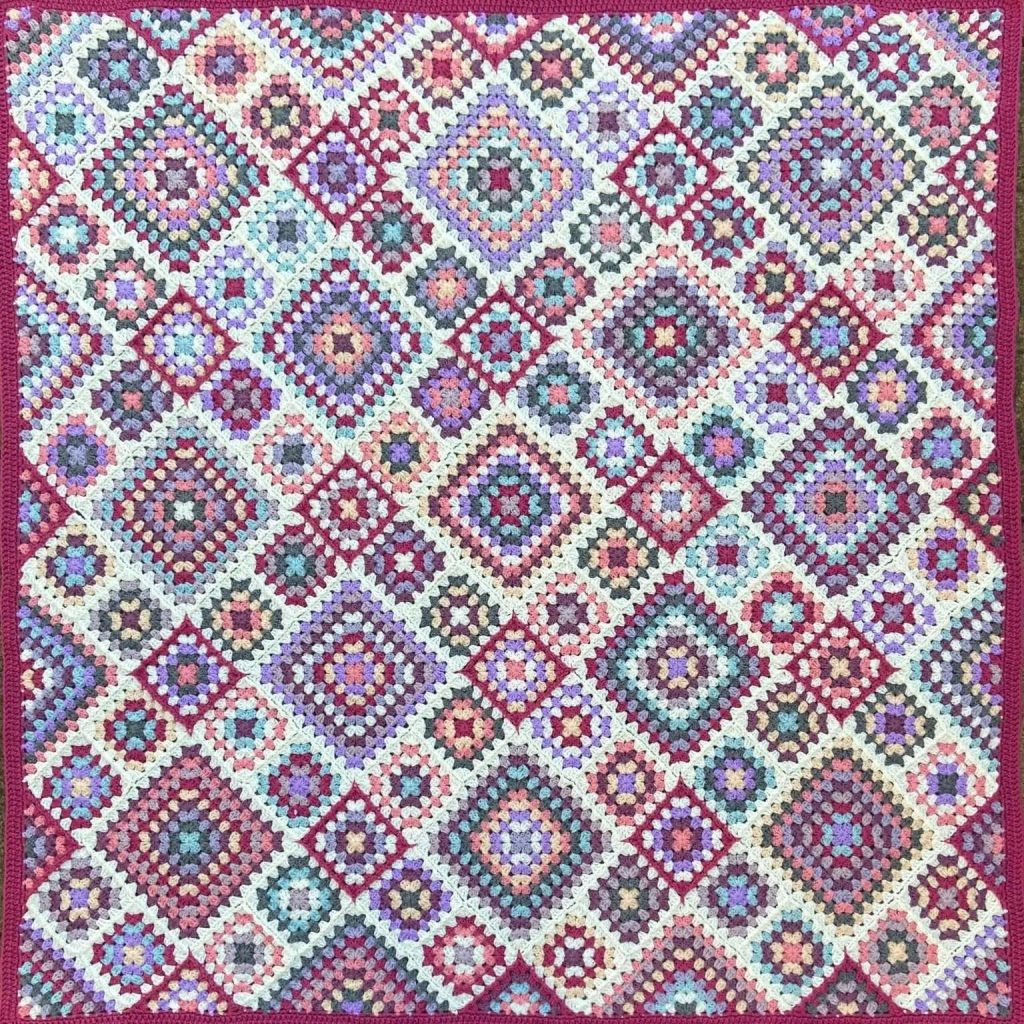 A collection of large and small granny squares makes for this unique design. This colour combo is such a cottagecore look that is super trendy right now. This pattern and tutorial can be found on The Crochet Swirl website!
Grandma's Hugs Crochet Blanket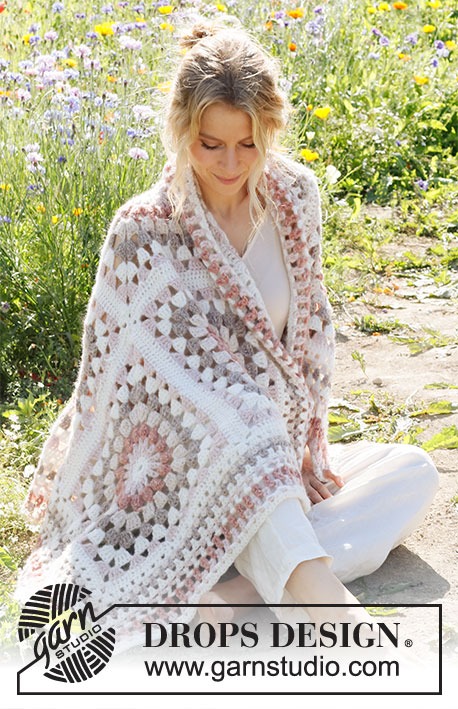 Muted, earthy colours work really nicely for this oversized granny square design. The bigger the square, the less you have to make! This free crochet pattern is available over on their website.
Paint Splash Blanket Pattern
For a super cute baby blanket, try this circular pattern with bobble stitches! This would look so perfect in a nursery with colours matching your little one's decor. Grab this download over at Ravelry for free!
Pin this for later: