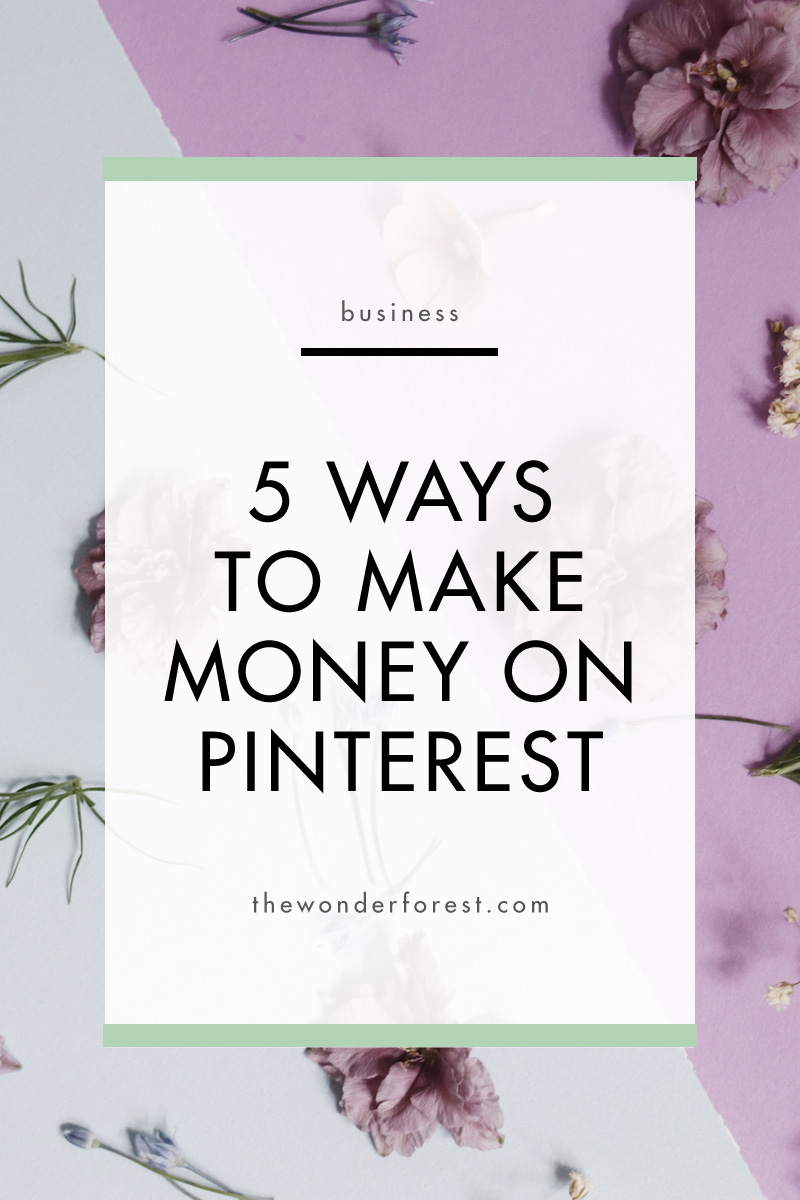 Do you love Pinterest? You're not alone! Pinterest has over 250 million active monthly users and is one of the most visited websites in the world. If you spend a lot of time on Pinterest like I do, you might have wondered if it's possible to make money from Pinterest. After all, people are making money from platforms like Instagram and YouTube every day.
So is it possible to make money on Pinterest? Yes! Here are five of the best ways you can turn your passion for Pinterest into profit:
1. Make Money from Ads
Pinterest is a great source of traffic for bloggers because most people use Pinterest as a visual search engine, looking for everything from easy recipes to DIY projects to outfit ideas to fitness routines.
You can take advantage this by creating content on your own blog that will aligns with popular topics on Pinterest, and then use Pinterest to drive traffic to your blog. In order to find out what topics are popular on Pinterest and get a lot of traffic, take a look at Pinterest's own guide to trending topics for 2019.
Once you are getting a decent amount of traffic to your blog from Pinterest, you can apply to ad networks like Mediavine or AdThrive. Bloggers can earn anywhere from a few hundred to a few thousand dollars a month with ads from these networks!
2. Affiliate Marketing
If you're looking for a great way to make money on Pinterest with or without a blog, affiliate marketing is a good choice.
Basically, affiliate marketing is just promoting products online and earning a commission if someone makes a purchase through your unique affiliate link.
How can you leverage affiliate marketing on Pinterest?
One way to do it is by creating content for your blog that contains affiliate links, and then driving traffic to that content through Pinterest. The goal here is to funnel traffic to your blog, and then have people click your affiliate links and make a purchase.
An even easier way is just using affiliate links directly on Pinterest. You don't need your own website for this method, you simply link directly to a product's sales page using your affiliate link and earn a commission is someone makes a purchase.
I personally earn more than $500 a month from affiliate marketing on Pinterest, but the potential for income with affiliate marketing is limitless.
3. Pinterest Virtual Assistant
Pinterest virtual assistants are in high demand right now. What does a Pinterest virtual assistant do? Basically, you are in charge of managing the Pinterest presence for a blogger or business owner.
Typical tasks for a Pinterest virtual assistant include designing Pinterest graphics, creating boards, scheduling Pins, doing group board outreach, and more! Pinterest virtual assistants can expect to earn $25 to $50 per hour or more depending on experience and skillset.
In order to become a Pinterest virtual assistant, you do need a few skills. I recommend keeping up with Pinterest marketing trends, learning how to use a Pinterest scheduling tool like Tailwind, and familiarizing yourself with graphic design software such as Photoshop or Canva.
You can find clients by reaching out to bloggers and business owners who look like they could use some Pinterest help and offering your services.
4. Sell Your Own Product
This is similar to the second idea on this list (affiliate marketing) but instead of using Pinterest to promote someone else's product, you are using the platform to sell your own product.
The easiest way to do this is by creating a digital product such as an ebook or online course. You will then need to create a sales page for your product with a button to purchase it. In order to generate sales, you can create multiple Pinterest graphics promoting your product and share them on Pinterest.
If you don't want to create your own website, you can also link to an Etsy shop or other online marketplace where you sell your own products.
5. Become a Pinterest Influencer
At this point almost everyone has heard of Instagram influencers – the Instagram users with a sizeable following who work with brands on paid sponsored posts. It's possible for the most successful Instagram influencers to earn $5,000+ per post!
But did you know that Pinterest influencers are growing in popularity, too?
Brands are willing to pay influential Pinterest users for collaborations, so if you have a sizeable following on Pinterest this could be an option for you! Pinterest themselves offer some suggestions as to how Pinners can collaborate with brands on paid campaigns.
To find brands to work with on paid campaigns, you can either pitch to brands directly or join an influencer marketplace like Izea that connects brands with influencers.
Last Updated on