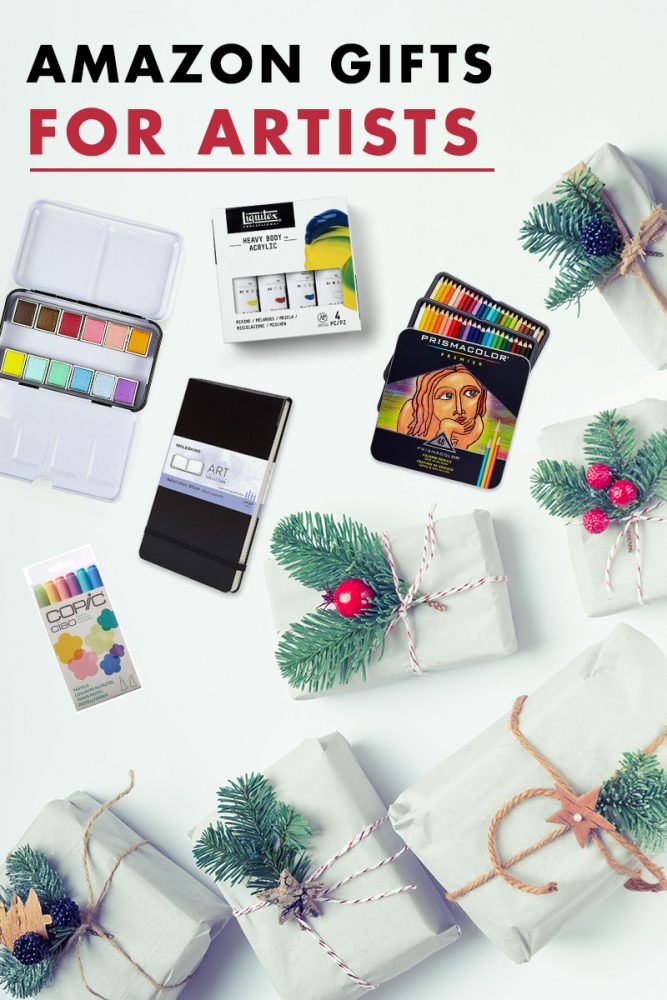 Who doesn't love Amazon? The ability to order online and have it delivered SO FAST, even during peak Christmas season, means nobody is left off your list. If you're still scratching your head about what to get that creative friend of family member, I've created a simple breakdown for you here with some of my top suggestions as an artist.
Although art supplies can vary in quality and price, I've tried to keep all budgets in mind and have come up with a list that I think would impress any creative person when they tear the wrapping paper off. Let's get into it…
As an Amazon Associate I earn from qualifying purchases for any recommended products I've shared below.
Paper and Canvas
If you're an art enthusiast, you really can't get enough paper and canvas! This is always a great gift to receive and also gives the artist the opportunity to try different brands and surfaces that perhaps they hadn't tried before.
Watercolour
For watercolour work, there are many options of paper to consider. If you're looking to give something on the higher end, definitely pick up some Arches 300 gsm paper. The pads come in a couple of varieties including cold pressed (nicely textured), hot pressed (smooth), and rough (extra textured).
I'd also recommend any of the Stonehenge Aqua watercolour blocks which are also 140lb sheets with nice absorbency.
If you're buying for the beginner who is just starting out, try a nice student grade paper like this Canson XL Series Watercolor Pad. This is a great paper pad that I personally use for trial and practice pieces. I like it because you get a large amount of sheets and the quality is still decent.
For a travel sketchbook, try the Moleskine Art Watercolor Sketchbook.
Acrylic/Oil
This pack of 12 acid free canvas panels offers great value for both acrylic and oil painting. I typically prefer canvas panels over stretch canvas because the surface is solid all the way through.
If stretched canvas is more up the artist's alley, this pack of pre-stretched canvases (Canada: click here) also offers a good value in a variety of size options.
Drawing
Try something new and give this toned grey sketchbook! Sketching on toned paper allows artists to use white highlights and bring 2d drawings to life.
Tech Ideas
A lightboard is one of those products that not all artists have, but oh man can they come in handy! They are simple LED boards that allow you to trace rough work onto a final canvas/surface and can be useful for so many other things. Trust me, this would be a great gift! This one is a great size and is thin enough to travel with.
A Wacom drawing tablet is another gift that allows beginners to experiment with digital art, or can be an upgrade for existing digital artists. This Wacom Intuos tablet is a simple digital drawing tablet that hooks up to any computer. You can use a tablet with any drawing software, Photoshop, Illustrator, etc. If you really want to impress, try looking into the Wacom Cintiq tablets, which are high end drawing tablets that allow the artist to draw directly on the built in screen.
Paint
A nice quality paint can make a huge difference in how someone experiences art! Receiving the gift of nice paint is something all artists would appreciate, because for many, it's their biggest expense.
If you're unsure about colours, you can never go wrong with the primaries (red, yellow, blue) plus white and black. I would also probably through a brown shade in there. This allows for tons of colour mixing options without spending a fortune on tons of colours.
Watercolour
For a beginner, a "step up" from their usual student grade paints might be the Winsor & Newton Cotman line of watercolour paints. This line is made to be more affordable than their Professional line, but still offers amazing pigment and ease of use. A few tubes of these make great stocking stuffers or gift add-ons.
For the intermediate artist, some more professional paints might be nice. The Winsor & Newton Professional line of watercolour paints offers more colour options than the Cotman line, and while a bit more pricey, the make up of these paints is a higher quality.
Another favourite among watercolour artists are the Daniel Smith paints. You can grab a set of the primaries here. You can find various other sets and individual tubes here as well.
If you want to change it up with some fun themed watercolour paint sets, try the Art Philosophy Watercolor Confections palettes.
Oil
For a beginner, grabbing a set like this Winsor & Newton Winton Oil Color set would be a great option. This isn't a super high quality paint set, but it will allow the receiver to experiment with the medium… especially if they've never used it before! You can also try the Artisan set which has a variety of different colours.
For intermediate artists, the Gamblin Artist's Oil Colors are a great choice! They come in so many colour varieties, and, like I mentioned above, if you stick to the primary colours plus black and white, you can save some money.
M. Graham also makes some great oil paints, available in tubes and sets.
While you're at it, grab a bottle of Gamsol so your art friend can clean their brushes nicely.
Acrylic
Acrylic is probably the most popular paint of choice. This set of Liquitex Professional Heavy Body Acrylics comes in a mixing set (primaries plus white). Sets are always nice for gift giving because they come in a nice little package, ready to wrap!
This Golden Heavy Body Acrylic set is also an option similar to the one above.
The Winsor & Newton Galleria acrylic tube paints are high quality paints that come in so many available colours. They are highly rated for lightfastness and dry with a smooth satin finish.
A nice acrylic medium is also a good "add-on" that the recipient would appreciate! This acrylic slow drying medium allows artists to take a little more time painting and blending… because when it comes to acrylics, they dry much quicker than oil based paints.
Paint Brushes
For watercolour art, you'll want to look for brushes that are soft and hold onto water really well. Round brushes are the most common for this type of painting, so something like the Silver Brush Black Velvet brushes are one that I always recommend (aside from my own Wonder Forest Watercolour Brushes of course!)
For acrylic and oil brushes, consider looking into the Princeton Velvetouch Artiste mixed media brushes. They come in a variety of styles, sizes, and shapes.
Drawing Supplies
High quality coloured pencils make great gifts because they typically come in nice sets! The Faber Castell Polychromos pencils are amazing quality and allow for smooth blending and high pigment.
You can also try something like the Prismacolor Premiere coloured pencil set. Both of these brands are highly known in the art world.
A 12 piece pencil set can also come in handy for sketching and drawing.
Markers and Ink
A pack of Tombow Mono Drawing Pens is so useful for many types of art. They are permanent ink pens that come in a variety of tip sizes which makes them perfect for outlining, sketching, and final details.
For watercolour artists, these Gellyroll white pens are also helpful for completing final details with white ink. You might also want to look into getting some Posca acrylic/paint markers for the same highlighting purposes.
Copic markers are the king of all markers. They are alcohol based and while expensive, offer great results. They make them in little sets like this Copic Ciao skin tones set, Basic set, or sets with dozens and dozens of colours.
The Copic Sketch markers come in limited edition sets like this one or this one and as individual markers.
Tools & Extras
Oil painters will love this super affordable set of palette knives for mixing!
My books Watercolor With Me: In The Forest and Watercolor With Me: In The Ocean make perfect gifts for watercolour enthusiasts!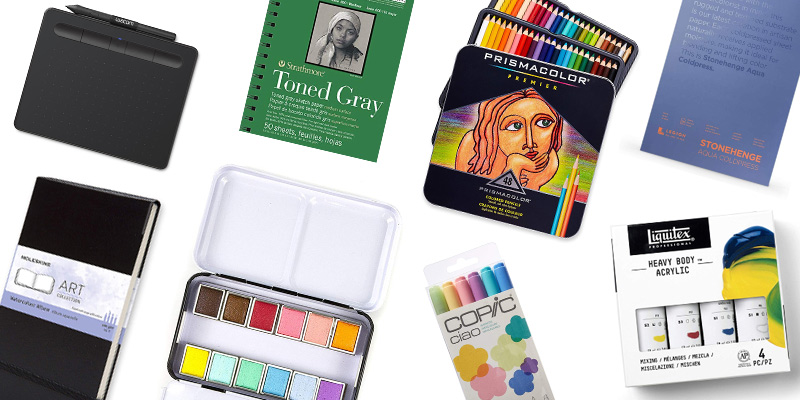 I truly hope this list helps you find the perfect gift for that artist in your life! If you have any personal suggestions, feel free to leave them in a comment below 🙂
Last Updated on