Craft rooms are full of creativity and beautiful supplies just waiting to be used, but they can get messy really quickly and it can be tough to stay organized without the proper system in place.
I scoured Instagram for some craft room organization ideas and came up with some awesome craft storage hacks and art supply organization. Here's what I found…
This post contains affiliate links for product recommendations. Any purchases made through these links help support the blog with a small commission. As an Amazon Associate I earn from qualifying purchases.
Folding Laptop Tray Cricut/Printer Stand Storage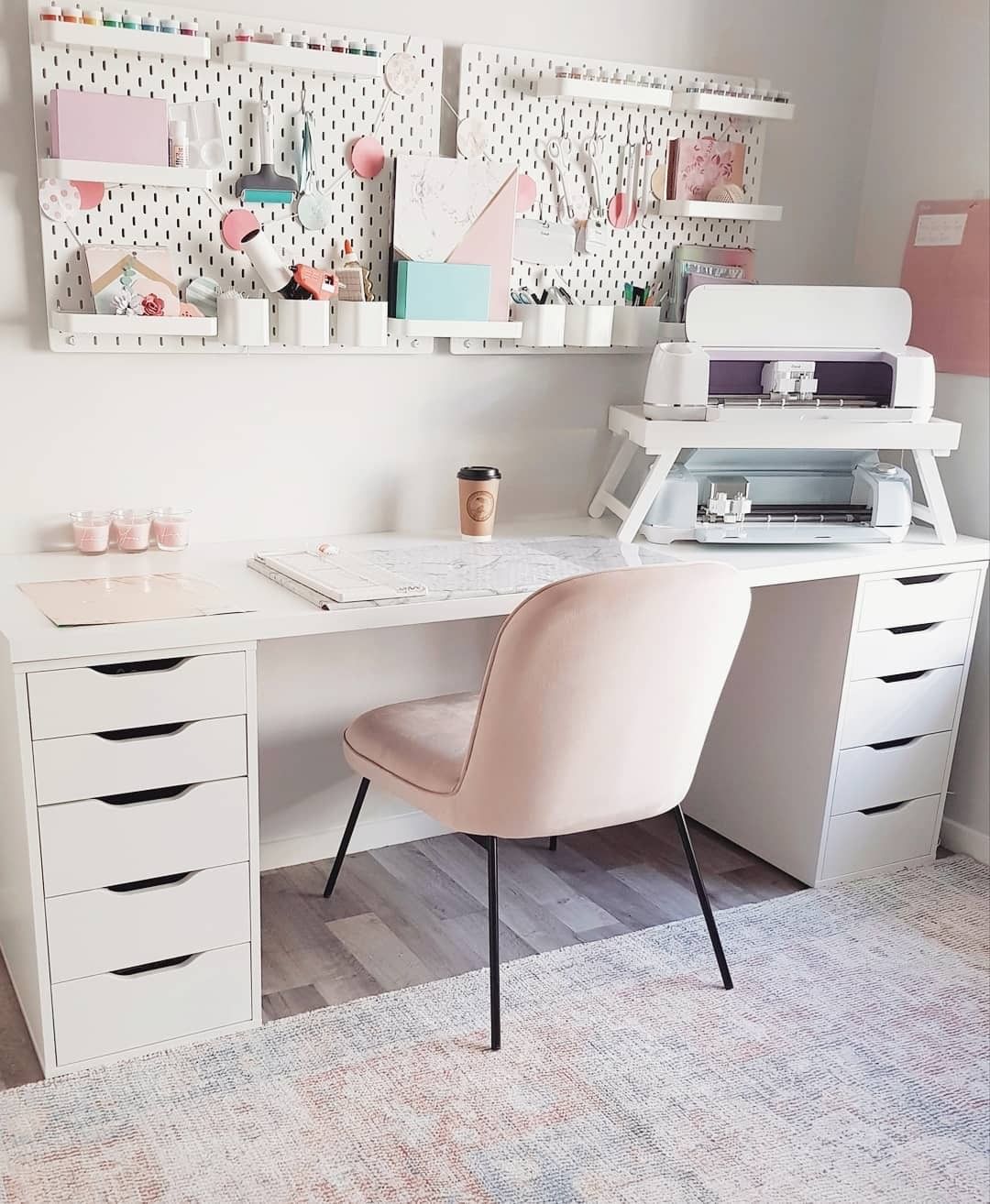 While looking at this pretty space, I couldn't help but notice the laptop tray used as a two tier Cricut shelf.
I thought it was a pretty genius way to stack multiple machines, and even thought about storing my printers this way!
It is a huge space saver and with a little paint, can easily fit right into your desk space. This one would be perfect!
DIY Foam Board Paper Organizer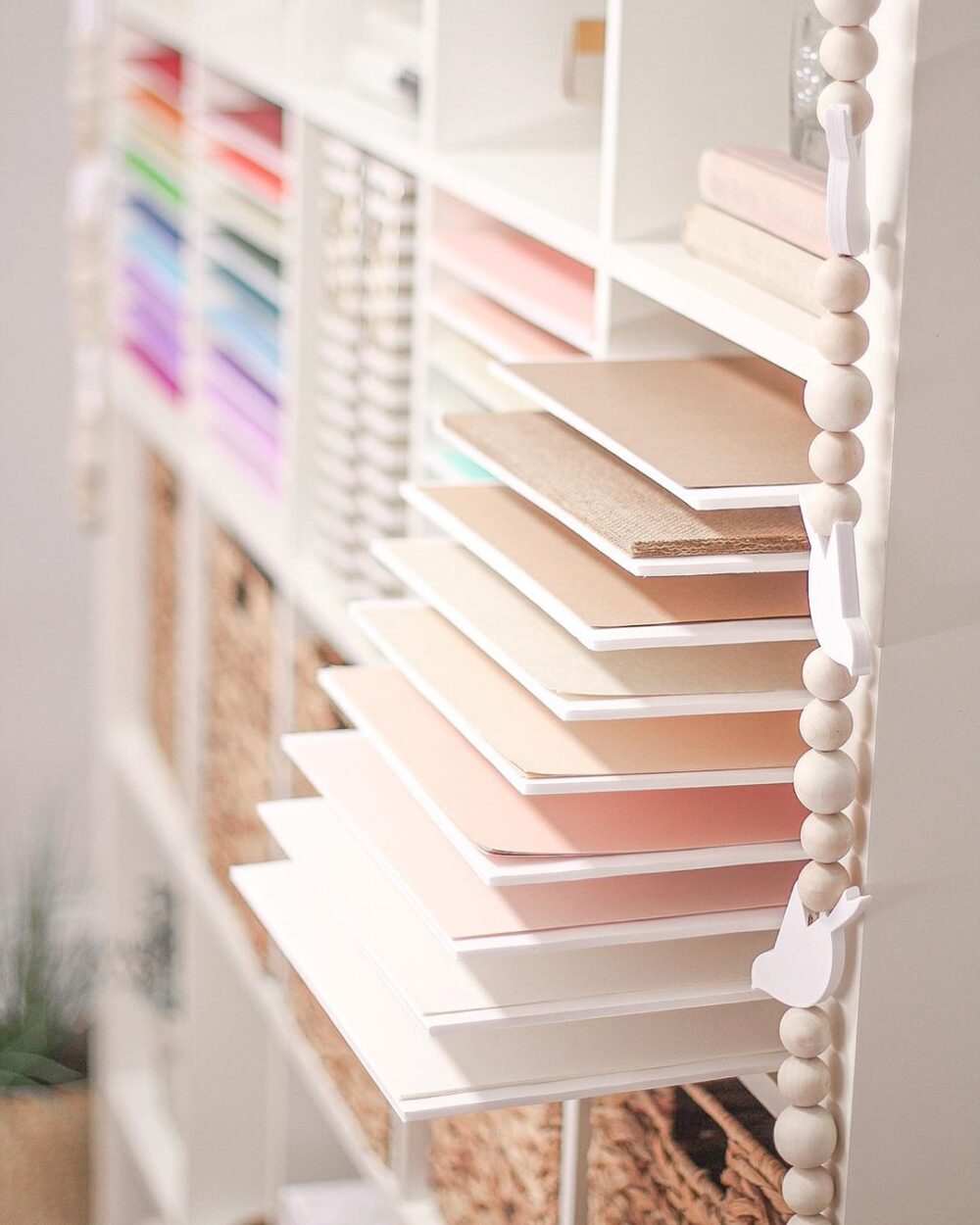 Need a place to store your scrap booking paper, printed artwork, cards, or other paper products? You can easily make your own paper tray storage using foam board!
This allows you to adjust the height of each shelf to your own liking and costs next to nothing. This site has a great tutorial that shows you how to create a shelf for your ink pads out of foam board, but the construction would be the same for paper too (just on a larger scale!).
Don't want to make your own? This paper storage shelf would do the trick!
Clear Storage Jars for Sorting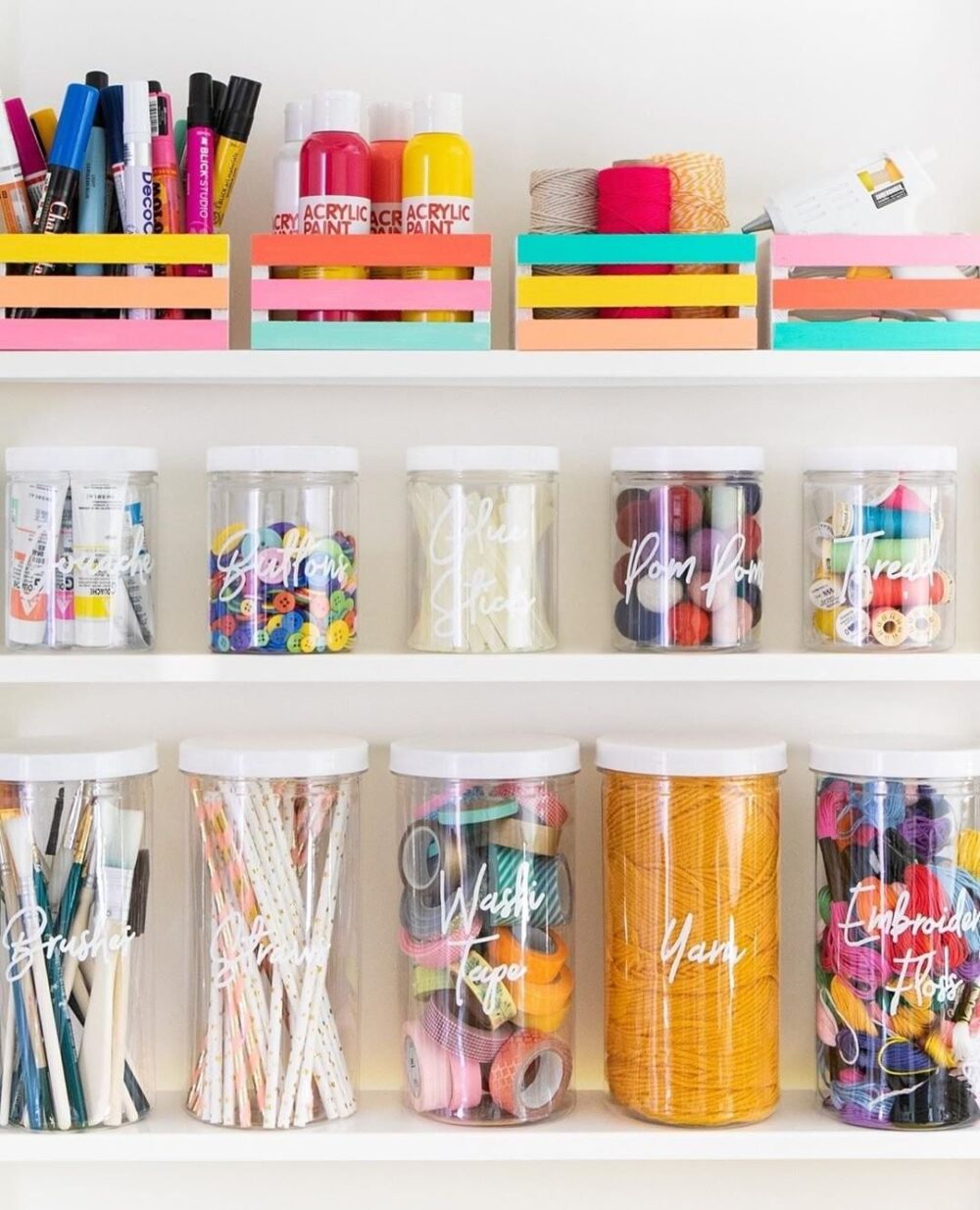 These tall clear jars look awesome filled with organized supplies and labeled with fun lettering. Tip: grab them in various sizes to add a little interest to your shelving! We love the colourful painted crates on the top shelf here too!
Go Monochrome!
There's nothing new about organized shelving, but when you do it with style you can't help but love it!
Keeping with the pink theme here, all of the bins look super cohesive and less cluttered than a unit full of multi-coloured totes. We love this 4-pack of little pink storage organizer bins!
Sticker Organizer Hack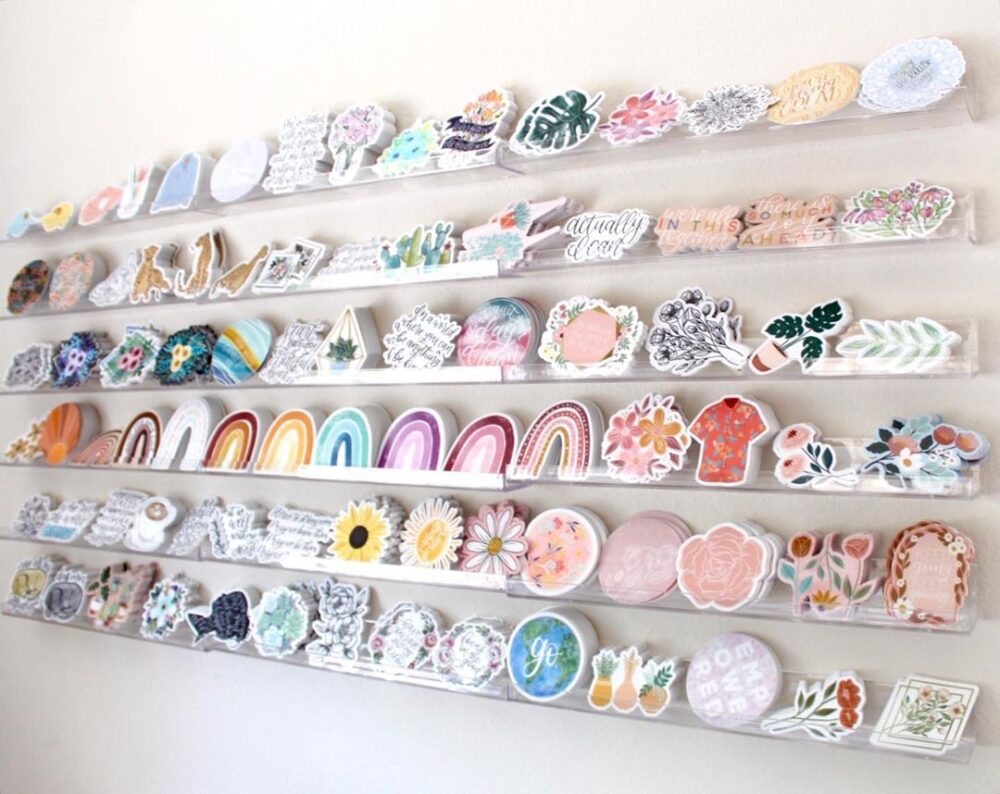 This storage solution is made with nail polish shelves of all things! They are perfect for small items like handmade stickers and we love how Elyse displays hers in the photo above.
This set of 6 individual shelves allow you to position them however you like.
Fabric Storage Idea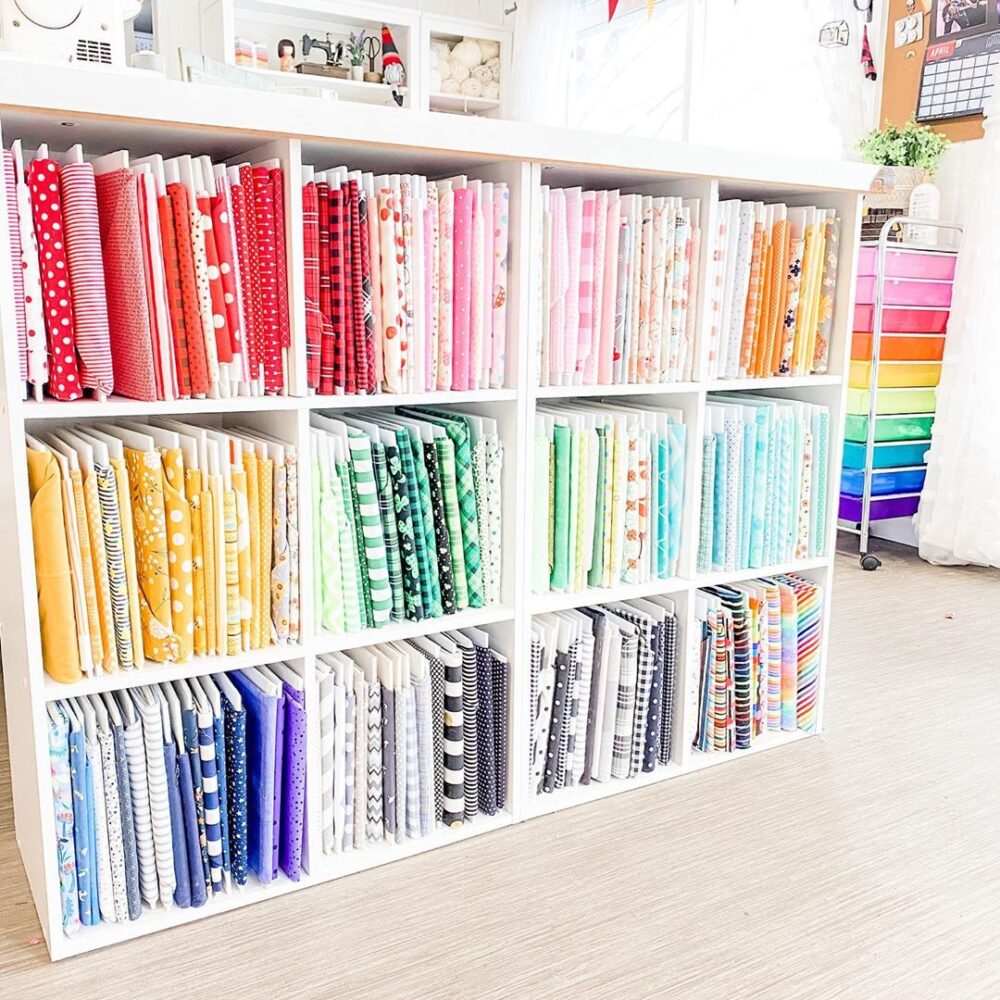 I've seen this done in a few of the sewing groups online — wrapping your fabric around cut sheets of foam board allows you to store each bit of yardage vertically for easy grabbing!
Of course, colour coordinating each fabric and follow the rainbow rule looks pretty great too.
A Hutch of Yarn
Sometimes the perfect storage solution just happens to be a simple furniture piece. This hutch was used for yarn storage and it looks just lovely filled with all of those colourful fibers!
Try using a piece of furniture you already have, or search Facebook Marketplace for a piece that could hold your supplies. It might only need a coat of paint!
Art Storage Ideas
The space underneath a staircase makes for a great storage space! The vertical compartments under the stairs are perfect for storing larger pieces of art, canvas, and more.
This room really is filled with tons of great storage ideas — from the wall of hanging paint brushes to the built in desk and skinny paper-sized drawers. An artist's dream space!
DIY Thread Spool Holder
This genius idea was created using some simple supplies from the hardware store. A few pipes, bolts and screws and you've got yourself a holder for your large spools of thread.
You can customize it based on size to fit any space perfectly. I wonder what they would look like spray painted gold!?
Spray Painted Baskets
Baskets in craft storage shelves are nothing new, but we love how these ones have been spray painted and labeled. They look neat and can match your decor while hiding a crafty mess of supplies. Tip: try a set of these plastic ones and spruce them up with some paint!
If you liked this post, you'll probably also like:
Pin this post for later: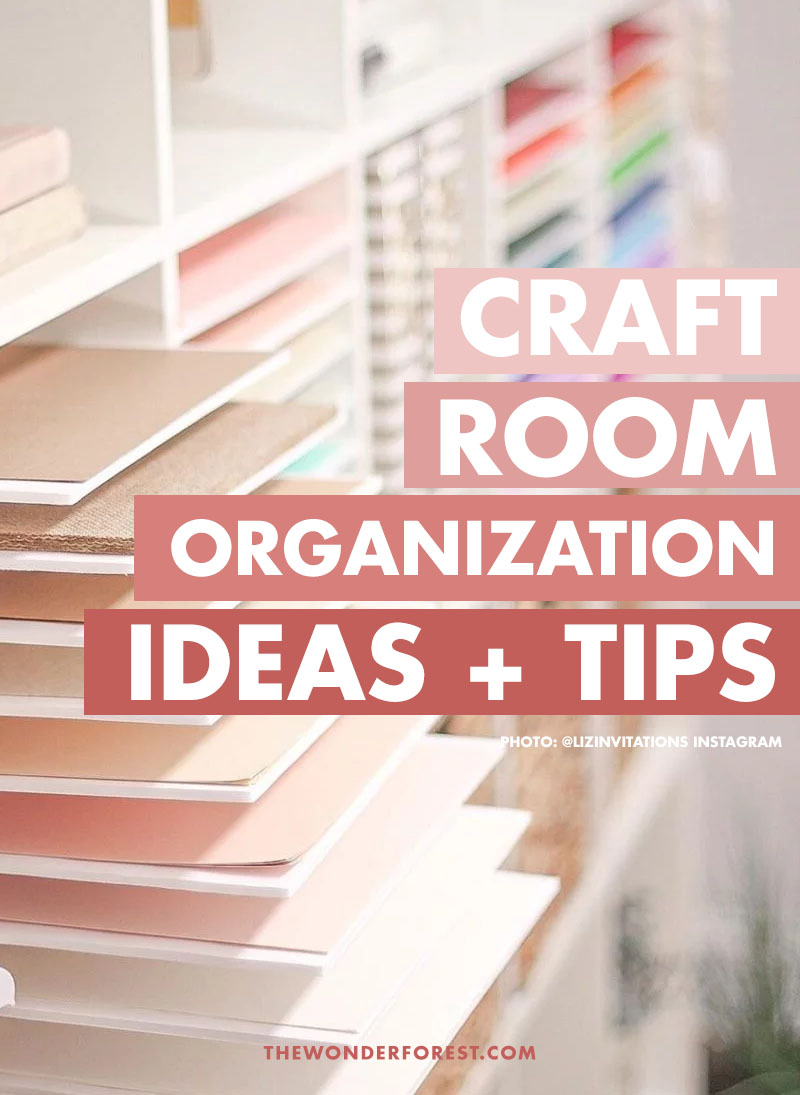 Last Updated on