So you're entering the exciting world of dorm life, where late-night study sessions, new friendships, and epic adventures await. One of the best parts of college is making your dorm room feel like a home away from home. If you're ready to turn that blank canvas of a room into a stylish and organized sanctuary, I've got you covered with some amazing tips and tricks.
Transforming your dorm room into a space where you can thrive is one of the most fun parts of going to college! With limited space and lots of decor ideas, you'll need to carefully consider what dorm room decor goes where. Organizing hacks are part of the college dorm room experience, and we're totally here for it!
First things first, let's unleash your inner decorator! Your dorm room is a reflection of YOU, so let your personal style shine. Whether you're into boho chic, minimalism, or vibrant colors, let that influence your decor choices.
Dorm rooms are notorious for their limited storage space, but fear not! Invest in some cute storage bins, baskets, and organizers to keep your belongings in check. You can even use decorative hooks to hang bags, hats, and jewelry. A tidy room is a happy room! Here are some ideas to get you started in your new adventure…
This post contains affiliate links for product recommendations. Any purchases made through these links help support the blog with a small commission. As an Amazon Associate I earn from qualifying purchases.
A Basic Storage Ottoman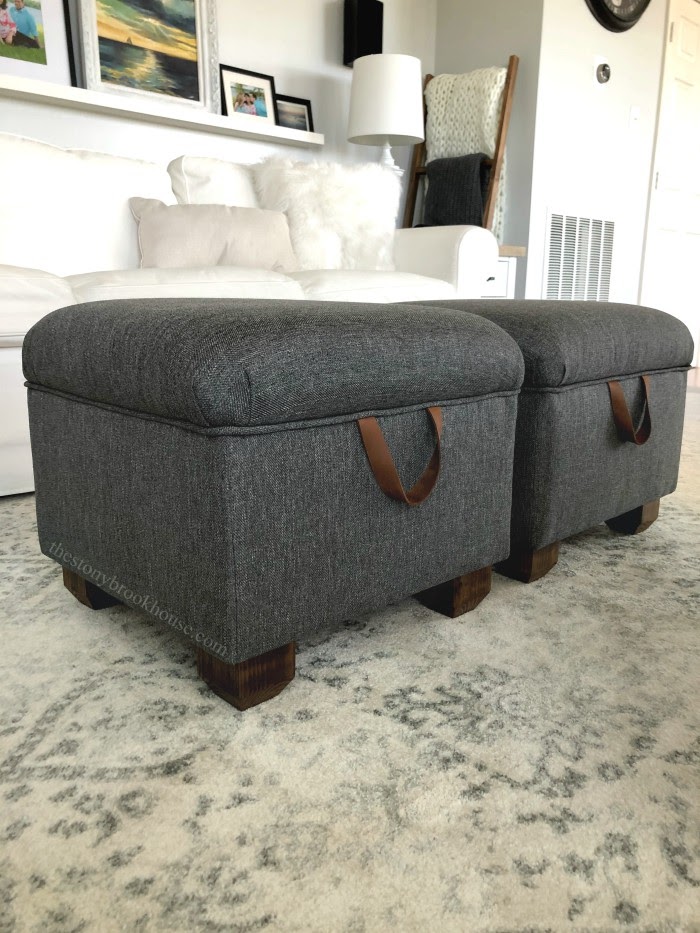 Part storage space, part seat – a storage ottoman is a practical piece of dorm room decor you'll love. In a cozy dorm room, every inch counts. Opt for furniture that serves more than one purpose. A storage ottoman that doubles as seating, a desk with built-in shelves, or a bed with drawers underneath.
Smart choices like this will help maximize your space while keeping it clutter-free. These are great for stashing extra blankets or bulky clothes that don't quite fit right anywhere else. They're also the perfect extra seat for when friends visit. You can even make your own!
Over-The-Bed Storage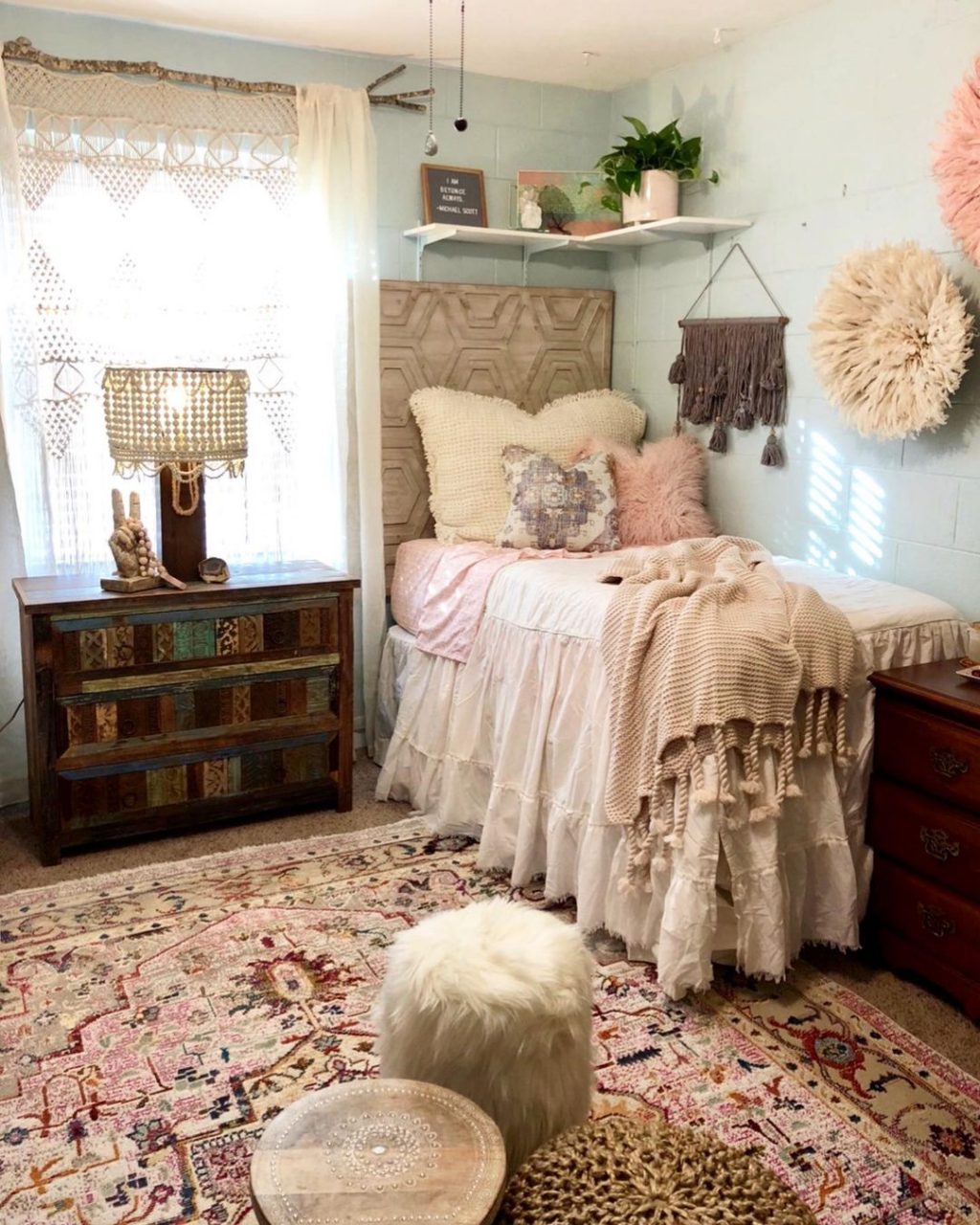 When you're short on floorspace, going vertical is the key to creating more space visually. Add your own personal touch to the room by putting shelves over your bed and displaying your favourite decor or photos on them. Or, add a mirror or another decorative element to use up the space in a creative way.
Floating shelves are fantastic for adding style and storage without taking up much floor space. Install them above your desk or by your bed to display decorative items, store small essentials, or showcase your favorite books.
Dorm Room Loft Bed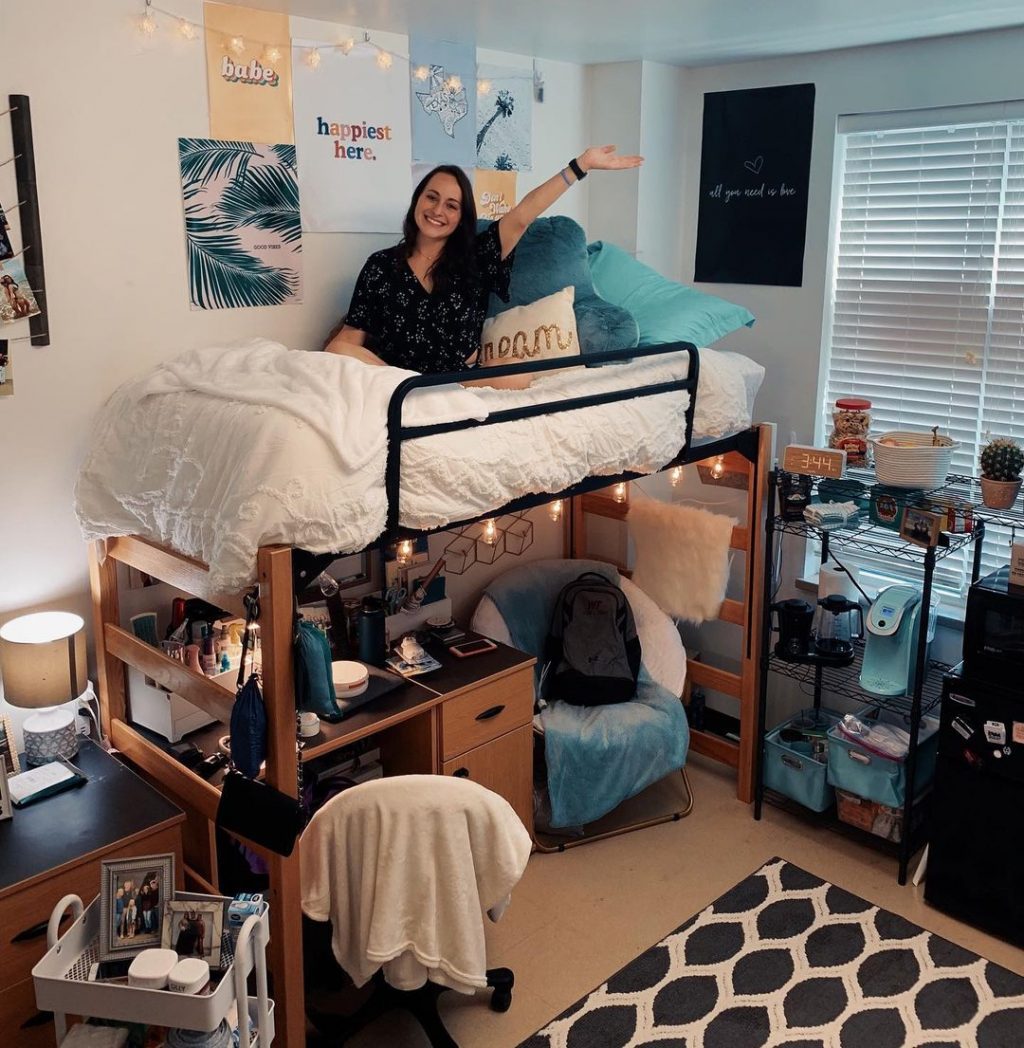 Lofted beds create space that would otherwise go to waste. There are so many options – you could put your desk underneath, or take the cozy path and add a sofa instead for some chill time. Some clever students even string up hammocks for afternoon naps!
Macrame Decor and Wall Art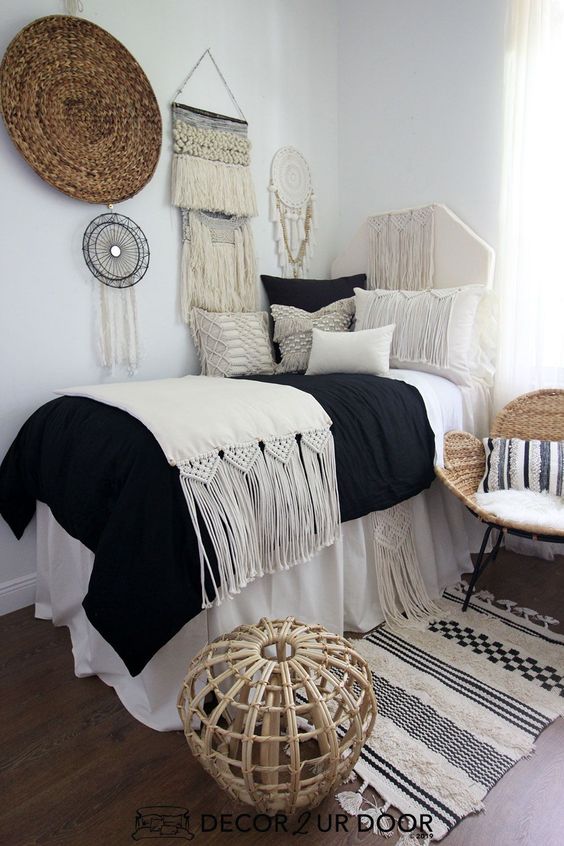 Walls are like a blank canvas just waiting to be adorned with your personal style. Add some flair with removable wall decals, fairy lights, or a macrame tapestry that showcases your personality. Frame your favorite pictures or inspirational quotes to keep you motivated during late-night study sessions.
Keep things boho and chic with some macrame decor! Other than wall hangings, macrame wall shelves are a practical and pretty addition to your boho dorm decor.
They're a great place to store plants and trinkets, you could even get creative with your roommate and make your own – check out the tutorial here.
Your walls can also be used for organizing your photos, important notes, and more with the help of a wire grid wall hanging. We love these for SO many reasons!
Neon and Twinkle Lights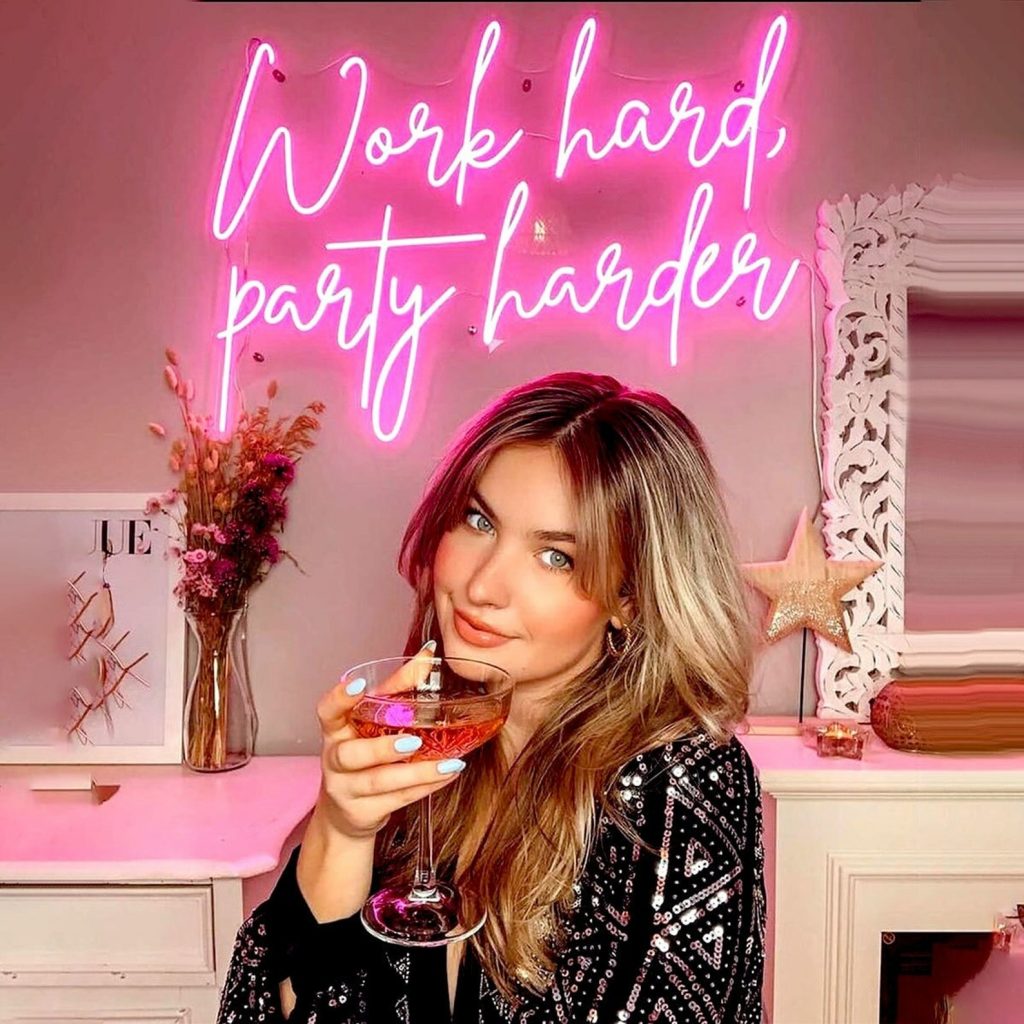 Twinkle lights or string lights have long been a staple in dorm rooms, but one of the most popular trends as of late is to also add some fun neon lights to your space as well. You can find these in a variety of shapes and sizes — and you can even get a custom sign made with your name!
Desk Drawer Organizers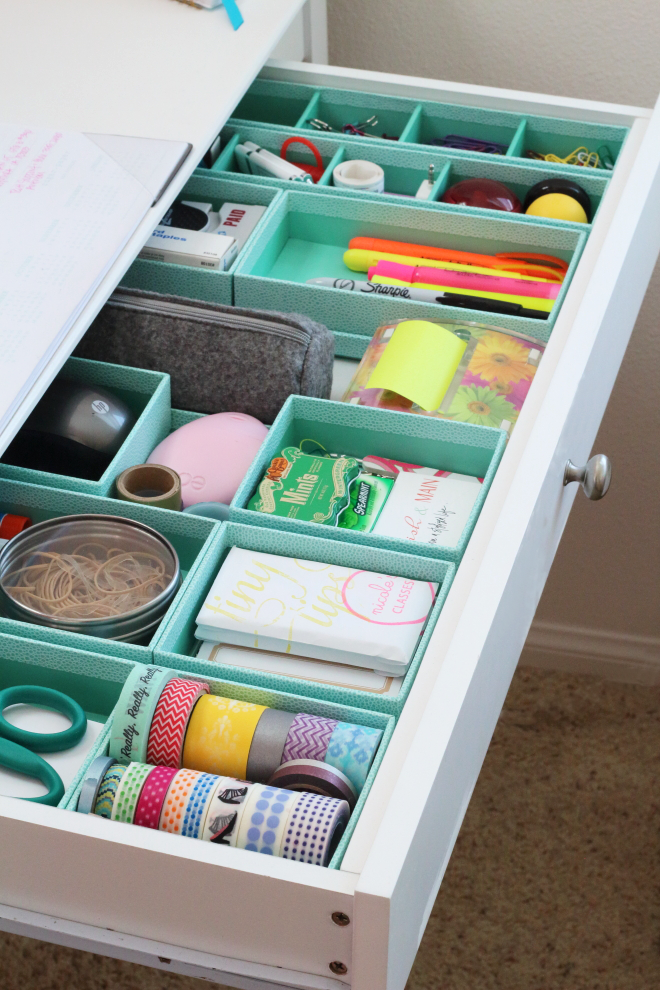 College desk drawers usually end up becoming stash spots for random junk. Once they're full of said junk, we avoid thinking about them until it's time to move out.
Keep your study area organized to improve productivity. Use desk organizers for pens, pencils, and study materials. Keep important documents in a file folder or binder, so you can find them easily when needed. Desk organizer trays are a dorm room organizing hack that ensure you can always find a pen in a pinch.
Posters and Prints Galore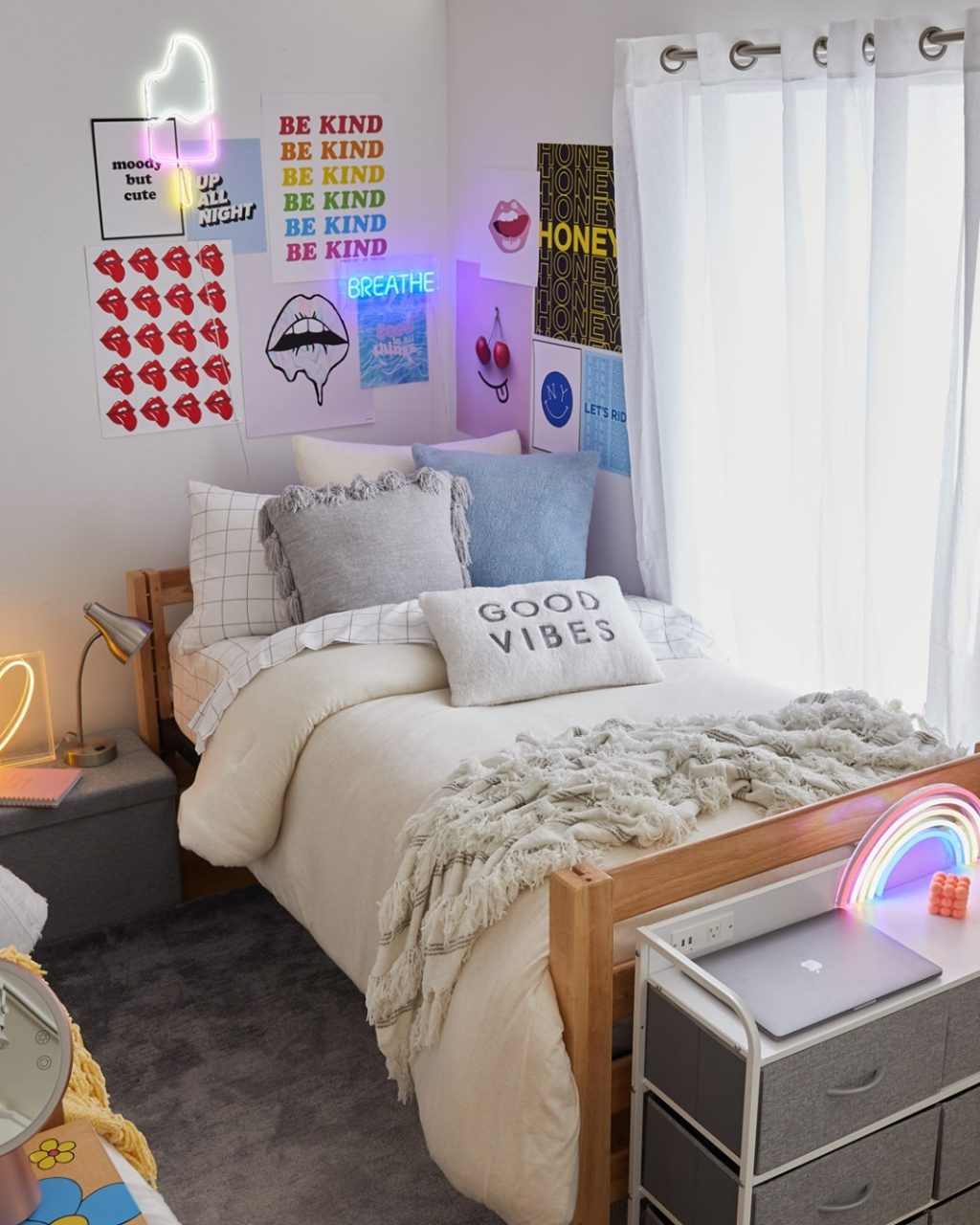 The best thing about decorating with posters and prints is that you can swap them out easily whenever new inspiration strikes. Go for a theme or just fill your walls with all the imagery you love!
You can also use vinyl record covers, polaroid photos, or handmade artwork.
Under Bed Storage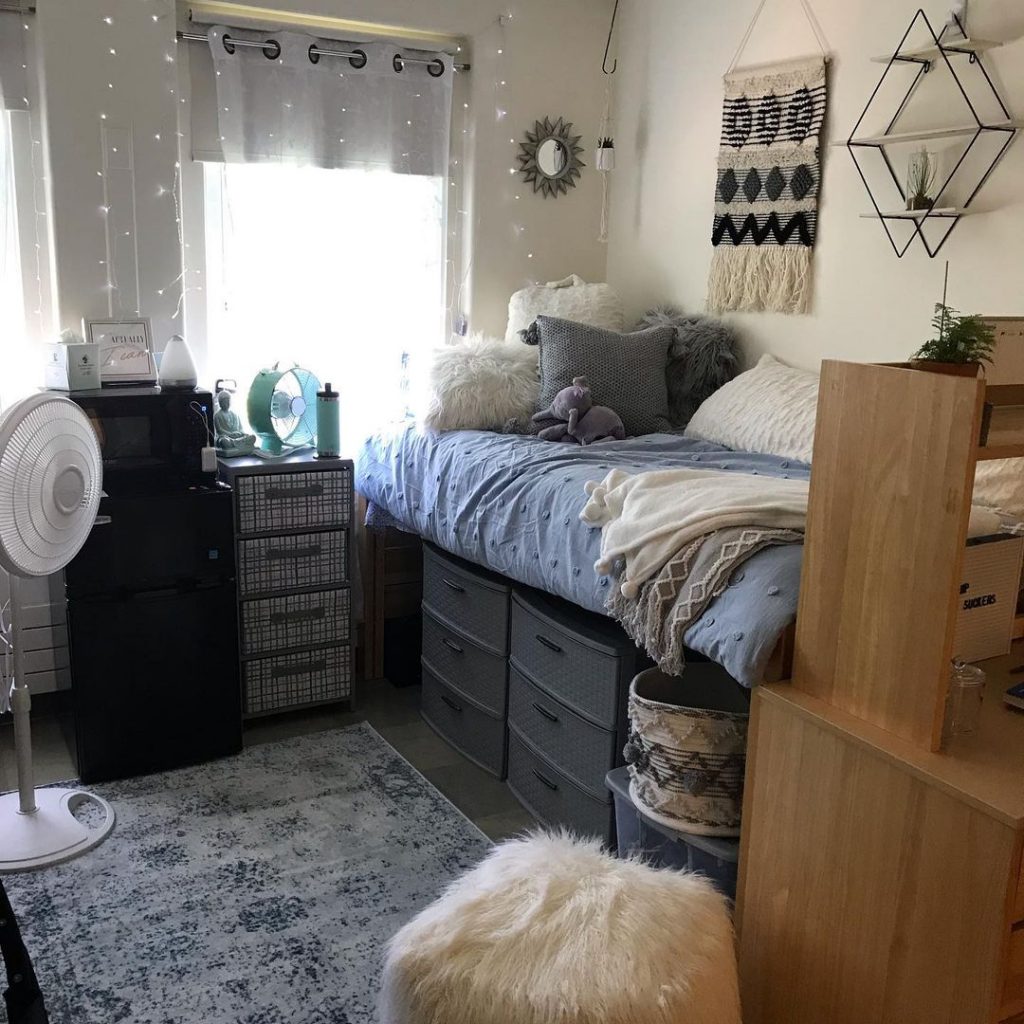 Most dorm bed frames are adjustable, which means you can lift them up and create loads of extra space underneath. If you can't adjust the height of your bed, bed raisers are the perfect solution. Don't let that space go to waste.
Remember what we said about using vertical space? Even if you don't go the loft bed route, the area under your bed is virtually a hidden gem for storage! Invest in some under-bed storage containers or rolling drawers to stow away items like extra bedding, off-season clothing, or textbooks. This way, you're using that valuable space efficiently and keeping things out of sight.
Mirrors For Your Dorm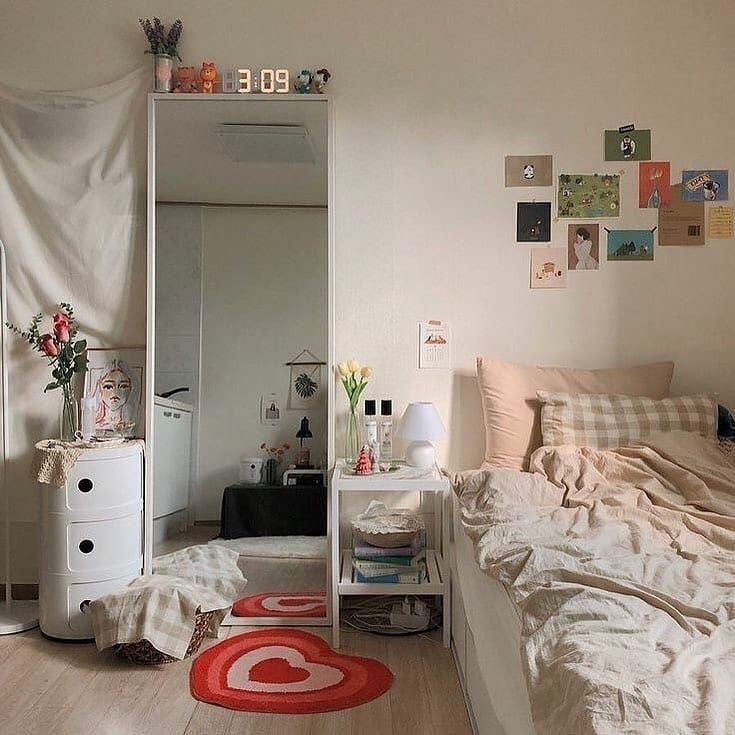 Mirrors are practical dorm room decor that give the illusion of space, and will be perfect for taking selfies of your best outfits. The ultimate organizing hack is to go the extra mile and get a mirror with built-in storage that you can keep your jewellery in.
Theses mirrors are some of our faves because they can hold SO many small items that might otherwise be thrown in a drawer!
Mini Kitchen Area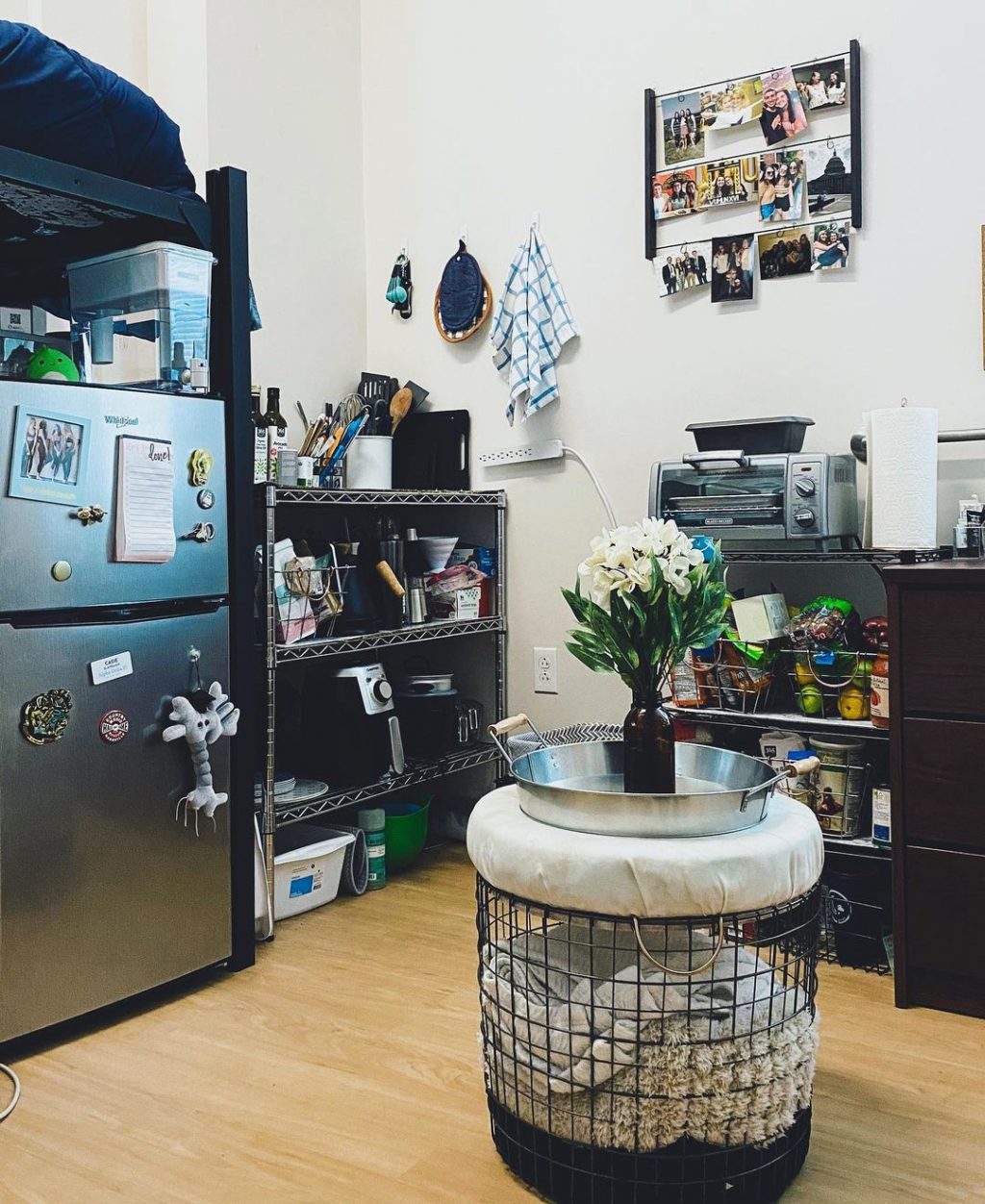 A make-shift kitchen will save your life before early morning lectures and during late night cram sessions. Creating a designated kitchen space where you can keep your snacks, utensils and cups all in one place means you'll always be able to grab a quick meal on the go.
Mini sized appliances like a mini fridge, small microwave, coffee maker, or a hotplate can be set up in a small area, or even underneath your loft bed!
Wall Tapestry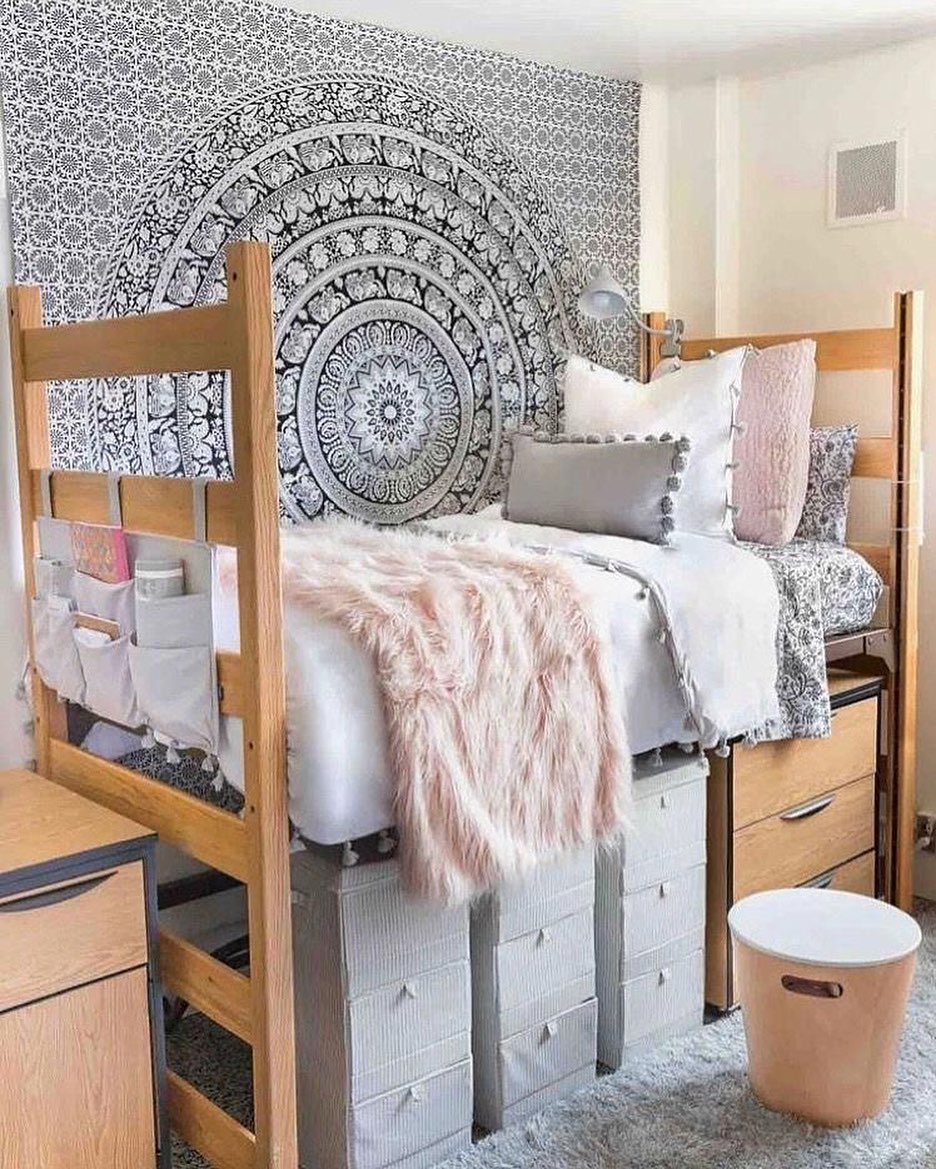 Hanging a tapestry is a great way to quickly transform your dorm room, especially if you can't hang shelves or paint. Adding textiles to your walls is also a great way to warm up a space instantly.
Remember, organizing your dorm room doesn't have to be a daunting task. Take it one step at a time, and always consider how you can maximize every inch of your space. With some creativity and thoughtful planning, you'll have a beautifully organized dorm room that feels like a cozy home away from home. Happy organizing!
PIN THIS: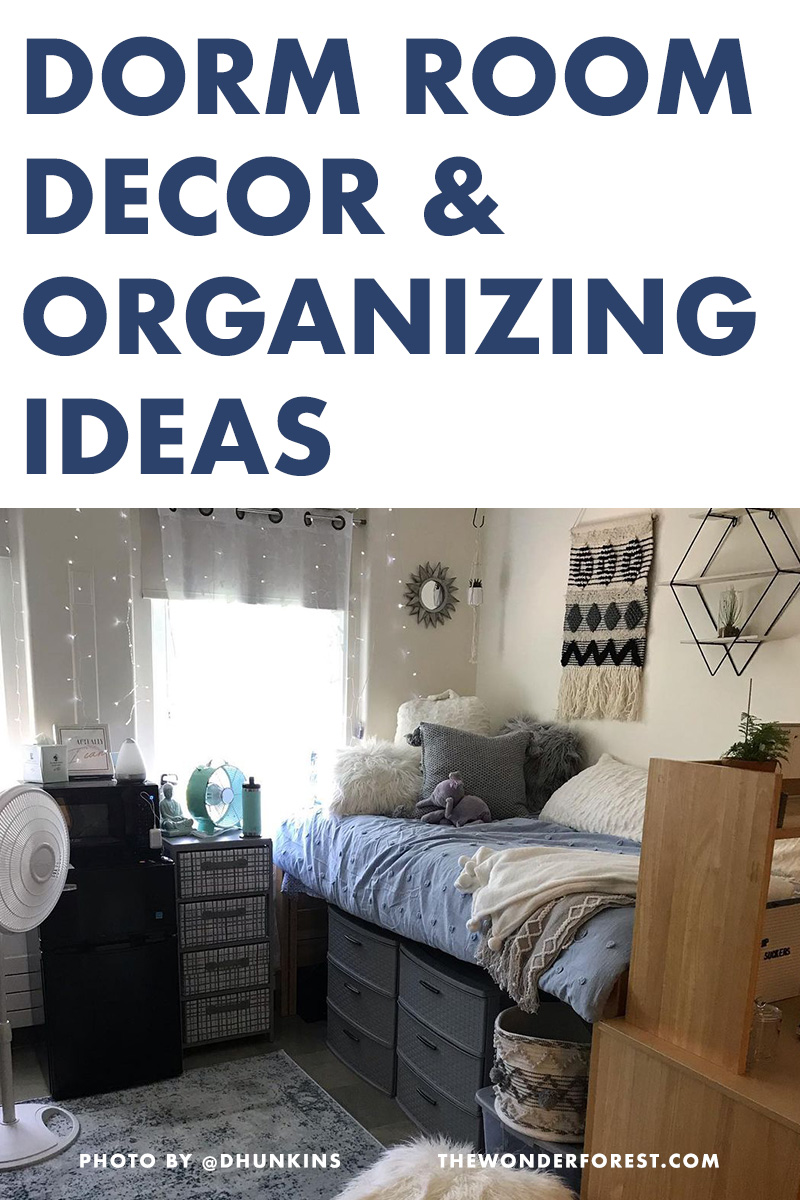 Last Updated on