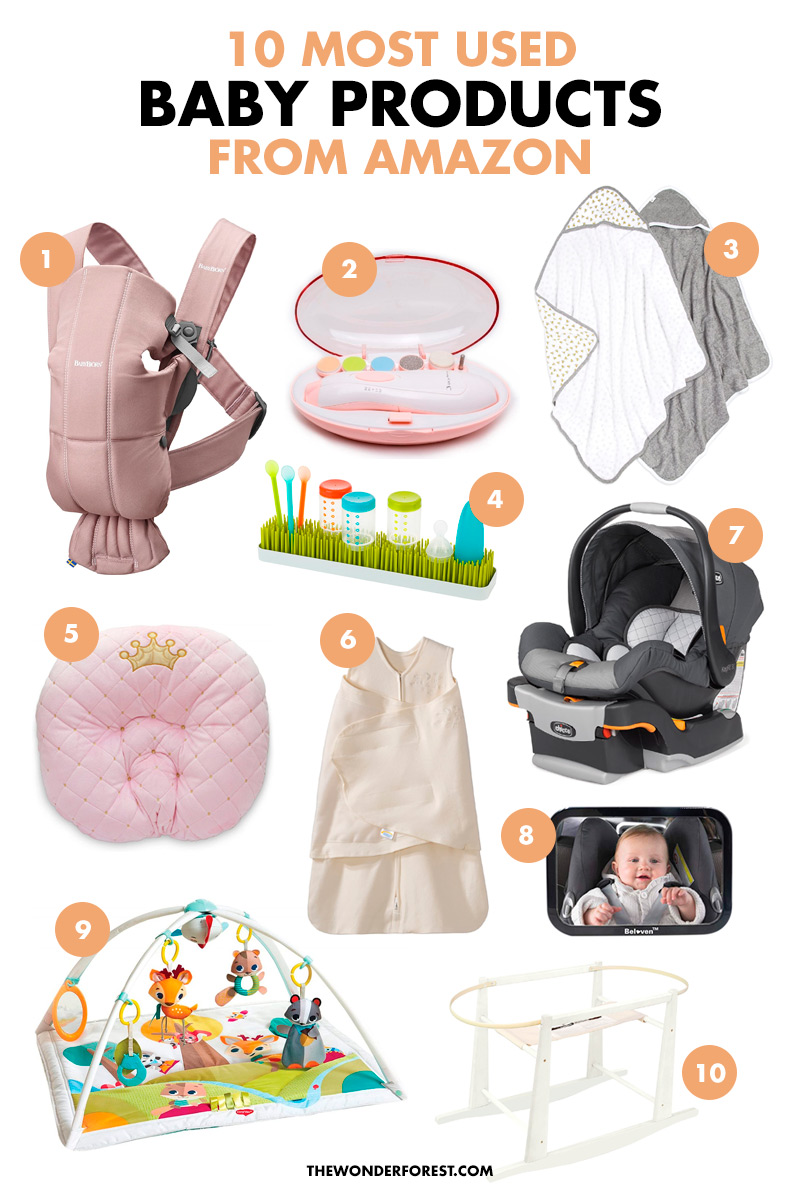 Being a new mom comes with a lot of challenges. One of those challenges for me was trying to decide what products I needed to make "mom-ing" easy and to keep baby comfortable and safe. I bought a lot of stuff. I also received a ton of amazing gifts from my baby shower that have become staples in our everyday lives. For the moms-to-be, I decided I would share my most used products that can easily be found on Amazon… because honestly who doesn't shop on Amazon!?
As an Amazon Associate I earn from qualifying purchases for any recommended products I've shared below.
This carrier has been one of my absolute favourite purchases, so I figured it deserved the number one spot! There are a ton of baby carrier options out there, but this one is just perfect for those new little babies due to its size, ability to adjust the height of the seat, and comfort. It holds the baby's legs in the ideal "M" position and allows for really quick in/out transitions. I can get my girl into this thing in about 3 seconds by just un-clipping one side with one hand and clipping it back up with the easy circular fasteners.
This purchase happened after I earned my "new mom" wings by accidentally snipping my baby girl's finger while trimming her nails. Apparently we've all been there! She cried… I cried. I vowed to never clip her fingernails again! Instead, I've been using this electric baby nail file. It comes with a variety of attachments and I love it because it's so gentle and even stops rotating if it touches the skin. Baby loves it and I feel like a better mom for not allowing her nails to become talons for fear of cutting her again!
I seriously love these towels for bath time. They are lightweight enough to take anywhere, yet soft and absorbent to keep baby dry. The hood helps complete the burrito look after you've wrapped up your little one. For a set of 2 quality towels that get used on rotation every bath time, the cost is great!
These things are staples for any mom, it seems. The cute little pop of greenery in your kitchen doesn't look cheesy and actually serves a really great purpose. We have multiple styles of these, one that sits on the windowsill and one for the counter. You can even grab some fun accessories to complement these Boon patches.
I honestly don't know what I would do without my Boppy lounger! This thing comes with us everywhere and sits beside me as I work or relax on the couch. It's the perfect comfy place to plop your little babe while you're nearby and free up your hands. Of course, these shouldn't be used for sleeping unsupervised (we are all for safe sleeping in this house!), but this is also my girl's favourite place for quick naps while beside me.
This swaddle served us well during those first couple of months while baby was being swaddled. The cotton version as shown here is light enough for summer nights and kept her secure and cozy for bedtime. They also have a fleece version for colder nights. This swaddle made for an easy transition to standard (non-swaddle) sleep sacks as it allows for arms-out positions.
I did a lot of car seat research before baby was born. A LOT. This one kept coming up with awesome reviews so it was the one that made the cut on my registry. I've been incredibly happy with this car seat and love how safe it feels. The padding keeps baby so secure with no slumping and keeps her head in place. It's easy to remove the inserts as she grows and make necessary adjustments. I also grabbed the car seat adapter so I could use it with my Uppababy stroller base.
If you're one of those people who has a hard time driving and not being able to see what baby is up to in their rear-facing car seat, you need a mirror! This thing attaches to the headrest of the back seat allowing you to view your babe in the rear view mirror while driving. The bonus is that she loves to look at herself while driving too!
This adorable play mat is her favourite thing to play on. She absolutely loves the colourful forest friends and the owl in the top center that plays music and flashes lights. We call it her "forest" and it's one of her daily activities. She loves playing in her forest!
For the bassinet stages, this thing was awesome. It fit our Uppababy bassinet with a little wiggle room, but it was still fine. I liked the minimal look of it and the fact that you could just pop the bassinet in and out whenever you needed, plus it was a fraction of the cost of the actual Uppababy one.
I'm sure there are many other products that I've been loving and I will likely share them in another post, but for now those are my 10 most used baby products (from Amazon!).
Last Updated on