Does your craft room look like a glitter bomb exploded? When creating new things, it's super easy for your space to get out of hand with fabric trimmings or supplies strewn about.
It's time to do some spring cleaning and organizing for your beloved craft space! By incorporating the ideas we've outlined in this blog post, you'll be on your way to a creative and calm space that will keep you feeling inspired to do what you love: craft!
Craft Space Organization: Wall Storage
Wall storage is undoubtably one of the most important aspects when tidying up and organizing your craft room. Not only does it create visual balance (ie; not everything is at floor level), it also keeps important items at eye-level for ease of use and locating things that you normally might lose track of. Here are just a few ways to approach wall storage in your new-and-improved craft room.
Wire Wall Rack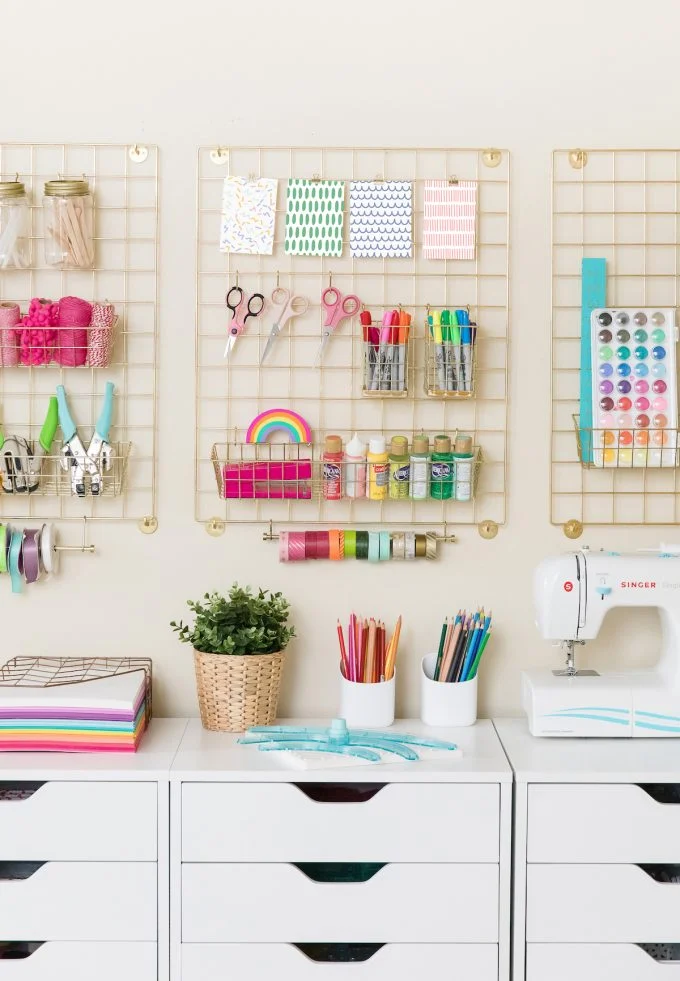 A gold wire rack is the perfect way to add some organization to your craft room, as it isn't too chunky and you can use it to hang a variety of racks and items like scissors and ribbons. The designer behind this image does warn that wire racks do require quite a few holes to mount; so be sure of your placement prior to getting started.
Pegboard Organization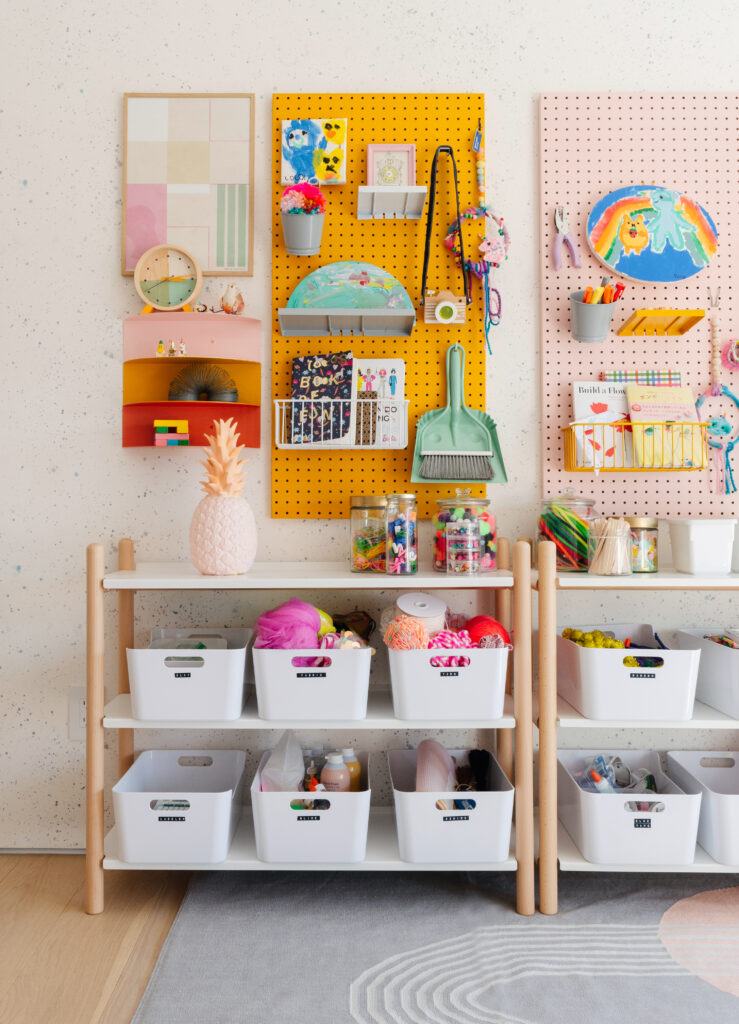 Pegboards are another amazing option for wall organization in your craft room. No need to stick with white either – we love the coloured pegboards above. You can hang a variety of shelves and items easily and securely with this option.
Craft Room Shelving Unit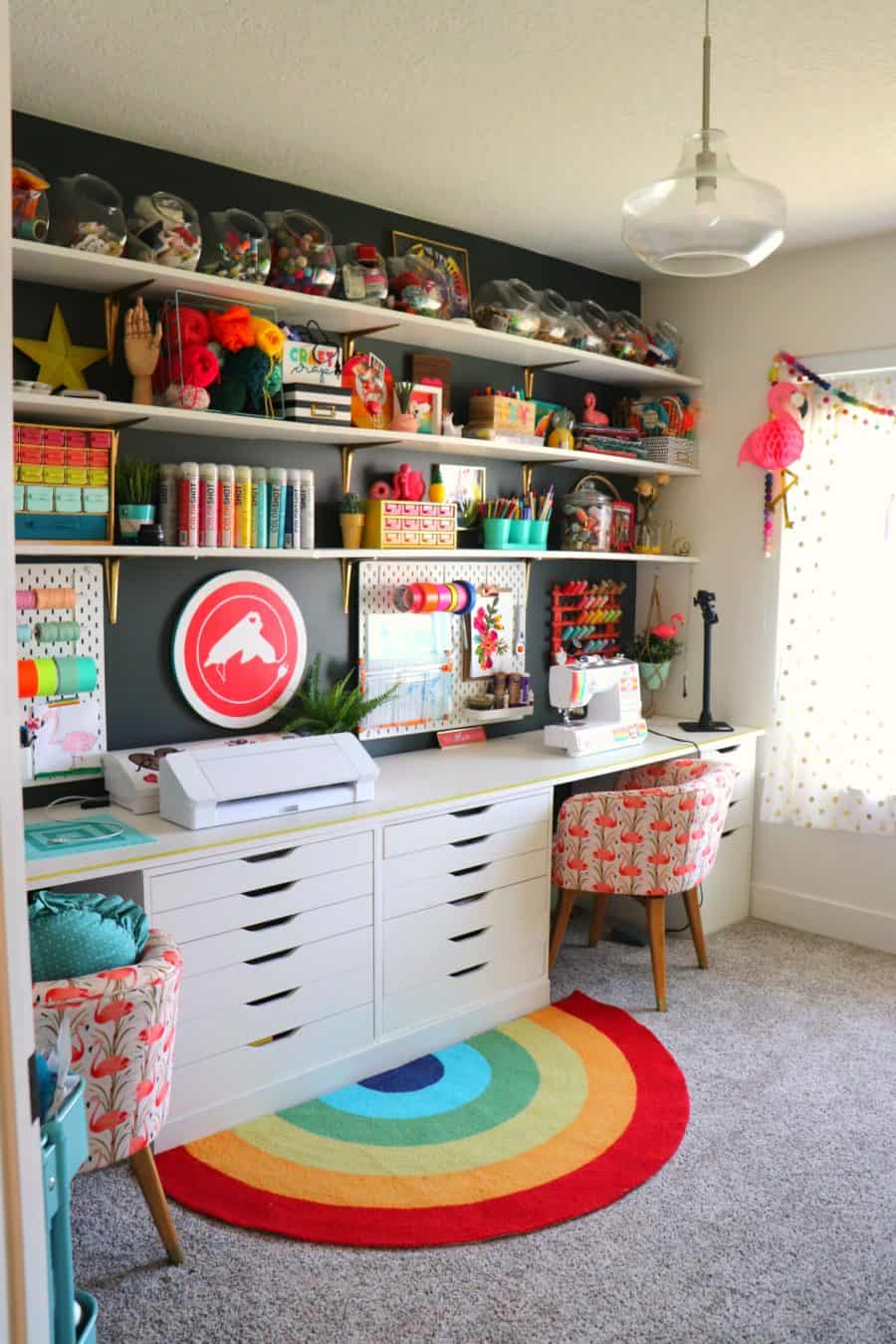 Another option (often used in tandem with a pegboard like seen in the image above) is long and tall shelves or a shelving unit. This open shelving will require organization in itself, but again it allows your items to be displayed and easily identified. Open shelving is a great place to line up your paint cans, some decor piece and your jars/containers.
Jars and Containers
Which brings us to one of the most important elements of a well-organized craft room… jars and containers! The first step is to declutter and look at what you have – do you really need 5 glue guns?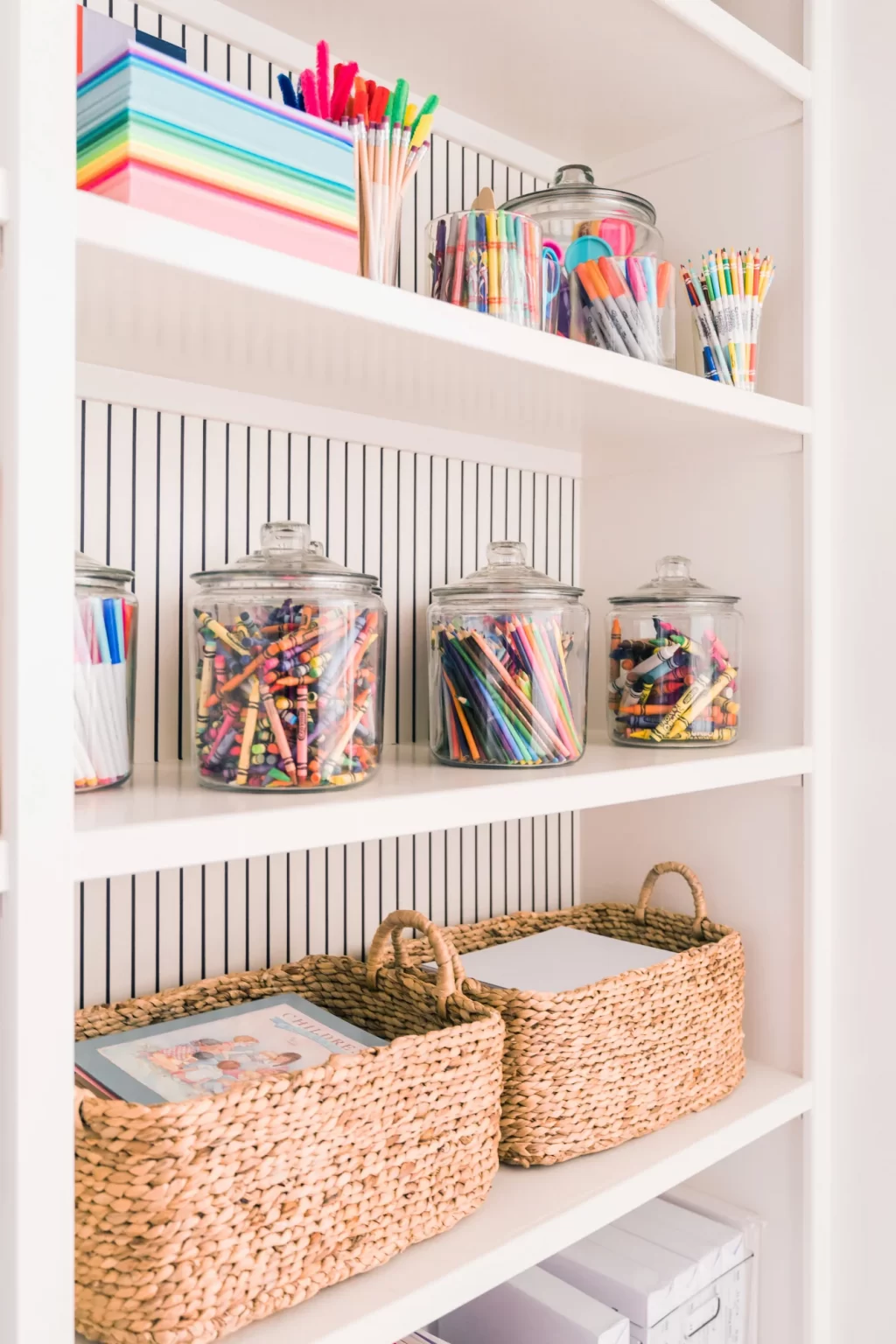 Then, head to the dollar store to buy your containers or jars. Candy jars are a cute option for keeping your craft supplies organized, as they are clear and easy to open. Perfect for crayons, your button collection – anything loose that has many components!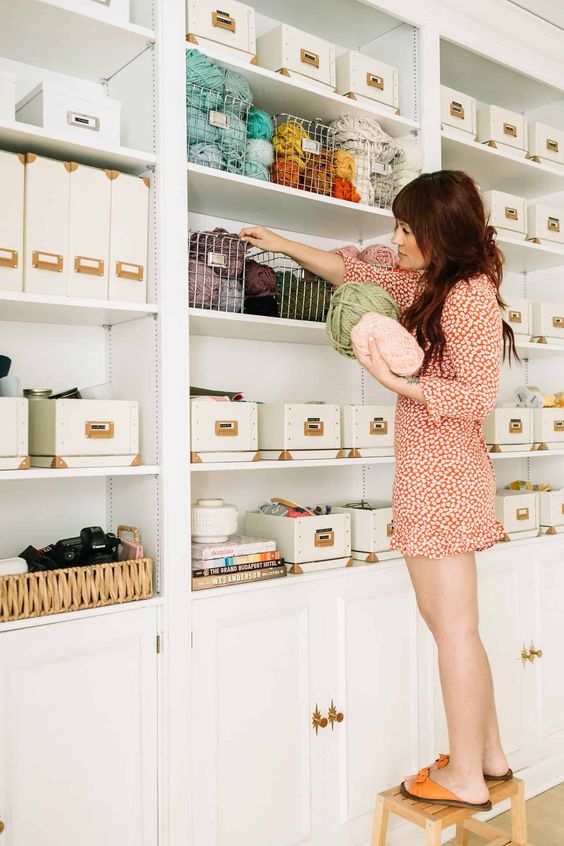 While clear containers are certainly convenient, if you find that your items might look too messy when visible within, you can always just get closed containers that match your room's colour scheme. File organizers also work well for paper product or any file organization for your small business's taxes, etc.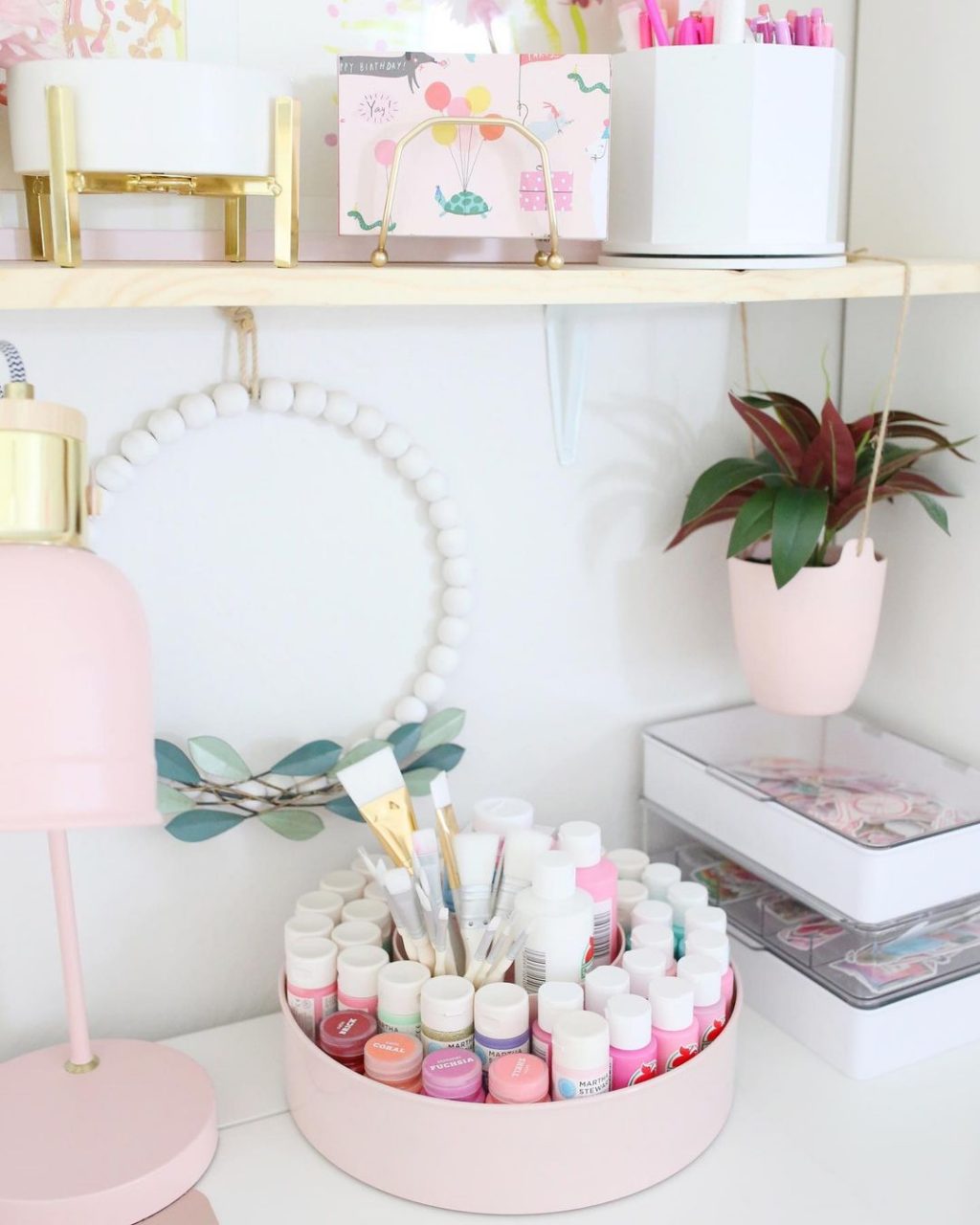 Lazy susans are another popular option we often come across. You can find tiered lazy susans marketed toward makeup organization that work just as well for craft supplies, especially small sized craft paints.
Put your label maker to good use and clearly mark what each container has inside. This will prevent you from just throwing things wherever once you're done with it, while also making all of your craft supplies super easy to find. No more running to the store to buy something that you already have but can't locate!
Tape, Ribbon and Paper Dispensers
The items that can often become the messiest are things like ribbons and yarn – things that can become unravelled or be ruined unless stored correctly. Part of your small crafting business might involve wrapping items that have been purchased, so consider making space for a wrapping station in your craft room.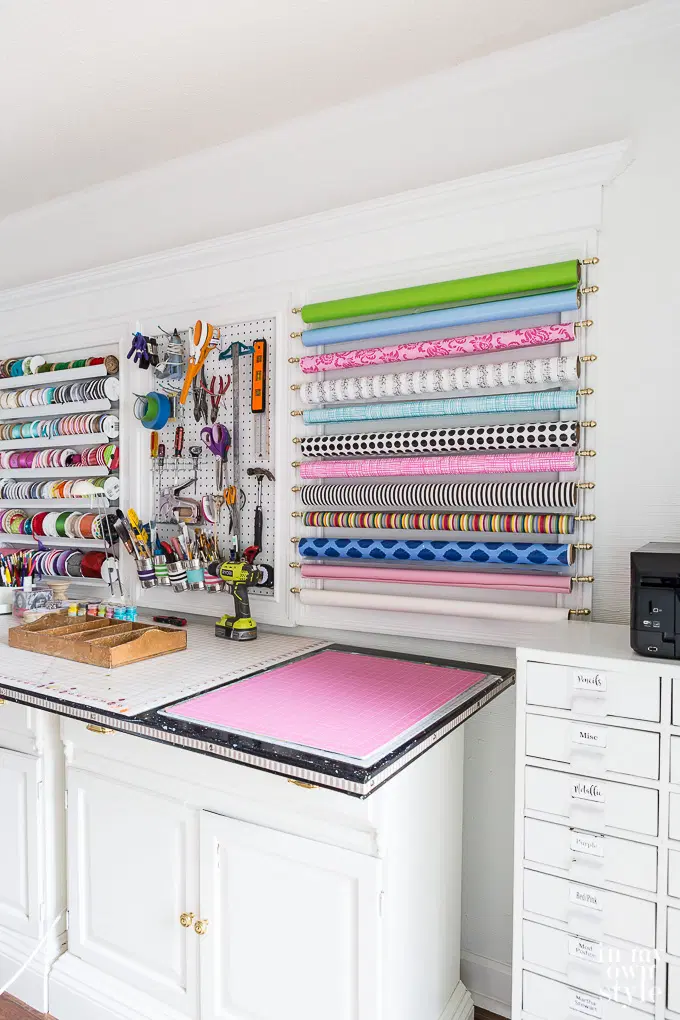 There are many creative ways on how to store your ribbon, paper and yarn rolls that also create really easy access where all you have to do is unravel it toward yourself and cut!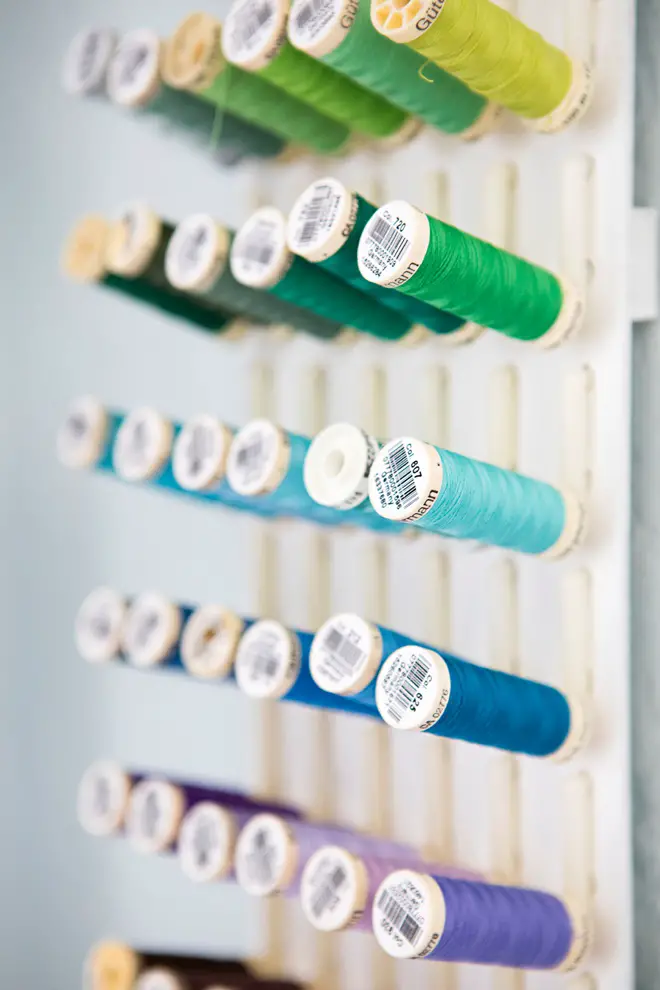 Thread for sewing can be easily displayed and kept neat and tidy with use of a spice rack, or with a DIY yarn pegboard. Don't forget to arrange by colour!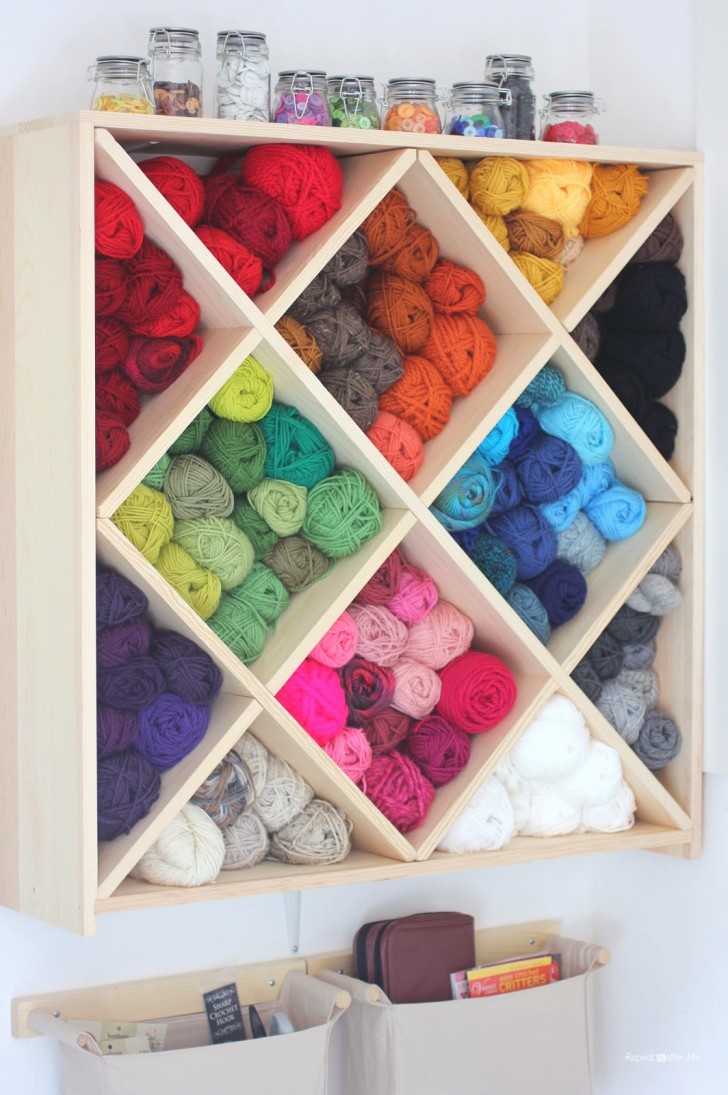 For yarn, many crafters prefer to organize by colour or type and display stuffed in an open shelf.
Craft Room Aesthetics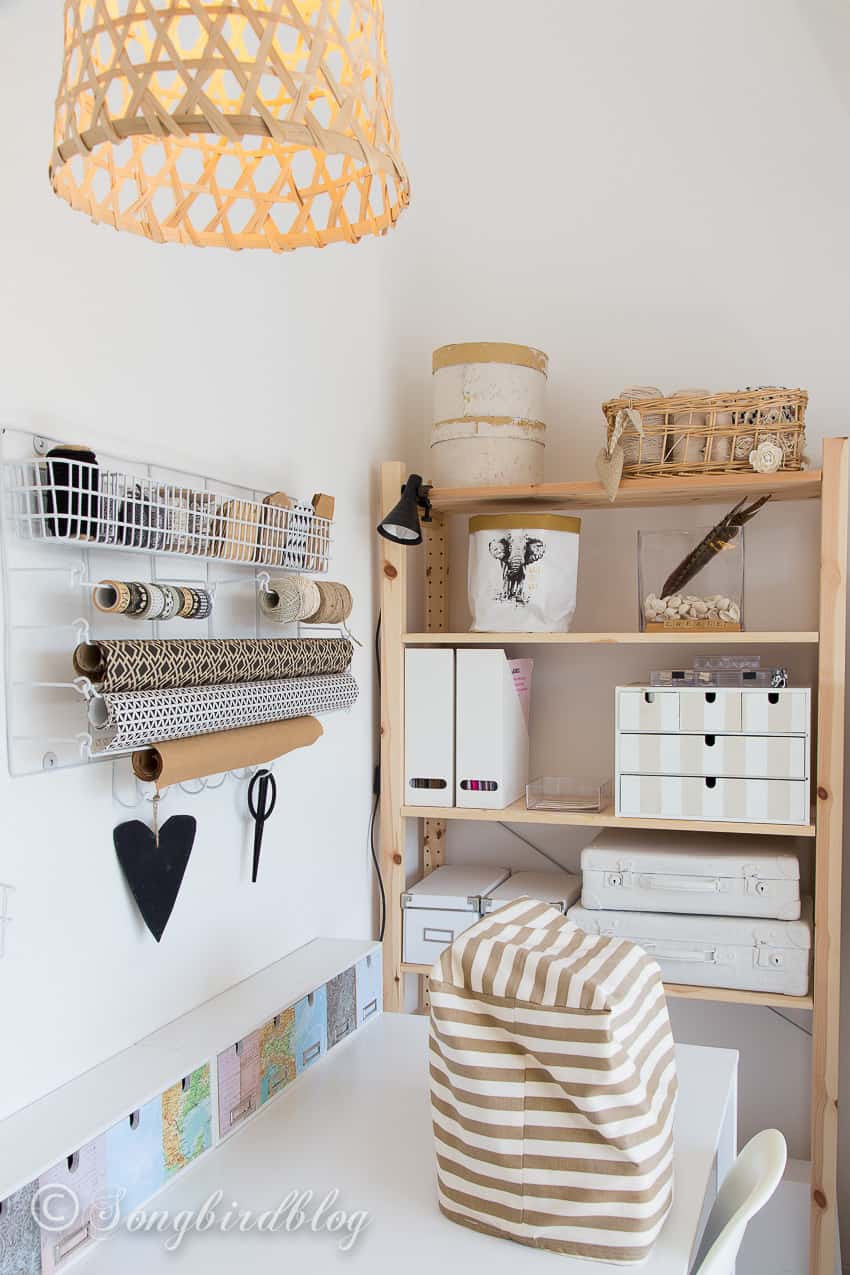 Asides from organizing your items into containers or on a wall rack, one important element of creating a space that is neat and tidy is to choose an aesthetic and stick with it. That could be super colourful and vibrant, or neutral like in the example above. Sort like colours together or go for a rainbow look – just stay consistent!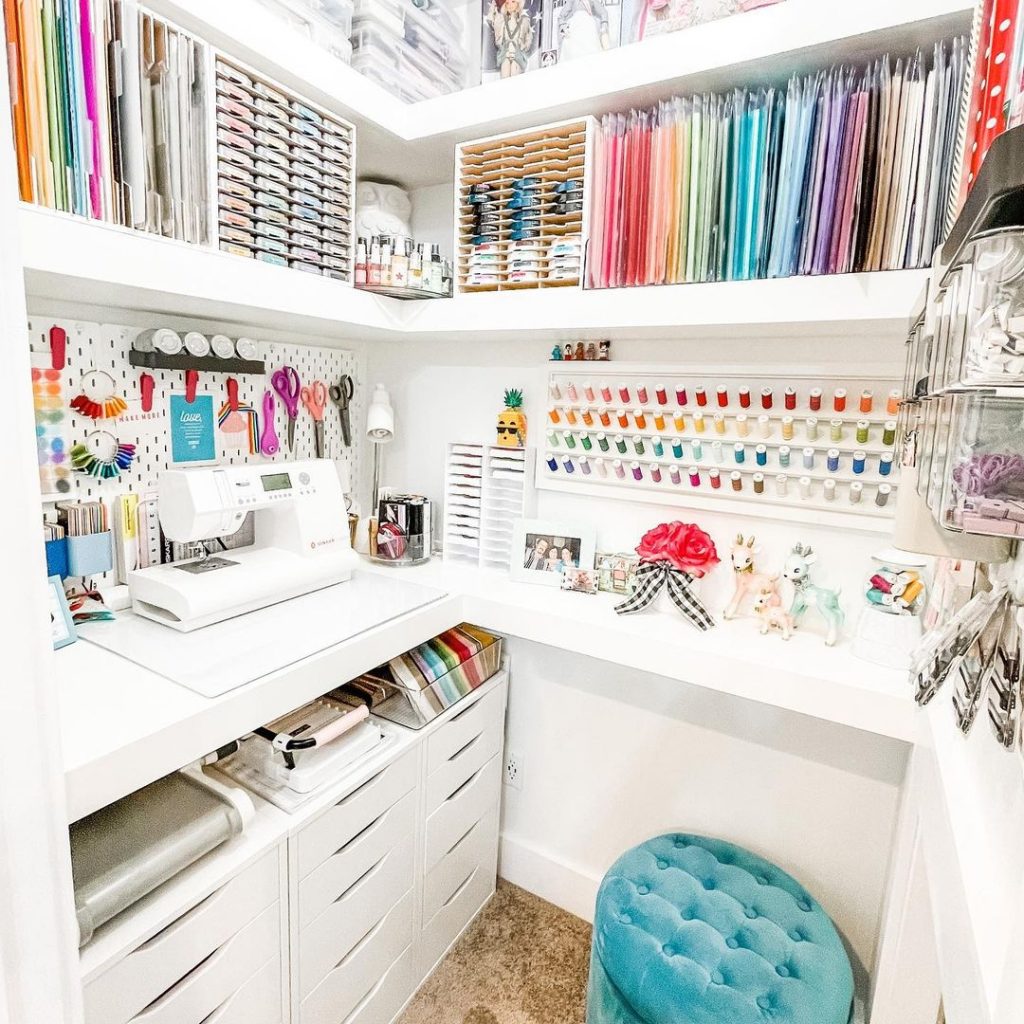 The important thing is that everything looks like it has a space and fits into the overall theme of your craft room. This will keep the creative ideas flowing and make it easy for you to step into the room and instantly feel inspired and at ease.
PIN THIS:
Last Updated on