The new year is the perfect time for a fresh new start. It's also the best time to discover some super simple organization hacks and inspiration for getting your home clean and tidy in the new year.
Start by thinking about the things that you didn't do so well the year before, write them down and then create a checklist of which organization tips below you'd like to try to implement for 2023!
Organize Your Schedule
Were you too busy in 2022? Did you accidentally double-book yourself and have to let someone down last minute?
This year, give yourself downtime, self care time, and most importantly time for planning and organizing throughout the year to keep on top of things. If you stay so busy that you don't have time to catch your breath, you will burn out faster and won't have time to maintain organized.
Start 2023 off with a calendar tool such as Google Calendar. It's a time-management and scheduling calendar that allows you to share plans with friends and family and create reminders. It even integrates with your emails and messages! It's a go-to hack for keeping an organized schedule – and that includes keeping a schedule for how and when to implement the ideas we're about to outline below!
Select Intentional Focus Areas
Let's focus on your house here, as the New Year is always the perfect excuse to get your home organized! But whatever your task, it's always good to split up your goals, so they don't seem as overwhelming, and makes them easier to keep track of.
Here are my organization hacks for your home that will help you to stay organized in 2023:
Kitchen Organization Hacks
The kitchen is always a tough task, one that gets put to the bottom of our to-do list every time! So, let's start by tackling that first…
Stackable Nesting Kitchenwares
The easiest, and best, space saver you'll ever come across!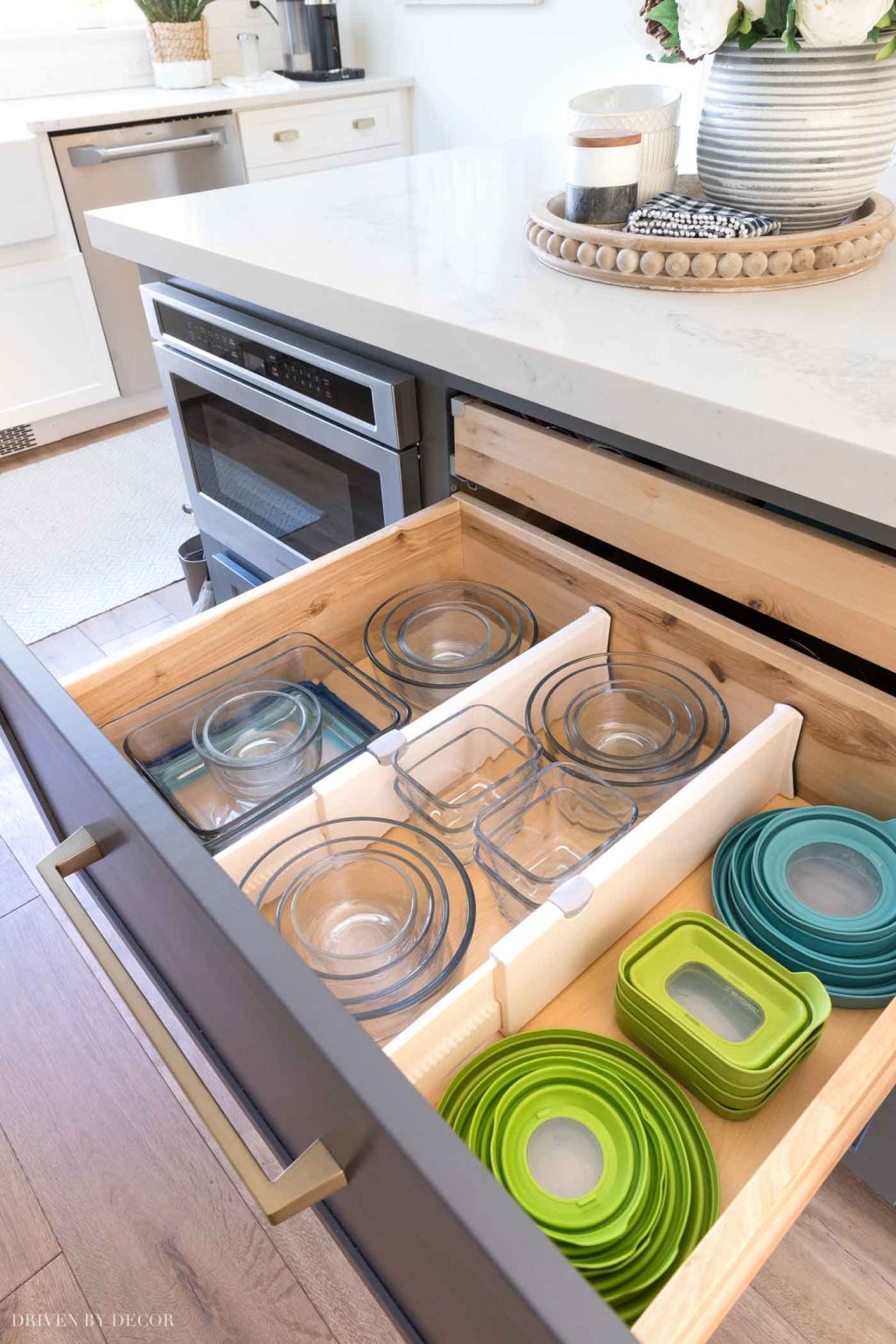 Whether it's your pots and pans, mixing bowls or Tupperware, always buy your kitchen appliances in a stackable form. Not only do they look great, but they also save so much space and keep your kitchen cupboards tidy.
Draw Organizers
It goes without saying that a junk drawer goes from being a place for miscellaneous items, to an overflowing space where everything that you don't know where to put ends up.
Get yourself a draw organizer! You can buy these from stores like Ikea or make your own dividers.
Bonus tip: Go through your junk drawer monthly, making sure anything that's in there is something you need. The rest, throw away! Ask yourself, are you going to need those 27 elastic bands you've kept 'just in case'? Most likely, the answer is no!
Pot Lid Organizers
There is nothing worse and more frustrating than a messy pot cupboard! These simple but effective, stainless steel pot lid organizers are a must-have to keep your kitchen organized in 2023.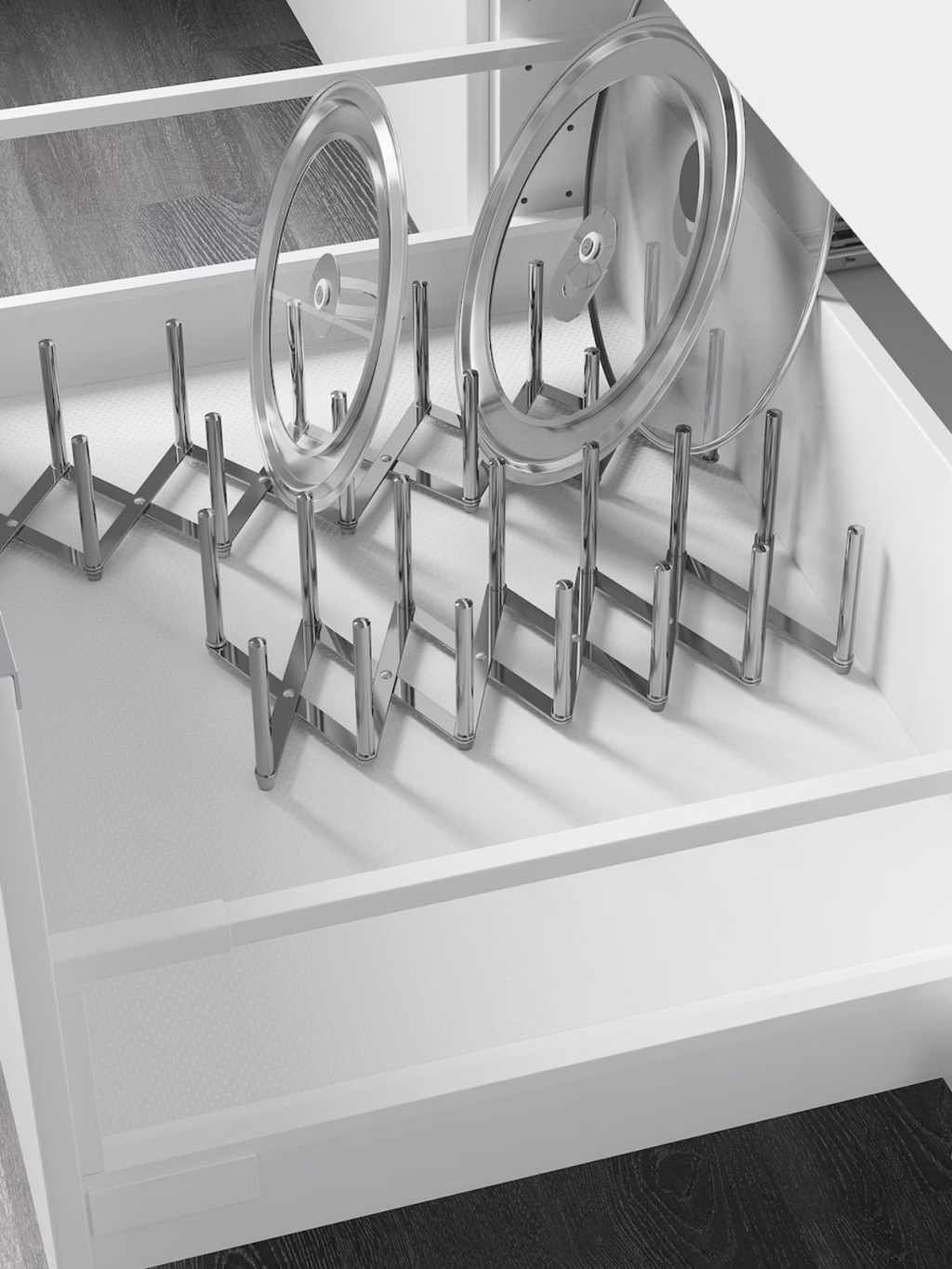 It will also make cooking feel a lot less stressful as all your lid sizes will be easily accessible.
Under Sink Storage
It can be difficult to keep your kitchen rolls, clothes, spray bottles and other cleaning supplies from falling over and making a mess under your kitchen sink.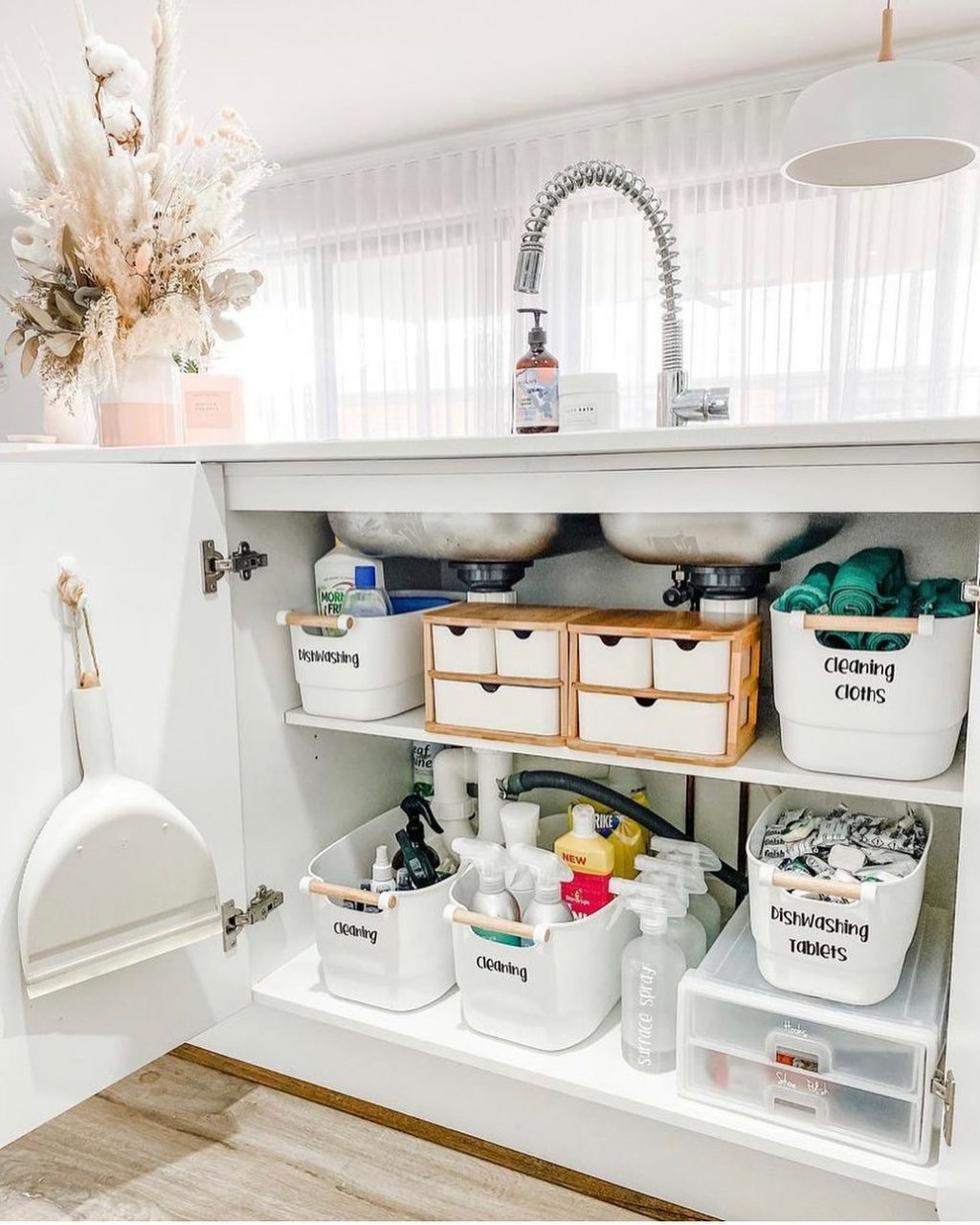 To keep your cleaning supplies upright and safe, hang them from a short tension rod inside your cupboards, add some hooks to the inside of the cupboard doors to hang your clothes and add some storage boxes so everything stays in place.
Lazy Susan for Cupboard Organizing
Although I'm sure you've heard of a Lazy Susan, have you ever thought of using one in your kitchen cupboards?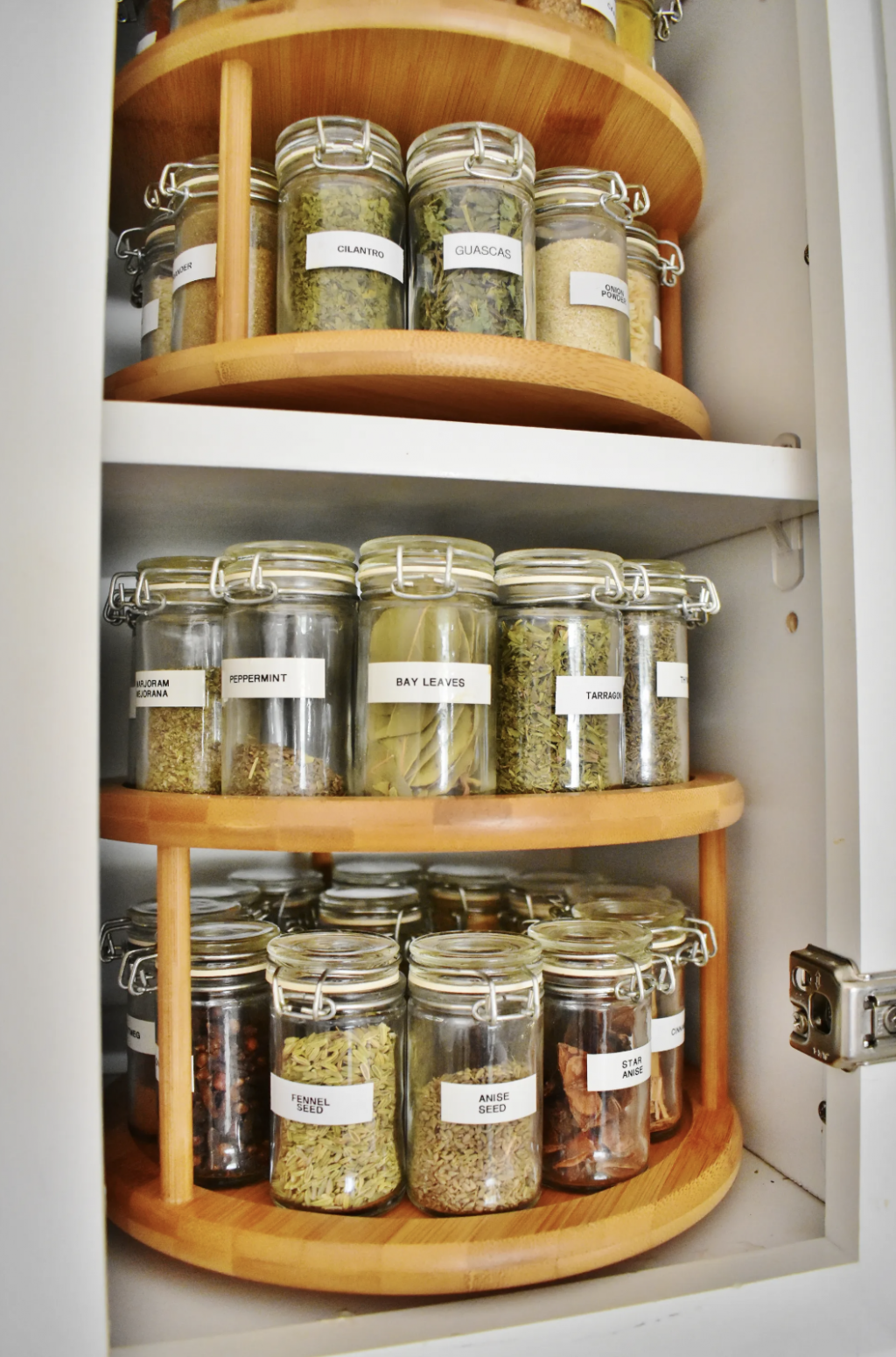 Whether you want to store your spices, sauces, glasses, or anything else that you find gets messy and hard to reach in your cupboard, add a Lazy Susan to your kitchen cupboards to make your life easier.
Office Organization Hacks
Let's move on to some super simple organizational hacks for your home office!
Working from home is here to stay so it's essential to make your home office spaces pleasant to work from.
While you may think you're used to that stack of paper or the 25 pens scattered across your desk, this clutter may be affecting your productivity.
Let's sort out that mess!
No one likes messy cables at your desk, not only do they look awful but occasionally, you have to sit down and sort them all out, again! Keeping them tidy is super easy with this office organization hack:
Cable Organizers
Whether you go the DIY route or purchase some simple silicone cable organizers, this handy tool will keep your cords neat and tidy!
Draw Organizers
Draw organizers aren't just for your kitchen, they will work perfectly in your office too!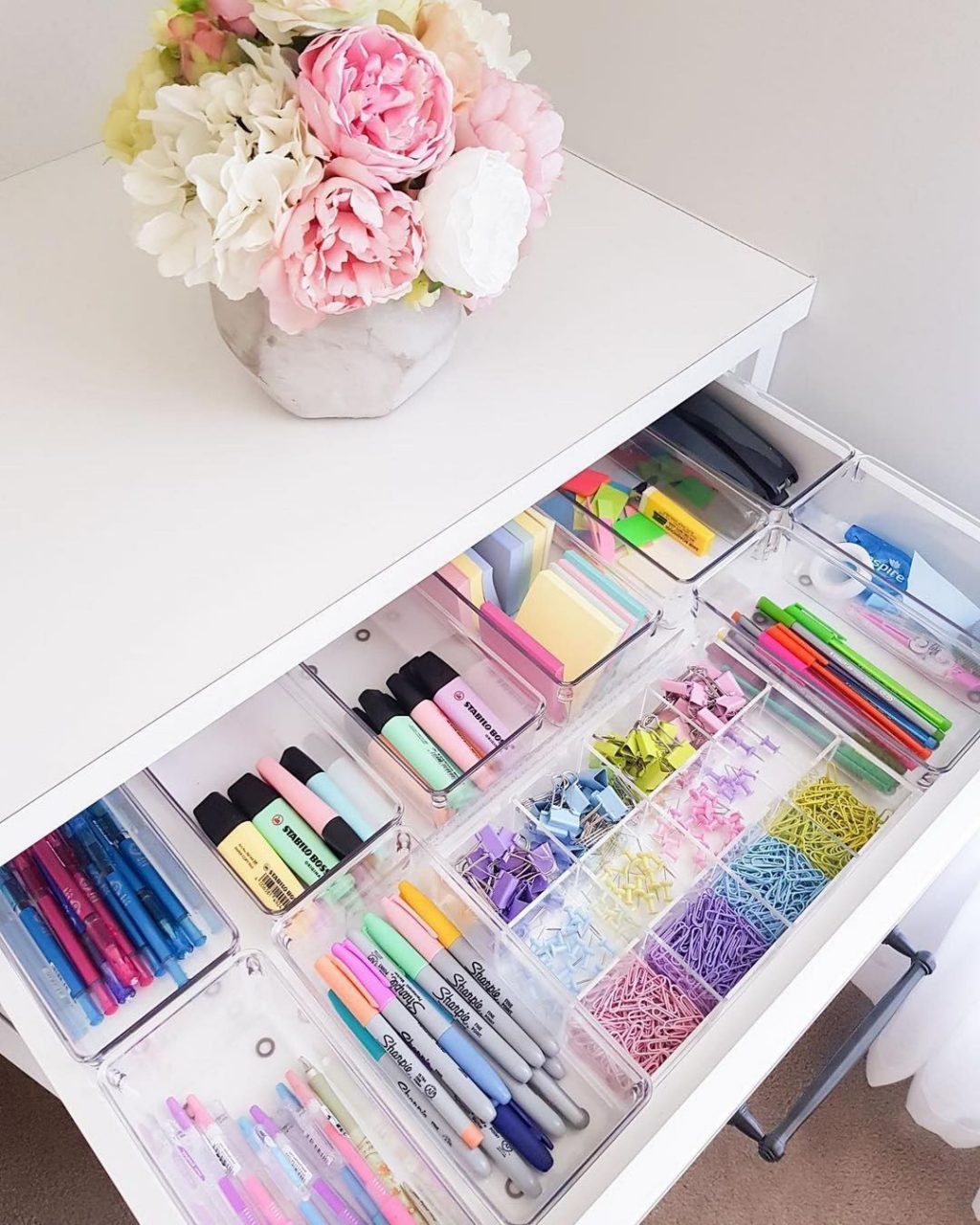 Whether you have a draw full of pens, pencils and clips or odd scraps of paper, you'll be able to find a set of draw organizers that suit your needs.
Paper Organizers
We cannot recommend filing your paper enough, and I don't just mean in a drawer! This 'Ikea Hack' is a lifesaver for those with a desk full of printouts!
This is simply an Ikea Newspaper Rack pinned up to an office wall and labelled!
Pen Holder
Are your draws overflowing with pens, post-it notes and other nicknacks?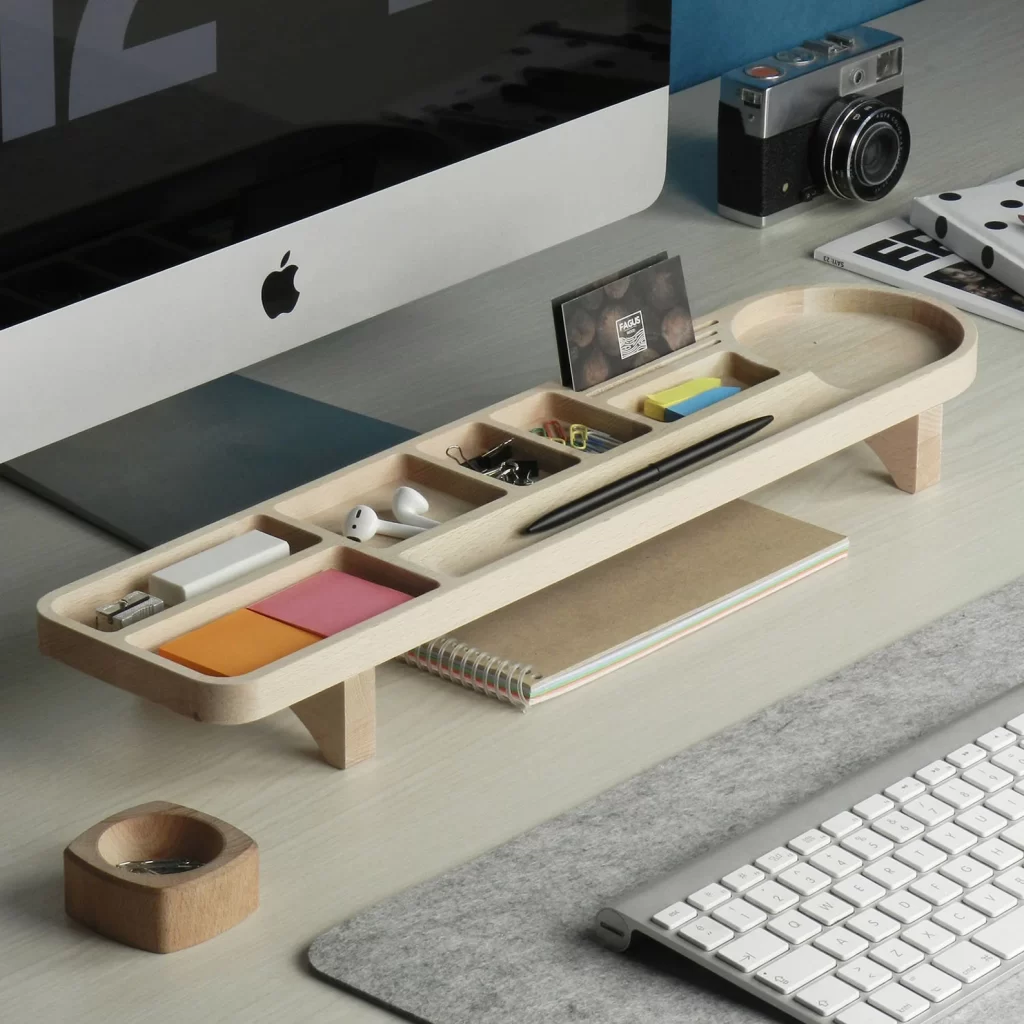 The best way to keep random items like these tidy and accessible is with a desktop holder! We love this one from Etsy but you could always DIY it and save some of your old mason jars and organize your desk in your own way.
A Label Maker
Are you always forgetting what you've put where? What cable belongs to what electrical item? Don't worry, we are too which is why you need to start labelling up your home office to make your life easier.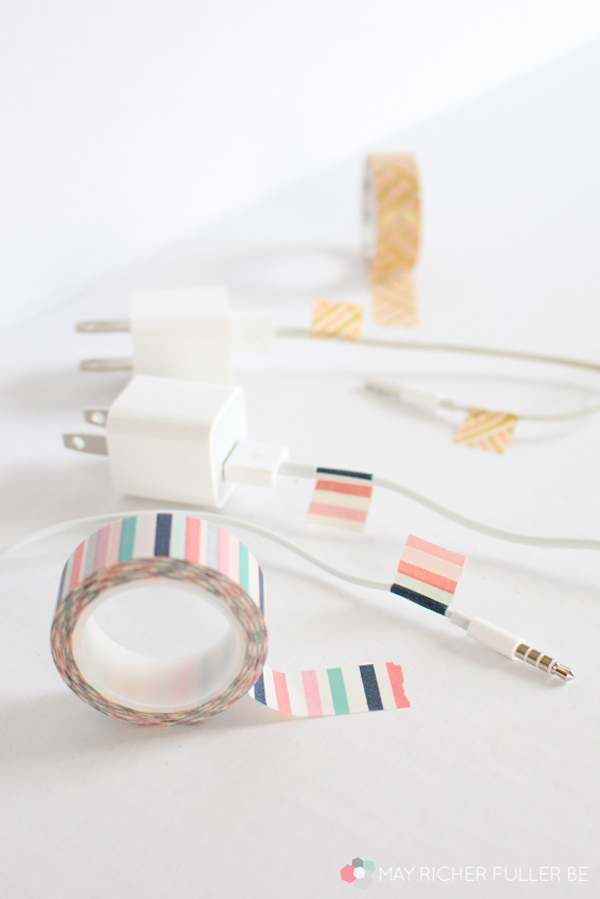 All you need to do is get some tape (the prettier the better) and start labelling!
Bathroom Organization Hacks
Let's move on to the bathroom, one of those rooms in the house that often gets pushed to the back of your mind because it's always a big job.
Here are some super simple, but creative, organizational hacks for your bathroom…
Creating More Storage
Since we don't all have huge bathrooms with tons of space, this is a great way to increase the storage in your bathroom and keep things organized and accessible!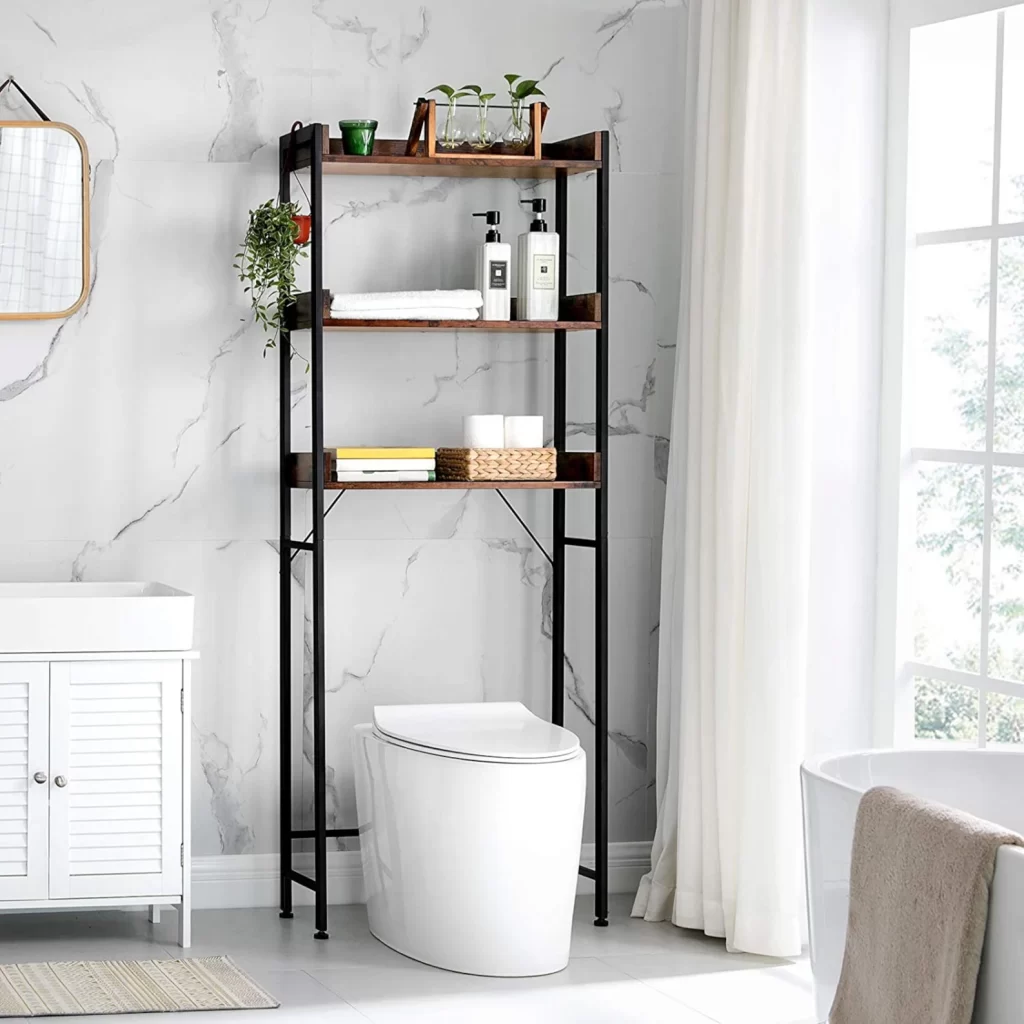 Try this 3-tier shelving unit for more storage. It fits in the space above your toilet and allows for loads of items to be stored aesthetically rather than shoving them into the nearest draw.
Floating Shelves
There are always items like your toothbrush, toothpaste and hand soap that get in the way around your bathroom sink.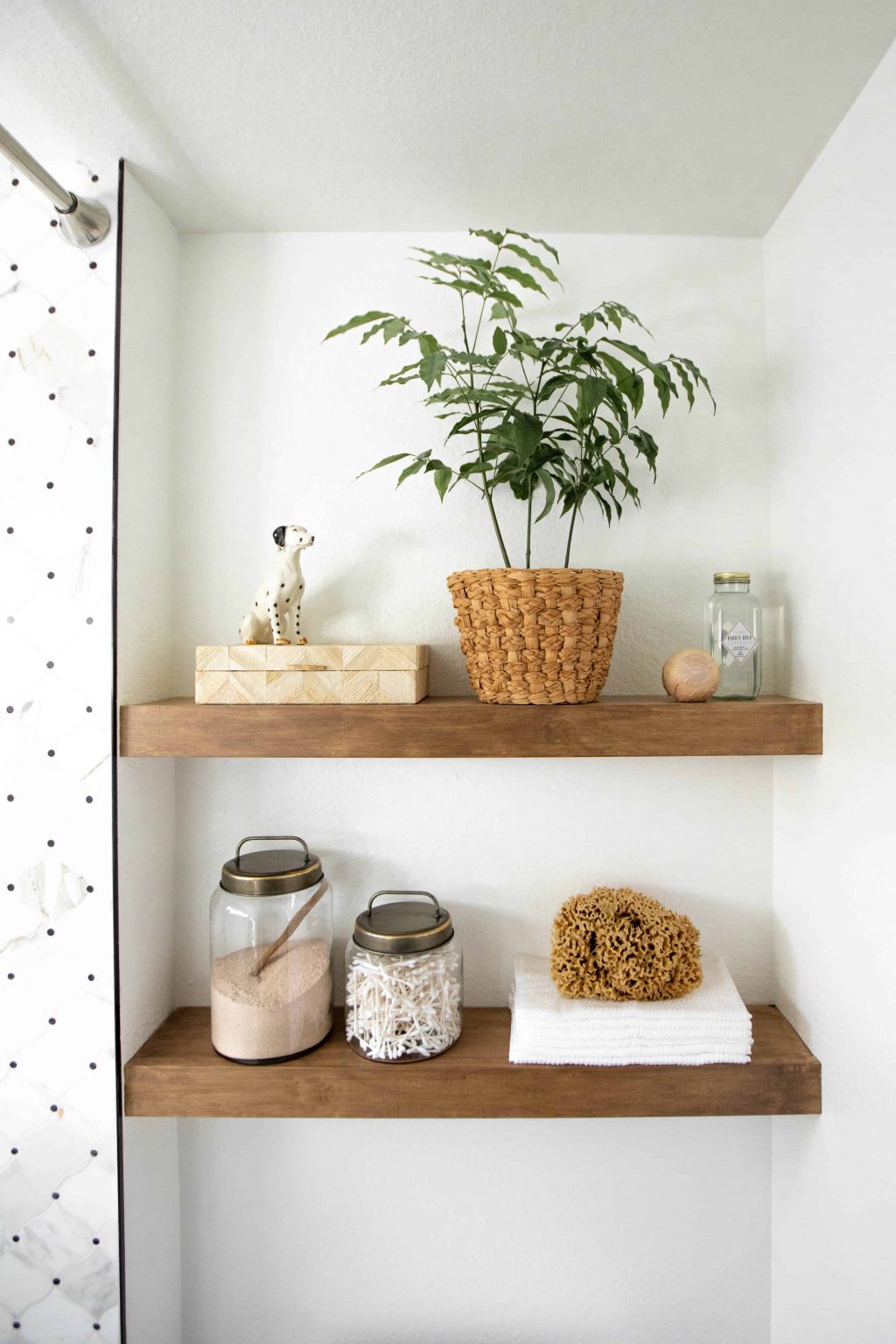 Create a cute set of wall-mounted shelves to move them off of your sink area to keep everything shiny, clean and most importantly, organized!
Mount Magnetic Strips
Are you losing all your hair ties, tweezers or nail clippers? These are the items that seem to be in abundance but then are also the hardest to keep track of!
Add a magnetic strip to the inside of a cabinet or the side of a cabinet to help you keep track of all the bits and bobbles that may not have another place to go.
Adhesive Hooks
To keep your bathroom cleaning supplies upright and safe, hang them from a rack or adhesive hooks tucked just inside your cupboards.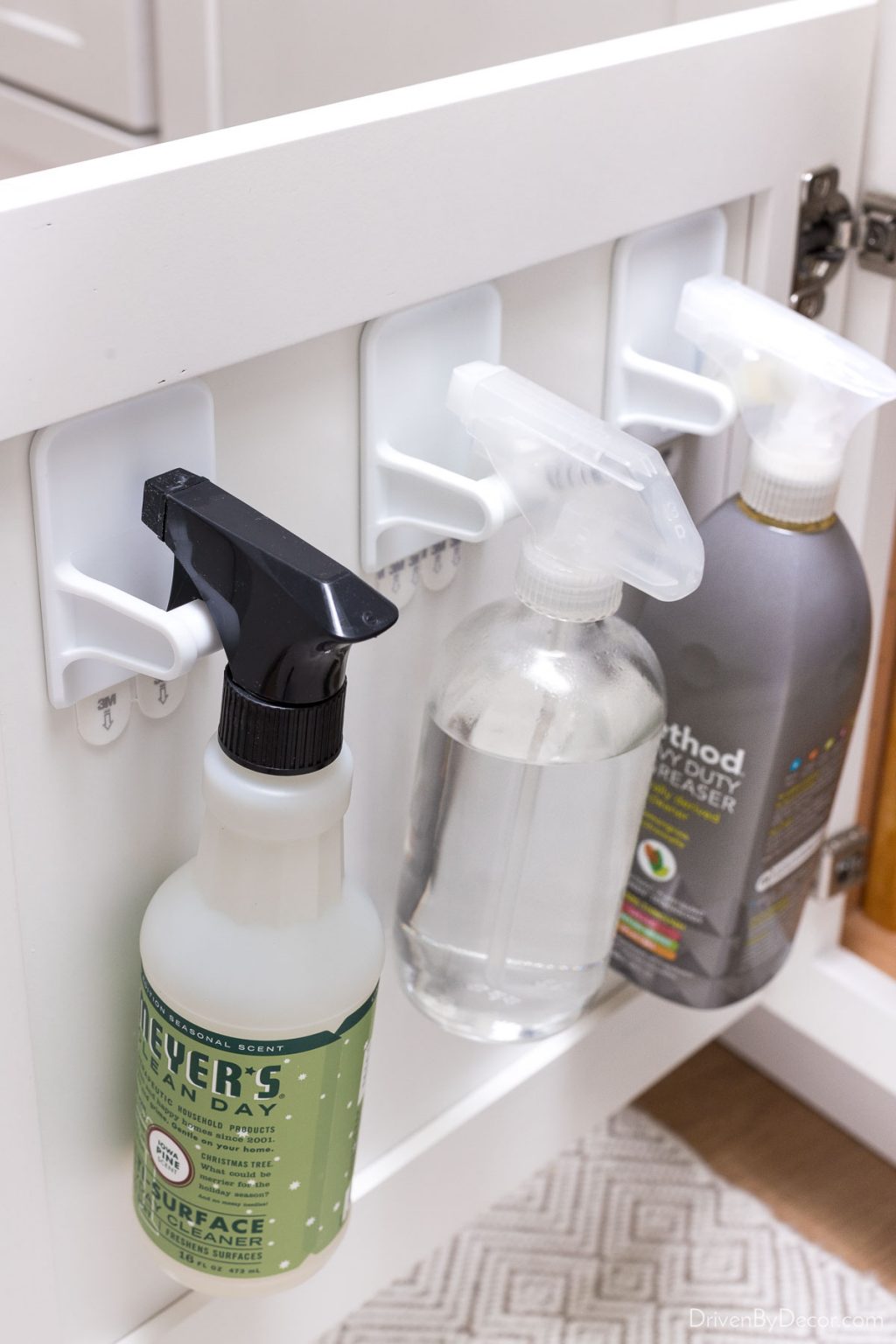 This also works for hair tools like your curling wand and your hair straightener.
Lazy Susan for the Bathroom
Remember that Lazy Susan you incorporate into your kitchen for a spice rack? They work super well in bathrooms too! Multi-layered versions are perfect for organizing perfume or other beauty products that you want to keep close on hand.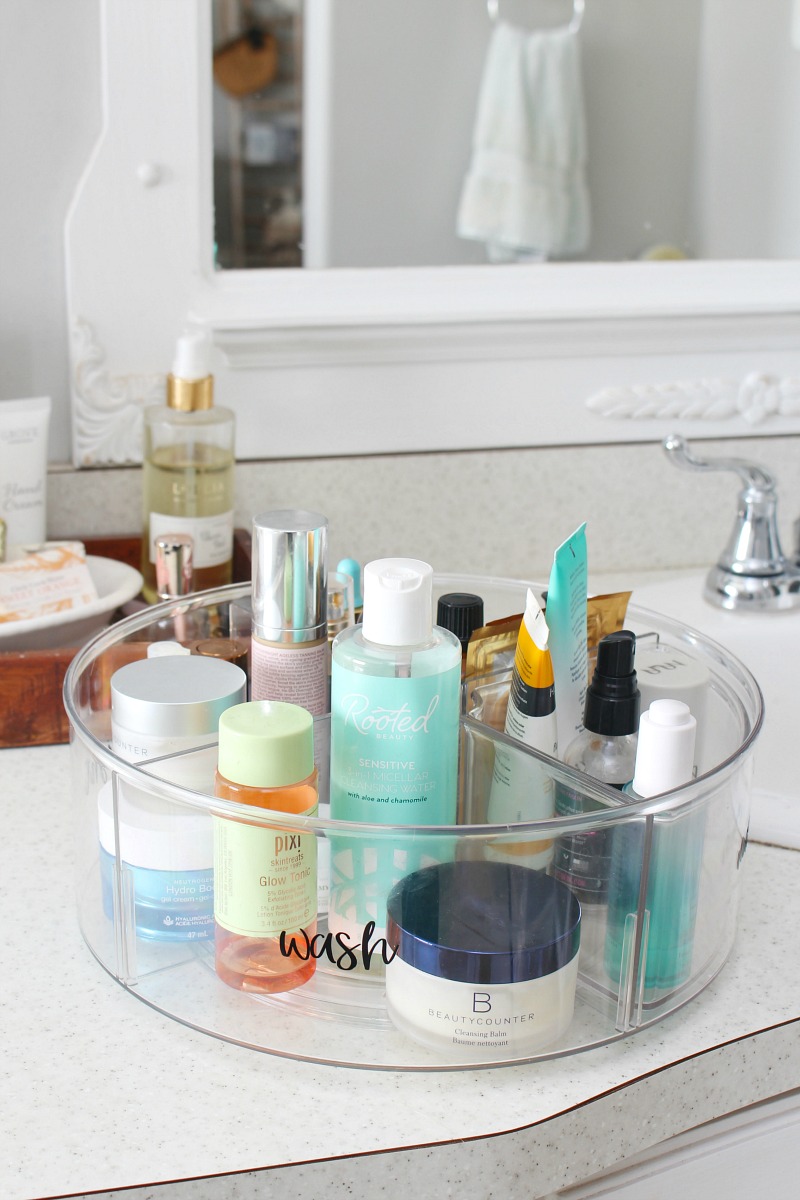 It's the perfect way to keep all your products organized and easy to reach in your bath or shower.
PIN THIS: