With the new year right around the corner, pressure starts to set in. There are twelve months ahead of us full of unknown opportunities, fresh starts, and good times to be had.
How will you make the most of it? Tradition is to set New Year resolutions.
While doing this seems like a good idea, how many years have you not honoured your resolutions? The easiest part is making them while the hardest is the follow-through.
So you can stick with your goals for the new year, take a look at these easy ways for sticking to your resolutions!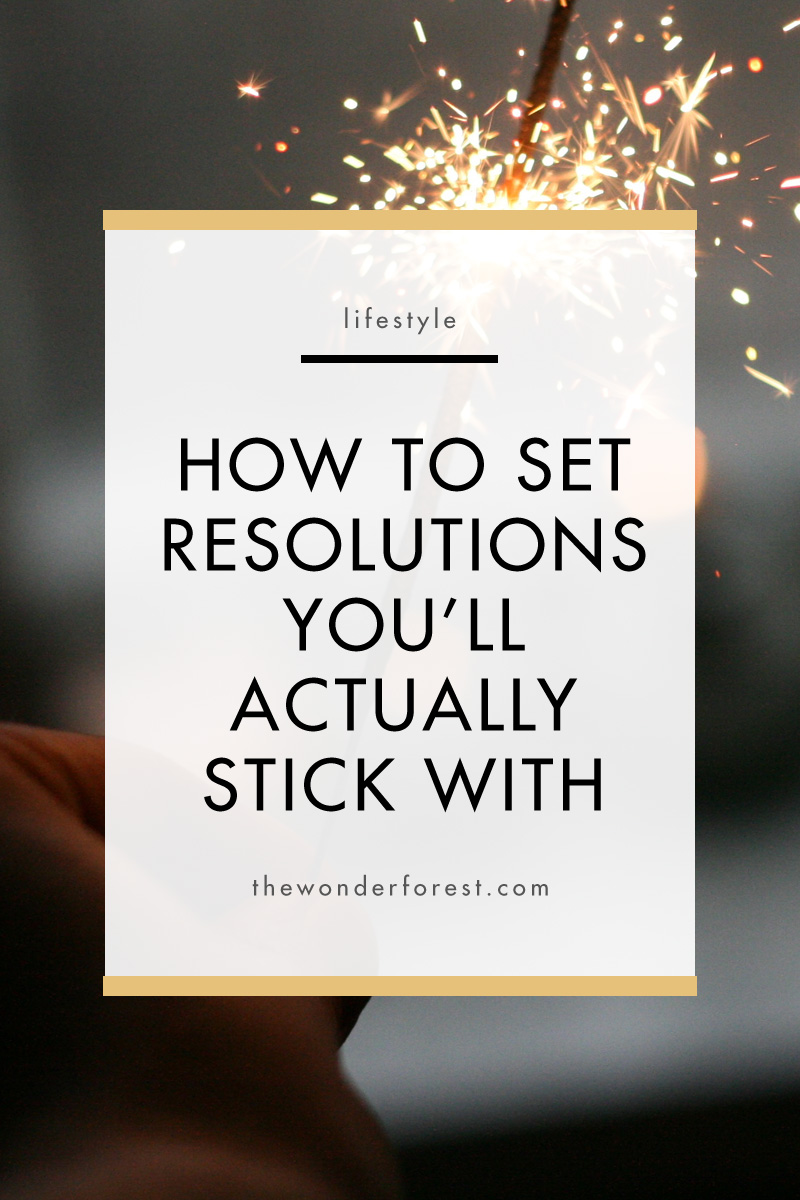 Be Realistic
The number one thing on almost everyone's list is to lose weight. That's great but what often happens is people set unrealistic expectations.
Saying you'll lose 10 pounds in a month's time sounds achievable but for most, it won't happen. Moral of the story is to allow yourself more time than you think you need.
Setting tight deadlines if often cause for failure. Lessen the pressure to make a difference within yourself or your life by setting realistic goals with reasonable timelines.
Start Small
Don't think you have to go all in because it's a new year. Along with being realistic, start small as well.
If you want to eat healthier, don't throw away every processed and sugary food you own. A big change like that won't give you the best results.
Instead, replace dessert with a healthier alternative like fruit and yogurt. That way, you won't feel deprived nor like you're making a huge life change all in one day.
To put it simply, don't make drastic changes overnight. Pace yourself and take baby steps.
It's Okay to Slip Up
Making any kind of change, big or small, is hard. With all the pressure we put on ourselves to follow through, remember that it's okay to slip up. It happens!
What's important is that you don't beat yourself up. How you handle it is a reflection of how you'll get back on track.
Beat yourself up and you'll derail what good progress you've made. Acknowledge you made a mistake and move on, you'll be good to go moving forward.
Write Down Your Resolutions
I believe writing down your goals is better than sharing them on social media or telling friends and family.
When you let others in on what you're doing, the pressure becomes greater. And if you don't follow through or have a lot of slip ups, you'll feel like you're letting them down.
To start, it's best to write them down then work on them. If all is going well then by all means, tell everyone. They'll be there to cheer on your progress.
Plan Ahead
The issue with goal-making is it's exciting at first. But then a few weeks in, that feeling slowly dissipates. We're left trying to find time and the dedication to our resolutions.
Planning ahead is the best way to hold yourself accountable and regain interest. If your resolution is to save more money, plan a monthly budget.
Know how much your bills cost and add a little extra on for luxuries like Netflix. The rest, stash it in a savings account.
The better you plan out your goals, the better you'll set yourself up for success.
Celebrate Victories, Big and Small
Sticking with your goals will be stressful. To offset the difficult times, celebrate each victory.
Even if you only lost a pound or put away $10 within the first month, celebrate it! Each little victory is a step in the right direction.
Making resolutions comes with a lot of pressure. But remember: you got this!
Last Updated on