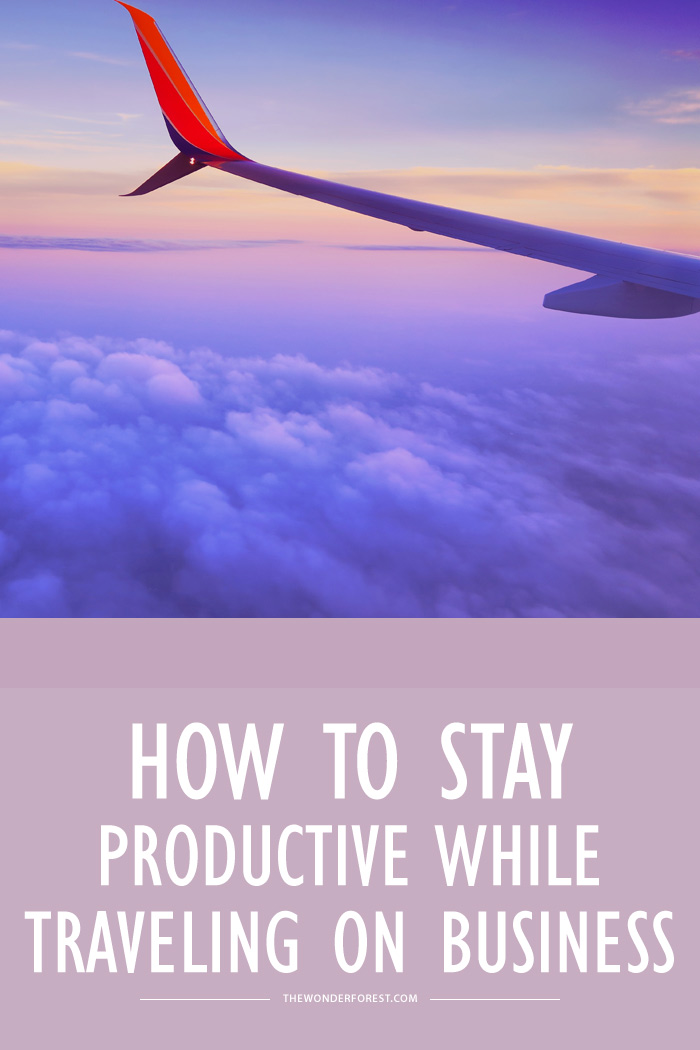 When business travel takes you away from the office and your home, the break in your normal routine can also break your normal productivity levels.
Changing your sleeping environment, diverting from your meal habits and leaving the comforts of your workspace can leave you feeling emotionally and physically drained before you even get started. Your family and your style might feel the same.
Going in prepared with helpful tips on how to stay connected, productive and energized during your business travel will help your trip start on the right foot from the moment you step out your door.
Book a Flight With On-Board Wi-Fi.
It will likely cost you a bit to get connected to Wi-Fi on your flight, but the convenience of staying on top of email, being connected to home and getting your research done before your next meeting or presentation is well worth the extra dollar.
If you're a frequent airline traveler, consider purchasing an in-flight internet plan through GoGo. You'll have the option to connect just about anywhere.
Plan. Plan. Plan.
This doesn't mean you need to plan out your day to the very last minute. But, being preemptive and lining up all of your meetings and work-related tasks for the day allows you to schedule a portion of your day for other downtime activities or catch-up for what's happening back in the office or at home.
Keep that to-do list current and as detailed as you need it to be — you can even include showering or calling the kids, if that helps kick your productivity and overall business/mom/superstar mojo into gear.
Work in Mental Down Time.
Have you been meaning to catch up on that list of best-sellers in leadership development or how to improve your next blog post? Your flight is the perfect time to dive in.
You shouldn't feel guilty about taking a break with quality reading materials — your personal growth is important to your professional development. You can even put on an audiobook and listen with your noise cancelling headphones for an uninterrupted and relaxing self-growth session.
Prep Your Favorite Podcasts.
Along the same line as audiobooks, catch up on your favorite podcasts in-flight. Choose from a huge variety of topics, including some that will simply keep your brain learning and stimulated throughout your flight.
Notify Colleagues of Your Travel Plans.
Nothing can be as stressful as people expecting you to contribute in the office when you can't physically be present.
Make sure your co-workers are aware of your absence, and be transparent. Give them details on the duration of time you'll be travelling, how to reach you and what is/isn't an appropriate instance to contact you. You'll save everyone involved, including yourself, unnecessary stress.
Do Your Homework on Your Destination.
Productivity and preparation often go hand in hand, so knowing a bit about your destination — both the city and the professional environment — will keep you ahead of the game during your trip.
Keep Healthy Snacks and Water Handy.
Hydration is super important to keeping yourself feeling alert during a flight, as well as choosing food that is both healthy and energizing. Let's be honest — airplane food isn't the best in the world.
Plan like you always do for your lunch and everyone else's, and check out these great recipes fit for carry-on purposes.
Skip the Airport Lines.
Yes. You can skip all that awful security and leave your laptop in your bag. Sounds almost too good to be true, right? Well, with Global Entry, you get all of those things for around $100. A brilliant investment.
Work in Relaxation and Exercise Time.
You're running full throttle on the productivity meter, which is fantastic, but you need to make sure you don't burn yourself out. Schedule in time to get a good run or yoga session in. Consider morning/evening meditation. This will keep those endorphins pumping while you find your Zen.
Schedule Time For Cultural Activities at Your Destination.
When you travel a lot for business, nothing is more disheartening than seeing nothing but the inside of a meeting room for the entire trip. Travel is a fantastic activity that feeds your adventurous side, so take advantage of the opportunity to get out of the office and work in at least one cultural activity on your trip. After hours, of course.
Whether it's simply a culinary experience or an art gallery opening, you'll feel revitalized after seeing a small part of the city you're visiting. You'll also grab awesome souvenirs for the kids that they'll love — not just another hotel pen.
Switch Off After Work Hours.
To piggy-back off the point above, this is the moment you can switch off and disconnect. You've been productive throughout your entire day — now is the time to recharge and give yourself some love. Don't feel bad about it, either. It's key to maintaining productivity.
Review Your To-Dos Each Night and Regroup.
You can prepare yourself for the next day before bed. Go over your to-dos and make a plan to get done what you need to. Check in with home — you know you've been thinking about everyone. If you haven't been texting funny pictures, thoughts or "I miss you!" to the family throughout the day, now's your time to soak in the word from home.
You'll get a better night's sleep knowing what to expect for the day, and that all is well back at your homestead.
Prep Your Return Via Office Email.
When it's time to head back to the office, send a quick email checking-in and saying hello. Inquire about what is going on and share when you'll be back. This will help everyone else stay on task as well, and then you can use that return flight to get a head start.
Traveling for business doesn't have to throw you, your co-workers or your family off the groove of productivity. Use these tips to stay on the ball — and have a tiny bit of fun, too — when your work takes you away from the office.
Last Updated on