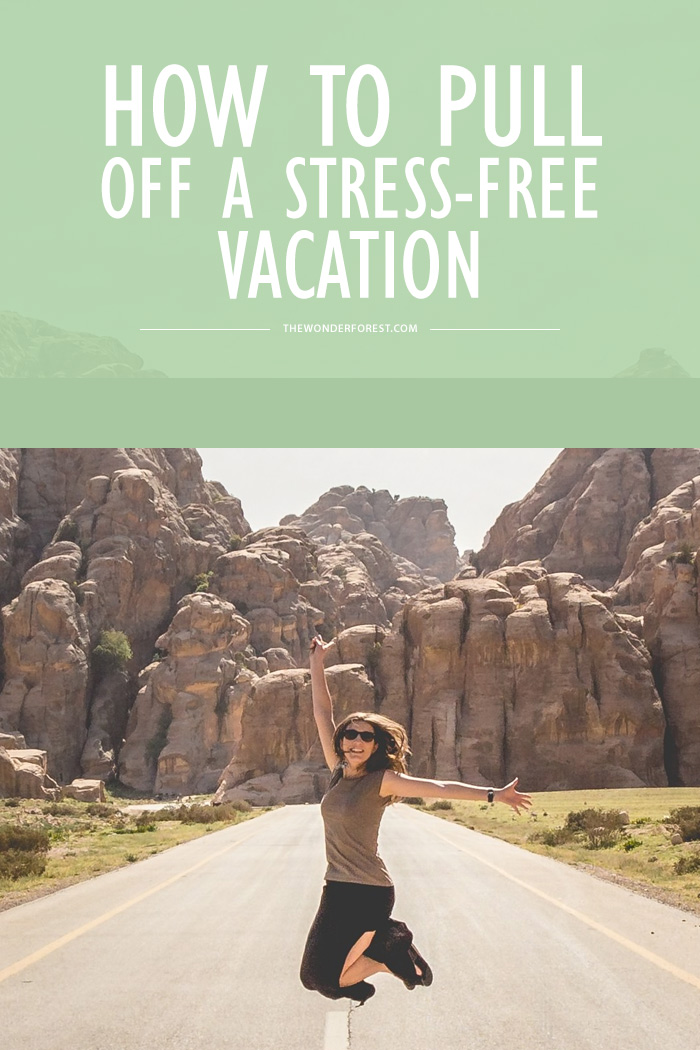 Stress is something that plagues most of us daily. It's when your body feels as if it's in a panic, your heart rate goes up and you simply can't relax due to your fight or flight response. It has all sorts of nasty effects on our bodies and it should be something we take seriously in reducing. Especially when you are going travelling and just want to have fun! No one wants to be stressed when they are on an adventure. 
As fun as it is to fly by the seat of your pants once you get off that plane, I think it's always best to plan ahead – even if you don't like itineraries. Think of itineraries as a guideline instead of a commitment. It's not set in stone. When you are prepared for a journey you're more likely going to have a stress-free experience because you have a handy list of all the things you want to see and do. So get yourself a pretty notebook and make a proper plan! Here are some things to consider when you are planning. 
Make a Checklist 
A few weeks before you leave, make a list of all the things you need to bring and get them ready before you go. How many times have you gotten on the plane only to realize you forgot something? I do it almost every time I travel and I am the list-making queen. I always write down what clothing I want to pack, what goes in my carry on, what toiletries I need, I make sure every electronic is charged, I check into my flight the night before and I make sure my luggage isn't full to the top with clothes so that I can leave some room for shopping! 
Check The Weather
You need to check the weather. I was in Europe in the spring time and my weather app said sunshine and rainbows but when I checked before I was leaving it was thundershowers and rain the entire time. For a month I only saw the sun twice so make sure you are prepared. I spent most of my time drenched because I wouldn't sacrifice style for comfort like a smart person would, but I made sure I had lots of layers and a handy umbrella. 
Prioritize Your Dietary Needs
Nothing stresses me out more than being hungry with nowhere to go. As a vegetarian I always make sure I have a handful of restaurant and their addresses written down somewhere or pinned to one of my Pinterest boards. I love to research the best restaurants and cafes in whatever city I'm in because I love food just as much as I love exploring! So to avoid starving or getting a case of the hangries, have a few places to eat ready to go. 
Choose Your Attractions
When I was travelling to Paris, I had the Louvre, Galerie Lafayette, the Eiffel Tower, and all the other Paris attractions that I knew I had to see on a list that was ordered by date and how far they were from each other. A great tip I've learned is that when you are writing down your attractions, write down their opening/closing times, as well as what days they are be closed. This will give you an idea on what to see on what days so you don't miss anything! Nothing is more stressful then making it to the Louvre only for it to be closed.  
Map Out Hotels
Trying to get to your hotel shouldn't be a nightmare, especially when you're caring your luggage trying to make it to point A to B. It should be an easy journey all they way to your new bed. Write down your hotels address and if you are in an none-English speaking country, try finding the address name in the country's language.
Understand Transportation 
Check out public transit, taxis and Uber as means to get around. You should be able to get a map of the train system and if you can't, then trusty Google will have your back. Once you're checked in to your hotel, and hopefully somewhere close to all the attractions, you can simply walk to your destinations. Walking is always a great way to see a city and to find gems you otherwise would have missed!
Be Flexible
You can't see it all. It's simply impossible unless you're spending months at a time at your destination. The great part about living in this jet setting world is that you can always go back!
Have Fun
Rain, shine, cold, hot, make the most of your time! If something goes wrong then oh well! You can't spend your trip stressing out or being upset. That's a waste of time. Let whatever's bothering you go and enjoy the moment! Nothings going to be perfect and that's okay.
Last Updated on