Upcycling old furniture is a great way to give new life to items you already own or to find unique and affordable pieces for your home.
Upcycling home decor items or furniture is an environmentally-friendly way of upgrading your home as it reduces the amount of waste sent to landfills. By upcycling, we are keeping materials out of the waste stream, conserving resources and energy that would be required to produce new furniture!
It can also be a much more affordable alternative to buying new furniture. Purchasing new furniture can be expensive, whereas upcycling can save you money and give you a unique and personalized piece.
If you want to express your creativity and create unique, one-of-a-kind pieces that reflect your personal style, then here are 20 upcycling ideas to transform your home!
Repaint and Refinish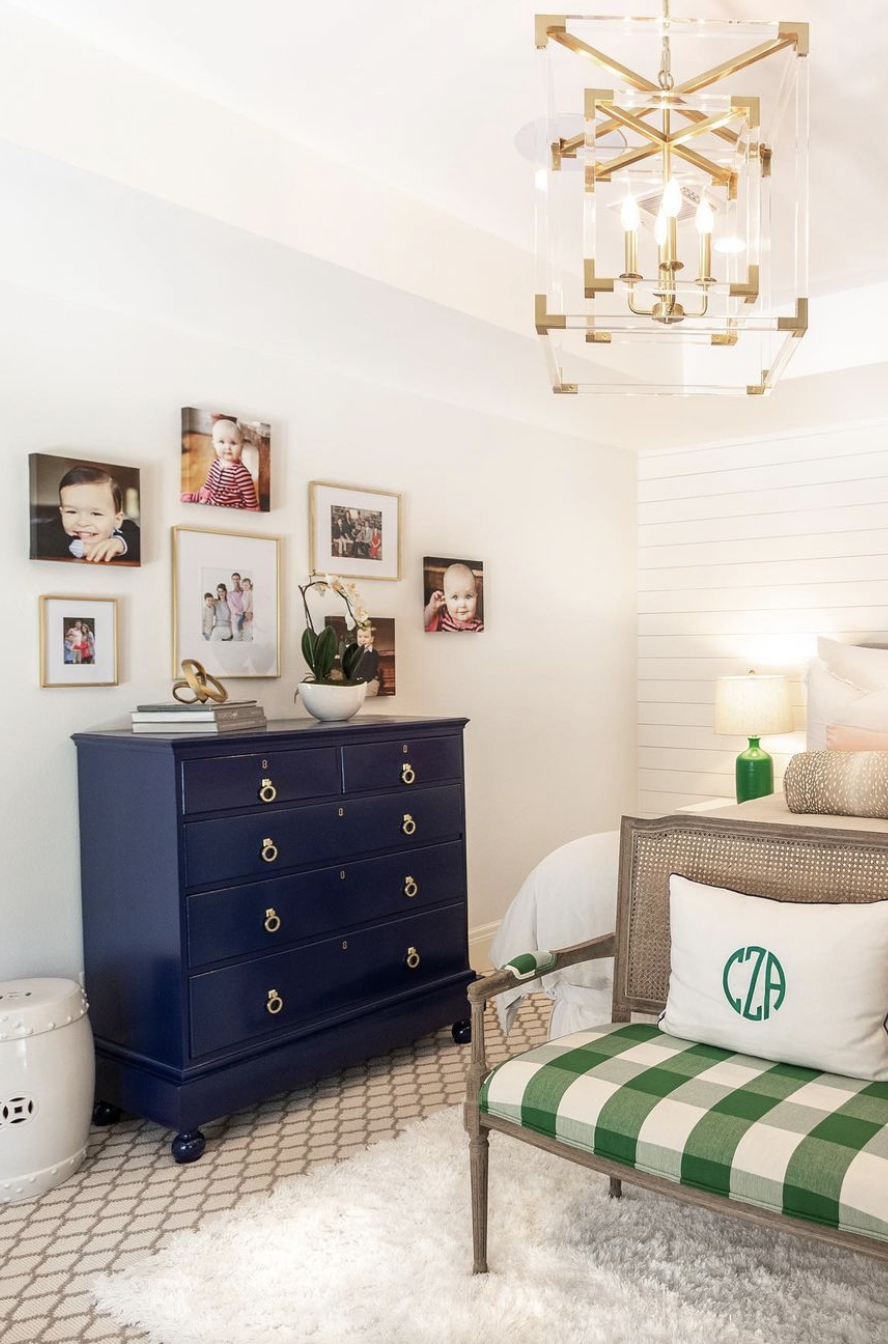 Whether it's repainting your wooden dresser or cabinet in a bold colour or pattern to give it a fresh new look or repainting your kitchen cabinets to give them a bit of a refresh, repainting old furniture can be a great way to update and preserve a piece, customize it to fit your preferences, and save money while also being environmentally conscious! Just look at this beautiful, repainted navy cabinet!
Wooden Ladder Shelves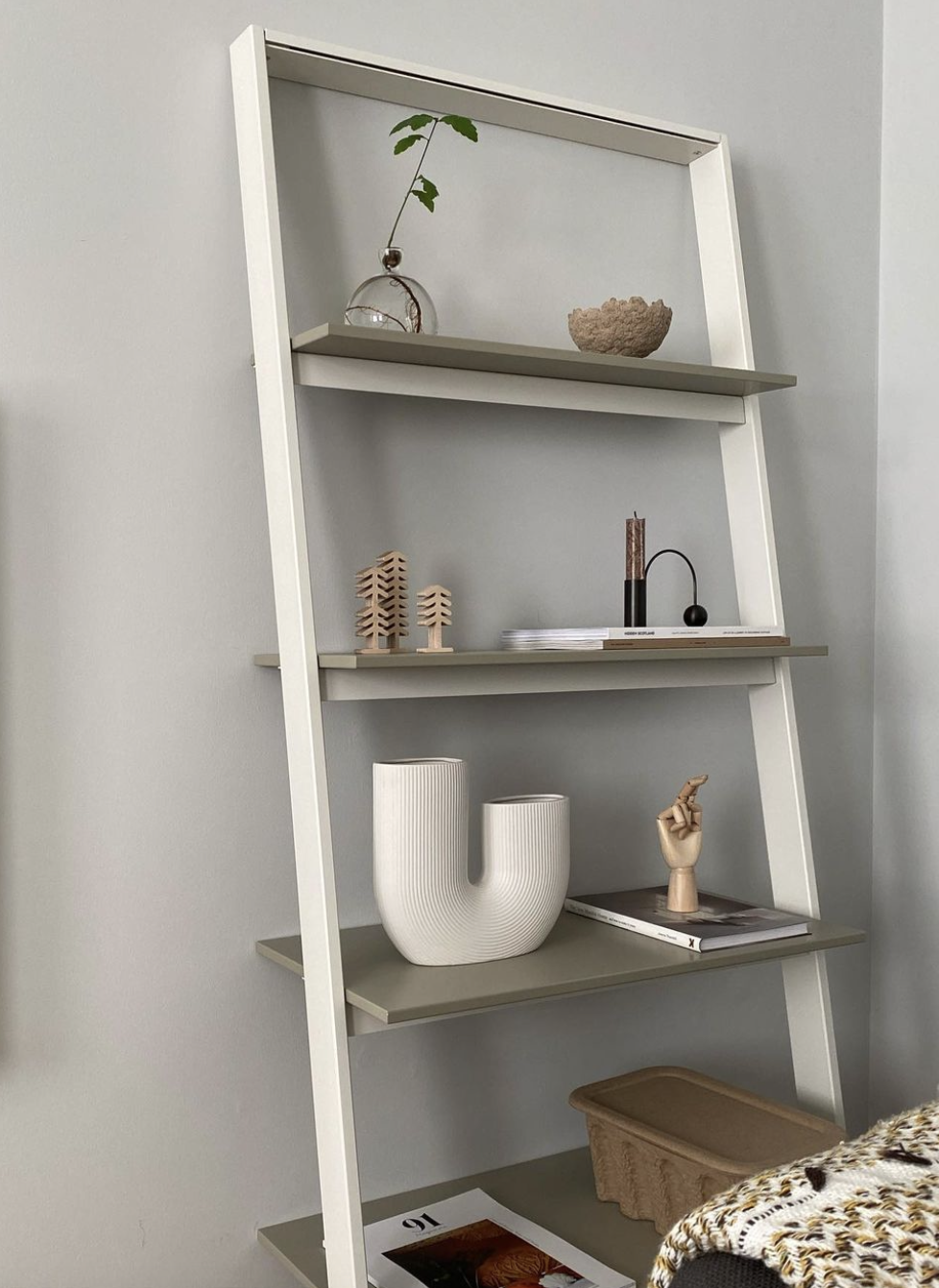 Firstly, make sure you choose a sturdy and stable ladder!
Sand the ladder down to remove any rough spots or splinters, this will help to create a smooth surface for painting or staining. Next, install your shelves. We would suggest using wooden planks. Measure the width of the ladder rungs and screw them into place.
Don't forget to install brackets! Make sure the brackets are strong enough to support the weight of the ornaments or books that you're going to fill your wonderful new shelves with.
You're now ready to paint or stain your new bookshelf! Choose a colour that complements your decor and apply a coat of paint or stain to the ladder and shelves. Allow the paint or stain to dry completely and you're ready to put all your books on it!
Wooden Pallet Coffee Tables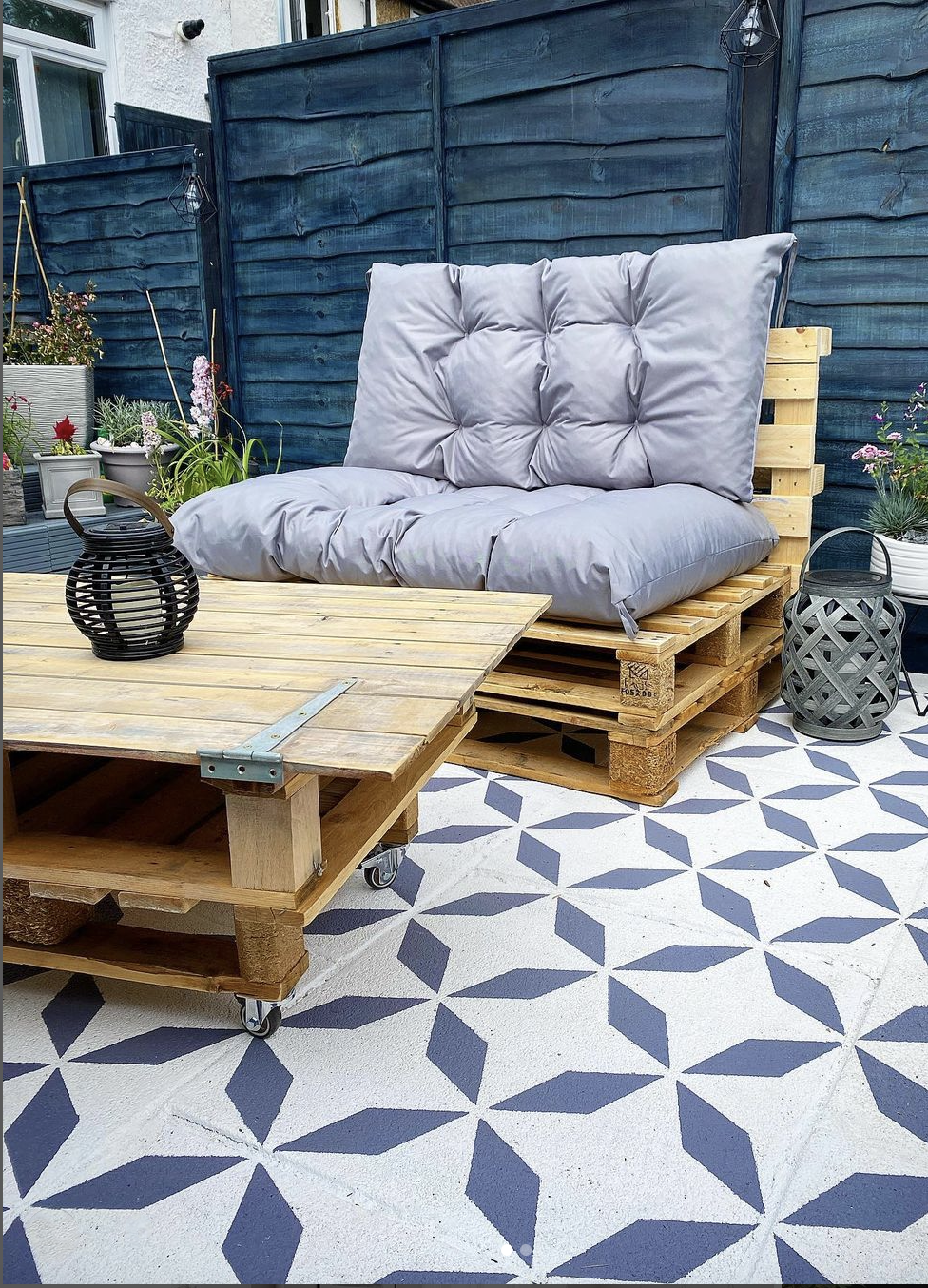 Do you happen to have some old wooden pallets laying around? Or spotted some that are being given away? Why not use them to create a rustic and versatile wood pallet coffee table?
Here's how…
Look for wooden pallets that are in good condition and sturdy enough to hold the weight of the table! Remove any dirt, debris or nails from the pallets then sand them down to create a smooth surface.
Place the pallets on top of each other to form the base of the coffee table and use screws or nails to join them together. It's time to add the legs! Attach legs to the bottom of the coffee table. You can purchase pre-made legs or make them yourself using wood.
Your new rustic coffee table adds character and charm to your room, giving it a cosy and welcoming feel by highlighting the natural beauty of the materials.
Metal Filing Cabinet Upcycle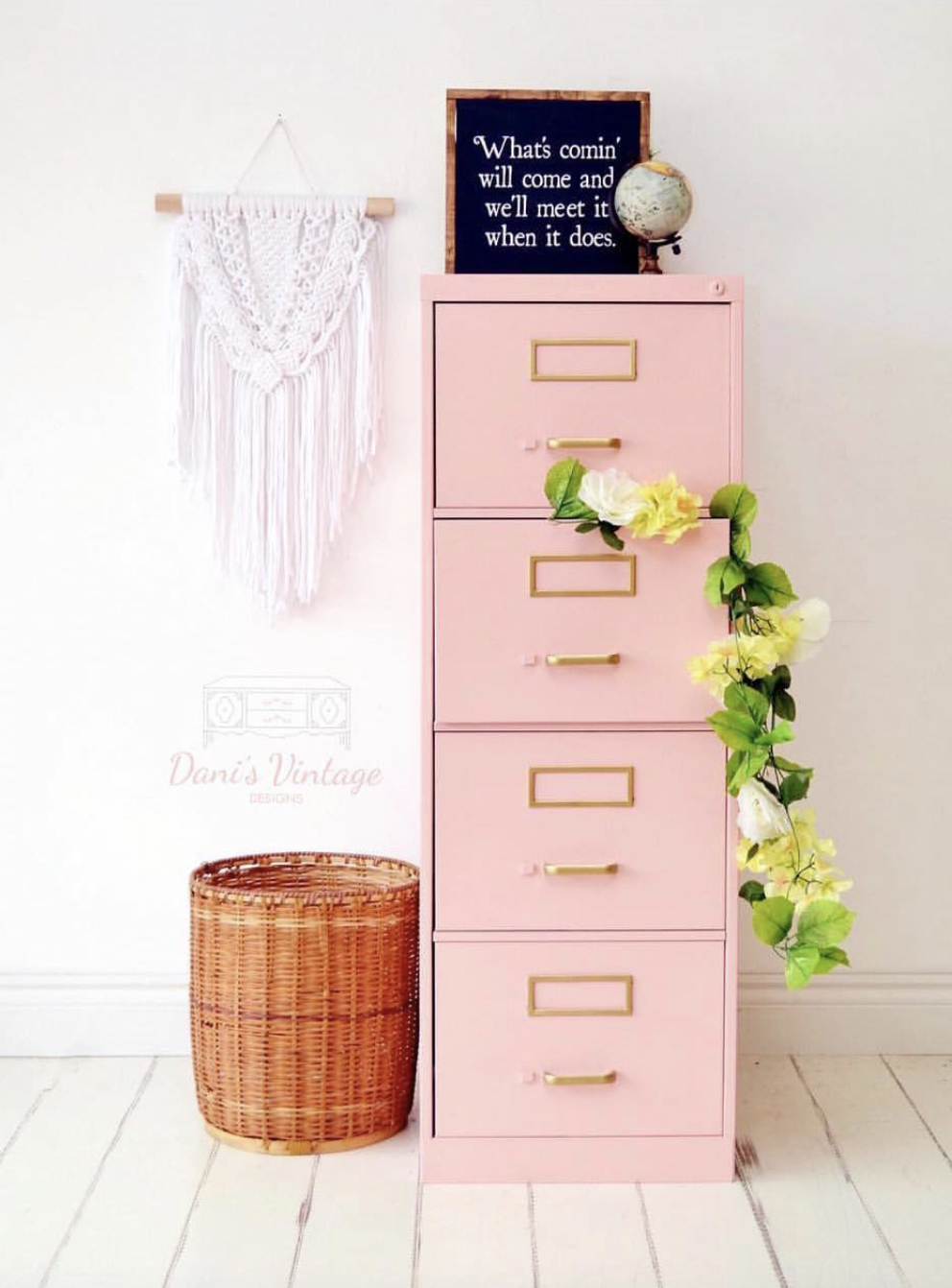 Start by removing any labels, stickers, or rust on the cabinet with a rust remover and sandpaper. Wipe the cabinet down with a damp cloth and let it dry completely.
You can either pick your paint that is specifically designed for metal surfaces and change it up more or leave it as it is for a more industrial look! If you are painting your filing cabinet, remember to prime it and finish it.
Another way to upgrade it would be to remove the old handles and locks and replace them with new ones. You're now ready to decorate your cabinet! You can use stickers, or stencils to make it unique and add some personality.
Your old metal filing cabinet into a stylish and functional piece of furniture that adds character and charm to any room in your home.
Door Turned Headboard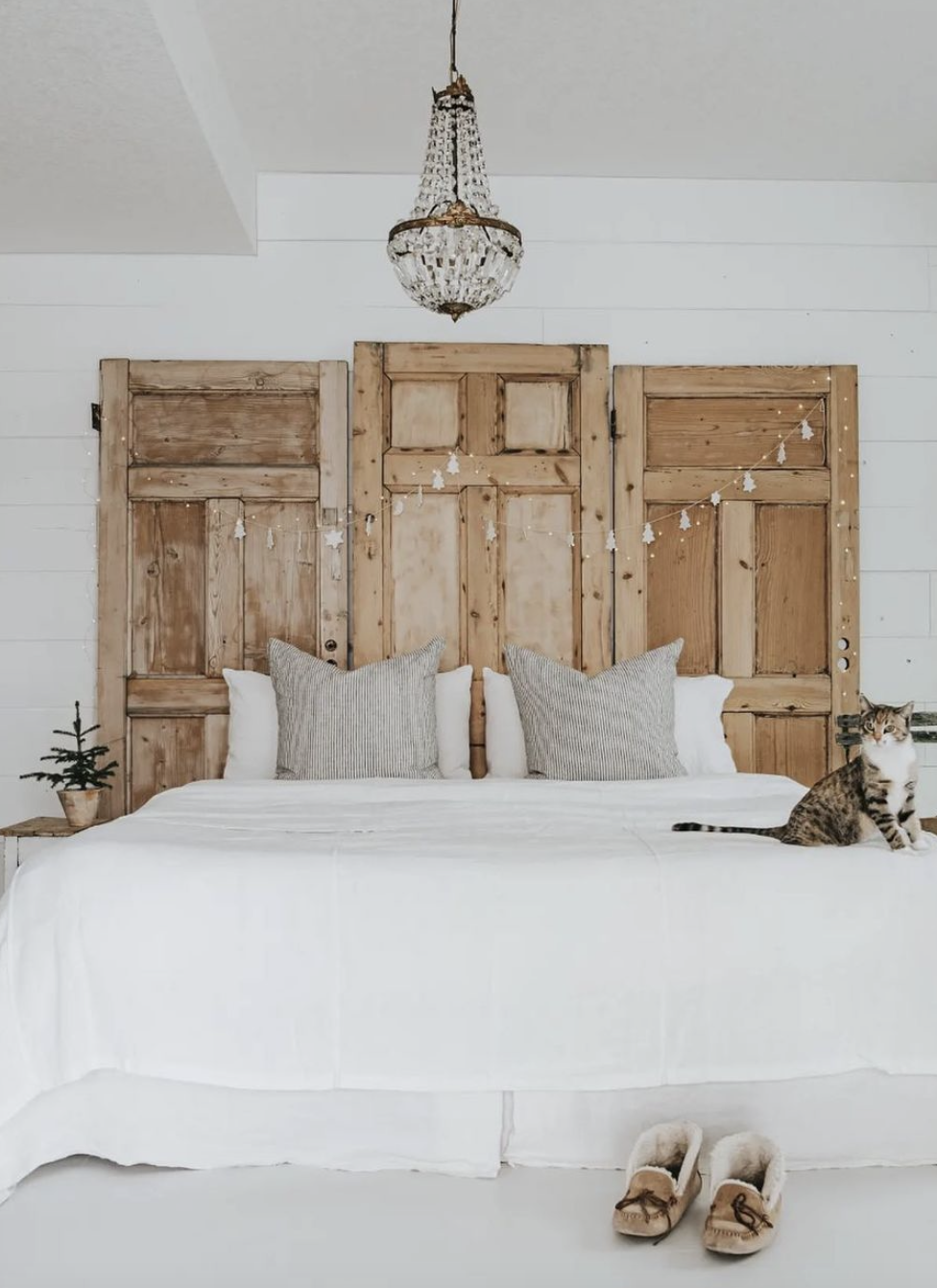 An old door can be turned into a chic and functional headboard for your bed with not too much work!
Look for a door that is the same width as your bed or slightly wider. You can use an old solid wooden door, a vintage panelled door, or even a barn door. You can also use multiple doors like in the image above.
Make sure you remove any paint or varnish from the door with sandpaper or a paint stripper. Sand down the surface until it is smooth and clean. Wipe down the door with a damp cloth and let it dry completely.
Next, measure the height of your bed and cut the door to the same height using a saw! If you want to, you can also decorate your headboard with accessories such as fairy lights, some art, or plants to make it more personalized!
Repurposed Wine Crates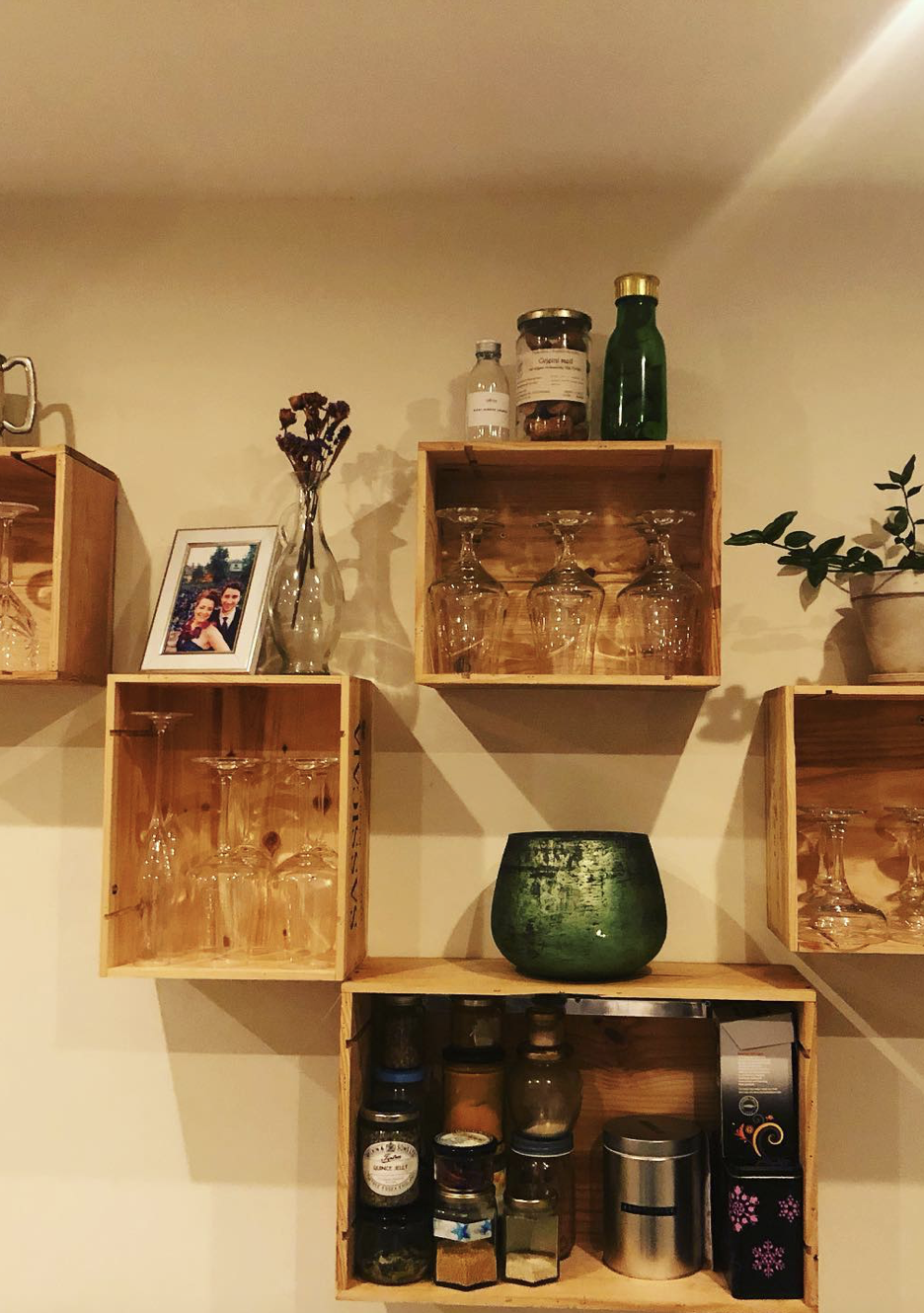 If you have a few wine crates lying around then why not use them to create stylish and functional storage or a shelving unit?
Pro tip: if you don't have any lying around but fancy a DIY project, wine shops usually throw them away so why not ask to see if you could have a few?
Start by using sandpaper to sand down any rough edges or splinters on the crates then decide how you want to stack the crates to create your storage unit.
You can stack them horizontally or vertically, depending on the size and shape of the crates and the space you'd like to put the storage units in once they're ready.
To secure the crates, use wood glue or screws. If stacking vertically, make sure to attach them securely to the wall to prevent them from toppling over. If you want to add shelves inside the crates, measure the width and depth of the crates and cut pieces of wood to fit. Use screws to attach the shelves in place.
You can leave the crates as they are for a rustic look, or paint or stain them to match your décor!
Upcycled Bookshelf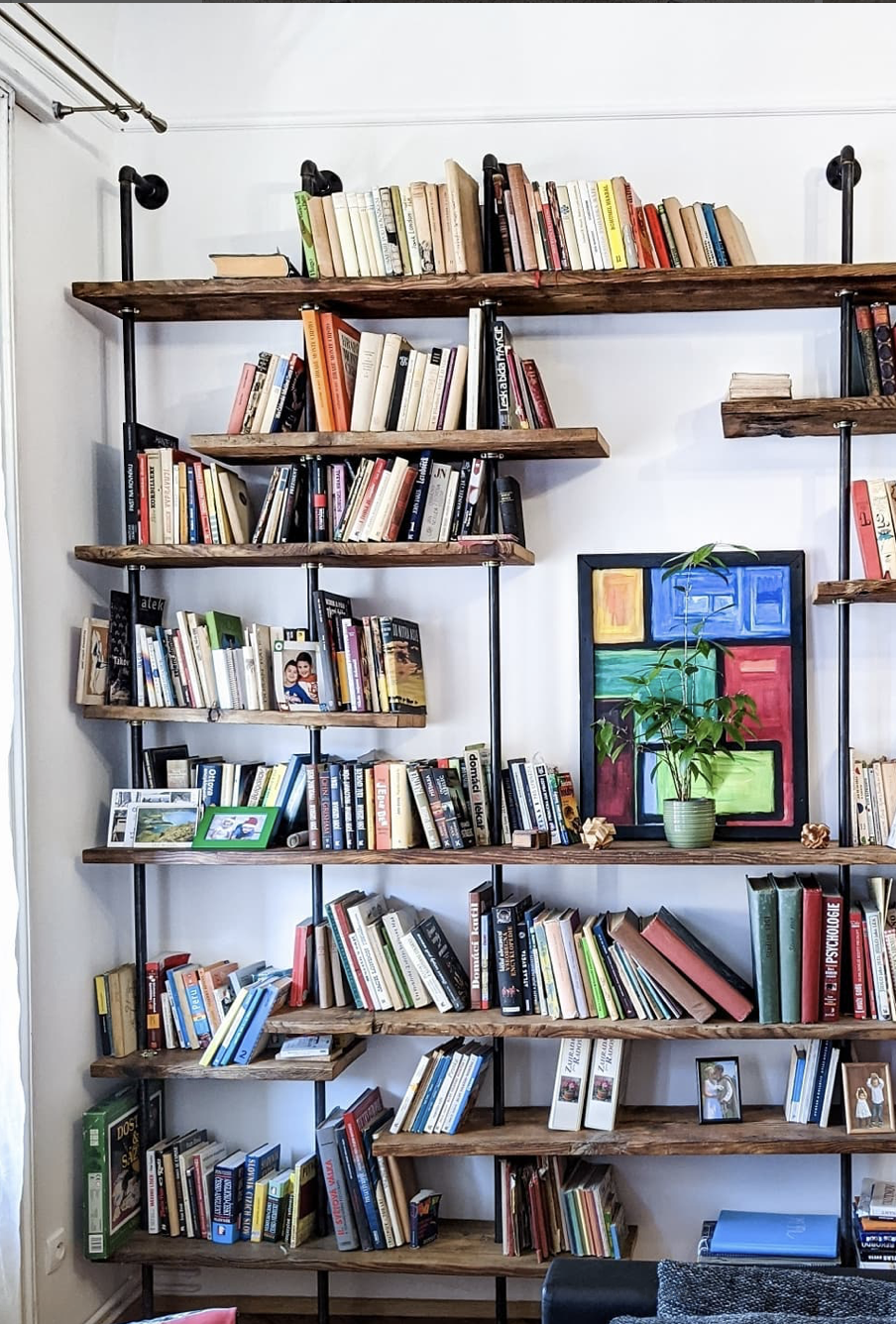 Using industrial piping and wooden planks to create a bookshelf is a great way to add a unique and functional piece of furniture to your home, while also upcycling materials and promoting sustainability.
Depending on what you have available will determine on how large your bookshelf will be. Start by cleaning the pipes with a damp cloth to remove any dirt or rust. If the pipes are rusty, you can use a wire brush to remove the rust. Once clean, spray the pipes with a clear coat to protect them and prevent future rust!
Then, sand the wooden planks to remove any rough edges or splinters on the wooden planks.
Once everything is clean and rust and splinter-free, figure out you're positioning then use screws to attach the pipes to the wooden planks. Make sure the pipes are securely attached and the shelves are level!
Cable Spool Table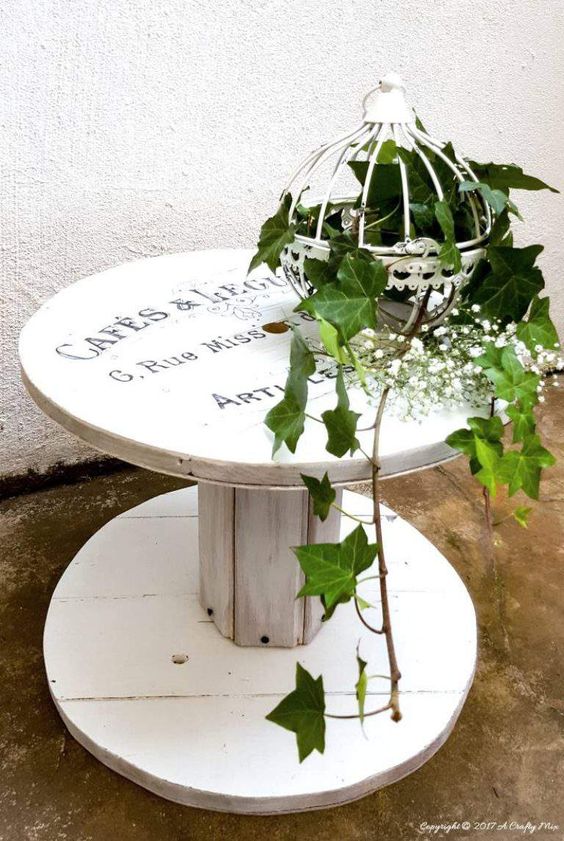 This one is about as easy as it gets, there is no building involved! All you need to do is sand down your wooden cable spool and it's ready to be put in your home and be accessorized.
Bar Cart Upcycle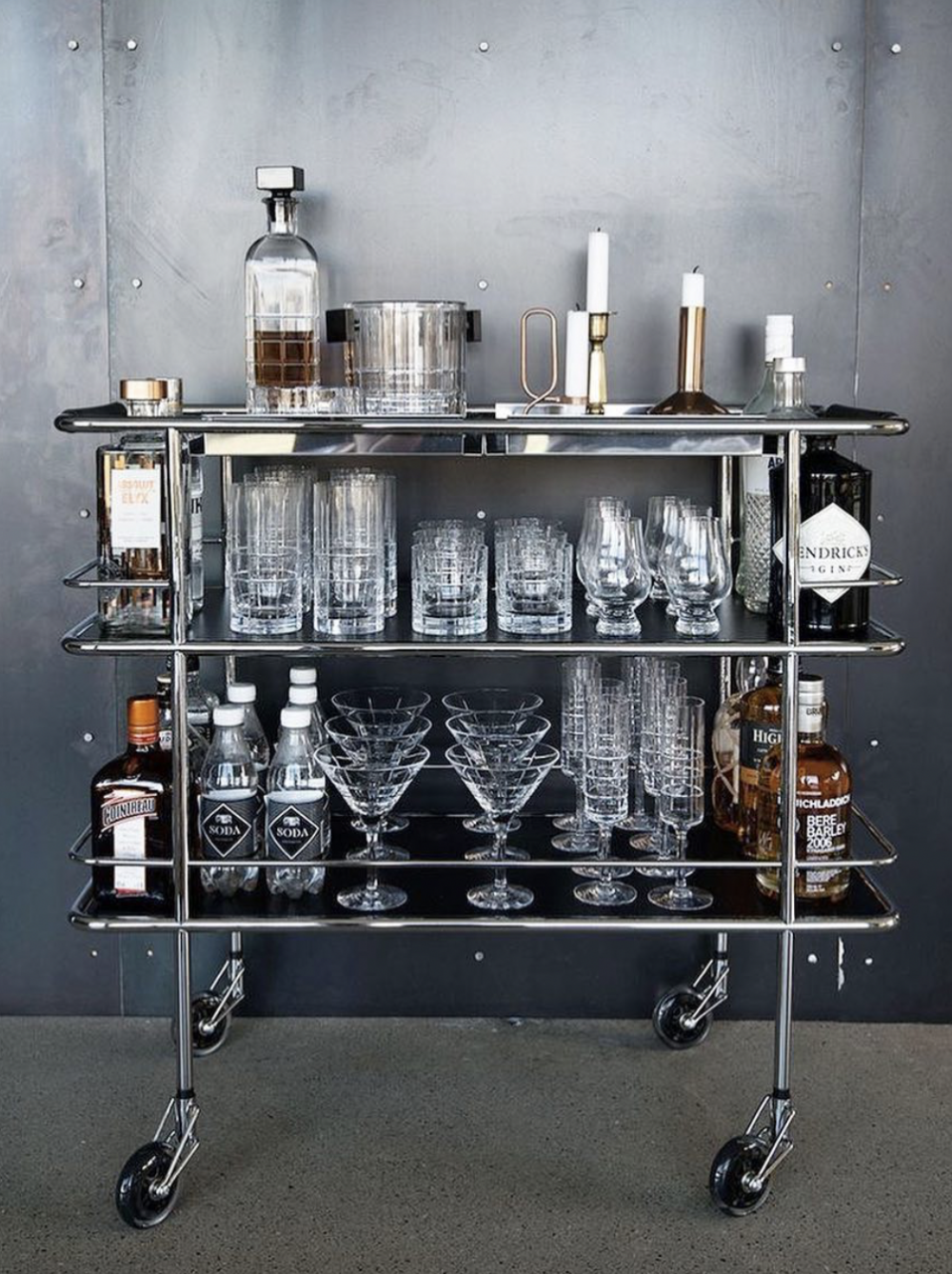 A metal bar cart is super stylish because of its sleek and modern design.
The metallic finish of a metal bar cart adds a touch of elegance and sophistication to any space. It is also functional and practical, as it provides a convenient way to serve drinks and snacks while entertaining guests as well as being recycled.
Whether you have one and you're not sure what to do with it, or if you can find one in a charity shop or on eBay, this is an easy way to bring some sophistication to your space.
Upcycled Ladder Towel Rack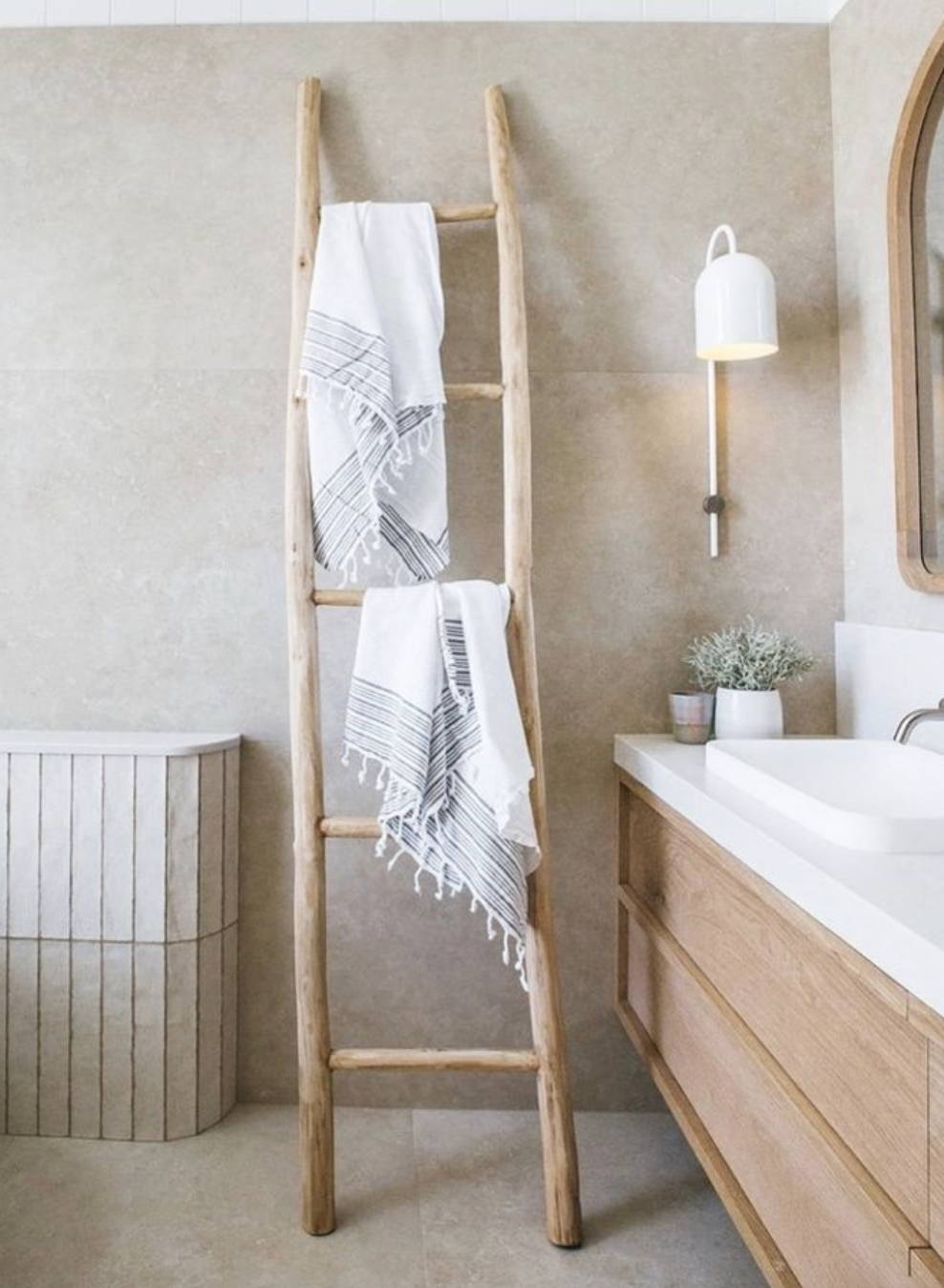 Turning an old ladder into a stylish and functional towel rack is a great way to upcycle materials and add a unique charm to your home decor.
You can usually find these at charity shops, garage sales, or places like eBay.
Old Dresser Turned Kitchen Island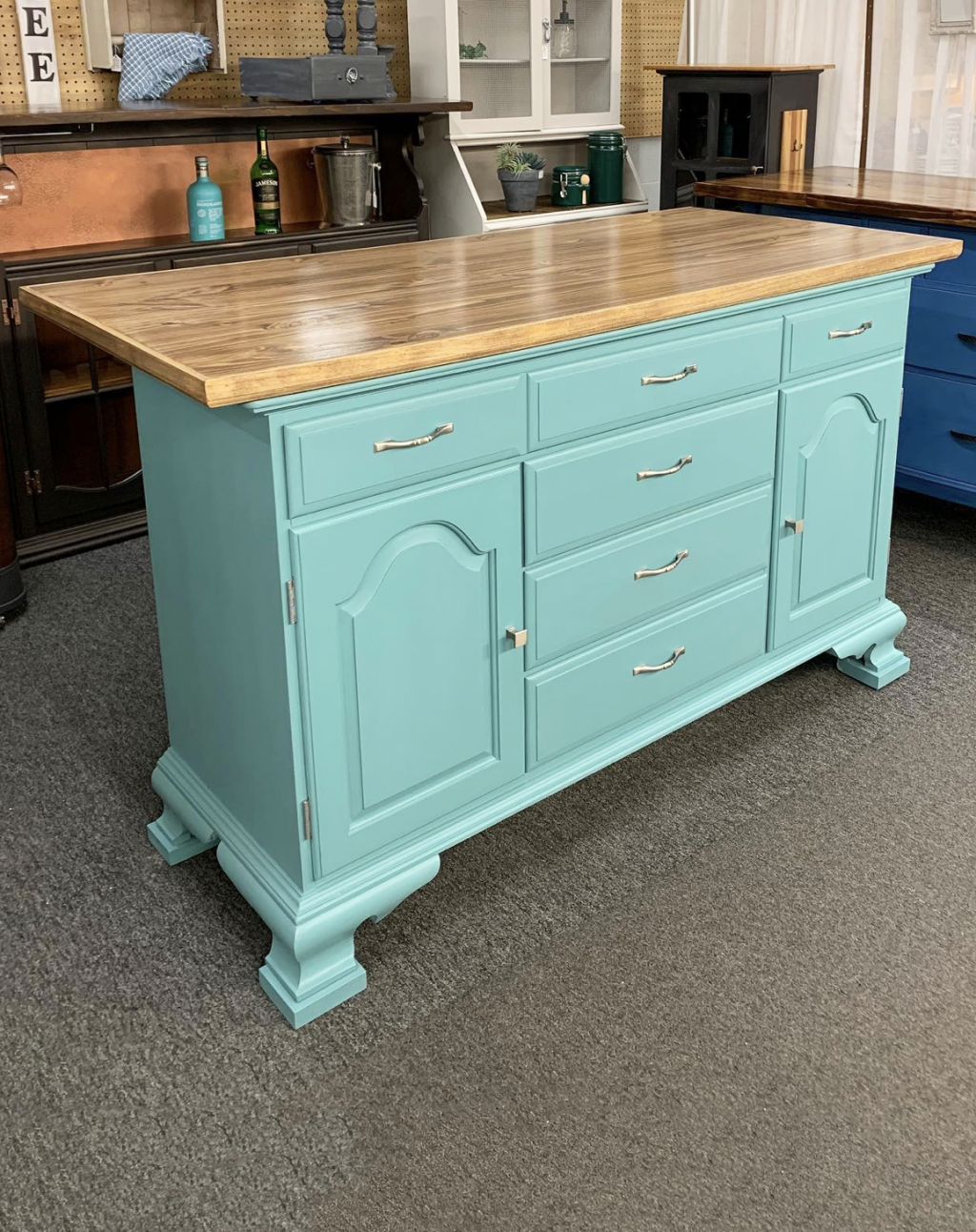 Transforming an old dresser into a kitchen island is a great way to upcycle materials and create a functional and stylish piece of furniture for your kitchen.
Kitchen islands can be expensive, but they don't have to be! Transforming an old dresser into a kitchen island is a cost-effective alternative to purchasing a brand-new kitchen island. It can save you money while also providing a unique and custom look.
Cabinet Upcycled into Kitchen Sink
Transforming a cabinet into a bathroom vanity is a great way to add a custom and stylish touch to your bathroom while also repurposing an old piece of furniture.
Not to forget that cabinets provide storage space, making them an ideal choice for a bathroom sink cupboard. You can use the shelves and drawers of the cabinet to store your bathroom essentials, such as towels, toiletries, and cleaning supplies!
Repurposed Jars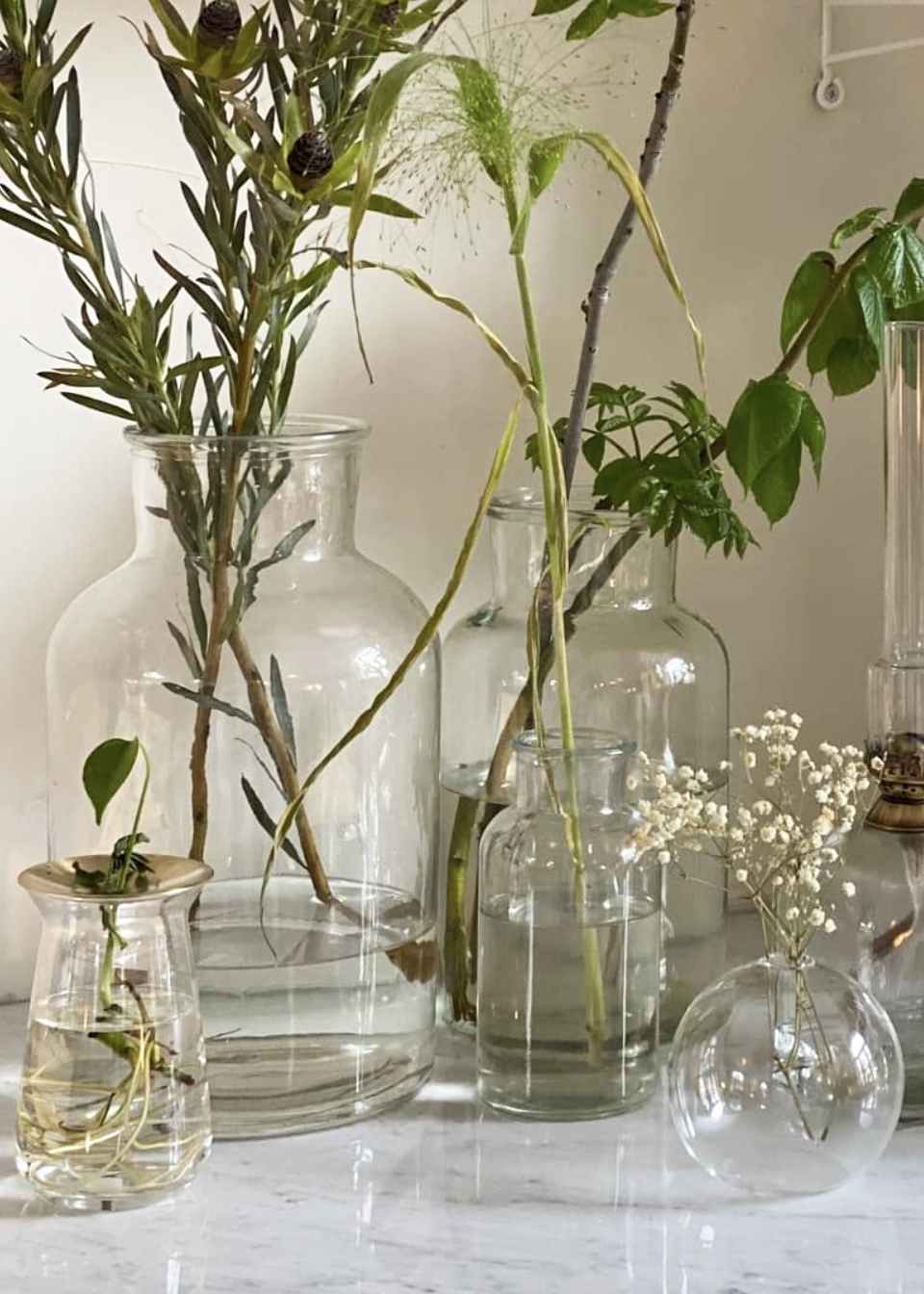 Repurposing old jars for flowers is an easy way to upcycle and reuse items that usually go to waste! They are unique and eco-friendly decor while also saving money.
Book Coffee Table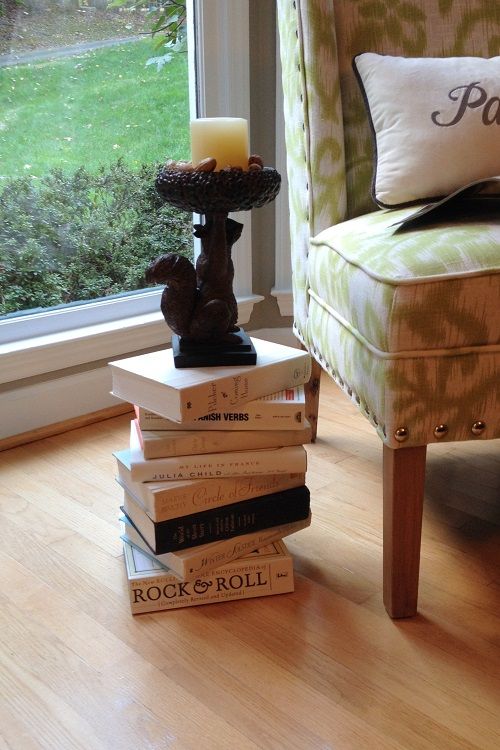 A book-themed table is a unique and creative way to incorporate books into your home décor. They can add a touch of personality and individuality to your living space, as you can choose which books you'd like to use!
Reuse Old Shutters
Old shutters can be transformed into so many different decorative items around the home! Whether it's a charming and rustic room divider or decorative wall hanging.
Here are some examples that we love…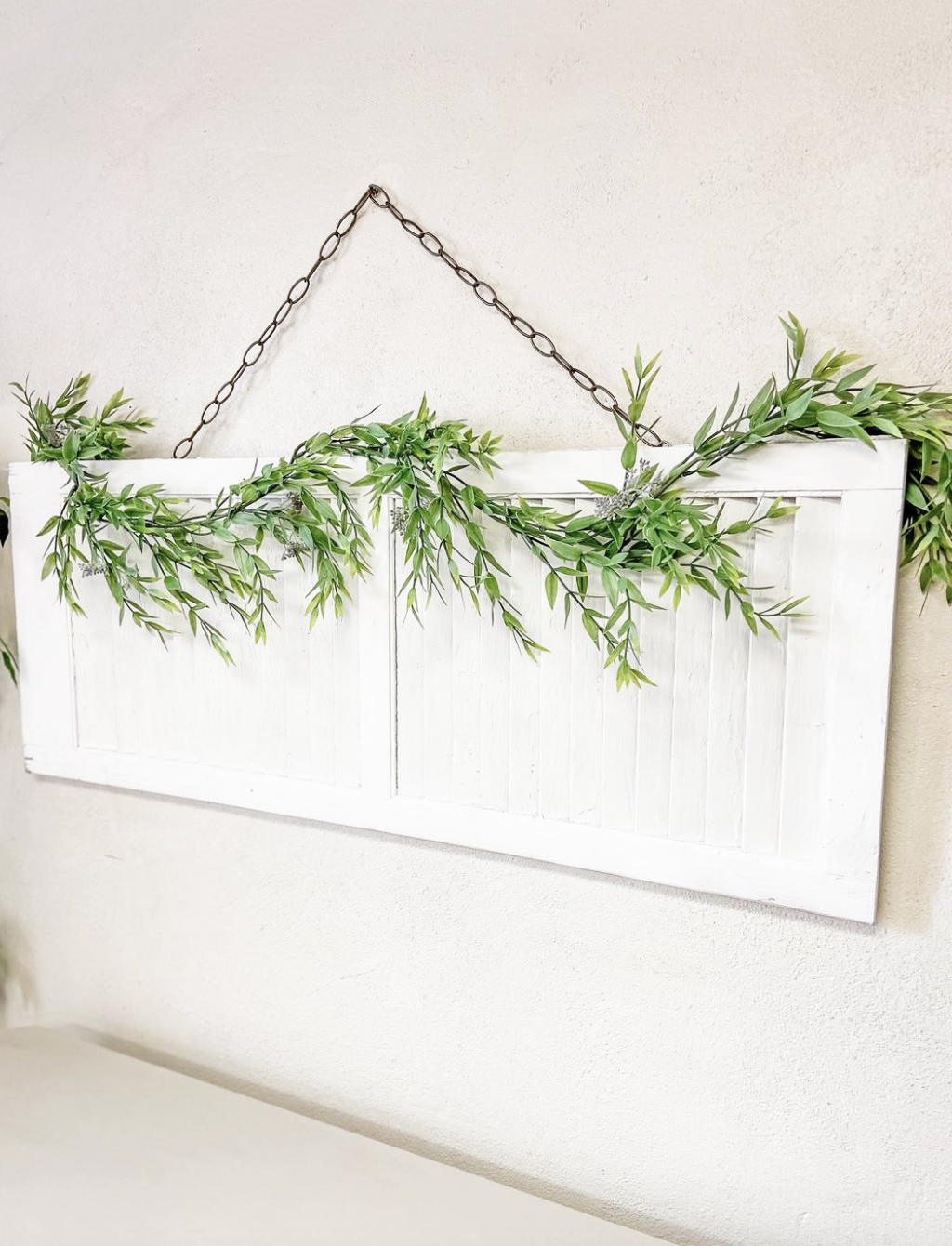 These are just a few ideas for upcycling old furniture. The possibilities are endless, and the results can be truly unique and personalized to your taste and style. Older furniture is often made with better quality materials and craftsmanship than newer, mass-produced furniture.
So, not only can you create one-of-a-kind pieces for less money, but you can also preserve the quality and character of older pieces while giving them new life!
PIN THIS: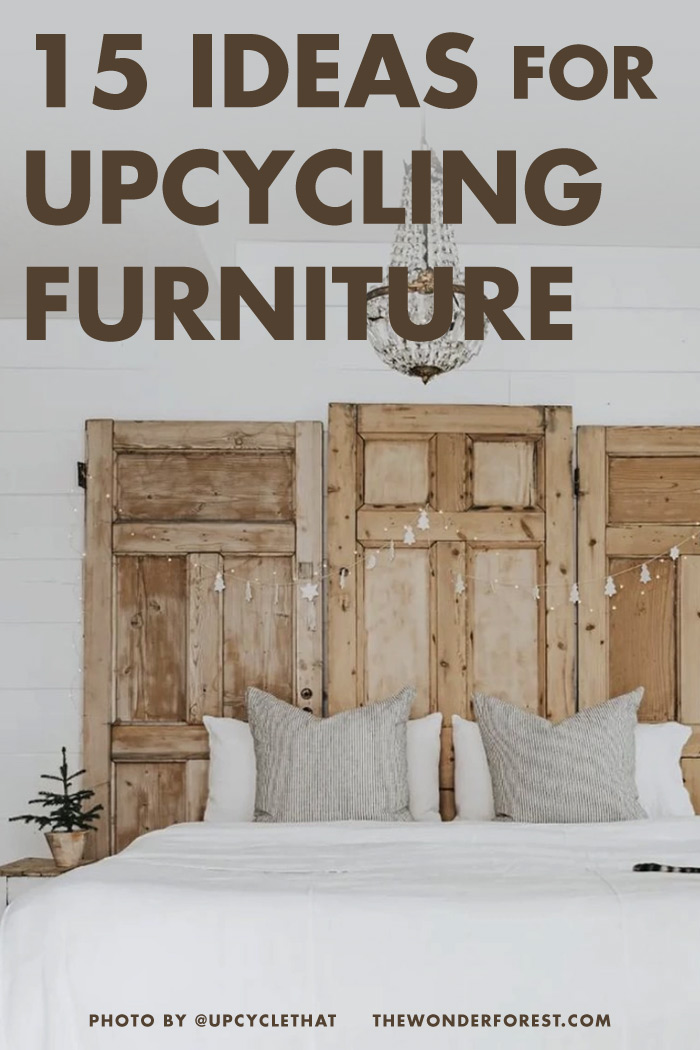 Last Updated on