We all know that having a dedicated work space in your home is essential in staying productive and organized.
But what if you just don't have the space to create your dream office!?
Have no fear… I've gathered some amazing inspiration for you that will help cure your small space funk!
These mini offices are functional and also look great and can be incorporated into your existing interiors. Let's take a look…
Corner office
A functional desk and shelving adds instant organization to this small corner.
Accessorizing with plants and lighting help to inject a little personality into an otherwise dull area.
Don't forget the lighting! A single hanging light is all you need if you're working into the evening hours.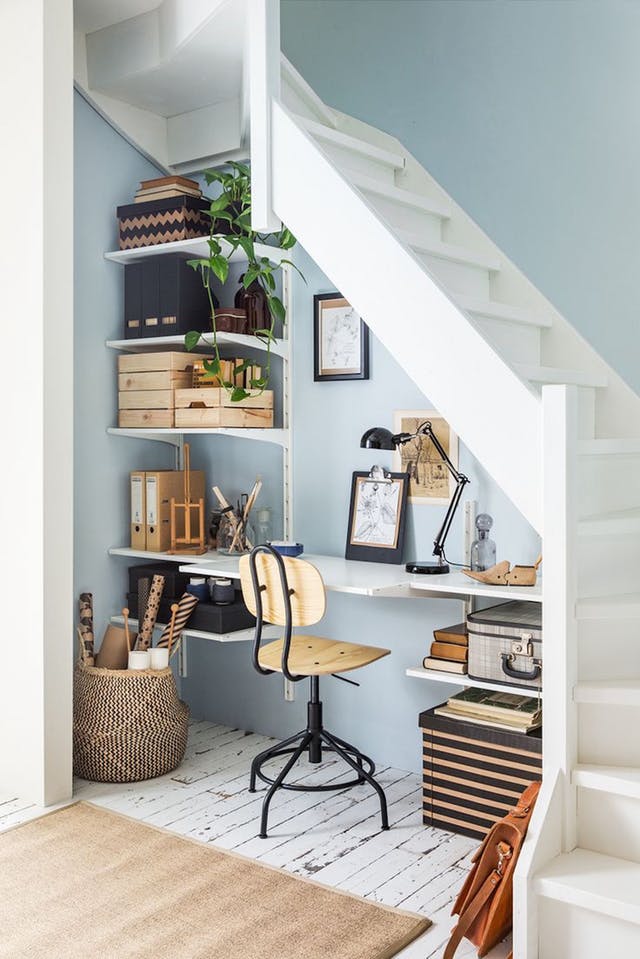 Under the stairs
Making use of the space under your stairs is an idea that I am all for.
This built in desk and shelving adds tons of storage options to an area that would usually go unused.
This modular style office setup is easy to rearrange if you need more space or want to add more shelving.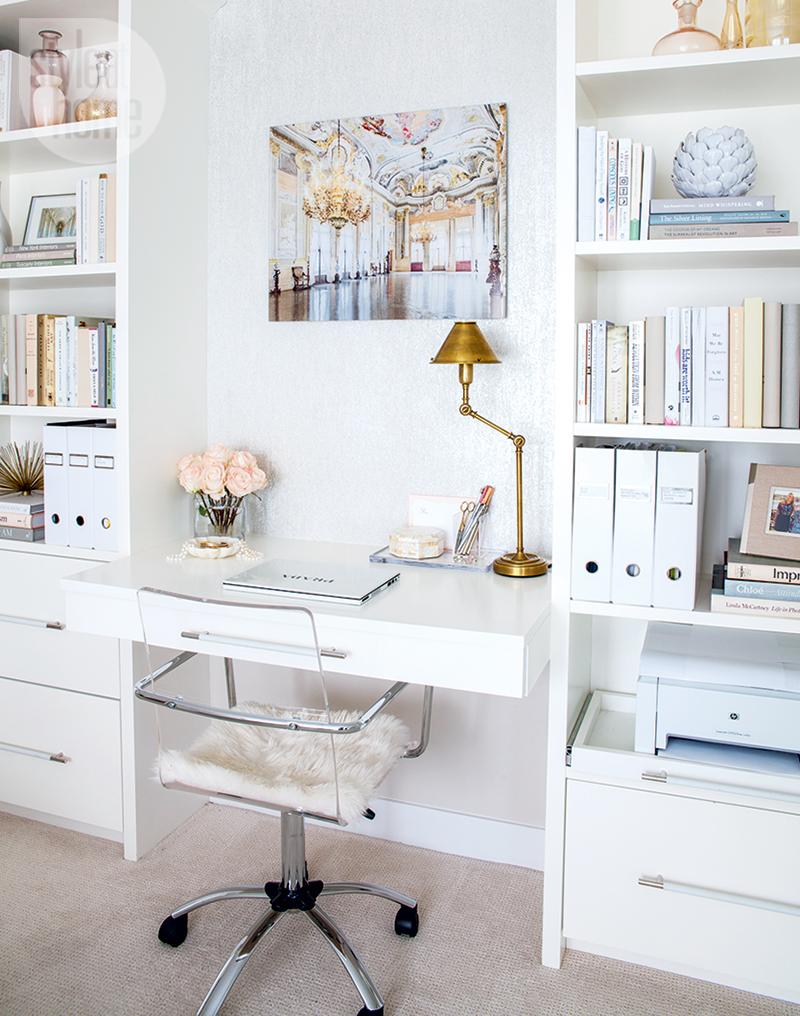 Built-ins with purpose!
A simple work area added in between two bookshelves gives you an instant office vibe. Keeping the colours uniform help to tie everything together.
Try shelving with a greater depth so you can fit your printer or other office tech necessities on them easily, without overhang.
This pull-out shelf is a great idea to access the printer when needed.
Minimal square footage
If you're tight on space, a small desk and shelving may be all you need. Painted white, everything blends together to keep the area looking clutter-free.
Try choosing a small desk with a drawer so you can stash away your items when not in use. It will keep the whole area clean and looking chic.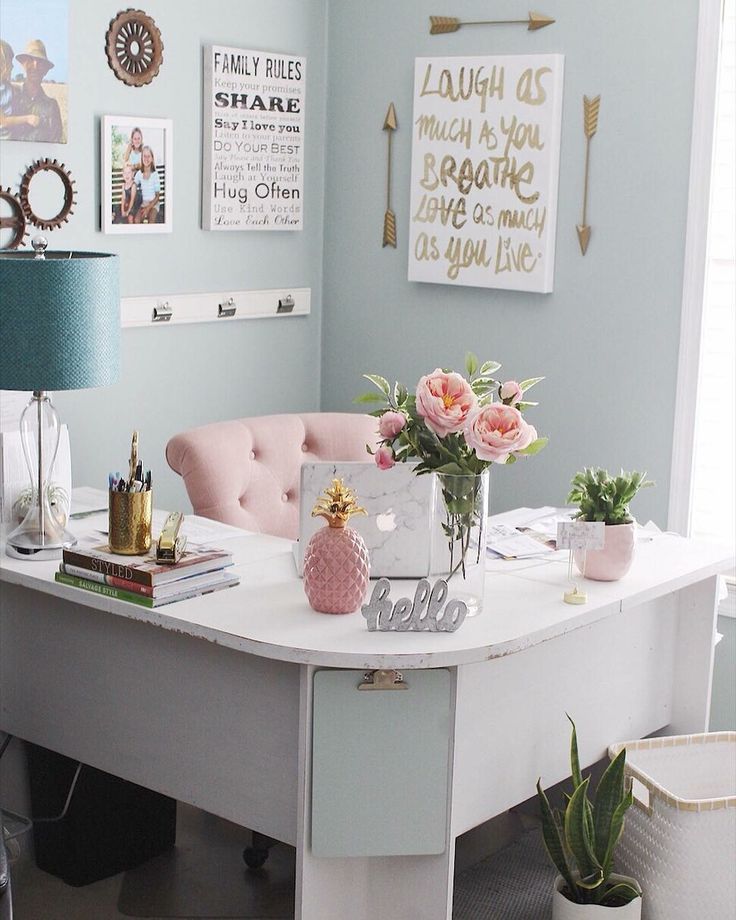 A section to yourself
I've always been a fan of desks that allow you to look into the room instead of staring at a wall!
A corner desk gives you instant extra space and helps section off an area of your room. You can also easily hide additional storage behind the desk to keep clutter out of view.
Your own personal jungle
Bring a small space to life with greenery! Some plants can easily wake up a small or dull space and make it look super cozy.
If you don't have a green thumb (like me… call me Mrs. Black Thumb!), there are tons of faux plant options that can look deceivingly real!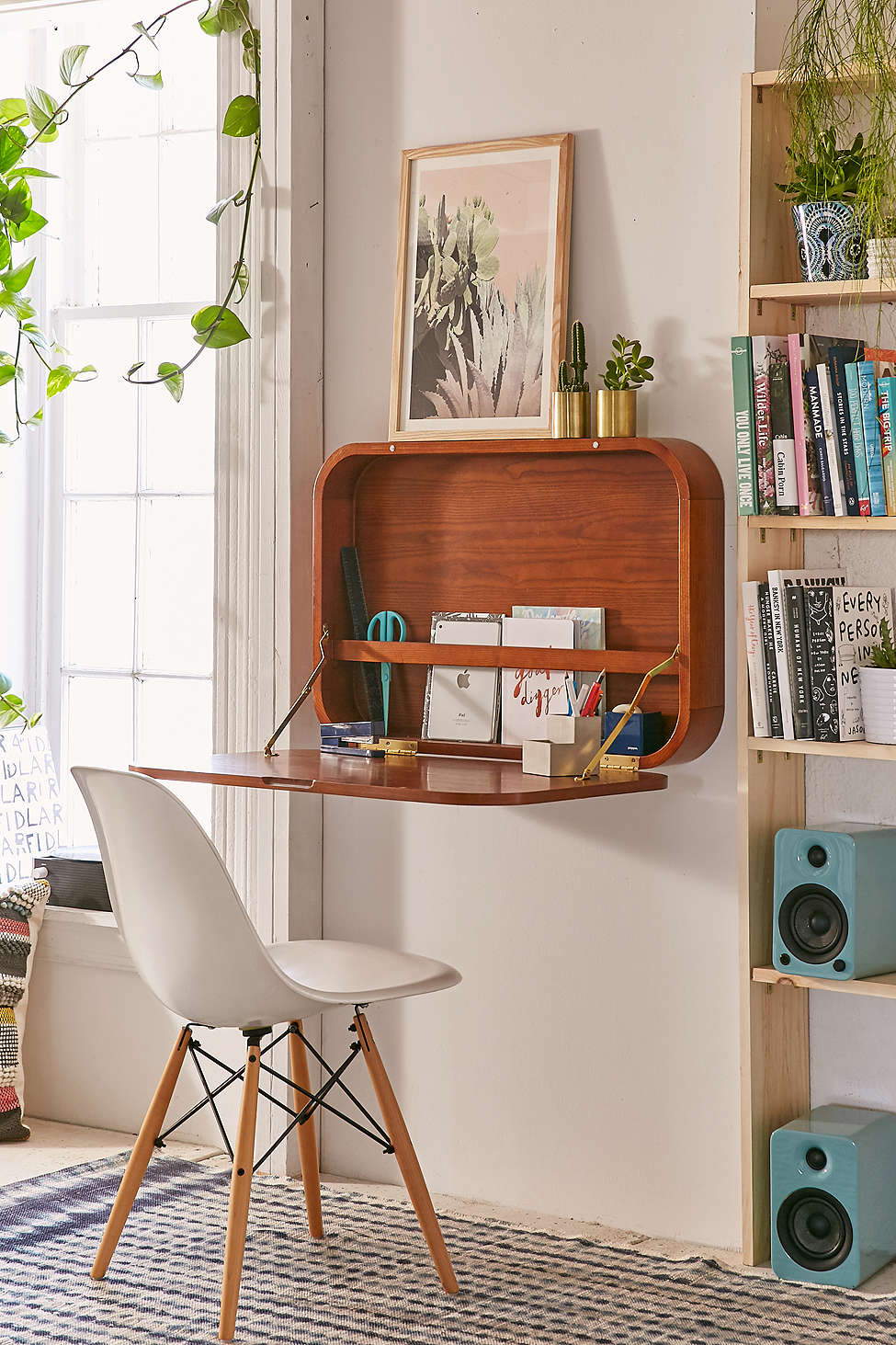 A wall is all you need
For super tight spaces, something like this fold-out desk would be perfect! Simply release it when you need it, and tuck it away when you don't.
It's like the Murphy bed of office desks and can blend in with your decor easily.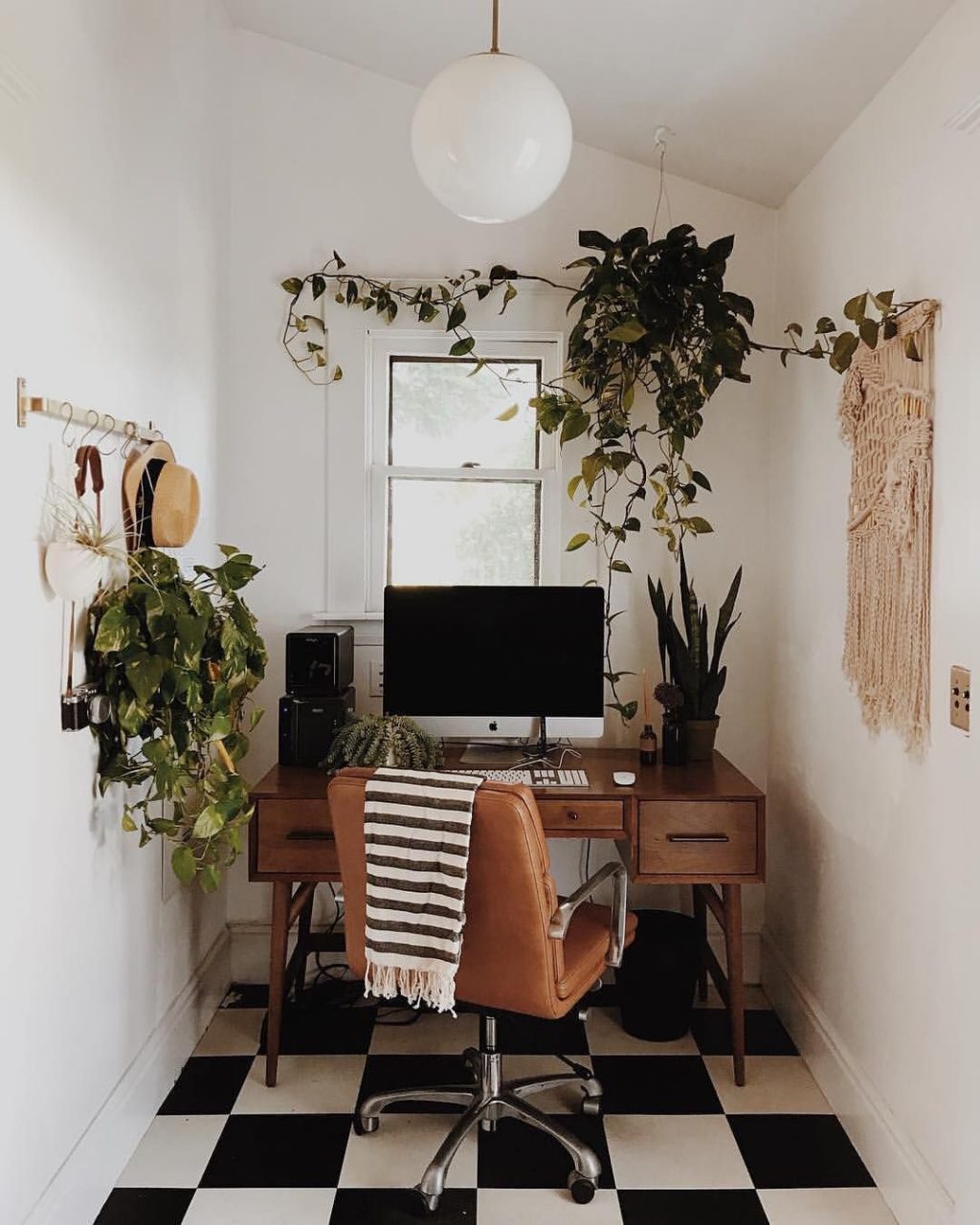 Tiny but cozy
For narrow spaces, a small funky desk can be the center of attention. Find one with drawers to store your stuff and accessorize with a single colour palette that suits your personality.
The textures in this space make it look so cozy. A nice chair is a must, so make it a focal point!
A space for learning
These simple bookshelves stacked away in a small corner make for your own personal study area. A small desk and chair with a reading light may be all you desire!
Pro tip: if your books are just for looks, turning them binding-side-in can create a more neutral, monochrome color palette with the pages being the main tone you see!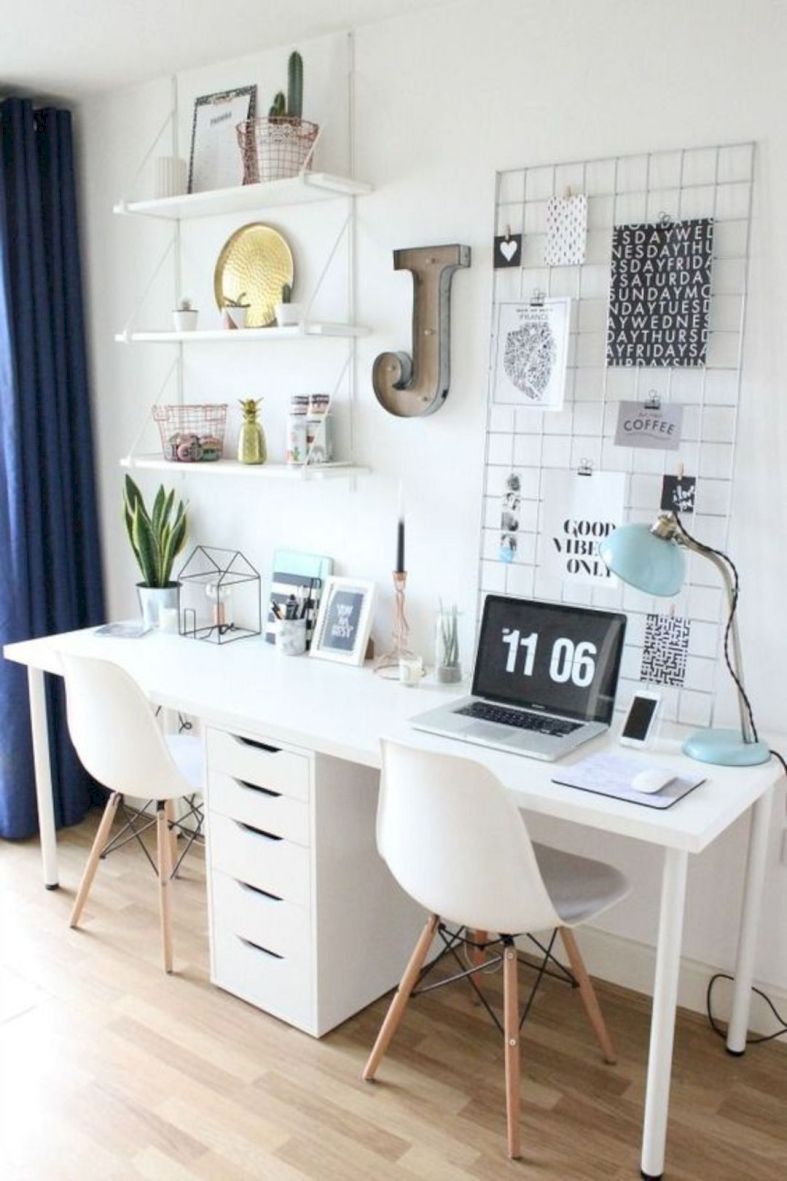 Two for one
An extra long Ikea desk with a center storage divider helps to break up one work area into two!
This would be perfect for a single wall work area or bedroom/living room office space.
You see, you don't need a huge space to make a workable office! Sometimes just the basics will do.
Which of these home offices is your favourite?
Last Updated on