Step into the ultimate cosy season with these handmade fall-themed gift ideas to give to a loved one or as a little self-love present.
We all know and love fall as the season of change; the leaves that were once green turn orange and red, the days get shorter which means more nights in and we get ourselves ready for the transition between summer and winter.
In a time of slower living and changing elements, try your hand at making a gift that anyone would love to receive! Whether you're a cosy homebody or a spooky soul, we've got you covered! Expect a lot of spicy cinnamon, dried citrus and seasonal pumpkins!
Cinnamon Stick Block Candle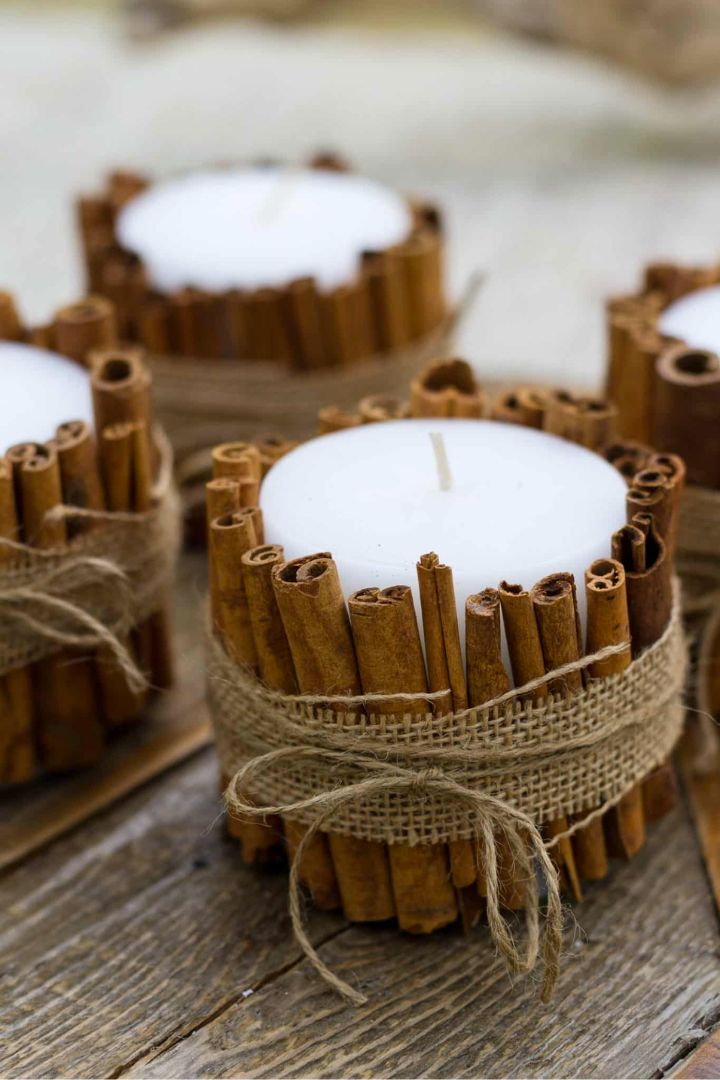 One thing about fall is that it's the perfect excuse to decorate anything and everything in all things autumnal. Transform something simple like this block candle and make it the perfect centrepiece to your table with some spicy cinnamon sticks and jute ribbon.
Try and jazz up your ribbon choice with a sprig of pine or swap out cinnamon sticks for dried fruit or pinecones and see where it takes you!
Essential Oil Wax Sachets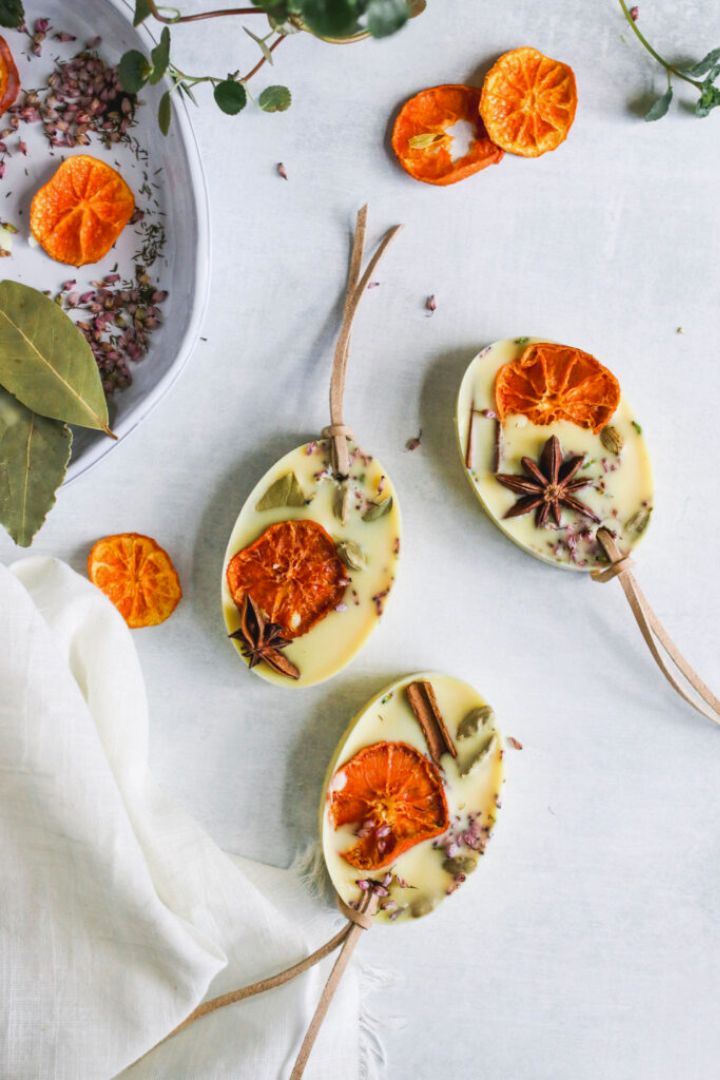 Give someone the quintessential smell of fall with these wax sachets – not only do they smell great, but they look great too. These have been dressed with dried flower blossoms, clementine slices, star anise and cinnamon sticks with a healthy helping of essential oils and finished with a leather rope.
Simply hang these around the house and let the aroma fill the air or remove the hanging strap and use it as a wax melt.
Stove Top Potpourri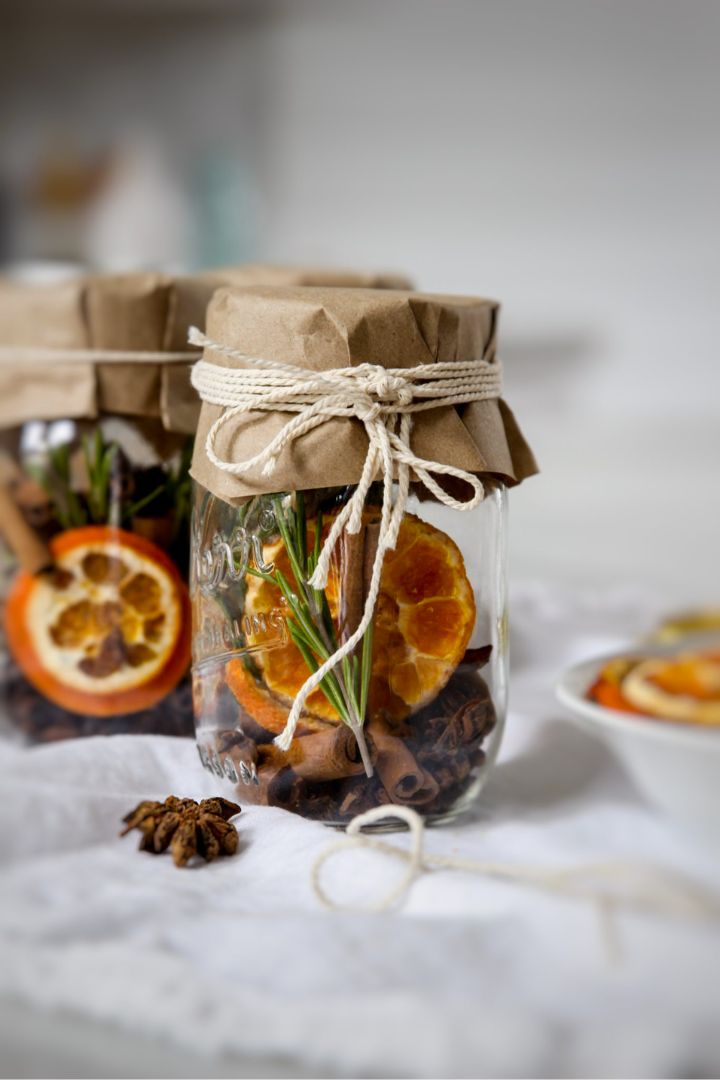 If wax and candles are not your vibe, prepare your space for fall with some stove-top potpourri. This recipe is bursting with seasonal ingredients and vibrant colours to make your house smell and look fab.
Make this simple potpourri for yourself at home or wrap it up in a nice mason jar and some jute ribbon as a thoughtful gift for a friend.
Scented Flannel Pumpkins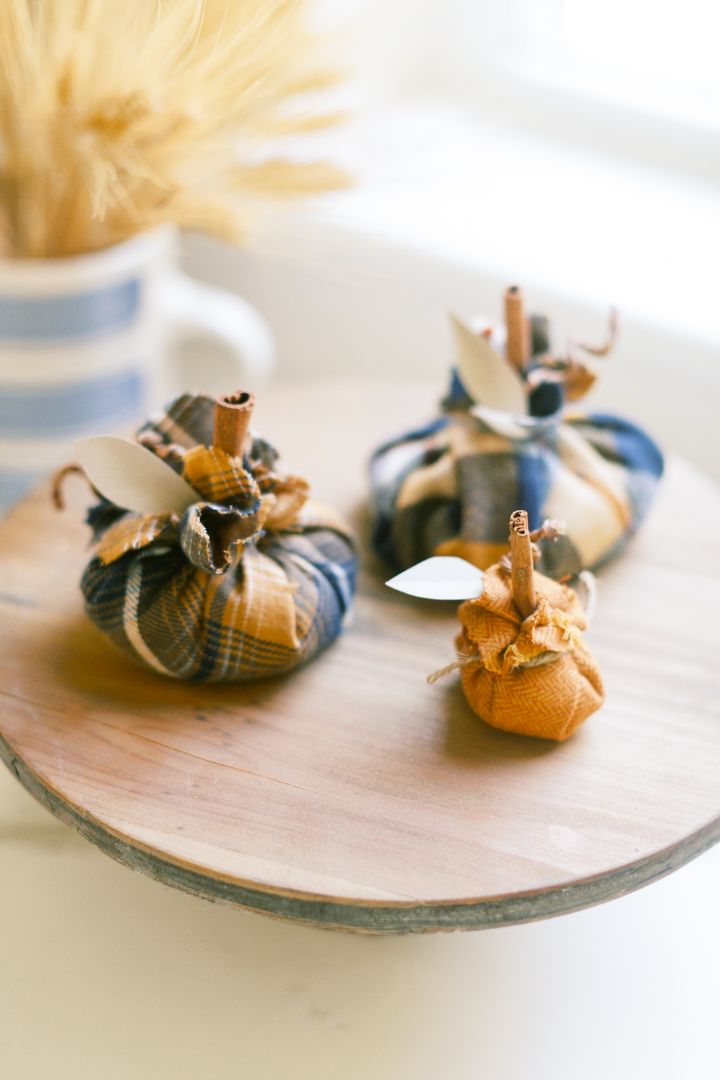 Another innovative and child-friendly way to boost the scent in your home is these scented flannel pumpkins. Add a warm and homely feel into your space by introducing a rustic flannel texture in the shape of autumnal pumpkins with a stick of cinnamon for good measure!
Pumpkin Spice Bath Bombs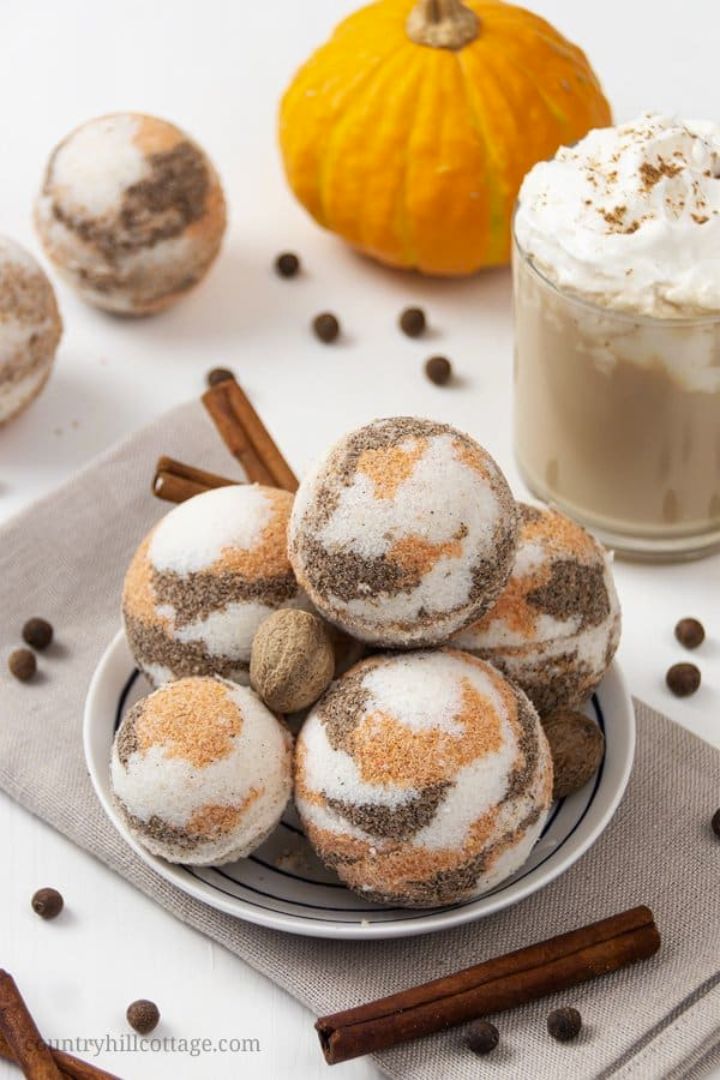 The cosy fall season means indulging in self-care and what better way than with a relaxing bath? These DIY bath bombs are loaded with essential oils and moisturizing ingredients as well as a sprinkle of autumnal pumpkin spice to capture the fall season.
Leaf Imprinted Trinket Dish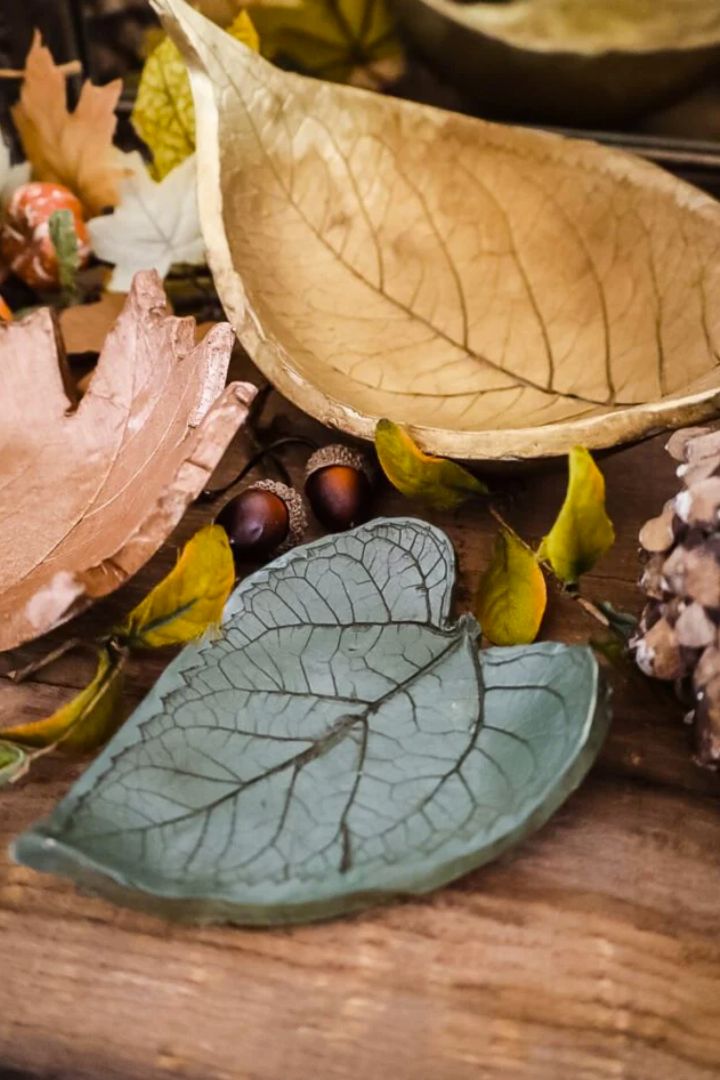 The symbol of fall has got to be the changing of leaves so why not pay tribute and create these trinket dishes using a real life of your choice and some air-dry clay. I love how Jennifer has put a metallic twist on this to make the grooves and imprints pop that much more.
Cosy Knitted Scarf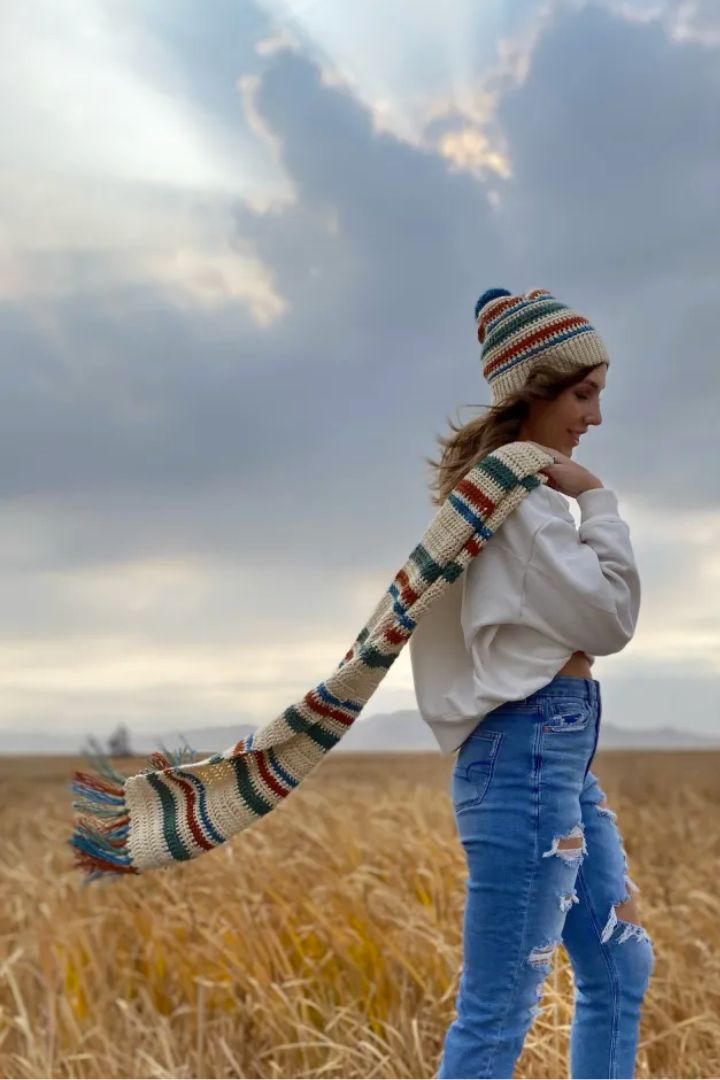 They don't call this season 'sweater weather' for nothing – it's a brilliant excuse to cosy up in some knitwear! A stripy scarf is iconic in fall and would make a lovely gift to personalize in your bestie's favourite fall colours. There's also a matching beanie pattern if you really want to wow your friends!
Sage Apple Butter
If crafts are not your thing and you're still in the gift-giving spirit, why not whip up some apple butter? Apple butter is the sister spread to marmalade and jam, but with a warm and flavoursome twist.
Not only does the addition of cinnamon and sage elevate the entire recipe but it is super easy to make and delicious on hot buttery toast. A new fall cupboard essential? I think so!
Brown Butter Pumpkin Cookies
One of my personal favourite gifts for anyone on any occasion is homemade cookies! These brown butter and pumpkin cookies are such a classic flavour combination that look and smell delicious. Add an extra touch with a homemade tag to finish off your gift!
Ghost Cake Pops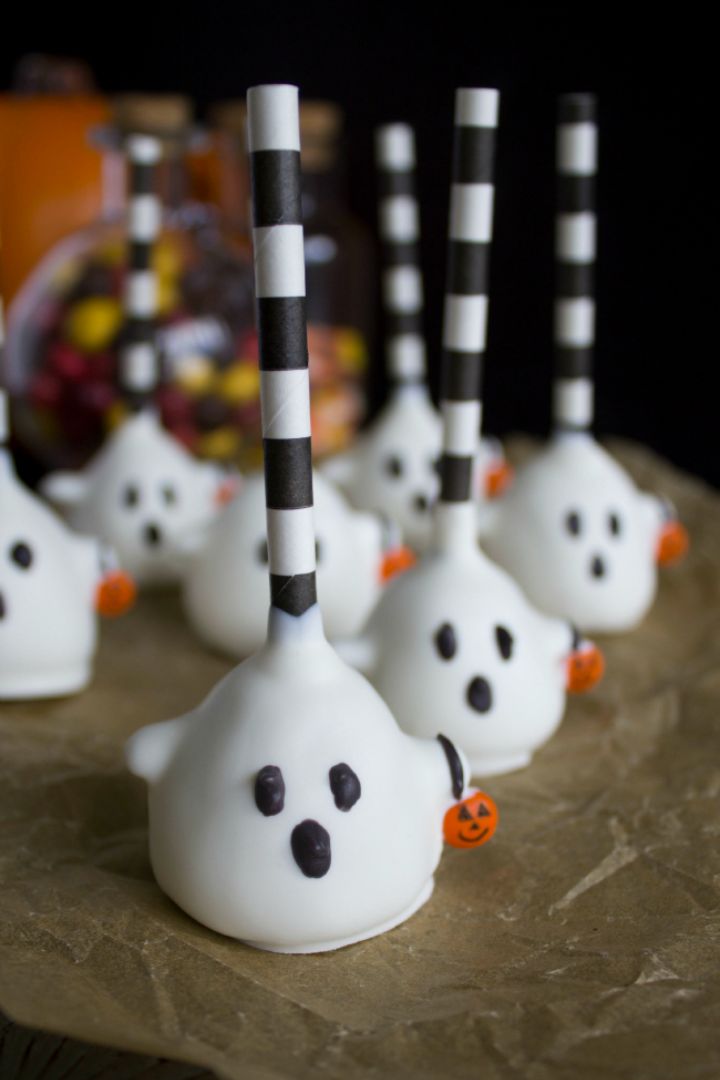 Cake pops are such a fun gift for when you want a little bite of dessert but don't want to buy a whole cake or make an individual portion and a great way to use up leftover cake! These whimsical ghost cake pops are so impressive to look at but deceivingly easy to make!
Why not dip your cake pops in orange chocolate to look like mini pumpkins or drizzle with caramel and sprinkle with nuts to look like mini caramel apples.
Dark Chocolate Pretzel Bark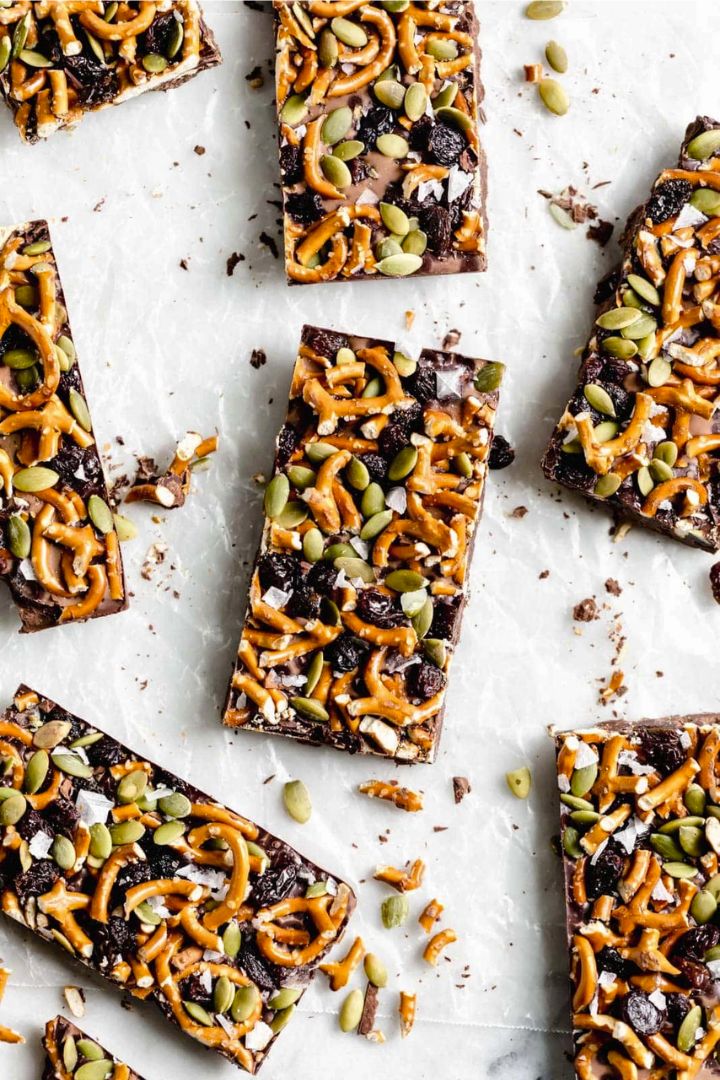 A quick and easy food gift that requires minimal work and maximum goodness is chocolate bark. It's really simple to make and it's loaded with sweet and salty toppings, in fact it's completely customizable to your own personal tastes so anything goes!
I love this autumnal combination of thick dark chocolate, salty pretzels, crunchy pumpkin seeds and kick of sweet dried fruits.
Autumnal Doormat
With any season, a refresh of the home is imminent. Spring cleaning? Summer clearout? Enter fall. Welcome guests into the home and put your muddy boots at bay with this autumnal doormat. It really is as easy as getting your hand on a plain doormat and painting on your own design to completely refresh your entryway for fall.
Seasonal Wreath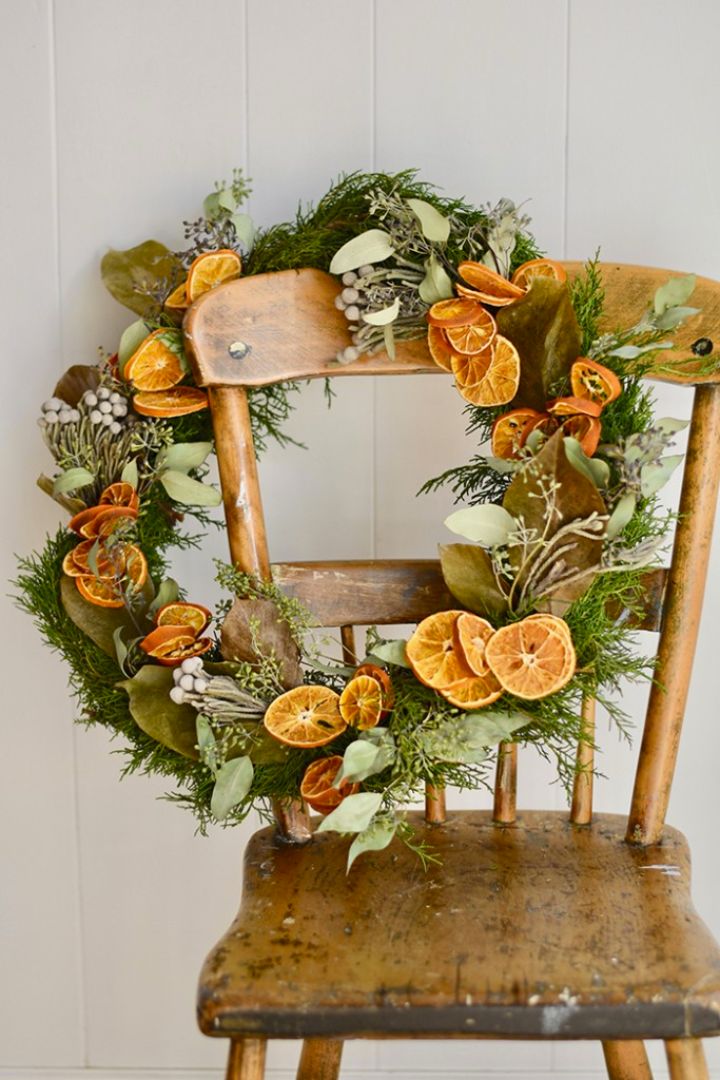 I've always loved the idea of hanging a seasonal wreath all year round. There's really no wrong way to make one either – just add some seasonal decorations like dried citrus, cinnamon, pine or eucalyptus and tie them together tightly. It's the perfect way to add a rustic and elegant flourish to your home in just an evening of crafting.
Hanging Dried Citrus Garland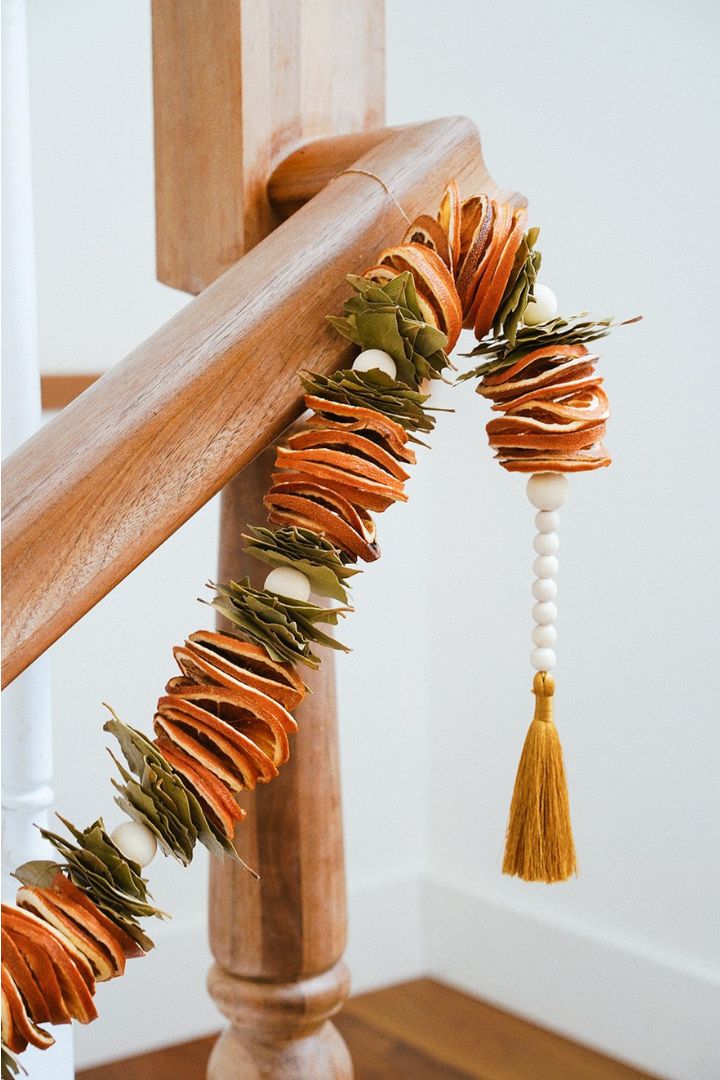 Let's not stop at the wreath – why not make a dried citrus garland to hang in your home through fall and Christmas? The combination of oranges and bay leaves is sure to make your home smell like the ultimate fall destination. I love how the addition of wooden beads and tassels create some movement to finish off the completed design.
Natural Wall Hanging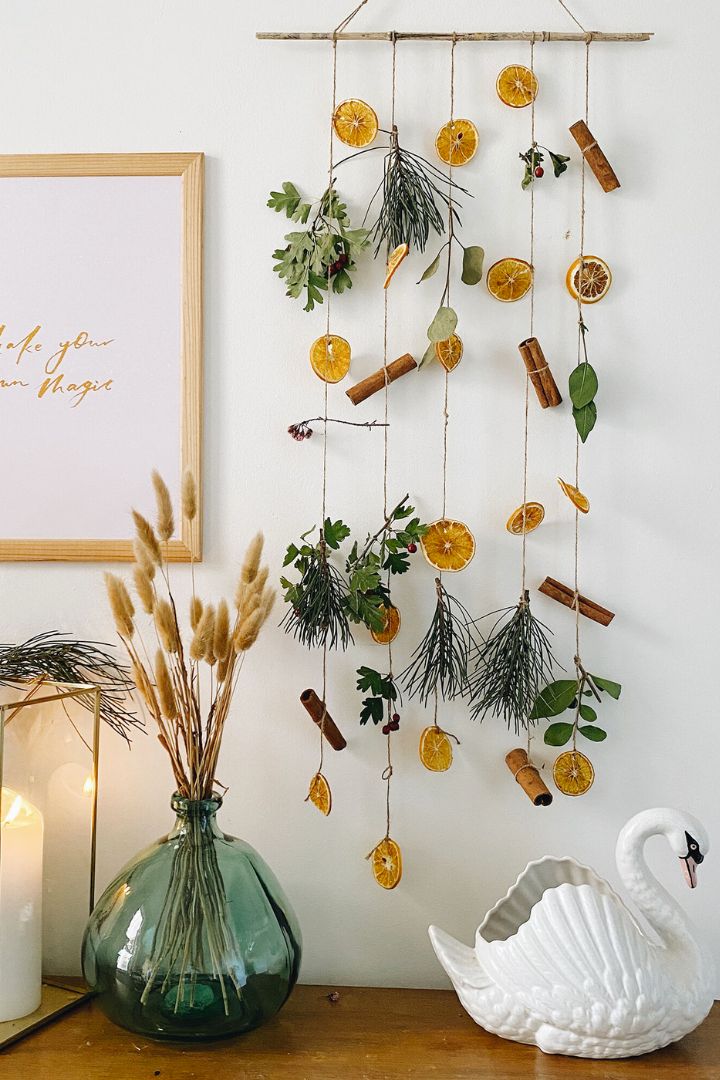 In the theme of home decor, wall hangings are always a talking point whether they're displayed against a wall or as a centrepiece of your dinner table.
The best thing is that they are so easy to create by using dried fruits, cinnamon sticks or foraged twigs and foliage tied up with jute twine. This seasonal wall hanging is perfect for all the senses and great as a quick craft for a friends night in activity.
Seasonal Pressed Flower Art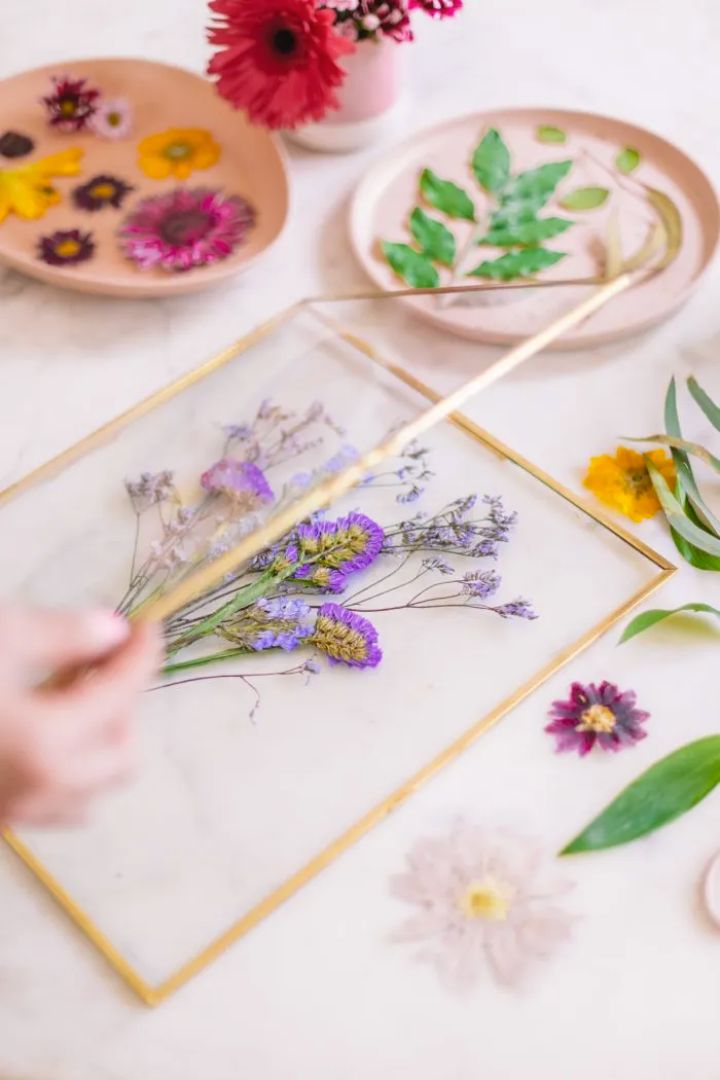 If there's one thing that's guaranteed about fall, it's that the leaves are flooded with beautiful orange and red hues. Let's capture the image of fall in a real life photo by gathering a selection of colourful leaves and flowers that represent the fall season. Press and position before placing them in a glass frame for a delicate and vibrant look!
Fall Flower Arrangement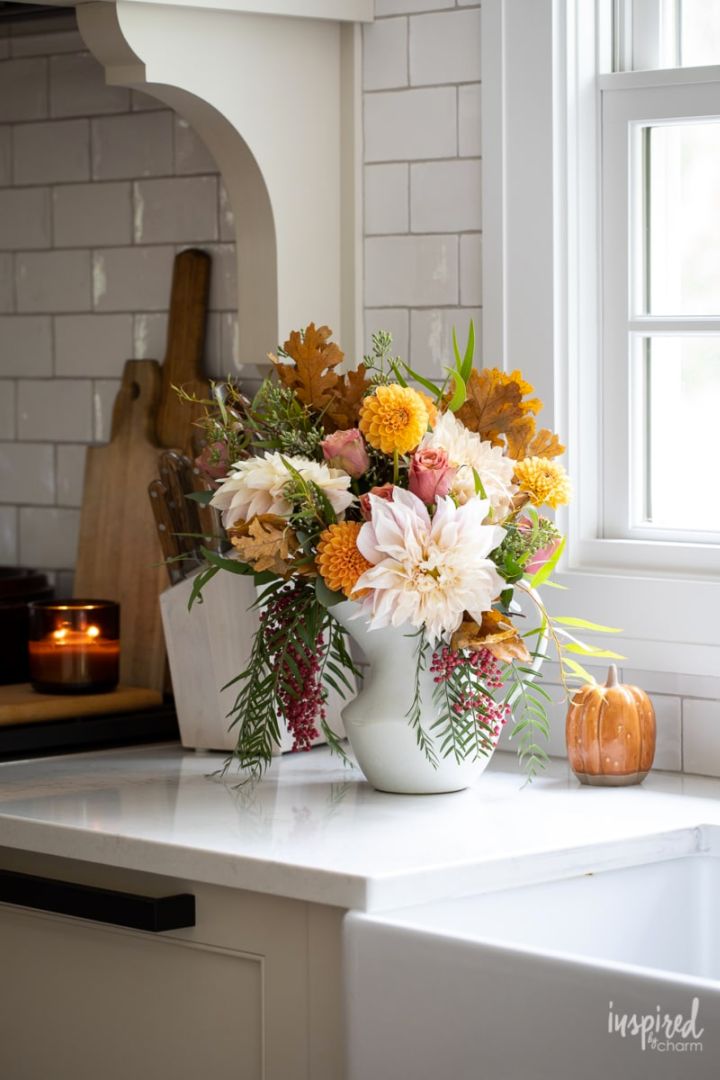 Flowers are always such a meaningful gift to give – and I don't mean flowers picked up from your local shop that you've had to rip the price tag from. Try your hand at composing your own bouquet of flowers packed with seasonal foliage and orange hues made to suit the fall season.
The colours of fall are undoubtedly my favourite of all the seasons so bringing these into a flower bouquet makes a stunning centrepiece and thoughtful gift.
Painted Woodland Candle Sticks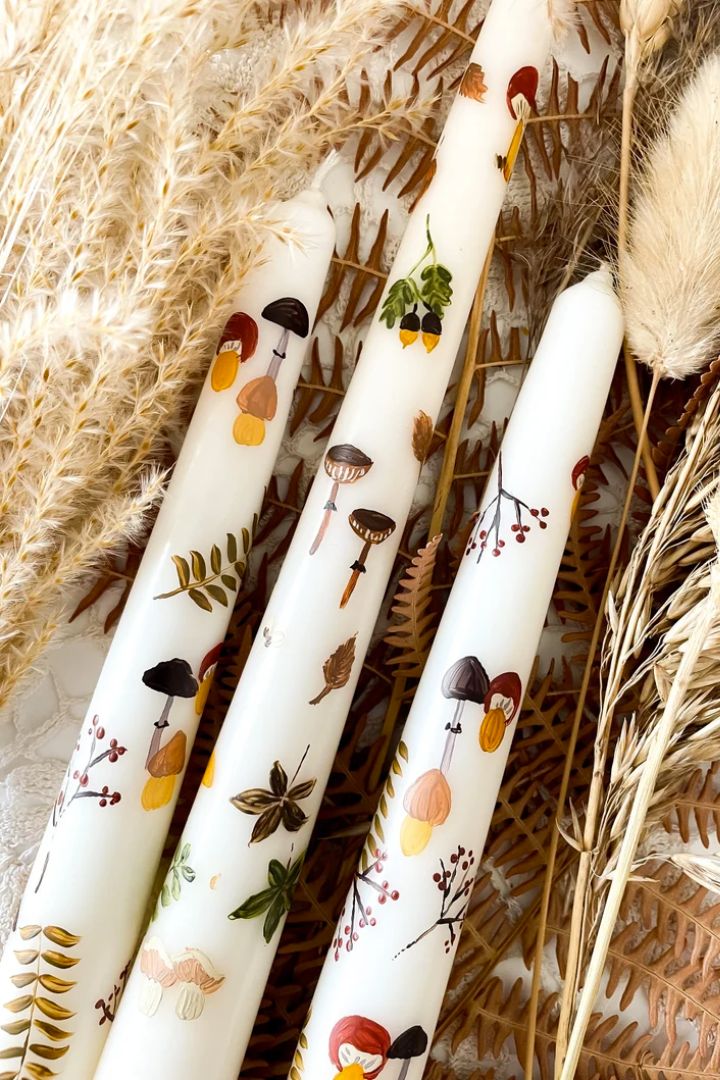 For so long, candle sticks have been plain and simple standing happily on a fun and decorative candle stick holder. What if we switch it up? Let's make a fun and decorative candle stick to be put on a simple candle stick holder. Get yourself some plain candle sticks and paint away!
This mushroom woodland design is so intricate and delicately painted to make a guaranteed statement on the dinner table.
Wood Slice Coasters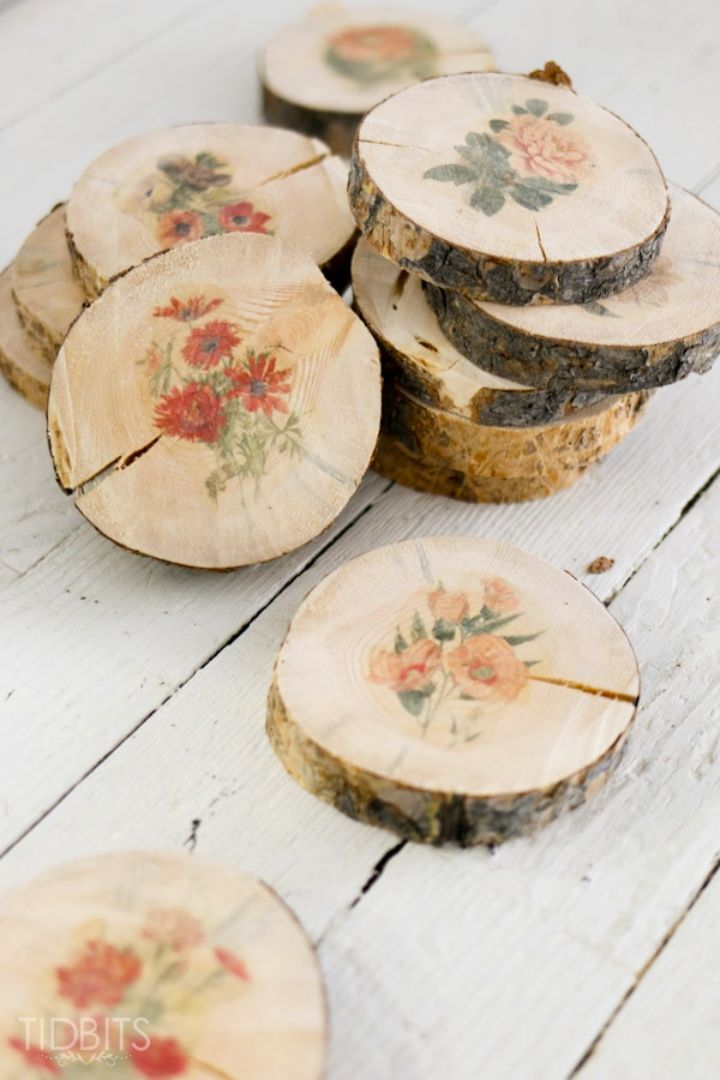 Does anything scream fall more than wood slices? Wood slices are everywhere whether that's at your local craft store or in your own garden. They're the ideal size and thickness for coasters especially as the weather gets colder and the hot drinks come out! Level up these coasters with this cute botanical print or customize for your friends and family in your own fall designs.
Lighted Fall Terrarium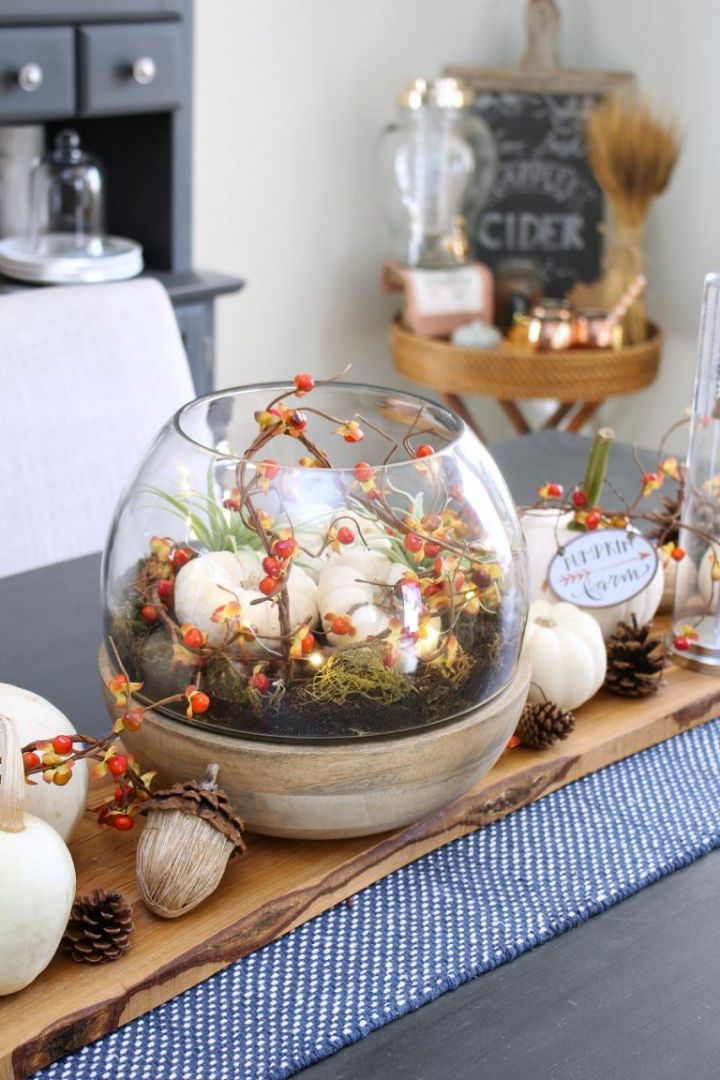 Elevate an existing terrarium or build one from scratch to add some seasonal charm to your home. I love the idea of layering classic terrarium components like moss and succulents with the addition of mini pumpkins and orange accents to put an autumn twist on it!
PIN THIS: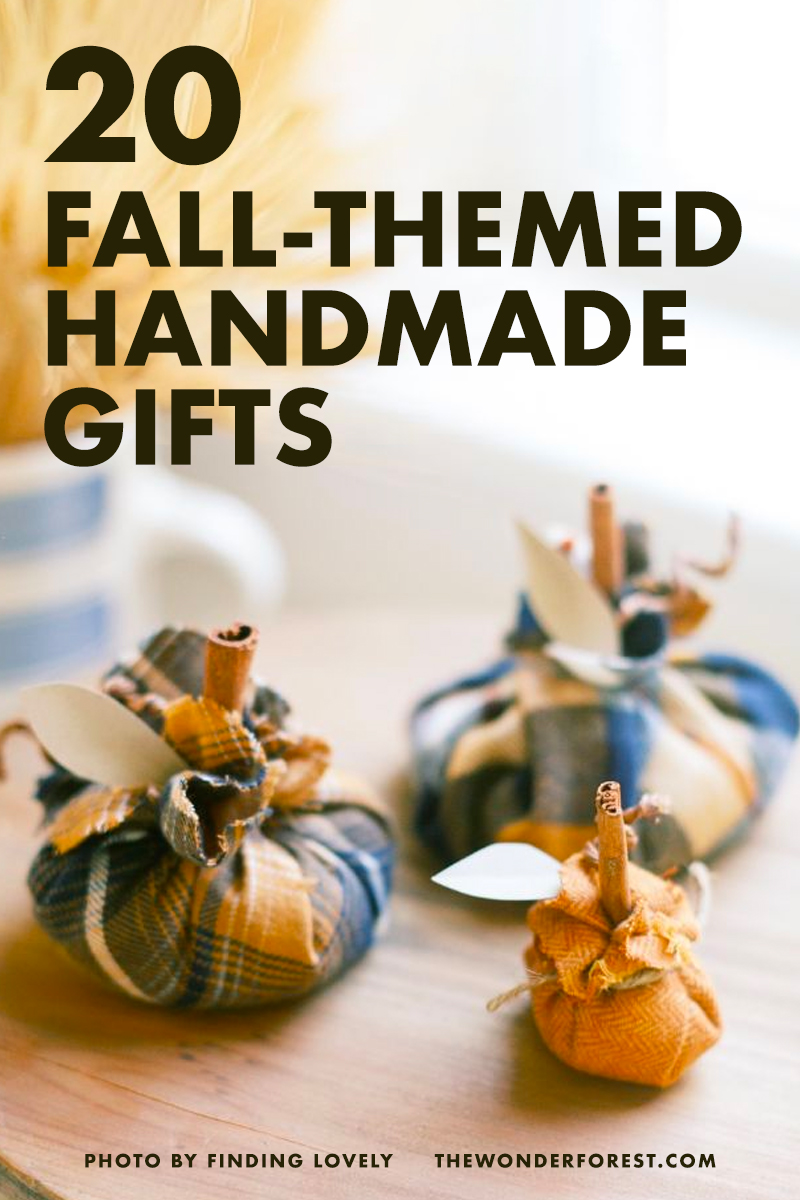 Last Updated on