One of the most unique ways to decorate for Christmas is to look to the past for a little bit of inspiration. Whether you're going for the ultimate cozy vibes of the Victorian era or for the futuristic retro feel of the 40's to 60's, there's a vintage decor style to suit your holiday taste!
Vintage Christmas Tinsel Tree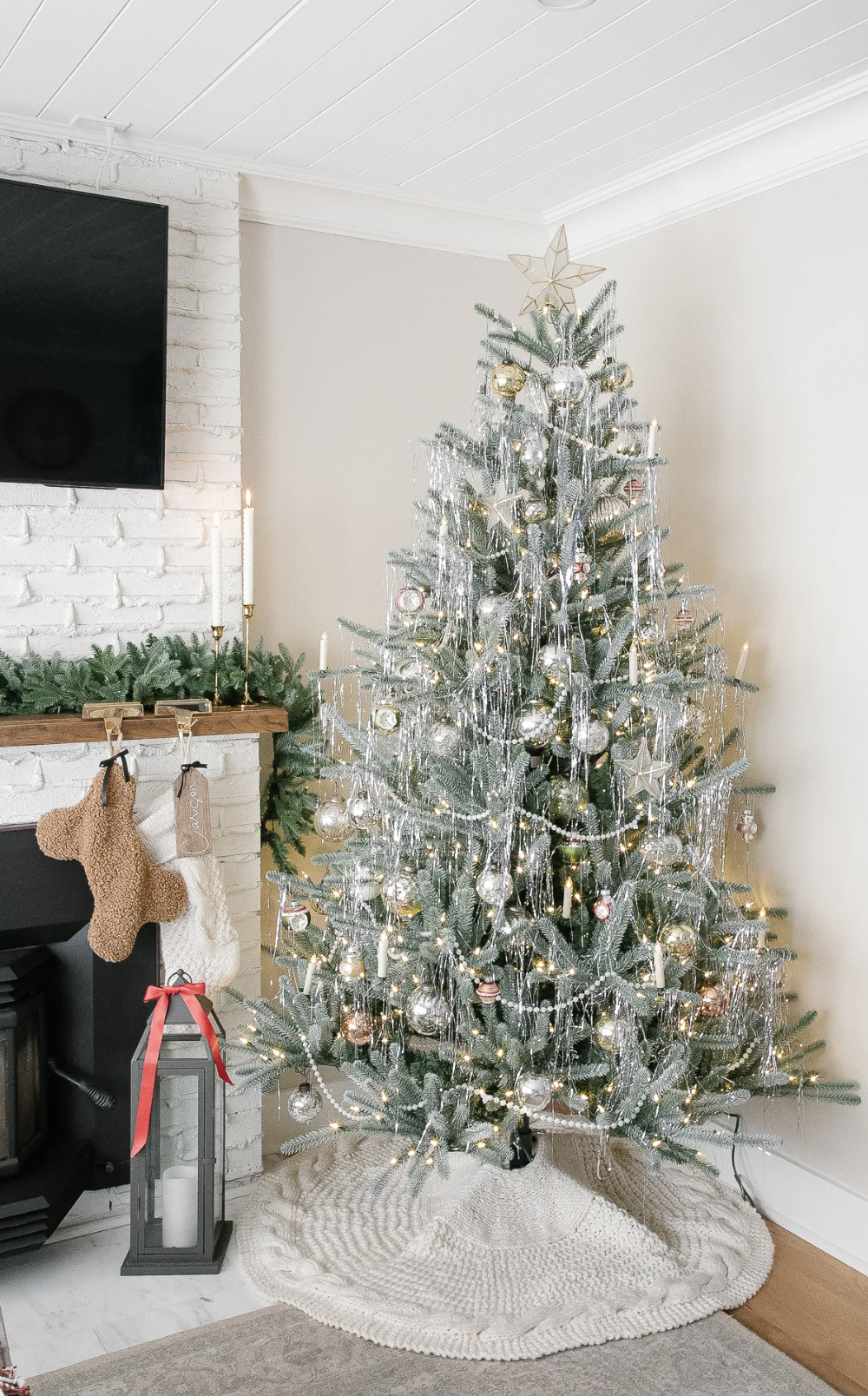 One of the key aspects of vintage Victorian Christmas trees is loose tinsel. These metallic strands create a maximalist aesthetic that will have your tree sparkling all night long. This one is best for people without pets, as the tinsel can be harmful to cats and dogs if ingested.
Shiny Brite Retro Ornaments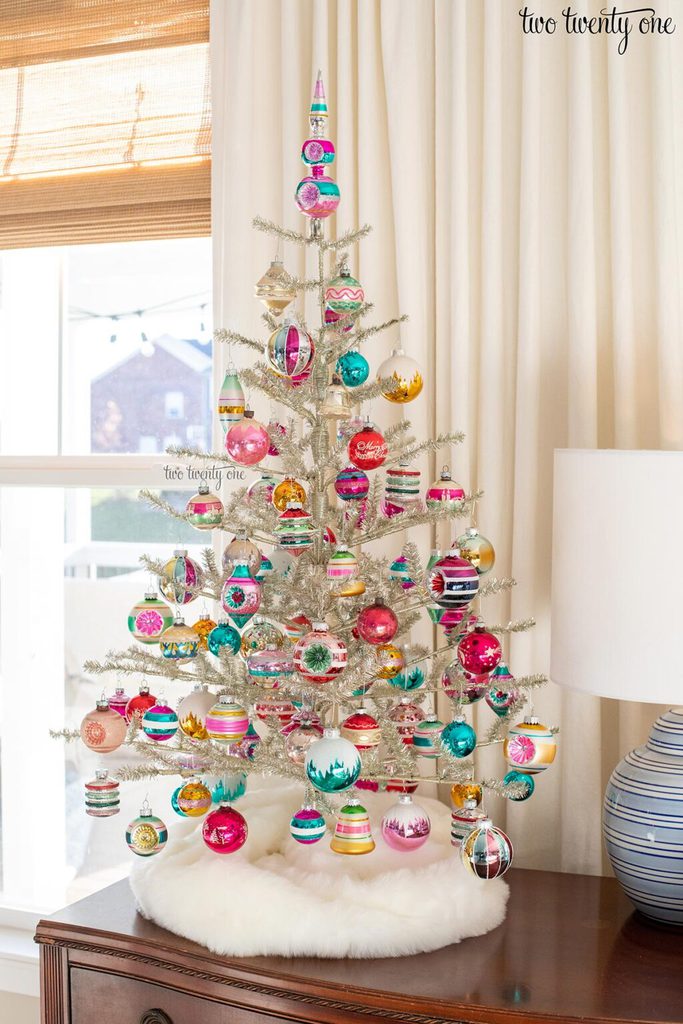 For those who like a colourful Christmas theme, Shiny Brite ornaments are the best way to also bring in that retro element! These eye-catching ornaments were first created in Germany in the 1930's and have become an iconic ornament that continues to be sold today.
Red and Green Vintage Christmas Decor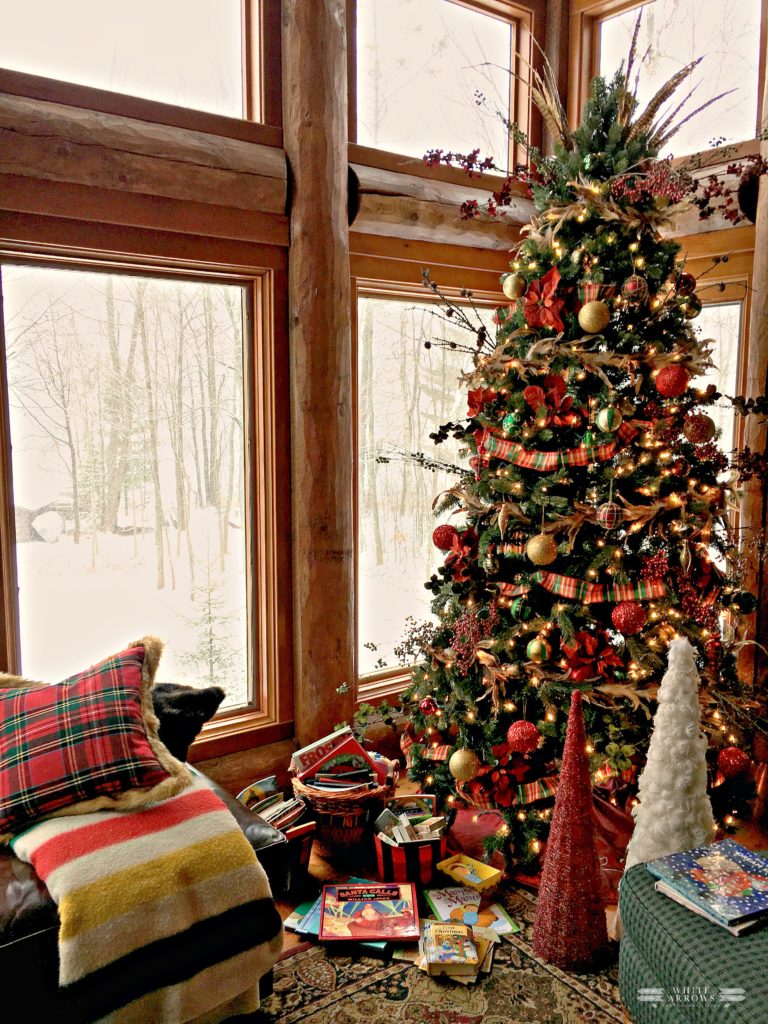 Ask anyone what the most traditional Christmas colours are and chance are they will say red and green! Lean into this classic combination with plaids, poinsettias, holly, garland and more! Hosting your holiday in a cozy cabin setting will help, too!
Ceramic Vintage Christmas Tree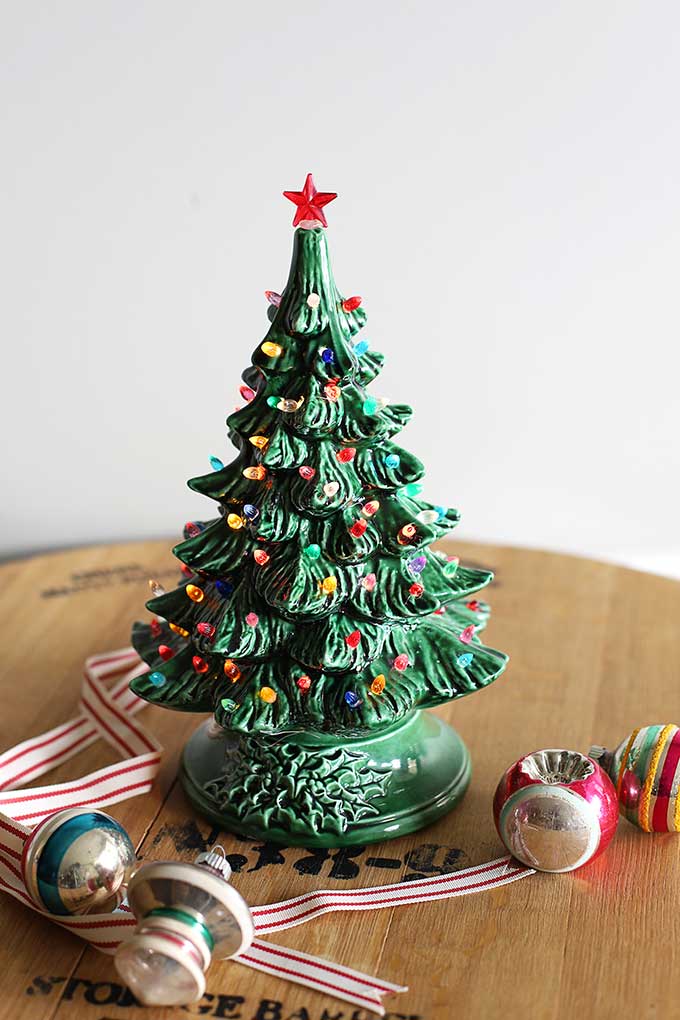 If you're going for a vintage Christmas aesthetic this year, a ceramic tree is a must! These illuminated pieces will add all the charm of days gone by to your space. You can easily find them secondhand on Facebook marketplace or new from places like Canadian Tire and Urban Outfitters.
Vintage Christmas Tree Train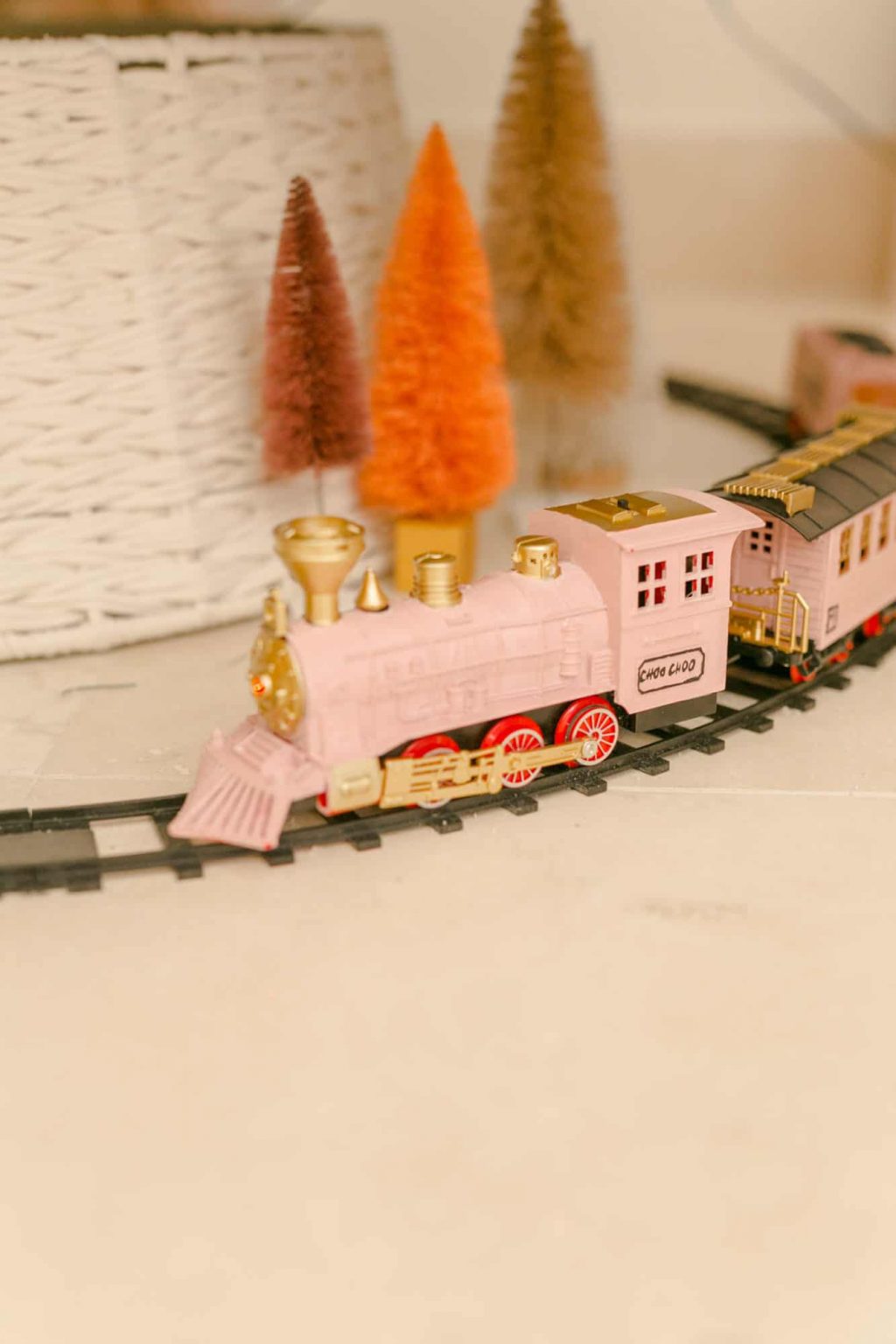 Experience the magic of the season like you're a kid again by installing a train set around the base of your Christmas tree. A small and cute detail that adds a dose of nostalgia that will charm all who you host this holiday season!
Dried Orange Christmas Decor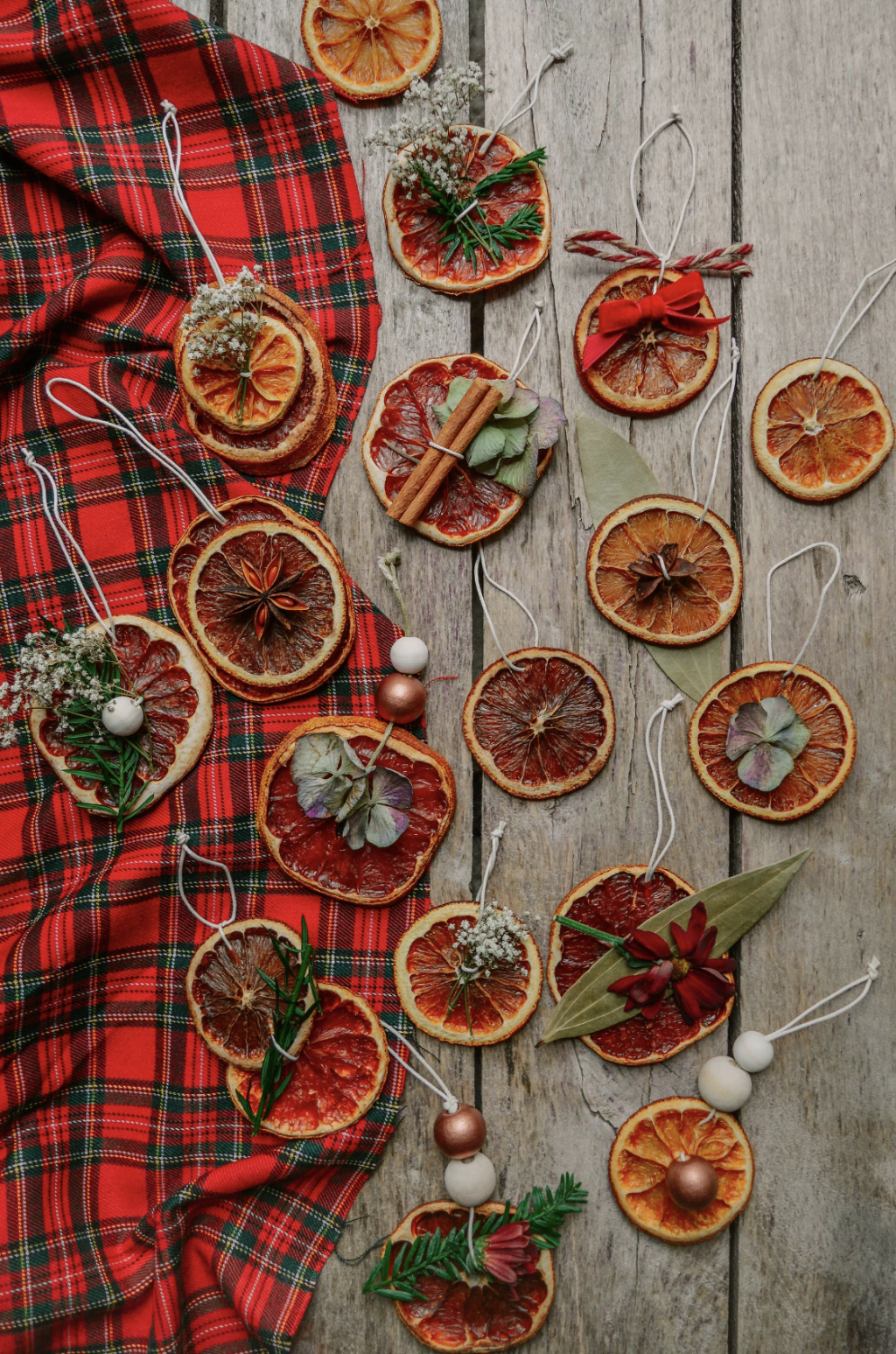 Dried oranges are an easy and crafty way to bring a vintage feel into your holiday decor. Reminiscent of Christmas a la Little Women, dried oranges can be used as tree decorations, garland or even in wrapping gifts.
Retro Ornament Wreath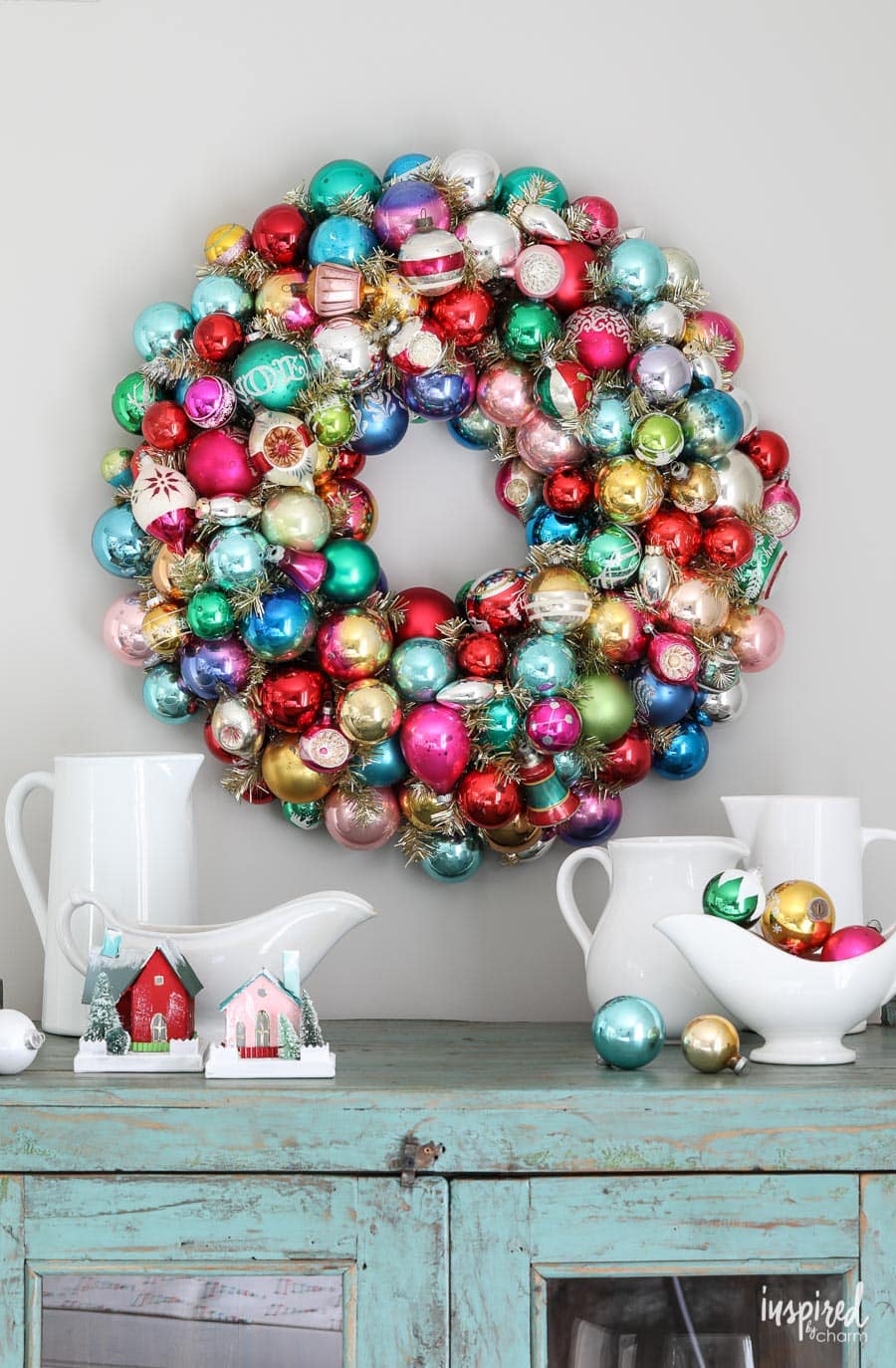 Another way to use vintage ornaments is by making a bright and colourful ornament wreath! These will bring a whole lot of cheer into your home and definitely have a retro feel, especially if you add in some tinsel like in the example above!
Vintage Farmhouse Shelving
Christmas at the farmhouse is all about honing into those rustic details – from white ceramics and natural garlands to greenery and wooden sleighs. The Bing Crosby record is the cherry on top of this shelving setup!
DIY Retro Candles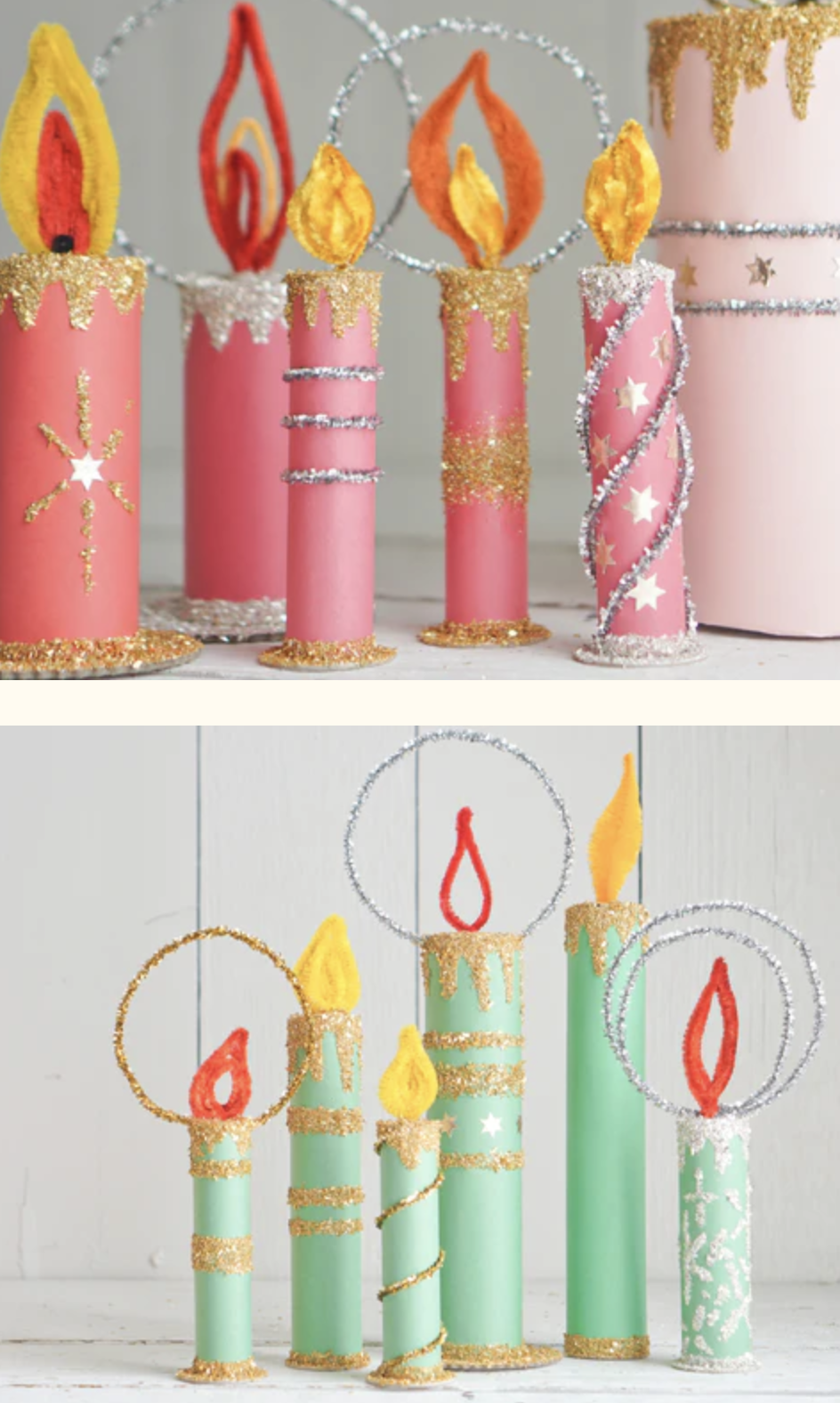 Who else remembers craft days at school with fondness? Every holiday season in grade school, time would be spent making the cutest crafts to gift to our family members. These DIY retro candles remind me of that simpler time and will make for adorable additions to your vintage home decor!
Paper Candle Ornaments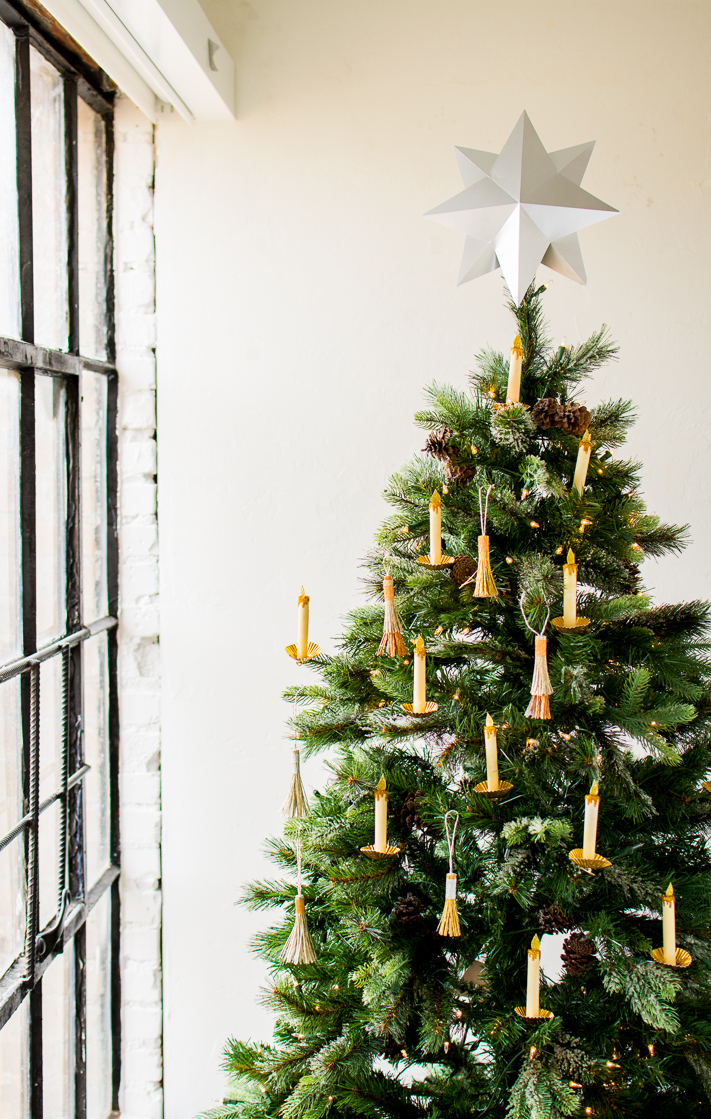 While Christmas trees of the past were often lit by real candles, fire code says that's a definite no-no these days. Instead, make these awesome paper candle ornaments for that old-fashioned feeling on your tree.
Retro Christmas Prints
An easy way to make your home feel more Christmasy is to swap out your art for seasonal prints. If you're seeking a vintage theme for the holidays, simply choose something with a retro flair!
Popcorn Cranberry Garland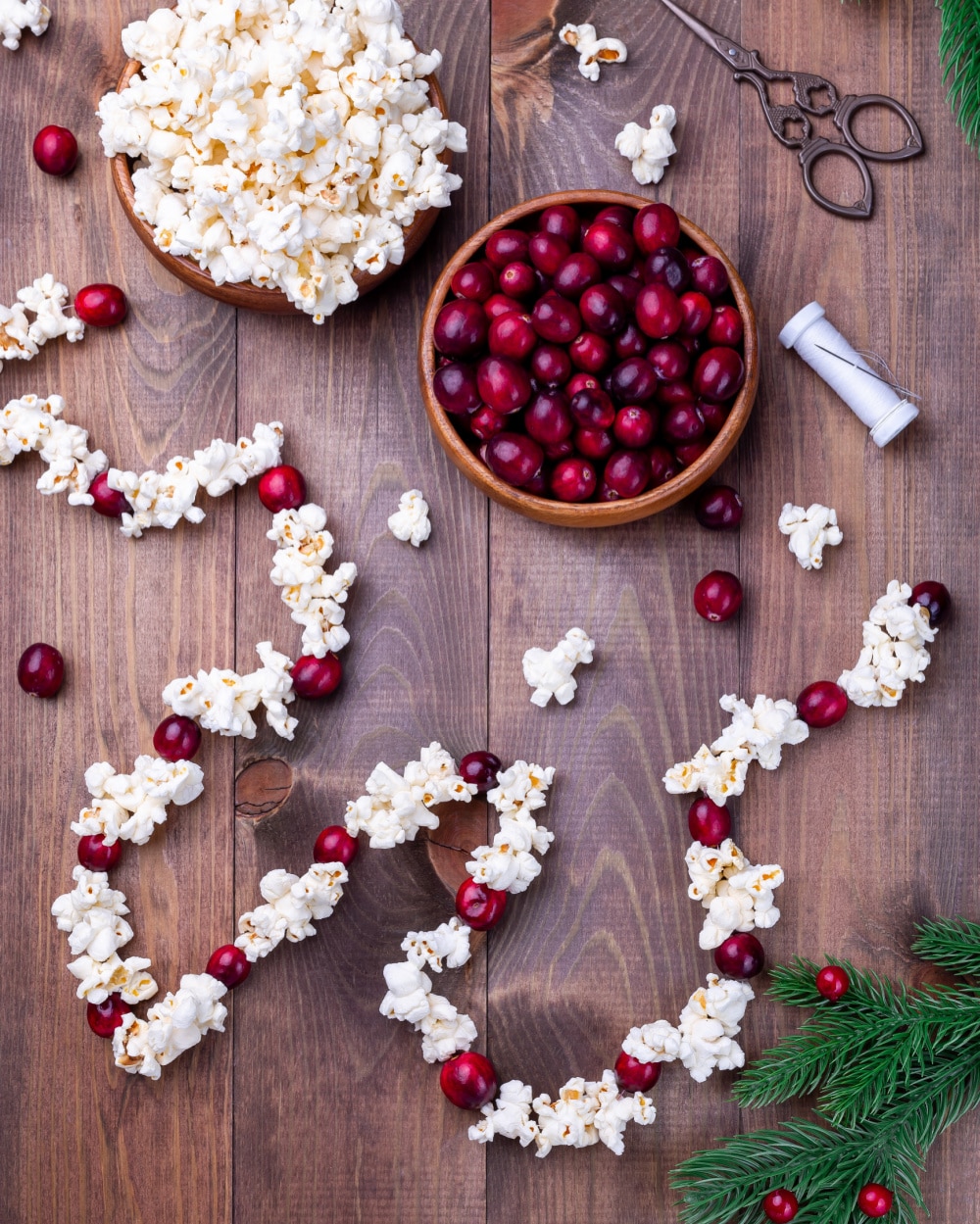 Pop on your favourite holiday movie and get to work creating your very own popcorn and cranberry garland. This is a beloved holiday tradition that has been practiced since the 1800s.
Thrifted Christmas Hutch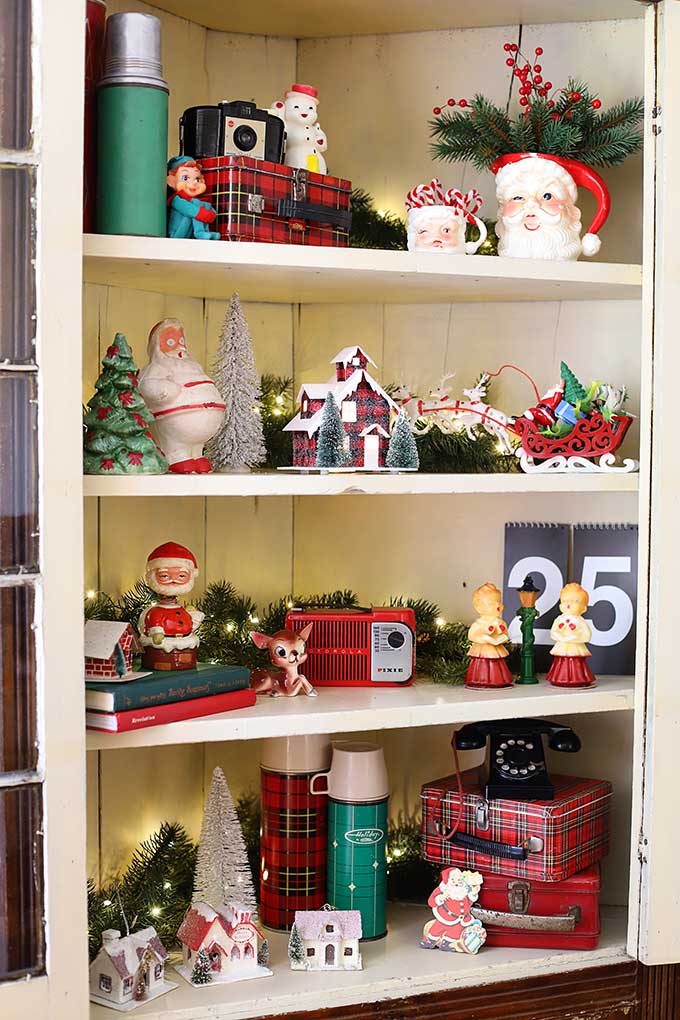 Decorate for Christmas by heading over to your local antique store to find some amazing holiday finds. We love this collection of Christmas ceramics and the addition of various other matching items like a vintage phone, thermos and books!
Simple Vintage Christmas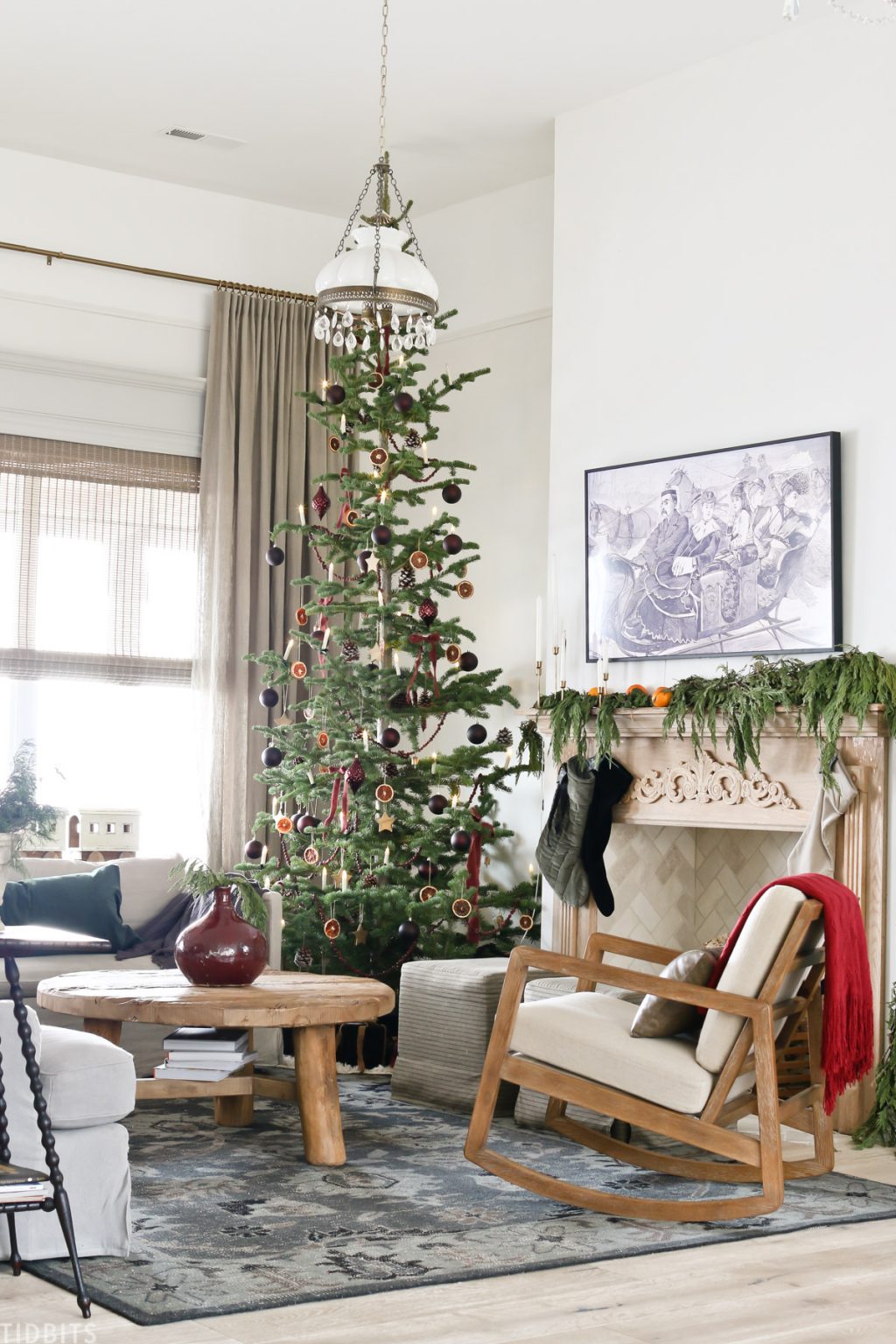 One way to achieve a vintage look for Christmas is to keep to a simple and rustic theme. This means using as many natural elements as possible (wood, greenery, dried oranges) as well as choosing a real tree versus an artificial one.
Printable Retro Ornaments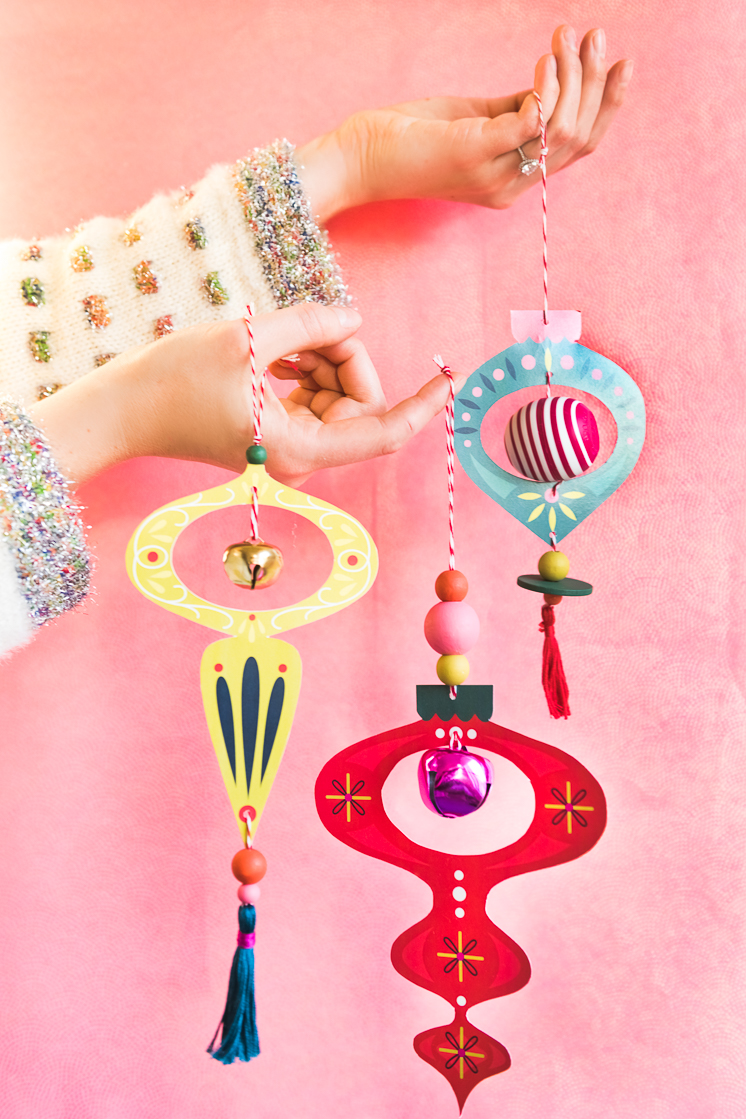 If you haven't been able to acquire a collection of vintage baubles over the year, here's a quick fix that will also give you a fun holiday craft activity to do. Grab the printable ornaments here and then adorn them with bits and bells from your crafting supplies.
Retro Christmas Light Garland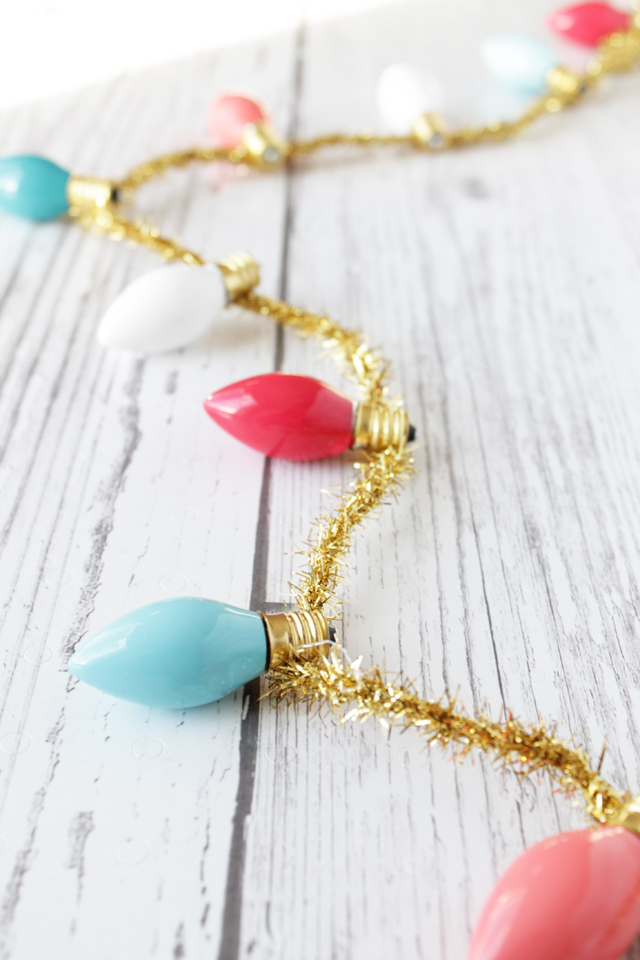 Bring in the cheer of those old-fashioned bulbs by creating this fun and colourful garland. The easy-to-follow DIY features clear bulbs painted to match the creator's colour scheme.
Ribbon Candy DIY Ornament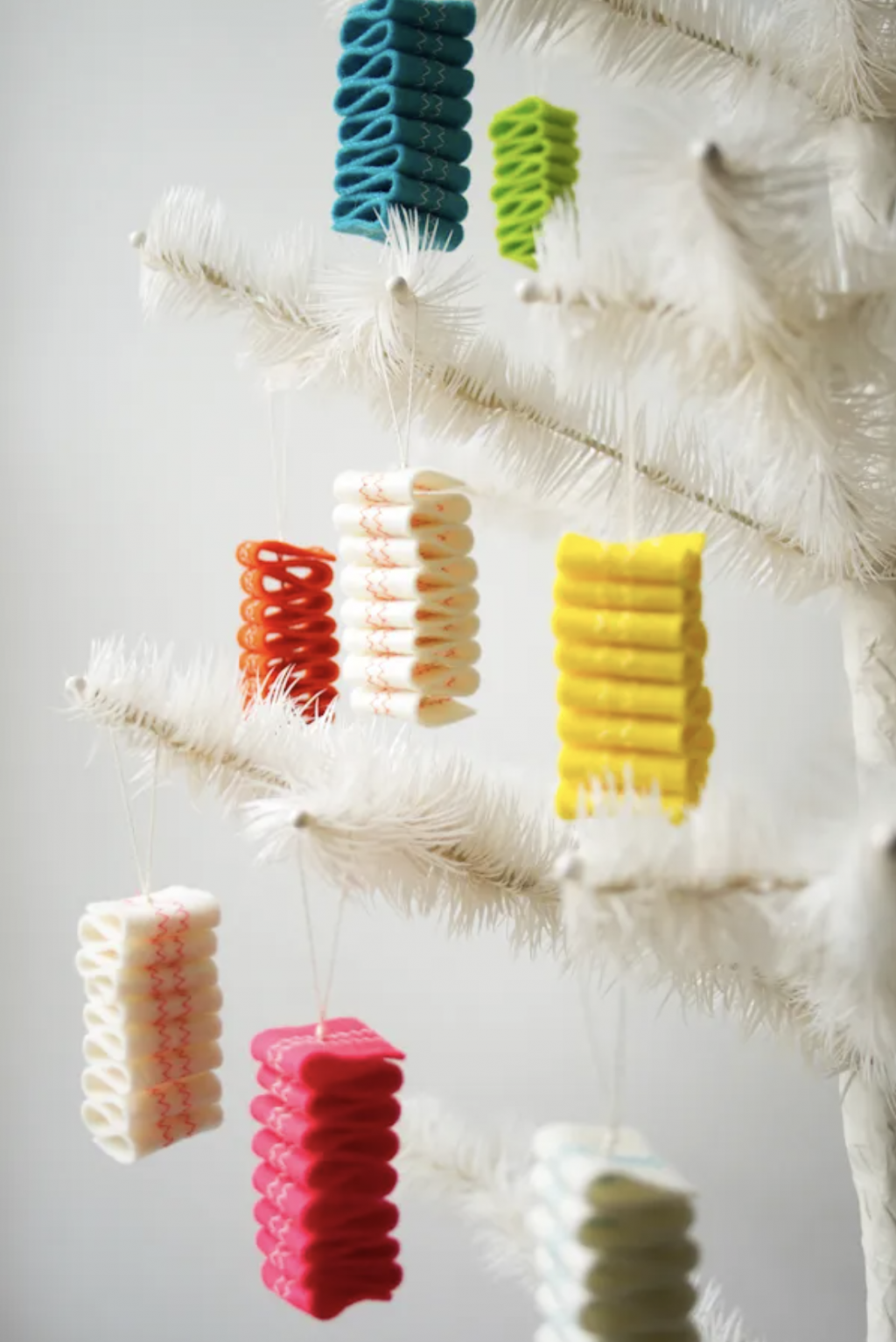 Ribbon candy has been a nostalgic holiday candy for centuries and if you ask your grandparents about it, they will either remember it fondly or absolutely despise it! Honour this traditional candy with this fun ribbon candy felt ornament that's super easy to make.
DIY No Sew Atomic Age Tree Skirt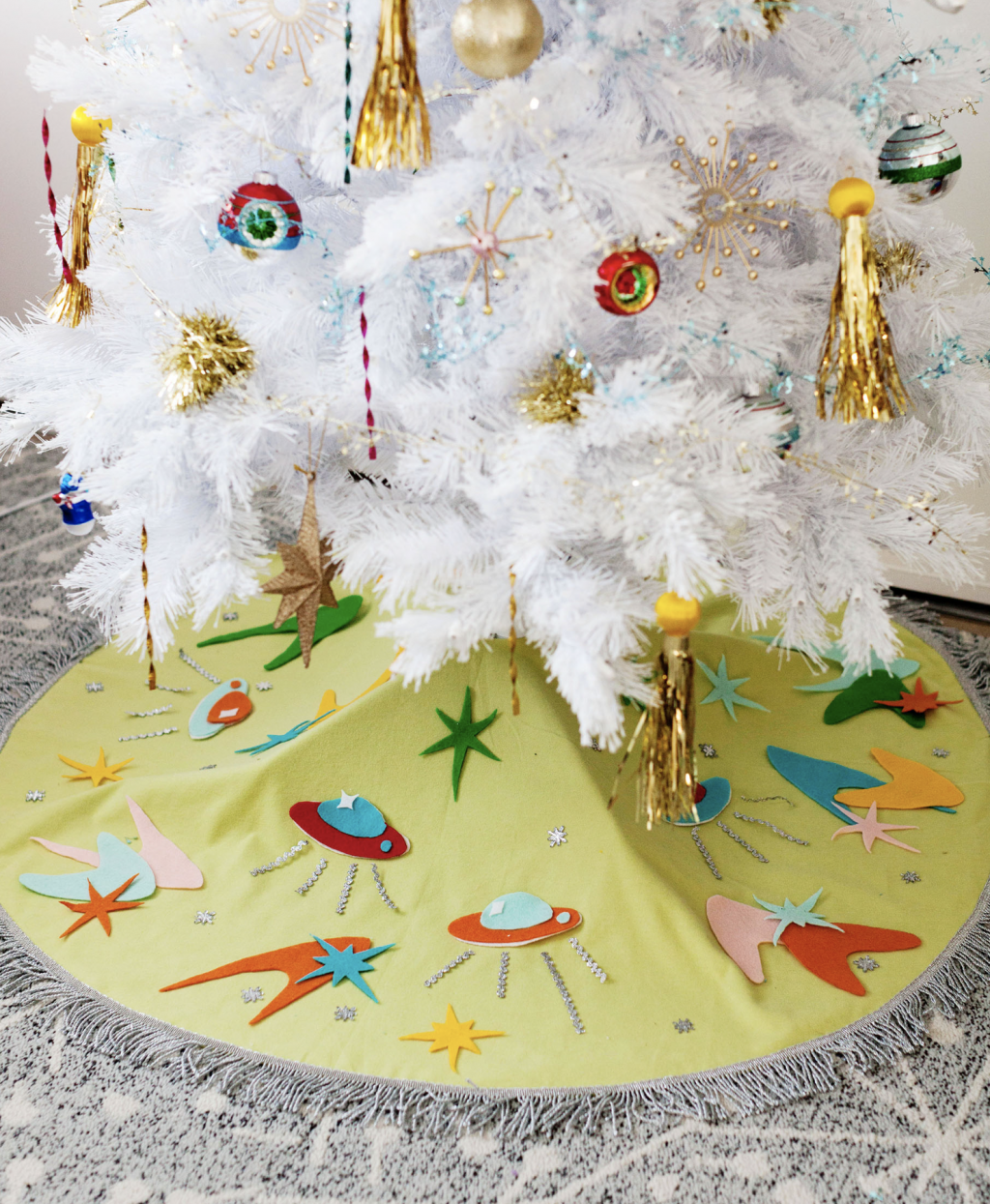 Return to an iconic era of decor with an atomic-age Christmas. This DIY tree skirt captures all the whimsy of the era in an easy, no-sew design and will match your other colourful decor perfectly.
Vintage Holiday Porch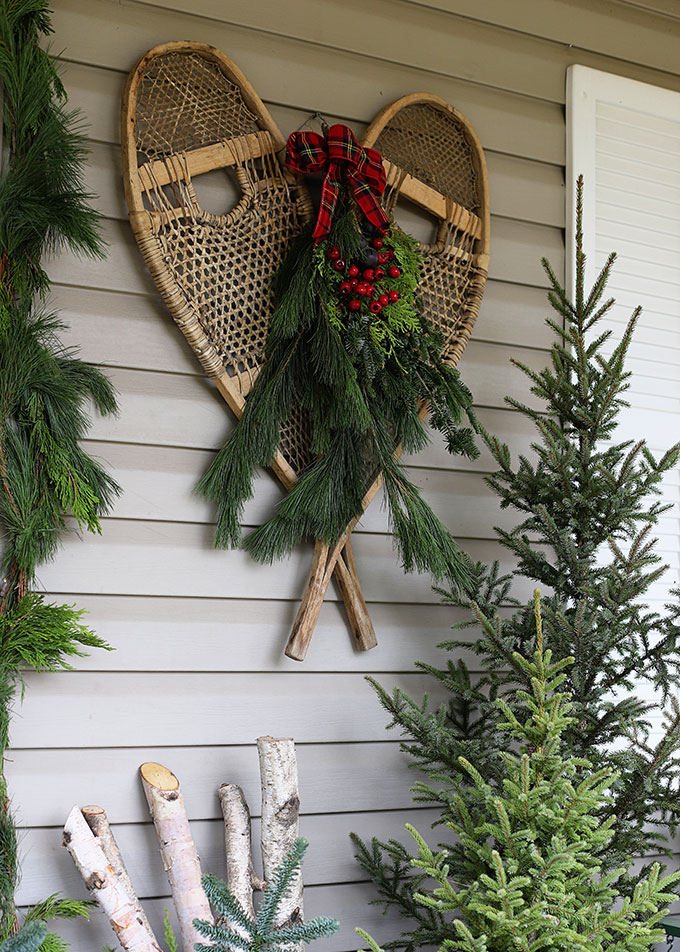 Have a front porch you'd like to decorate for the holidays? Give it a retro feel by hanging two vintage snowshoes. It's rustic, Scandinavian, well-complimented by greenery and perfectly old-fashioned!
DIY Victorian Tinsel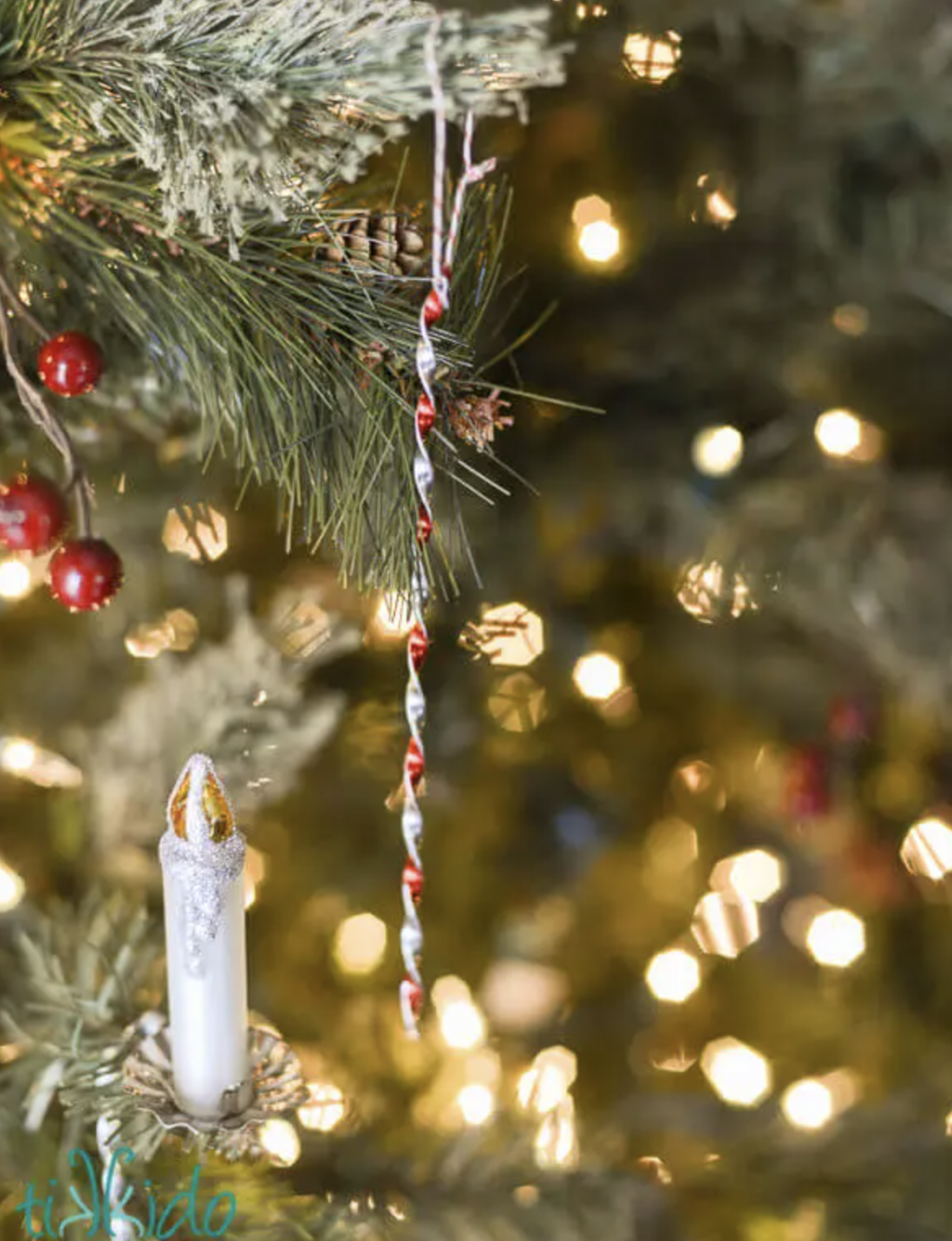 As we mentioned above – if you have pets you may not be comfortable decorating with tinsel. This Victorian Tinsel DIY is a great alternative to still achieve that twinkling, dazzling tree!
PIN THIS: