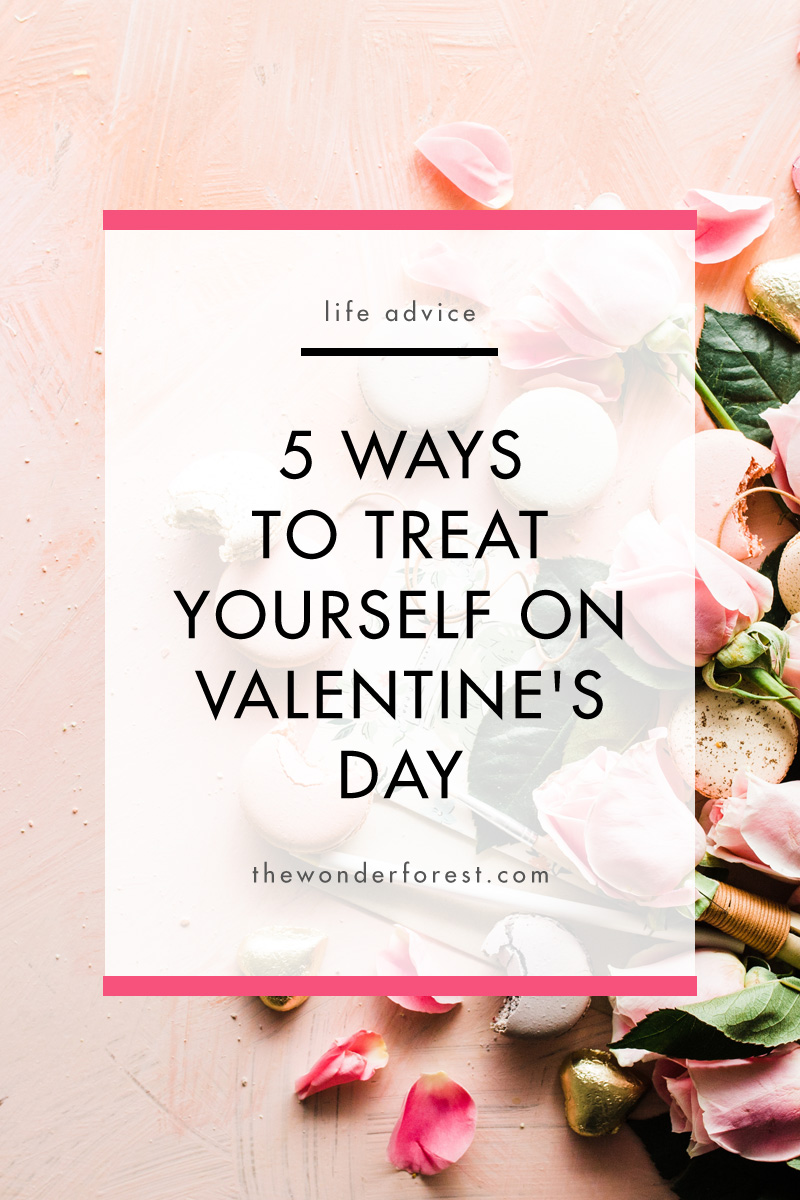 No matter what my relationship status is, I've always loved Valentine's Day. Of course, you should show your loved ones that you love them every day of the year. But it's still such a fun holiday to celebrate love in all of its forms!
Another Valentine's Day is coming up and if you have mixed feelings about it, there's no shame in celebrating yourself, loving yourself, and spoiling yourself.
Whether you're in a relationship, married, or single, here are 5 ways to treat yourself this Valentine's Day!
Visualize Your Perfect Day
Visualize your perfect day. Do you want to try meditating first thing in the morning? Going to your favourite place for lunch? Get a massage after work? Order takeout instead of cooking dinner? Think about how you want the day to go and how you want to feel – then make it happen. Dedicate the day to yourself!
Celebrate Yourself
One thing so many of us struggle with is acknowledging our love for ourselves. Even when we have no problem nourishing our relationships with others, we can't seem to nourish our relationship with ourselves. So, celebrate yourself! Write a list of 10 things you love about yourself, write yourself a love letter, take cute selfies, be kind to yourself, and do what makes you happy.
Have a Date Night With Yourself
Sometimes we get uncomfortable spending time alone, especially on Valentine's Day. But it doesn't have to be that way! Spend the day having a date night with yourself. Order a pizza, drink some wine, and watch your favourite shows. Go out to the movies or a restaurant alone. Go on an adventure and try something new. Have an at-home spa night, pampering yourself. Even better, think of a place you've always wanted to go that your S.O. was never interested and take the opportunity to go there.
Buy Yourself a Gift
A big part of Valentine's Day is gift giving, so get yourself something nice. That could mean buying yourself flowers, candy, jewelry, a book, or even going on a shopping spree. We have no problem buying gifts for others guilt-free, so we shouldn't have a problem splurging a little on ourselves too!
Indulge Yourself
This is a day to really treat yourself, so don't be afraid to indulge! Forget about your diet for the day, spend the day lounging around if you want, take a nap if you feel like it, and allow yourself your guilty pleasures. There's nothing wrong with a little self-indulgence every now and then!
Last Updated on