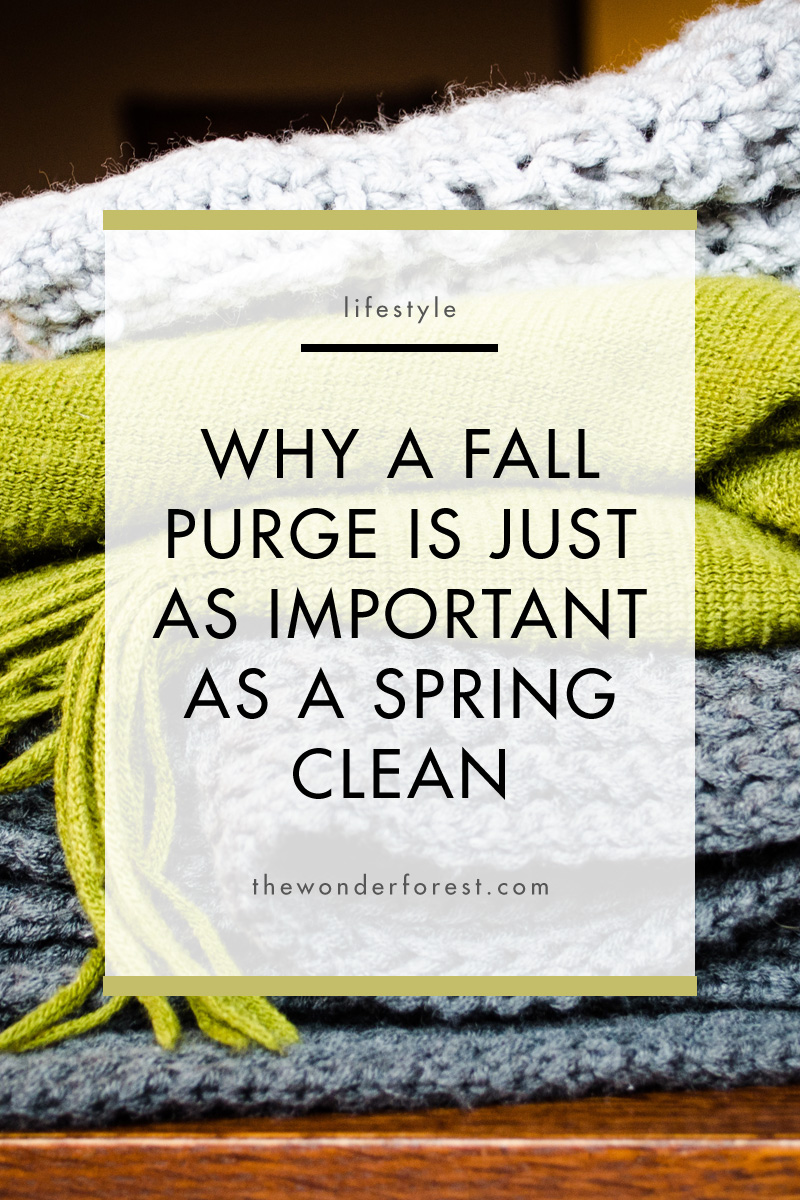 It was a Friday evening, and I stood rummaging through my overflowing closet of clothes, looking for a fall-but-not-too-fall outfit for a harvest festival my husband and I would be attending on Saturday, a tradition that ushers in autumn. Clothes hangers were getting tangled, shoe bins spilled over, and
clothing lay haphazardly on the floor. It was so very clear to me that I was reaching a tipping point. Two of the three sides of our shared walk-in closet are devoted to my things, while my husband takes the third side, and my stuff had slowly been consuming his small section as well. I'd had enough. It may not be time for spring cleaning, but it was time to purge.
For our family, fall is a busy time. It's the time when the start of a new school year, fall sports, weekly church events, and the professional and volunteer organizations we belong to all begin demanding our time and attention. With so little time to devote to the closet problem, I decided to start small and tackle one small section or task each weekend. Before long, I had donated or sold bags upon bags of things that no longer fit, no longer brought me joy, or longer belonged in my closet. I dawned on me that fall, perhaps, is actually the perfect time to "spring clean." Here's why.
1. Fall is a Season of Change
As we put away the summer sandals and beach flip-flops and start pulling out our puffy vests and boots, it's a
perfect time to consider which items are truly worn out, out of style, or just unnecessary. The changing weather is the perfect reason to try on last
year's clothes to see what needs go.
2. You Can Take Inventory
Fall, to me, is the best season for fashion. The comfortable climate makes it easy to incorporate all kinds of things into your outfits. It's not so cold that you are limited to heavy boots and sweaters, but not so hot that thin long sleeve tops or leggings are out of the question. This makes it a perfect time to discover what wardrobe staples you already have. It's a time to rediscover forgotten favourites (like that one pair of perfect jeans) and to figure out what you need or don't need.
3. Fall is a Time for Shopping
Inevitably, between shopping after Thanksgiving and Christmas gifts and the usual winter splurging, the closet is going to grow, and there will be an influx of new things coming in to your home. Fall is the perfect time to get rid of the junk that will only be in the way.
4. It's the Start of the Germ Season
Flu season gets started, and the germs from school start spreading. Dusting, wiping down surfaces, and having a clean space is important all the time, but it's especially important when so many people around you are sniffling and sneezing.
5. You Can Make Room for Fall/Holiday Decor
Cleaning out old decor, unnecessary clutter, and items that have been untouched all summer creates a fresh space for fall or holiday decorating.
Getting rid of the old can help you make room for the cozy candles and throws that bring warmth and comfort to your home or room, improving
your mood even as the days grow gray and chilly.
Fall, I would argue, is the best season to purge. There's absolutely no reason to wait for spring for "spring cleaning." There is something extraordinarily powerful about freeing yourself from the material things that take up space in your home and in your brain, and making room for more special things that bring happiness and peace. Fall can be hectic, but home should be a place where you can escape and find restoration. From now on, I may "spring clean", but in an effort to practice self-care, I'm also going to 'fall purge," too.
Last Updated on