Surely we're not the only ones who have ever added more to our Amazon cart just to have more gifts to wrap–or wrapped empty boxes just to see more of our stunning creations around the tree.
But even if you hate wrapping gifts, after looking at these ideas, you'll be excited to try your hand at some of 2023's gift wrap trends.
Raid your craft room for anything you wouldn't normally think to put on top of a Christmas present – because yarn roving, tree ornaments, velvet ribbon, toys, and bottle brush trees hold the spotlight here. See if you can handle all this pretty!
Gift Outside The Box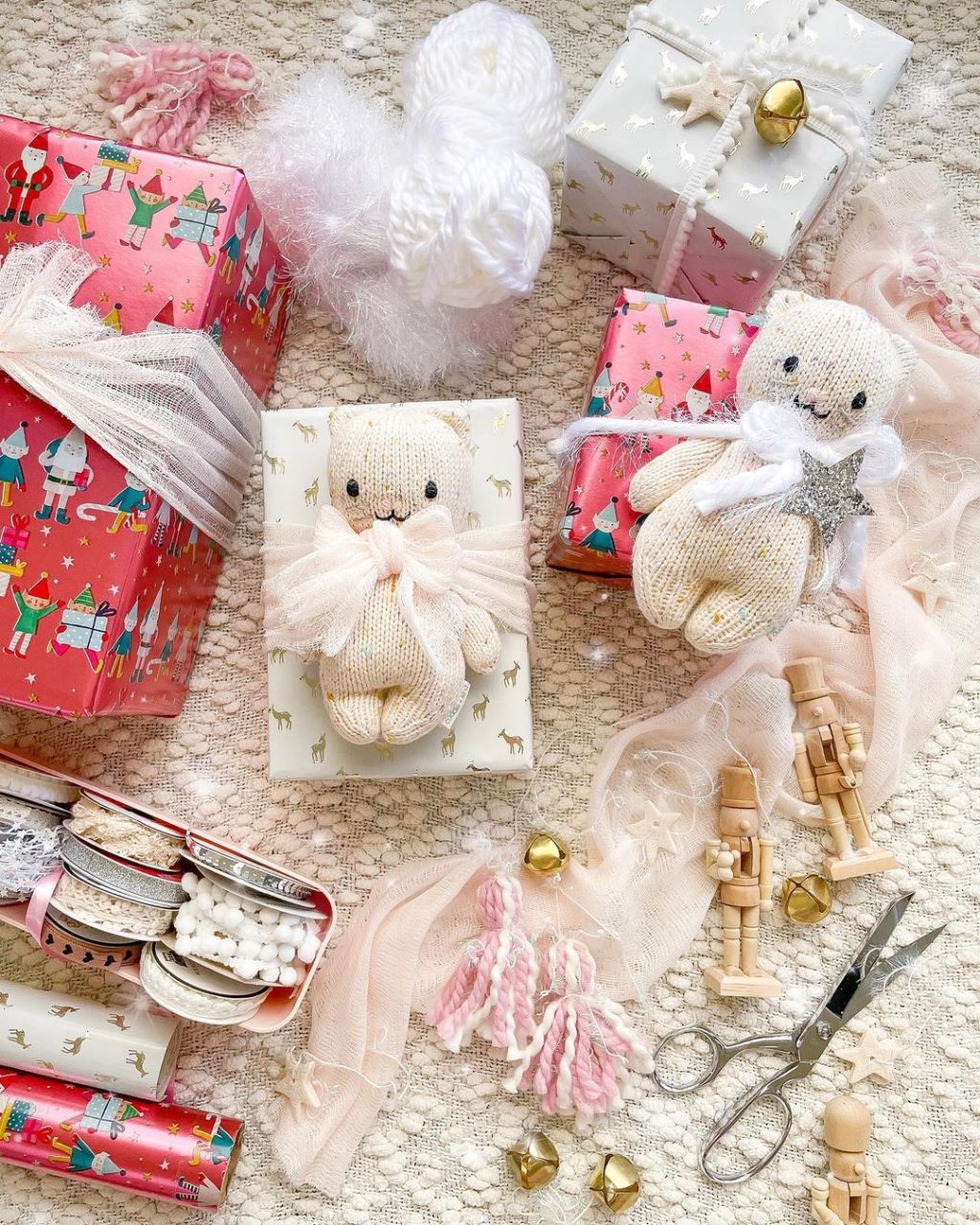 These gift toppers give a hint of what's inside, creating that sense of magic and excitement on Christmas morning. Use cheesecloth or chunky yarn to attach a stuffed animal to a wrapped gift–you can add sparkly stars, trim, or tiny touches of gold to make this gift even more magical.
Velvet Ribbon Hack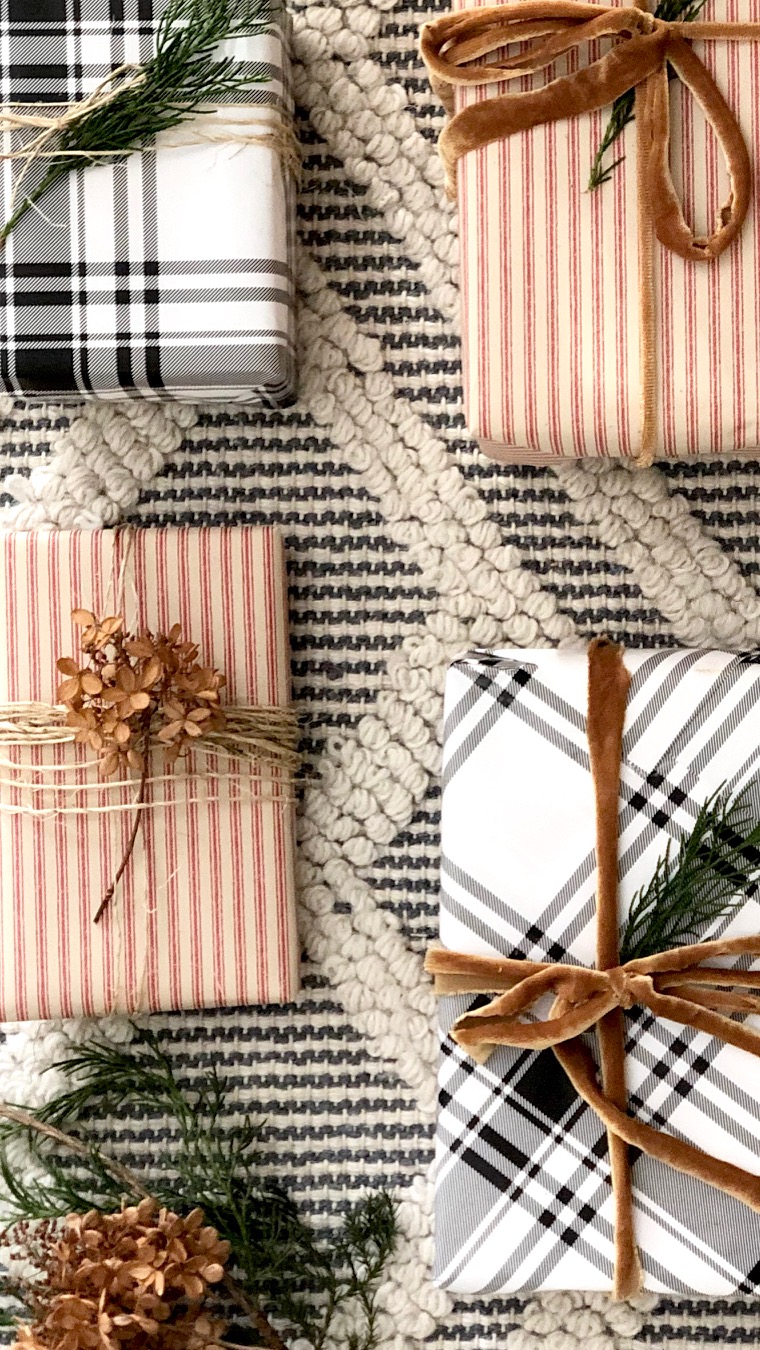 Velvet ribbon is a luxurious and on-trend addition to wrapped gifts, but the cost can be expensive. With this hack, you'll buy velvet by the yard and cut it into strips to save money –- genius.
Wool Roving Christmas Gift Wrapping Idea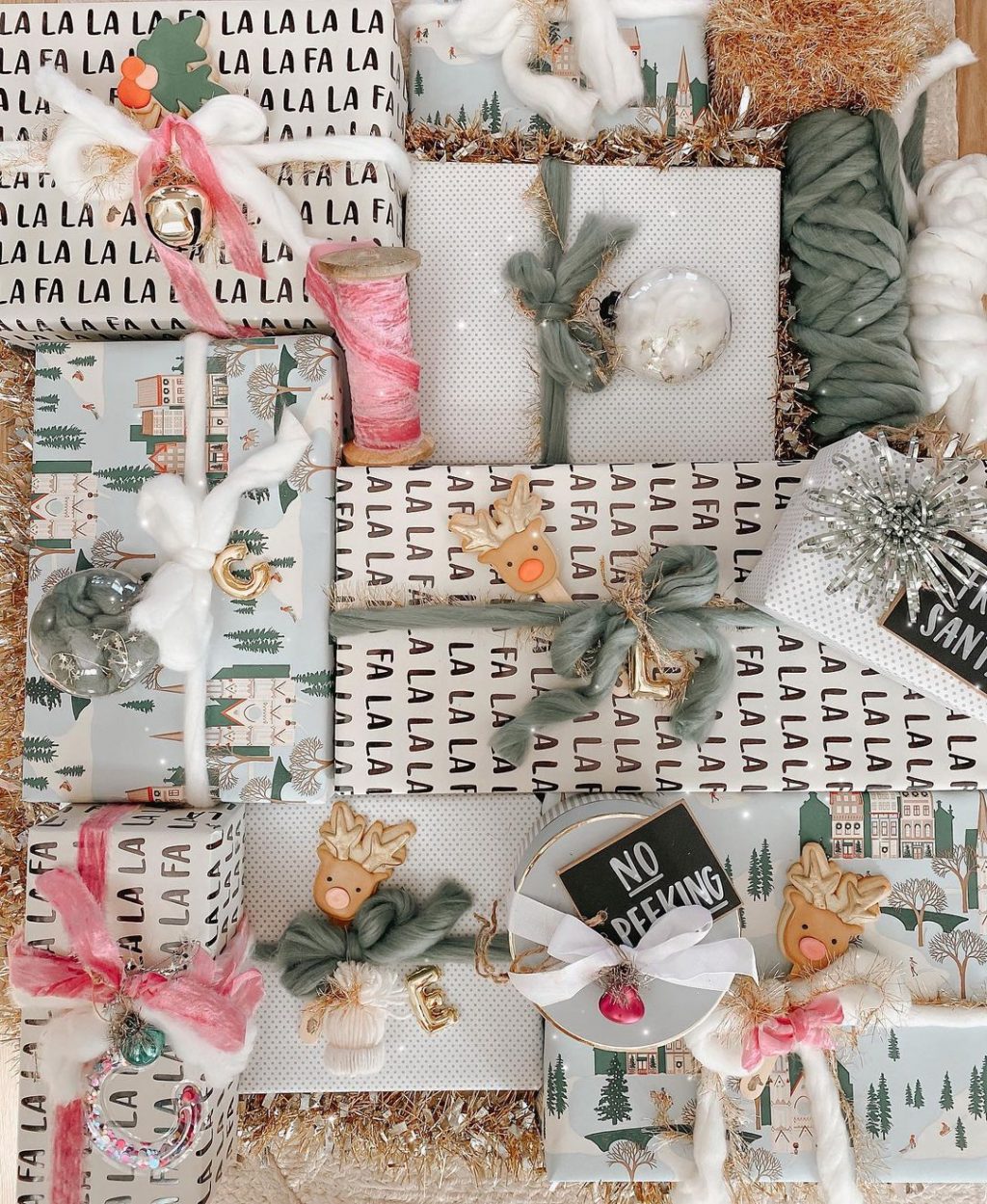 Chunky yarn isn't just for knitting anymore–-yarn adds texture, colour, and coziness to your works of art. The chunkier the yarn, the better. Find wool roving at your local yarn store, or find super chunky yarn in the craft aisle at big box stores. We love this combination of hand-lettered wrapping paired with roving and sparkly trim (as well as a variety of adorable gift toppers.)
Peppermint Twist – Gift Wrap Idea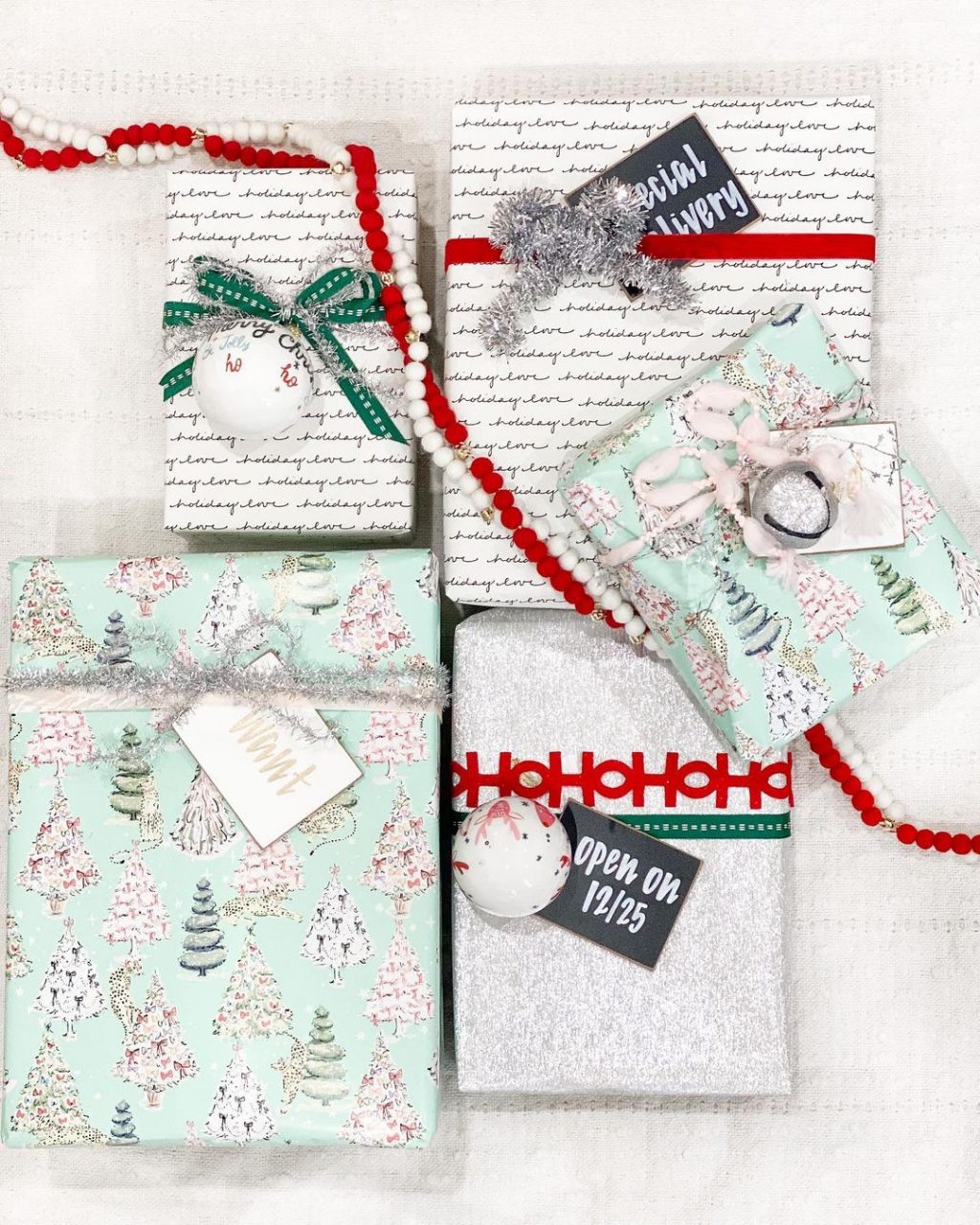 This classic peppermint sweet colour combination is pleasing to the eye and will look fantastic under any tree. Red, silver, and white with just hints of green (we love the vintage inspired mint green wrapping paper!) bring new life to the Christmas colours we know and love.
Pink Christmas Gift Wrapping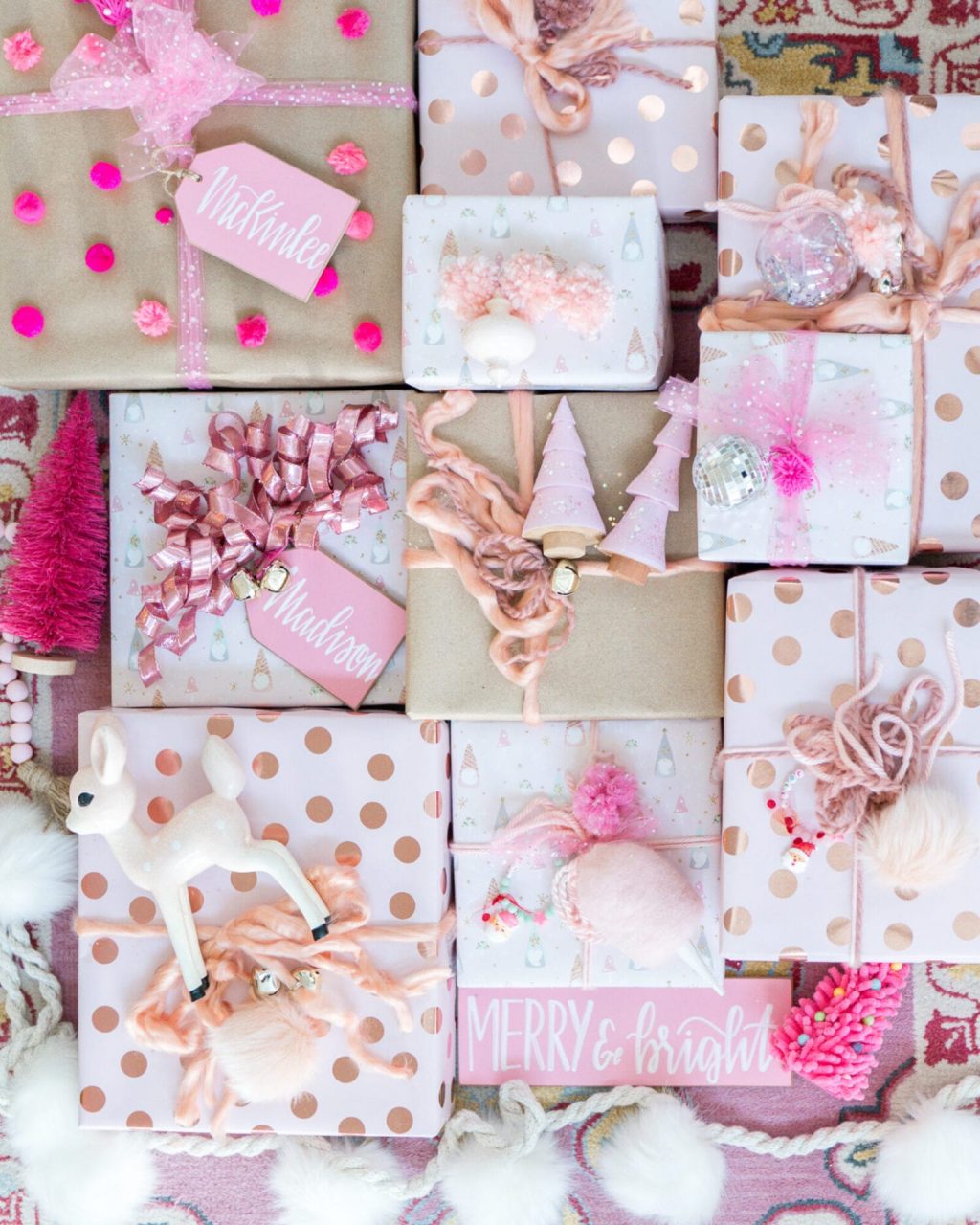 It's all about the pink at Christmas this year! Pink and hand-lettered gift tags that is. We love everything about this idea–the layered pink chunky yarns, the perfect pom poms, the disco balls, and the pink trees adorning kraft paper presents.
Orange Slice Gift Topper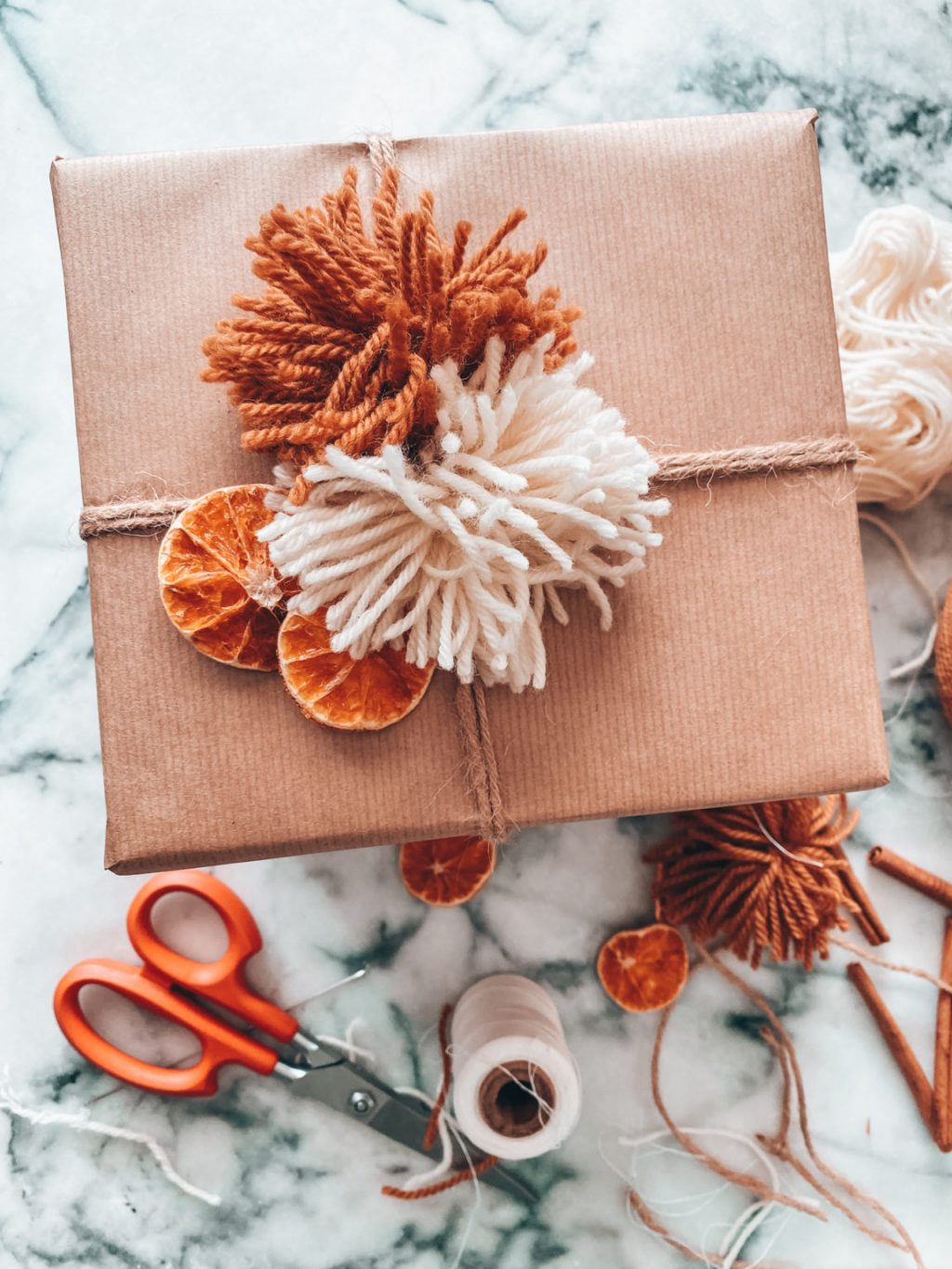 Looking for a more farmhouse-styled way to wrap gifts? For a more natural, rustic gift topper, dry orange slices in the oven. Use some for a handmade garland, but save some for gift toppers. The pairing of dried orange with these pom poms is our favorite rendition of the classic.
Vintage Christmas Light Gift Topper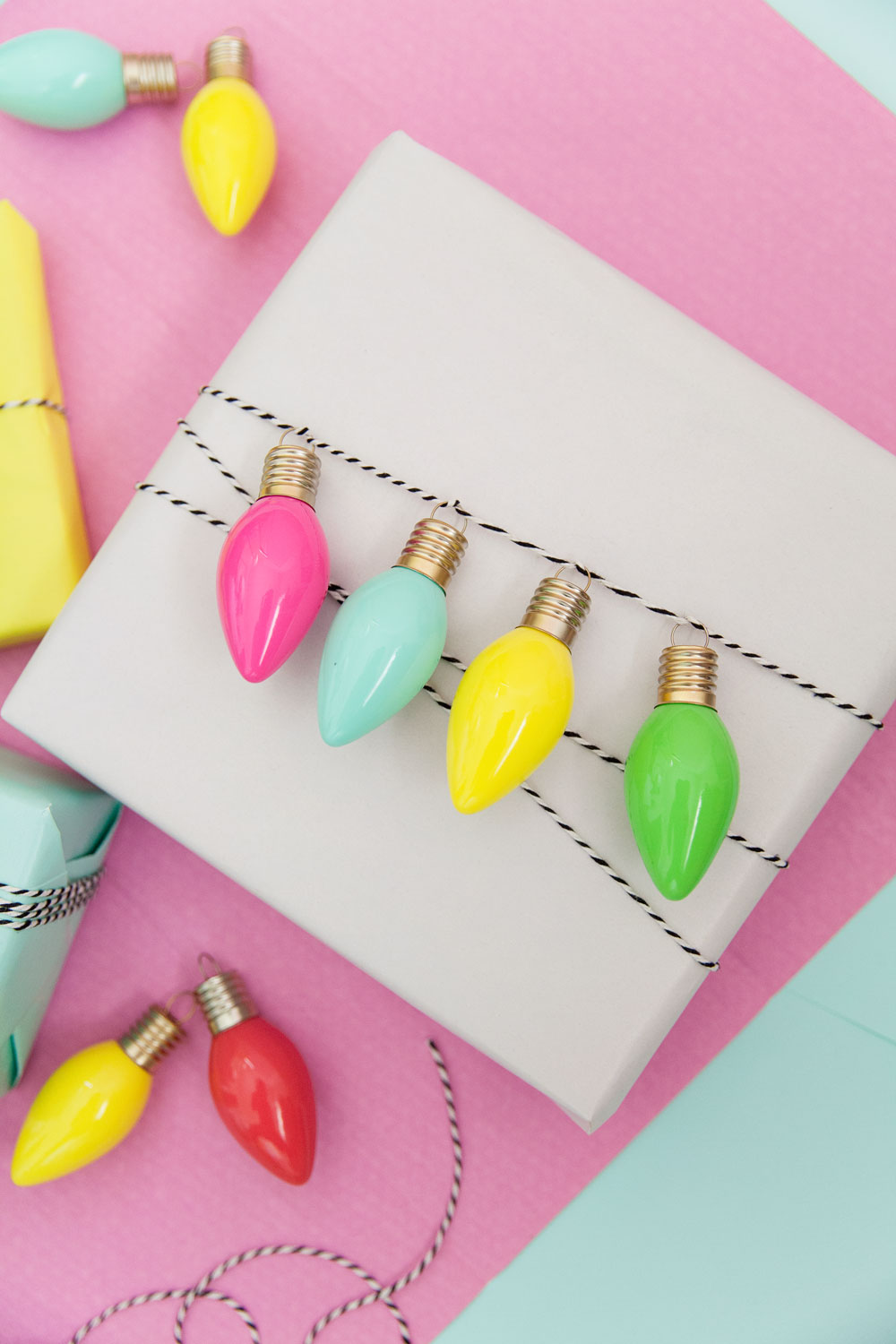 If you've ever wanted to design your own Christmas light colours, this DIY gift topper is for you. The colourful lights are made by pouring acrylic paint into clear glass Christmas light ornaments from a craft store. Wrap them onto gifts using baker's twine.
Something Sweet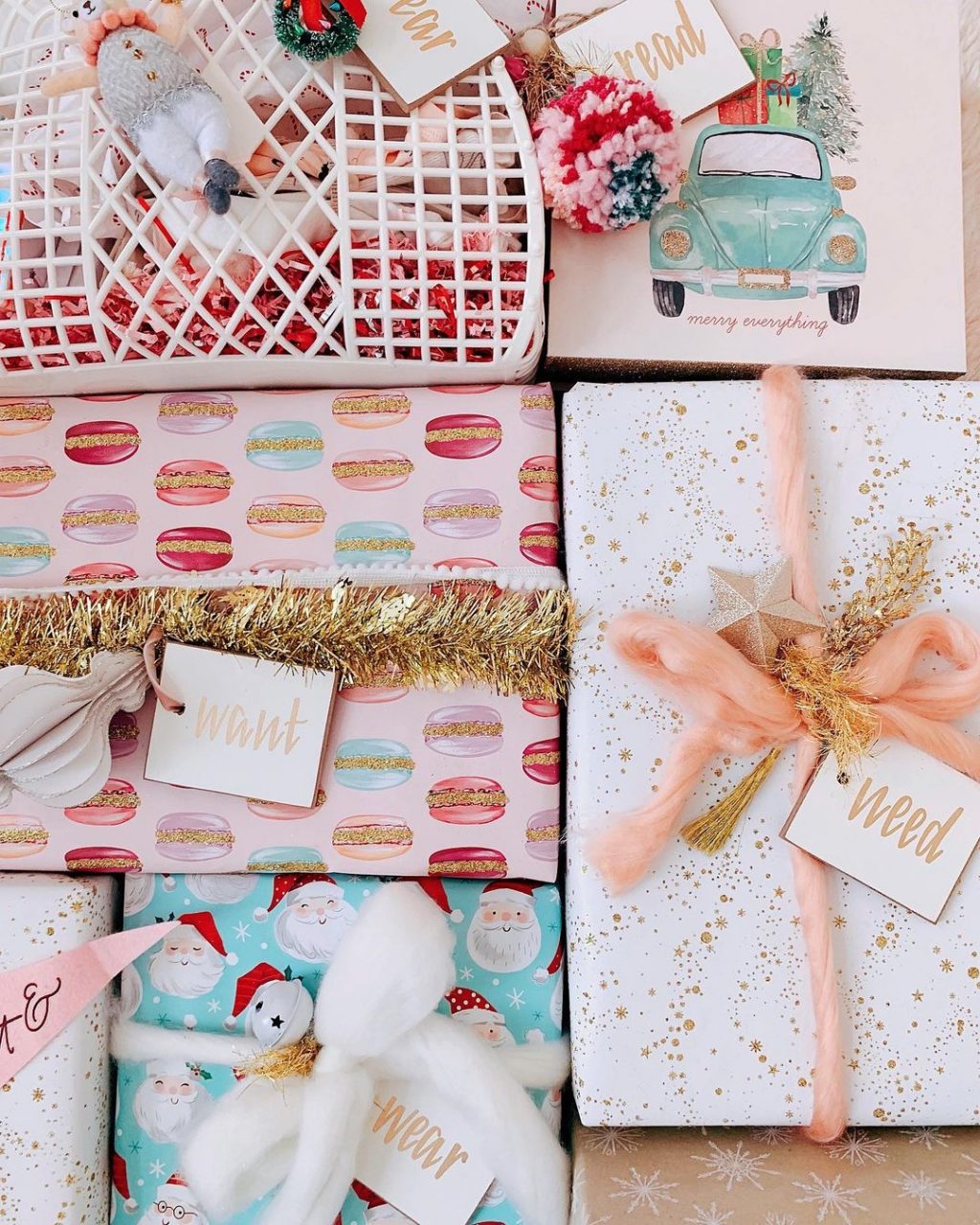 Christmas gifts don't have to be strictly Santas and snowmen–this pretty sparkly macaron wrapping paper gives us visions of sugarplums dancing in our heads. We also love the gold star-speckled gift wrap, the jingle bell gift topper, the blue Santa wrapping paper, and that perfect pom-pom.
Tassels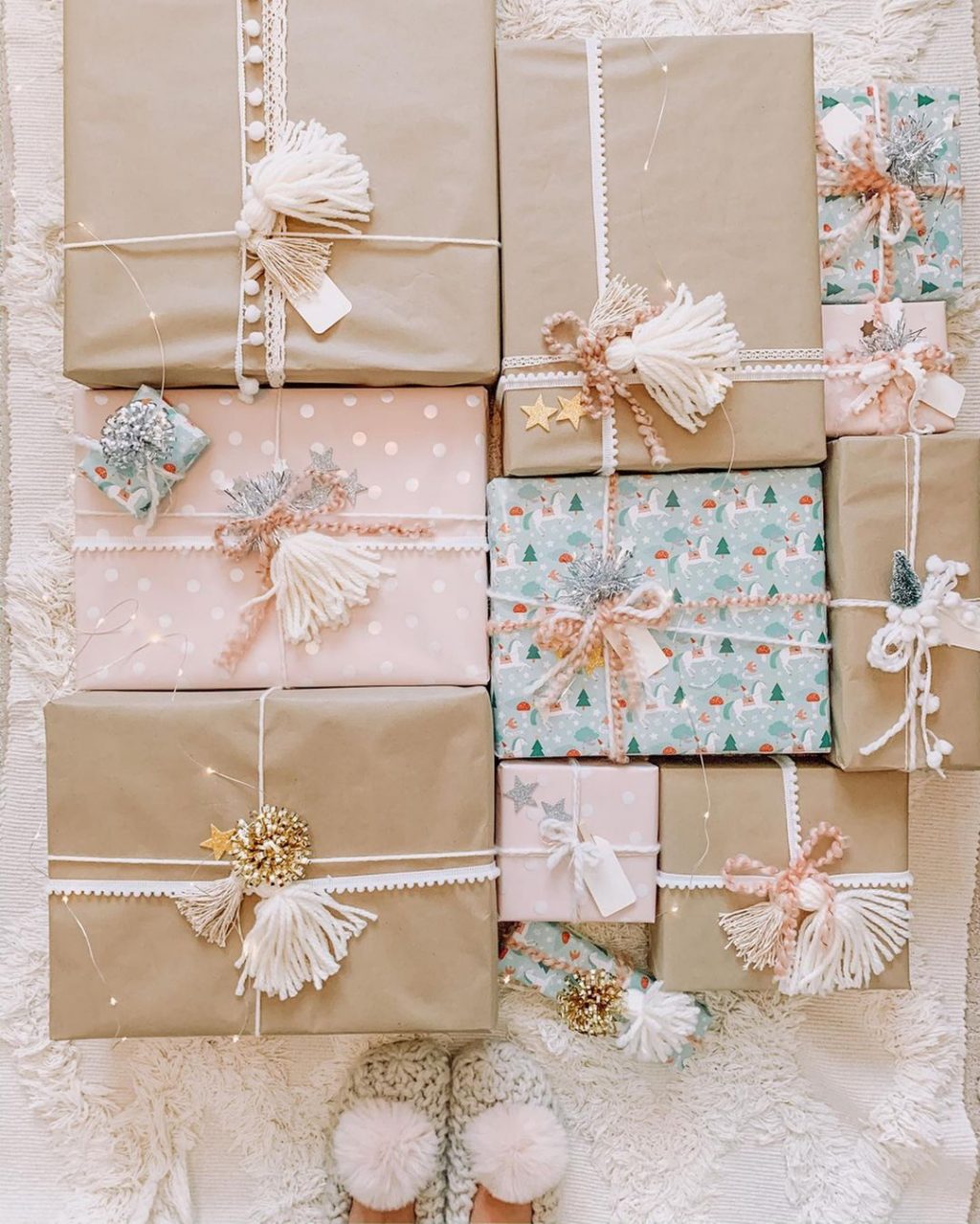 Yarn tassels are another great idea for a sweet gift topper! Use up some of your yarn stash to make some tassels, pairing them with trim, sparkly gold stars, and kraft paper. We love the simplicity in this photo–pairing one or two styles of gift wrap with kraft paper is a great way to show off a wrapping paper you're especially proud of.
Christmas Movie Quote Wrapping
If you consider yourself not-so-great at wrapping presents, this is the idea for you. The easy idea only requires plain wrapping paper, letter stickers, and a ruler–and the laughs you'll receive will more than reward you for your effort (or lack thereof). We can think of so many Christmas movie quotes to include, we don't even know where to start!
Bottle Brush Trees and Disco Balls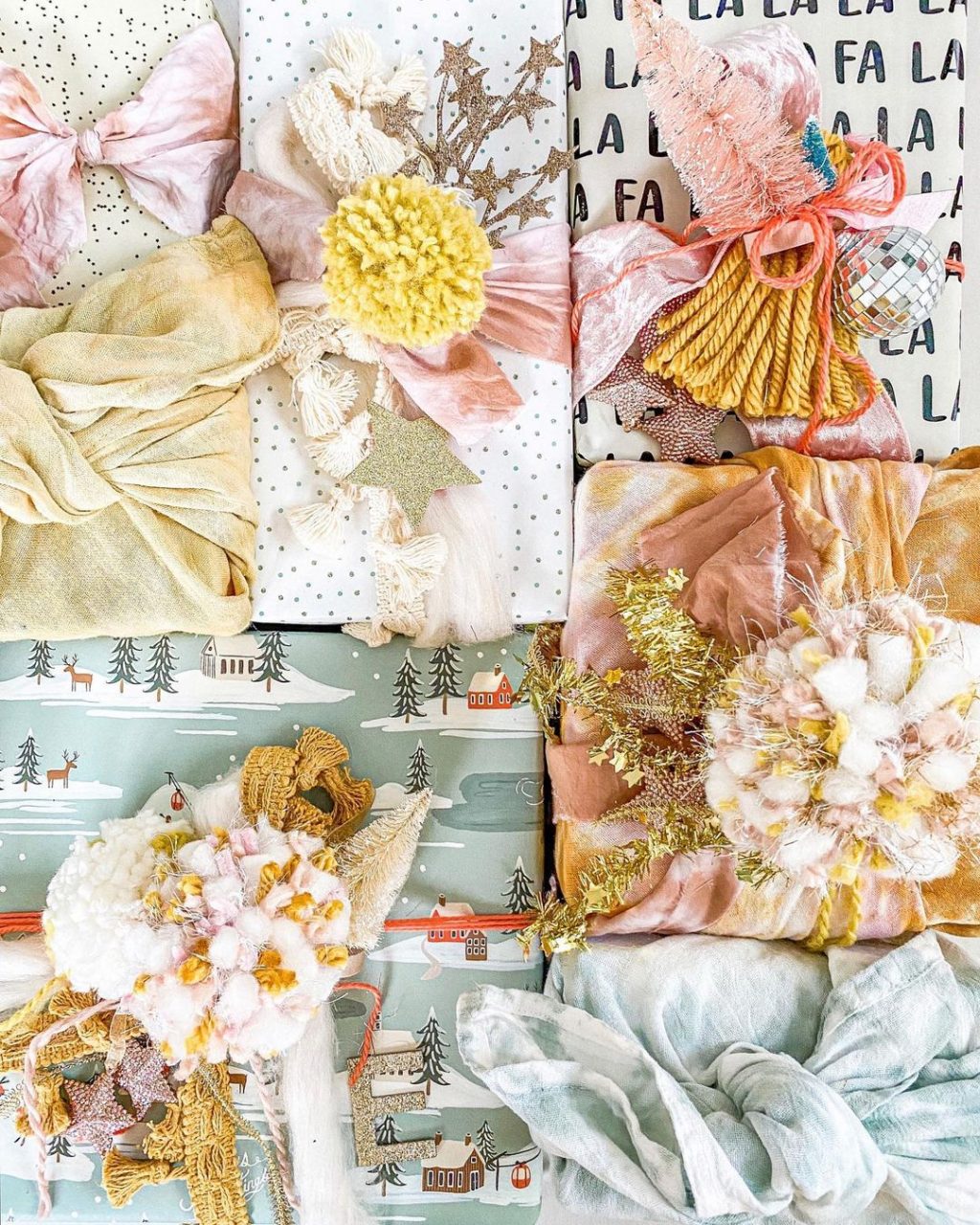 We never would have thought to pair bottle brush trees and disco balls, but now we can't rest until we try it. We can't stop gushing about the blush pink, vintage blue wrapping, and marigold textiles on these gifts–it goes to show Christmas isn't just about red and green anymore.
Slightly Vintage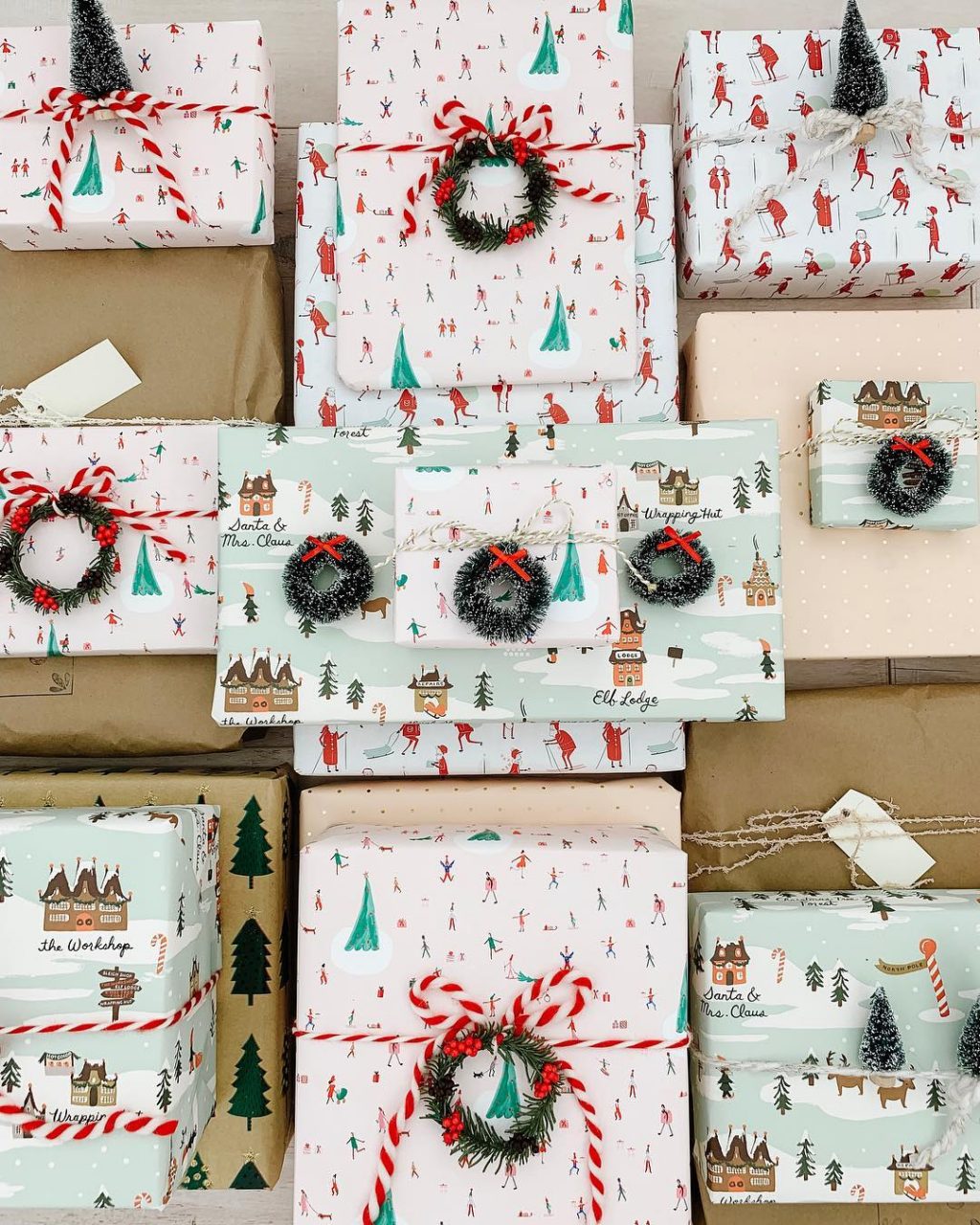 This idea keeps it simple, letting a few vintage-inspired wrapping paper patterns really shine. Forest green bottle brush trees and wreaths are the perfect touch and addition of colour. Where can we find the Santa's workshop wrapping paper?
Air Dry Clay Gift Tags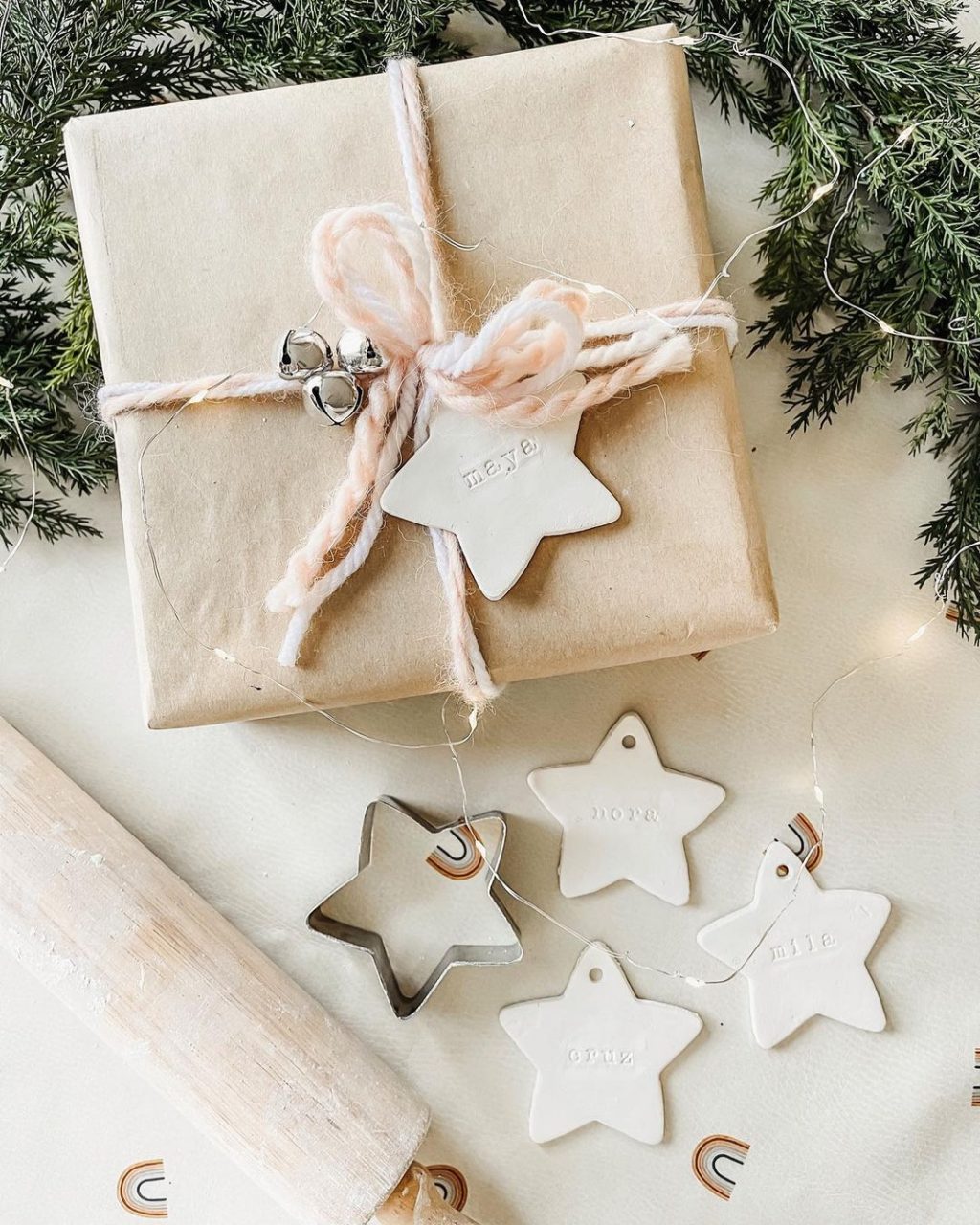 This would be such a fun project to make with kids–simply use store-bought air dry clay to shape into stars, then stamp the names for use as gift tags or ornaments. They look adorable here with pink yarn, jingle bells and kraft paper–how will you style them?
Typographic Gift Tags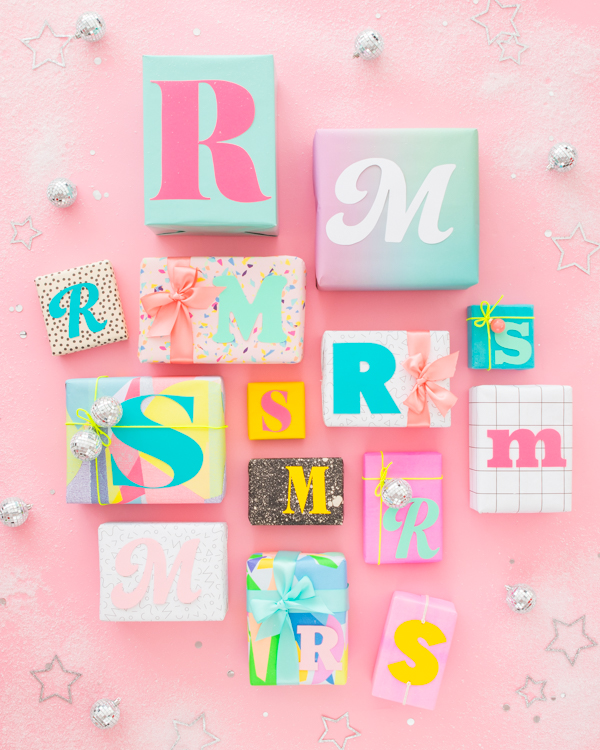 These cute gift tags are easy to make and great big you're wrapping at the last minute. All you need is card stock and a printer—size an initial to the dimensions of the gift you want to decorate, and cut out. The great thing is you can change the size, colour, and style to match your decor scheme.
Classic Christmas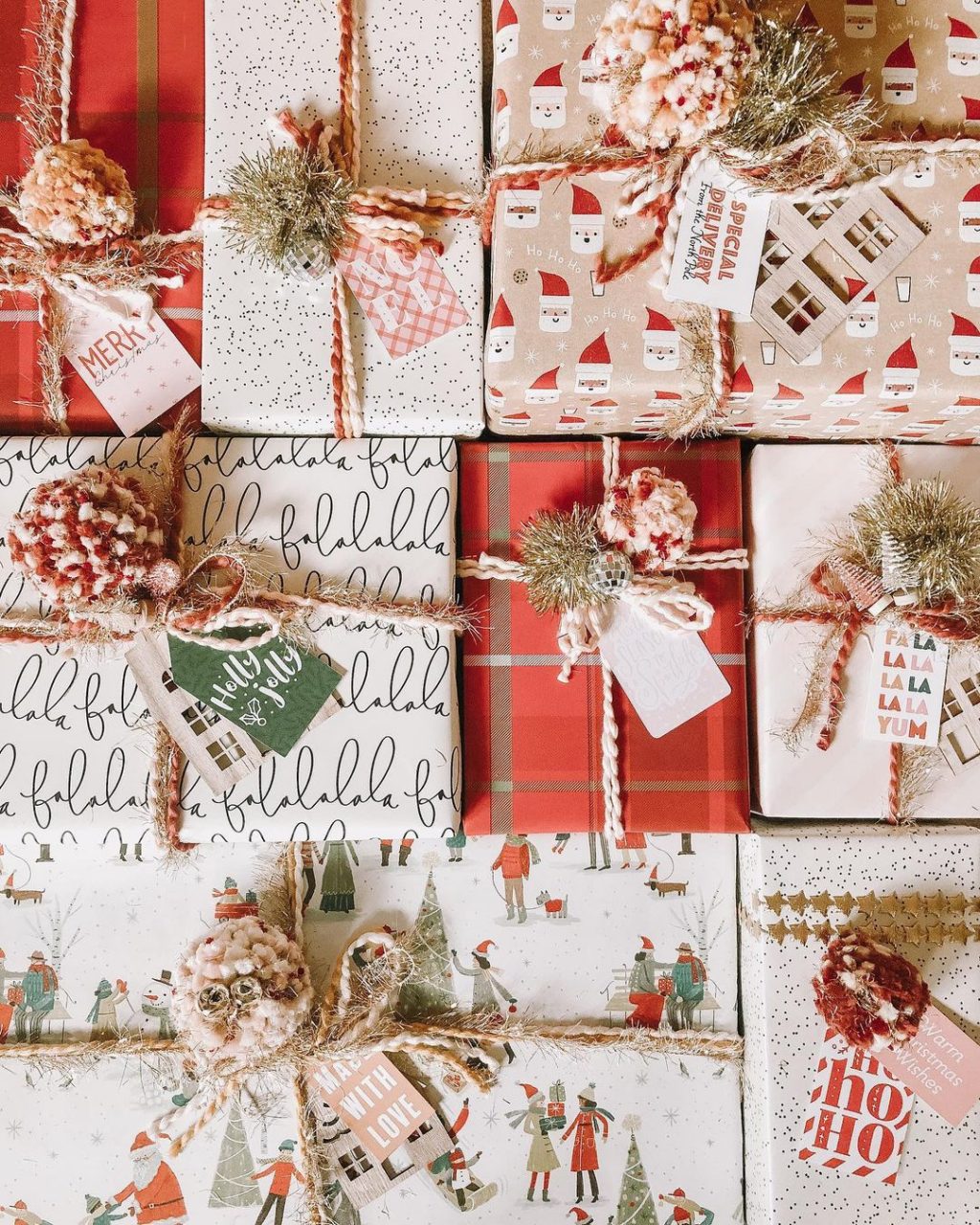 When in doubt, go with the classic. There's always a way to make the tried and true new again, and this mix of playful patterns and fun tags and embellishments wrapped lovingly just makes us feel like kids again on Christmas Eve night—and isn't that what the holidays are all about?
PIN THIS: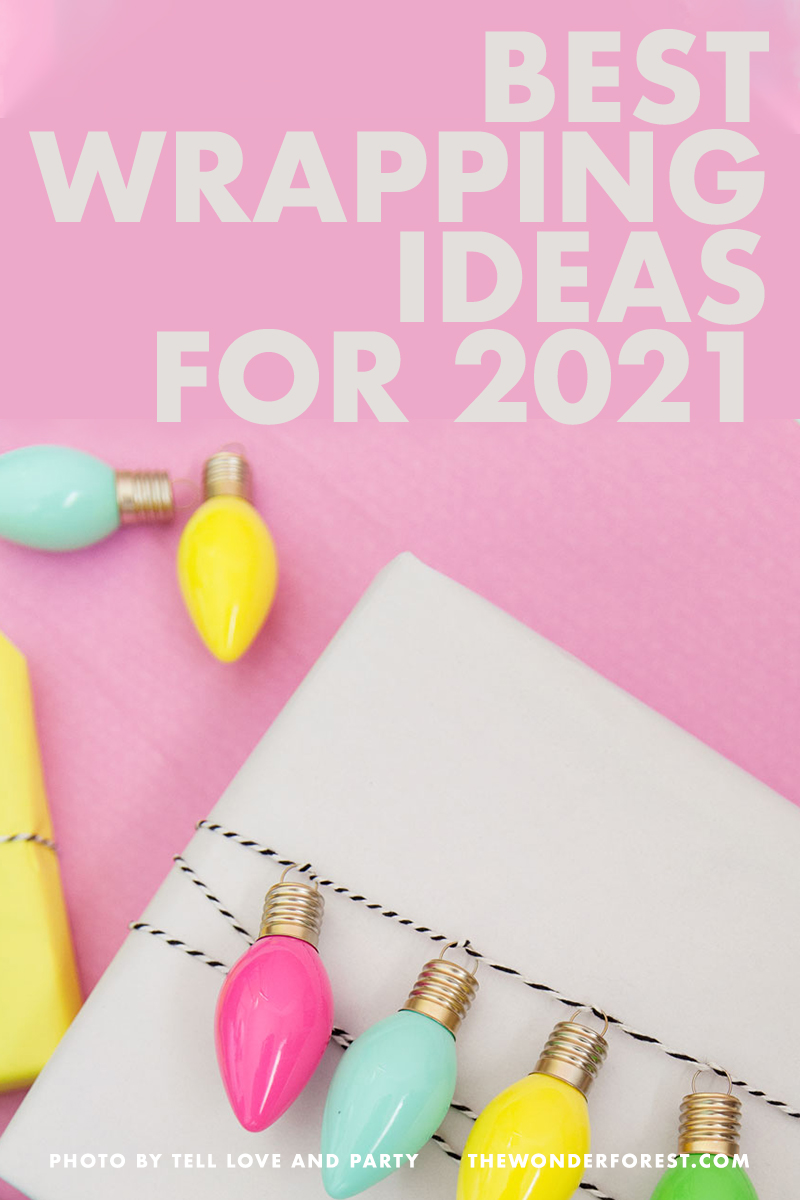 Last Updated on