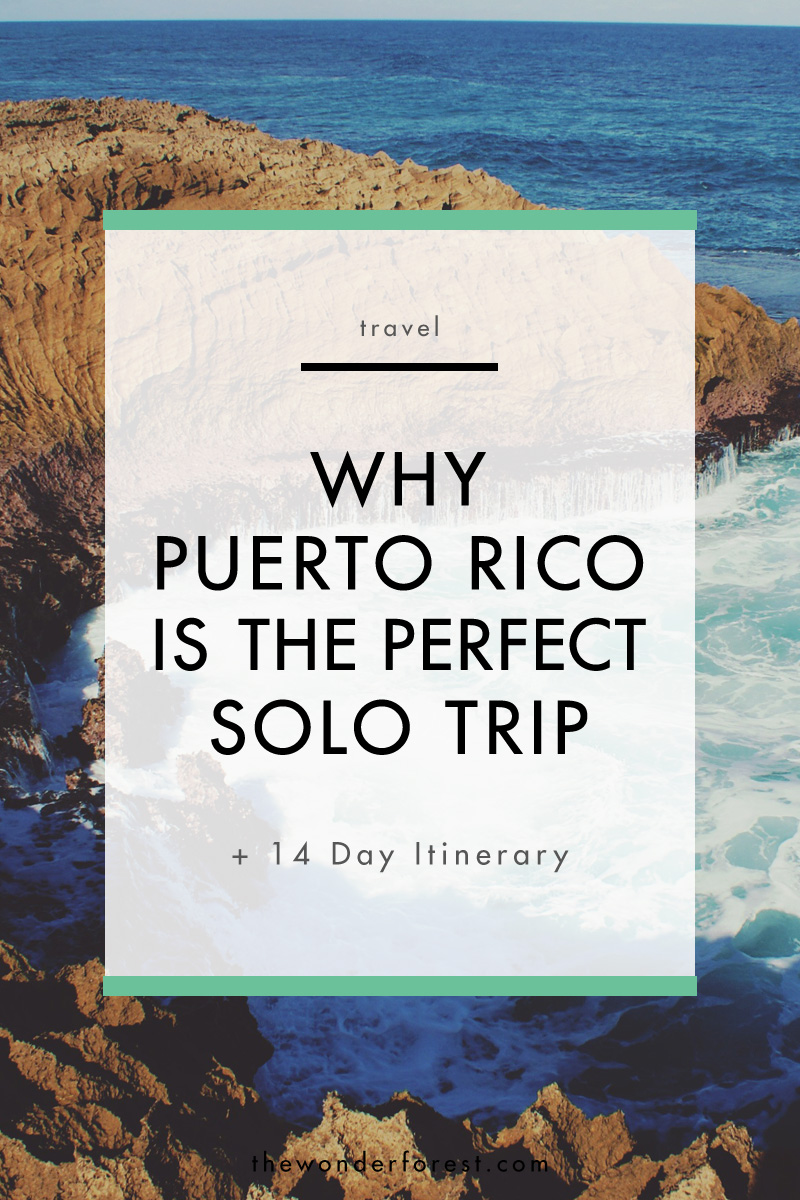 When you hear 'solo adventure,' very rarely are you going to immediately think of Puerto Rico. But I think Puerto Rico is an amazing place to go on a solo trip! And so do many other people judging from the amount of lone travellers that I met there on my trip last year. Here are a few reasons why is it the perfect destination for the solo traveller:
It's Relatively Easy to Get to
This is especially true if you are from North America, particularly the USA. If you're from the United States – you don't even need a passport to enter Puerto Rico, being that it is a territory of the United States. One less barrier to entry will make it easier to finally book that solo trip you've been dreaming about. Even if you do need a passport to get in, Puerto Rico is a relatively quick (and affordable) flight from many places in North America, and even Europe! I met quite a few travellers on my trip from Europe who were adding on Puerto Rico to their trip to Miami as well.
English is Widely Spoken
If you're nervous about language barriers, Puerto Rico is the perfect place for your solo trip. Spanish is definitely the main language in Puerto Rico, but English is also widely spoken. You will have the opportunity to learn and communicate in a second language while knowing that you always have the fallback option of speaking in English.
The Culture is Different Yet Familiar
Part of the fun of travel is experiencing new and different cultures. But on your first solo trip, everything might seem more overwhelming than usual. If you're nervous to travel by yourself, Puerto Rico offers just enough familiarity to make solo travel more manageable. At the same time, Puerto Rico has a vibrant culture that is all its own. From Puerto Rican foods to music to cultural heritage sites, there is plenty to see that will be unlike anything you've seen before.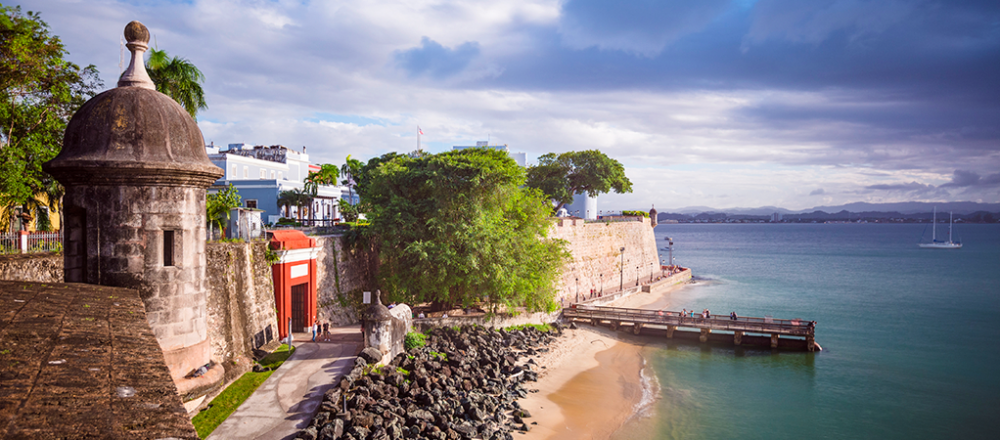 There are Plenty of Bucket List Destinations
Have you ever heard of Flamenco Beach? Located on the island of Culebra, just off the coast of Puerto Rico mainland, it has been named one of the world's best beaches. Similarly, Old San Juan is the oldest settlement in Puerto Rico and home to a UNESCO World Heritage Site. Then, there's all the bioluminescent lagoons that you can see in Puerto Rico – a natural phenomenon that occurs when microorganisms in the water glow blue. All of these sights and more are waiting for you in Puerto Rico. There's nothing like crossing an item off the bucket list and knowing that you got there all by yourself.
There Are TONS of Activities to Try
Almost any adventure activity you could think of takes place in Puerto Rico. Are you keen to try scuba diving? Snorkelling? Zip-lining? Even cave repelling? Puerto Rico is really an adventure-lovers' paradise.
It's an Easy Transition Into Hostel Life
There's no doubt about it, hostels are the easiest way to meet fellow travellers on your first solo trip. If the concept makes you nervous, hostels in Puerto Rico are full of solo travellers just like you who will inspire you and help to put you at ease. How do I know this? Puerto Rico was one of MY first solo trips, and the first place I ever stayed in a hostel dorm room without knowing anyone else! On that trip I met some amazing people, particularly women, who had all traveled to Puerto Rico by themselves. We met in the hostel and then went on adventures together. If you want to take a solo trip, but don't want to spend your days solo, hostels are a great place to meet adventure buddies. I am a bit biased, but I highly recommend staying at Mango Mansion. I have since traveled all over the world by myself, staying in plenty of hostels, but Mango Mansion still stands out to me as being one of the best.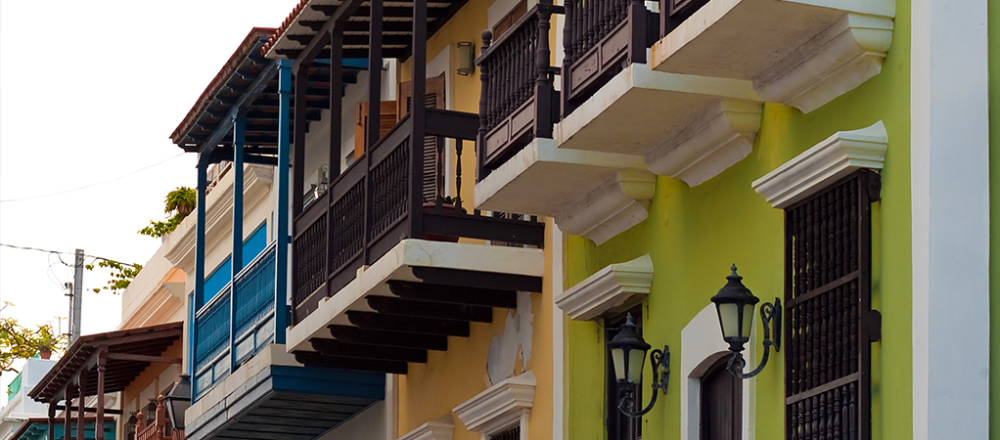 Looking to make the most of your first solo trip in Puerto Rico? Read on for my ideal two week itinerary on this magnificent island. First, a note about transportation. Puerto Rico, like the USA, is suited mainly to travel by car. Apparently, there are some bus services available, but the schedule is so unreliable it's probably not worth it. Unless you're with a local or speak Spanish fluently and want to give it a shot! So, you will need to rent a car if you want to drive around the island. Car rentals are, unfortunately, quite expensive. If you're on a tight budget, I recommend partnering up with some friends at the hostel and going in on a van together.
As for the ease of driving in Puerto Rico, I drove around almost the entire island without incident. If you drive in North America, you'll have no problem driving in Puerto Rico. Some street signs are in Spanish, but it was mostly easy to navigate. Another plus of Puerto Rico being a U.S. Territory is that my cell service worked there without roaming! So I was able to use the GPS on my phone to get around.

14 Day Puerto Rico Itinerary
Day 1: Fly into Puerto Rico, get settled in at your accommodation of choice.
Day 2: Explore Old San Juan.
Day 3: Relax on the beach! There are plenty of amazing beaches in San Juan proper, but I recommend Condado Beach or Ocean Park. Alternatively, if you are more into history and culture, take the day to see more of Old San Juan.
Day 4: Explore more of Old San Juan.
Day 5: Rent a car and head to El Yunque National Forest.
Day 6: Get up early and head to Fajardo on the East Coast to get the ferry to Culebra. Stay overnight in Culebra. Alternatively, you could save time and fly to Culebra.
Day 7: Relax on the beach in Culebra. Flamenco Beach is a must-see!
Day 8: There is no direct ferry service from Culebra to Vieques, so head back to Fajardo in the morning and catch a midday ferry to Vieques. If money isn't an issue, you could hire a private airplane (around $56/person as far as my research tells me).
Day 9: Relax on the beach in Vieques. At night, take a bioluminescent kayaking tour.
Day 10: Either fly back to San Juan, or take the ferry back to Fajardo and drive back to San Juan via Luquillo, another amazing beach on the Northeast coast of Puerto Rico.
Day 11: Wake up early to drive west. It will only take about 2 hours to get to the middle of the island, to Jayuya, in the highlands. Enjoy the peaceful tranquility of sleeping in the cloud forest. If you're a coffee lover, don't miss the chance to spend the night on a coffee farm!
Day 12: In the morning, even if you haven't spent the night on a coffee farm, taking a tour to see how some of the best beans in North America are harvested and processed is worth it. Plus, you'll get to try some yourself! Alternatively, zip lining through the cloud forest is a popular activity. In the afternoon, get on the road to the last stop of the trip, Rincon, all the way on the West Coast.
Day 13: Enjoy your last day on the beach. Rincon is a world famous surfing spot, so if the waves aren't too crazy you could try to ride one yourself! Don't forget to enjoy a sundowner on the beach.
Day 14: Drive the two hours back to San Juan, return your rental car, and catch an evening flight out.
Well, there you have it: 6 reasons why Puerto Rico is the perfect place for your first solo trip, and a 14 day itinerary. If you've been to Puerto Rico before, let us know in the comments what some of your must-do activities are!
Last Updated on