With Halloween around the corner, you might be scrambling to come up with the perfect couples Halloween costume for you and your beau.
Whether you're heading to an annual Halloween party, or are just excited to dress up on Halloween night, I've gathered some of the absolute best couples Halloween costumes so you and your mate can be the perfect pair.
Looking for matching family costume ideas instead? We've got lots of those too!
1 – Princess Peach and Mario
This super cute look is easy to pull off with the right dress and some denim overalls for him! Make yourself a gold crown and a fake moustache to get the look nailed down.
2 – Little Red Riding Hood and Wolf
This special effects Halloween makeup is perfect for a creepier version of Little Red Riding Hood. Of course, you need a big bad wolf mate to complete the ensemble too!
3 – A Christmas Story Costume
Everyone loves a little nostalgia! This Ralphie bunny costume and the leg lamp from the classic movie A Christmas Story brings back so many feelings. Definitely one of my favorite couples and such a great idea!.
4 – Twins from The Shining
I love that this couple chose to both dress as the creepy little girls from The Shining. Who said your man can't play dress-up every once in a while?! It offers a unique twist and allows you to both be the main characters!
5 – Disney's UP Couples Costume
Keiko always does Halloween costumes so well! I just love this UP inspired couple's costume that she and her boyfriend DIYed. Bonus points for making an actual house! So creative and colourful!
6 – Ice Ice Baby
Some may have to do a double take to get this costume idea, but this Ice Ice Baby costume is too cute! Of course, you'll need a baby to pull it off, but other than that it can be an easy DIY project. You might also like our post of 15 Unique DIY Halloween Costumes for Kids and Babies.
7 – Barbie and Ken Halloween Costumes
As a throwback to the 80's, why not be the ultimate power couple and go as Barbie and Ken? Some bright pink gear and retro styling makes this a piece of cake to achieve.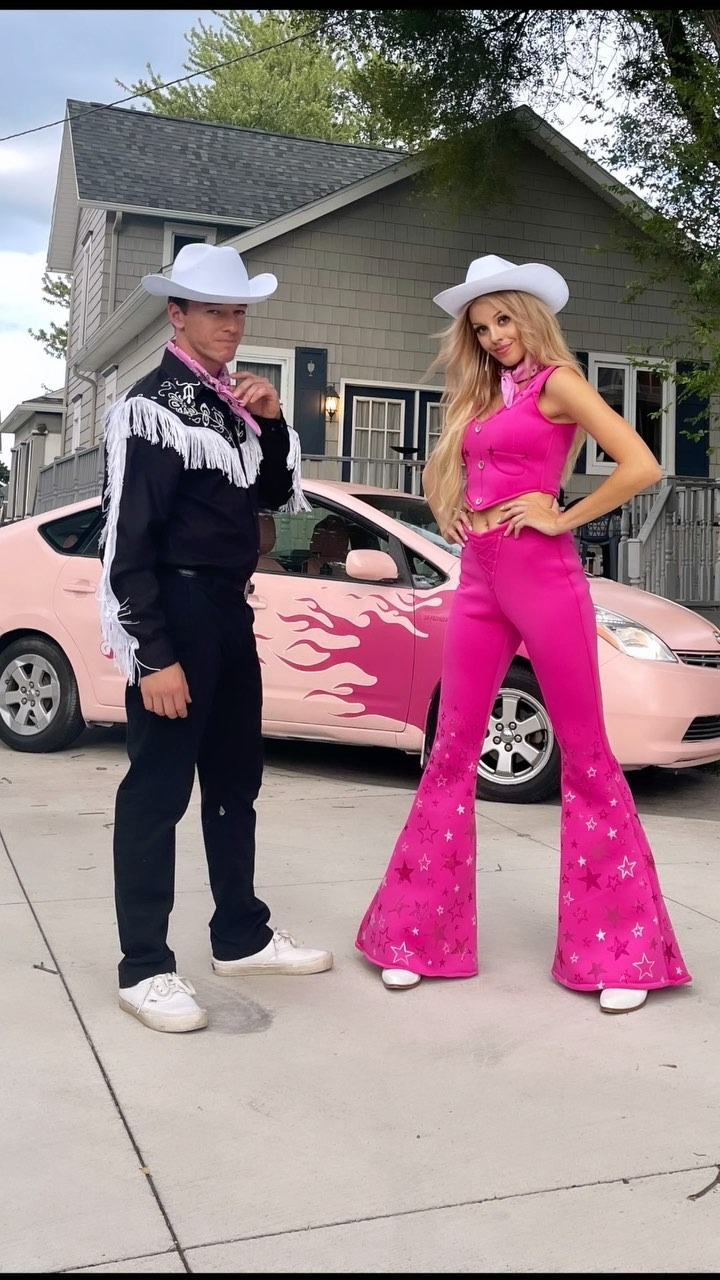 You could also go the route of the Ryan Gosling and Margot Robbie version of Barbie and Ken like this couple did… down to the smallest details!
8 – Pizza and Delivery Boy
Did someone order pizza?! This DIY costume is sure to draw attention. I mean, you can't really miss a giant piece of pizza. Throw in the delivery boy and you've got your costumes locked down.
9 – Morticia Addams and Gomez
Sophie Turner and Joe Jonas really went all out with this take on these iconic characters. I had to do a double take!
10 – Bob Ross and Happy Little Tree
It may be the artist in me, but I simply love this idea. Bob Ross is a pretty easy costume to pull off. Just grab yourself a wig and button-up shirt and you man is pretty much done. The "happy little tree" adds that extra unique touch that any Bob Ross fan would recognize.
11 – Til Death Do Us Part
"Til death do us part" holds new meaning with this creepy Halloween costume idea. Some special effects makeup, a white dress, and some dressy clothes are all you need to get started.
12 – Chicken and Waffles
If you're in the mood for some funny halloween costumes that double as unique, try this idea! Julie and her husband look so adorable in their homemade Chicken and Waffles looks. She always brings her creativity full force into their DIY Halloween outfits and this one is no different.
13 – Ronald McDonald and the Hamburglar
A violent twist on our favourite classic fast food icons — Ronald McDonald and the Hamburglar. These definitely aren't your kid-friendly mascots!
14 – Skeletons Couples Costume
Dress up like the dead! These super stylish skeletons seem to have risen from the grave.
I love the subtle accessorizing with the headpiece and boutonniere to make this costume a little less basic. Some skeleton makeup is easy to do with our tutorial!
15 – Operation and Doctor Couple Costume
Yet another DIY costume that I can get on board with. Super easy to recreate and super unique! Some basic scrubs for him and some embellished sweats for her. Add a stethoscope and it's like the Operation game came to life!
16 – Beetlejuice and Lydia
I love a good movie inspired costume and this one hits all of the marks. Beetlejuice and Lydia in her red wedding dress are classic characters that will be recognized by anyone.
17 – Gardener and Sunflower
This cute pair created their costumes from an apron, fake flowers, and a tutu… and how sweet do they look!? This would be a great option for many couples and you could even change the flower costume to one of your choice.
18 – Jack Skellington and Sally Halloween
These classic characters come to life with the right outfits! If your man is tall, try this Jack Skellington costume idea and join him as Sally in your raggy dress. The makeup is the best part and pretty simple to accomplish!
19 – The Corpse Bride Couples Costumes
More Tim Burton halloween costume inspiration! The Corpse Bride pair, Emily and Victor, created with some awesome attention to detail and makeup. This may be one of my favorite diy costumes.
20 – Tinkerbell and Peter Pan
If you're opting for a sweeter costume idea, try this Disney inspired Peter Pan and Tinkerbell combination. You'll be the cutest couple in Neverland!
21 – Harley Quinn and the Joker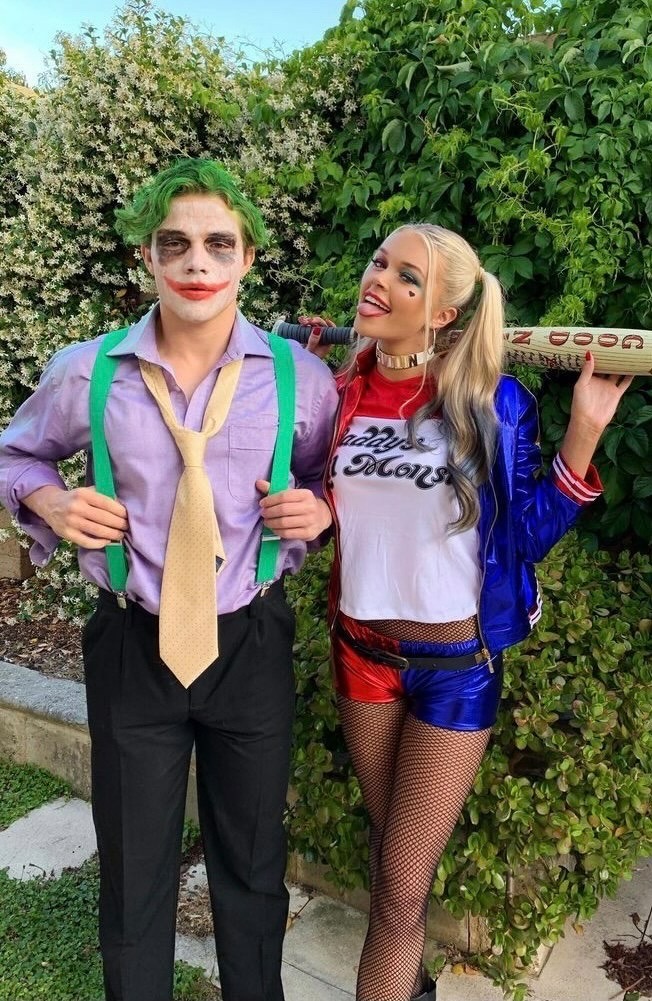 This pair of villains makes for an iconic couple, and it's not too difficult to get the details just right! This team is certain to be a crowd favourite at the party.
22 – Forrest Gump and Jenny Costume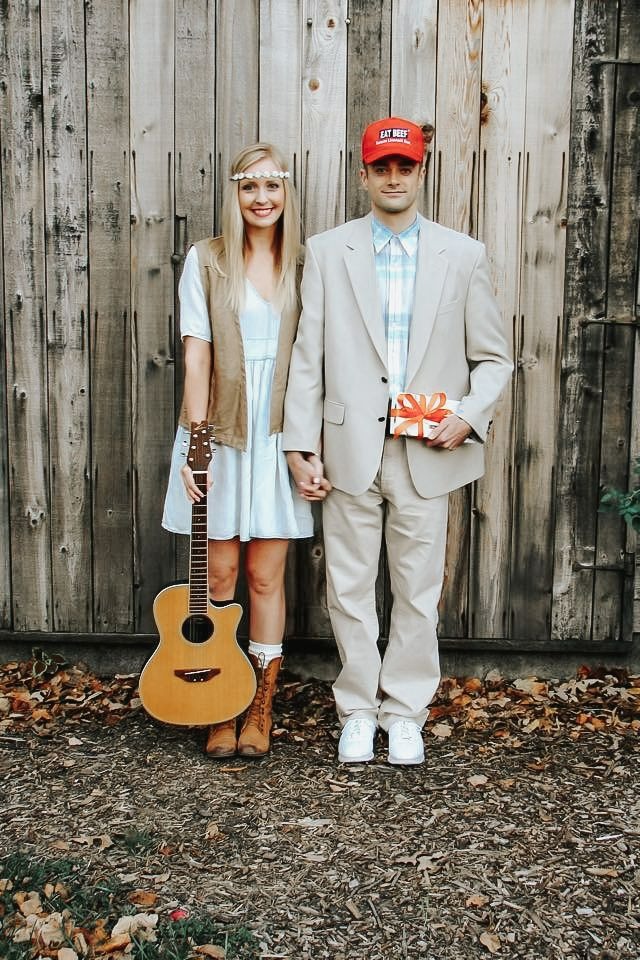 This heartwarming couple would make for an easy last minute game of dress-up because you can pretty much use clothes that can be found in your own closet. Just don't forget the box of chocolates!
23 – Toy Story Woody and Bo Peep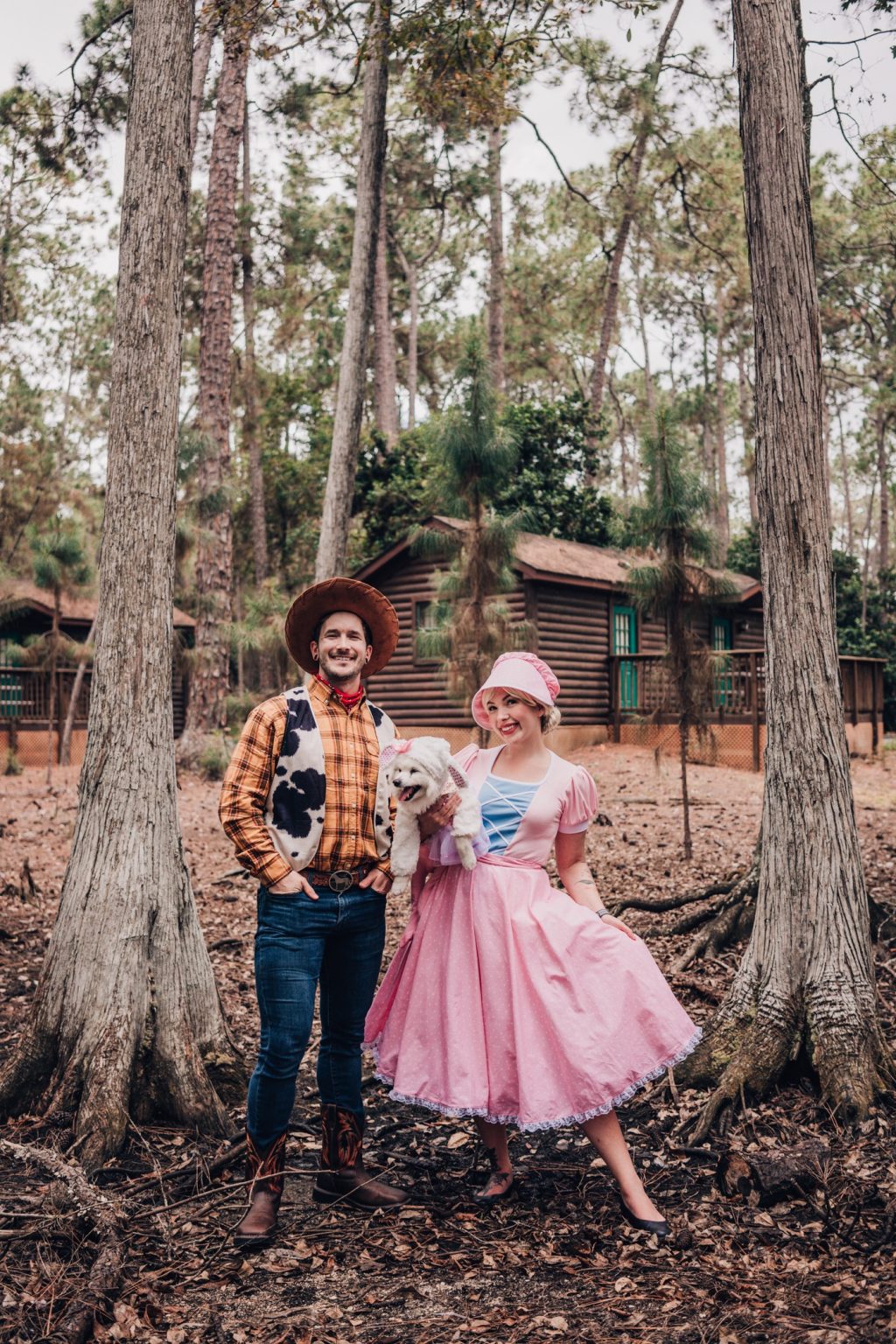 How adorable are Bobby and Keiko dressed as Woody and Bo Peep from Disney's Toy Story? I've said it before… these two come up with the best ideas and this one is no different as they showcase the perfect couple.
24 – The Little Mermaid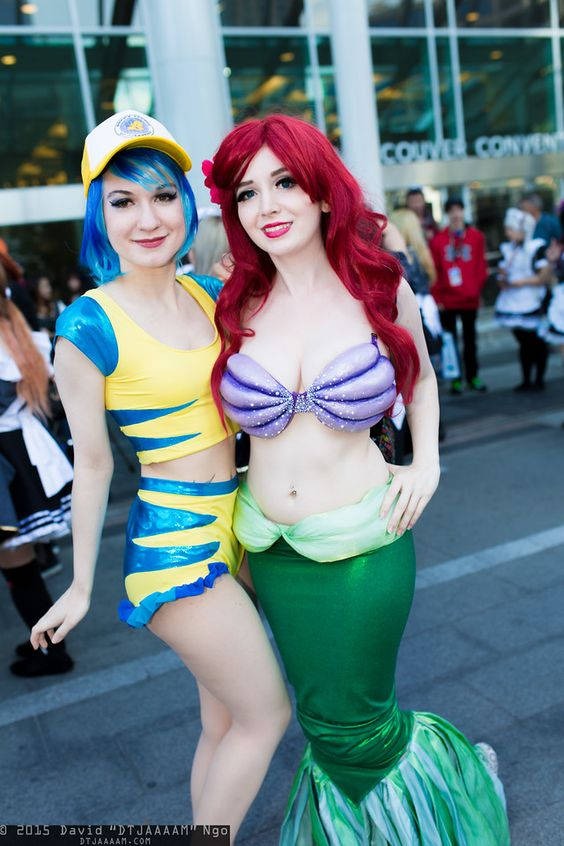 You may have seen photos of Ariel and Prince Eric, but have you considered teaming up with her BFF, Flounder instead? I love this idea because a "couple" doesn't always have to mean a love interest!
25 – Harry Potter & Golden Snitch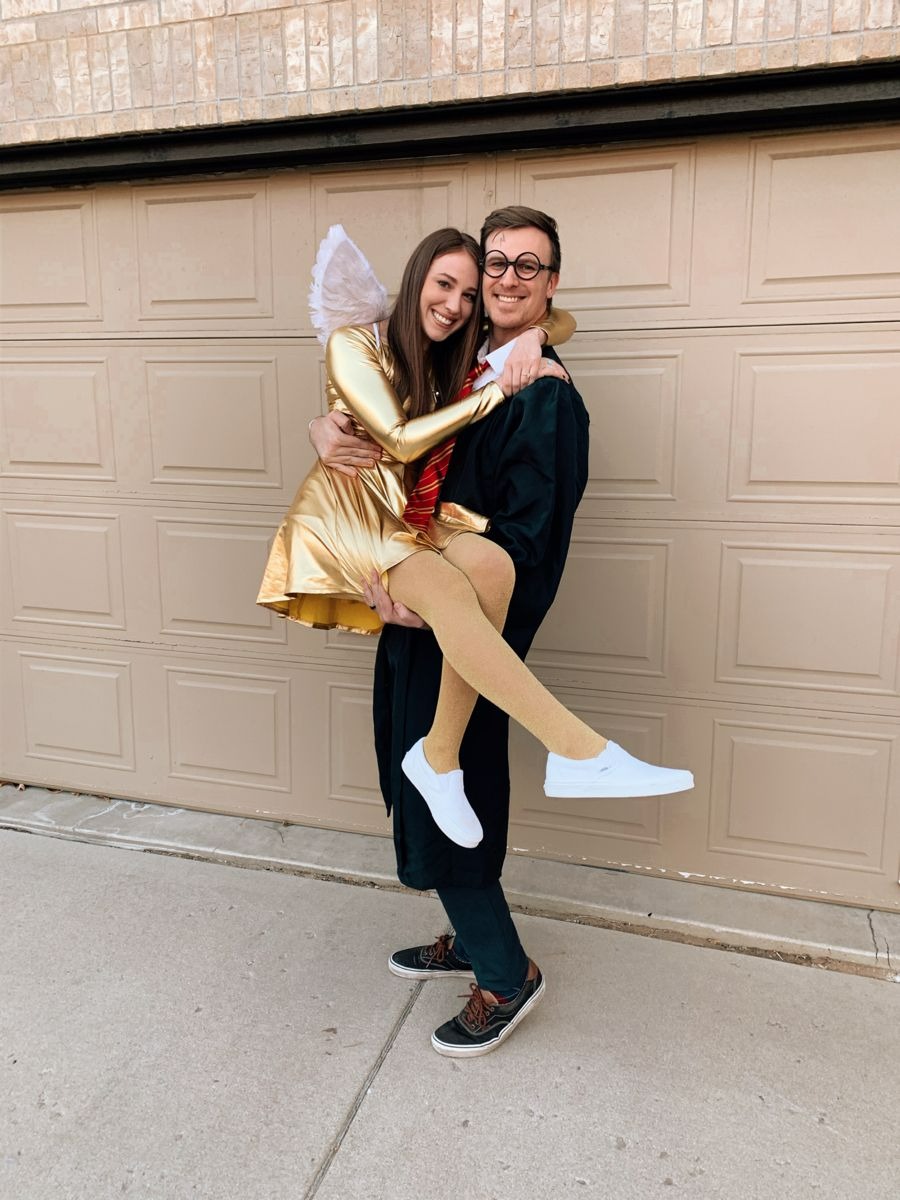 You know we love a creative idea around here, and this golden snitch paired with a classic Harry Potter is a great one! A black suit, white shirt, and golden dress make this a simple look to recreate.
26 – Freddy Krueger and Jason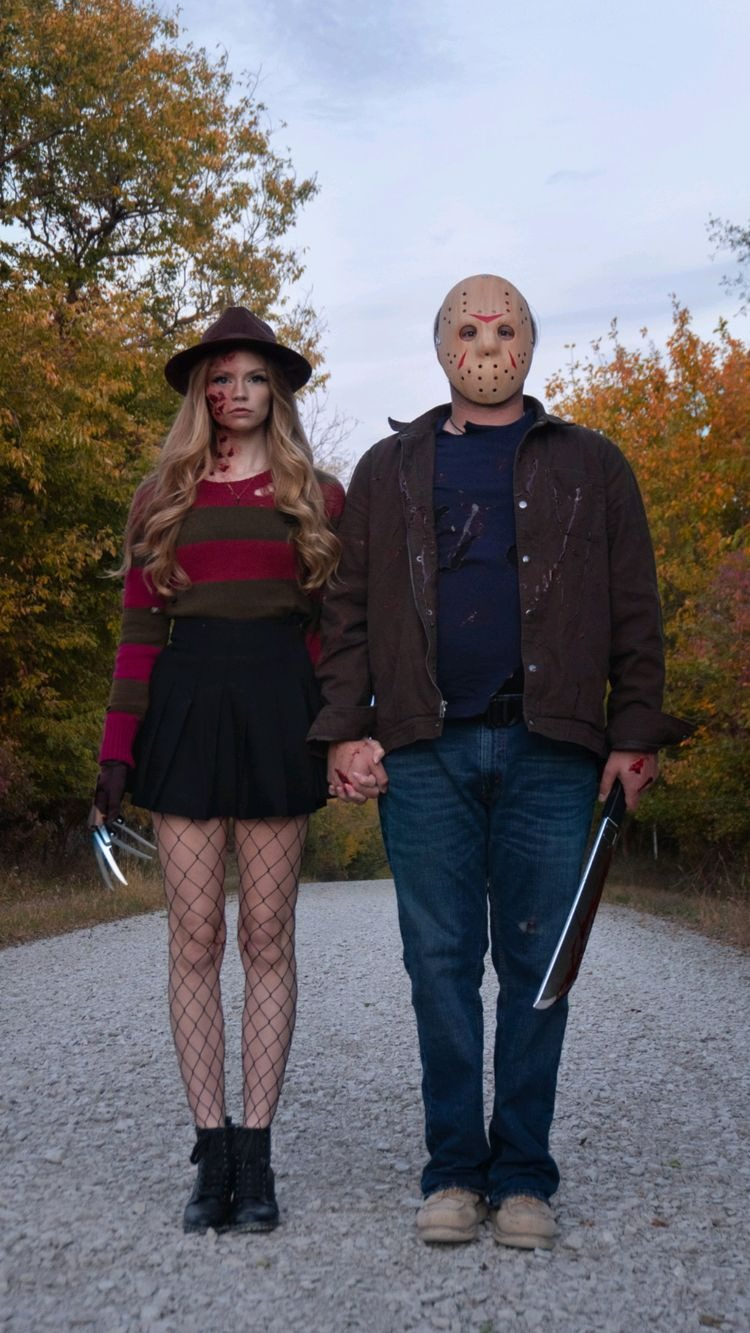 Celebrate spooky season in style with your favorite movie characters like Fredy Krueger and Jason Voorees. I love this feminine take on Freddy that borders on sexy but also slays (pun intended).
27 – Dirty Dancing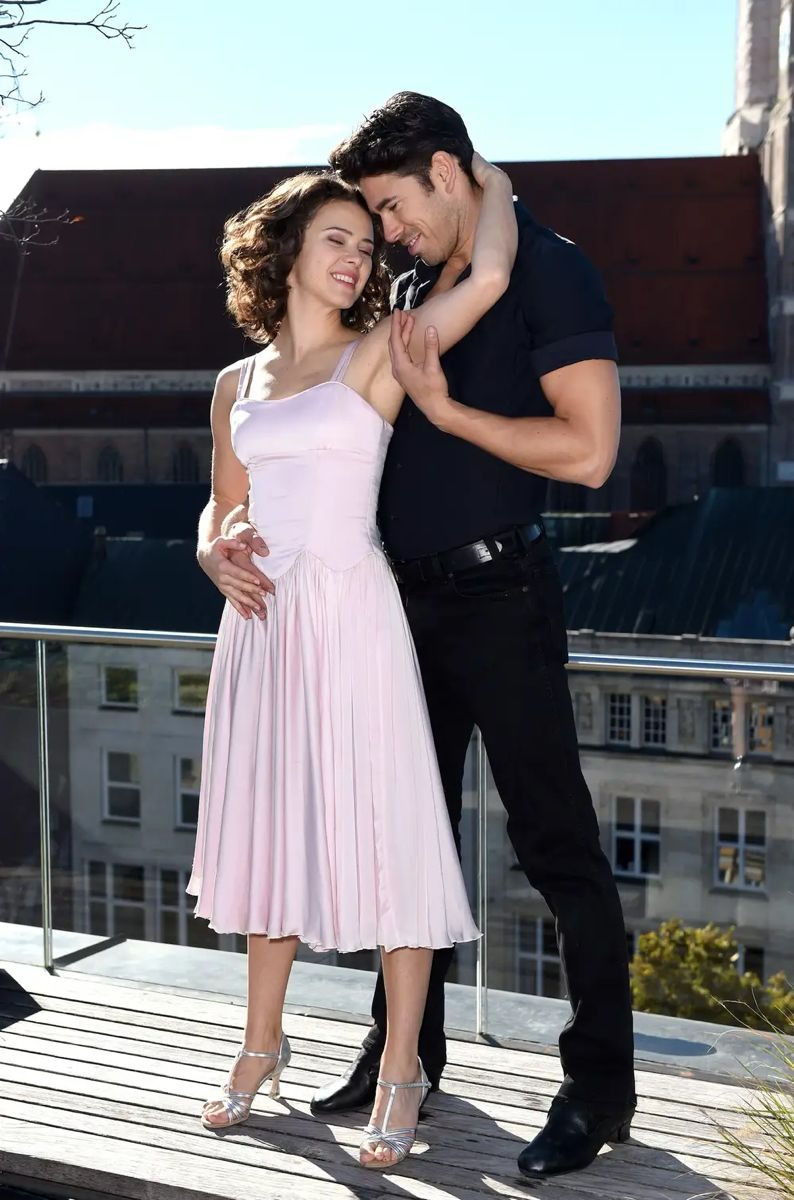 There's nothing like some classic costumes to recreate for the big day. This take on Dirty Dancing includes clothing inspired by the movie, and of course.. big hair!
28 – Scooby Doo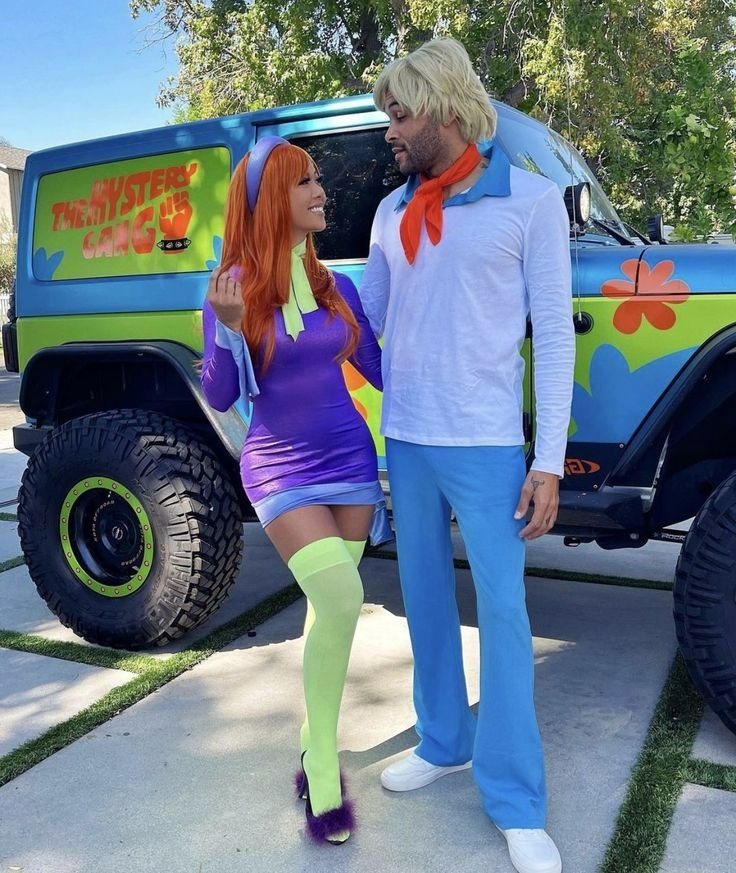 This duo took inspiration from Fred and Daphne of Scooby Doo for their look and I love the colorful, vibrant theme.
Now that you've seen my top 28 creative and cute couples Halloween costumes, which one is your absolute favourite?
Pin this for later!