We all know that a handmade gift is one of the most thoughtful ways to show your love and appreciation for someone…and on Valentine's Day, the gesture of a handmade card is one of the most romantic things you can do for your significant other.
While you will still have to think of an original love note for inside, here are 20 DIY Valentine's Day cards that you can totally make yourself.
Eyes For You Valentine's Day Card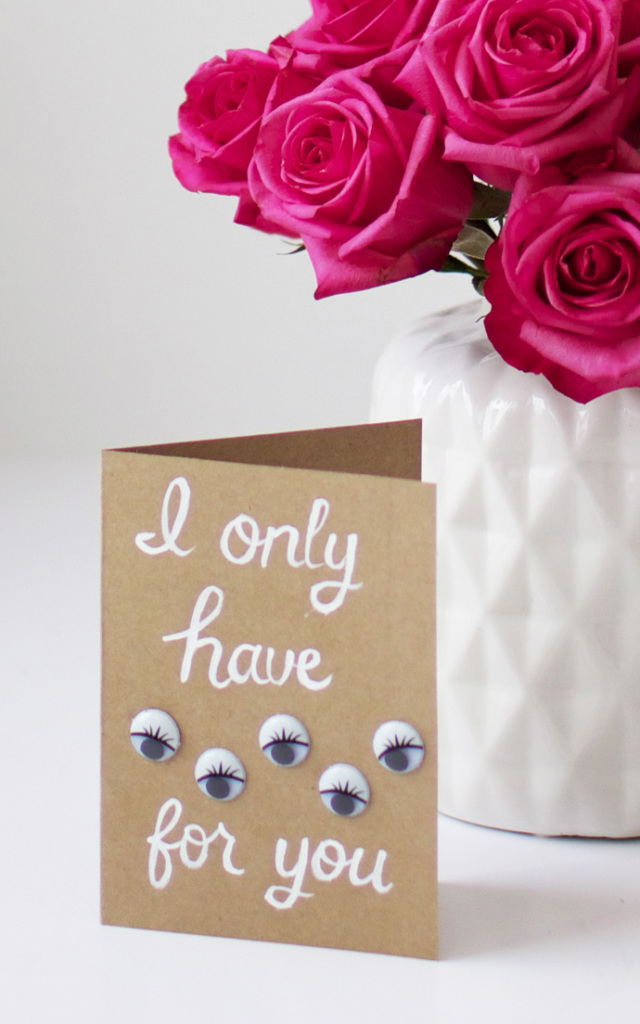 Add some style and whimsy to your card with this cute (and also, kinda funny) Valentine's Day card that uses eye-print buttons. Of course, you can also use googly eyes for an even bolder statement.
Watercolour 3D Heart Card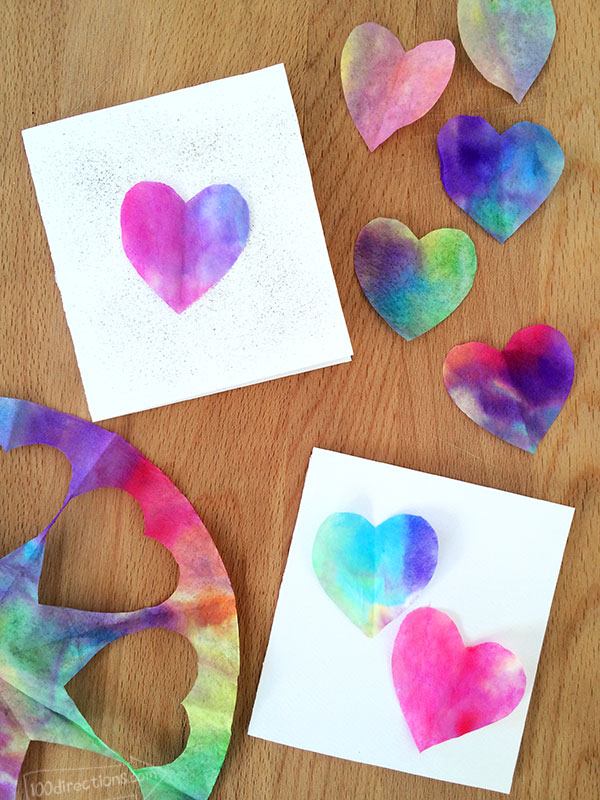 Groovy, baby! Put those watercolours to use with this super easy craft. The tie-dye look adds something unique to the most popular Valentine's Day motif – the heart.
Puzzle Piece Valentine's Card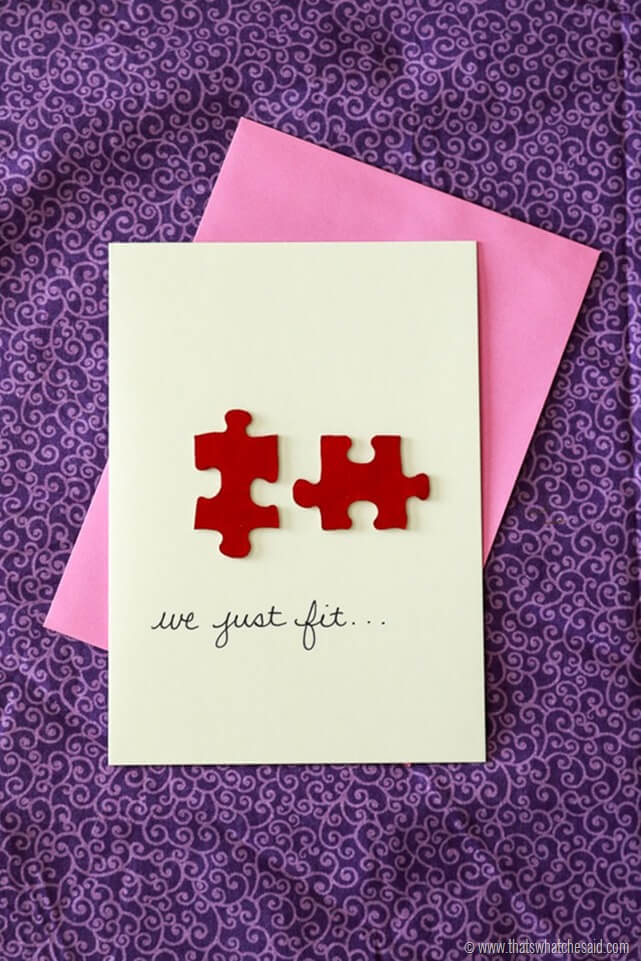 Ever heard the phrase, "You're the missing piece to my puzzle"? This card plays on that notion by painting two puzzle pieces. It's simple, but gets the romantic point across!
Ladybug and Bumble Bee Valentine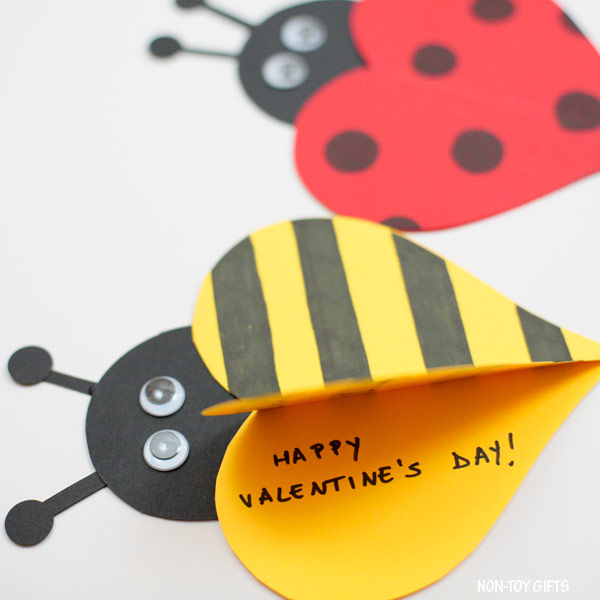 For me, Valentine's Day is a sentimental holiday that brings me back to my childhood. For that reason, I always welcome the cute and quirky types of Valentine's Day crafts like this handmade bug card. How adorable!
Heart Shaker Card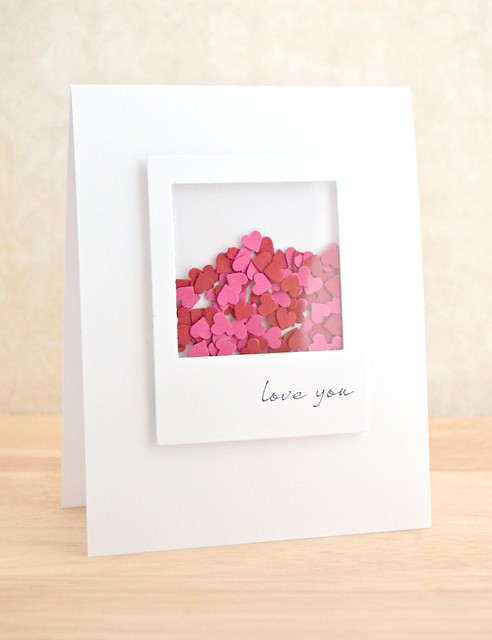 Minimalistic and experiential, this card features loose punch-out hearts in an enclosed clear envelope. You can shake the card to see the hearts move around!
Pop-up Valentine Card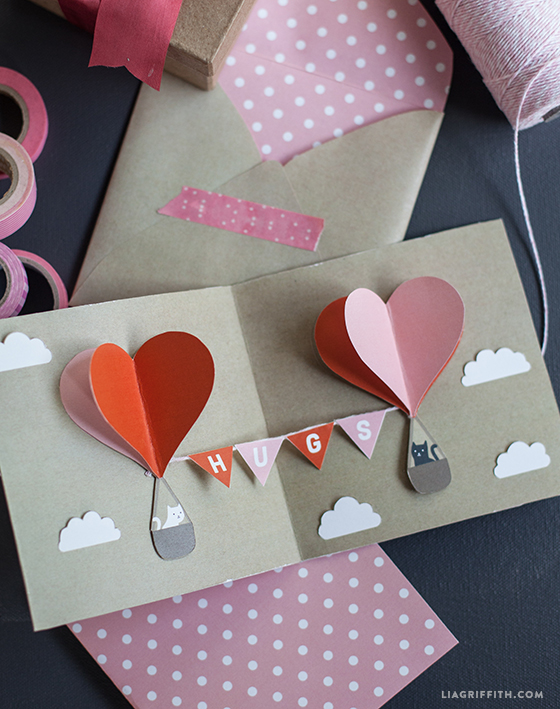 Want to really impress your Valentine this year? Try this super creative pop-up card, which features a number of cute elements: heart-shaped air balloons, cats, clouds and an amazing 'hugs' banner!
Heart Lollipop Valentine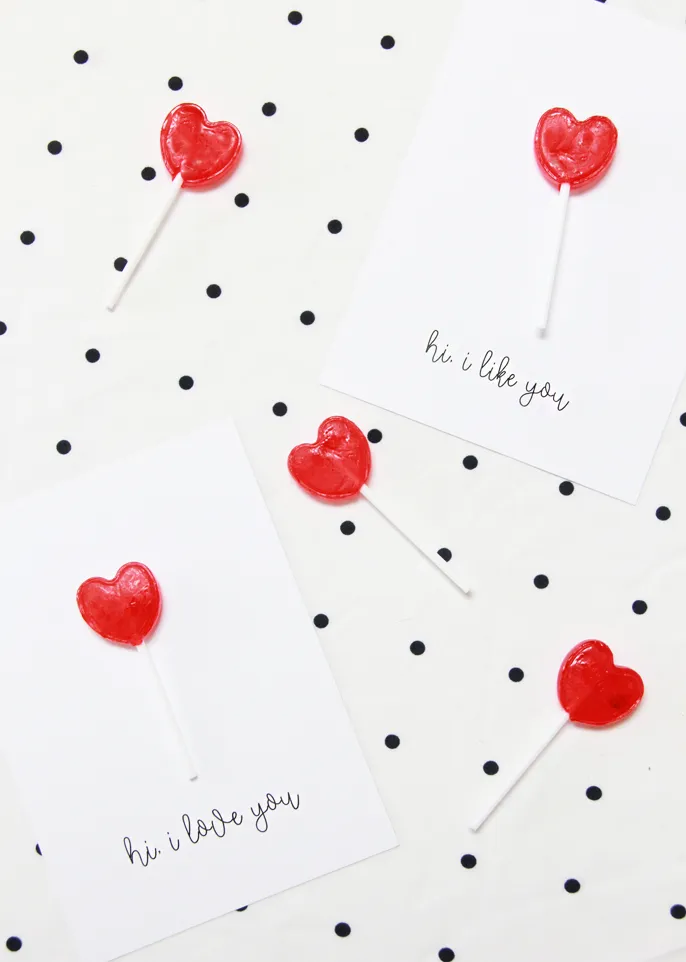 Here's a super easy DIY Valentine's Day card! Simply print out the free printable from A Bubbly Life and then grab a heart-shaped lollipop to add to the front of the card! Leave it in the wrapper if you'd actually like the lollipop to be consumed.
Egg Lovers 3D Valentine Card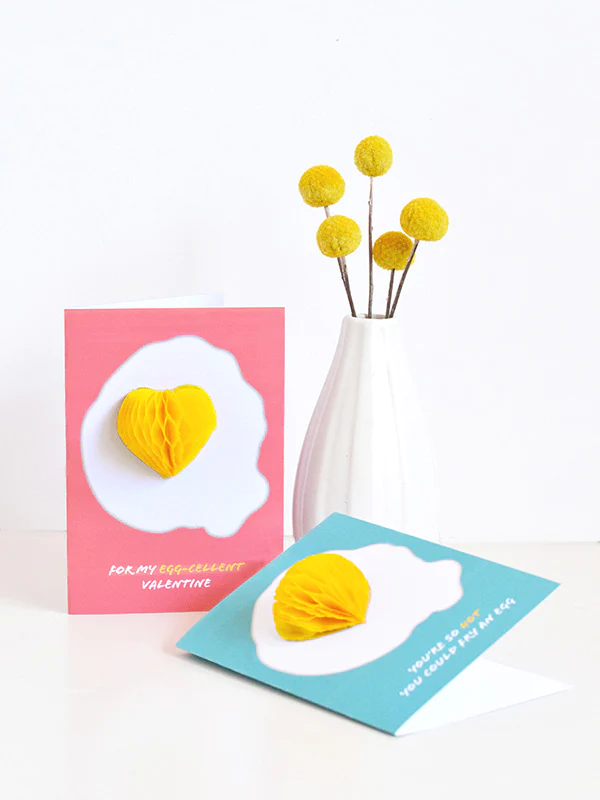 Here's A DIY card for the one who loves breakfast! In fact, this card is best paired with a breakfast in bed for your lover. The craft uses a printable (supplied on Make and Tell) and a honeycomb ball for a 3D effect.
Heart Garland Valentine's Day Card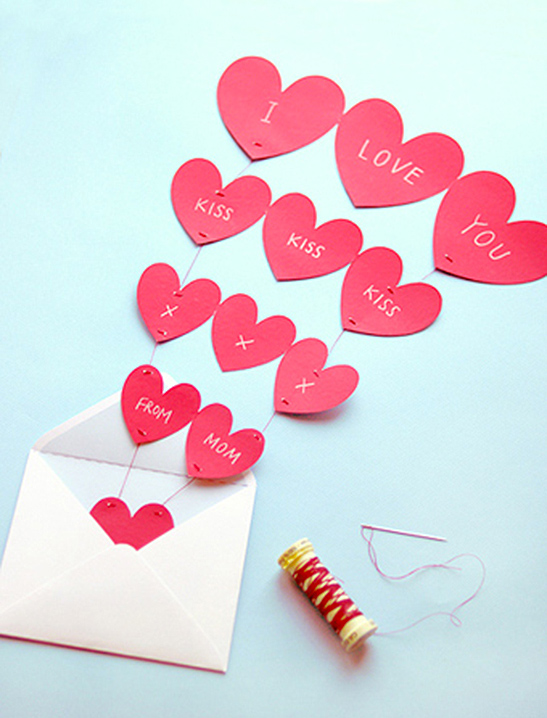 Talk about a WOW factor! For this unconventional card, simple create a string of heart messages together and lay them carefully into an envelope. Your loved one will open the envelope and reveal the message as they pull out the first row of hearts.
Heart Spinner Valentine's Day Card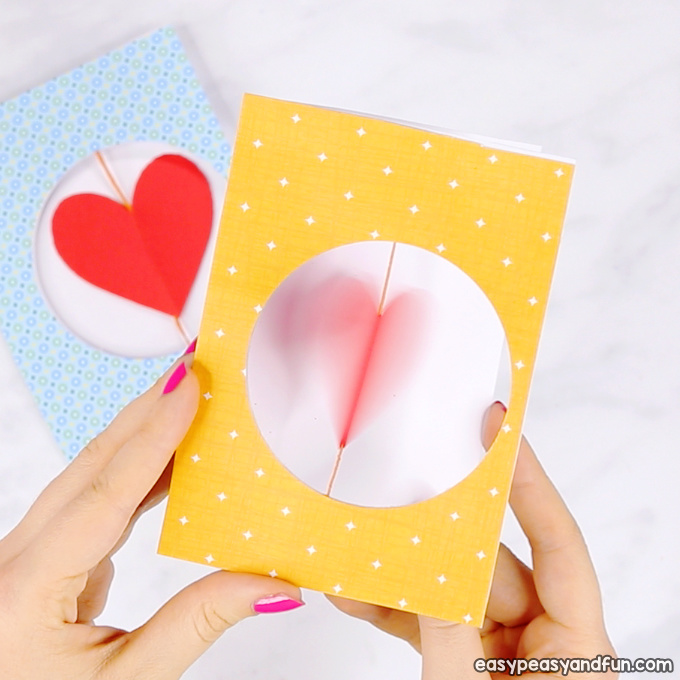 Here's another idea for a more experiential card! Simple adhere a string to a heart cutout to create this fun heart spinner card that will definitely be appreciated for thoughtfulness and creativity.
Simple Watercolour Floral Wreath Card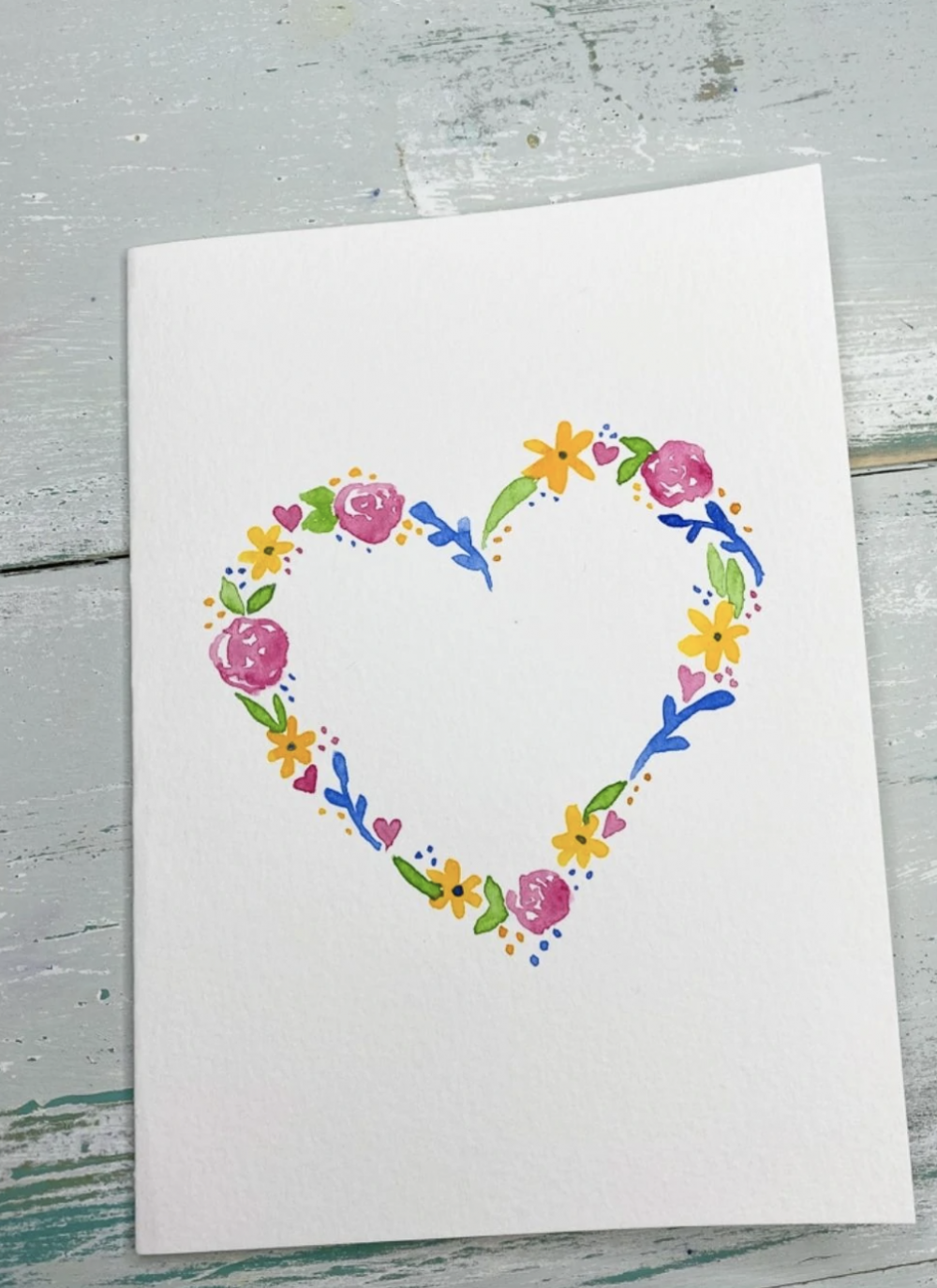 We absolutely love our watercolour painting around here! Watercolour is the best way to paint simple yet stunning cards for any occasion – and this floral wreath for Valentine's Day is no exception.
DIY 3D Valentine's Day Card Idea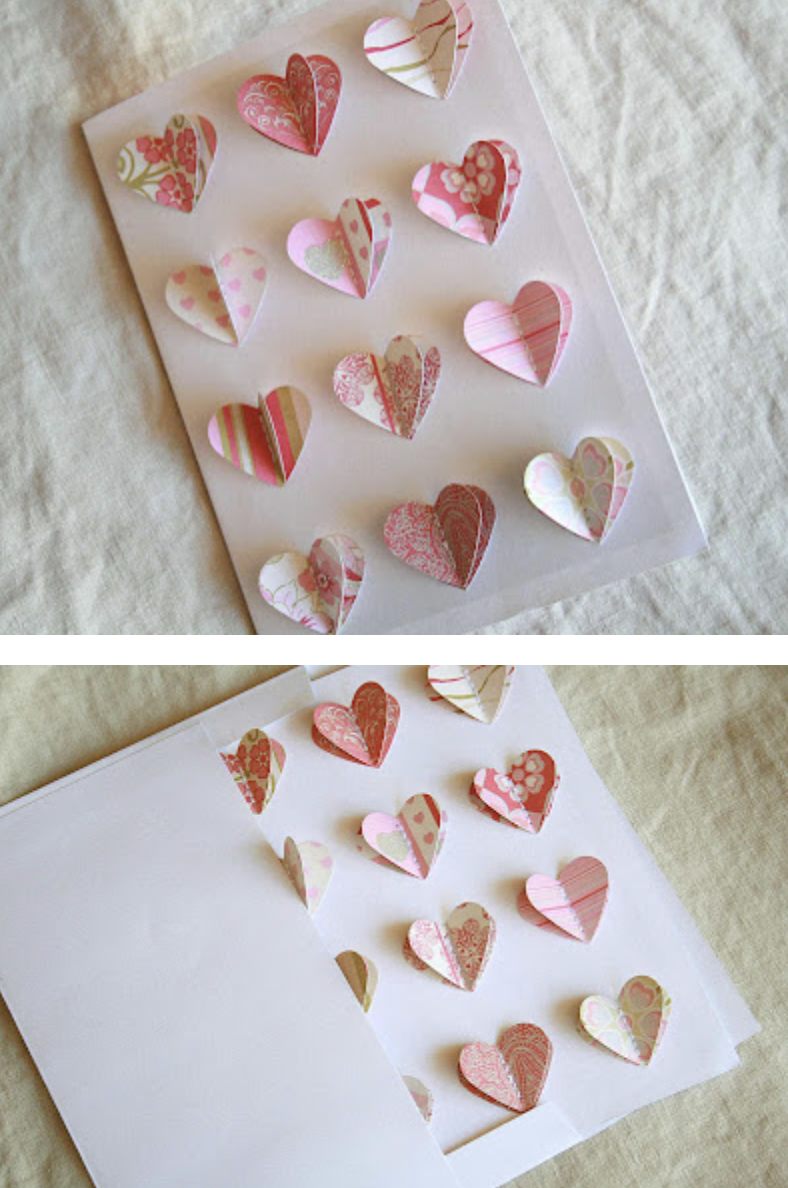 Use up those pink, white and red pages from your scrapbooking paper collection and creative this simple yet impressive 3D heart card! You can mix and match patterns for a crafty and homestyle look.
Paper Rose Valentine's Day Card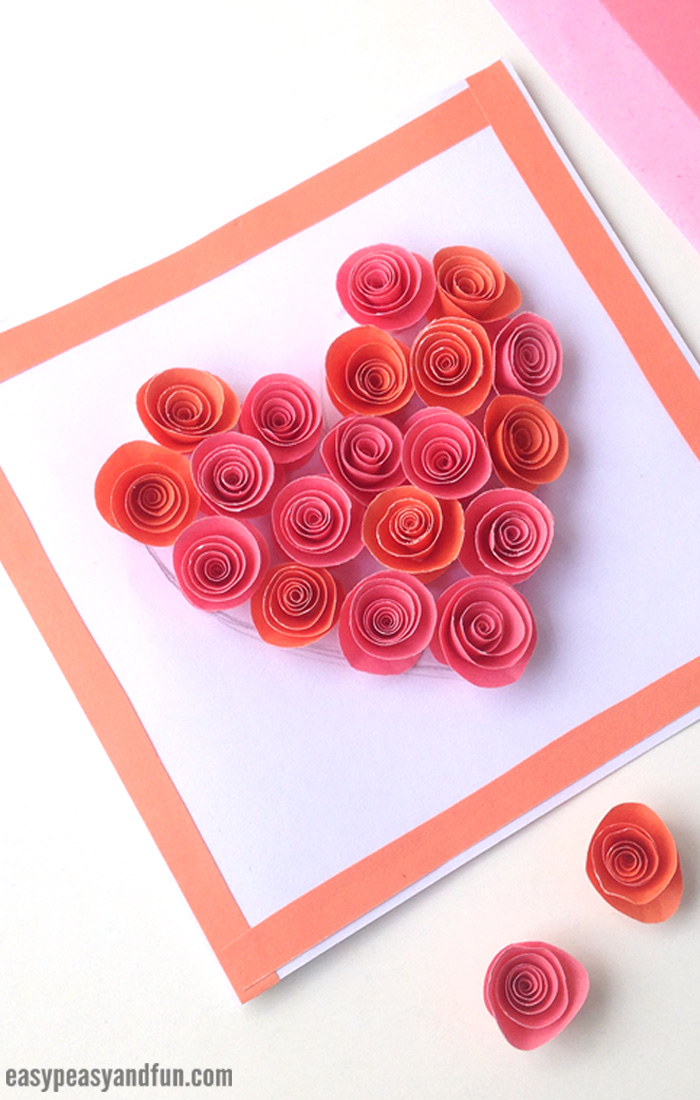 This is the perfect card to accompany a dozen roses! The paper craft is easy to do and will leave you with a gorgeous card your boyfriend or girlfriend will hang onto.
Watercolour Love Potion Perfume Card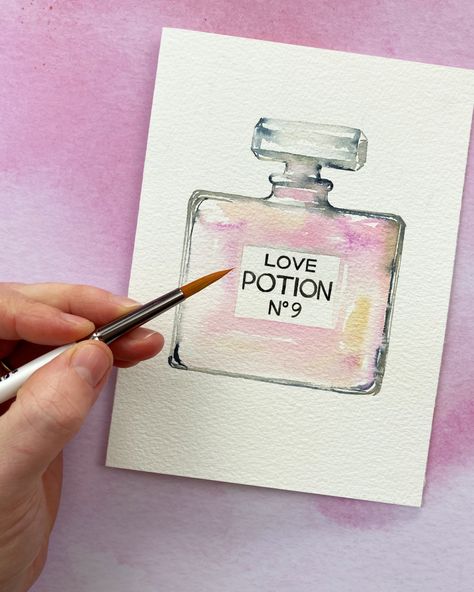 Here's yet another creative watercolour idea, this time painting a "love potion no.9", which plays on the iconic Chanel perfume with cute Valentine's Day flair.
Tea Themed Valentine's Day Card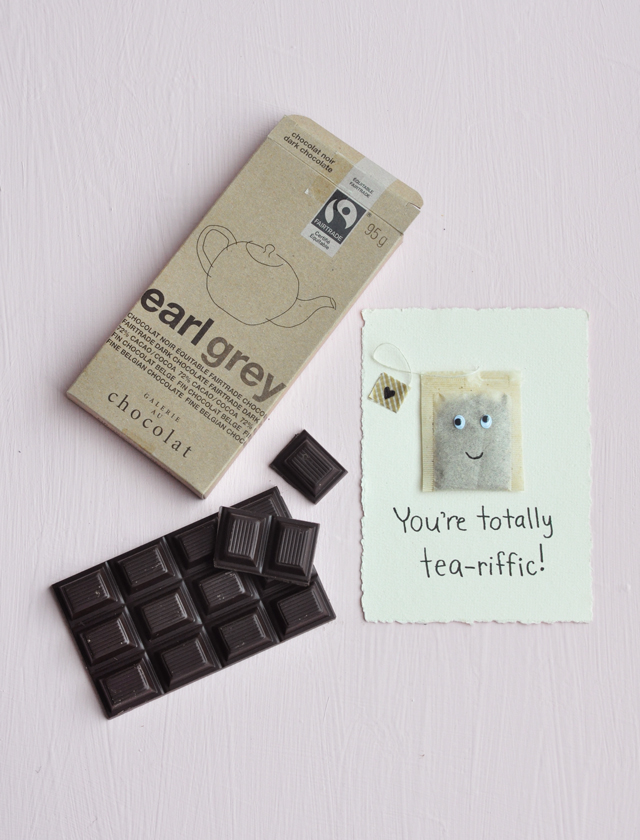 This simple card is sure to bring a smile to the tea enthusiast in your life. Who wouldn't love that little tea buddy?!
Cut-out Heart Valentine's Day Card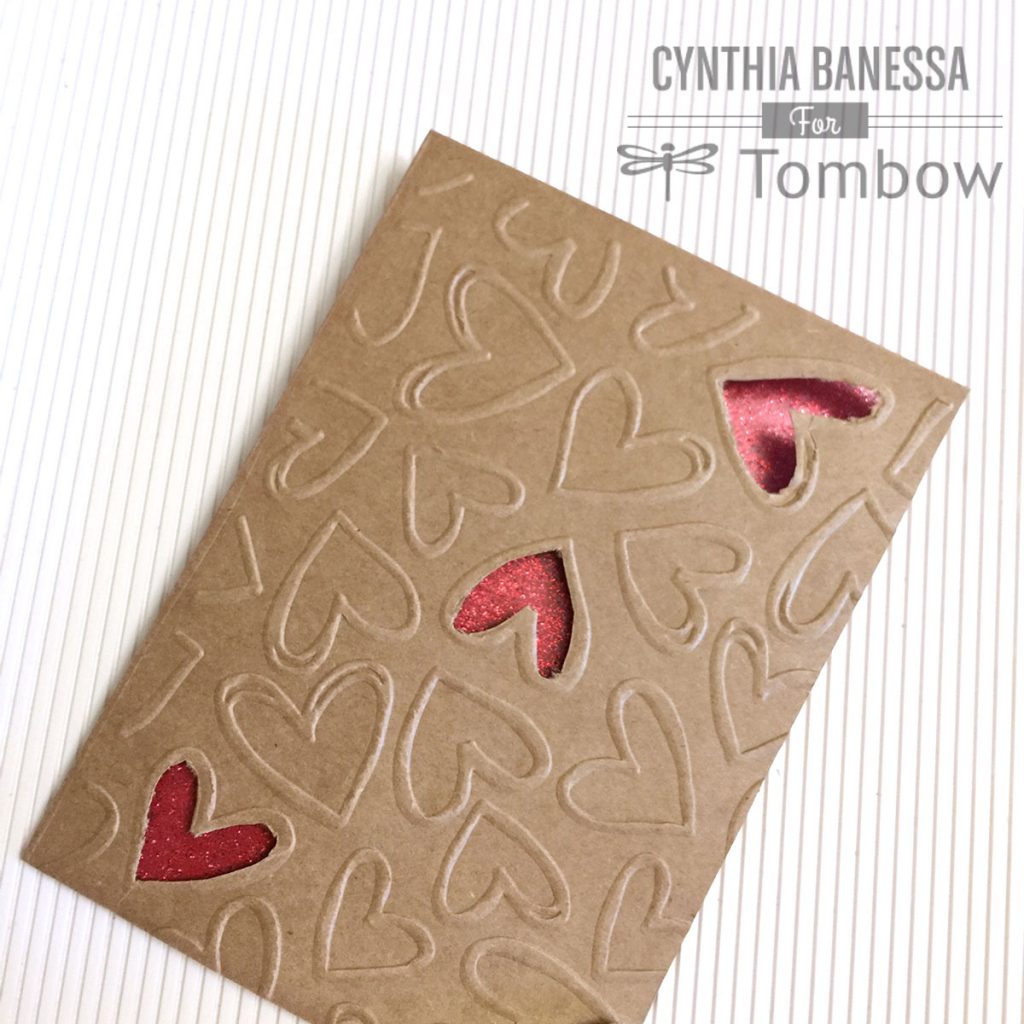 Described as being more rustic than frilly, this craft paper, cut-out card could be a good option for the person in your life who's not overly enthused about the typical Valentine's Day aesthetic.
XOXO Valentine's Day Card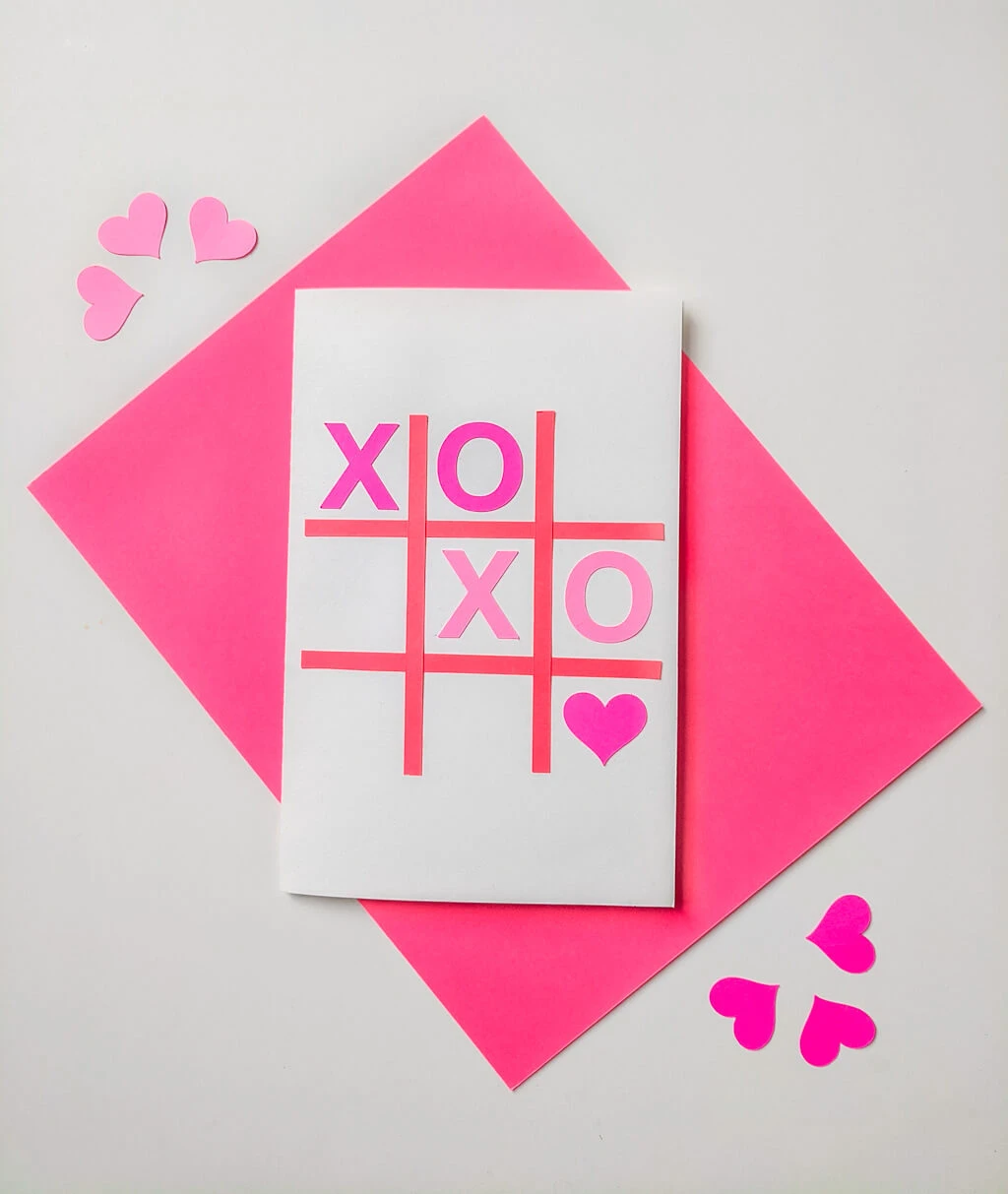 This is one simple DIY Valentine's Day card design that really POPS! All you need to make this card is some colourful paper, a pair of scissors, and the free printable from Merriment Design.
Heart Silhouette Card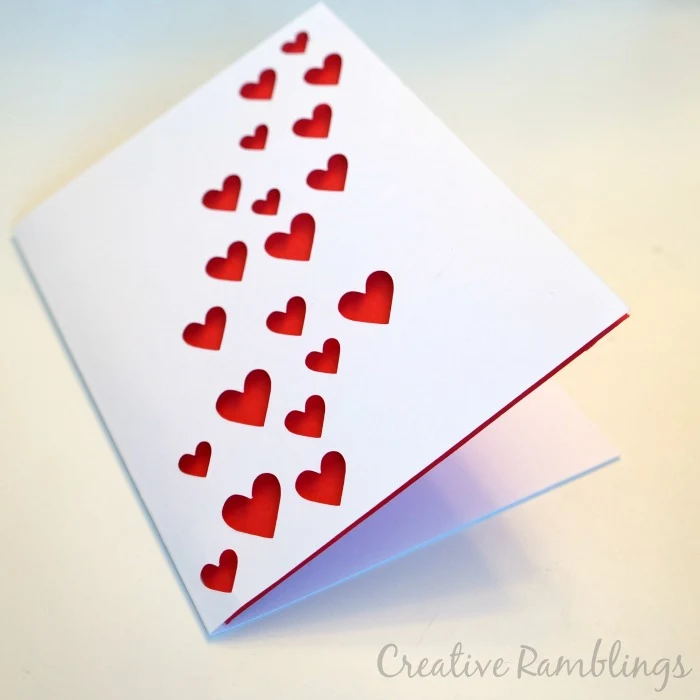 This project uses a Silhouette machine, but you could also use a heart shape punch-out tool as well. By layering red and white paper, the cut-outs show through as red hearts.
Sunset Heart Valentine's Day Card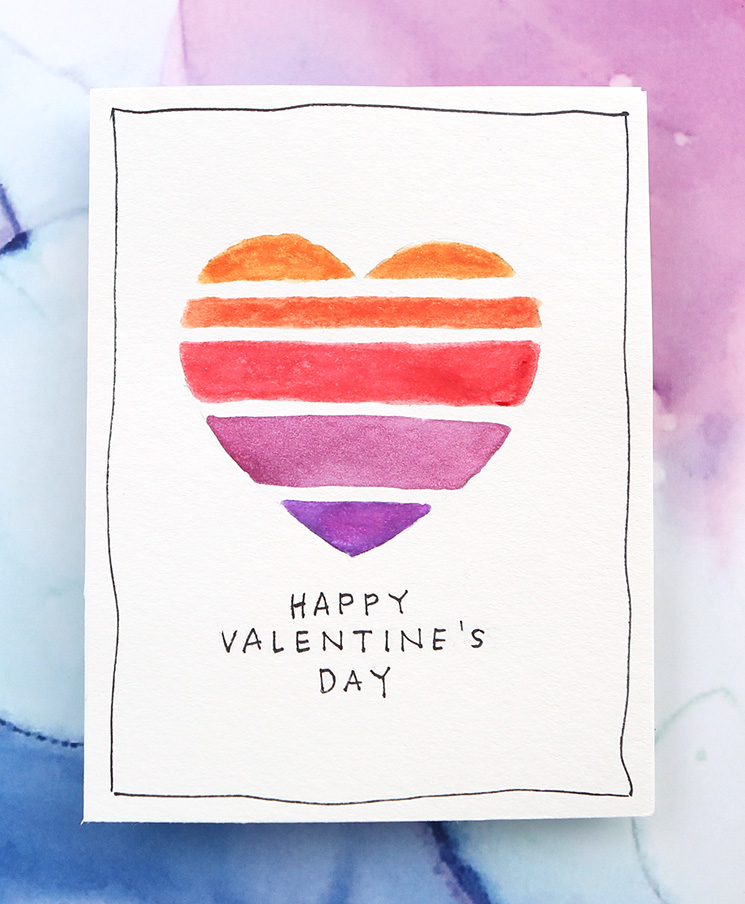 Capture the romance of a beautiful sunset with this colourful card idea. The card uses watercolour paint to create a gorgeous ombre of colour.
Alcohol Ink Valentine's Day Card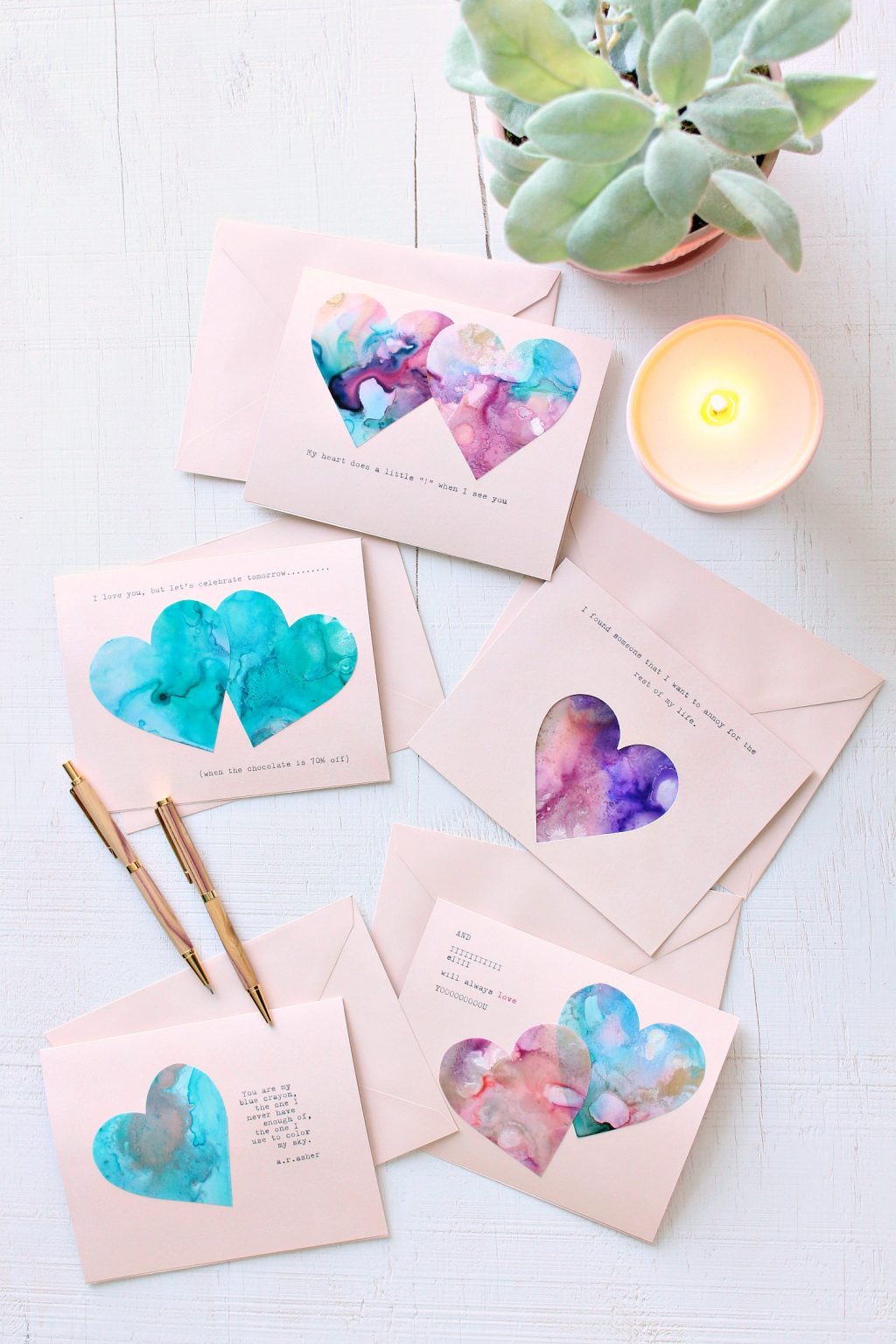 Want to experiment with a different or new medium for your Valentine's Day cards? These alcohol ink hearts create a marbled look for your hearts and is unlike anything you can buy in the store.
PIN THIS: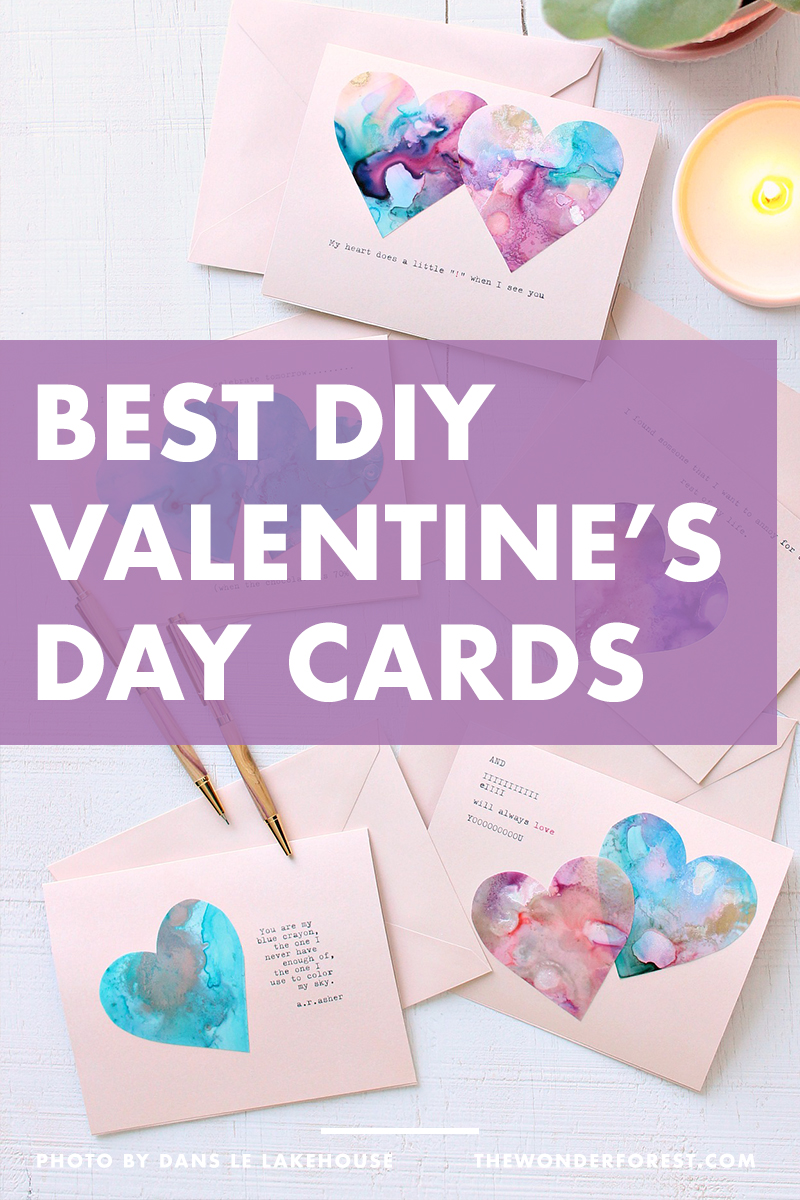 Last Updated on