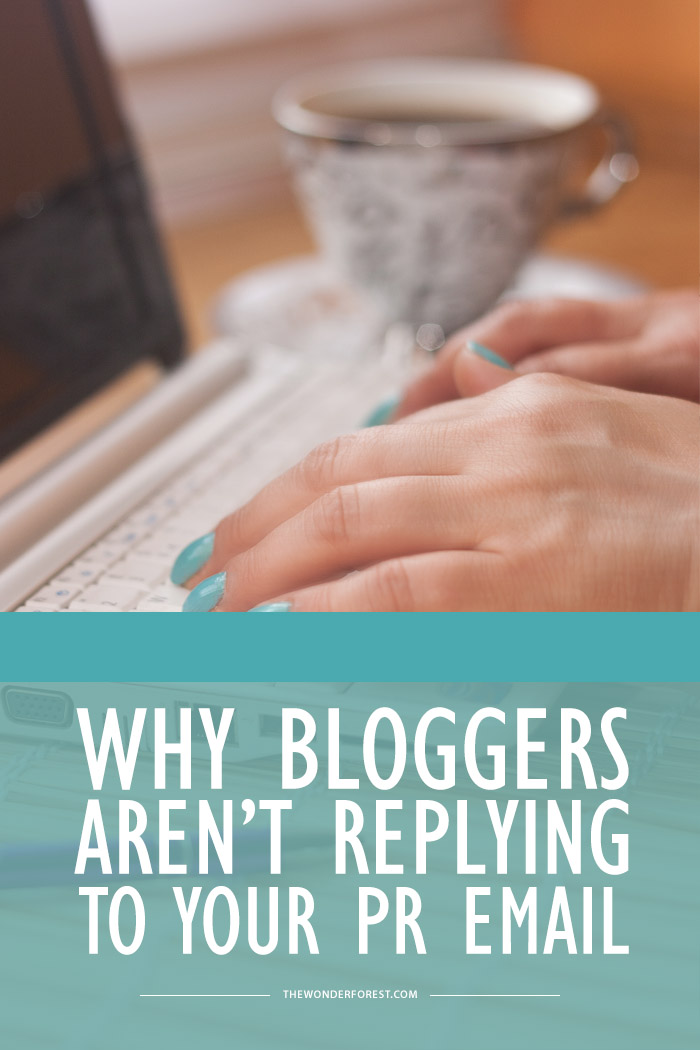 Since this blog has grown, so has my inbox. Literally every single day, I receive countless emails from companies and brands inquiring about working together. I love working with brands that align with the blog and vibe, but if I had to sit here and reply to every single one of their letters, I would get nothing else done.  That's where that handy little "Delete" button comes in.
Over the years, I've learned how to quickly scan these messages for red flags, an improper fit, and potential partnerships that I would actually like to work with. There are way too many businesses reaching out to bloggers and influencers the wrong way, and there are much more effective ways to go about it. If you are a brand or business, there could be numerous reasons that you are not receiving any responses…
I receive too many emails offering the same thing
This has to be number one for me, personally. Types of messages I receive just about every day are from companies trying to pitch their ad networks or telling me that my ad revenue could be improved.  Others are offers from overseas based clothing companies who want to send me free clothes to post about. The point being, there is no uniqueness to the type of service or product they are offering and there are hundreds (if not thousands) of other businesses doing the exact same thing. Be unique and creative and then we can talk.
The email doesn't offer me anything in return
I understand the desire to get a product or business featured on a website. It can boost your sales and brand awareness!  However, if it doesn't offer me anything in return (in forms of equal opportunity, publicity, or payment), I can't dedicate my time to learning about the business and posting something. Your pitch needs to benefit the blogger in one way or another, and should be based on their own audience reach and amount of promo you'd receive.
Too long, didn't read
With an inbox full of requests and other business related messages, I, like many other bloggers, simply do not have the time to read through a 1000 word email and respond. Get to the point quickly so I know what you are pitching within the first paragraph.
I have no idea what you are trying to pitch
This honestly happens more times than it should.  I sit down and read an email from a company and by the time I get to the end, I still have no idea what they are trying to pitch.  The message isn't clear on what they're trying to offer or how they want to work together.  Making sure that you're clear about your intentions could save you from the recycling bin.
Too much work for little to no pay
Believe it or not, blogging is a business too! (shocking, I know!)  Many bloggers expect to be paid for their hard work, time, and promotional efforts. I've had companies offer me $5 for a review of their product.  I've had clothing sites ask me to Pin stuff for them "just because".  I could write a whole other post on how a blogger's time equals money and all of the work that goes into creating a post, snapping photos, promoting it, etc. etc.  An offer (especially directed at a successful blogger who earns their income from blogging) needs to be fair, and all it takes is a little research to figure out if you're willing to budget for their time.
The brand doesn't align with my blog
It's easy to tell when someone hasn't done their homework. If a company who sells auto parts contacts me about working together, it's also easy to hit that Delete button. Any time you pitch something to a blogger, be sure that you've researched their site, their demographic, the type of content they post, and whether or not you can form a mutually beneficial relationship.  If you don't align, don't hit Send.
See also: Why Saying No is Necessary
You didn't provide all info in one email
I understand the intention of trying to "poke" me and see if I'm interested in working with you before you provide details, but it's probably not the best way to go about things. With a number of requests from other brands, you want to make sure that your email provides ALL necessary info up front.  Chances are, many bloggers will not take the time to hit reply and ask what it is you're pitching or call you to discuss things further. 
I don't want to sign up for your affiliate program
Many times, instead of a flat rate payment, companies will urge you to sign up for their affiliate program to earn money from a post about their product.  The problem with this is that there are so many extra steps to take to have to do this. Personally, I only promote affiliate links of products and services that I honestly recommend and have my own affiliate and ad networks that I favour (Amazon, CJ, Adsense, etc.)  Most of the time, doing work as an affiliate means spending even MORE time promoting and trying to make sales for the company. If the company is something that I already do like or recommend and is a member of the affiliate networks I already use, it makes things a little easier.
See also: How to Make Affiliate Programs Work For You
You're a little too persistent
I don't mind receiving a follow-up email asking if I received the initial email. Honestly, sometimes the first email gets buried and might actually be something I am interested in. But when you send 4-5 follow-up emails, it's time to chill out a bit.  If a blogger hasn't responded to you after your first follow-up email, you should probably write them off as not interested. Perhaps your message fell into one of the above categories and you need to change how you do things in the future. If a blogger is interested, they WILL get back to you.
You're only after some free SEO
Wonder Forest accepts posts from anyone, however the amount of posts we actually receive from companies trying to get some free publicity is a little nuts. I'm sure you other bloggers have received messages asking to have pre-written articles published on your site with "dofollow" links included. The reason that companies want to provide written content for your blog is to benefit their own website. The links back to their site will count as back-links, which is a big factor in determining how Google ranks them in search. Since I'm not a newb, I know how the internet works and why businesses are so eager to have something published on this blog. While you may get some free and decent content for your readers, the business is actually the one who is benefiting and they know this.
So, if you have a brand or business, think about your email pitches the next time you start sending them out!  They should be straight-forward and to the point, offer something beneficial to the blogger that is equal to the amount of promotion you'd receive, not take extreme amounts of work for the site owner to complete, and align well with their site and demographic.  If you focus on these things, you'll not only get more replies, you'll actually form partnerships with one another, and that is really what you want, right? 😉
New to blogging? See also: How To Start a Lifestyle Blog
Last Updated on