If you're looking up at a big empty wall thinking of how you can fill the space, then look no further. A gallery wall? Maybe a decorative mirror? Why not transform your space by introducing some texture and a bohemian style into your home with woven wall hangings? 
This trend has taken the world by storm, from woven baskets to shoes, to chairs, to lamps! You name it! The tactile nature of this fibre art can delicately soften a room and add an interest into any space.
Not only are these wall hangings stylish and easy to make but they can be personalized to your specific aesthetic and preferences by weaving different materials to achieve your desired effect.
Different Thicknesses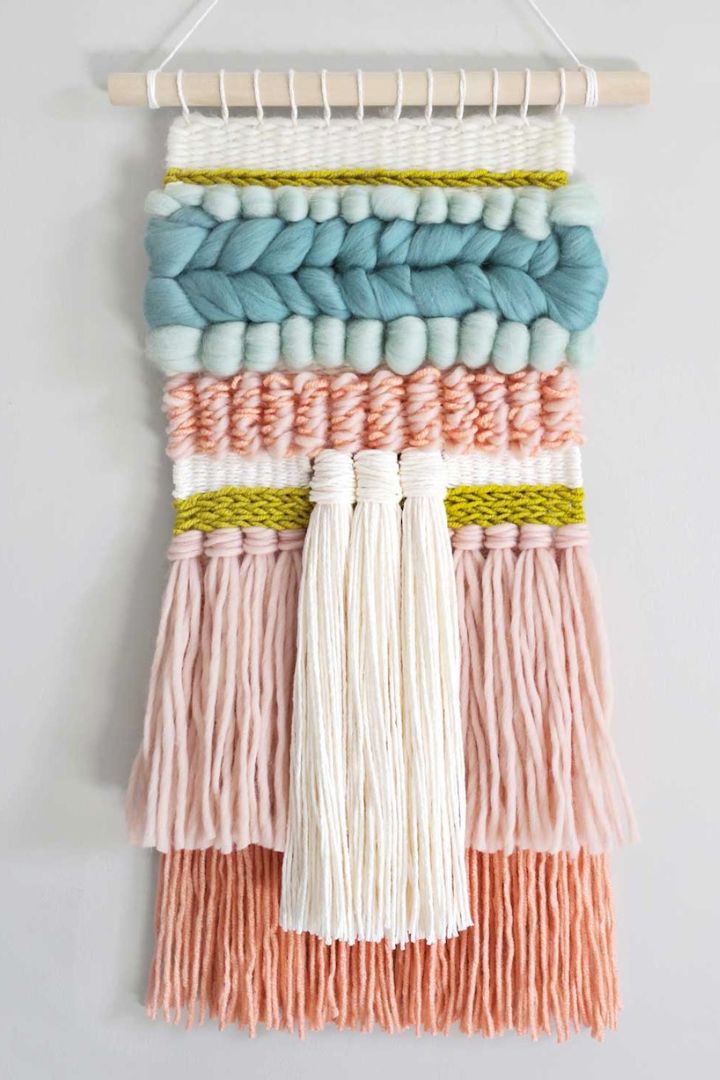 To build character and depth in your wall hanging, experiment with different thickness of your chosen fibre – here they've used wool. Notice how this wall hanging begins with a thin white wool and gradually transitions into a chunky blue wool towards the centre, drawing attention.
Utilize Tassels in Your Wall Hangings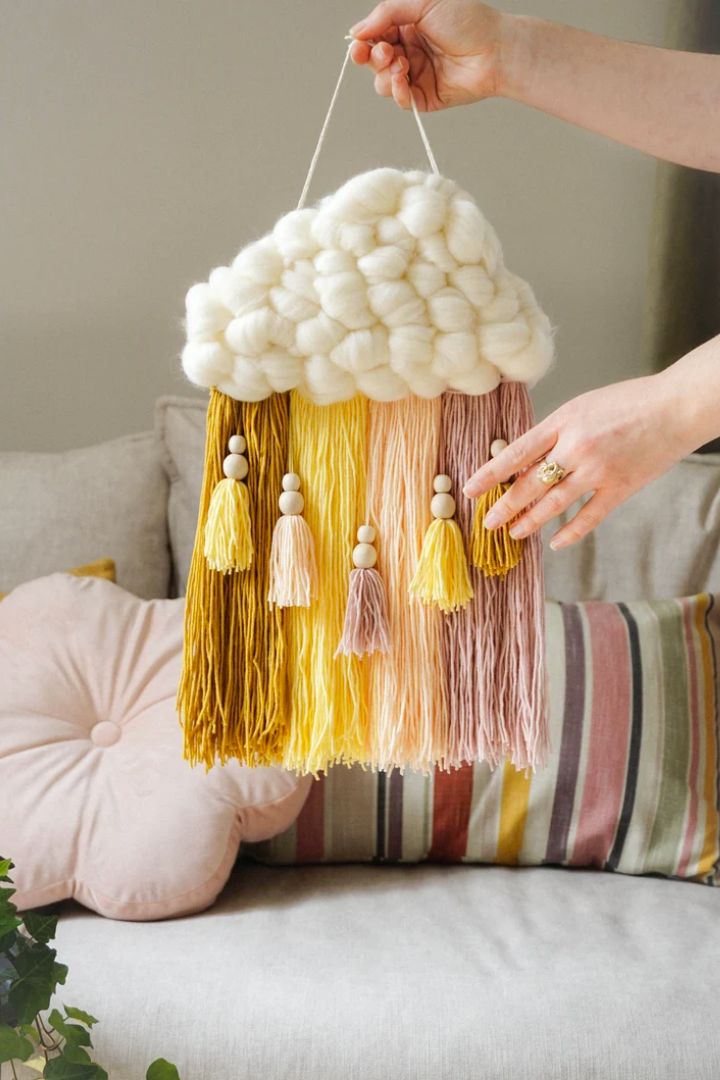 Create fluffy clouds by weaving thick cotton wool as a base and elevate your piece with colourful tassels! We love how Margaret has layered tassels on tassels of different colours and defined them with wooden beads. Tassels are an easy addition and create a huge impact!
Macrame Knotting Wall Hanging Idea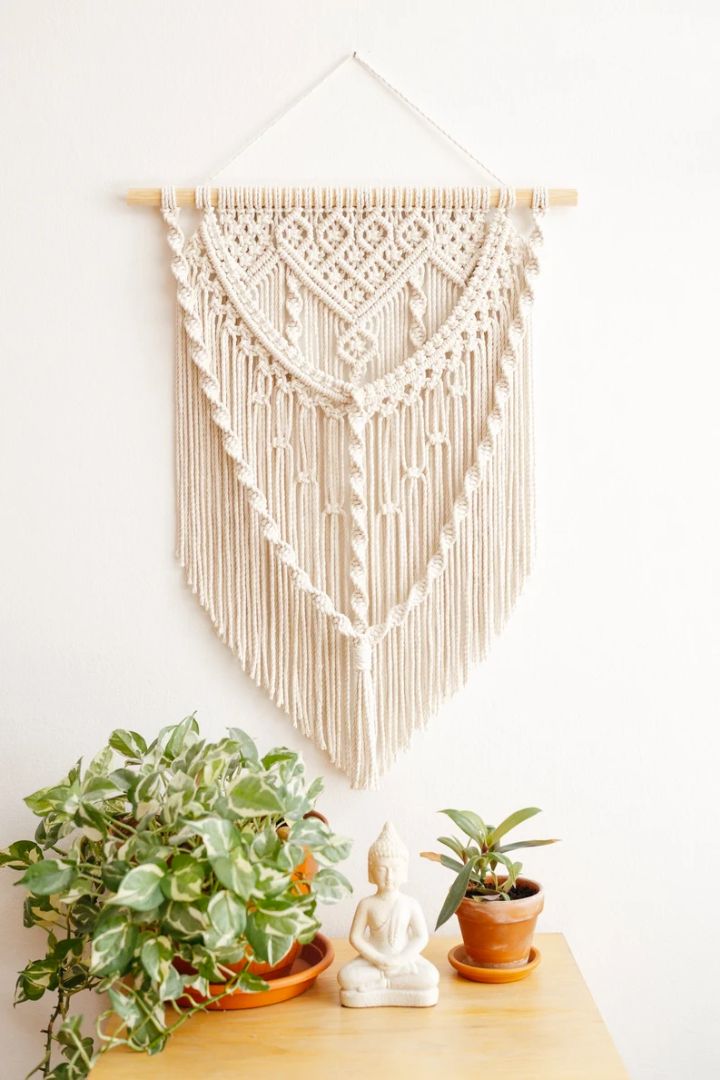 Macrame is the perfect way to introduce a neutral texture and movement into your space by using thick cotton cord. Don't be fooled by the simple palette because the intricate designs and patterns speak for themselves! This is a really easy DIY project that gives a wow-factor and could fit into any space.
Flat Weave Wall Hangings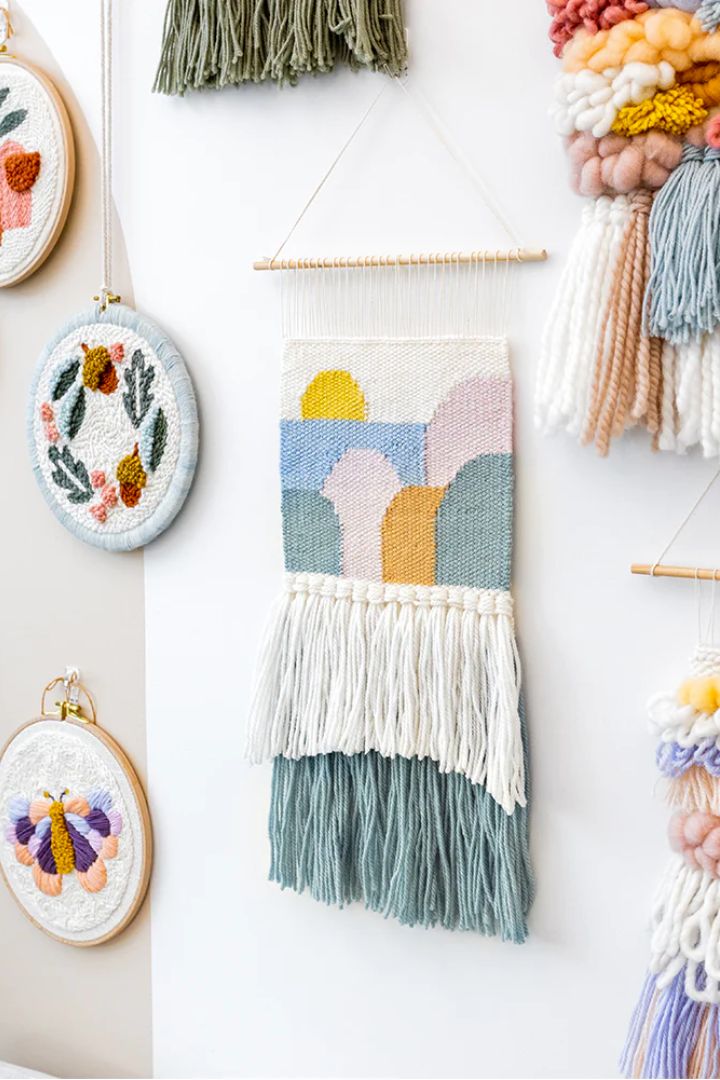 A flat weave wall hanging is growing popular for its practicality and durability. It is tightly woven together which means you can create clear and concise patterns. We love the addition of loose tassels to create dimension and volume! If you're not up for a DIY project, a clever hack is to start with a small patterned flat weave rug, add your own embellishments and hang it as you like!
Macrame Hanging Shelf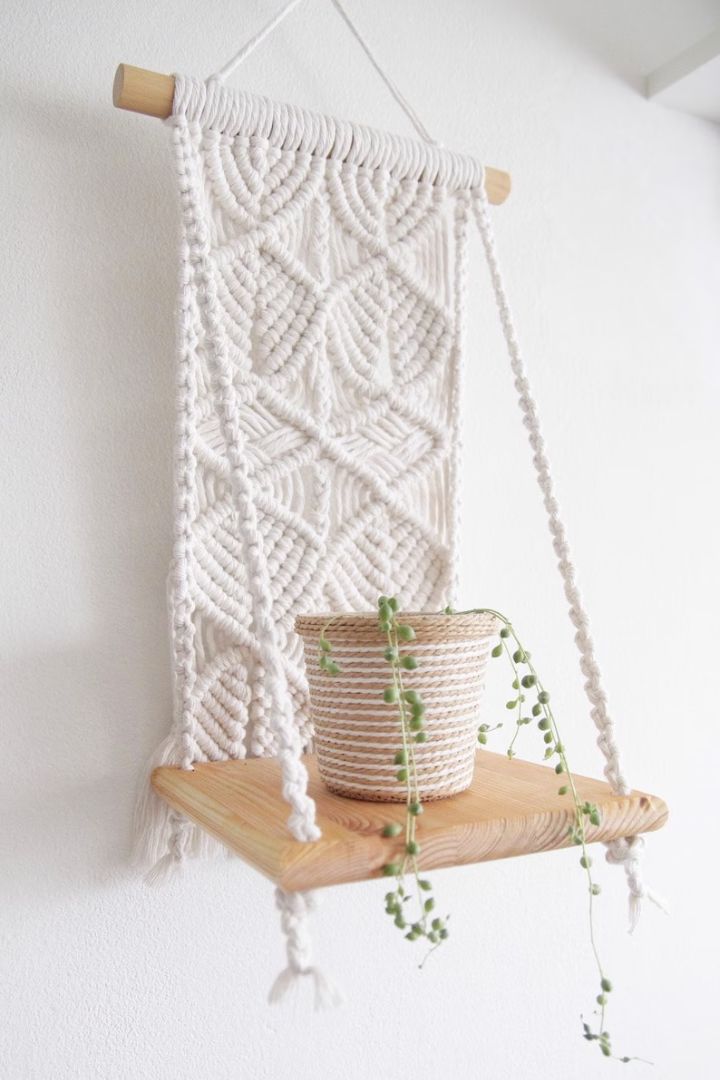 Wall hangings are not limited to decoration only – why not use it as a decorative way to hold a small shelf or create a pocket to hold magazines. Form and function weaved into one! Using a continuous pattern and monochrome colour palette here directs focus to the shelf yet still adds a soft texture to the space.
Simple and Modern Wall Decoration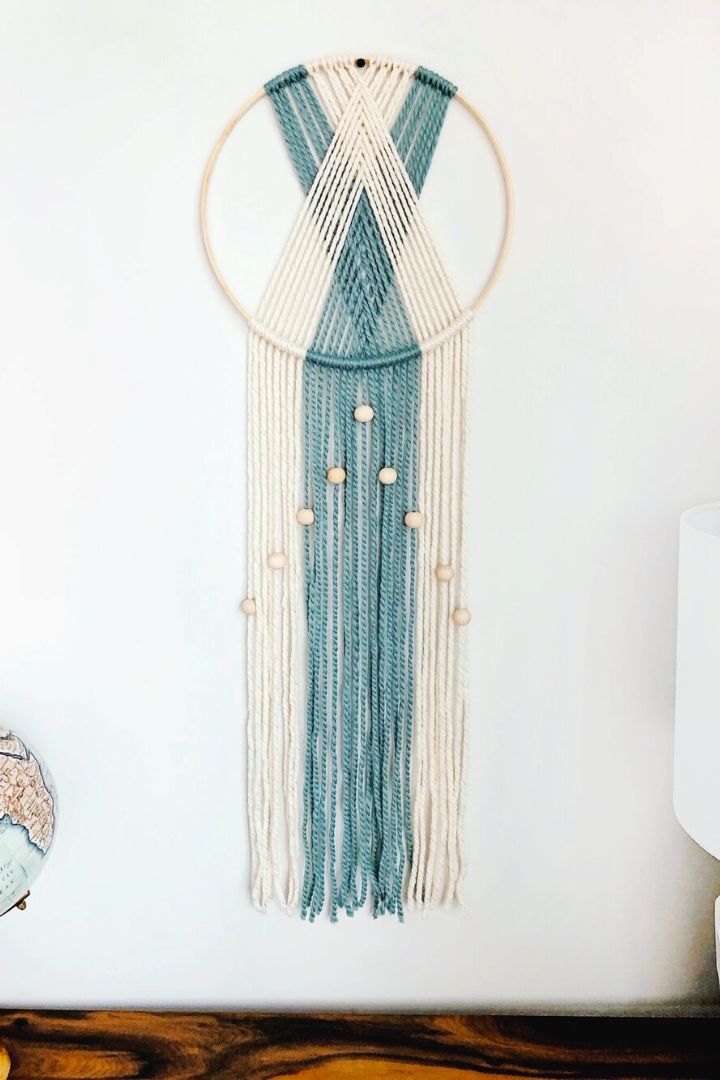 Go modern and sleek with this simple woven wall hanging using a wooden hoop. The focus of this piece revolves around the duality of the taut woven yarn in the wooden hoop against the yarn that effortlessly drapes down. Go the extra mile and decorate with beads to add a point of interest.
3D Fibre Wall Art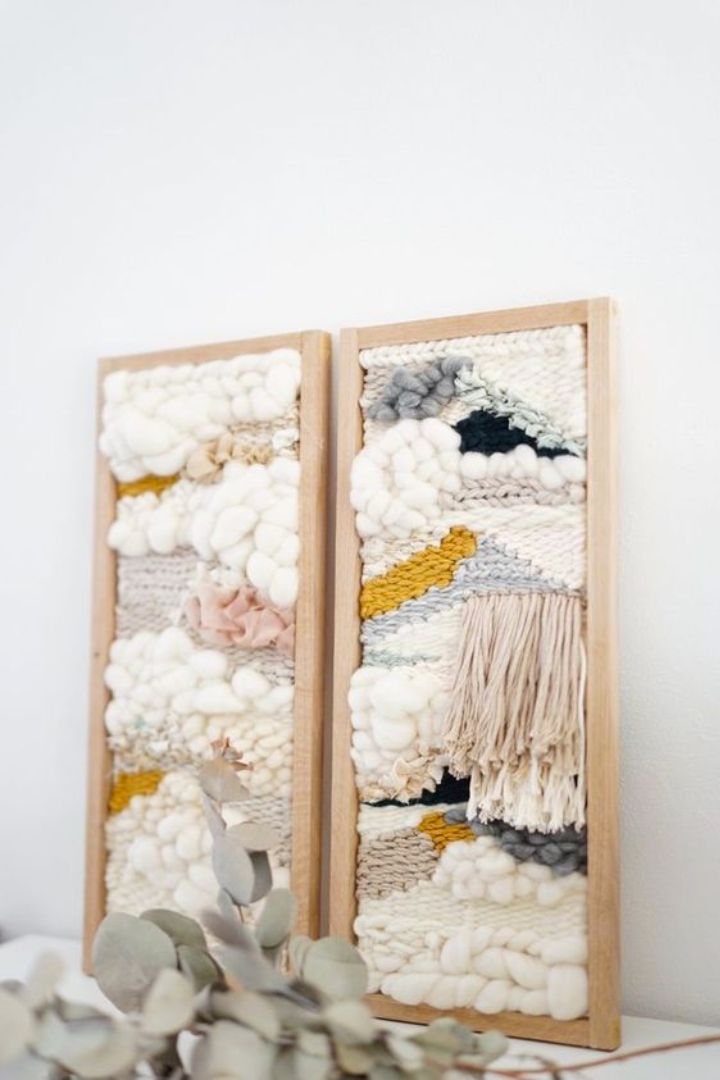 Who said hanging wall art had to be hung with a cotton cord? Why not frame it? We love this sculptural piece that uses a variety of different materials and textures to create a work of art! Leave out the glaze of your frame and make your work a tactile conversational piece!
Decorative Plates for Walls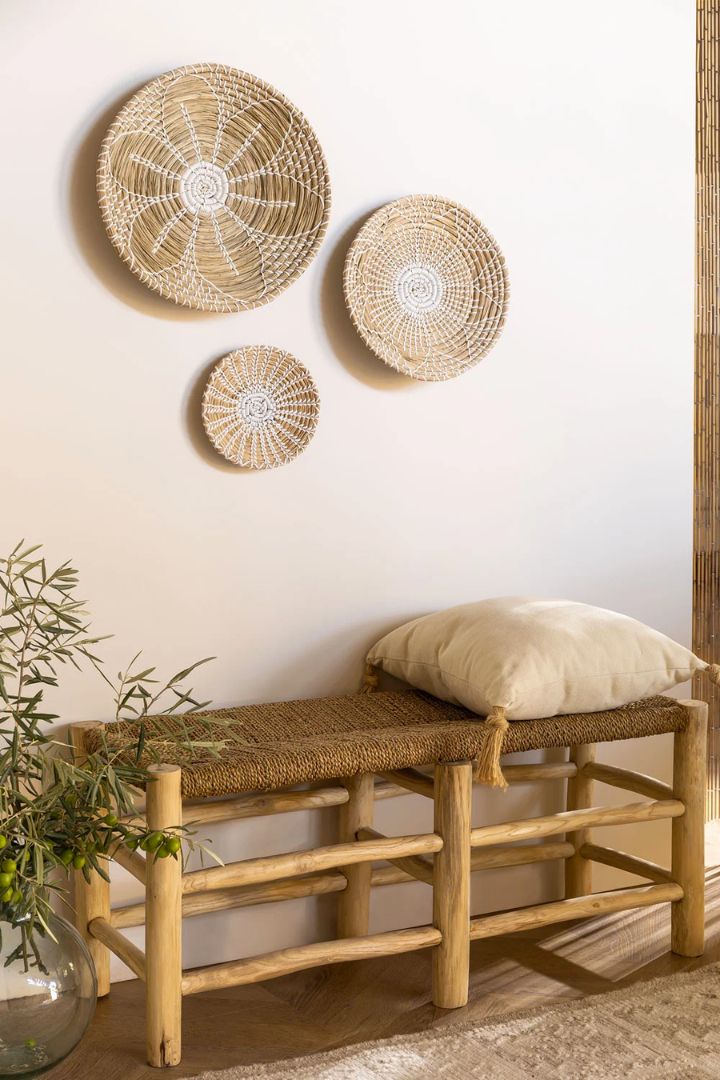 Don't limit yourself to a rectangular wall hanging – think outside the box! Decorative plates made of woven seagrass are all the rage recently. The chunky material makes a coarse and textured surface that immediately catches your attention- even a simple pattern appears striking.
Colourful Mosaic Tapestry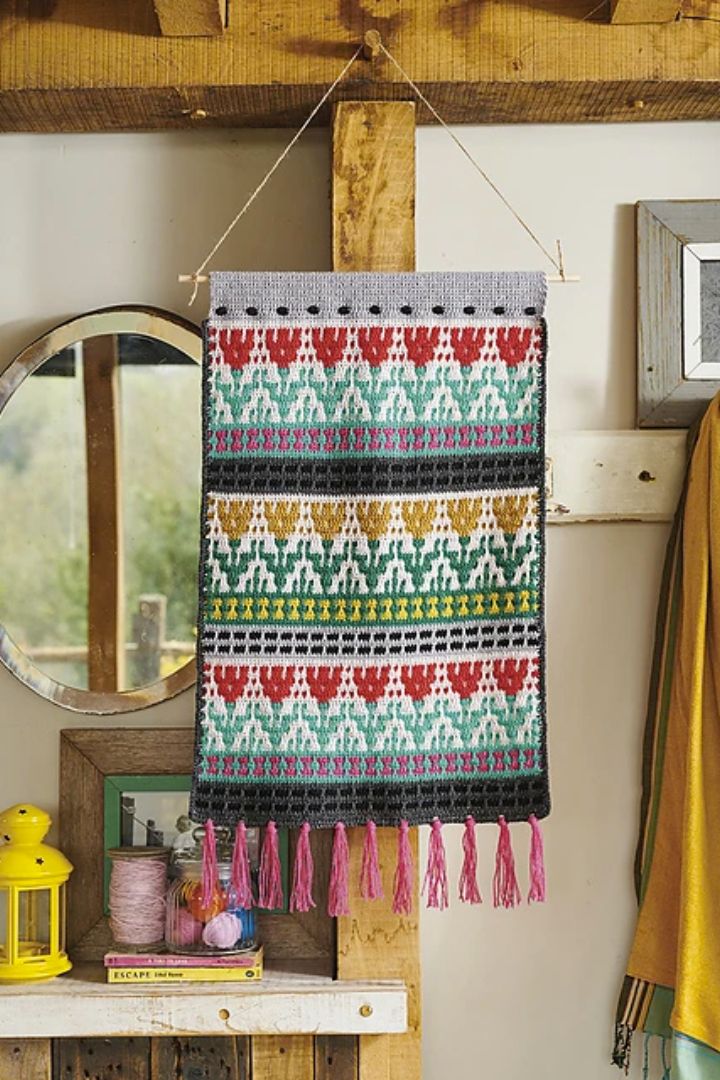 If neutral isn't your thing and you want to make a bold statement – check out this colourful mosaic-inspired wall hanging. The repeat pattern and retro colours are crocheted with vibrant colour blocks to produce a cottagecore dream!
Child-Friendly Cloud Wall Art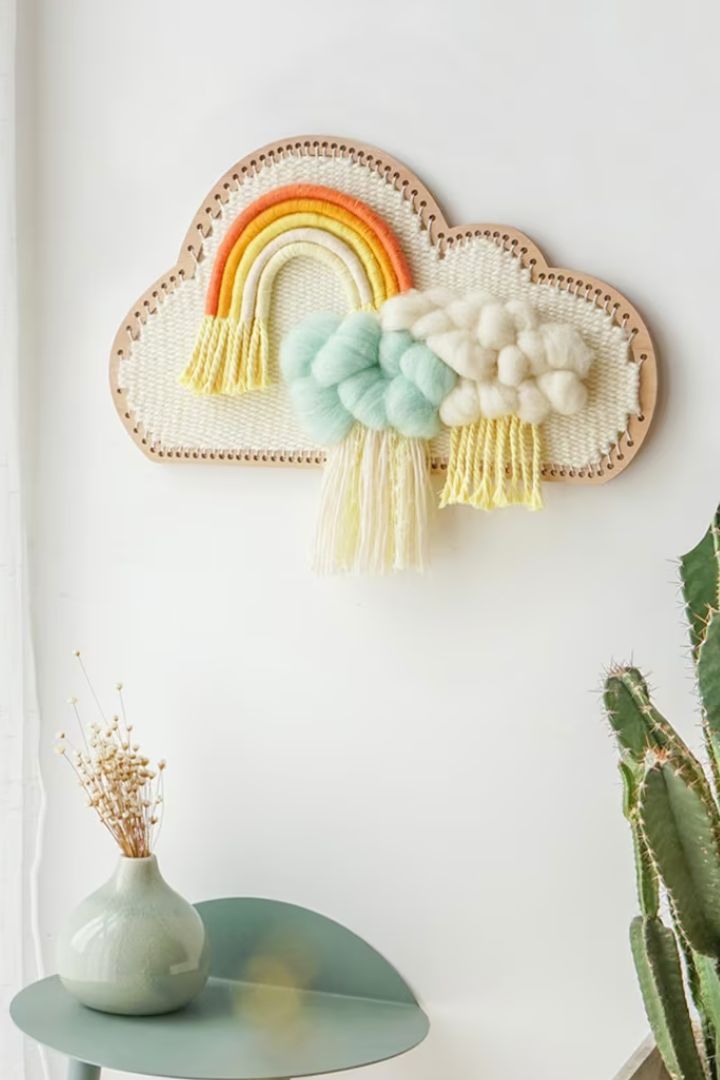 How about something for the nursery? Here's a child-friendly design that brings a pop of colour and fun into a room. Begin with a woven base in the wooden frame and add any design you want from there – this is a simple and less daunting way to begin fibre art!
Personalized Initial Woven Banner
Let's get personalizing with a custom initial! These are perfect for making your room feel like home or to make as a thoughtful gift for someone. This block letter with a drop shadow is easy to follow with your stitches but you can switch it up with a cursive letter or even a meaningful symbol!
Short Quotes Banner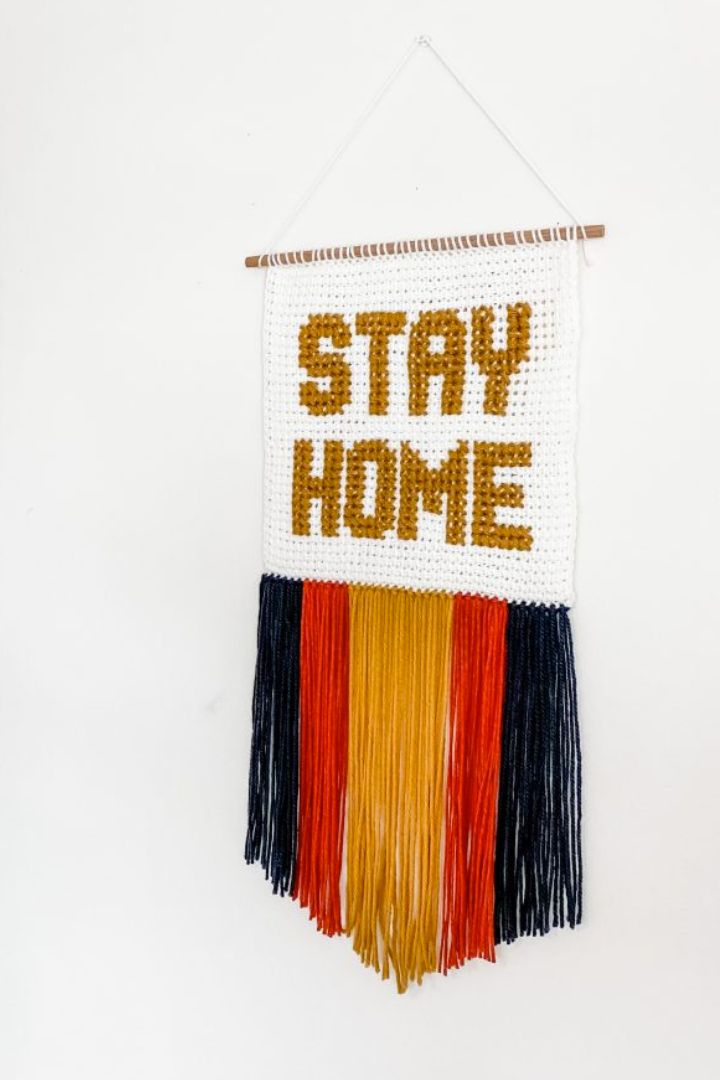 So you've mastered the personalized initial or you want to level up your wall hanging? How about a short quote? For all the home bodies – Toni uses a cross-stitch style here to create the words 'Stay Home' and finishes it off beautifully with a colourful tapered tassel. Simple but effective!
Floral Bouquet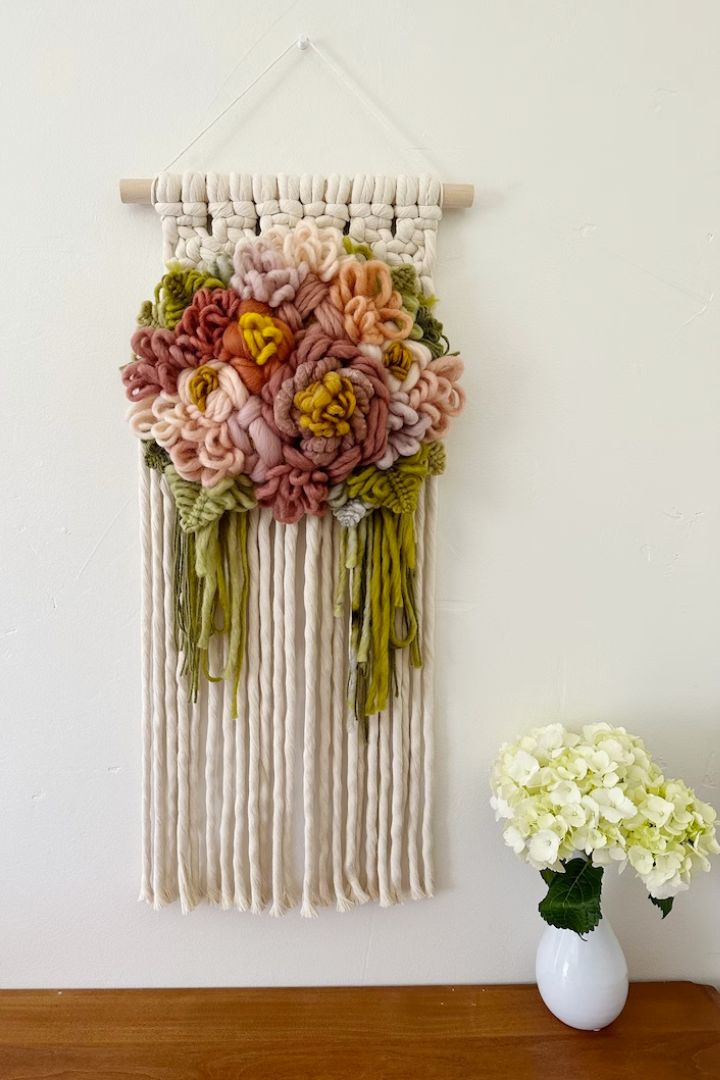 Flowers in your home are always a winner! These 3D flowers really pop off from the wall and create a lot of texture and movement that would live perfectly in an entryway or over a sideboard. Use a neutral background and go wild with your botanical designs to see the beautiful contrast.
Animal Kingdom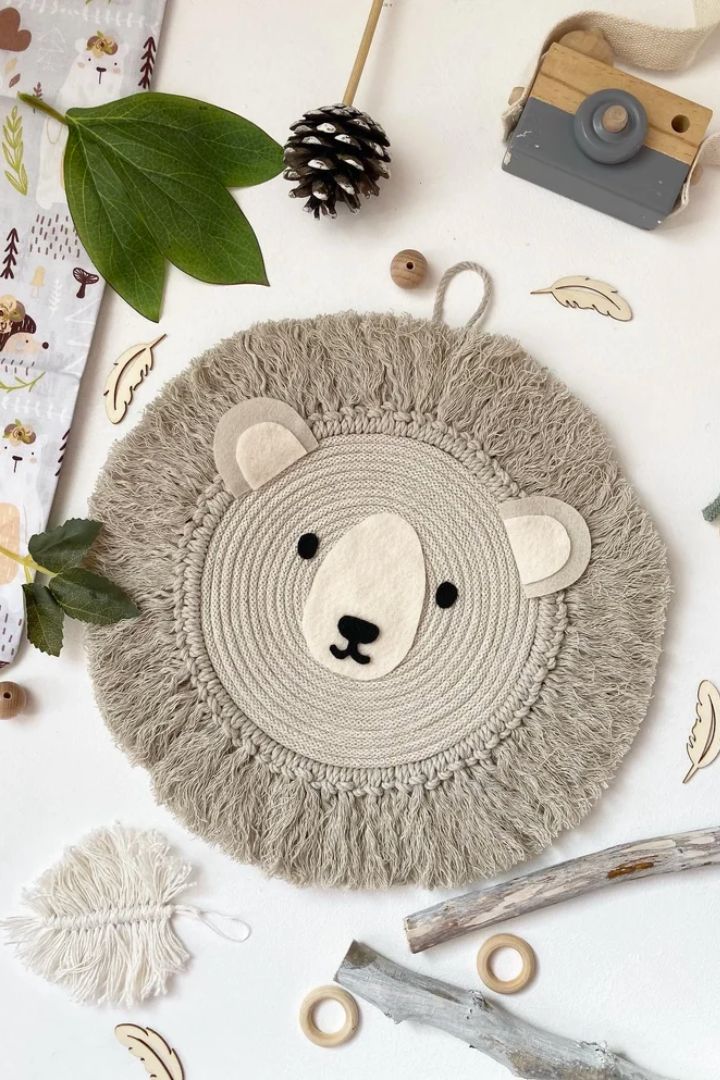 Explore the world of animals by beginning with a simple circular weave. All you need to do is attach your smaller details to suit your favourite animal (here they've used felt), add a loop to hook it onto your wall and voila! Pictured is an adorable bear design but simply swap your cord to orange for a lion or even black and white for a zebra.
Layers and Textures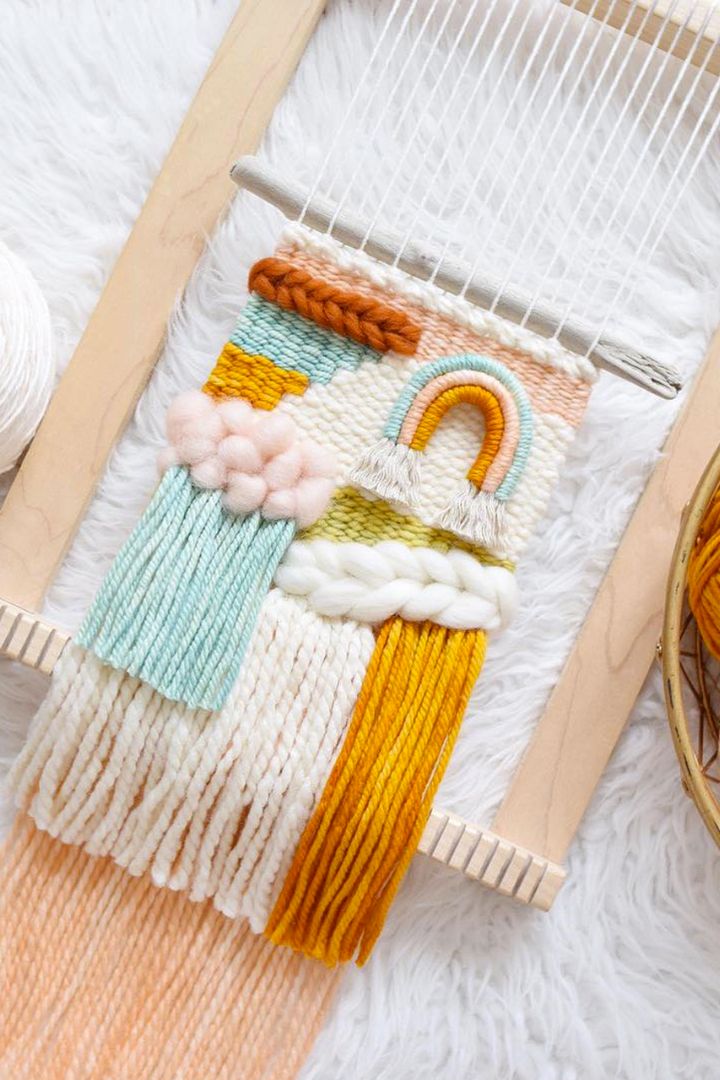 The opportunities for woven wall hangings are endless! Different yarn thicknesses? Check. Different weaving techniques? Check. Different colours and materials? Check. Let's layer them up and create the ultimate wall hanging full of texture and colour and fun!
PIN THIS: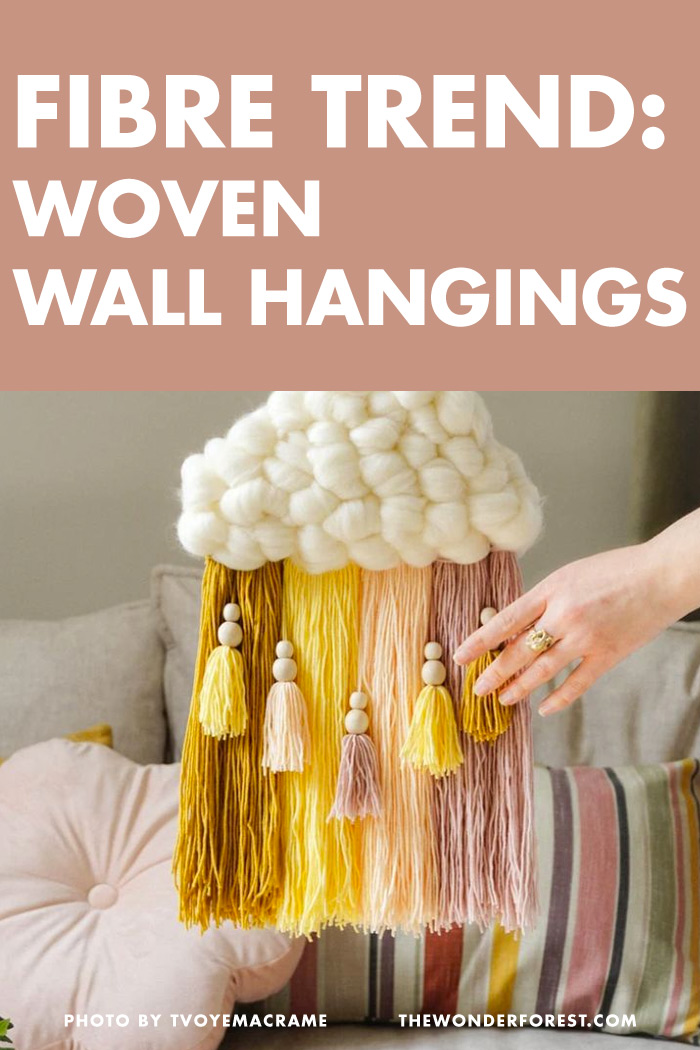 Last Updated on