Did you know there is a fluorescent or ultra-bright version of almost every primary and secondary colour? Neon opens up a whole new world of nail designs.
And with the 90's and early 2000's fully back in style, these are definitely some of the top nail trends to expect for this summer.
Get inspiration for your next nail appointment (or your next DIY nail set) with these 15 bright neon nail designs.
Neon Clouds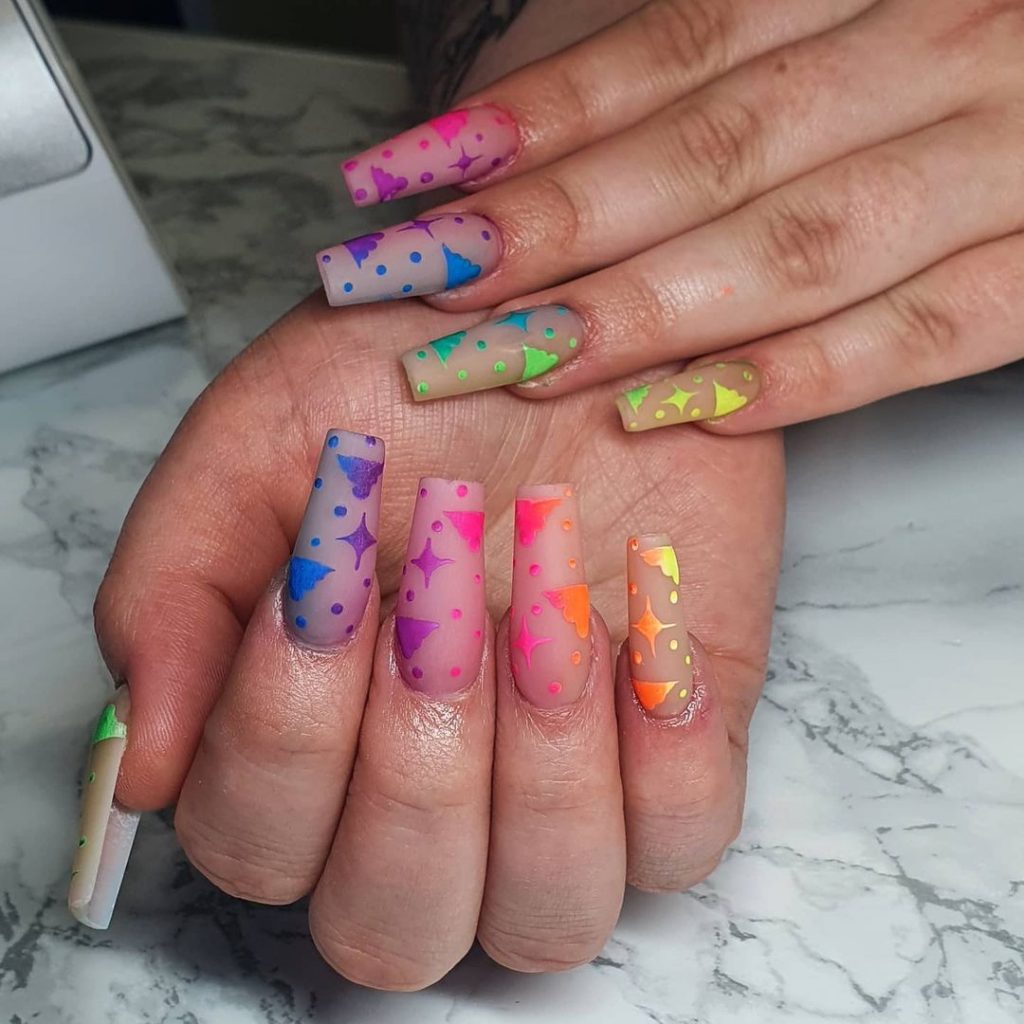 This nail art design has it all – cute colours, a fun pattern and a neat effect. The nail artist used bright, neon colours with an ombre effect over a cloud and star design. The result is a dreamy but bright look!
Citrus Nails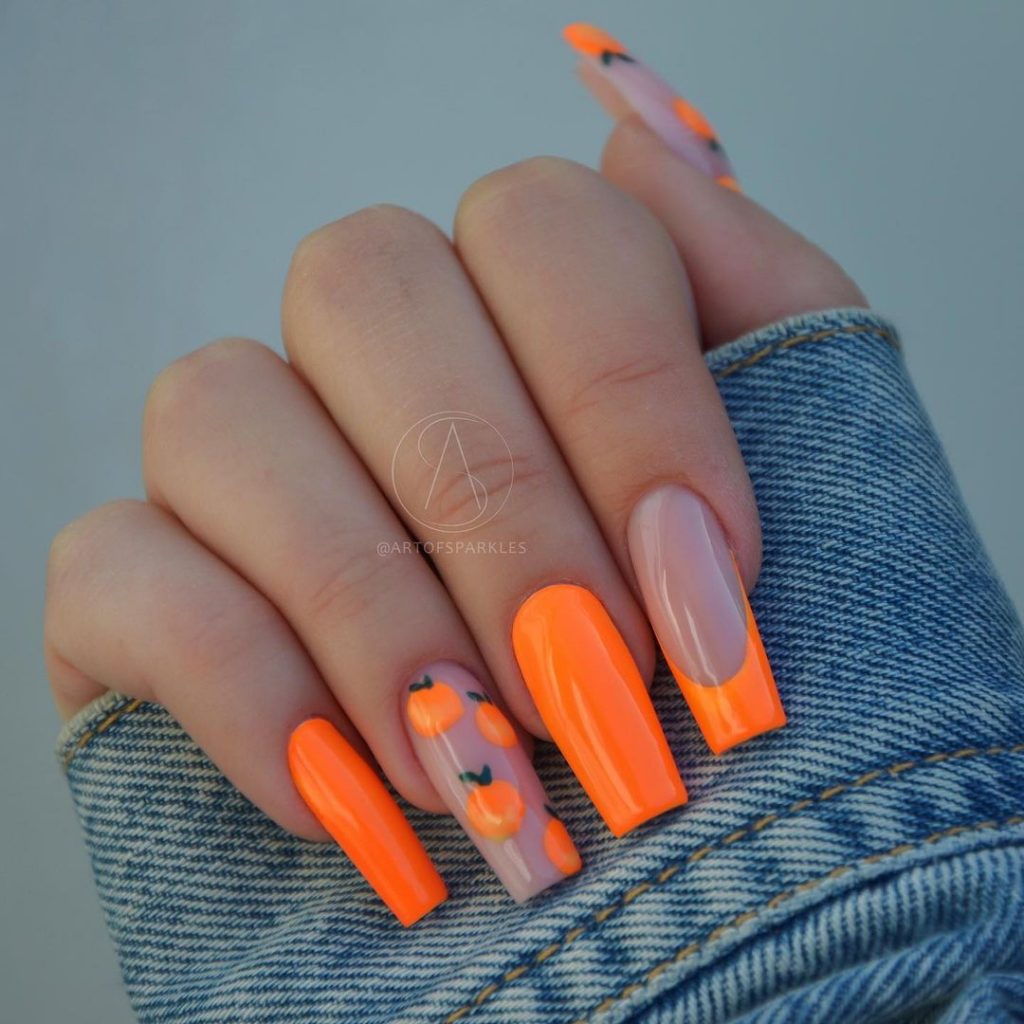 Go fruity this summer with this fun and ultra bright nail look. Fluorescent orange is one of the most eye-catching colours in the neon family, and pairs perfectly with an accent orange-print nail design.
Psychedelic Nail Design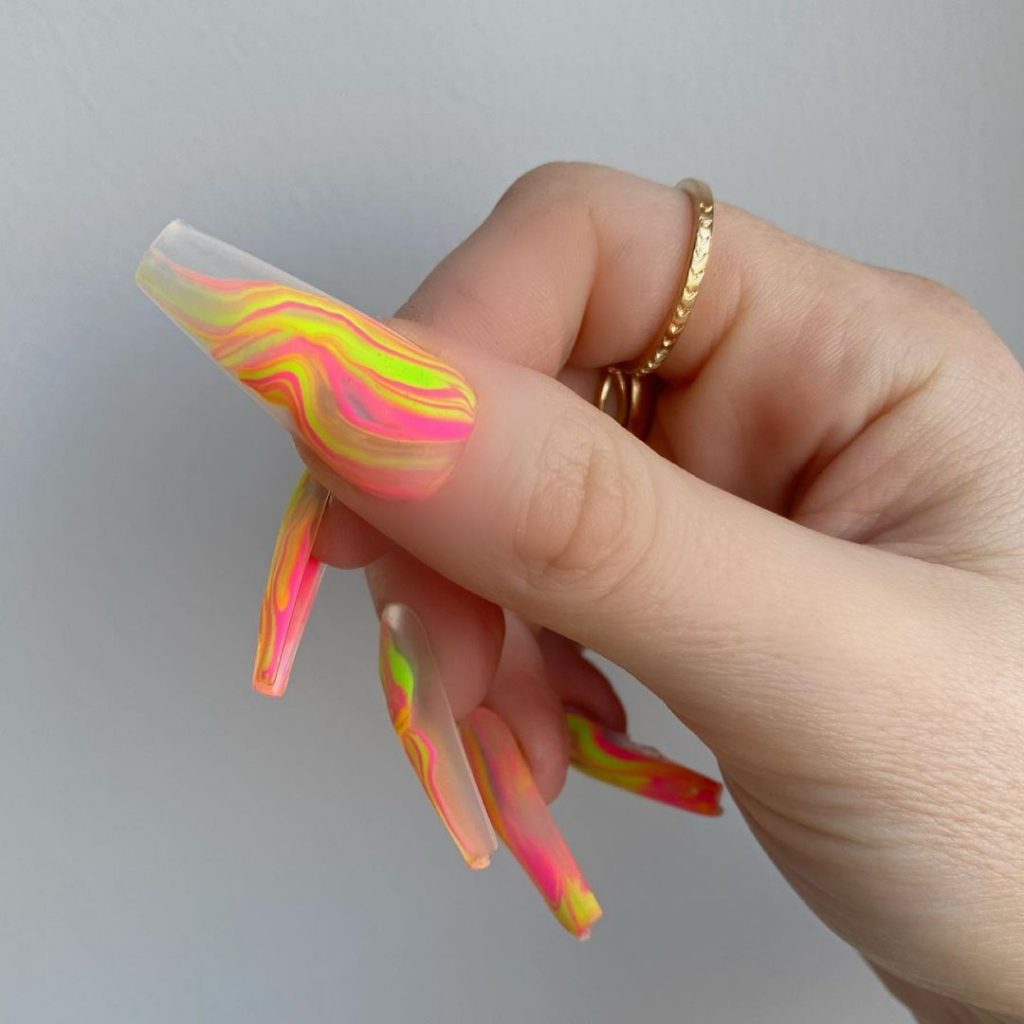 This trippy nail art combines pink, yellow, green and orange neon for a totally psychedelic look. Pair with your favourite peace sign ring and happy face t-shirt and you're ready to go with a fun 90's look.
Neon Memphis Print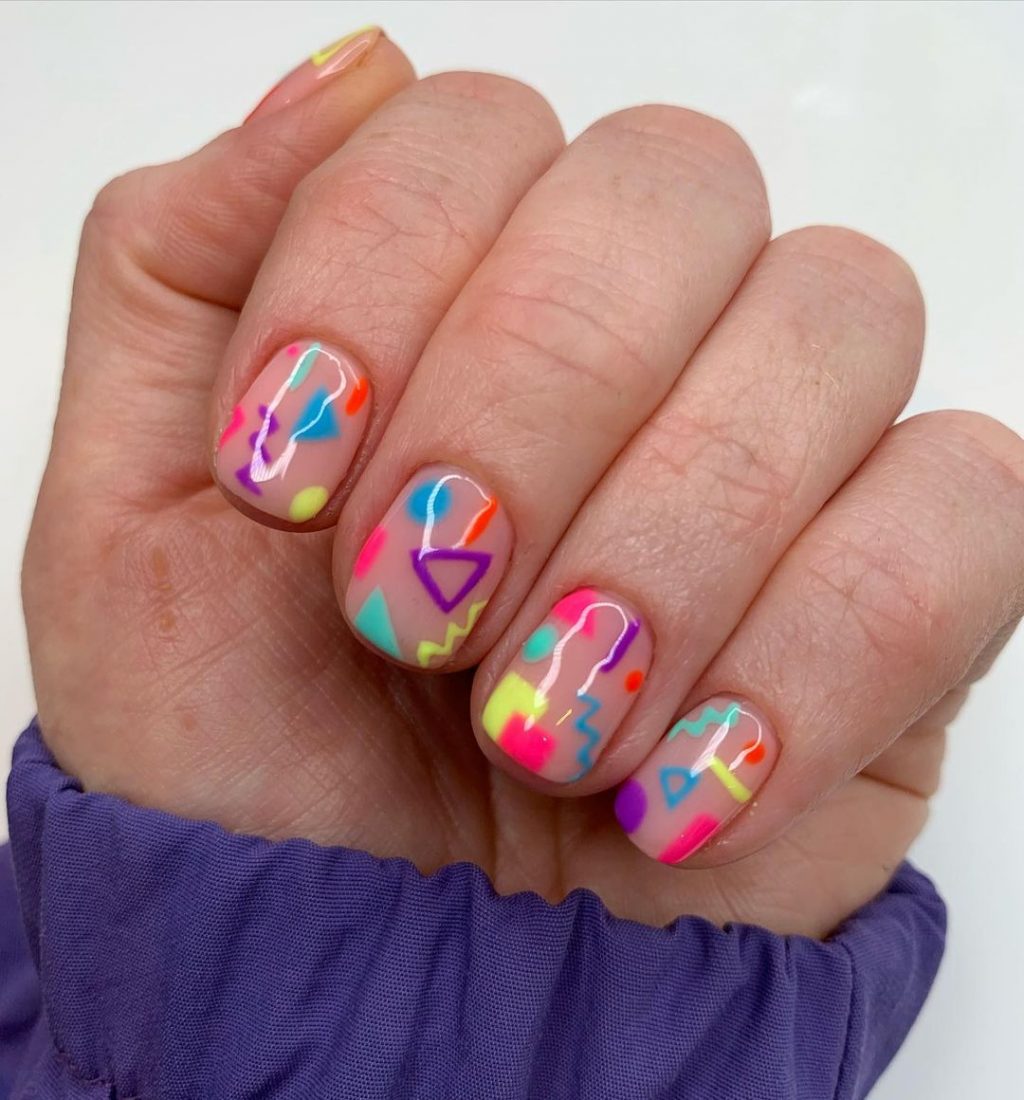 Trendy Memphis print is back with a vengeance in graphic design and clothing — and it's being used in nail art too! We love this rendition using bright neon nail polish for a fun and whimsical design.
Fuchsia and Orange Nails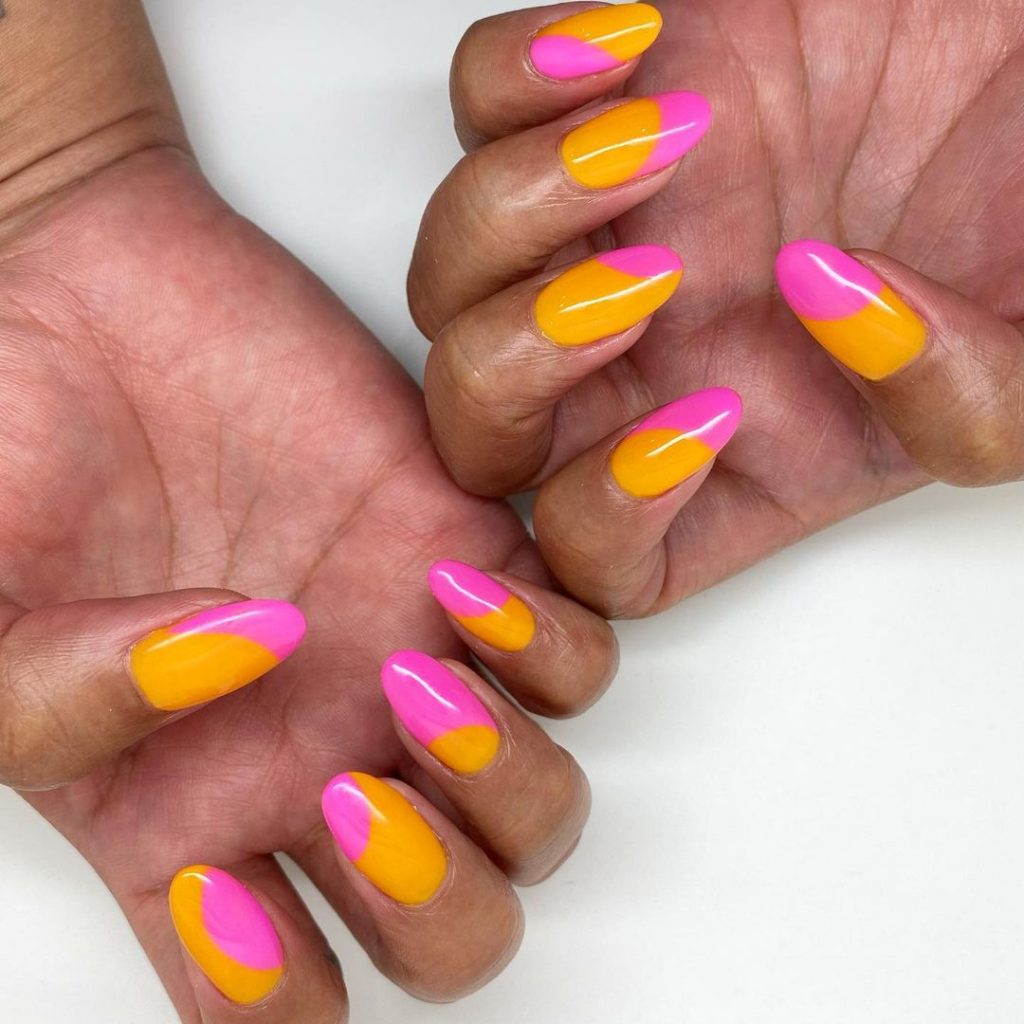 The brighter, the better! Combine fuchsia and a bright orange hue for this summery nail design. Some nails have more orange while others have more fuchsia, making for a relaxed, imperfect and fun vibe.
Neon Green Tips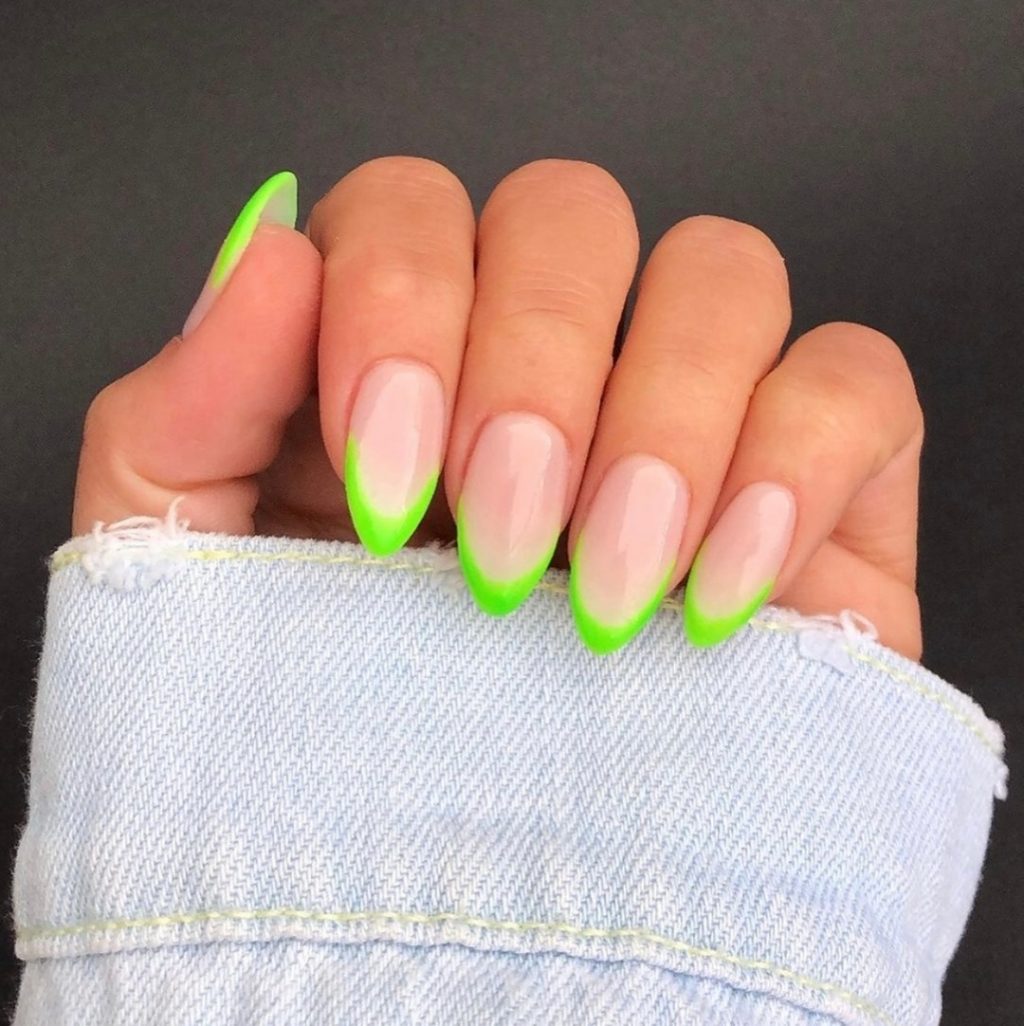 A little goes a long way with these adorable and eye-catching nails. The almond shape is perfectly suited for the thin, neon-green tips that have been applied.
Neon Rainbow Nails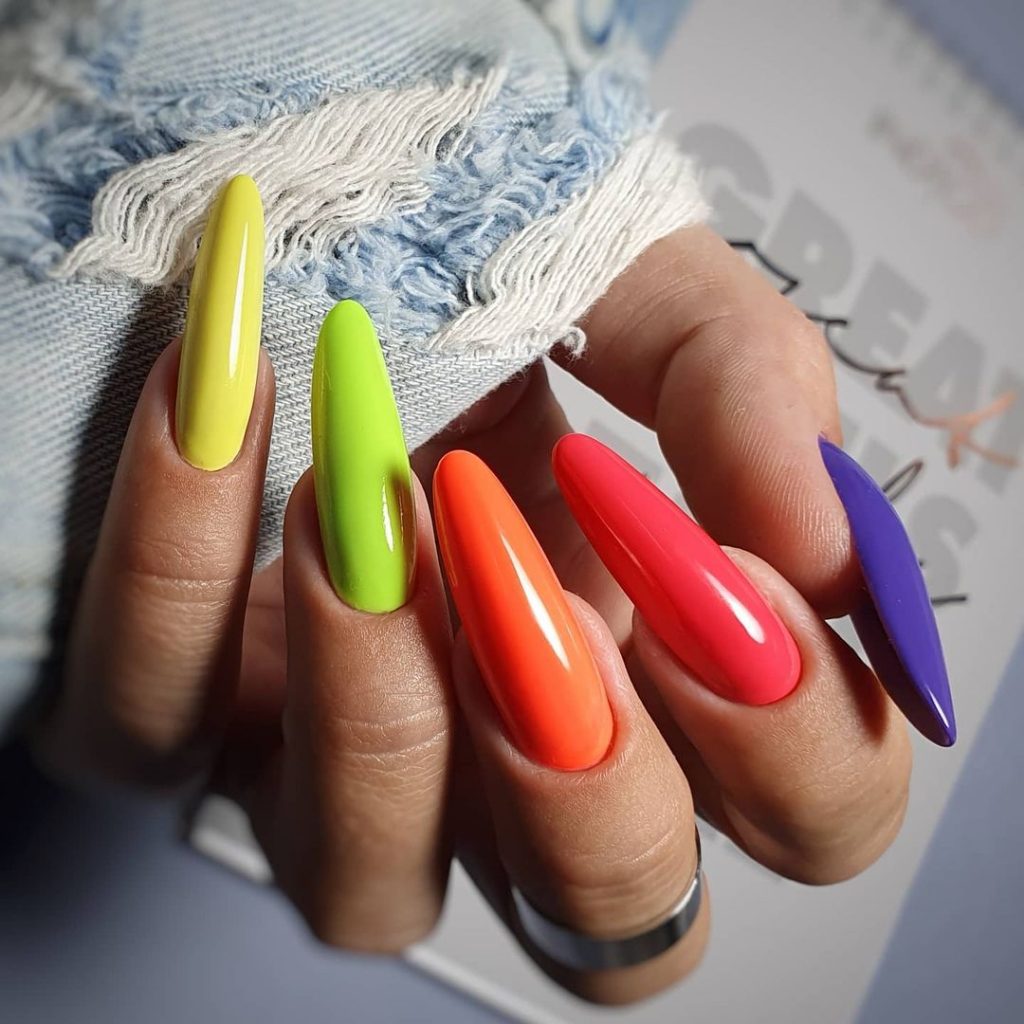 When it comes to nail art, rainbow is always a fabulous option. This multi-colour, multi-nail design combines bright yellow, green, orange, red and purple hues for the ultimate fluorescent design.
Flower Power Nail Design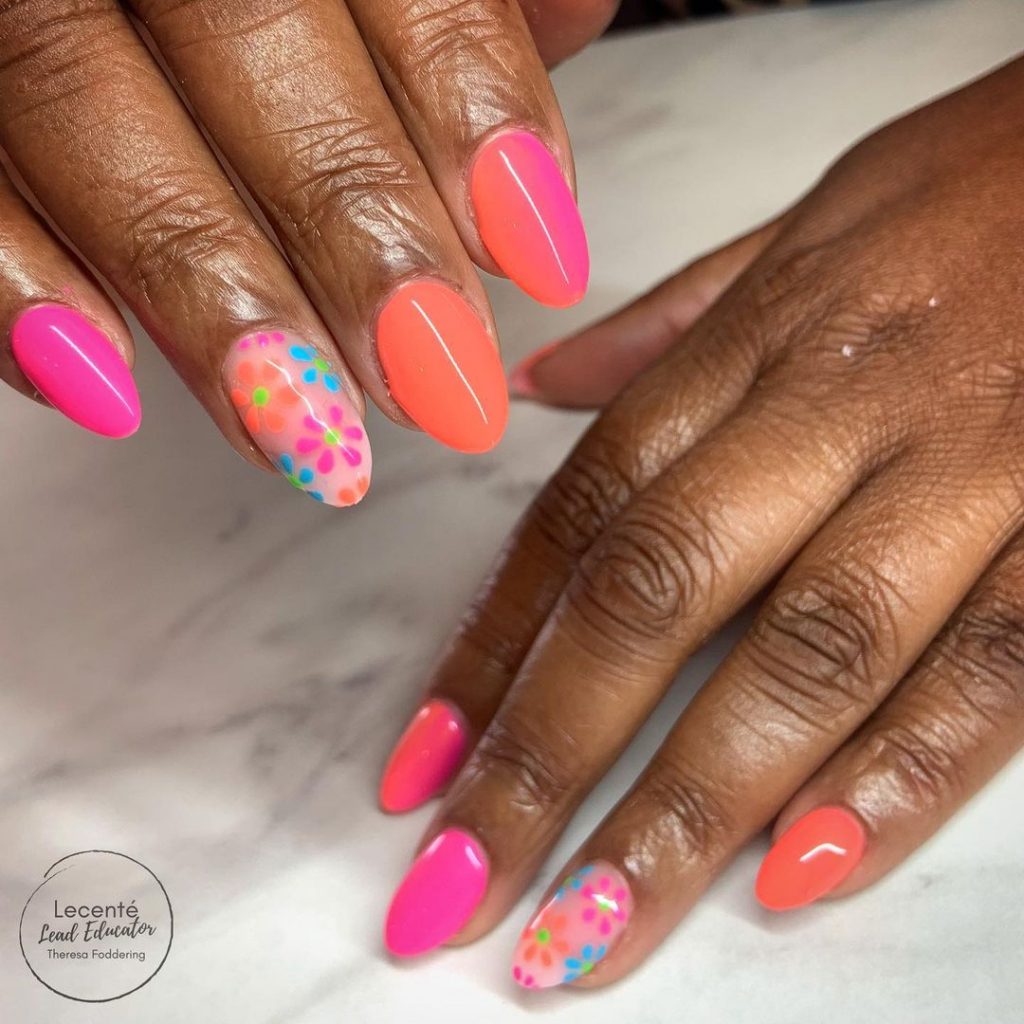 We get visions of inflatable furniture and jelly phones/cd players when we see these nails! Go back to the 90's with these neon pink and coral nails, featuring a super cute floral feature nail.
Speckled Neon Nails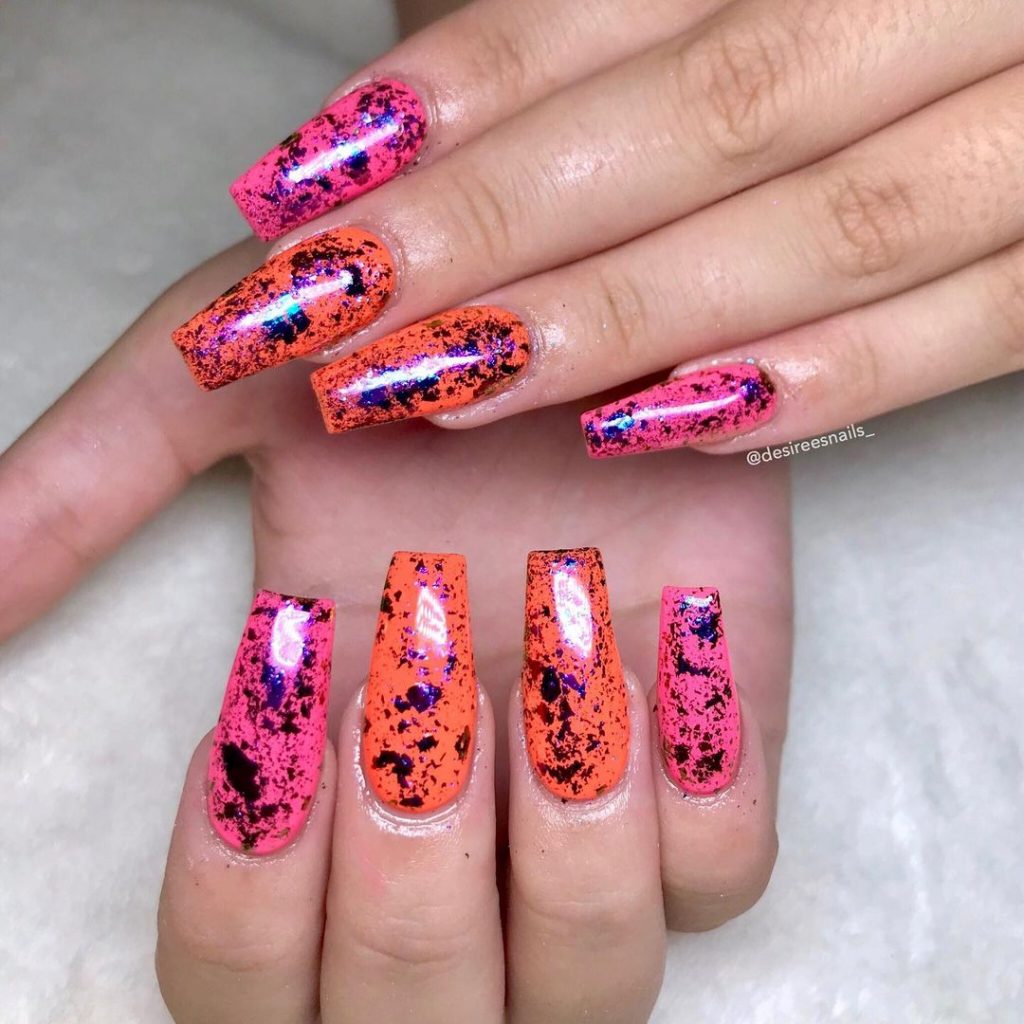 Black brings out the neon colours in this nail design even more! The idea can be used on any neon colour of your choice; but pink and orange go together particularly well.
Neon Green Ombre Nails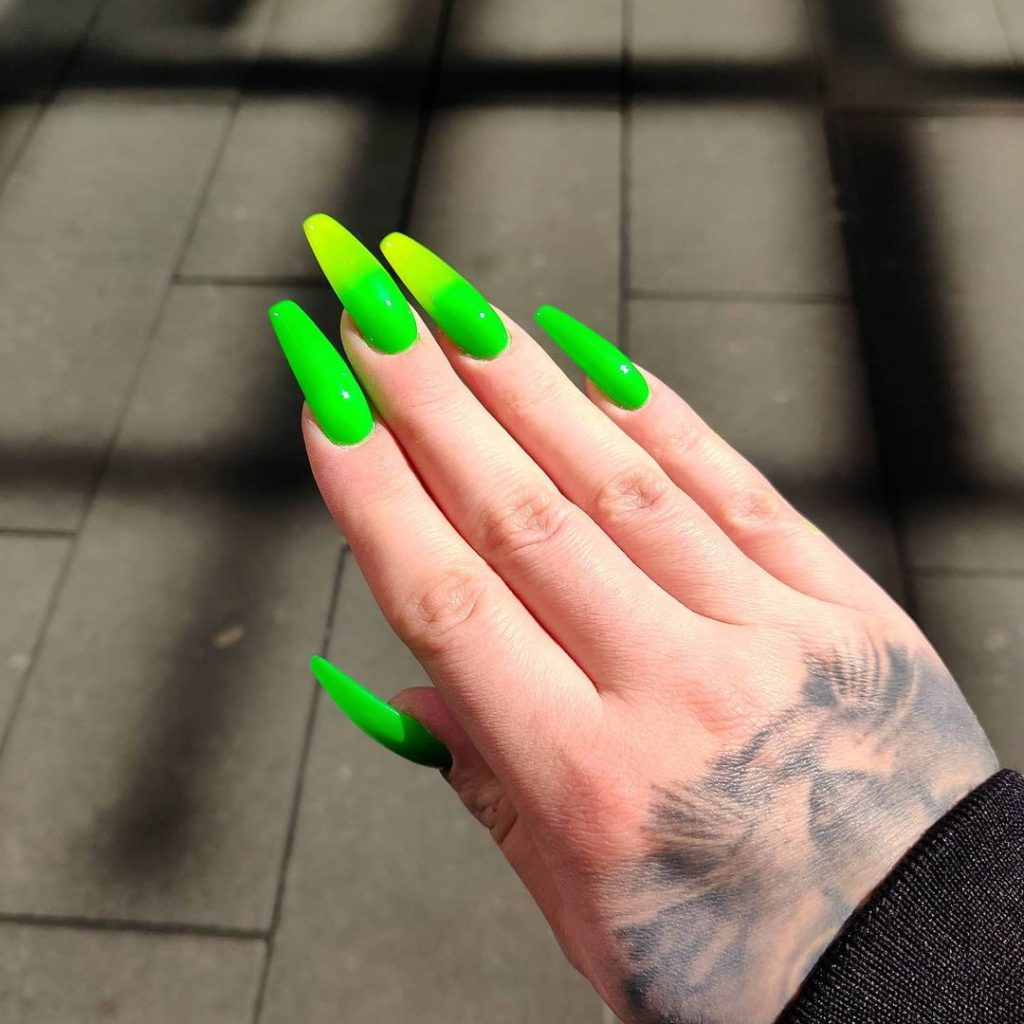 Now that's some eye-catching nail art! Neon green has to be one of the most classic options for fluorescent nails, and this look delivers by combining a subtle yellow-to-green ombre fade.
Stripe of Neon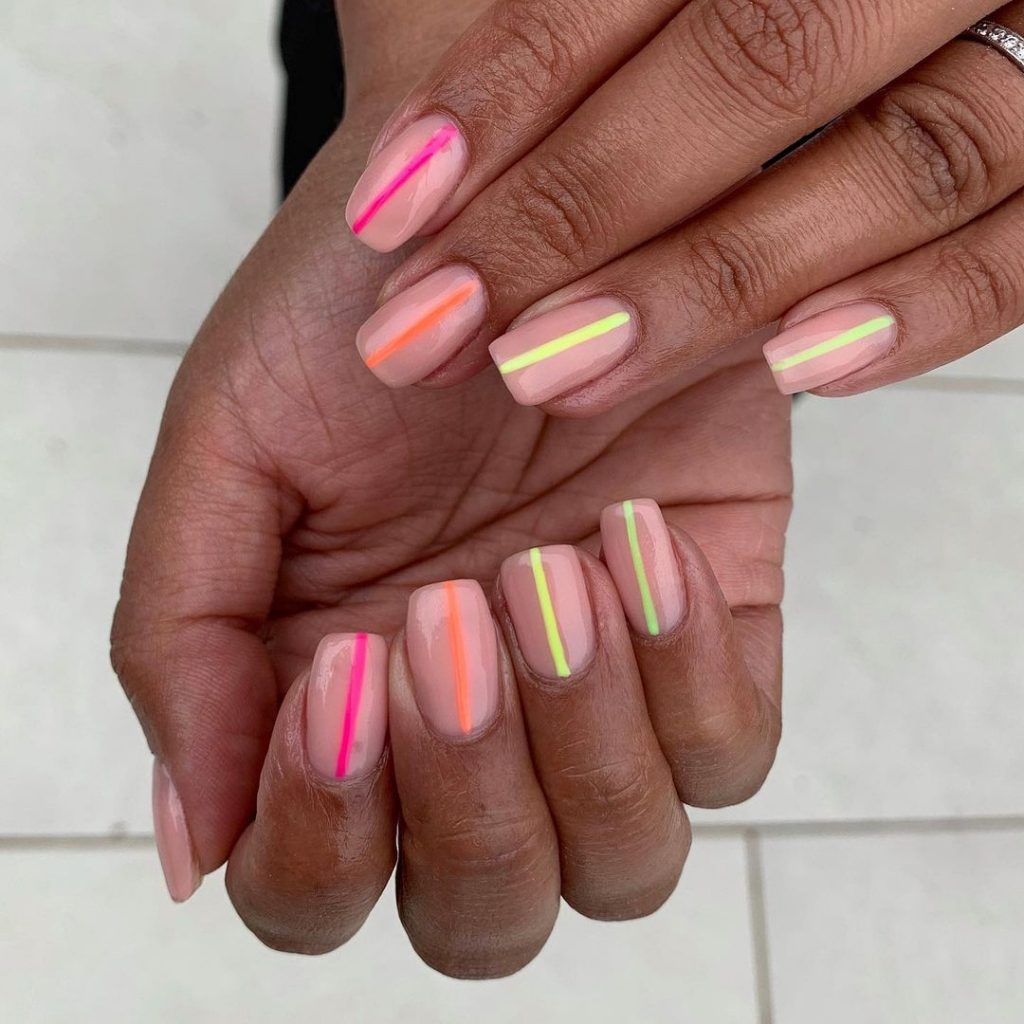 Want to try neon without committing fully and ending up with a look that may be a little too bright for your taste? Try these very simple and gorgeous neon striped nails!
Summer Orange Floral Nails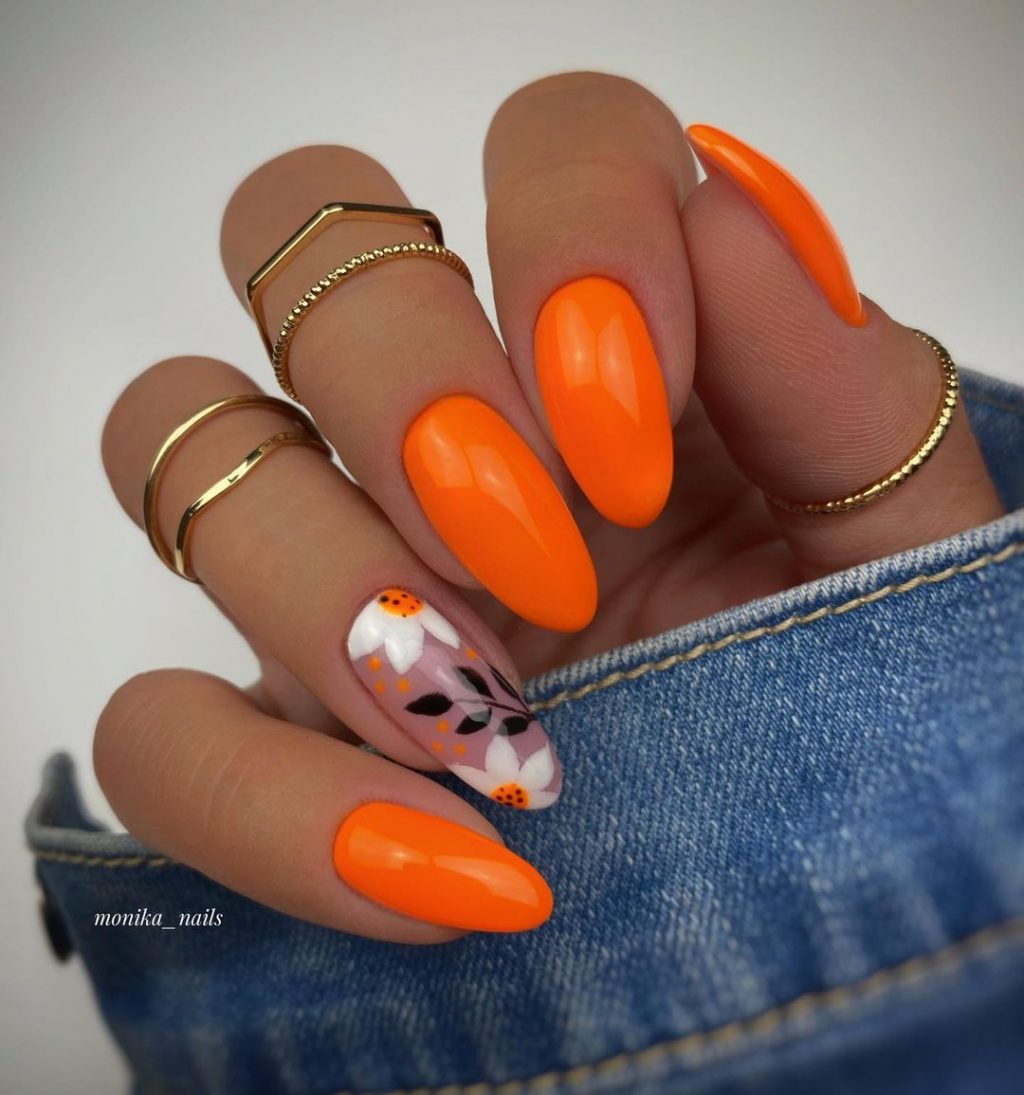 Another bright orange neon nail design, this beautiful look features a daisy-esque floral design on the ring nail. Keep the summer vibes coming, please!
Matte Neon Green Cow Print Nails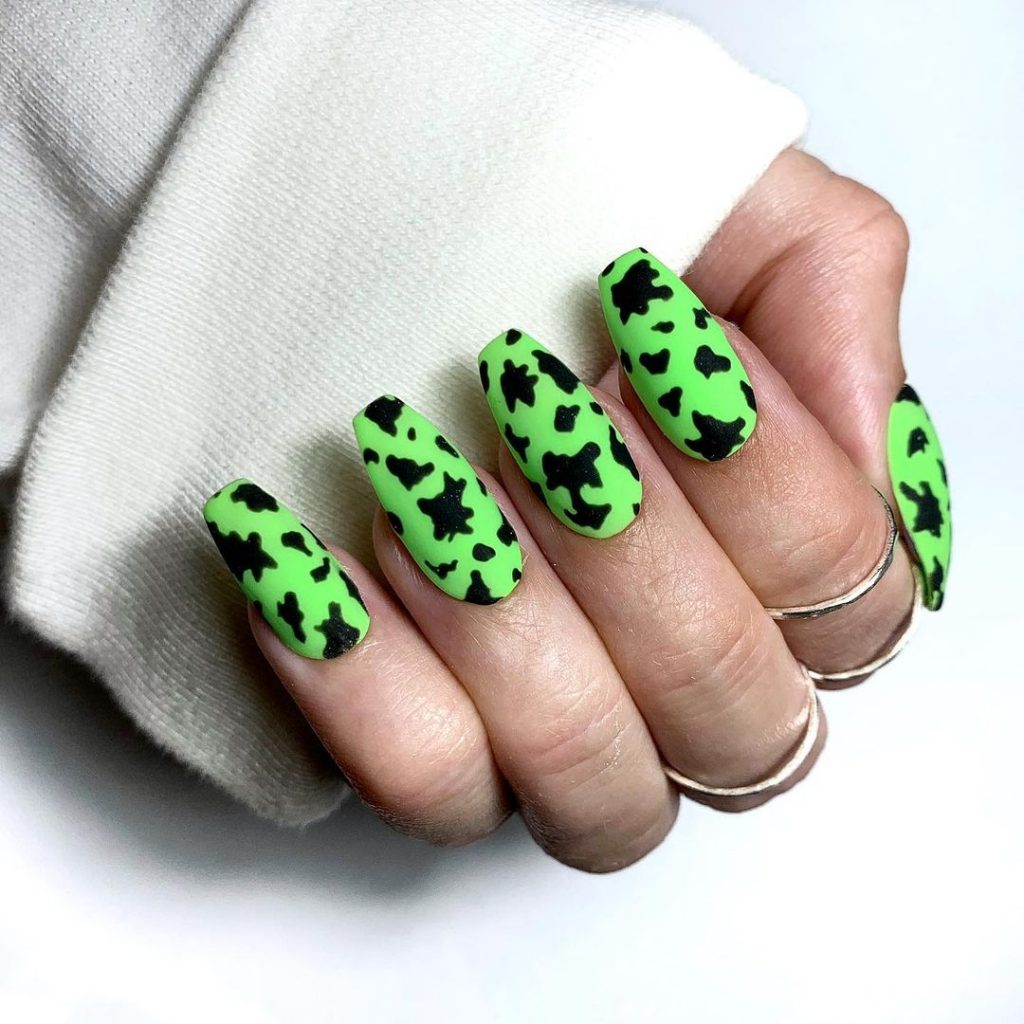 Tired of boring neutral and pink nails? Make a BIG statement with these neon green, matte nails that feature a super fun cow print. You can't get much bolder than this.
Grey Meets Neon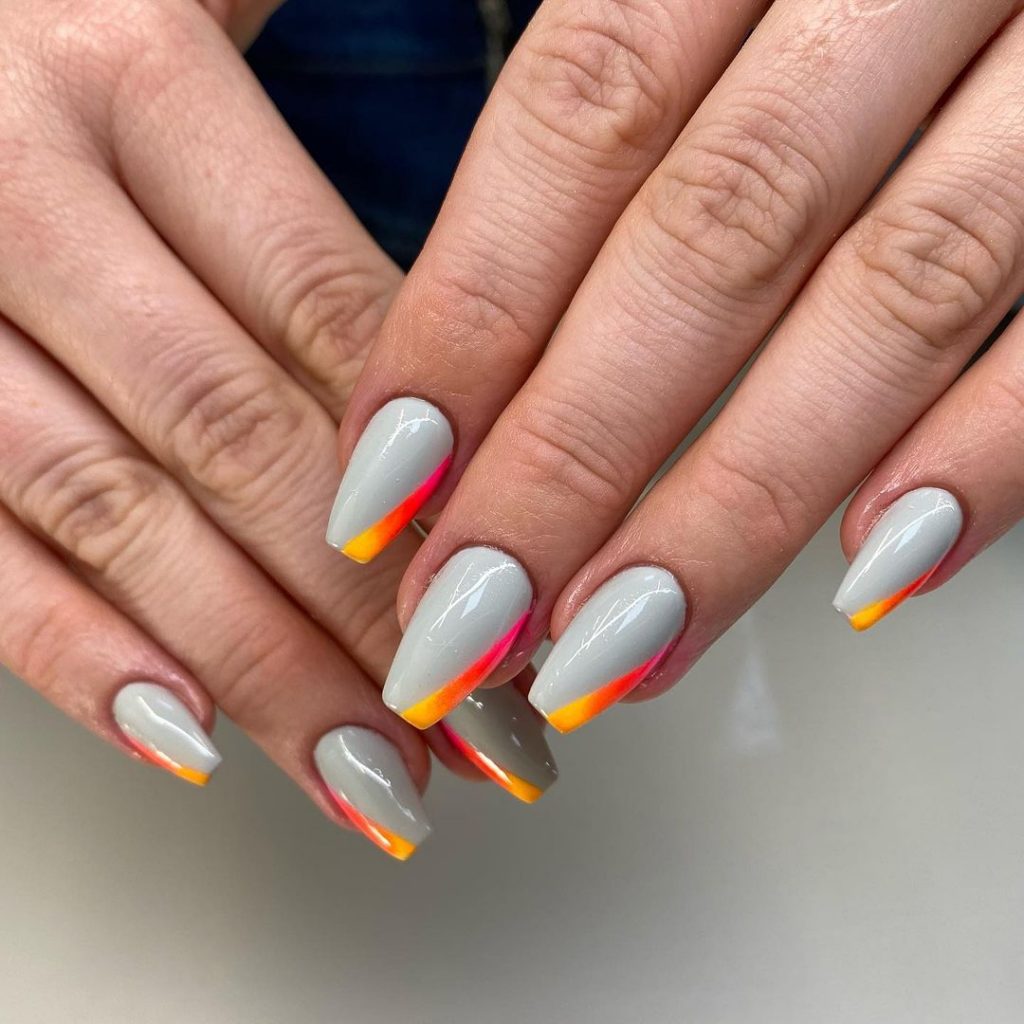 While black nail polish tends to make neon colours pop, another option is to tone down the neons a bit by pairing it with a light to medium grey polish. A great colour combination as seen above uses grey with a neon orange and yellow ombre stripe.
Glossy Rainbow Neon Nails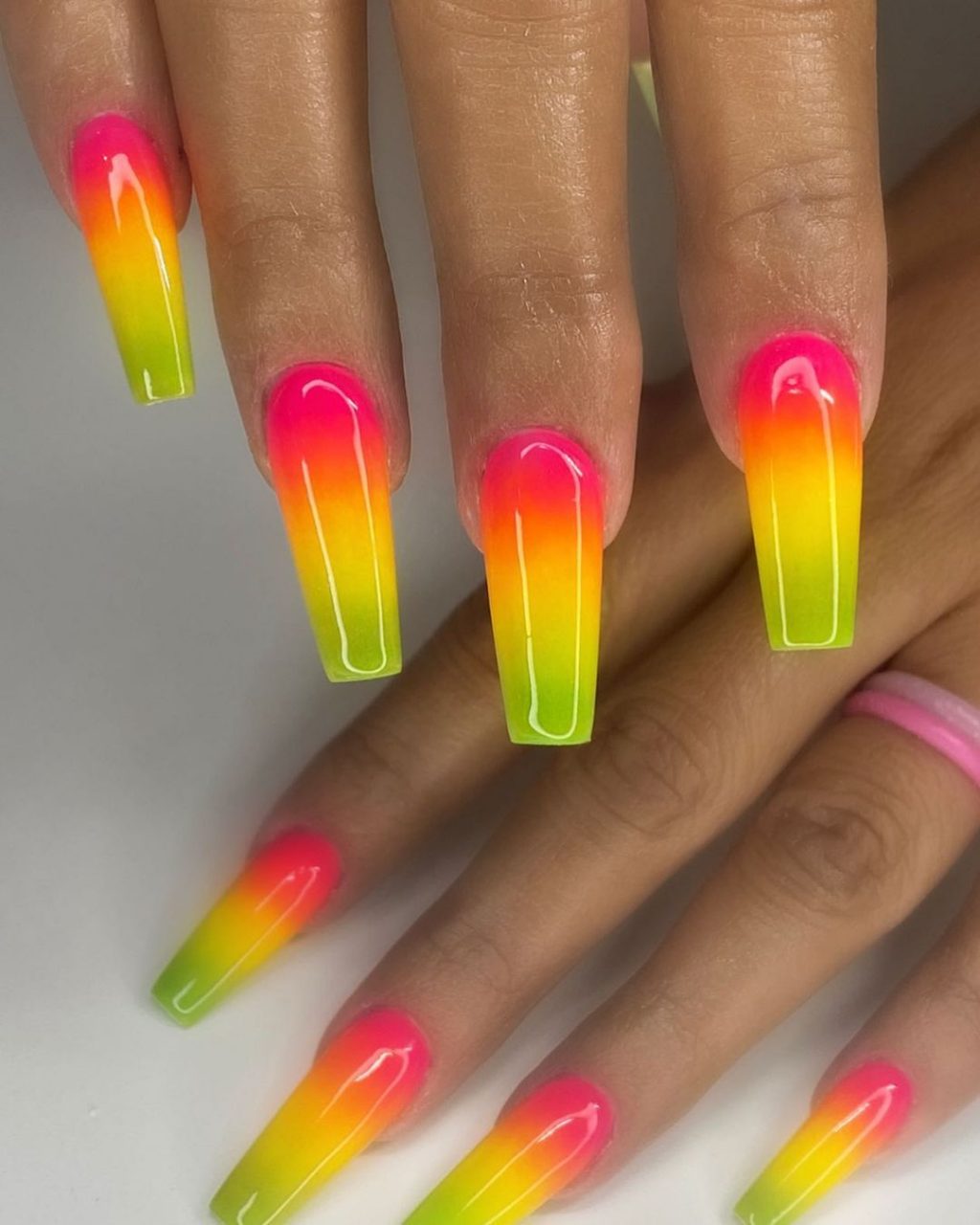 Last but not least is this juicy and amazingly bright nail design that features a gorgeous citrusy hue. This set remind us of fruit and picnics, making it the ultimate summer nail look!
There are so many fun nail designs to try out this summer – from the brightest neons to the softest pastels. Follow our Pinterest board for even more nail design ideas!
PIN THIS: