One of the most exciting rooms to design in your home is a girl's bedroom! There is nothing like starting from a blank canvas and designing a space that is full of wonder, magic, rainbows, mermaids, and…pink! No matter your daughter's age or interests, she will be delighted with a new bedroom. Get your vision board ready!
Boho design is one of the most trending styles for girl's rooms in 2023. As a very eclectic, layered, and relaxed style, it's the perfect choice for a girl's bedroom. It works as an excellent medium to express your girl's individuality in a way that is flexible enough to grow along with her!
Include A Princess Canopy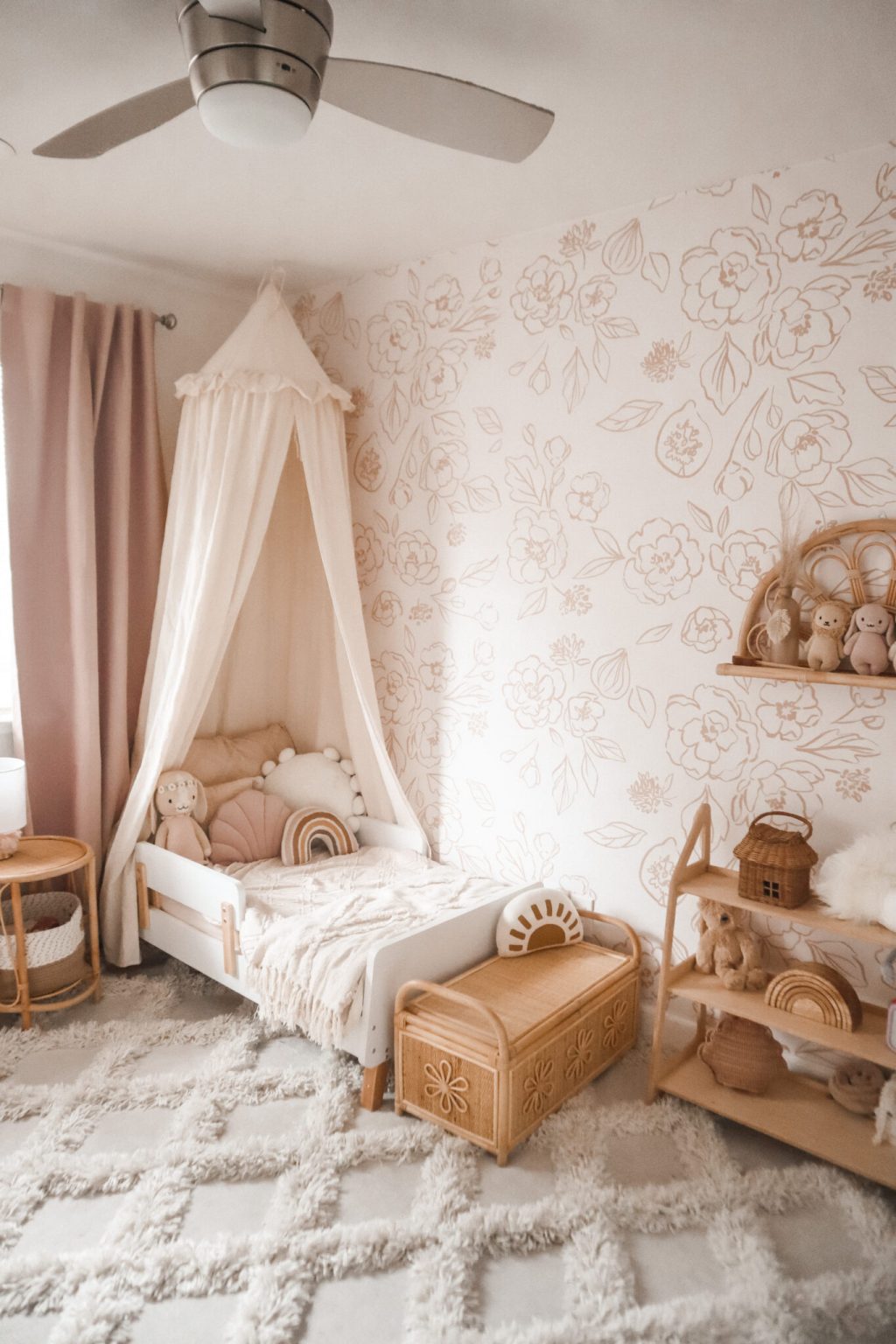 Every little girl's room needs a princess canopy. This toddler room also features wallpaper with gold flower outlines, as well as soft, neutral tones, and rattan accents, and contains lots of great ideas for showing off an impressive accessory collection.
Create A Cozy Reading Nook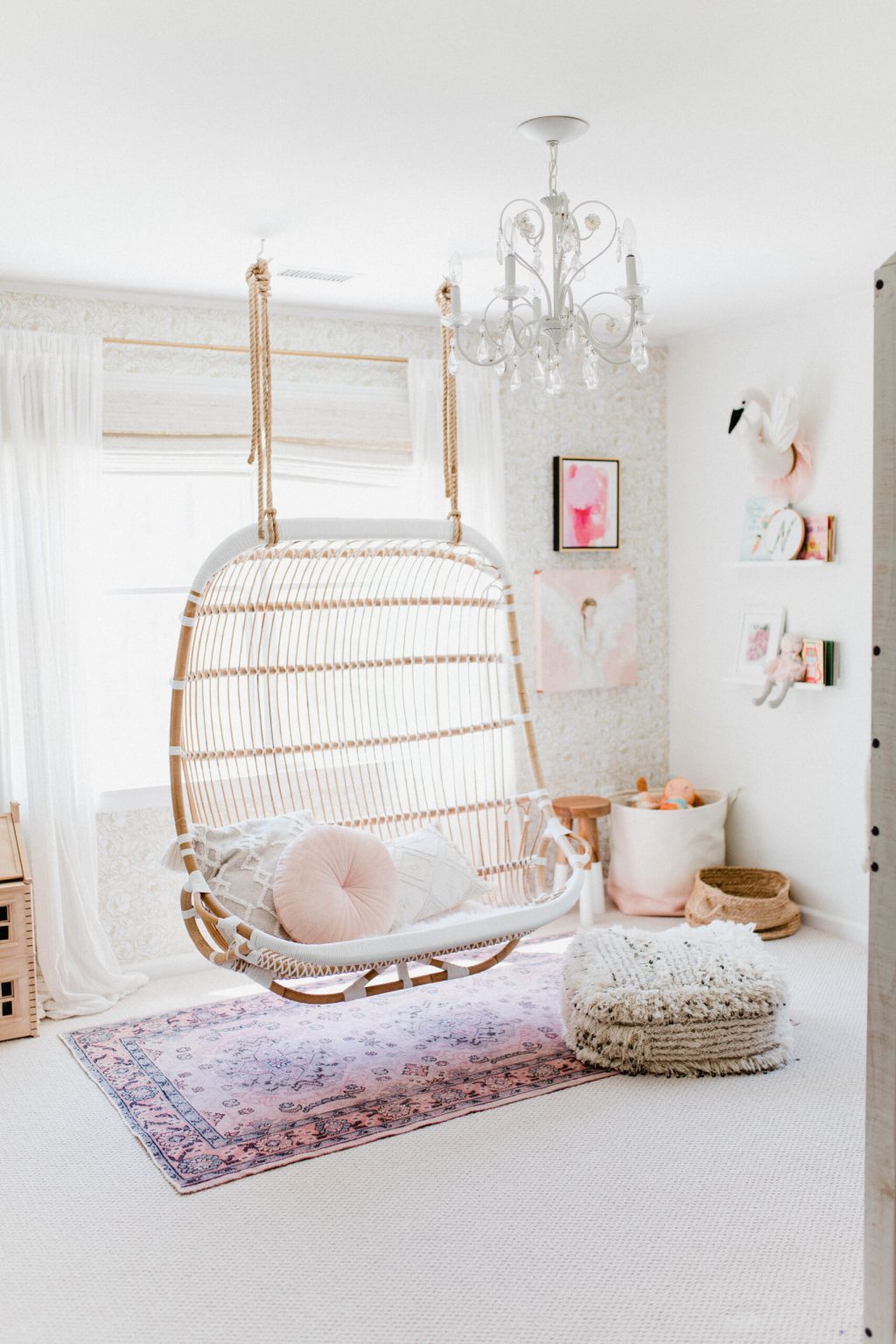 A girl of any age would love a cozy little reading nook with a hanging chair! Floating shelves can show off book covers or artwork. This girly room contrasts boho elements (the boho chair and Turkish rug), with classic touches, such as the fancy chandelier and soft pink artwork.
Design Around A Boho Mural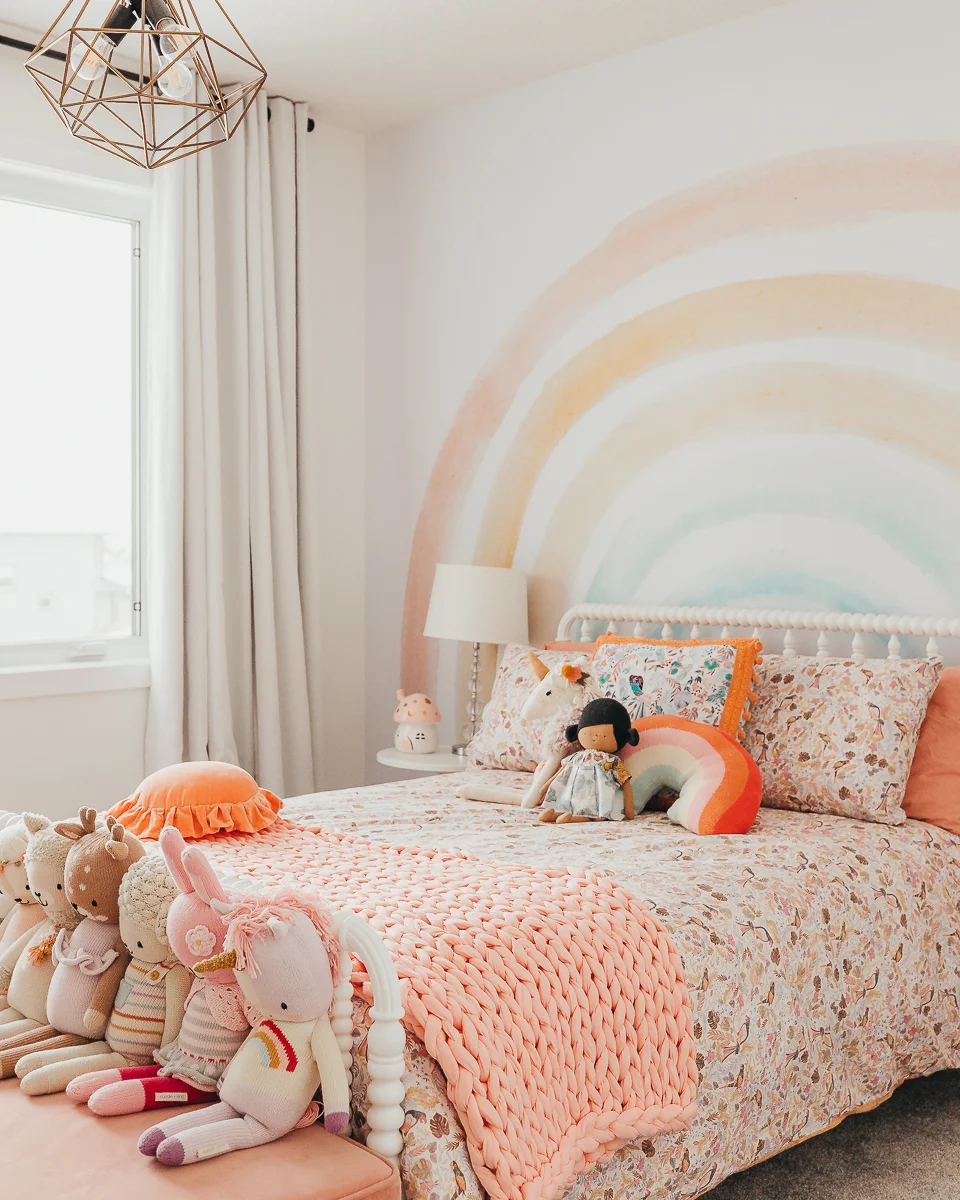 Murals are a common style element in boho decor, so try designing your little one's space around a wall mural you and her both love. A watercolor rainbow like this one is a pretty centerpiece (and we love the layered vintage-inspired patterns and cozy chunky knit blanket!)
Allow Girls To Share Their Ideas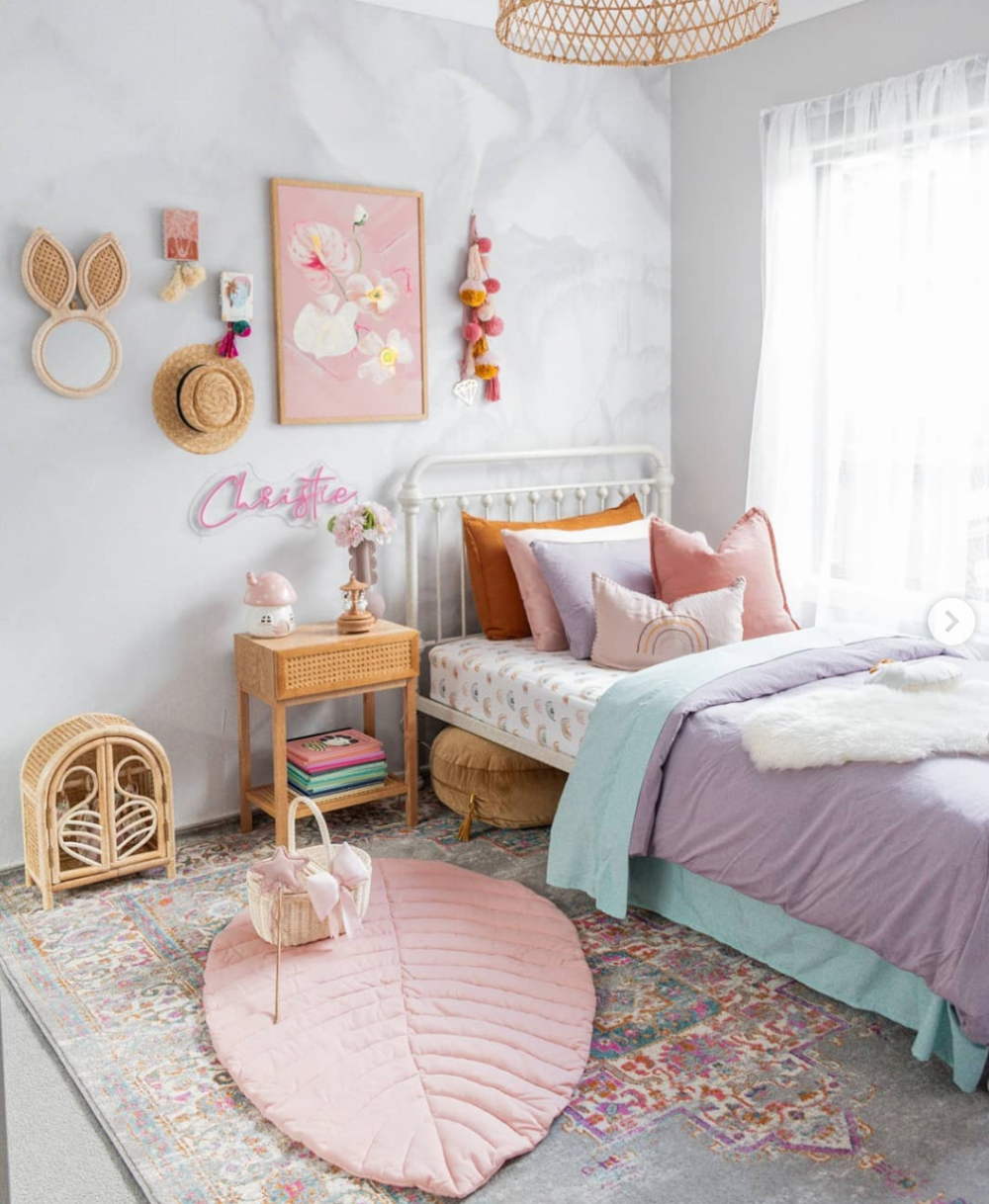 The mom and designer behind this unique boho bedroom suggests including kids in the design process by choosing three or four items that you know your girl will love, and allowing her to choose from there.
Hint At A Theme, But Don't Go Overboard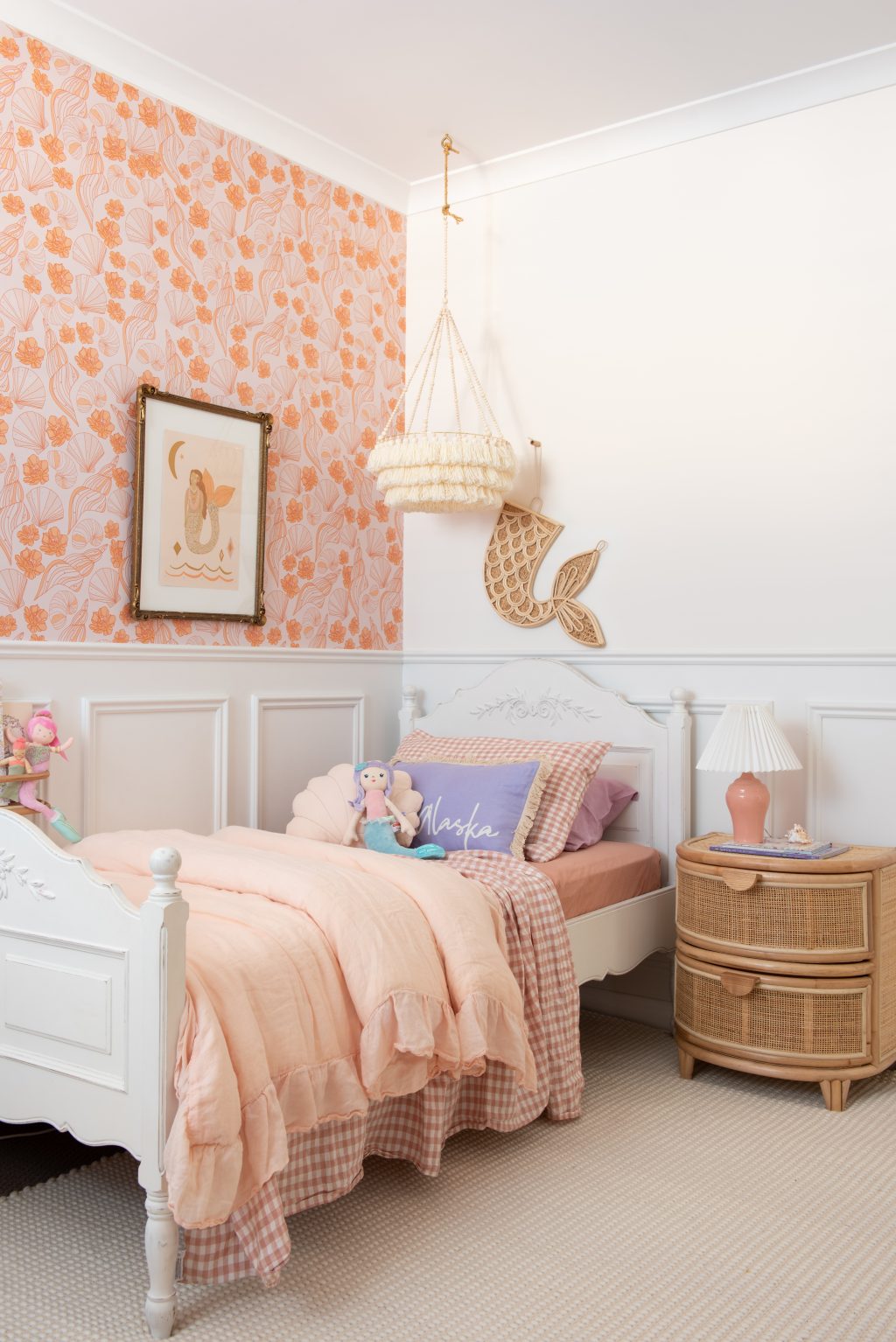 Instead of oversaturating her daughter's bedroom with her daughter's choice of a mermaid theme, this mom explains how she chose pieces that hint at mermaids and the ocean, but which can easily be replaced as tastes change. The seashell wallpaper, neutral colors, and mermaid pillows do a great job of blending kids' and mom's tastes!
Mix In Vintage Inspired Fabrics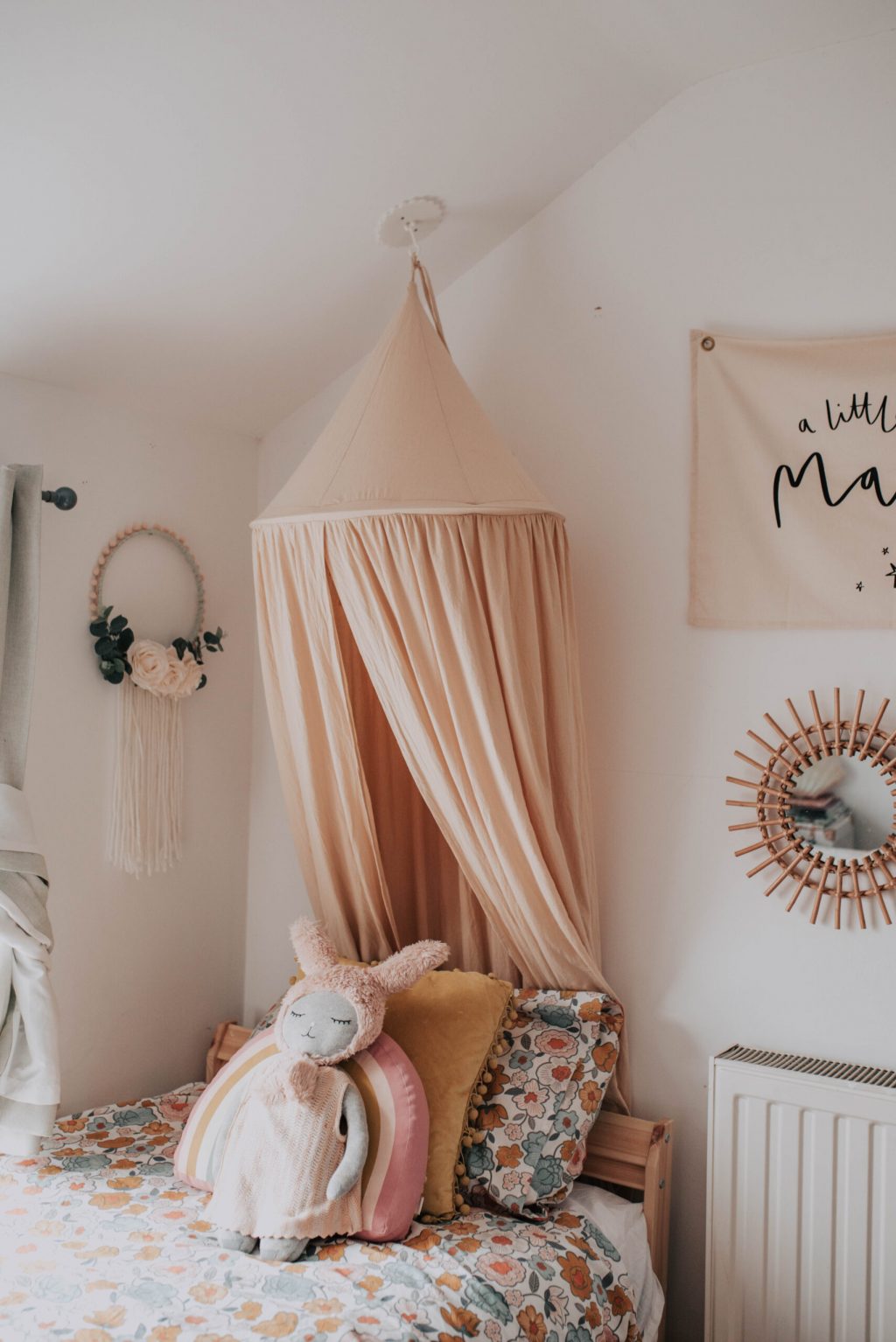 This marigold, burnt orange, turquoise, and pink color scheme in this little girls' room is very unique, full of wonder, reminiscent of the storybooks used to decorate the room!
Don't Forget Rainbows!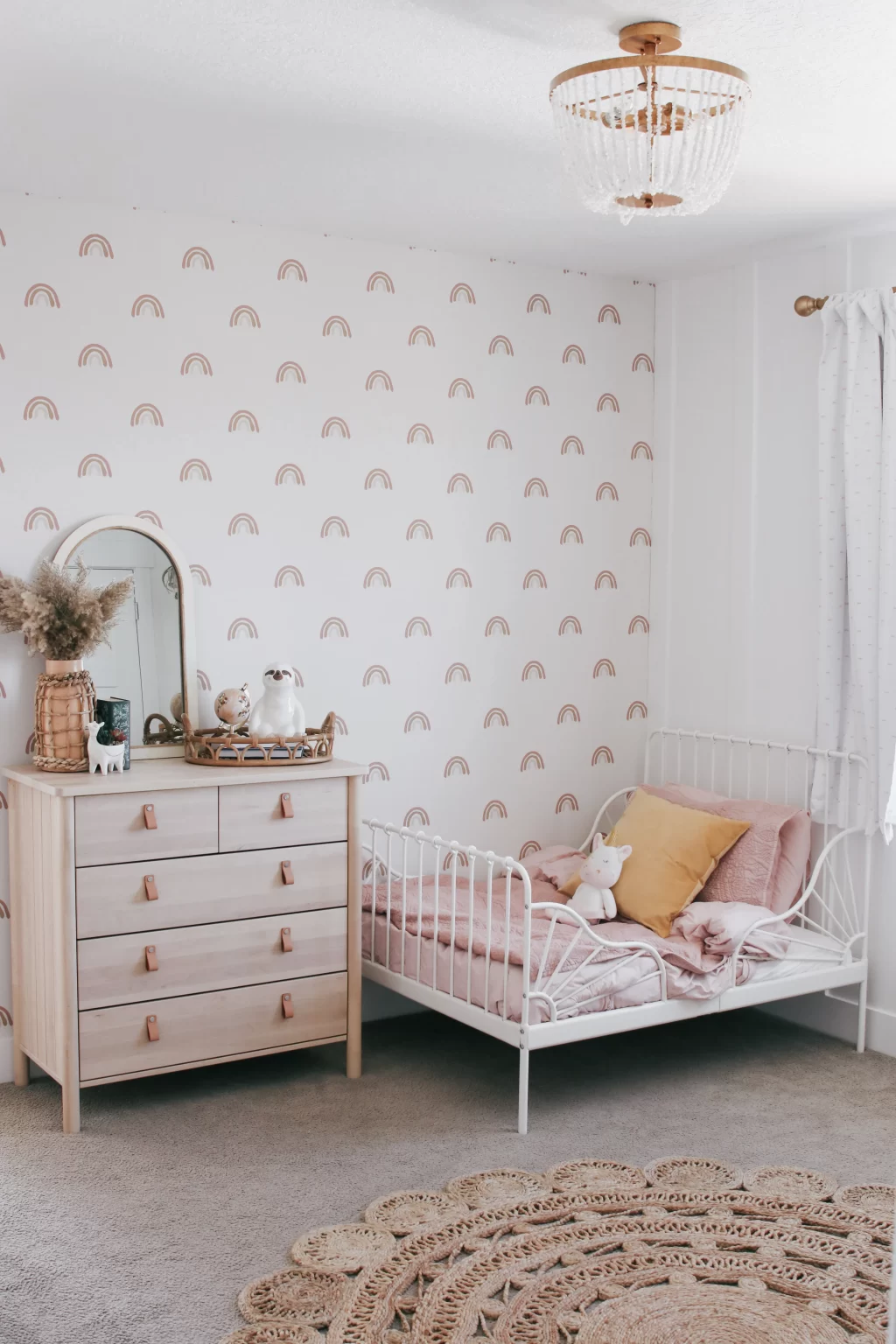 Boho rainbows are popular among parents designing nurseries or bedrooms for their little ones. You can include rainbows in decal form on accent walls, or in smaller forms like rainbow pillows, or a macrame boho rainbow.
Create A Vision Board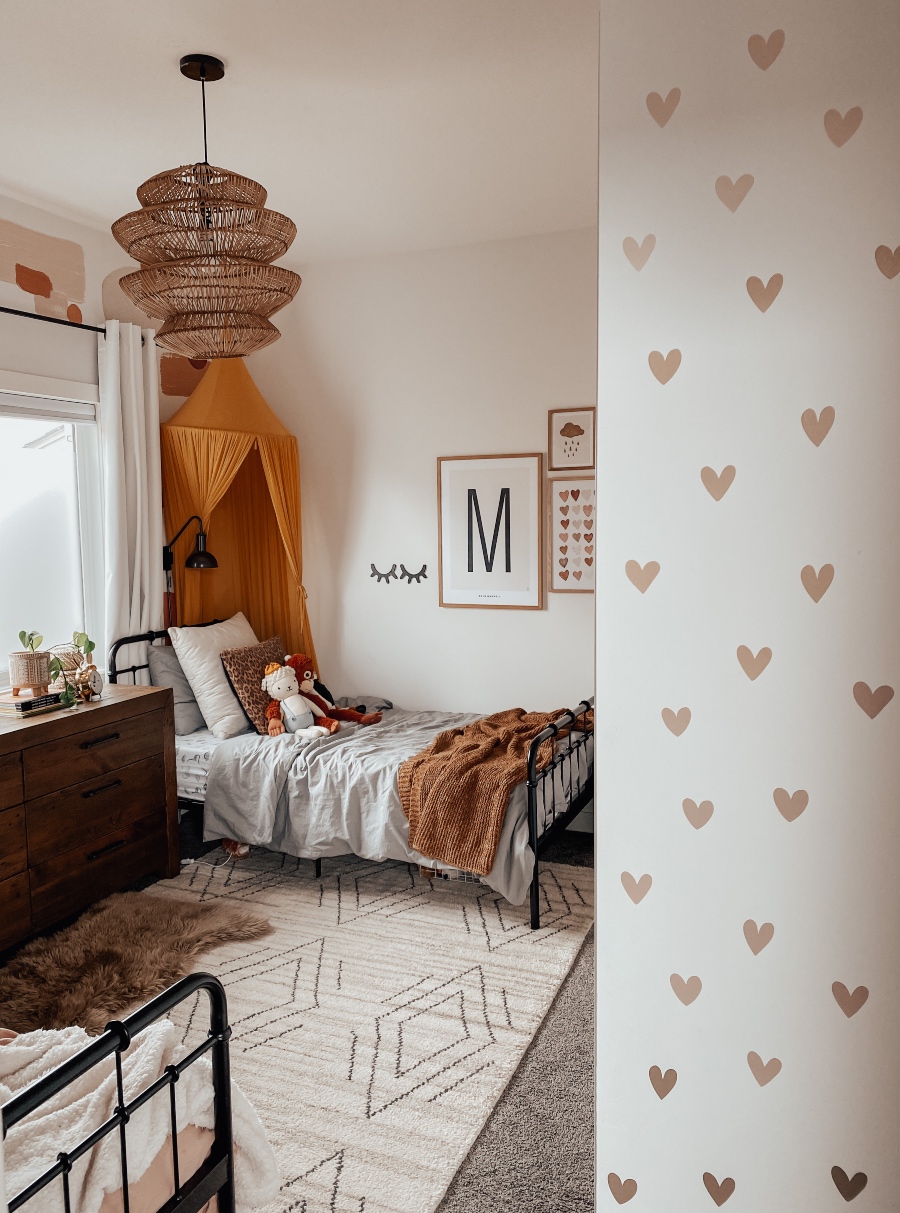 For this young brother and sister's shared bedroom, designer Megan chose a design element she loved and used it as a jumping-off-point around which to build a vision board. The neutral colors help keep the room cohesive, despite the obvious differences on the boy and girl side.
Personalize the Room With A Name Sign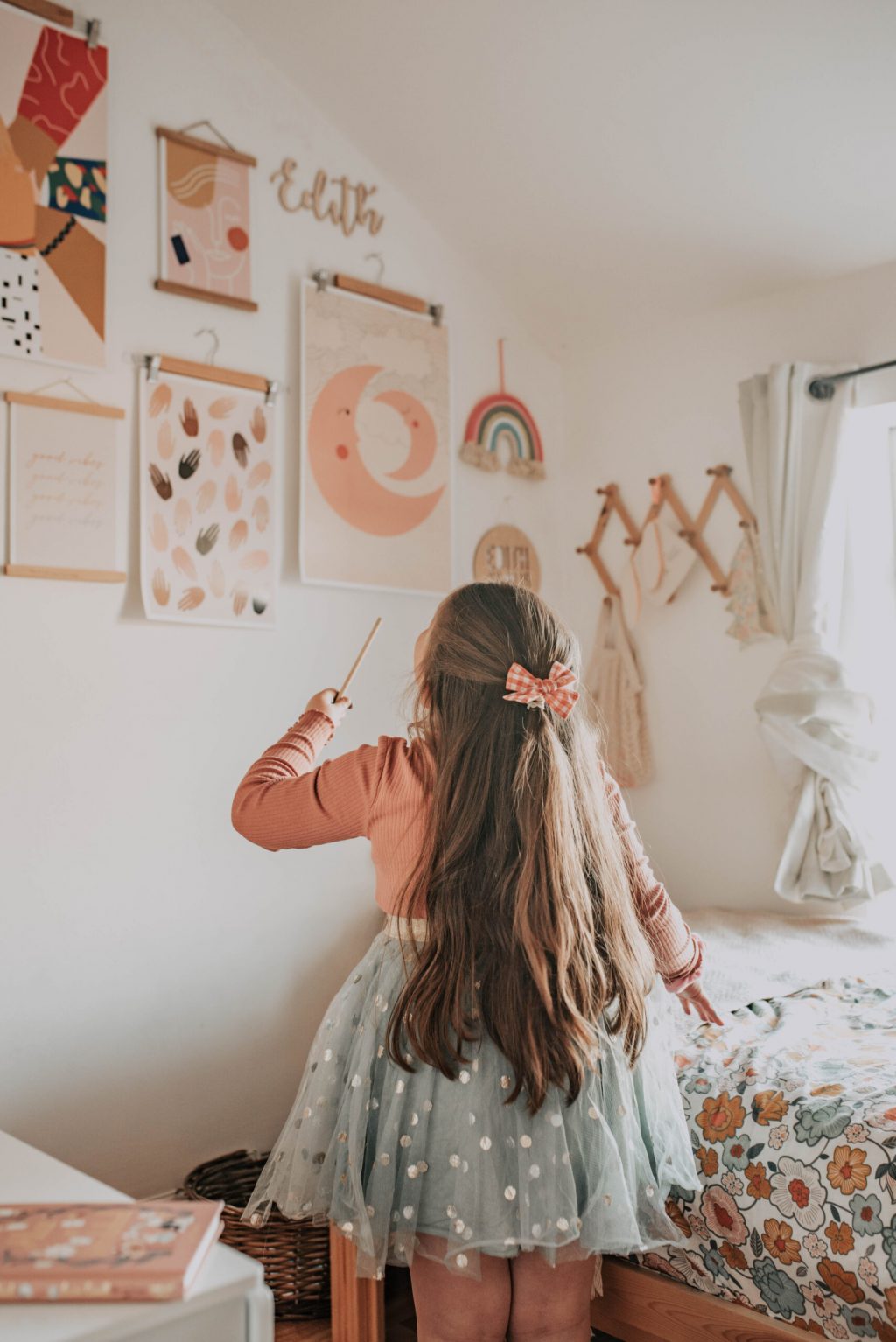 Give the room a flash of individuality with a name sign. You could use a neon sign like this one, a wood round, or a cutout of your little one's name. This beautiful room makeover for a ten-year-old contains lots of staying power going into the teen years!
Rattan Accents Are A Must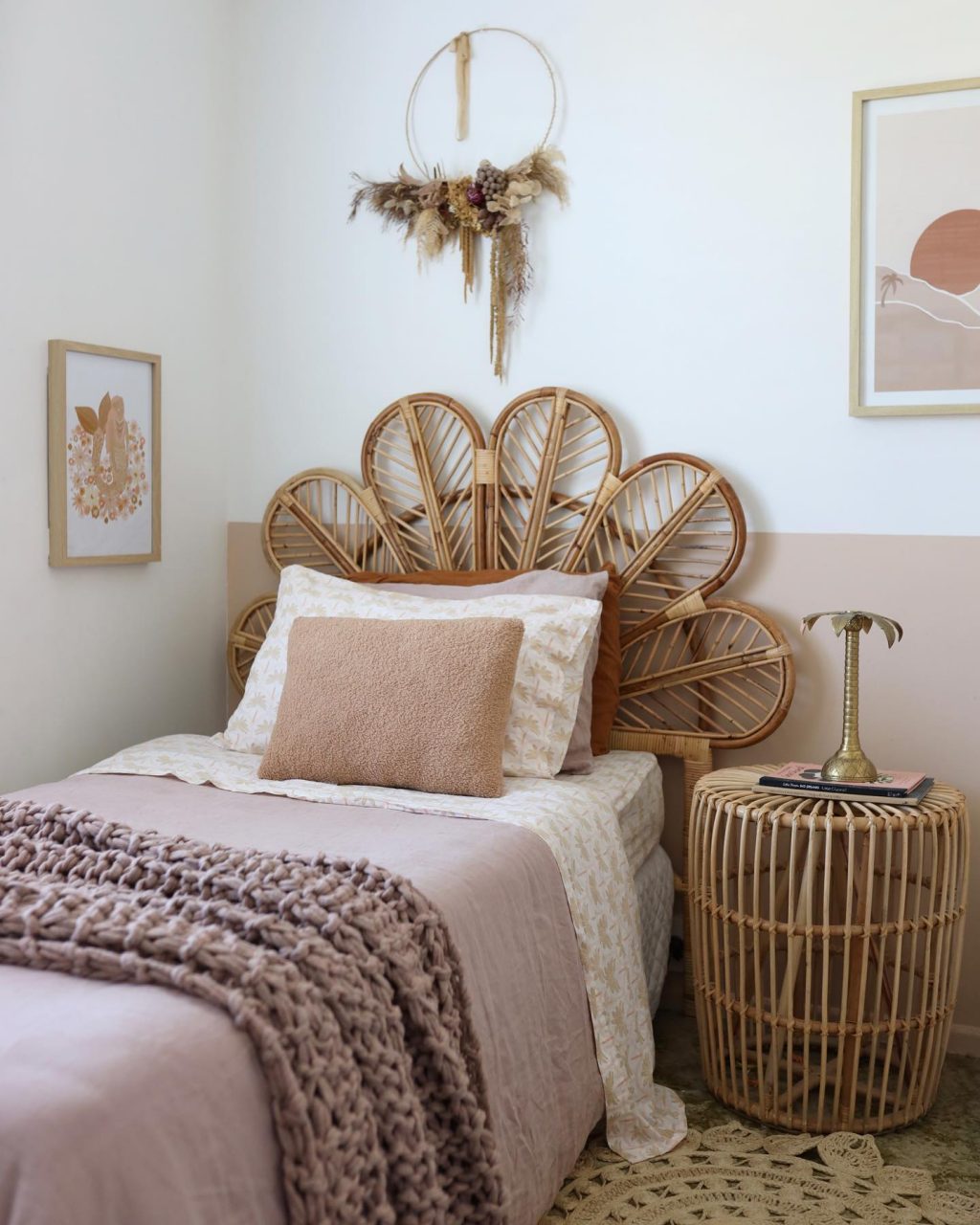 A rattan petal headboard like this one is a dream for boho lovers. The rattan nightstand and headboard contrast nicely with the more girly elements, like a dried flower wreath, chunky knit blanket, and the soft shades of mauve.
Choose A Bright Color Scheme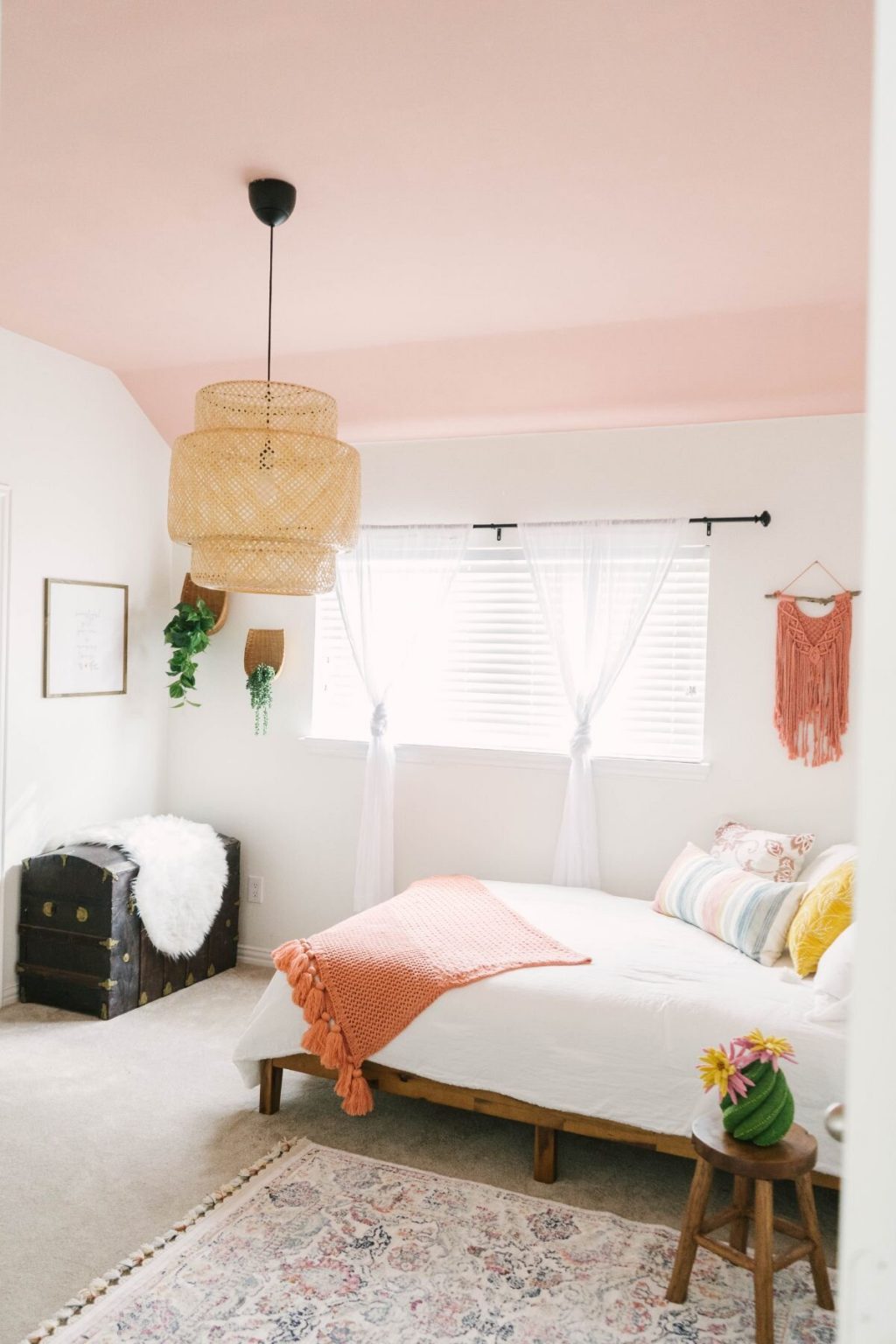 A cheerful color scheme, like the one used in this blush and coral girls room, beautifully pops against such a crisp, white backdrop. You don't need to go overboard with boho elements to make a room feel breezy and relaxed–colorful pillows, a tasseled blanket, a macrame wall hanging, and rattan accent pieces are the perfect touch.
Combine Styles You Love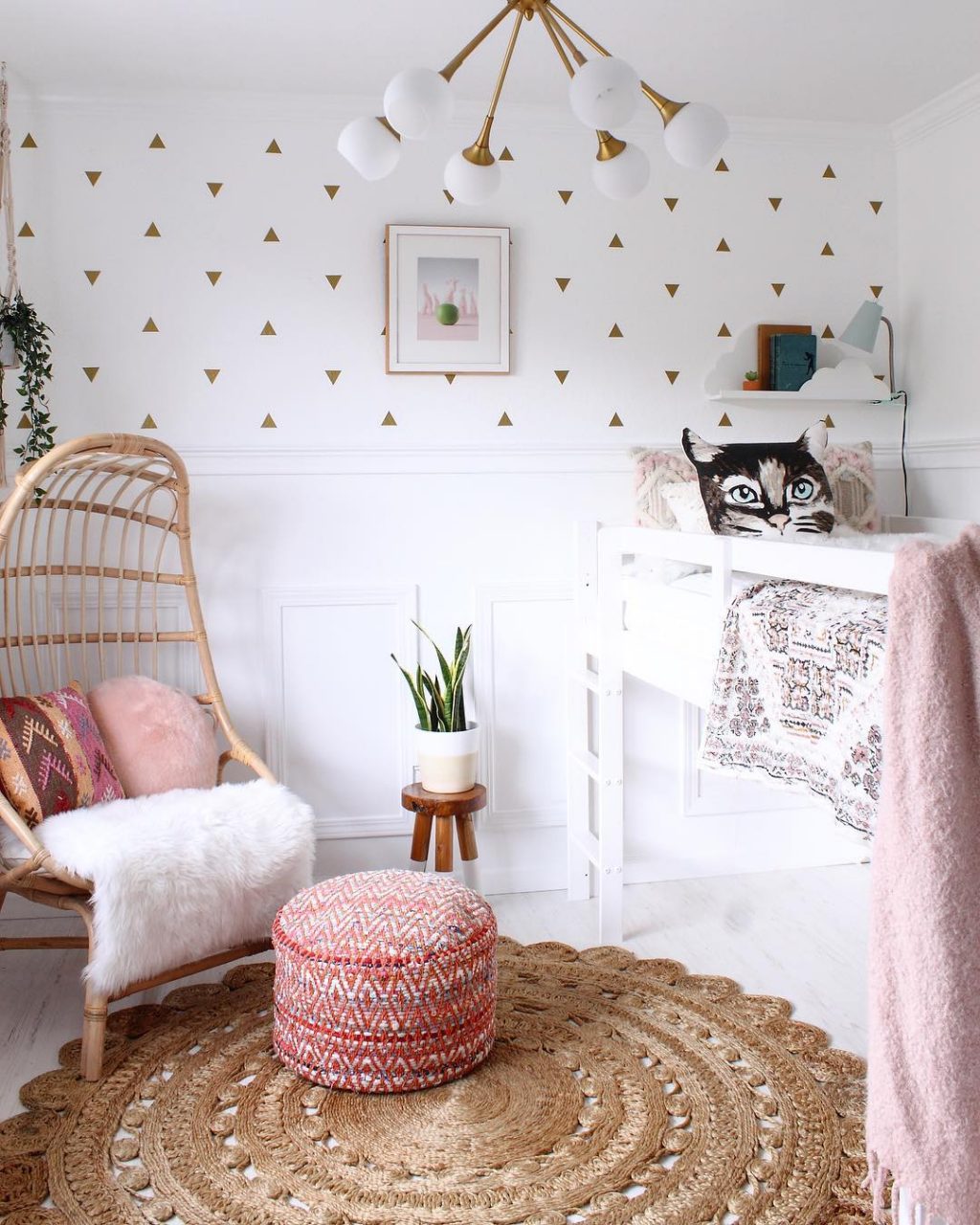 Bohemian design meshes well with other genres of decor, like the mid-century modern wallpaper and light fixture in this bedroom. But it works! Whether it's boho and farmhouse, boho and cottage, or boho and glam, only you can see your vision and make it work.
Try A Bunk Bed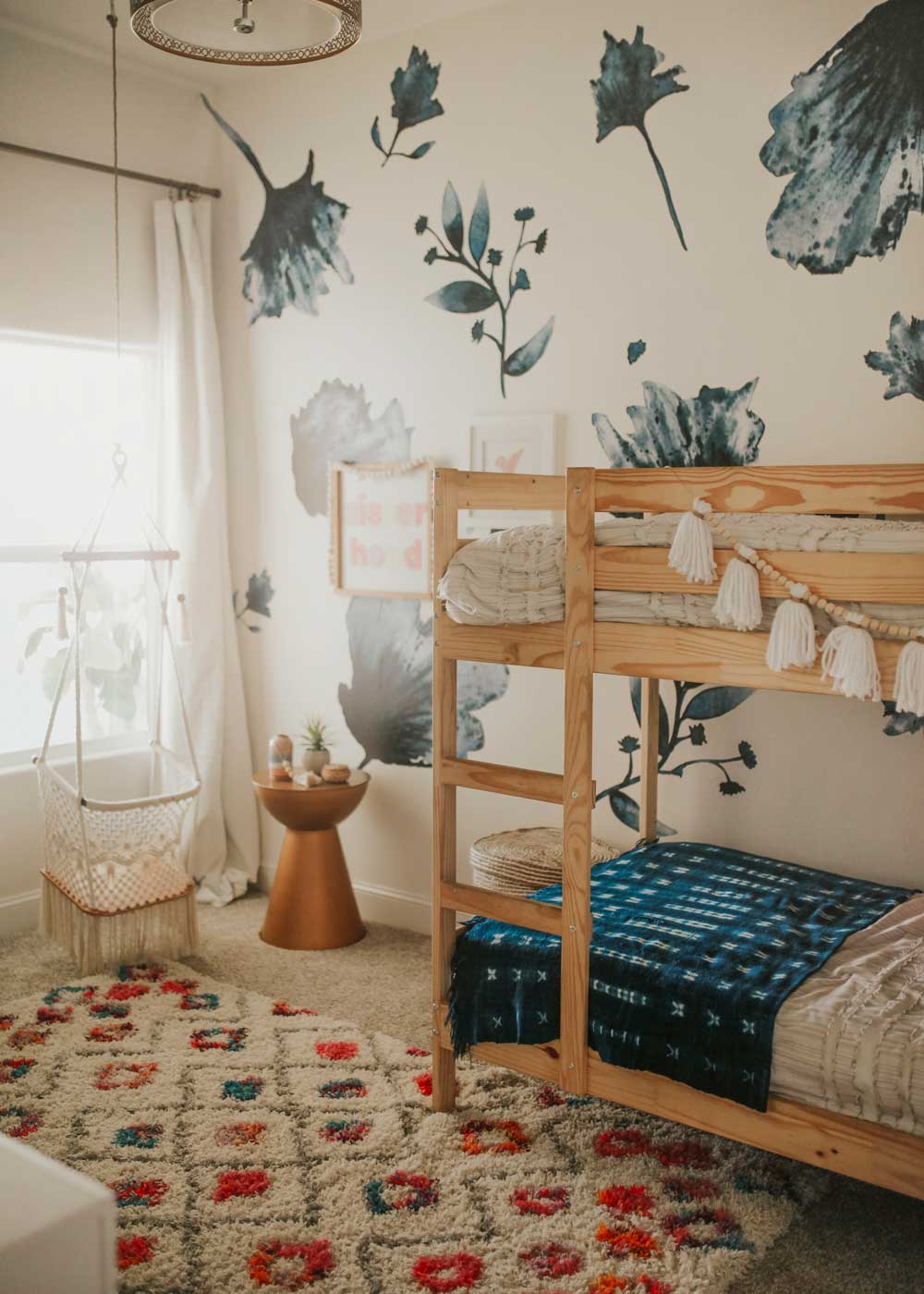 This cute bunk bed from Ikea creates a perfect focal point for a shared girl's bedrooom. Another idea from this sweet shared bedroom is to use an unconventional color scheme–the deep blues and light turquoises aren't typical for a boho bedroom, but it looks beautiful!
It's Okay To Mix & Match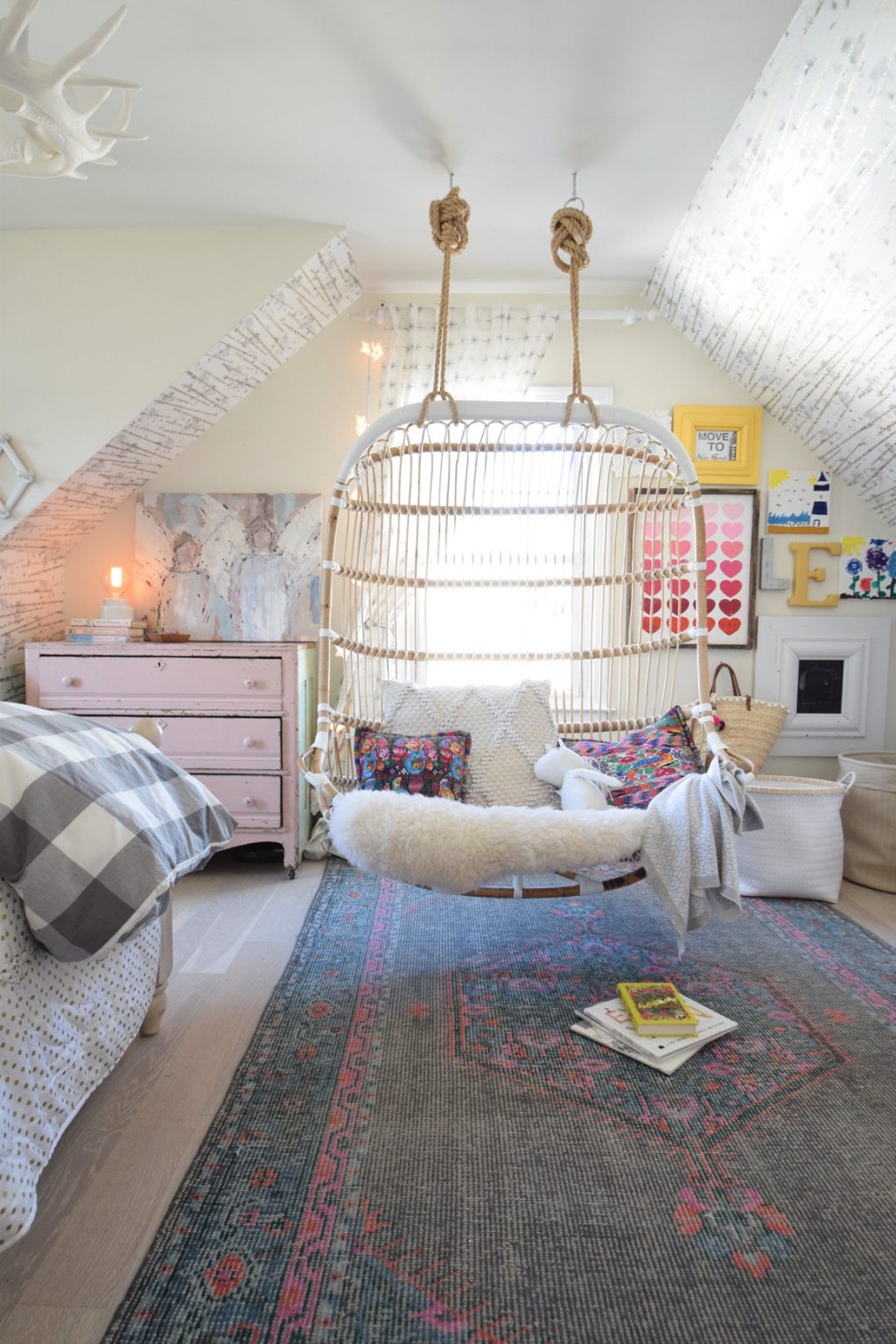 This eclectic bedroom is features lots of personalized elements for a pre-teen girl. Bright colored initial letters, some of her own artwork, and favorite stuffed animals mixed in with classic boho elements make this room look like it came right out of a Pottery Barn Teen catalog.
Contrasting Textile Colors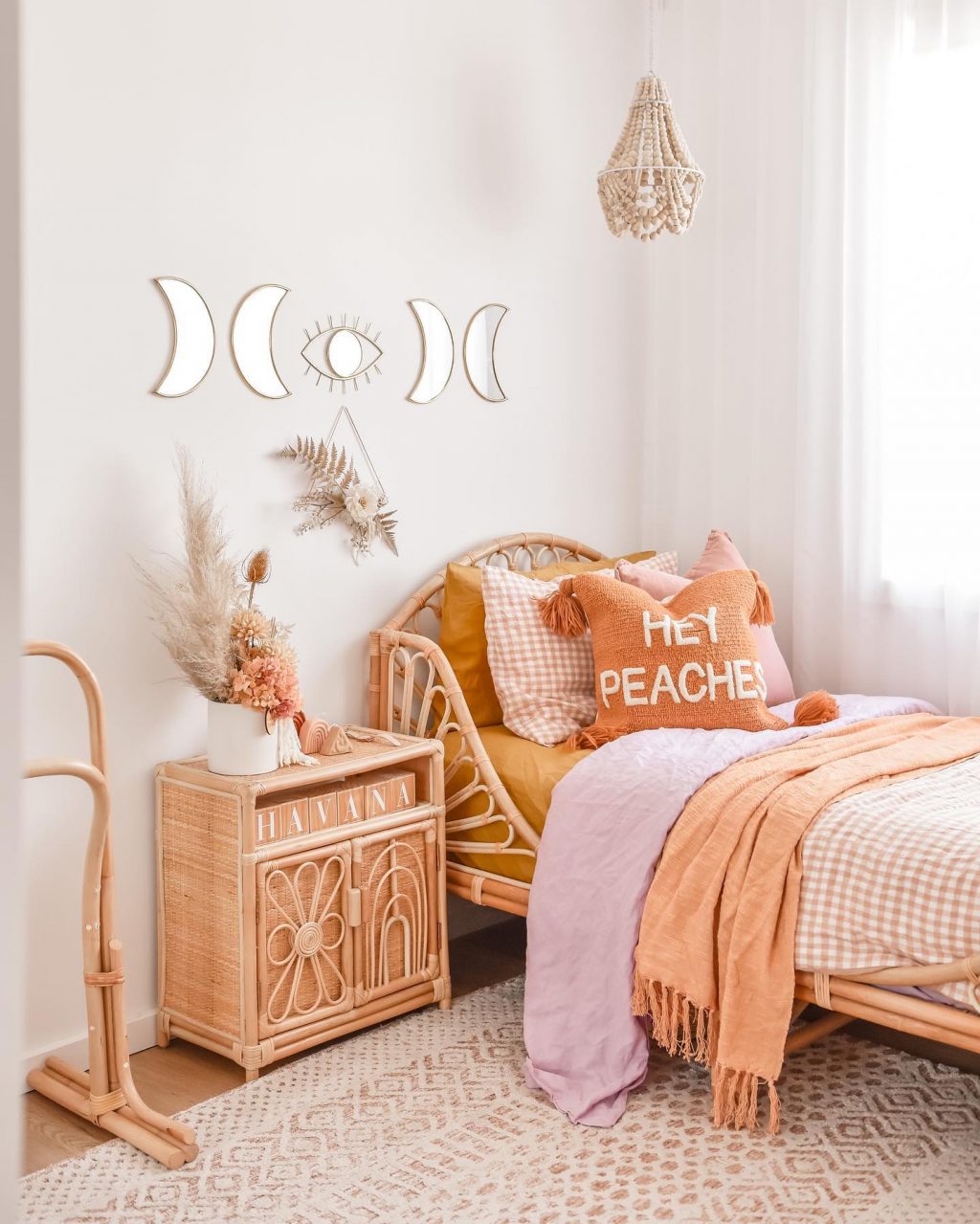 The designer behind this colorful girl's room suggests picking colors across from each other on the color wheel to begin learning how to use contrasting colors. The latch hook cushion is also adorable!
Boho Rainbow Wall Art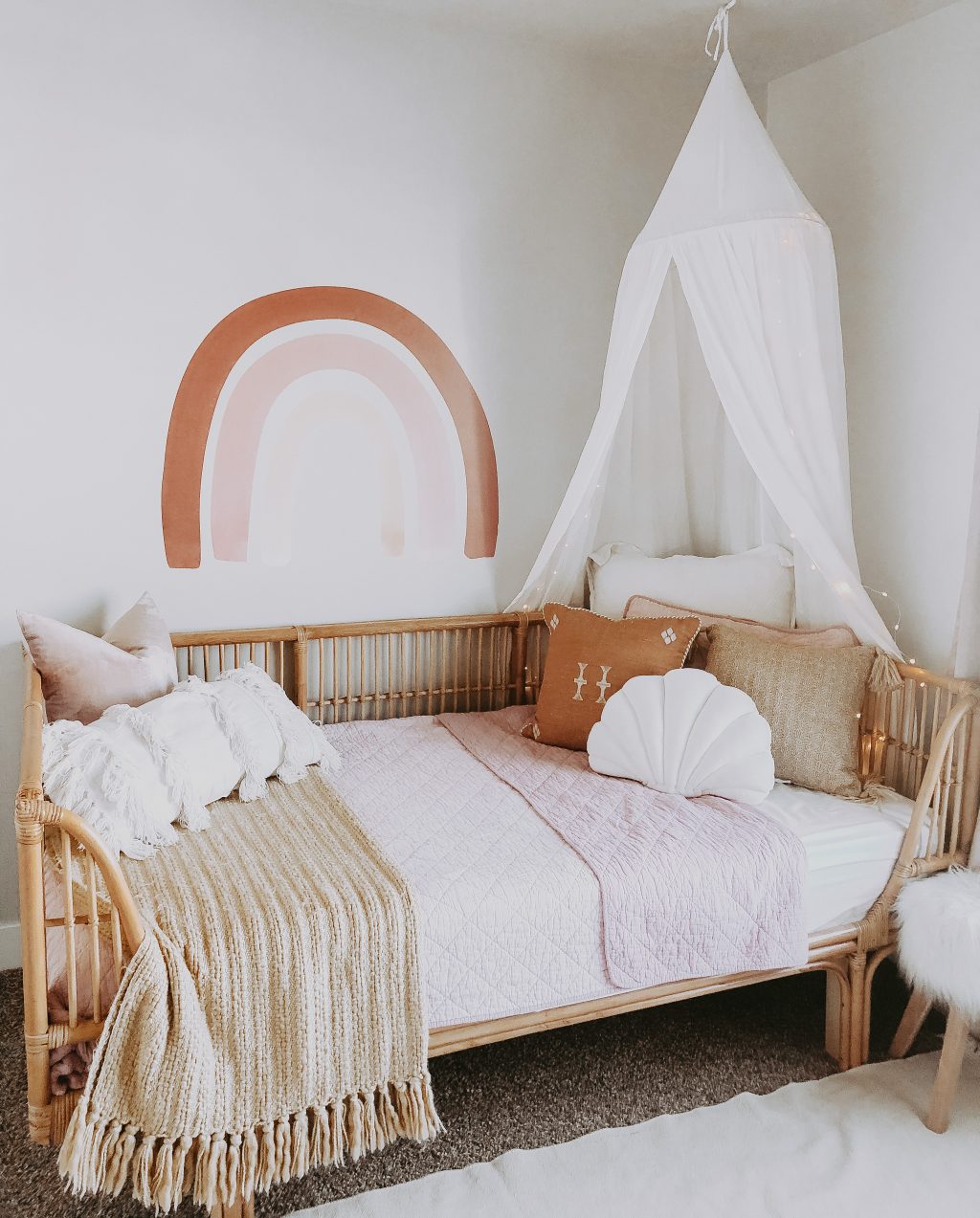 A rattan daybed feels just right in a boho bedroom, with its easy, relaxing feel. Add in a canopy, twinkle lights, and gold accents and you have the perfect boho bedroom!
Girl's Boho Glam Bedroom
This teen girl's bedroom meets in the middle between boho and glam, and we couldn't love it more! It's got all the classic boho elements–and a pretty pink rendition of a popular tassel chandelier.
Display A Personal Collection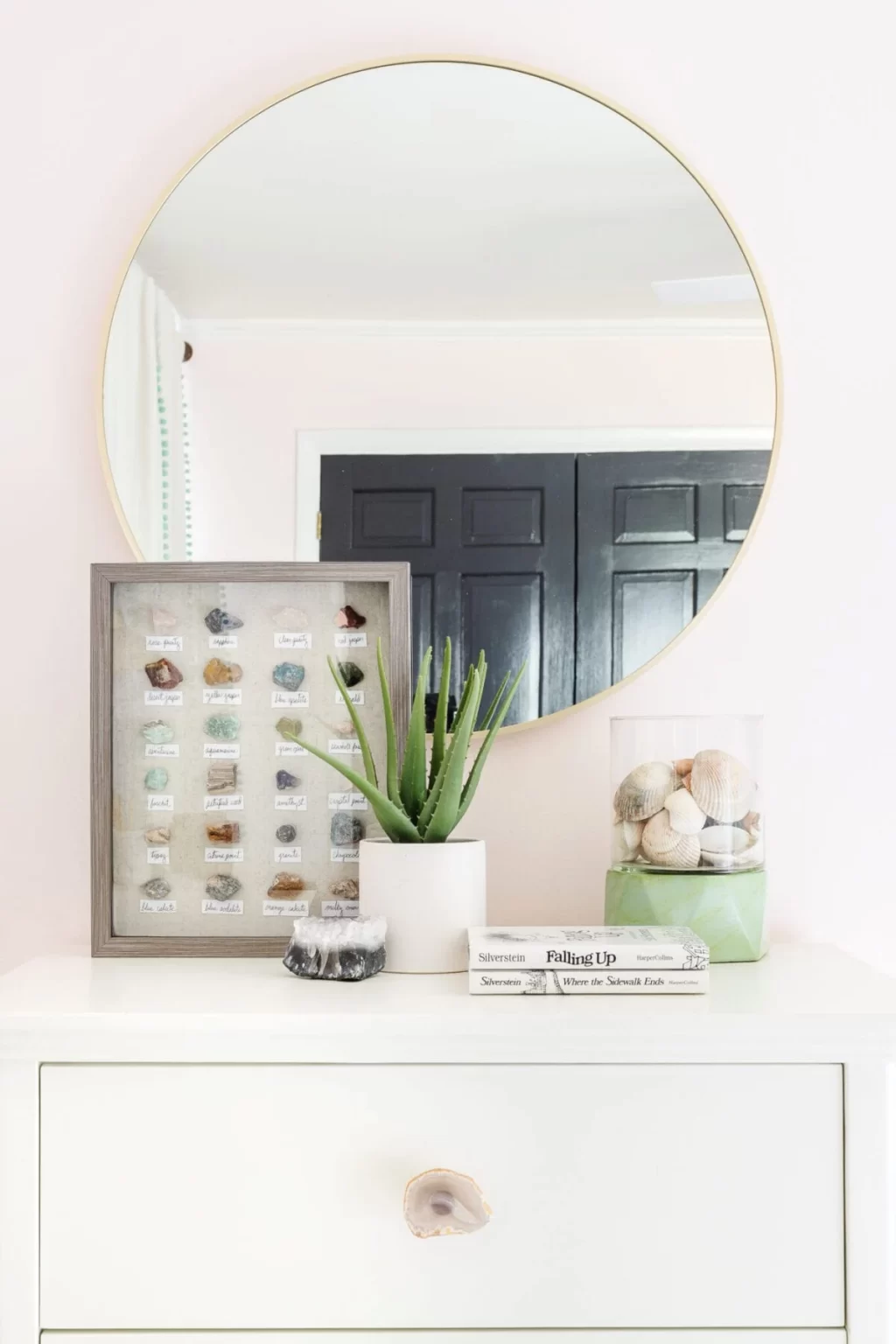 Check out this framed rock collection, a unique way to display a souvenir from a family trip! This idea goes to show you can find aesthetic ways to display personal collections, so shop what you already own and brainstorm out-of-the-box decor ideas!
Add A Cute Plant Shelf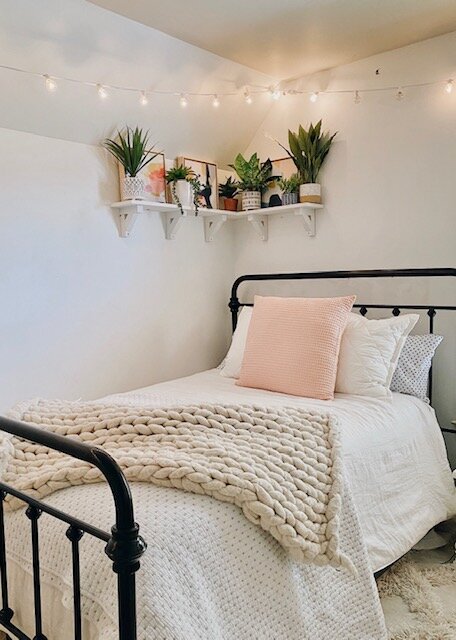 For a pre-teen or teen, a cute plant shelf they can arrange with some of their favorite artwork or framed photos is all they need to make their bedroom their own! We love the boho glam elements contrasted with the black wrought iron bed.
Teen Girl's Boho Bedroom
For those girls in the transitional years between pre-teen and teen, a bedroom refresh is in order! A mini gallery wall of aesthetic photos and inspirational quotes is perfect for a girl entering the teen years, as she can add more photos or mementos that hold special meaning as time goes by.
PIN THIS: