A beautiful Christmas tree is something we all look forward to at this time of year. Don't we all get excited when it's time to bring out your holiday cheer and all of your beloved Christmas decorations? If you're looking for some new Christmas decor ideas for 2023, we have 20 unique and gorgeous trees to inspire you this holiday season!
Decorating your Christmas tree can showcase your personality as well as your personal style. Don't be afraid to venture outside of the traditional tree decorating ideas of the past of the past and change things up this year with a few of these decorating tips and ideas.
Choose a Color Scheme
Once you've decided on a location for your tree, it's time to determine your overall color scheme!
Neutral Christmas decor looks great in a farmhouse style home as well as more Scandinavian inspired, minimalist areas like apartments or a small space where too much color can look cluttered.
If you go the neutral route, opt for natural elements like wooden ornaments, a simple pom-pom garland, pine cones, white snowflakes, and simple clear string lights.
If you learn towards the more colorful side of life, an artificial white tree can make an awesome canvas for some bright ball ornaments or a theme that matches your existing living room decor.
Let's dive in and check out some awesome xmas tree decorating ideas!
1 – Outdoor Adventure Tree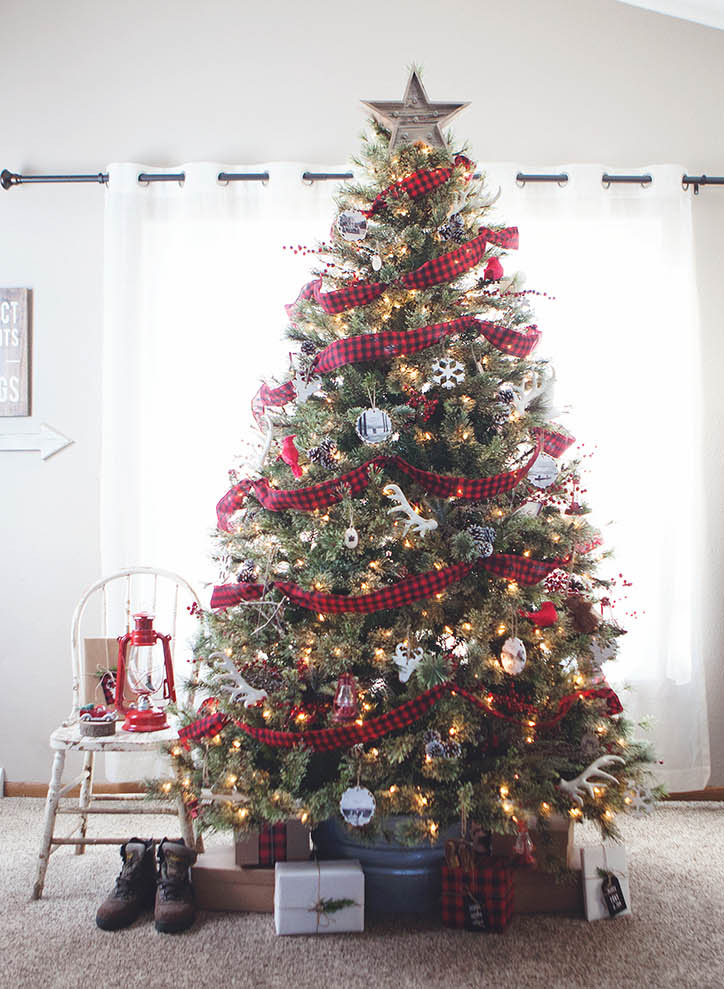 For lovers of camping, hiking and outdoor adventure, here's the tree design for you. The outdoorsy Christmas tree incorporates plaid, lanterns, classic red ribbon, antlers, pinecones, wood ornaments and ornaments with phrases such as "Adventure Awaits".
2 – Atomic Age Christmas Tree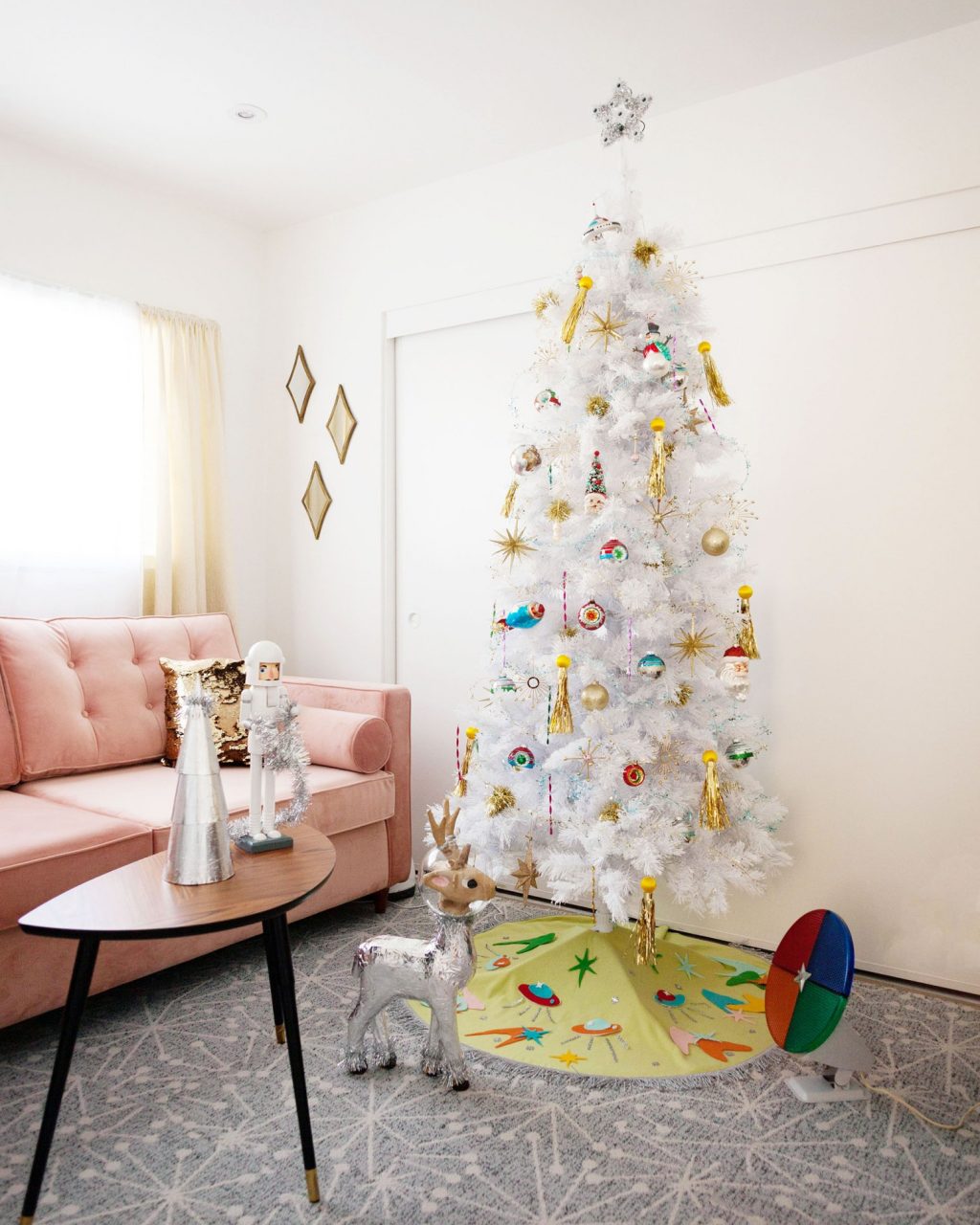 Throw it back to the atomic age, a period between the 1940s and 1960s when design was frequently inspired by the shocking technological progress of the time. People of this era were intrigued by space and atomic science, which was often mirrored in interior style. And how cute is that DIY no-sew tree skirt? This is a perfect example of how a white tree can really showcase gold ornaments!
3 – A Small Tree & Advent Calendar
Here's a great idea that incorporates several holiday traditions into one. Transform a small artificial tree into a Christmas village with quaint houses, mini trees and twinkling lights. The bonus here is that each home also doubles as a date on the advent calendar – how fun!
4 – California Orange Christmas Tree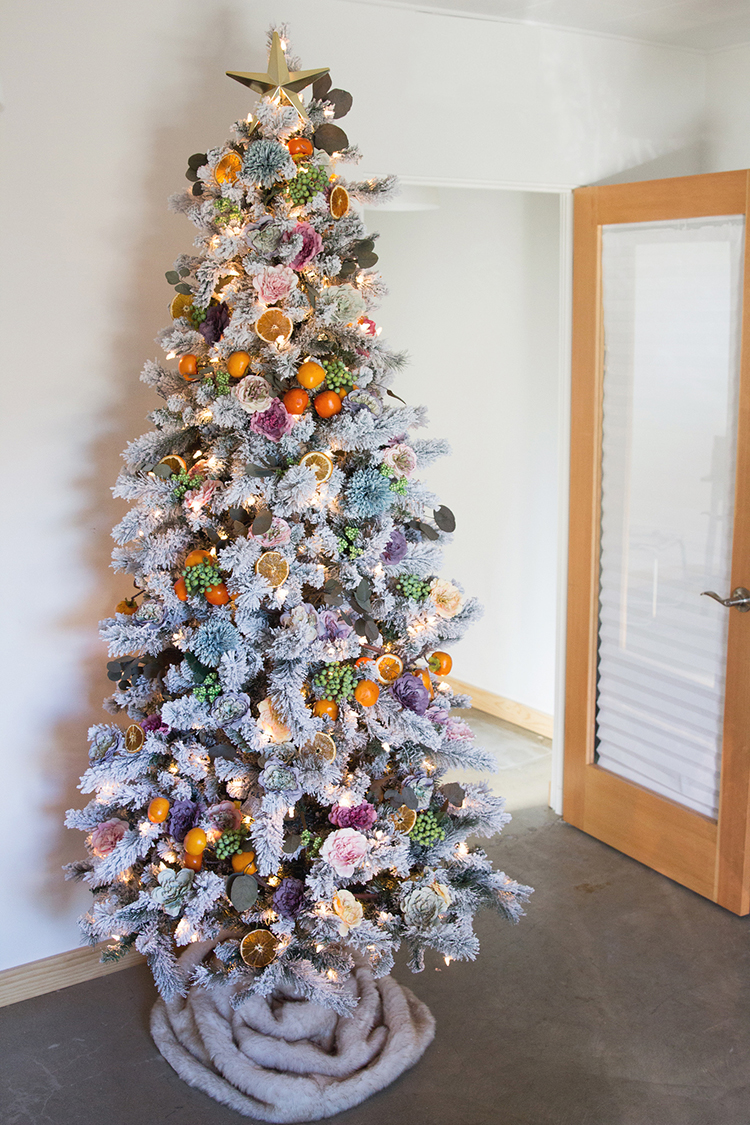 Here's a themed tree that's totally unique and well-suited to the warmer parts of the world at Christmas time! The tree includes citrus fruits (both whole and cut open), along with flowers, botanicals and berries.
4 – Pink and Green Christmas Tree Theme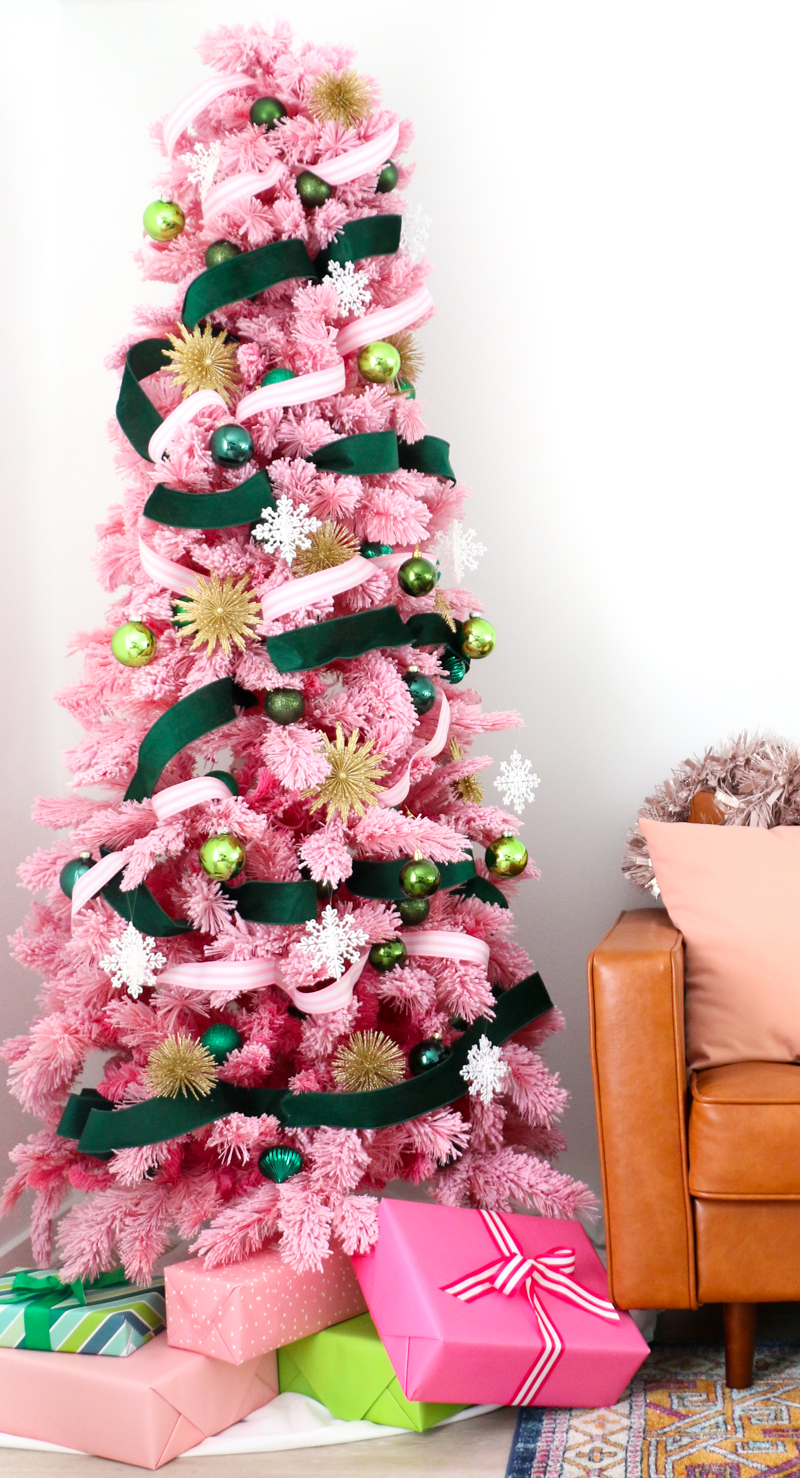 Is it just me, or is this tree giving all the Whoville/Grinch vibes? It's actually quite simple to replicate if you already have a pink tree – just add green ribbon and gold, green and white ornaments.
5 – Old Fashioned Tinsel Tree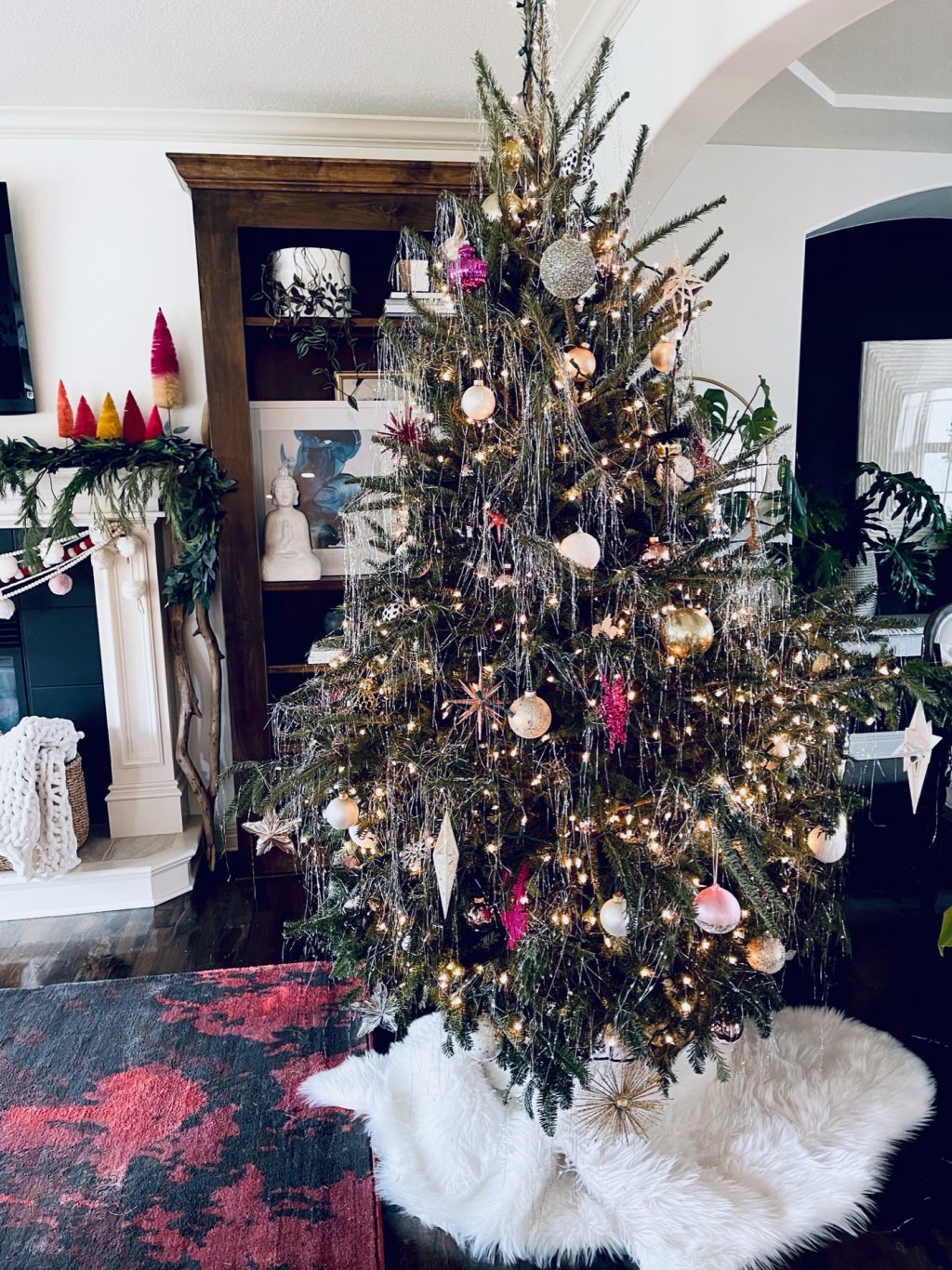 One easy way to create a more traditional, old fashioned Christmas tree is to add an abundance of loose tinsel to your design. Not only does that create a beautiful tinsel, it also transports you back to the holiday seasons of yesteryear — just don't do this one if you have pets, as the tinsel can harm them if ingested.
6 – Rainbow Ombre Christmas Tree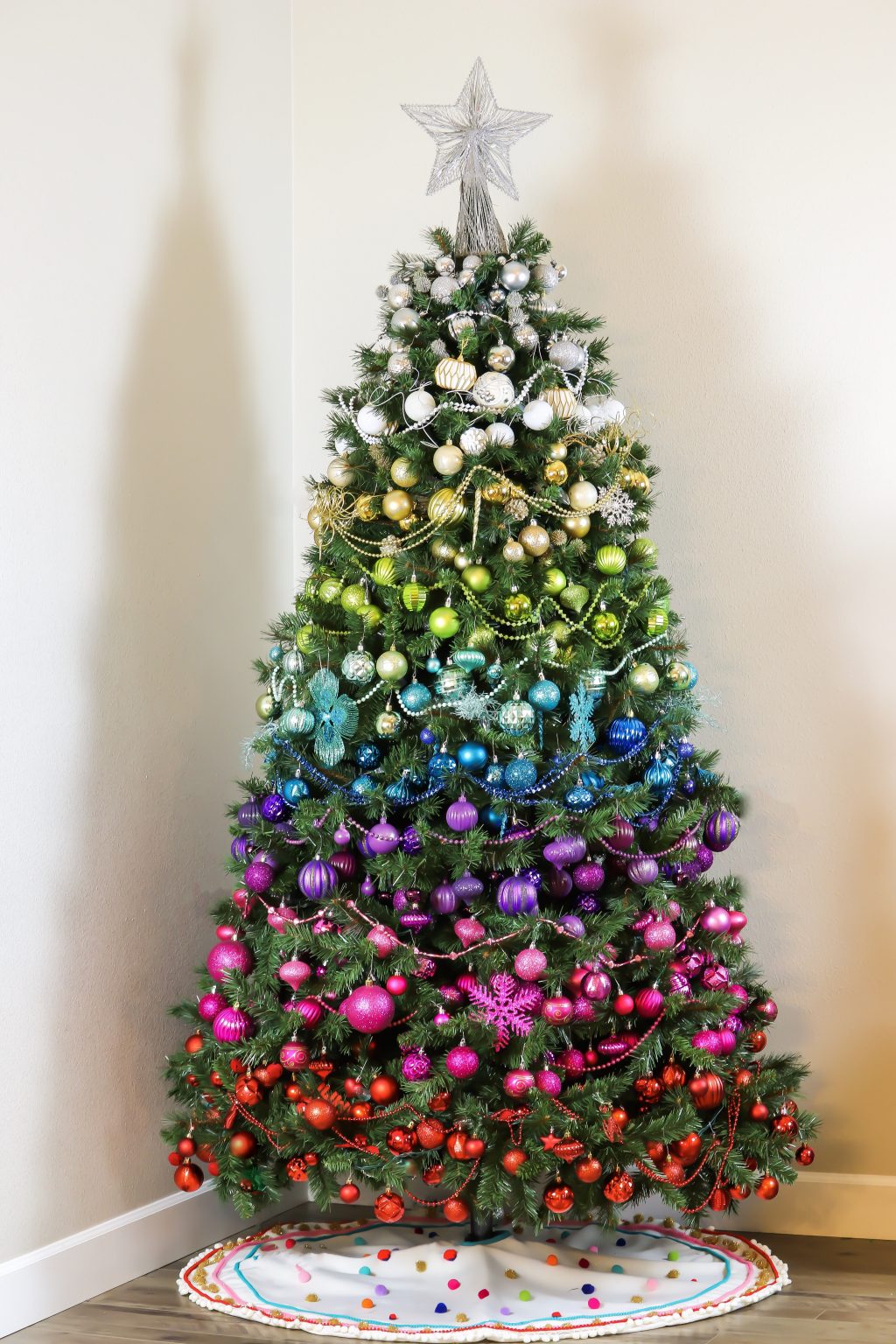 Want a gorgeous tree that really POPS? This rainbow tree is super cute and charming, transitioning through white, gold, green, blue, purple, pink and red — but the effect works with whichever colours you prefer!
7 – Boho Glam Tree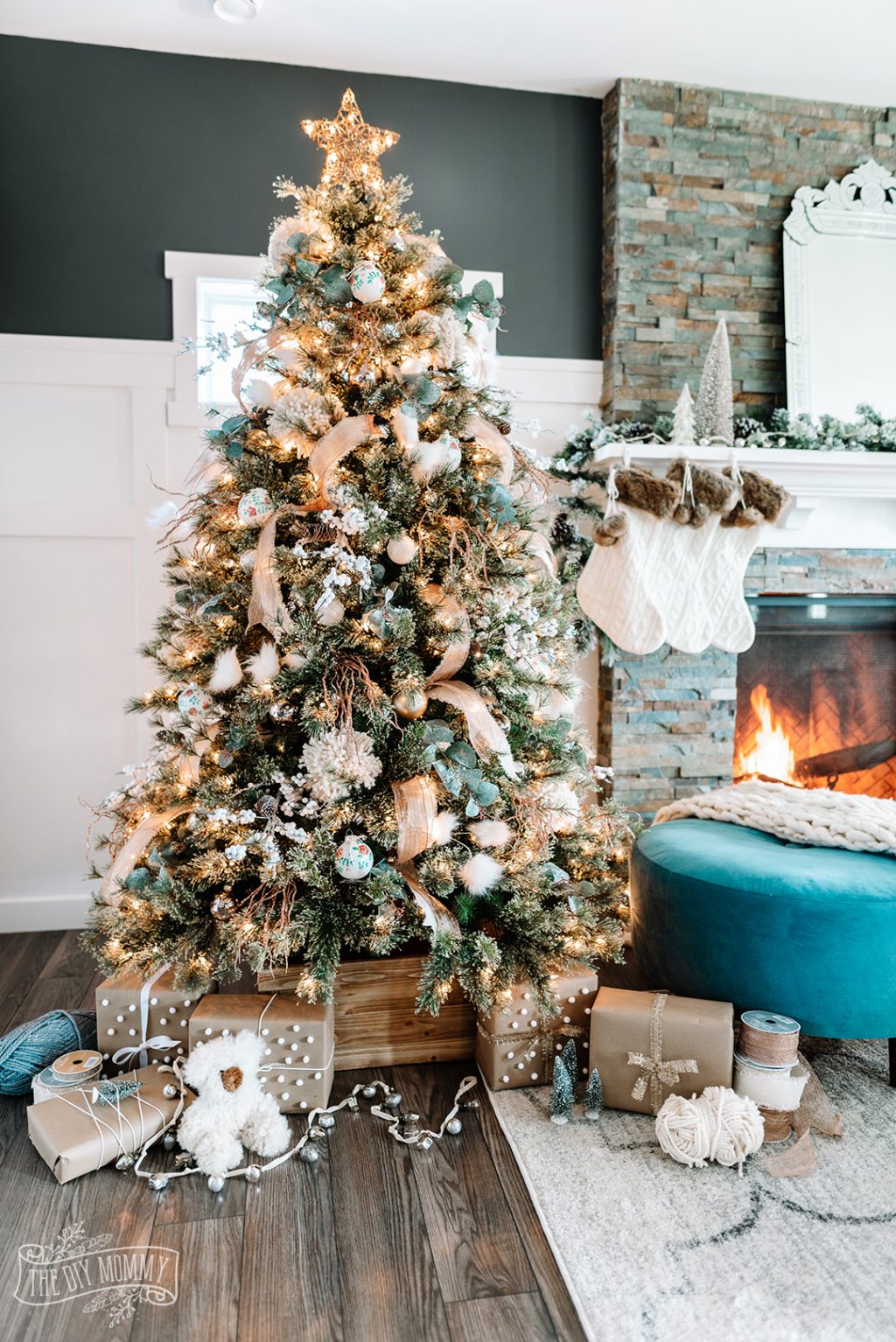 What makes a glamorous boho style Christmas tree? Try pairing hand-painted ornaments (keeping the colours consistent and natural) with fluffy pom-poms and floral elements.
8 – Rustic Boho Christmas Tree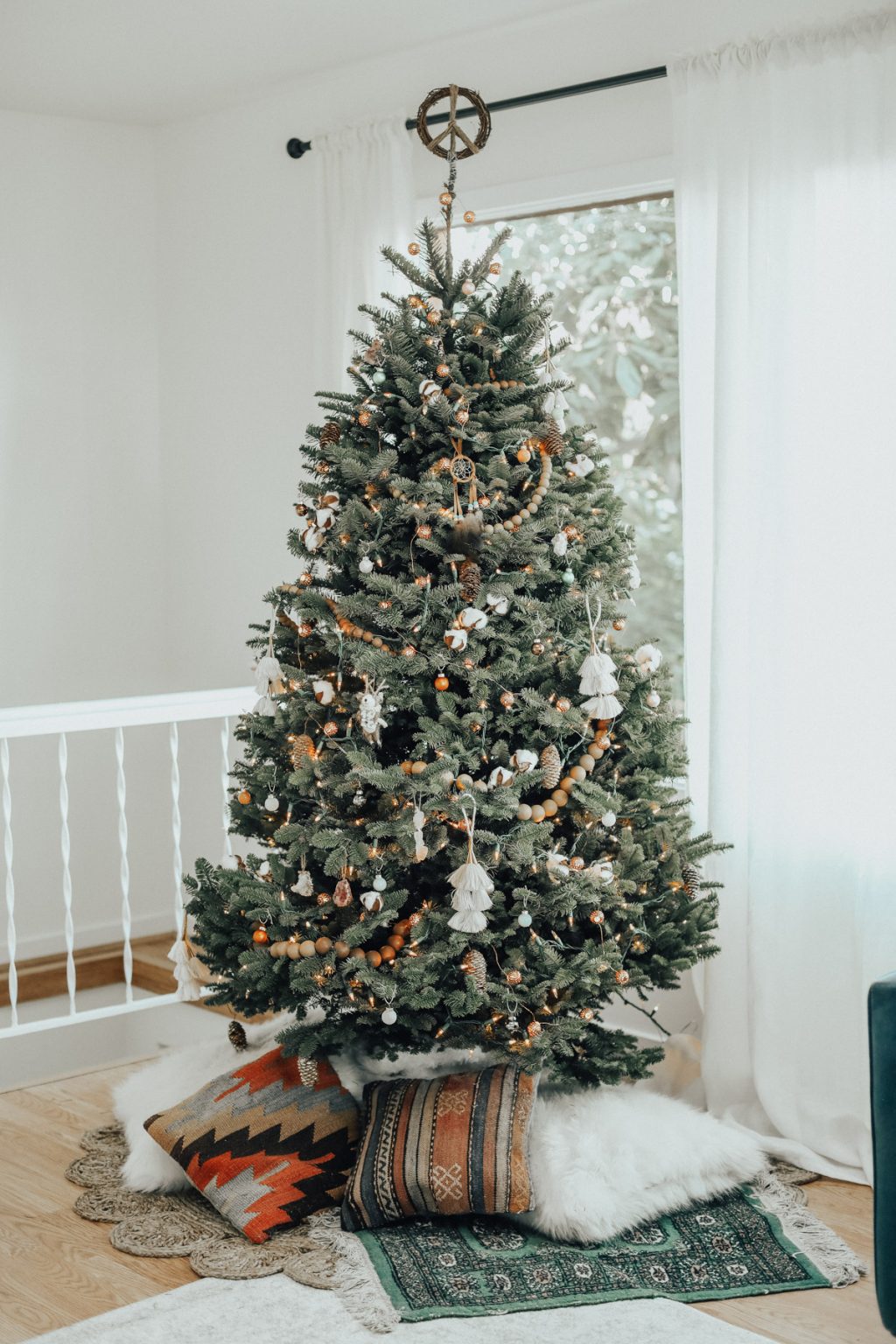 If you want your tree to lean more boho than glam, here's another bohemian Christmas tree to take some inspiration from. The tree uses fluffy white yarn elements, wooden beads and peace sign motifs (including for the tree topper – how cool)! A flocked Christmas tree completes this look perfectly!
8 – White Fluffy Christmas Tree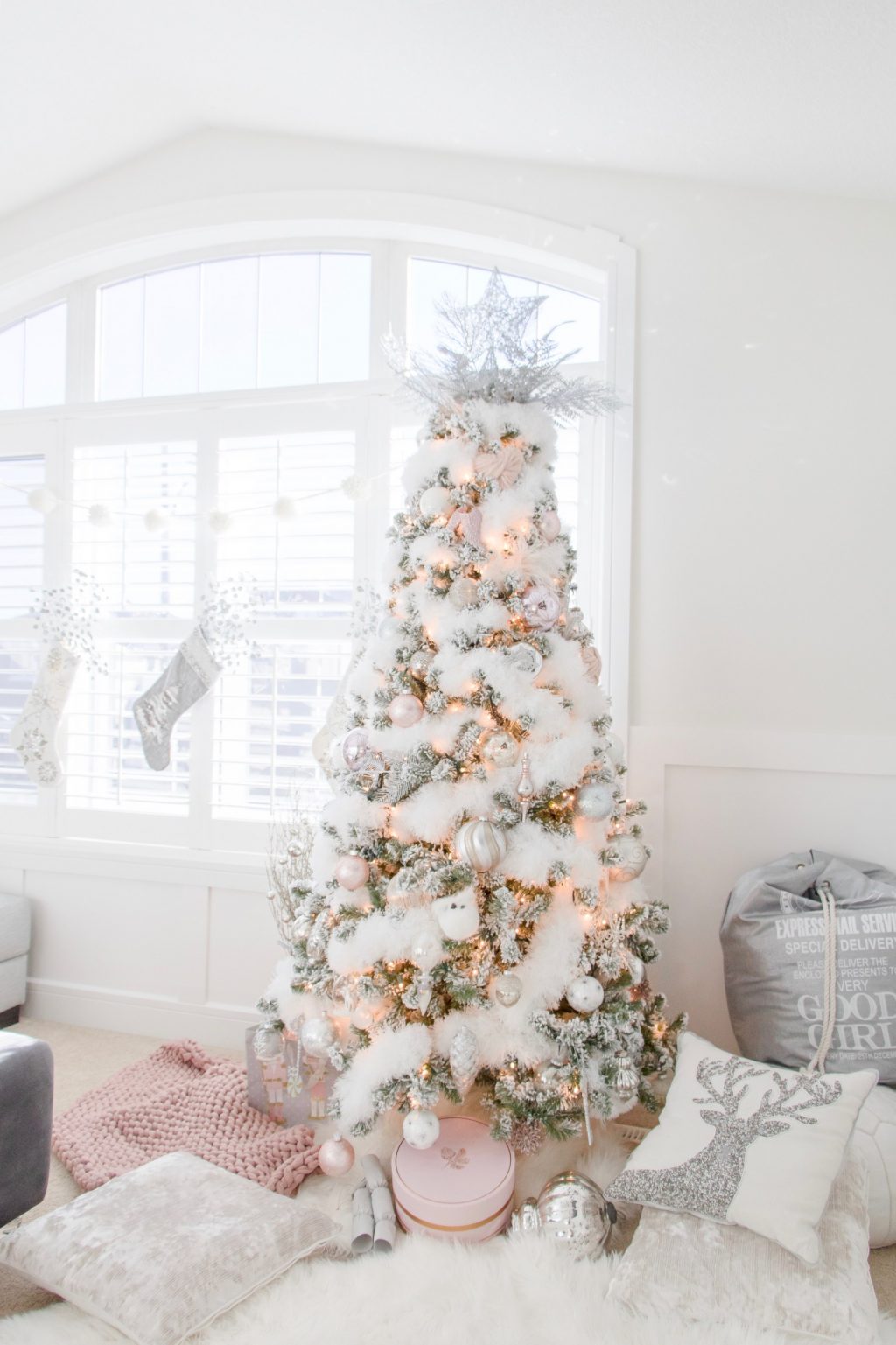 Go for a white, fluffy tree if you want to bring the elements of snow into your home. Keep your colours light (white, pastels, silvers) and include feathers and fluff to complete the look.
9 – Coastal Christmas Tree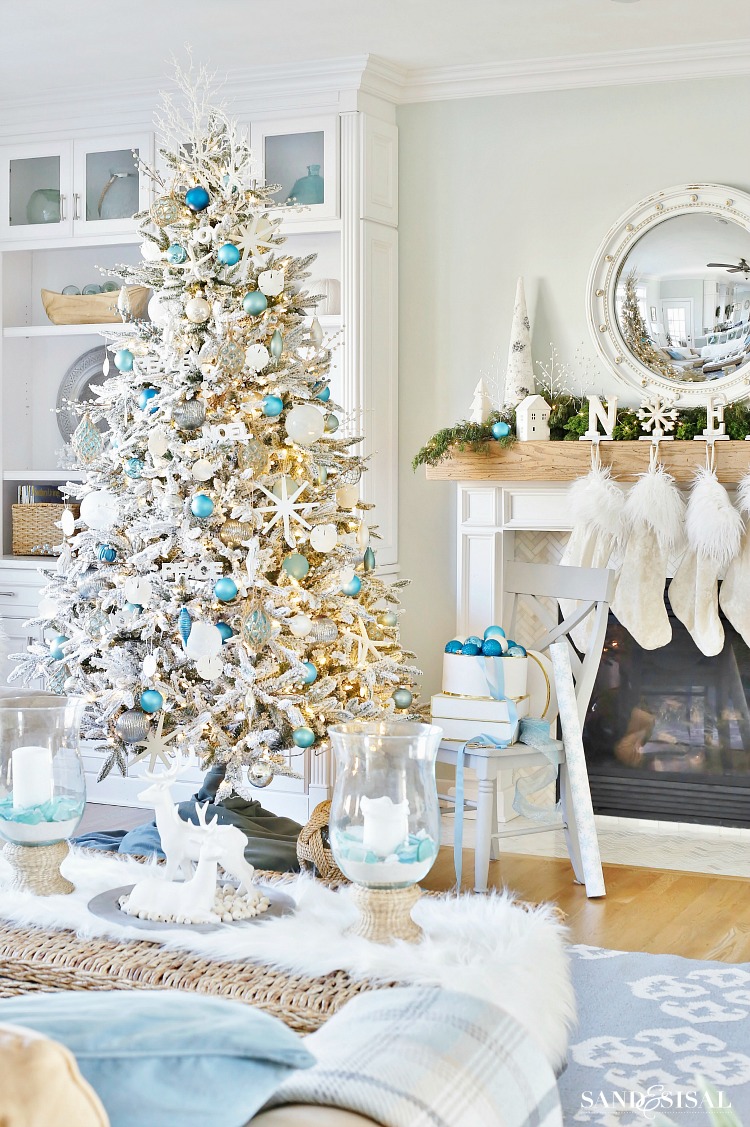 If you have a light and airy living space or happen to live by the coast, why not go with a non-traditional Christmas tree idea with this gorgeous blue, white and silver design? Include elements of the sea such as seashells, star fish and coral.
10 – All Metallics Christmas Tree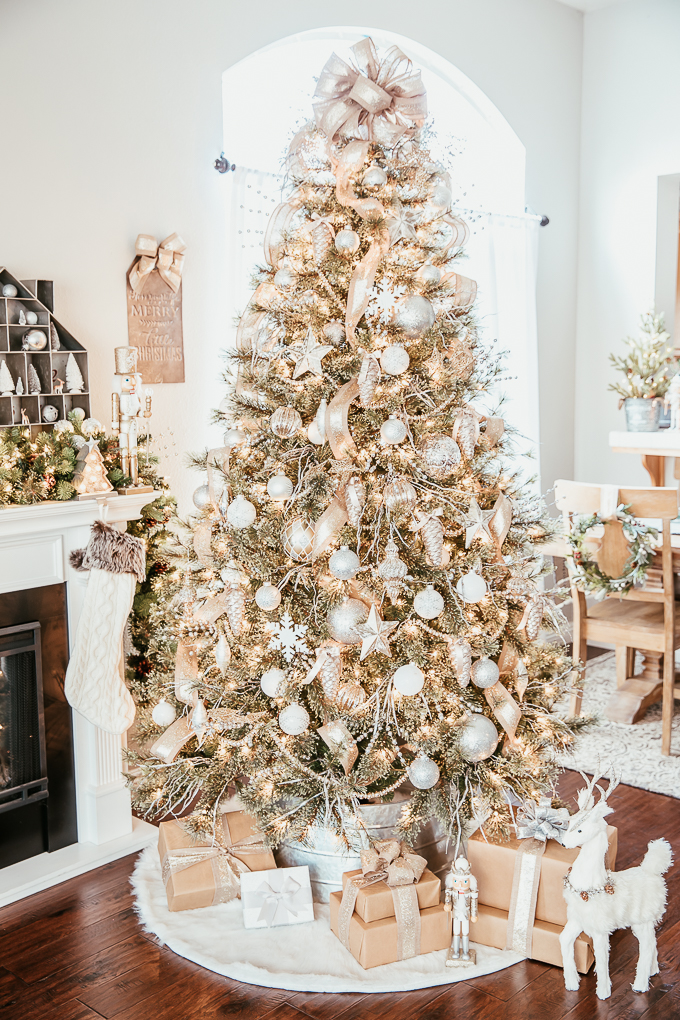 All that glitters is gold…and silver! Don't worry about mixing metallics for the holidays — this Christmas tree shows how gorgeous the effect can really be. Take your tree to the next level with a big metallic bow as the tree topper.
11 – Jewel Tone Christmas Tree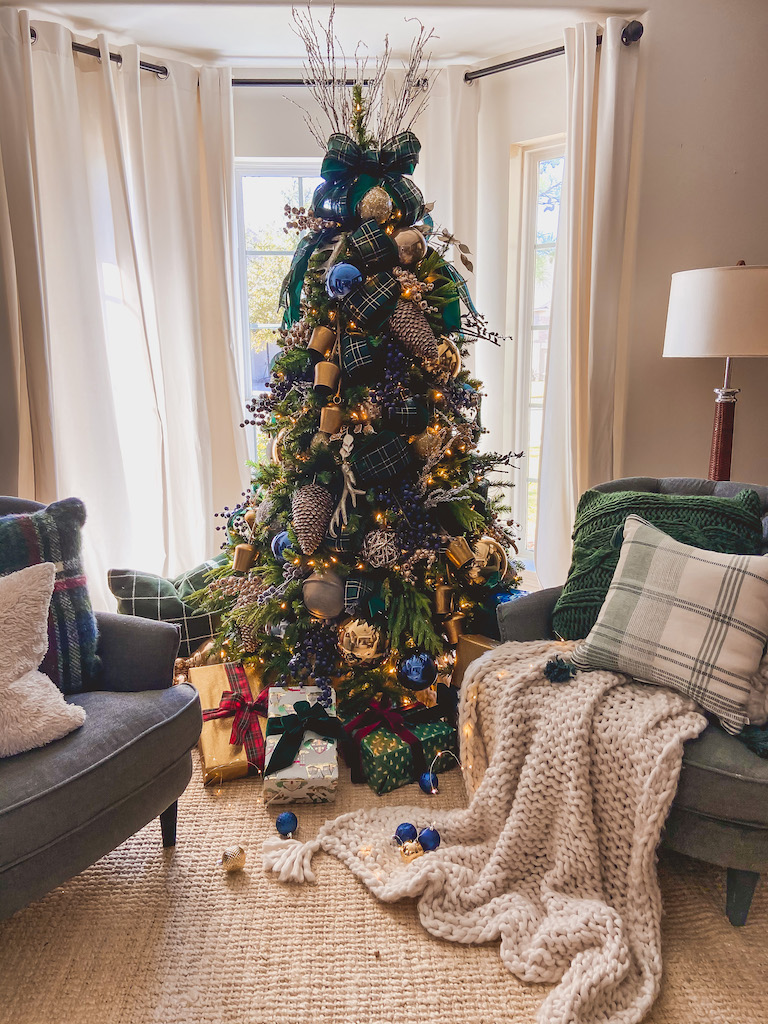 There's something so rich about this Christmas tree, which pulls in brilliant golds with vibrant blues for a stunning result. Notice how all the ornaments are quite large, giving an opulent and full feeling to the tree.
12 – All White Winter Theme Tree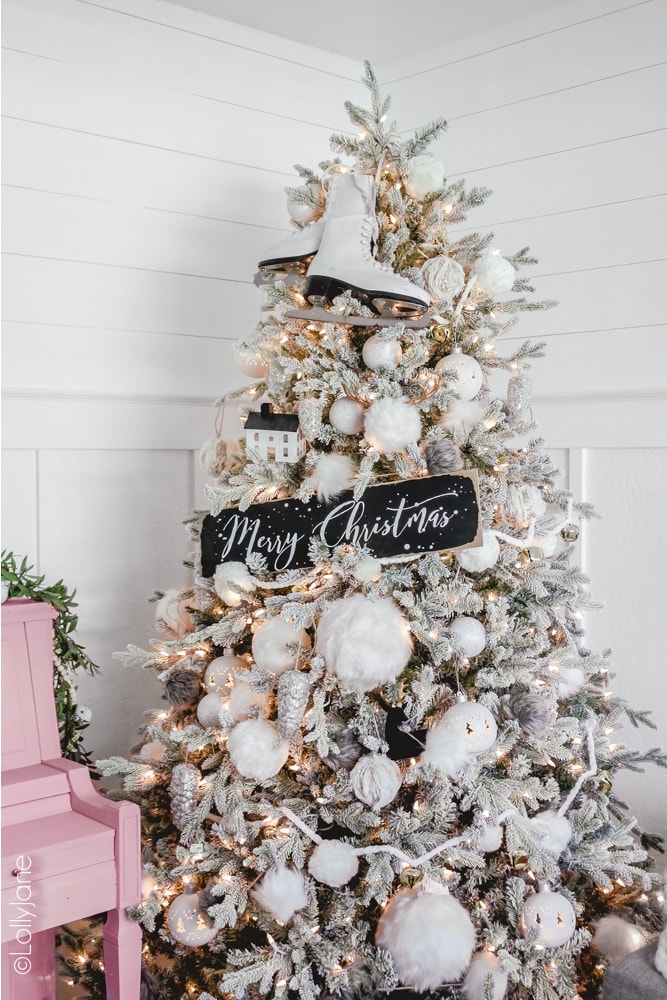 Walkin' in a winter wonderland…If you have a flocked tree, why not go all-white for your tree for a polished and feminine design? I love how this tree also incorporates a Christmas greeting and many elements of winter, including a pair of figure skates.
13 – Black and White Farmhouse
Another almost-all-white Christmas Tree, this one takes a farmhouse approach by including some black elements, wood ornaments, ,'joy' baubles and a picnic black-and-white plaid ribbon.
14 – Colourful Candyland Christmas Tree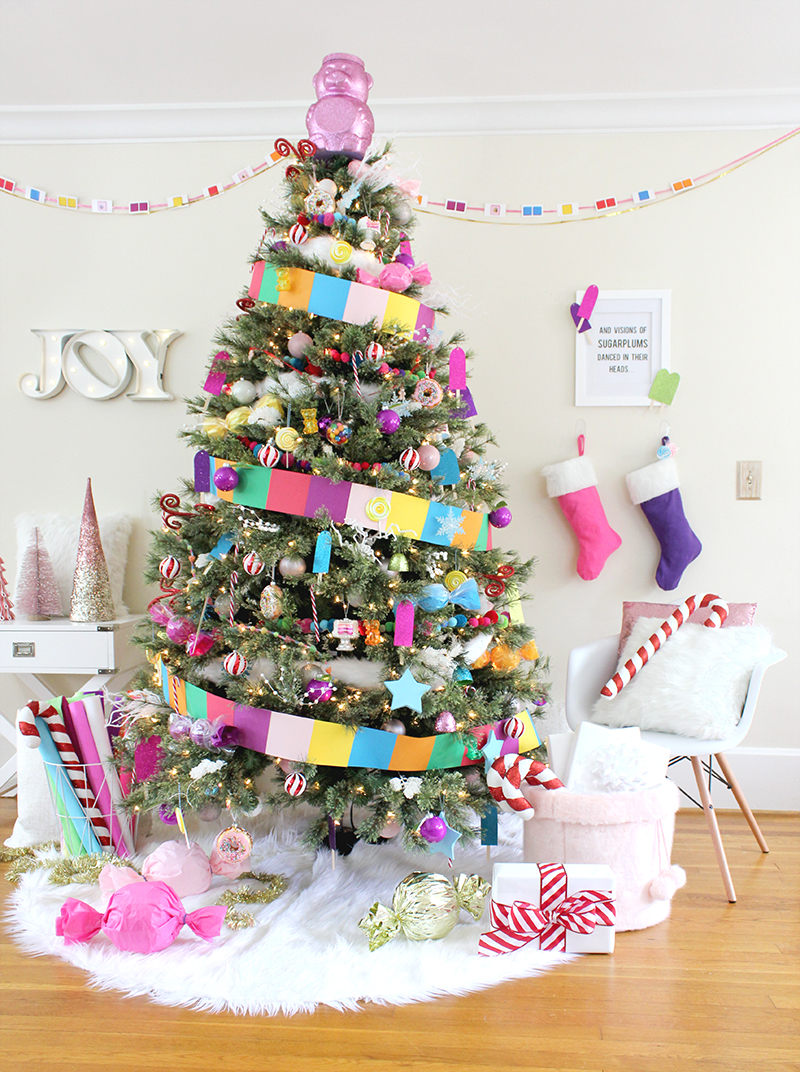 Candyland themes have been gaining popularity in the last few years, especially considering how many candy-themed ornaments can be DIY. This tree takes a literal approach with a gummy bear tree-topper and many bright accents throughout.
15 – Sweet Themed Christmas Tree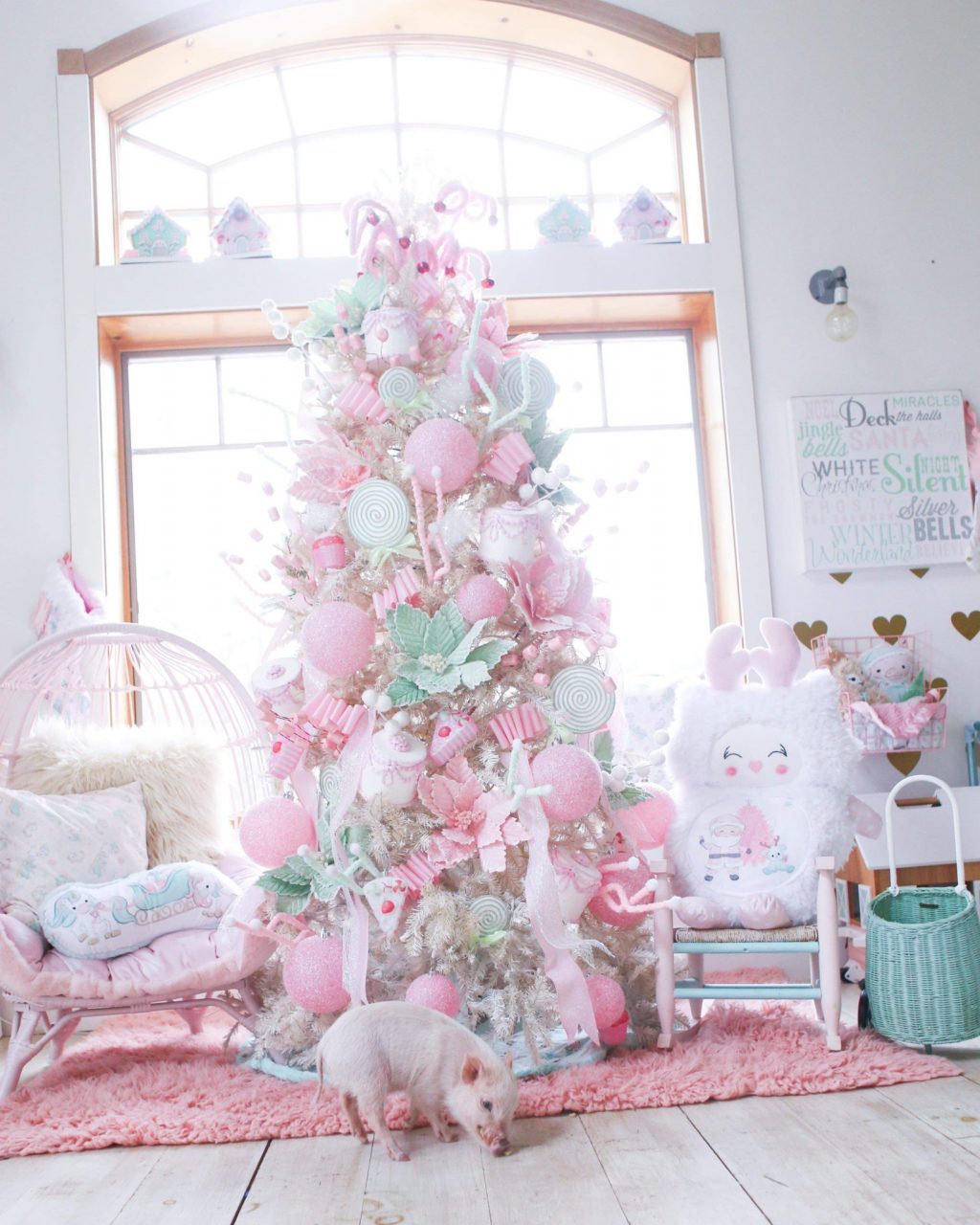 Your very own tree sprinkled with all of your favorite things!? Yes please! This tree takes a slightly different approach to the candy land theme, using only pink, white and blue elements for a sugary sweet result.
16 – Woodland Christmas Tree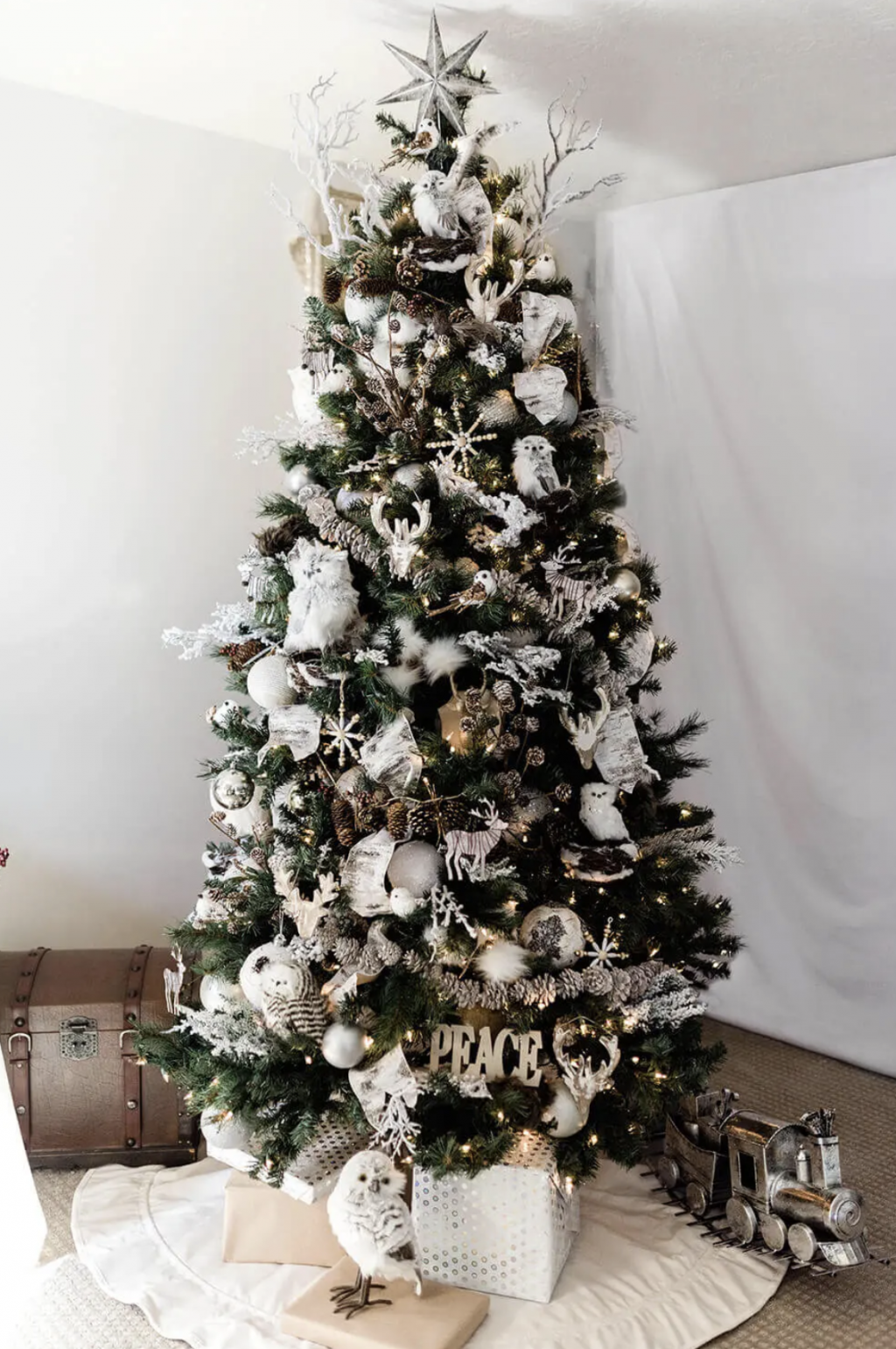 A woodland Christmas decor theme is especially cute if your home happens to have a cabin feel to it. Your woodland tree should include furry and feathered critters of the forest (especially owls), as well as other motifs like snowflakes, antlers, branches and acorns.
17 – Candy Cane Christmas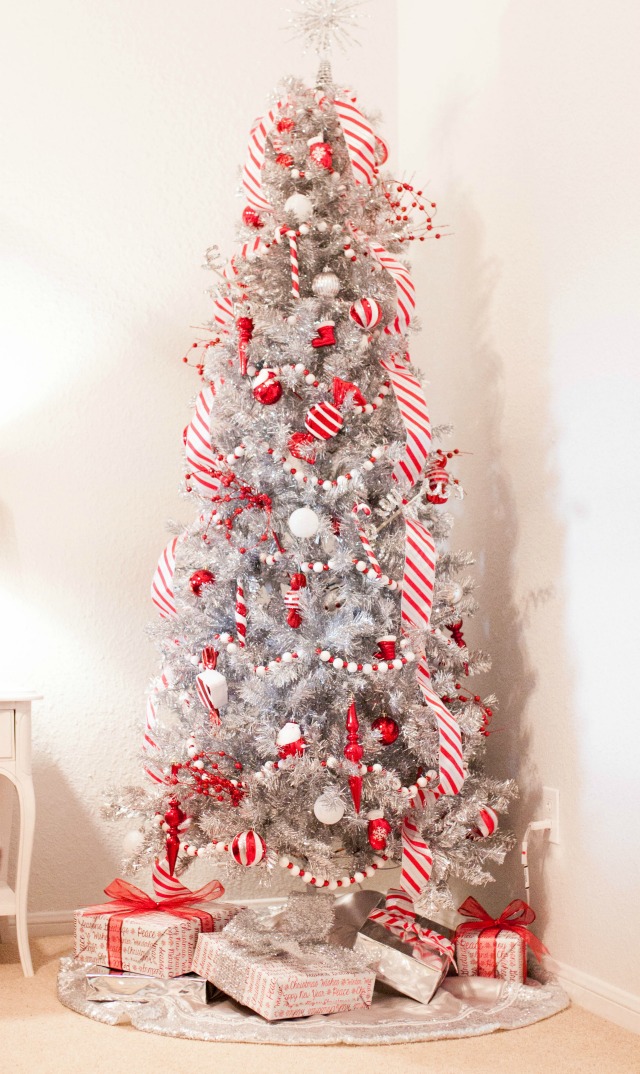 Are candy canes underrated, overrated or properly rated? If you picked properly rated, how about a candy cane Christmas tree? Celebrating all things peppermint, the tree keeps things simple with a red-and-white striped theme.
18 – Minimalistic Christmas Tree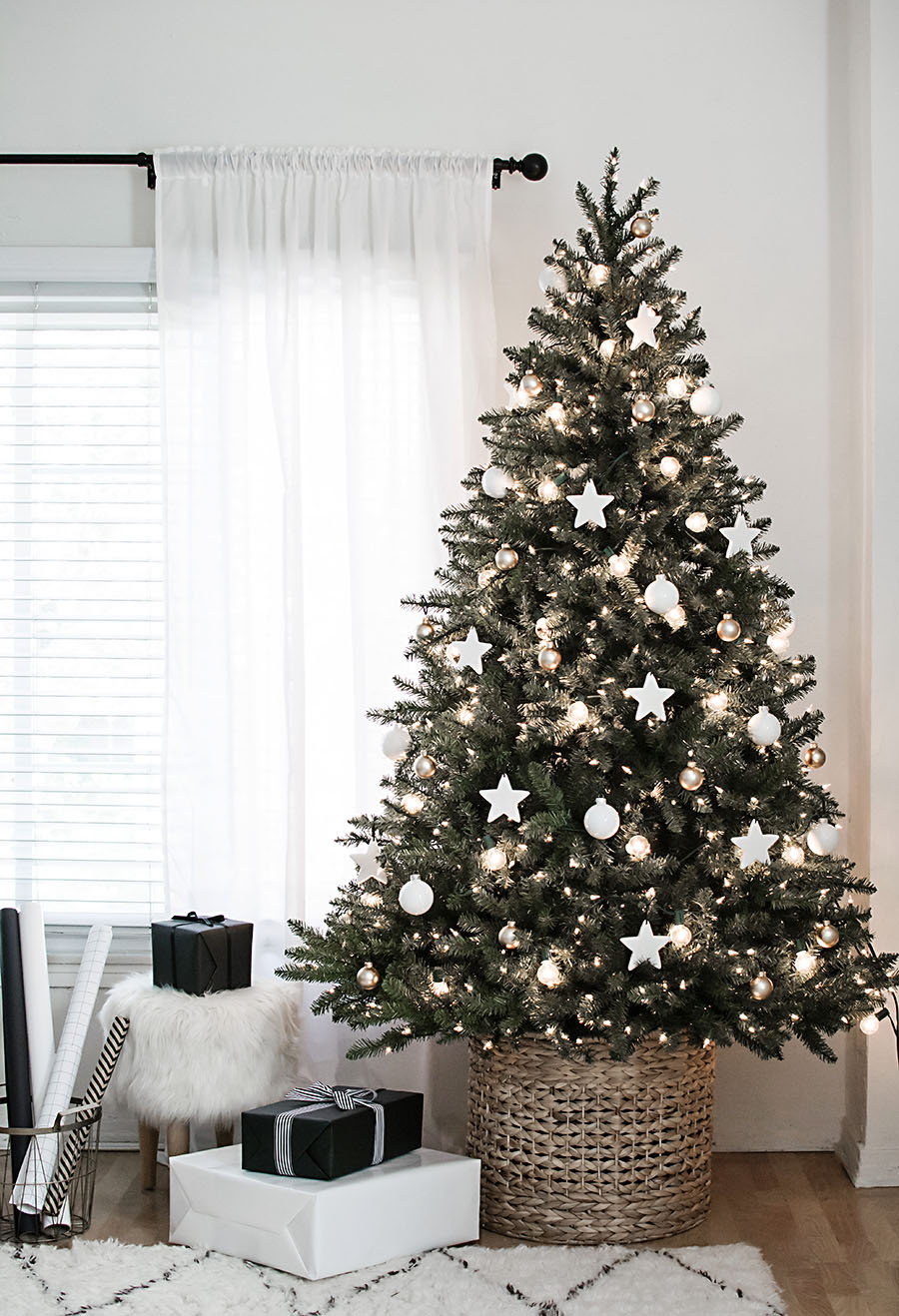 If you're more of a minimalist, you might feel overwhelmed by the amount of ornaments on some trees. But there's nothing wrong with keeping things simple – in fact, it can be quite charming! Choose smaller white ornaments from the store or make your own star ornaments out of clay.
19 – Natural Christmas Tree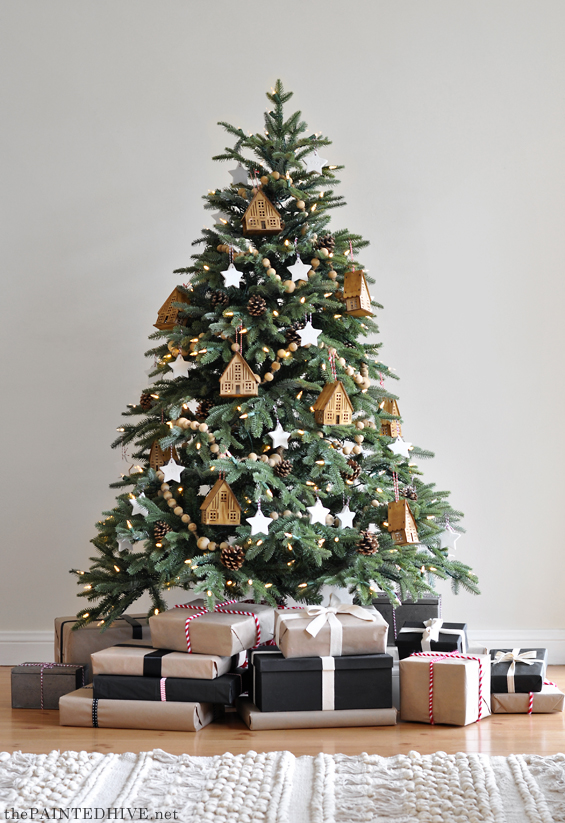 Along the same lines as the minimalistic tree above, this Christmas tree brings simple and sweet vibes with its little wood houses, white stars, wooden beads and acorns. Add an LED light to each wooden home for some extra glow.
20 – Pom Pom Tree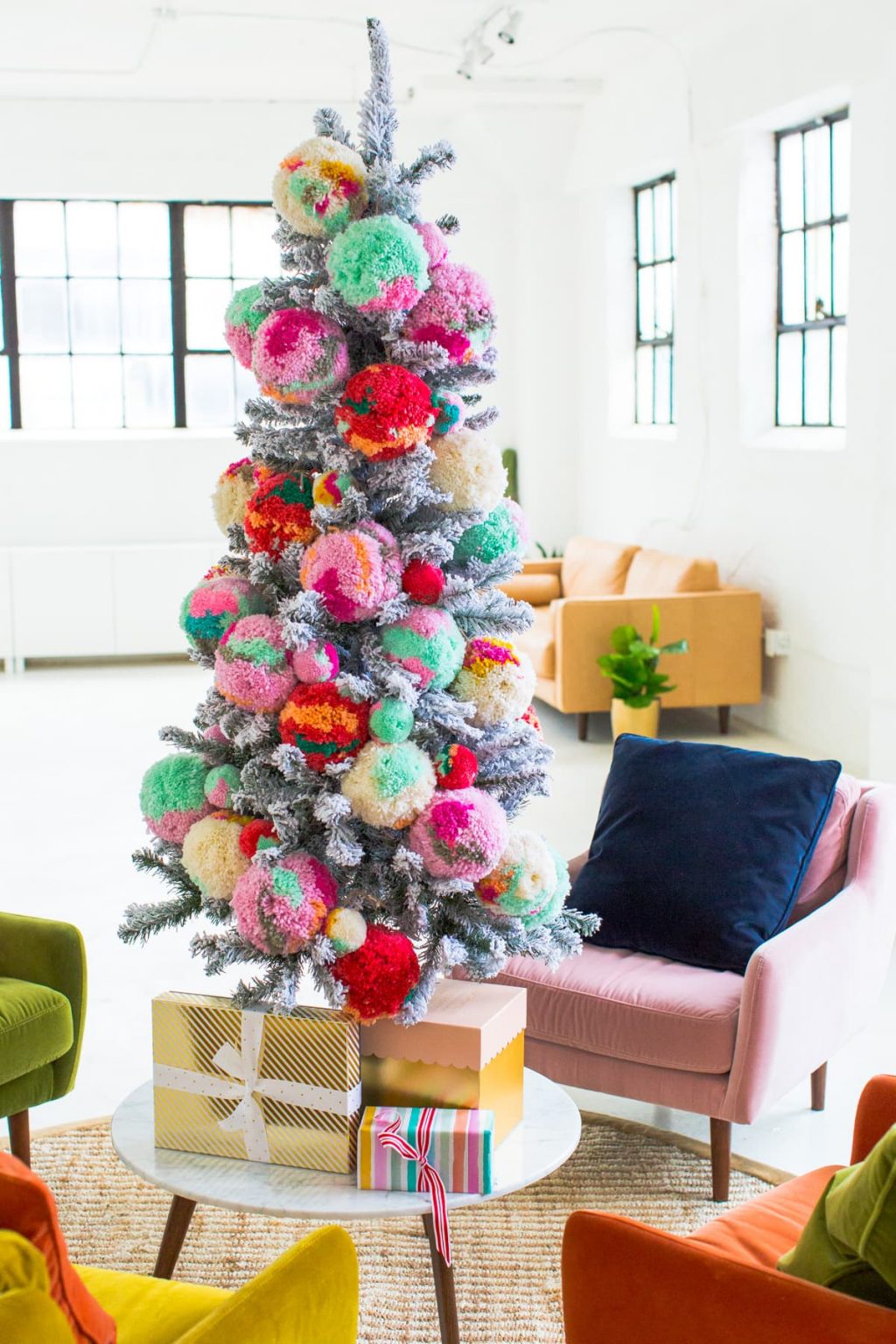 This giant pom pom tree has to be one of the most creative Christmas trees I've seen to date! The best part is that you can customize it with whatever colours you want as you create your giant pom pom ornaments.
PIN THIS:
Last Updated on