It's almost time to start sending out Christmas greetings, and we think that the best cards are homemade holiday cards — who wouldn't agree?
This time of year is the perfect opportunity to get crafty and artistic, so why not pull out some painting supplies and create your own sweet mistletoe watercolor cards!? 
A personalized card is such a fun way to add that extra bit of love to your mailings, and each one you create will be slightly different with some handmade charm. 
This tutorial uses watercolour paints and ink to make a uniquely hand drawn card.
Ink and Wash Technique
The style of this painting technique is called Ink and Wash, or sometimes called Line and Wash… whatever your preference, really.
This watercolour style is perfect for creating quick artwork and adds an illustrative touch by utilizing black ink outlines.
The painting is done first and then enhanced with ink sketch lines to define the edges of the mistletoe.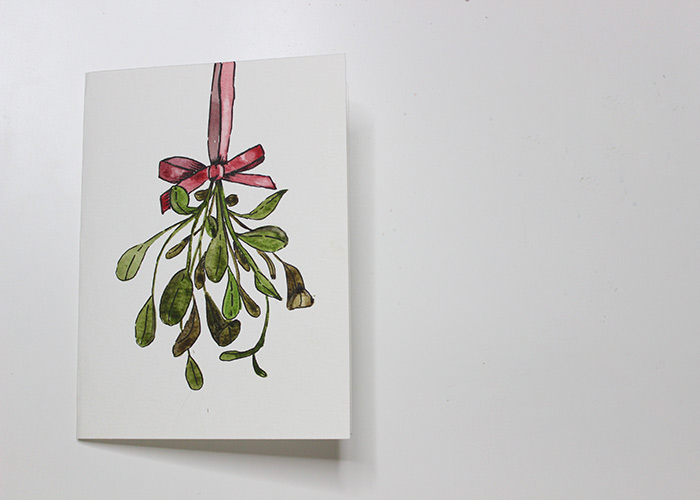 As always, I have the beginners in mind.  This video tutorial uses basic supplies and techniques that you can easily practice with. 
All you will need is a watercolour pad, paints, a pencil, brush, and ink pen. 
I will list all of my product recommendations for beginners below the video or you can check out my product recommendations right on Amazon in the Wonder Forest Amazon recommendations shop.
Mistletoe watercolour Christmas card tutorial:
More Holiday Watercolour Tutorials
If mistletoe isn't your favourite, check out these other Christmas card watercolour tutorials that I have completed: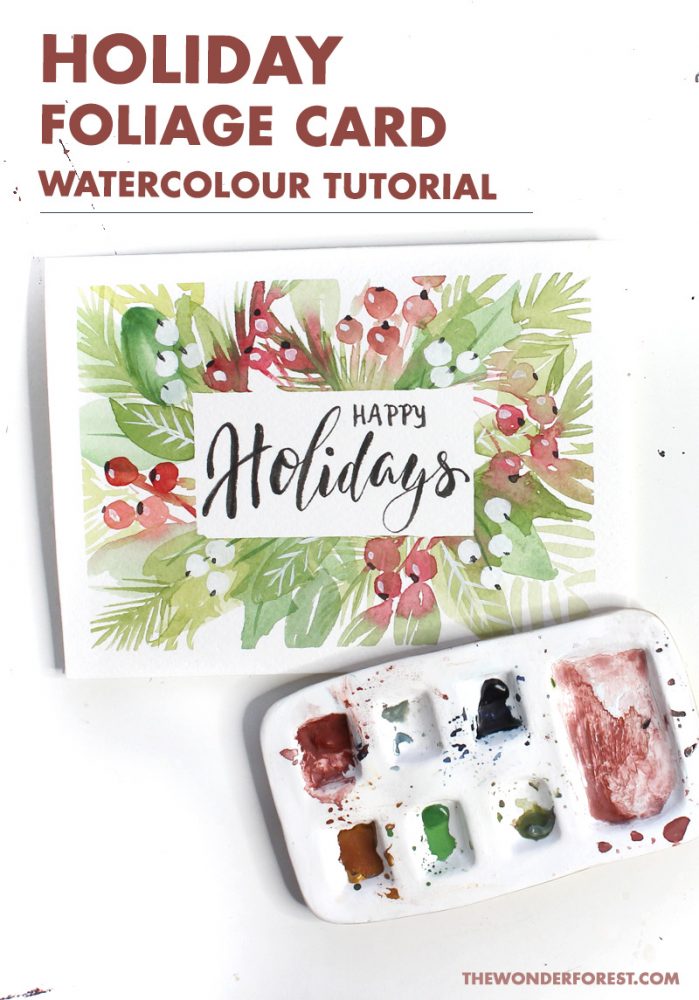 Tons of foliage and holly berries make this watercolour card so pretty! Add your holiday message in the middle and send them to your favourite people.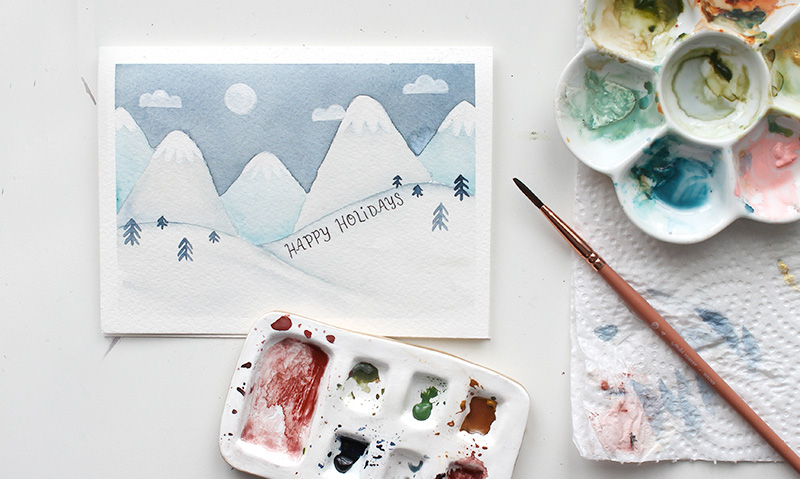 This is a more illustrated style but is so easy for anybody to do. You'll learn how to shade using a single colour.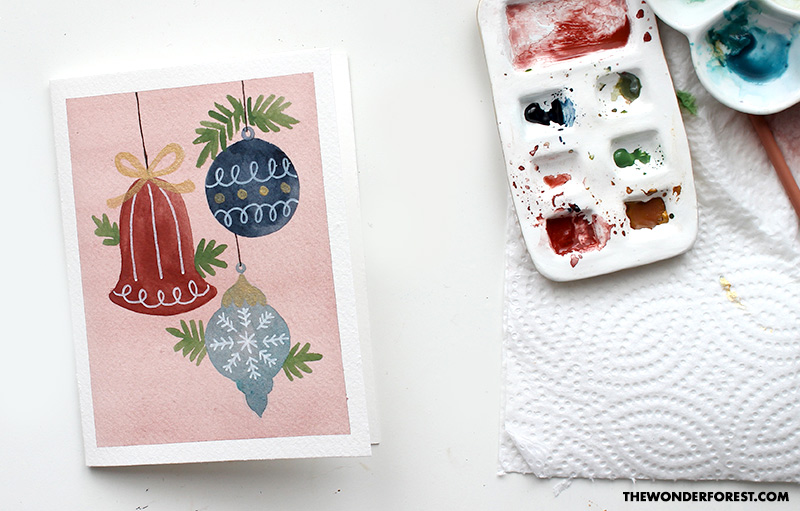 These vintage ornaments look so pretty when painted with watercolour! Try this card… it's super easy and has such a professional illustrative feel to it!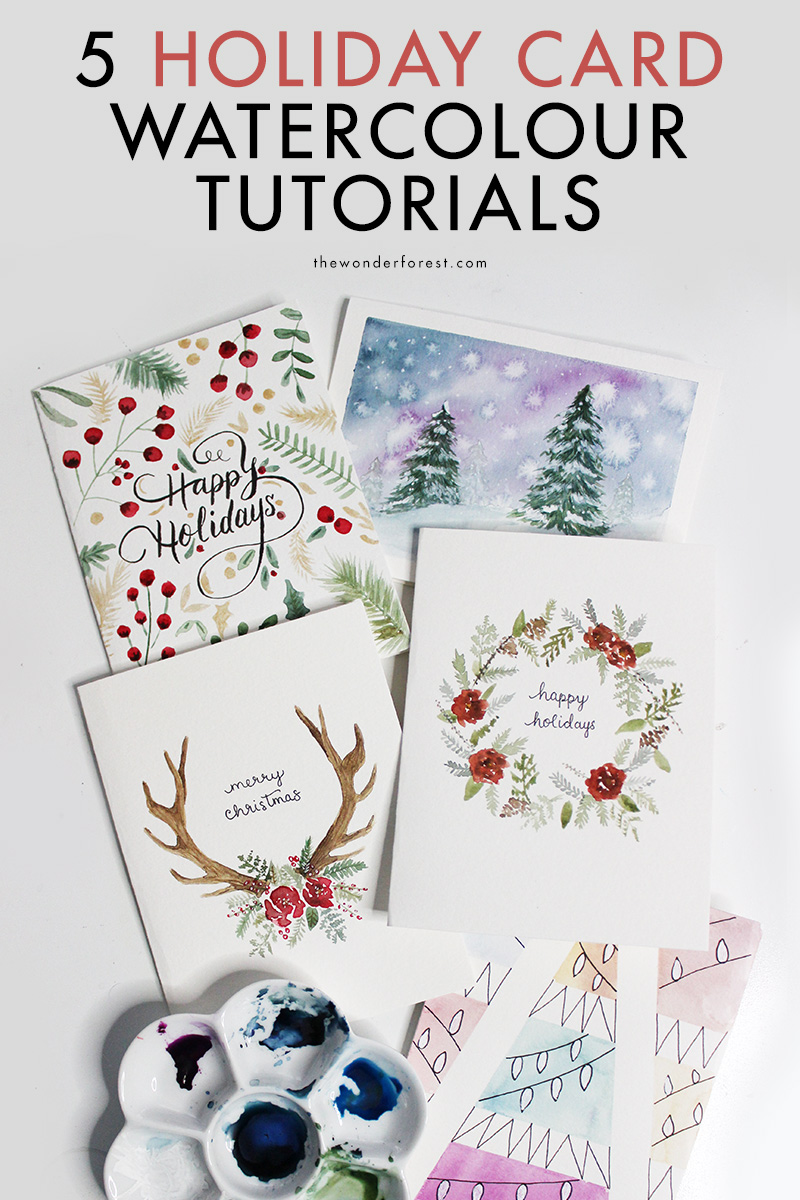 Try these five holiday card watercolour tutorials and add a little variety to your card collection. You'll learn how to paint foliage and berries, a snowy scene, some cute antlers, and a Christmas watercolour wreath.
This tutorial will show you how to create the prettiest winter landscape including a cabin and forest scene. This is a full painting, however it can easily be used for a card as well!
Keep Learning Watercolour
If you enjoyed this tutorial, be sure to check out my online watercolour course! 
My Watercolour Workshop is a totally beginner friendly watercolour course that you can do from the comfort of your own home.
I teach you the very basics from brush techniques and colour experimenting, and by the end of the course you will be able to complete the intermediate projects easily!
I've taught hundreds of students from all over the world and I really hope to see you there!
Last Updated on